Aromatic herbs and fresh vegetables make this simple baked ratatouille a beautiful weeknight staple. Stay warm with this comforting vegetable dish that won't weigh you down!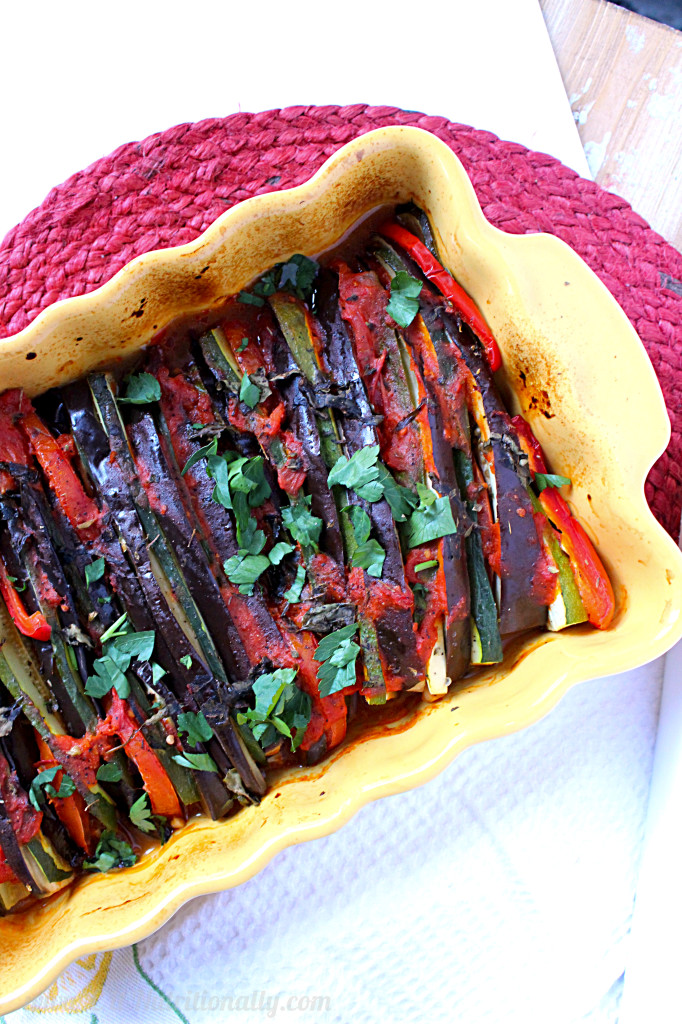 How on earth was your weekend?! It was be-youuuu-tifulll out on Sunday so I was slushin' around (is that a word?!), dancing my butt off, and getting some work done before I hunkered down to watch the Oscars! Do you like watching award shows? I know some people despise it, but I LOVE it (especially for the fashion!).
On movies…One college break I made plans to go to the movies with a friend. I forget if there was nothing else in theaters at the time or if we specifically made plans to see Ratatouille, but either way, we went. And were also the only ones in the theater without children. There's something about seeing an animated film in the theater, when you're an "adult," that is totally awesome and brings you back to your childhood.
If you haven't seen the movie, Remy (a rat) wants to be a chef, which is, of course, ludicrous because restaurant kitchens are probably one of the most rat-phobic places. Ever. Over the course of an exciting and funny (and sometimes skeevy…ya know, because of so many rats!) movie, Remy (spoiler alert!) achieves his dreams! 
After seeing the movie I distinctly remember viewing rats differently…like how I pondered if toys really do come alive when I was out of the house after seeing Toy Story. 
Anywayysss…after seeing that movie I asked my mom to make ratatouille and it is now one of my favorite recipes to have when I go home! Delicious over a warm bed of quinoa, pasta, a bed of spinach, etc., it's such a great make ahead dish! A sprinkle of parmesan and voila…heavenly!