A hearty combination of sweet and tangy flavors, this

roasted Brussels sprouts salad

with farro, cranberries, and delicata squash, dressed with honey dijon vinaigrette, finds the perfect home at your Thanksgiving table.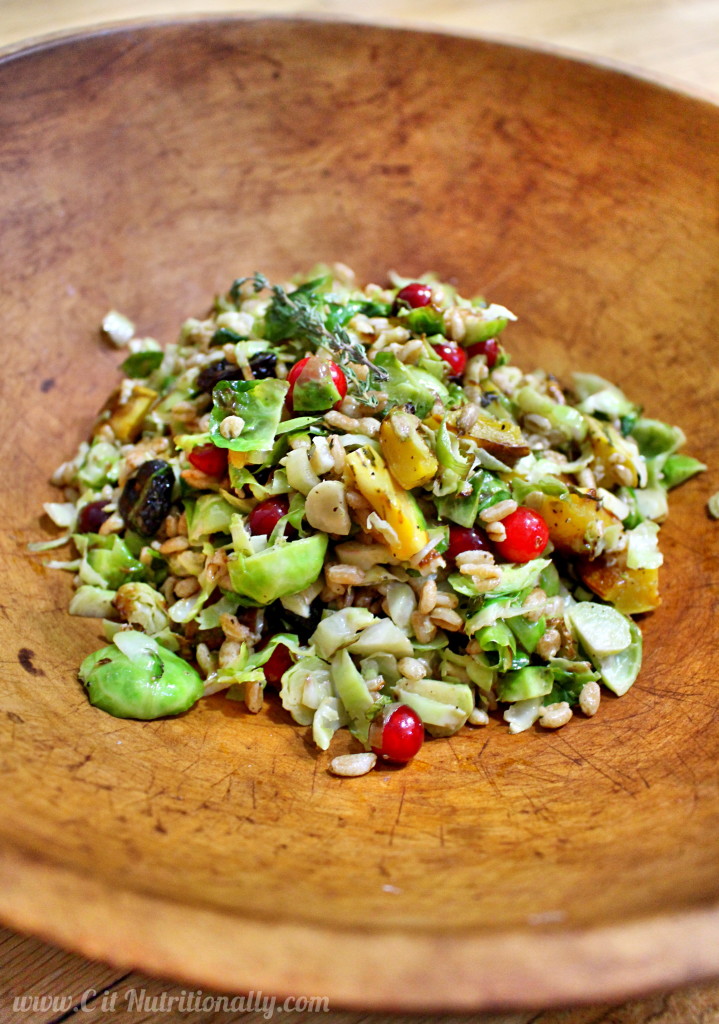 Thanksgiving is ABSOLUTELY one of my favorite days of the year. When I was younger I would wake up early to watch the Macy's Thanksgiving Day parade in my pajamas, sipping hot cocoa. As I've gotten older, I spend Thanksgiving morning with my mom in the kitchen, while the boys are out playing football. Ahhh I can't wait — family, friends, and great food!
Thanksgiving is only *3* days away, so if your menu isn't 100% complete, or you're not sure what dish to take to Aunt Ida's house this year, here's my gift to you! 
This salad is special. Now, I know what you're thinking…SALAD for Thanksgiving?! 
The simple answer? YES! 
The not so simple answer? YES! This warm or room temperature salad packs a variety of flavor with a variety of textures (and tons of nutrients)! 
Now, this salad may seem a bit complex for a salad…yes, there are a handful of steps…but it's THANKSGIVING so it's worthy! Plus, you're going to cover SO many flavor bases so it's reallllly worth it — smoky roasted Brussels sprouts, tart fresh cranberries, and nutty farro. Then layer in thyme from the sweet, but not too sweet, roasted [delicata] squash and the tangy Dijon mustard dressing. THEN on top of THAT you're covering textural bases — chewy, soft, yet with a crunch from not overcooking the Brussels sprouts.  Continue reading →