Just 10 minutes to this tasty and nutritious Italian Quinoa Salad…the perfect side dish or lunch for summer BBQs and your weekly food prep rotation…because who has more time than that when it's ((finally)) time to have fun in the sun?!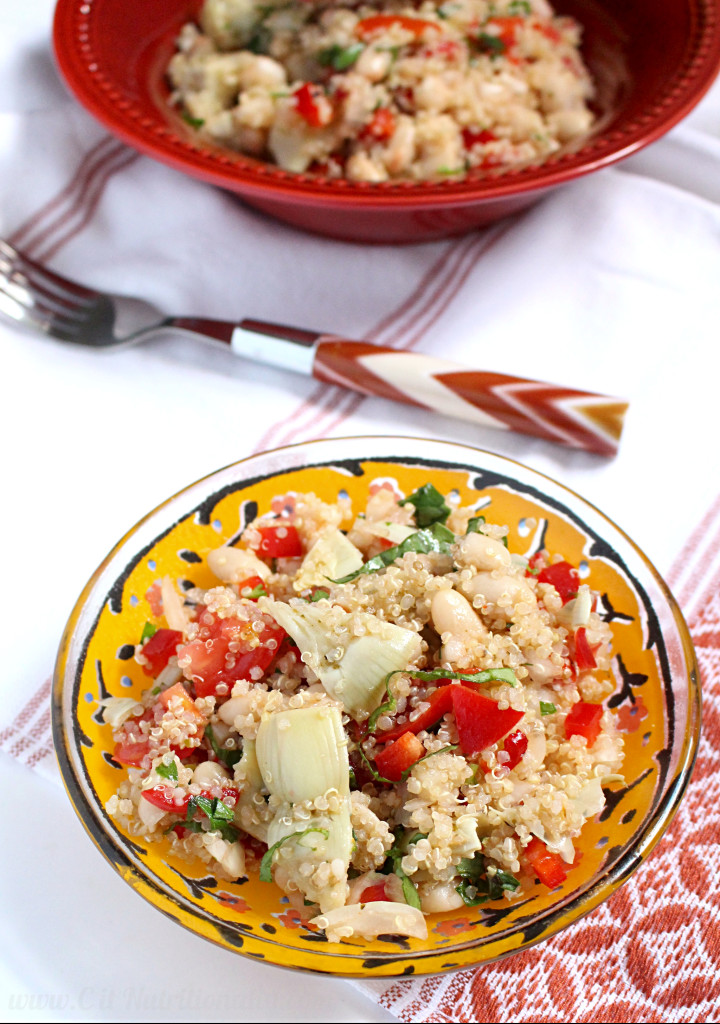 Happy Memorial Day! 
I just want to take a minute before diving fork-first into this heavenly Italian Quinoa Salad to call attention to what this weekend is about (yes, more than an extra day off from work and the unofficial start to summer!)…THANK YOU to those who served and still serve to keep our country safe, and your families!
Now to the food…
This recipe totally happened by accident. I'm going to keep this quick because well, SUNSHINE, but this salad was totally not planned. But those are the best sometimes, am I right?!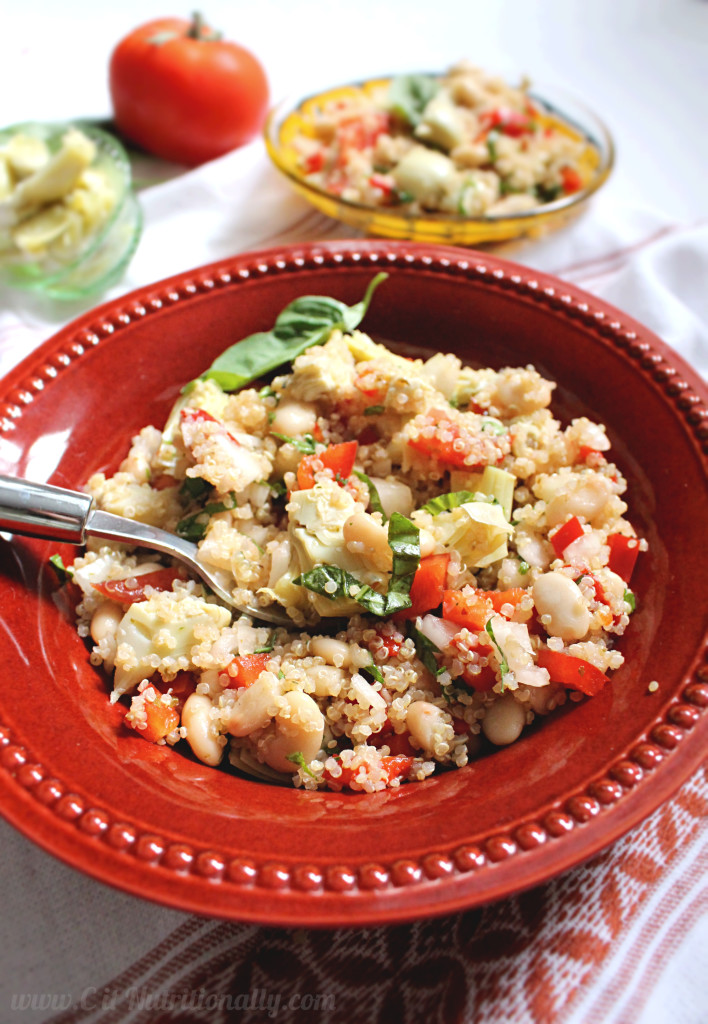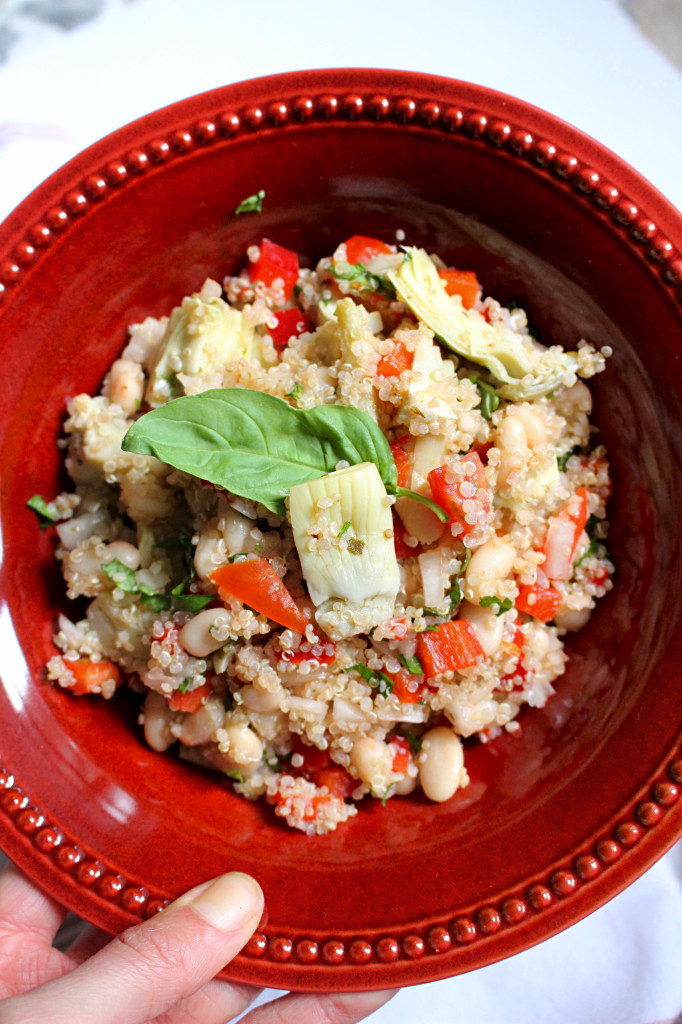 You see, I hadn't been food shopping in a while because of finals and I got hungry while studying (obvsss) and didn't want to run out and ruin my groove (ya know?!), so I threw together a bunch of stuff I had lying around — marinated artichokes, roasted bell peppers, quinoa, white beans, some fresh tomatoes and bell peppers — and voila, lunch was served! 
Sometimes I just have to switch it up from my typical Greek Quinoa Salad that I eat nearly every day. 100% creature of habit…and now that habit may become this Italian Quinoa Salad!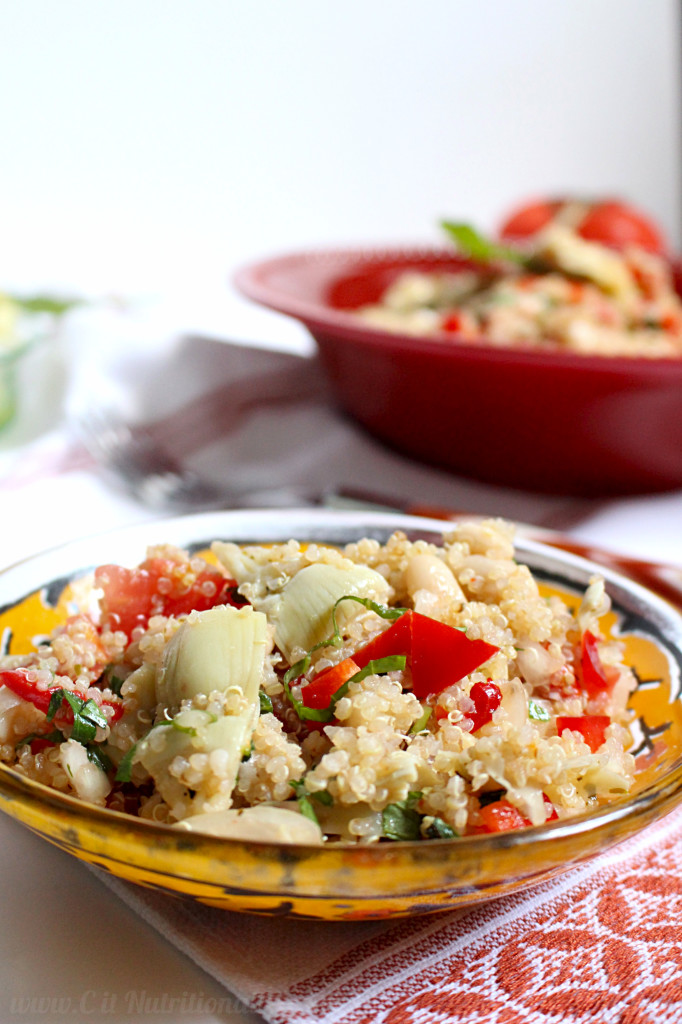 Sometimes I surprise myself. I'm not a huge fan of using canned and jarred products in many recipes (except for beans…I rarrreellyyy put in the effort to make those from scratch…thanks TJs!), but I used what I had on hand. In went the roasted bell pepper (jarred, in water), the marinated artichokes from TJs ((YUM-O)), and canned white cannelloni beans. I didn't even need much of a dressing because even without excess oil from the artichokes (always drain them!), it was enough. I combined this all with some fresh chopped tomato, bell pepper, and HERBS. 
Let's talk herbs for a quick sec. They literally make the world go round. If you're heating up a ((boring)) prepared/frozen/store bought meal, add some herbs and BAM…new dish! So don't neglect the fresh parsley and basil here, plus some dried oregano and freshly ground black pepper.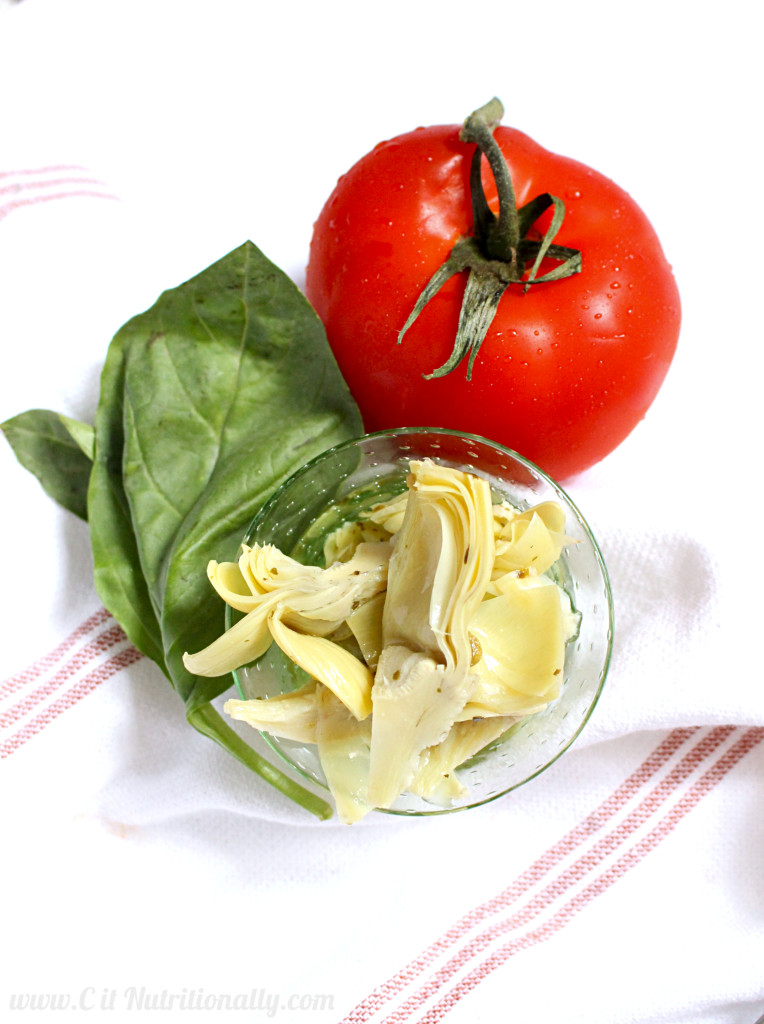 Oh, and I'm pretty sure some black or green olives would go well in here, but I'm not a fan of olives so I didn't have any around, but if I was to make this for company I'd totally throw a few sliced black olives in there! 
Annnndd back to the pool….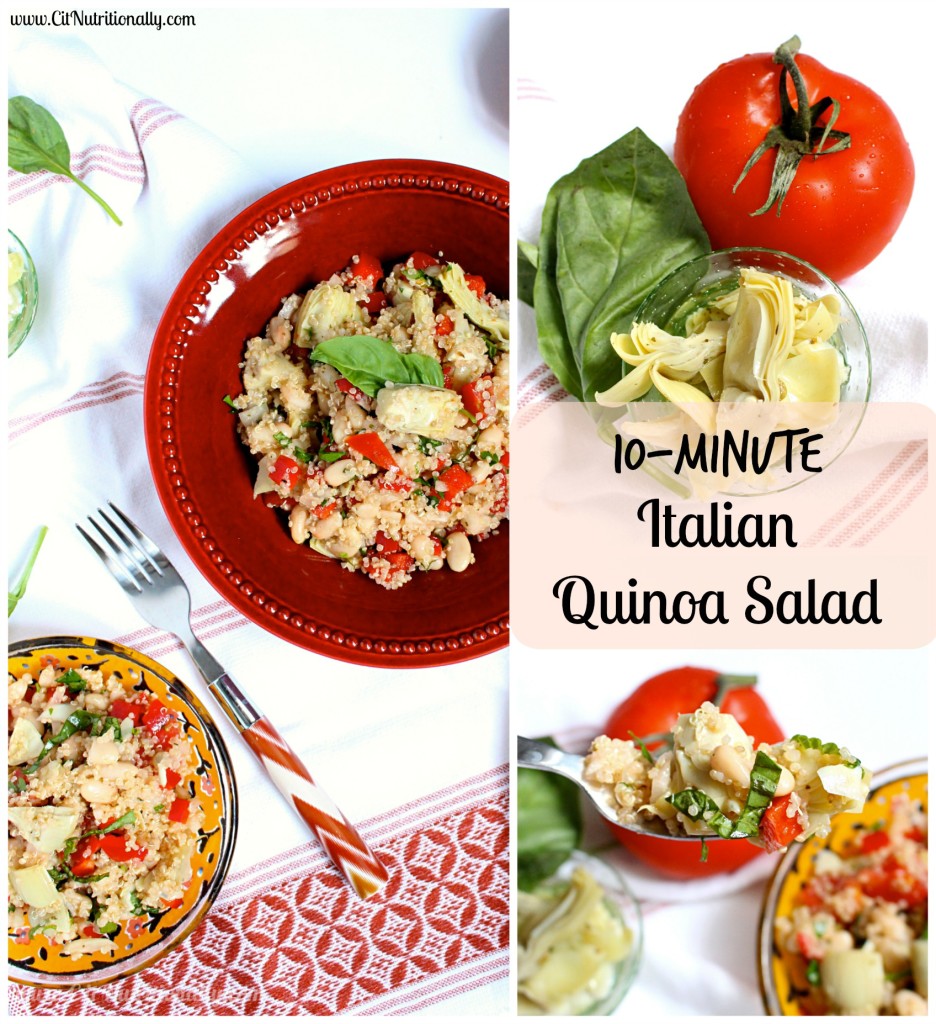 10-Minute Italian Quinoa Salad with White Beans
Recipe Type
:
Side dish, Lunch, Gluten free, Vegan
Author:
Prep time:
Total time:
Just 10 minutes to this tasty and nutritious Italian Quinoa Salad…the perfect side dish or lunch for summer BBQs and your weekly food prep rotation! Vegan, gluten free, dairy free, vegetarian, meat free, plant based.
Ingredients
1 cup quinoa, cooked
½ cup small white cannelloni beans
¼ cup yellow onion, finely chopped
1 roasted bell pepper, chopped
½ cup marinated artichokes*, halved
¼ cup fresh bell pepper, chopped
1 medium Roma tomato, chopped
½ teaspoon lemon zest
Spices and Herbs:
1 tablespoon fresh parsley, chopped
2 tablespoons fresh basil, chopped
Freshly ground black pepper
1/8 teaspoon granulated garlic
¼ teaspoon dried oregano
Optional: ¼ teaspoon red chili flakes
Note: If you don't use marinated artichokes, be sure to add ½-1 tablespoon extra virgin olive oil, a generous dash of sea salt, and increase the oregano to ½ teaspoon!
Instructions
Prepare quinoa according to package instructions.
In a medium-sized bowl combine all ingredients and toss to combine. Taste and adjust spices to taste.
Optional: If time allows, refrigerate for about 30 minutes to really let flavors meld. Enjoy!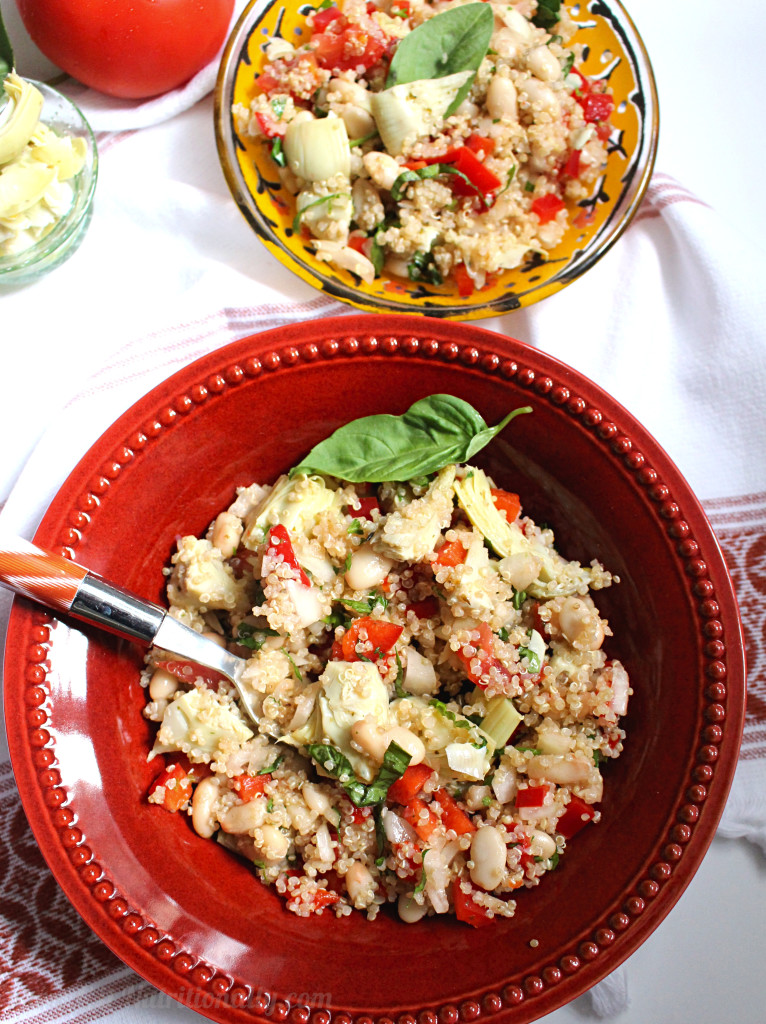 SO simple (and meat-free!) so add this (yes, like right now!) to your #MDW2015 BBQ!
Stay safe, people!
XO