Celebrate Valentine's Day this year with these EASY and Healthy Valentine's Day Treats from my fellow healthy living bloggers. All with 10 ingredients or less and made in less than an hour (most less than 30 minutes!).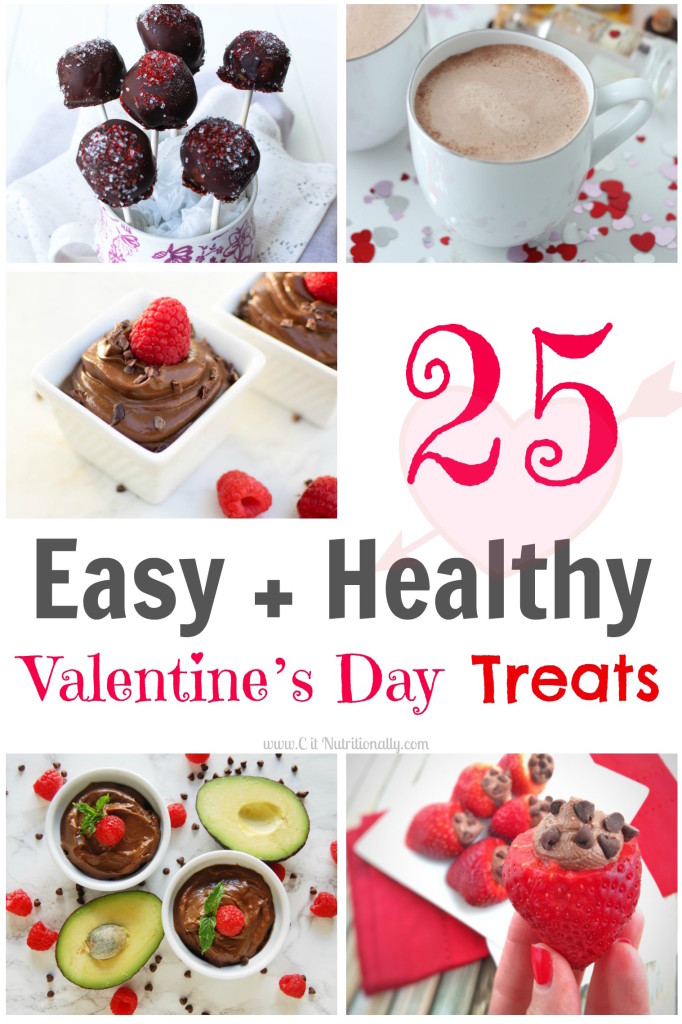 I cannot believe Valentine's Day is right around the corner already…I feel like we just rang in the new year! But it's that time for alllll the pink everywhere, hearts and chocolate and love love love…because we could ALL use a little bit more L-O-V-E right around now!
BUT I find that some people think Valentine's Day is overrated or only a holiday for couples, but I have to say I 100% disagree! I'm totally a Valentine's Day lover…even if it totally a Hallmark-constructed holiday! From a young age, my mom always made Valentine's Day fun for us. She created a heart-shaped meatloaf tradition for dinner, baked a heart-shaped cake and gave us cute, small loving presents.
And I've carried over these homemade traditions into my adult life. In college I would bake my friends heart-shaped treats ((perhaps not 100% C it Nutritionally approved!)) and now I make S homemade treats too!

Let's get social!
Facebook: C it Nutritionally
Twitter: @ChelseyAmerRD
Instagram: @CitNutritionally
Pinterest: ChelseyAmer
But I'm totally swamped for time this year so I called upon my fave healthy food blogging babes to share their favorite EASY and Healthy Valentine's Day treats that are made with 10 ingredients or less and take about 30 minutes to whip up. Now that's what I call #winning.
And not to mention, DIY-ing is Frugal Friday approved! Plus, ya know the secret ingredient is LOVE!
Here are 25 Easy and Healthy Valentine's Day Treats…
Nut Free and Peanut Free
Nut Free Decadent Superfood Chocolate Truffles via C it Nutritionally
Decadent Vegan Chocolate Pudding via Emily Kyle Nutrition
Pomegranate Crunch Dark Chocolate Ricotta Cups via Amy Gorin
Stuffed Medjool Dates via Kiss in the Kitchen
(can be made nut free with sunflower seed butter)
Oatmeal Raisin Cookie Energy Bites via C it Nutritionally
Strawberry Oatmeal Bars via Mostly Balanced
Small Batch Raspberry Lemon Bars via The Lean Green Bean Blog
Crispy Chocolate Sunflower Seed Butter Cups via C it Nutritionally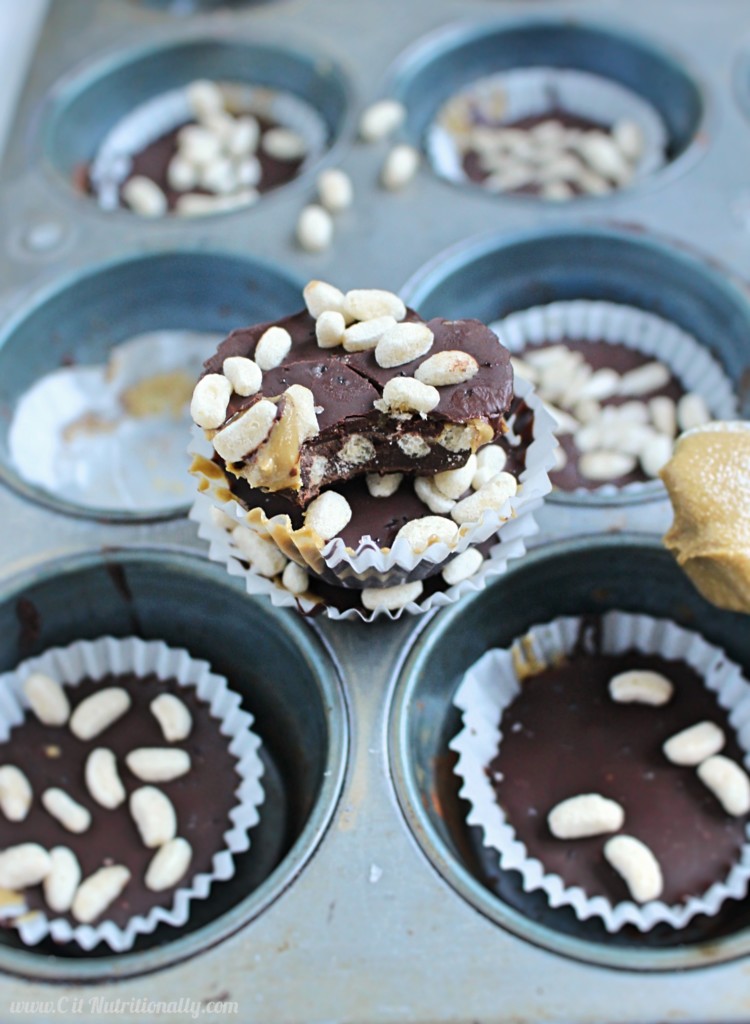 Valentine's Chocolate Strawberry Smoothie via Nutritioulicious
Chocolate Raspberry Avocado Pudding via Nutrition to Fit
Chocolate Covered Fruit via C it Nutritionally
Protein Brownie Bites via Lara Clevenger
No Churn Salted Chocolate Chip Banana "Ice Cream" via C it Nutritionally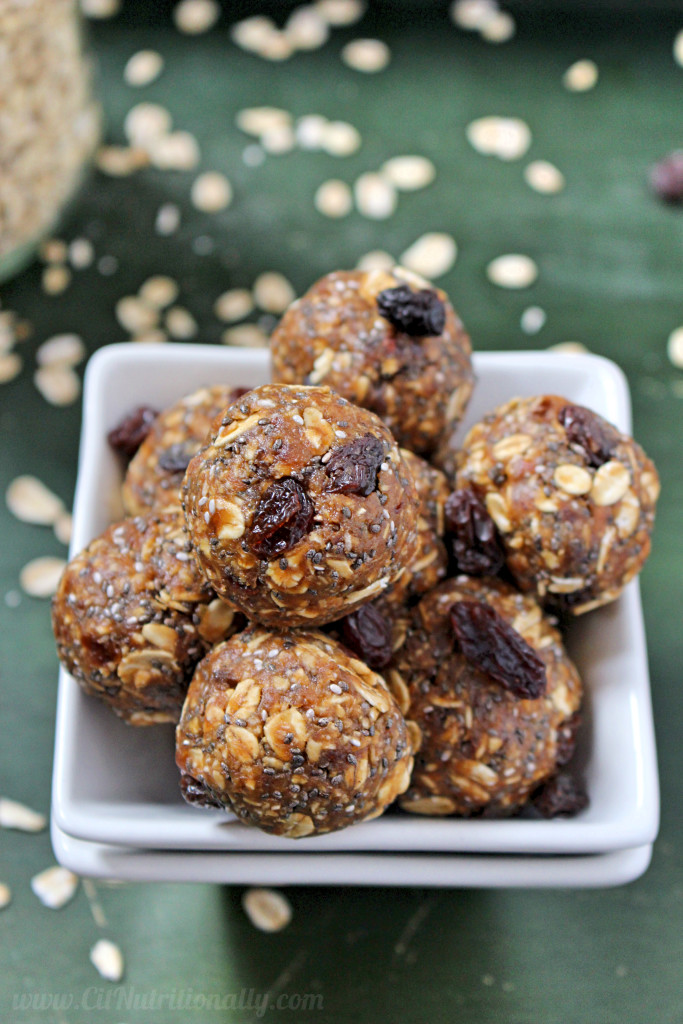 Bourbon Hot Chocolate via Living Well Kitchen
White Chocolate Raspberry Valentine's Smoothie via Lively Table
Chocolate Coconut Date Truffles via C it Nutritionally
Chocolate Mousse Filled Strawberries via Nutrition Starring YOU
Vegan Chocolate Banana Muffins with No Added Sugar ((OK, OK these have 13 ingredients, but you probably have most of them in your house already!!!)) via C it Nutritionally
Don't forget to PIN IT…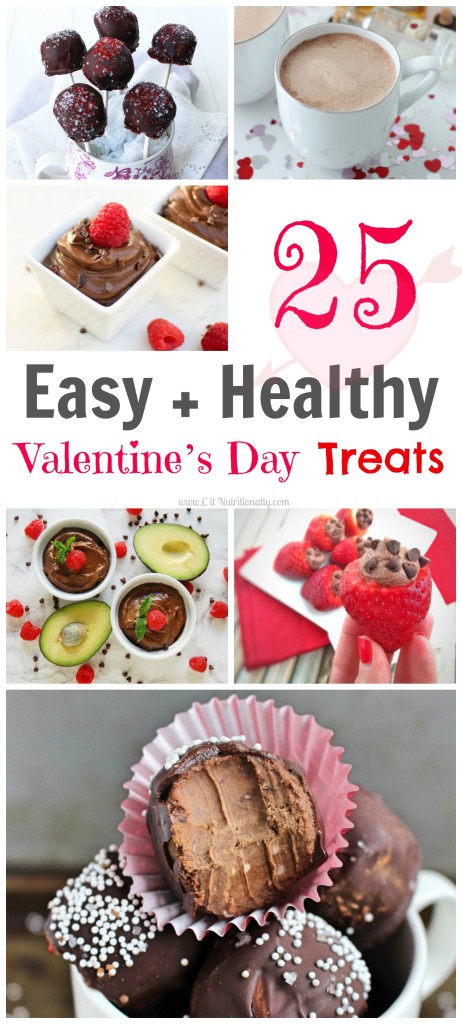 Contains nuts or peanuts:
Almond Pistachio Cocoa Bites via Amy Gorin
Healthy Cookie Dough Bites via RDelicious Kitchen 
2-Ingredient Chocolate Peanut Butter Cups via Alissa Rumsey Nutrition
Healthy Cowboy Cookies via Sinful Nutrition
Mini Caramelized Banana Split Sundaes via Jenny Shea Rawn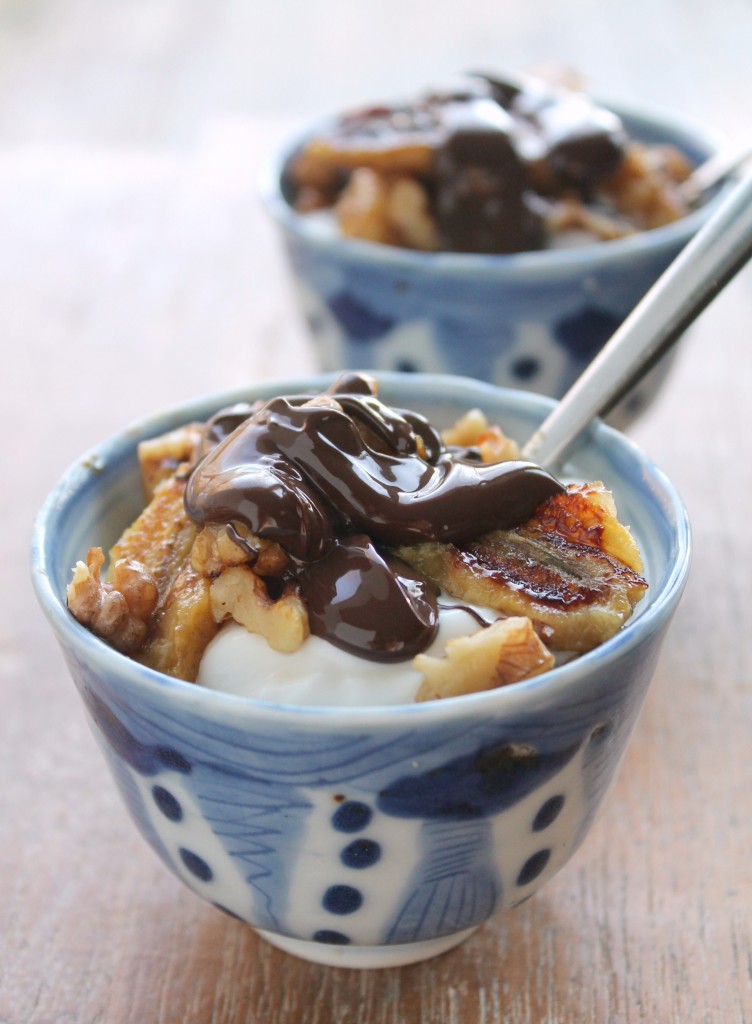 Date Peanut Butter Cups via Euphoria Nutrition
Healthy Chocolate Rice Krispy Treats via Healthy Happy Mama (can likely make nut free too!)
Homemade Twix Bars via Bakerita (can likely make nut free too!)
Dark Chocolate Bites via The View from Great Island
Healthy Cowboy Cookies via Sinful Nutrition
Now get some chocolate and have fun creating a mess in your kitchen with these easy and healthy Valentine's Day treats!
How are you (if you do) celebrating Valentine's Day?!
XO