Are you ready for my 2016 GIFT GUIDE?! This year, I'm sharing 25 Gifts for the Healthy Foodie…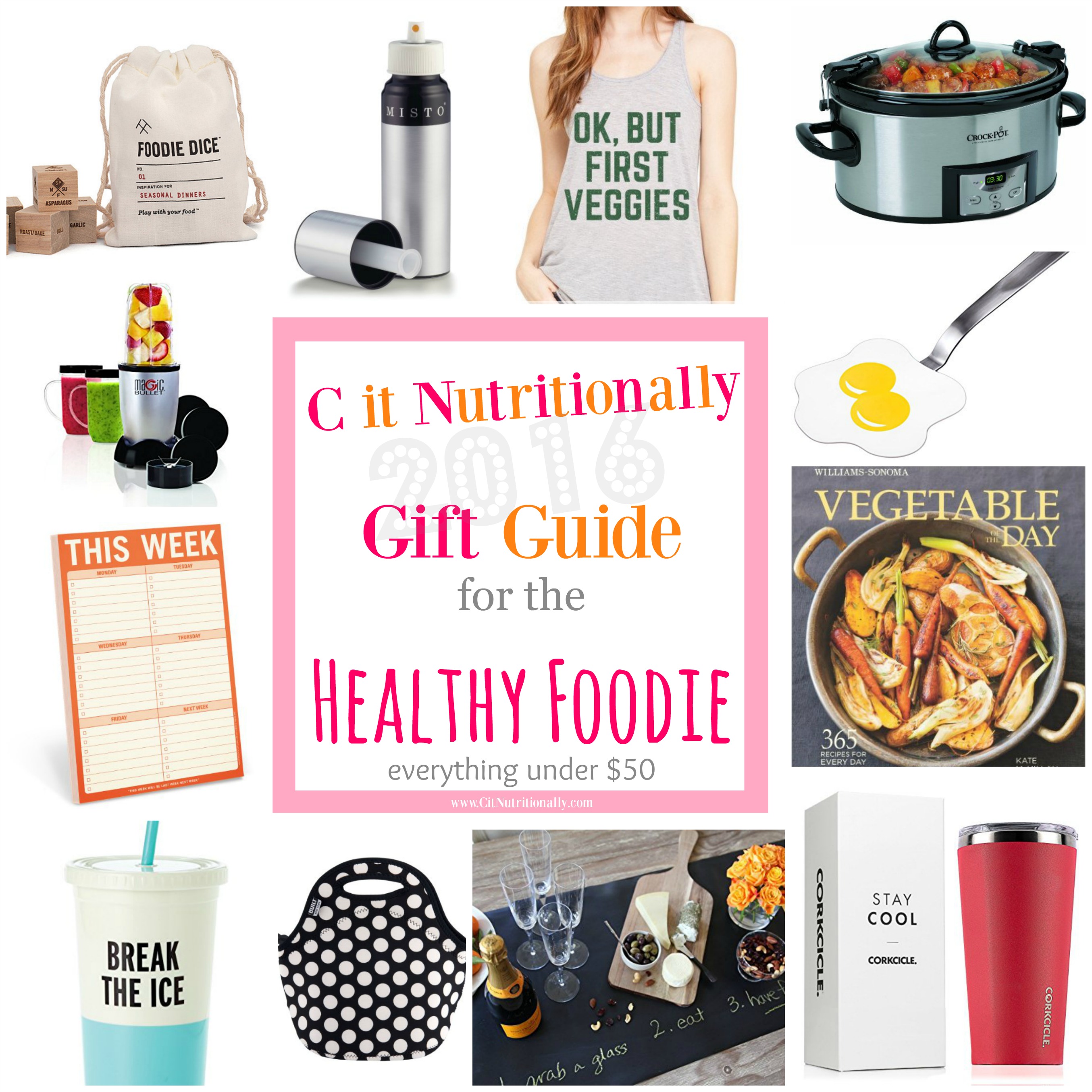 It's the most wonderful timeeeeee of the yearrrrr….. giving time, that is!! Since I've totally been digging my Frugal Friday series, I'm keepin' it going into December, kicking off with my Frugal Friday Healthy Foodie GIFT GUIDE!!!
And I take my gift guides seriously! This is NOT a sponsored post [although there are some affiliate links within the post].
Here are my strict criteria for these gifts…
I either own, or would like to own,

every single

one of these items!

Each gift is under $50…with most well below $25…or even $10!!

There's something for everyone —

male, female, old, young, home cook, professional chef or if you've never cooked a thing in your life!

Ability to purchase it online

((because if it's only from a small shop near moi, that won't help you!))
Let's get social!
Facebook
Instagram
Pinterest
Twitter
Sounds good, right?!
So to help you start crossing people off your list, let's get in the gift giving spirit! Here are 25 Gifts for the Healthy Foodie Under $50…
***
For the meal planner, food prepper and brown bagger…
Every healthy foodie knows that prior preparation prevents piss poor performance…which is exactly why I sing the praises of SOME food prep all the darn time (especially during the holiday season!!!). So if these gifts are for you (treat yo'self) or someone else, prepare to be ORGANIZED AF!
1.For the ultimate meal planner — or wannabe meal planner — this pad is 100% necessary for the ultimate meal planner or WANNABE meal planner. Because there's nothing like gifting the gift of organization! ((Where all my Type A people at?!)) $3.97
2. S always says that he needs a lunch box, but I haven't gotten him one yet because I cannot for the life of me see him toting it to his hautie tautie (just teasing!) law firm job. I CAN however see him bringing this BUILT NY Gourmet Getaway Neoprene Lunch Tote that's reusable and easily washable bag (in the black color, of course)…sooooo, you know what you're getting for the holidays bae! $12.79
3. Even though we've been gifted the upgrade of a Vitamix, my smoothies and sauces and soups were [and still are sometimes] just as delicious when made in my Magic Bullet Blender! I love how the cup is perfectly portable and great to grab and go! $39.99
4. A crock pot! It's true that we do not own a crockpot, but we'll remedy that one of these days!  If you're busy and want to feed yourself and family healthy, simple meals, and save yourself tons of time, then I think a crockpot is ESSENTIAL. I just like to make my own life a litttttle bit more difficult! 😉 This happens to be the most expensive item on the entire list at $49.99…but it's worth your sanity amiright?!


5. If you're always taking your bevvie to go, then save the trees and try to remember to bring your to-go cups. For the year-round iced coffee drinker, I give you this fun Kate Spade Insulated Tumbler. $22.95
6. …and for the warm beverage lover, I give you this Corkcicle Insulated Tumbler. Because it will keep your water cold for 25 hours (nope, not 24….25!!!). And I just happen to think this red color is beauuutiful, but there are over a dozen colors to choose from! $24.95
7. When you're staring at your meal plan for the week with that one empty meal…these foodie dice may come in handy! $24
8. If you're always on the go, then having healthy foods, snacks and products on hand — without the hassle of food shopping may be difficult. That's where my friend Lisa's The Well Necessities Collection subscription comes into play! All products are 100% vegan and hand-picked by fellow RD Lisa. $49.99/month [with savings for a reoccurring subscription]
***
For the home cook…
Some gadgets make cooking at home SO much easier! For any foodie in your life that wants to turn up the heat a notch and get in the kitchen, these tools are 100% necessary (in my opinion!)…
9. I just bought a Misto Oil Sprayer at Home Goods over Thanksgiving weekend and I'm already obsessed with it! 1. It's a WAY cheaper one time purchase than all those oil sprays, 2. YOU can control the exact quality and type of oil you choose to fill 'er up with, and 3. NO propellants or nasty additives! #winning $9.98
10. Williams-Sonoma's Vegetable a Day Cookbook This was the book that I used in a photo I shared while making some Frugal Friday Thanksgiving planning tips and I got quite a few questions about what book it was…well, here it is! There's a new recipe — featuring IN-SEASON VEGGIES — for every day of the year, with a calendar before every month so you can plan, plan, plan! This is my go-to book if I'm in a recipe rut! $25.16 [+ used versions will save you moolah!]
11. Fleur de Sal from the San Francisco Salt Co…because everyone wants to feel like a gourmet chef, finishing their dishes with a finer sprinkle of sal! And I'm also thinking this Black Hawaiian Salt sounds pretty lit too! $16.99
12. Willow & Everett Salt and Pepper Shakers are actually grinders so you'll always have the freshest spices to add to any dish…homemade or ordered in! $23.99


13. If you know a recipe tester, then these field notes may come in handy! $9.95
14. If you're a healthy foodie without a SPIRALIZER, I don't know how you do it! I use mine at least once a week (if not more!) to make zoodles for my lentil bolognese or shrimp primavera or spiralized butternut squash for soup. $23.97
15. This Spatulart Fried Egg Nylon Flex Turner just BECAUSE! How fun would this be to whip up some brunch?! $8.49
***
For the entertainer…
I am the entertainer…and if you're a foodie who loves to entertain (like moi!), then you need these cute accessories to help ya out! A few of these are making an appearance at my New Years party soon…
16. These Kate Spade cocktail napkins SCREAM New Years party to me! I love mixing and matching when it comes to tableware and entertaining, so I'd totally get these adorbs "Pop Fizz Clink" napkins too! $10.95-$14.00
17. And don't forget about these gold foiled straws for your signature cocktail! $9.99
18. This reusable chalkboard table runner…because HOW FUN IS THIS?! Kids or not at your table, this runner is totally making an appearance soon in my house! $36.99
19. A copper french press…because when you're hosting brunch you want it to be THAT much cooler! $29.70


20. If you entertain, then perhaps you also send out handwritten cards for the holidays (nope, just me?!). Well, these Berry Merry Christmas cards from Eat Healthy Designs are such a cute way for healthy foodies to spread holiday cheer for all to hear! $18 for a set of 6
21. Wado Silicone Ice Ball Mold for Perfect Ice Spheres…because SO FUN! $11.66
***
To wear…
All my single ladies healthy foodies put yo hands up! Wear it loud and proud…
22. If you don't love #TacoTuesday, then how are we friends?! JK, but you should love guac in all forms because You Guac My World and need this tank that tells ya so! $28
23. Because sleep is time traveling to breakfast, amIright?! I'm loving these watermelon PJs! $38
24. For all of those farmers markets trips, you need this Makin' It Grain tote from fellow RD Rachael. How cute?! #GlutenIsNotTheDevil $16
25. OK, but first VEGGIES tank…because not only do proceeds go to a great cause, but you're encouraging others to get healthy with ya too! The material is SO soft and I'm absolutely obsessed with mine (and wear it at least once a week!). $26 (for charity!!)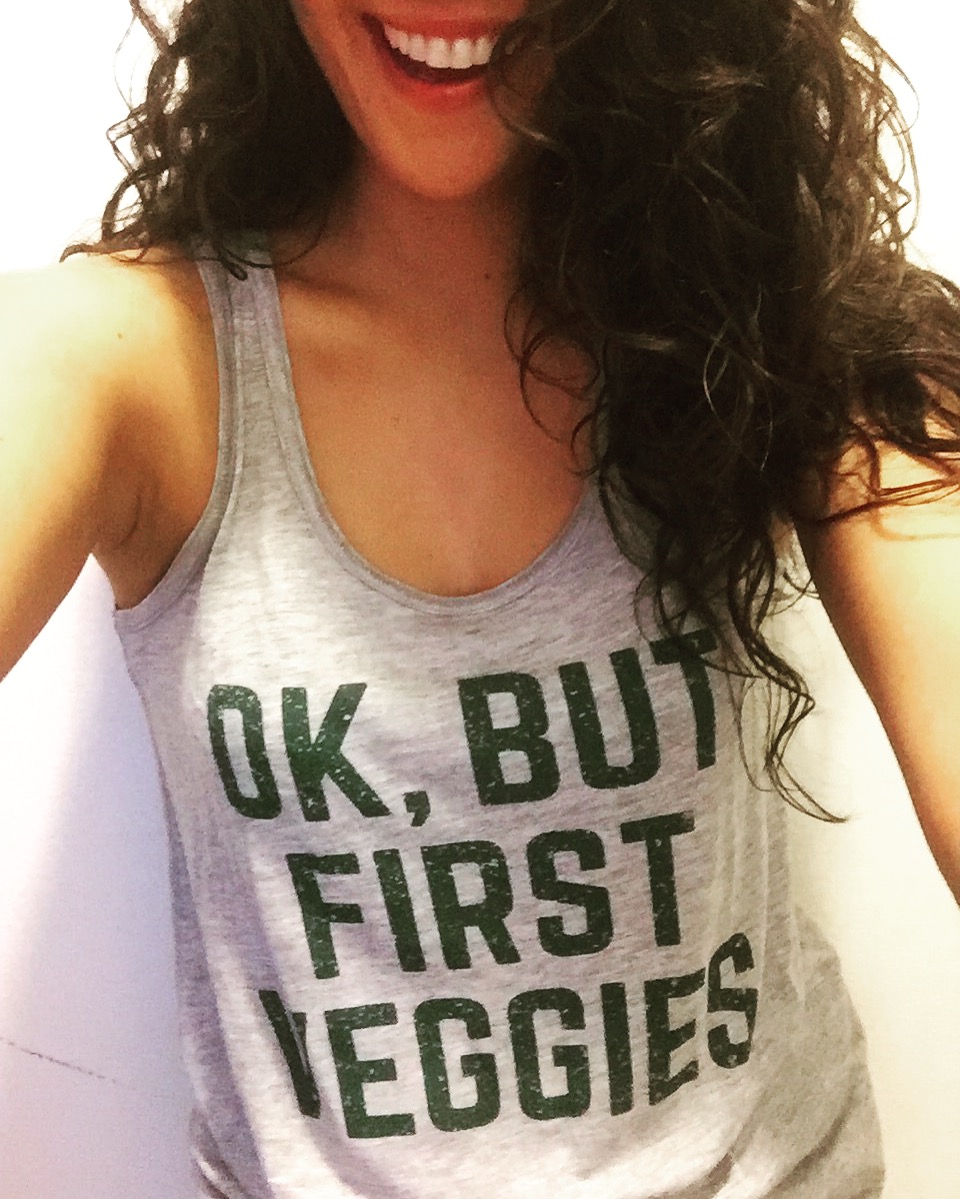 Question of the day: What's on your holiday list, you healthy foodie, you?!
Happy gift giving!! 
XO
Let's get social!
Facebook
Instagram
Pinterest
Twitter