Quick and easy for busy mornings, this 3-Ingredient Baked Frittata makes breakfast excuses a thing of the past! Vegetarian, Gluten free, Grain free, Nut free, Soy free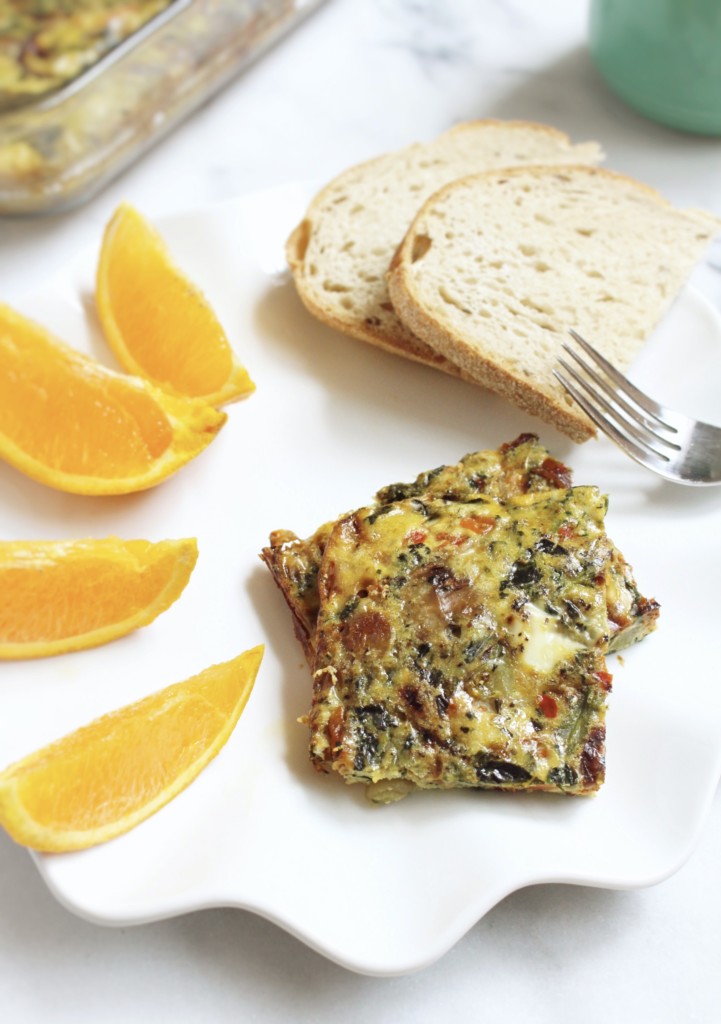 A nourishing breakfast in 30 seconds sounds GREAT to me right now. What about you??
Mornings can be hectic, which is why grab and go breakfasts are one of the most common requests I receive from my clients, family and friends. To keep you full all morning, I always suggest combining protein and fiber for a balanced morning meal.
It's no secret I'm a HUGE fan of chia pudding (so easy and can be made 100% the night before!), but for my egg-loving friends, waking up 15 minutes earlier to make some scrambies (as we like to call them over here) on the way out the door can be a liiiittle too rushed for moi.
Well, since I value my shut eye nearly as much as my morning cup of coffee, I've solved these problems with my 3-ingredient Baked Frittata…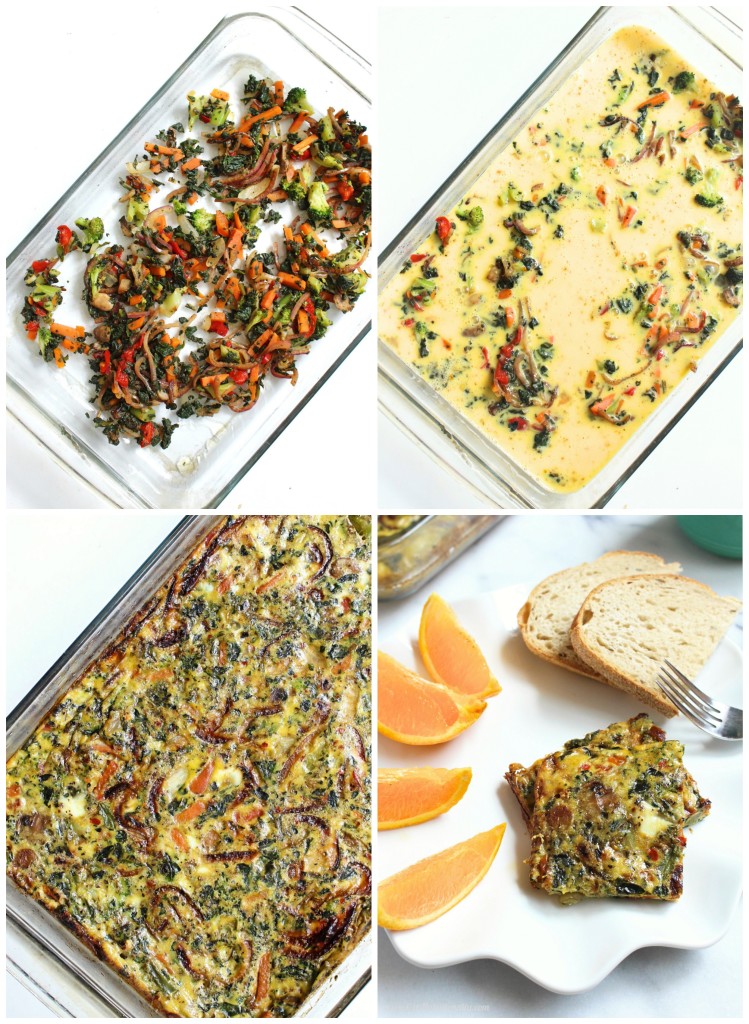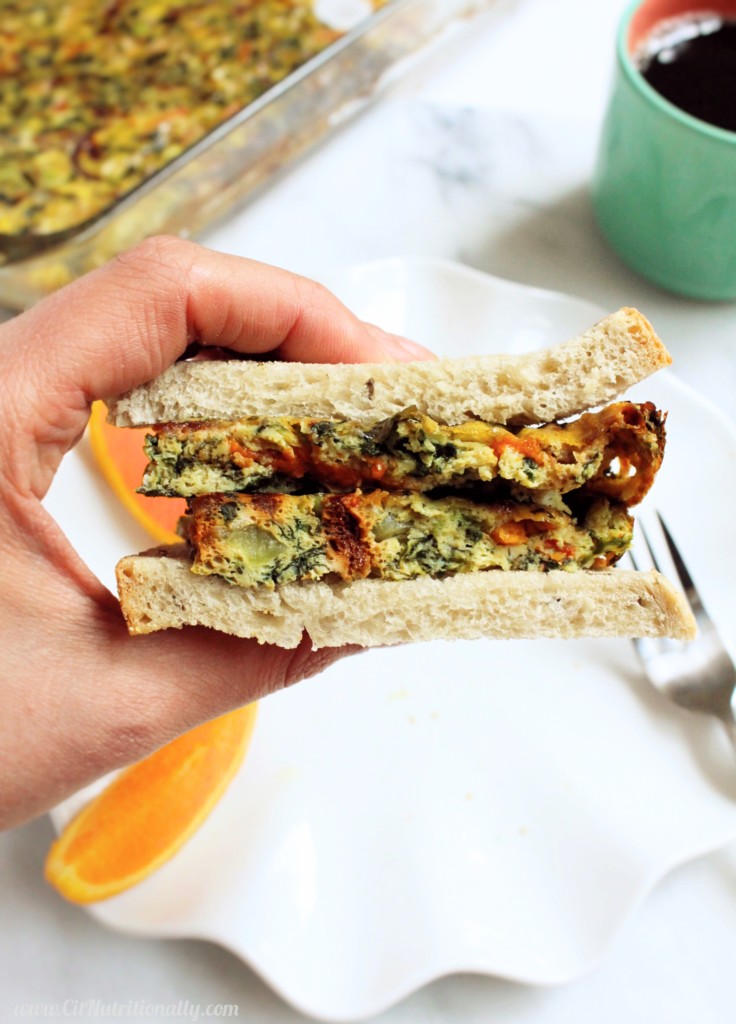 This
3-Ingredient Baked Frittata
is…
Perfect for food prep (even if it's the

ooonnllllyyy

thing you make!)

Made with just 3 ingredients + spices
Easy to make (and almost impossible to mess up!)

Great to entertain a brunch crowd

An awesome breakfast for dinner

Vegetarian

Gluten free and Grain free

Totally customizable based on what you have in your kitchen…
And I kept this recipe pretty basic on purpose. I want you to be able to customize it to your liking…
Have leftover veggies from last night's stir fry? Great, throw 'em in. Don't have any veggies in your fridge? That's OK… defrost a bag of frozen veggies and get cookin'. Don't like turmeric or oregano? Leave 'em out. Want a little more oomph? Add some cheese, if you'd like, or use all whole eggs.
There's really no wrong way to make this recipe, so the combos are endless! My only point of caution would be to make sure that you don't overcook the eggs if you will be heating it up in the morning. No one likes rubbery, overcooked eggs!!
But if you cook justttt until set and golden on top, you won't have any problems heating this baked frittata in the morning and will have an eggggggg-cellent breakfast!
See what I did there?!
Let's cook…


3-Ingredient Baked Frittata
Ingredients
10 egg whites*
2 whole eggs
1/3 cup milk of choice (I used non-dairy Ripple milk)
2 cups cooked vegetables, chopped into uniform, bite-sized pieces (any leftovers work!)
Spices: 1/4 teaspoon black pepper
1/2 teaspoon dried oregano
1/2 teaspoon turmeric
1/4 teaspoon red chili flakes (optional)
Salt, to taste
Instructions
Preheat oven to 350°F. Lightly coat an 8 x 8-inch pan with nonstick oil spray.
Whisk egg whites, eggs and milk together in a medium-sized bowl until the mixture is of uniform consistency.
Add spices and continue to whisk until combined.
Evenly distribute the vegetables on the bottom of the coated pan. Add egg mixture and gently swirl with a fork or whisk.
Bake for 30-35 minutes, until eggs are set. Be careful not to over-bake.
Serve immediately or let cool and cut into individually-sized portions for the week. You can microwave each portion for about 30 seconds to reheat in the morning. Enjoy! :)
Notes
*Alternatively you can use 9 whole eggs for a richer morning meal instead of the 10 egg whites + 2 whole eggs.
http://citnutritionally.com/3-ingredient-baked-frittata/
Don't forget to PIN IT…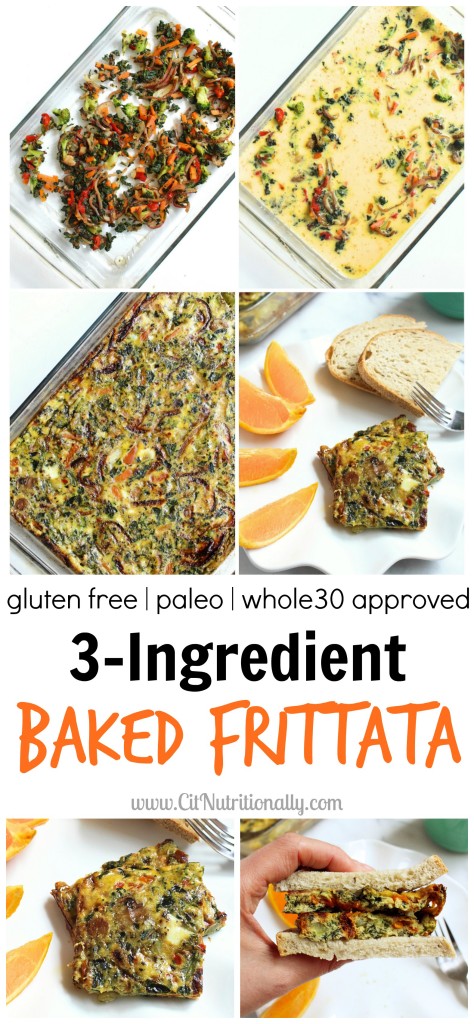 I reheat a piece of my baked frittata for just 30 seconds in the microwave and it's perfect to stuff into a whole wheat pita pocket on my way out the door or even add to my lunch!
What's your go-to food prep breakfast? Share with me in the comments below!


XO
If you want to stay connected or you make something from C it Nutritionally I would LOVE to see your creations! Tag me or use the hashtag #CitNutritionally!

Let's get social! 
Facebook: C it Nutritionally
Twitter: @ChelseyAmerRD
Instagram: @CitNutritionally
Pinterest: ChelseyAmer