Fight the flu and prevent the pesky cold that's going around with this 30 minute Immune Boosting Veggie Soup that realllllly only takes 30 minutes to make!
Vegan, gluten free, grain free, paleo, Whole30, nut free, dairy free, egg free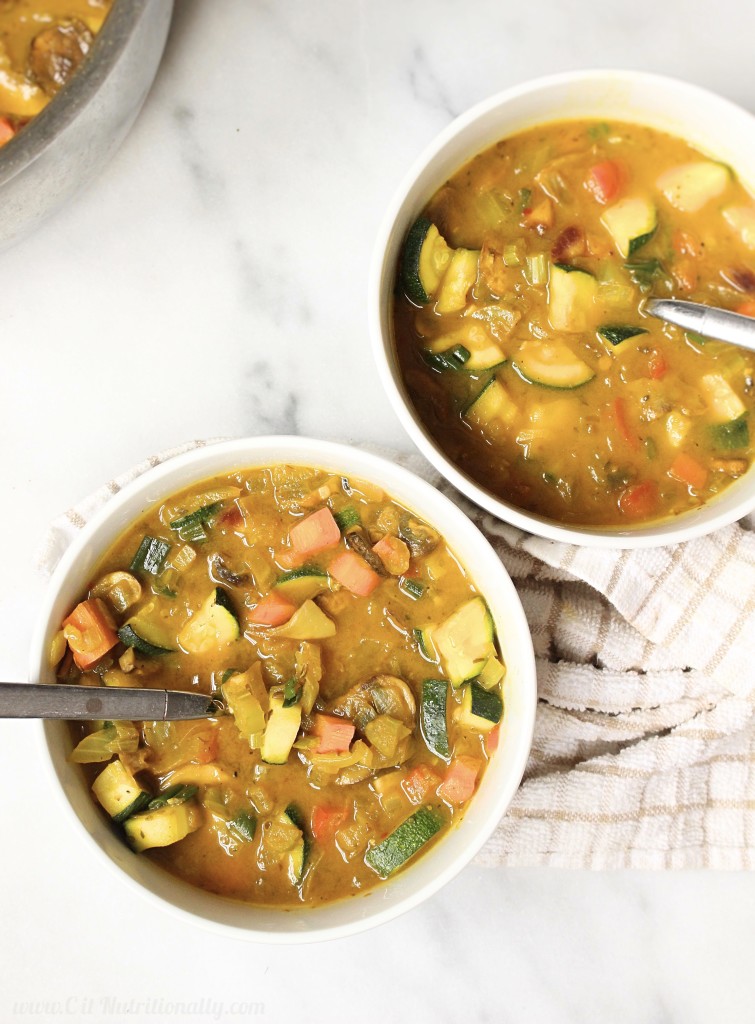 If we've connected on Instagram then you know that last week I was totally out of commission and totally under the weather. YUCK! I was bonked down with a bad respiratory virus that's going around and it was NO. FUN. Sniffles 24/7, trouble sleeping from all the coughing and those achy breaky muscle pains.
But there's good news! I'm totally feeling better now and made this delicious 30 minute immune boosting veggie soup that helped me kick my cold and get back to my A game.
And now I'm sharing it with you!
If you haven't caught what's going around right now ((I'm jealous)), GOOD, let's keep it that way and nourish your body and soul with everything that's in this bowl…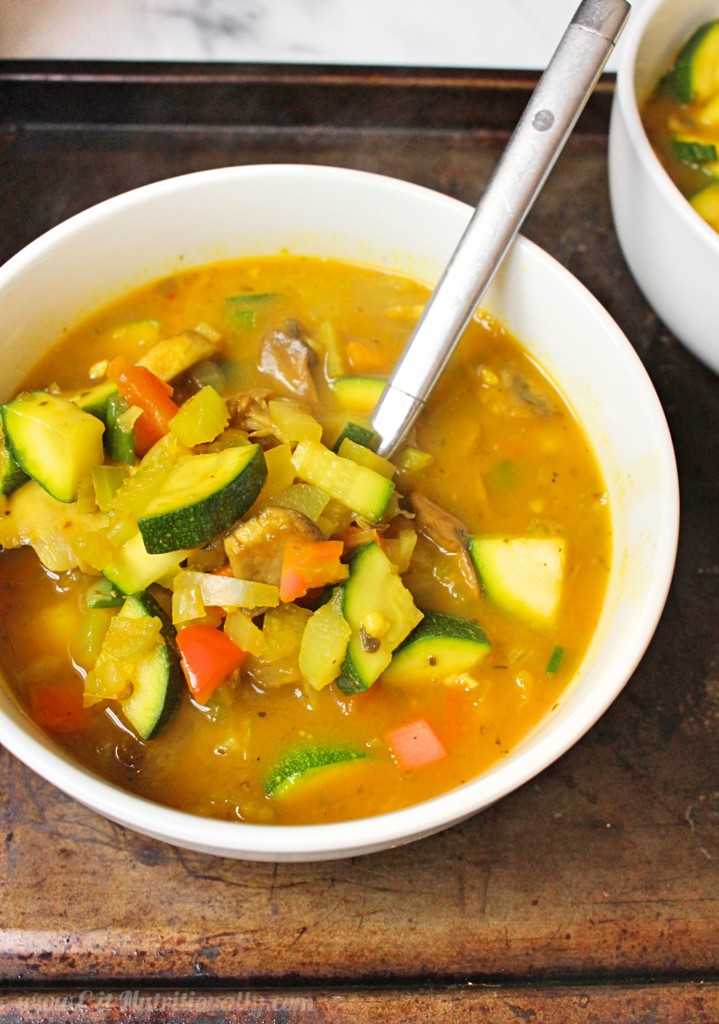 1.Veggies
The base of this soup is veggies and for a few very good reasons. Veggies are loaded with liquid (see more below), vitamins and minerals and antioxidants so they have all the good stuff to try and keep you healthy. Plus, there's no food more nourishing than veggies to fuel your body and keep it working properly — so get yo' veggie on!
2. Turmeric
If you haven't heard of turmeric this flu season then I don't know where you've been! This anti-inflammatory spice has gotten HUGE media attention over the past couple of years and now everyone and their mother are drinking golden lattes. While I'm not a fan of drinking turmeric, I can get behind spicing up this soup with it. It provides warm flavor with a side of reduced inflammation to prevent bacteria from cozying up inside you.
3. Ginger
If you have any symptoms of nausea then ginger is your friend. But ginger is also anti-inflammatory and infection-fighting so if you're under the weather or just getting that tickle in your throat, load up on ginger!
4. Oregano
This Mediterranean spice doesn't only taste absolutely delish, but it's also an excellent source of vitamin K and fiber AND antioxidants! But the real reason I included it in this immune boosting veggie soup is because oregano is known to be an effective anti-bacterial…. Especially against stomach bugs, which is especially important if you're on antibiotics! Moreover, the essential oil of oregano is known to help ease the symptoms of upper respiratory infections, so crushing some in your hands and inhaling that beautiful aroma does more good than just tickling your nose buds.
5. Warm broth
Sipping on fluids isn't just important because your grandma said so, but because it helps (gross alert!) thin mucus and help prevent bacteria from sticking. Plus, slowing down to sip soothing warm broth can help calm you and reduce stress, which helps keep your immune system strong. While research shows chicken soup is good for the soul, so are most warm liquids, so if you're a vegetarian, stock up on that veggie stock!
Now let's cook this 30 minute immune boosting veggie soup…
30 Minute Immune Boosting Veggie Soup
Ingredients
2 teaspoons olive oil
1 cup chopped onions
1/2 cup chopped carrots
1/2 cup chopped celery
1 cup thinly sliced mushrooms
3/4 cup chopped bell pepper
1 cup quartered zucchini (cut lengthwise, then in half again and chopped)
4 cups low sodium vegetable stock
1 teaspoon ground turmeric
1 teaspoon dried oregano
1 teaspoon dried ginger
1/2 teaspoon whole fennel seeds
1/4 teaspoon freshly ground black pepper
Instructions
In a medium to large stock pot over low to medium heat add olive oil, garlic, onions, carrots and celery. Saute until softened, about 5 minutes.
Add additional vegetables -- mushrooms, bell pepper and zucchini -- and all spices and continue to saute over medium heat until just softened, about another 5 minutes.
Once vegetables are just tender to fork add low sodium vegetable stock and bring to a boil.
Serve warm.
Notes
Nutrition Facts (per serving, for 6 servings): 54 calories, 1.6g fat, 111mg sodium, 8.5g carbohydrates, 1.5g fiber, 1.2g protein
http://citnutritionally.com/30-minute-immune-boosting-veggie-soup-video/
Don't forget to PIN IT…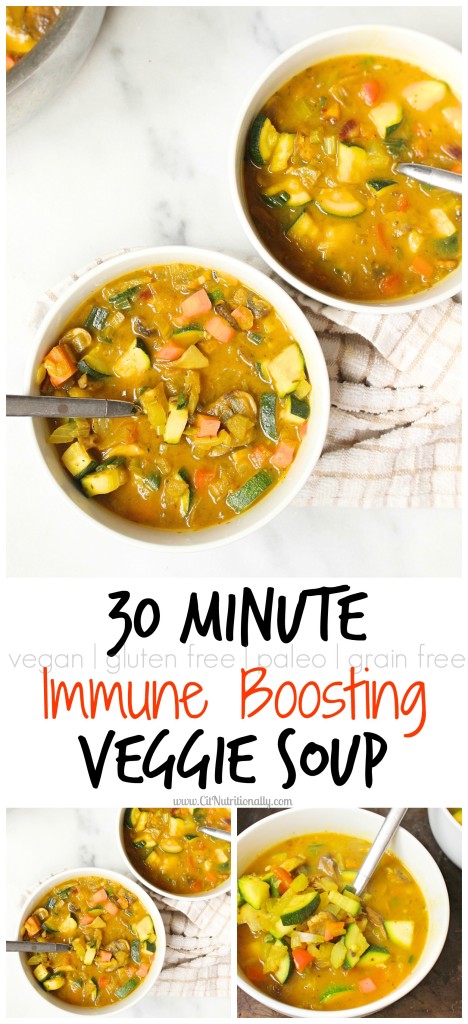 Stay healthy my friends!
XO

Let's get social!
Facebook: C it Nutritionally
Twitter: @ChelseyAmerRD
Instagram: @CitNutritionally
Pinterest: ChelseyAmer