Creamy, delicious, bloobilicious and chocolatey, this 5-Ingredient Creamy Chocolate Wild Blueberry Smoothie tastes totally indulgent but it's loaded with antioxidants, vitamins and minerals, with no added sugar.
Vegan. Gluten free. Grain free. Nut free. Dairy and soy free options.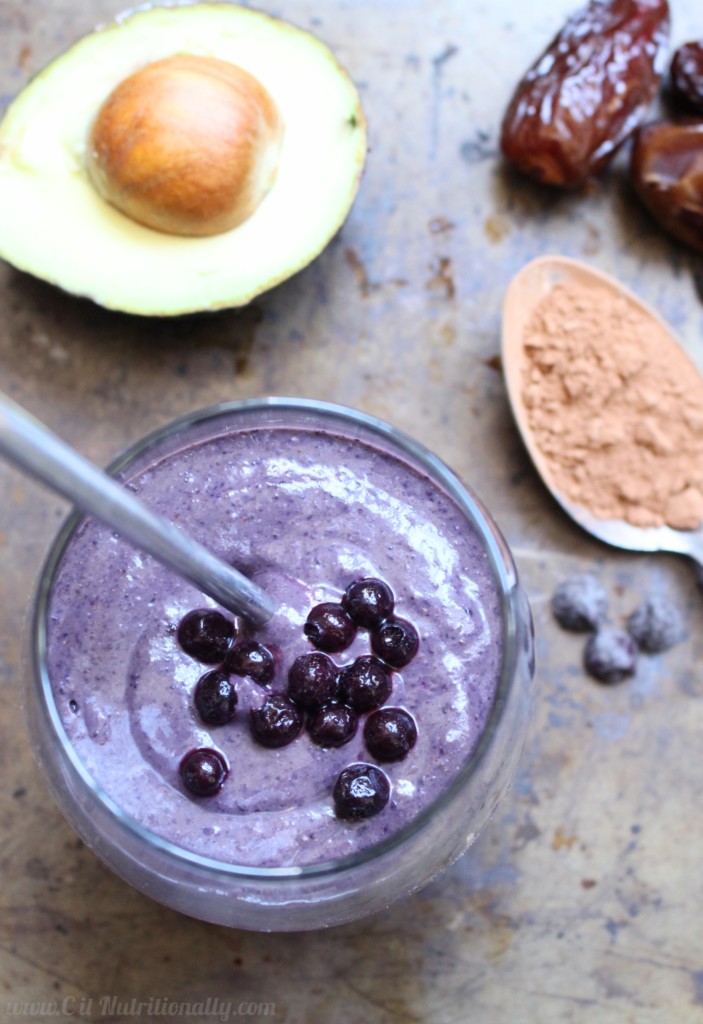 Disclosure: By posting this recipe I am entering a recipe contest sponsored by the Wild Blueberry Association of North America and I am eligible to win prizes associated with the contest. I was not compensated for my time.
I don't know if I should call this a breakfast smoothie or a dessert smoothie or a dessert for breakfast smoothie because it tastes THAT good, THAT indulgent and THAT creamilicious. But is SO good for you!
Imagine a silky smoooooooth pudding crossed with a drinkable smoothie because that's what you get with this 5-Ingredient Creamy Chocolate Wild Blueberry Smoothie.
And these five ingredients create the perfect equation to optimize your energy levels, boost the vibrancy of your skin, protect your immune system and more. We're talking antioxidant-rich unsweetened cocoa powder, heart-healthy avocado, protein packed milk and my favorite ingredient…WILD BLUEBERRIES!
Have you heard of Wild Blueberries before?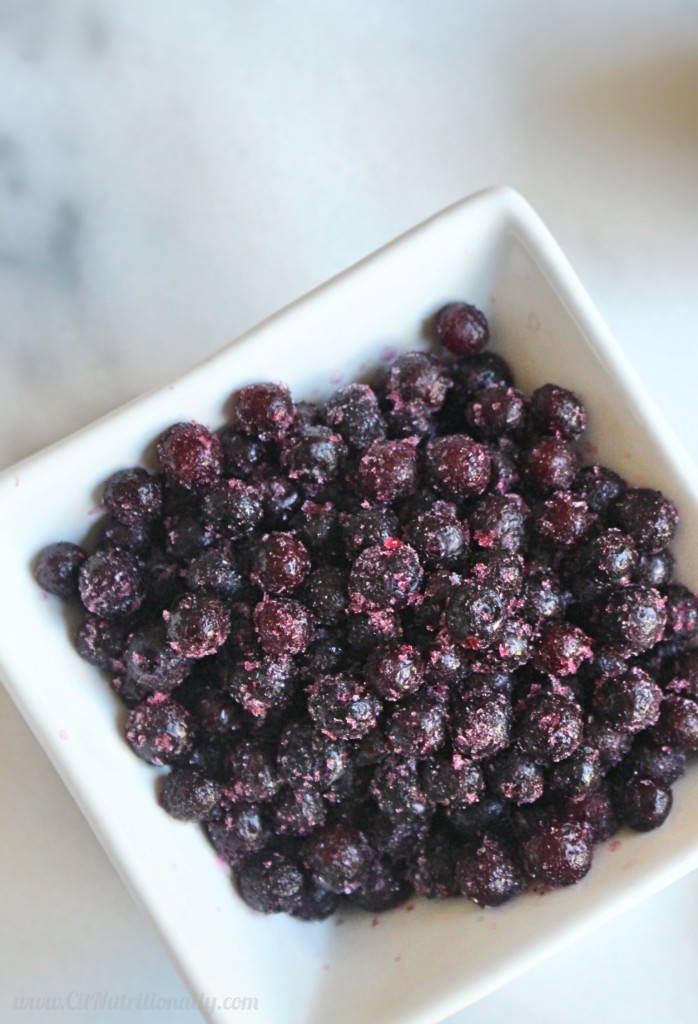 I like to call them blueberries intense cousin. Intense in the best of ways though…
Their

flavor

is more intense and complex than traditional blueberries. They're a delicious mix of sweet with a hint of tartness

Their

antioxidant content is double that of regular bloobs! So we're talking benefits for your heart, gut and brain health, plus diabetes and cancer prevention too!
Wild bloobs come from

naturally-occurring barrens and fields in Maine and Eastern Canada that have been there for 10,000 years!

You can buy Wild Blueberries in the freezer section of your local supermarket. Up to 99 percent of the Wild Blueberry crop is frozen quickly at harvest, essentially pressing pause and locking in allllll the good nutritious benefits and delicious flavor. Just make sure the package says "WILD." I bought mine at Trader Joe's, duh! 
And you know how much I love my blueberries! So when I combine wild bloobs with chocolatey goodness, what's not to love?!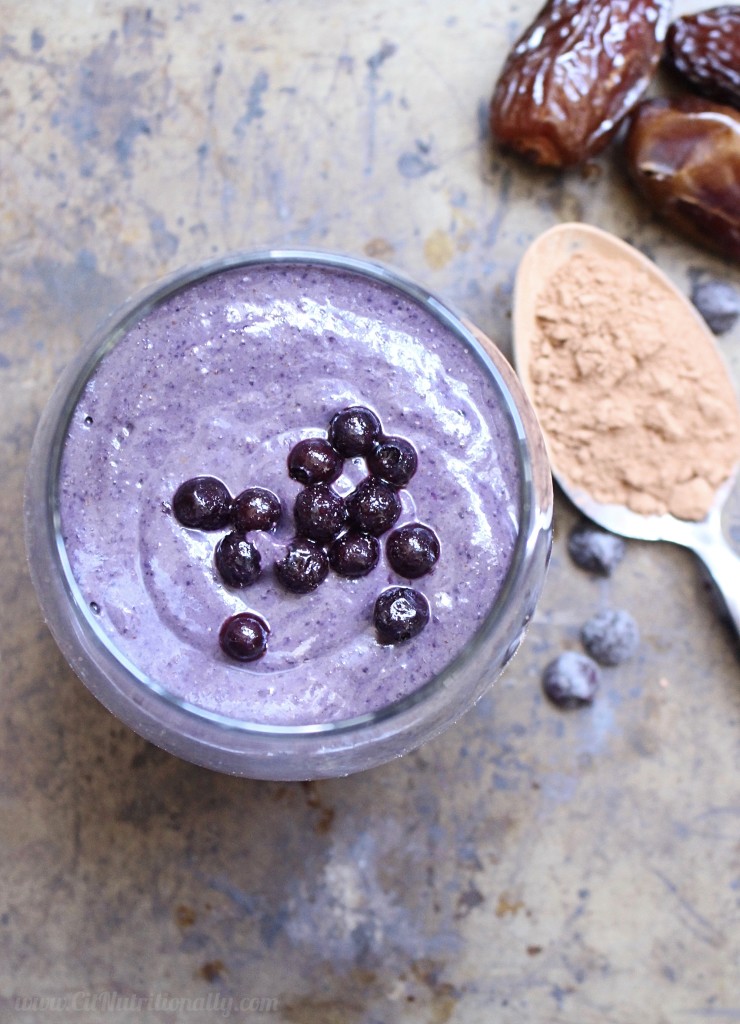 Seriously whip out that blender STAT!
Creamy Chocolate Wild Blueberry Smoothie
Ingredients
1/2 cup frozen Wild Blueberries
1/4 avocado
1 tablespoon unsweetened cocoa Powder
1 medjool date
1/2 cup milk of choice
Optional: 2 handfuls of spinach
Instructions
Add all ingredients to a high-powered blender and blend until smooth. Pour into a cup and enjoy!
Notes
Nutrition Facts (for recipe): 225 calories, 8.5g fat, 97mg sodium, 37g carbohydrates, 12g fiber, 7g protein
http://citnutritionally.com/5-ingredient-creamy-chocolate-wild-blueberry-smoothie-one/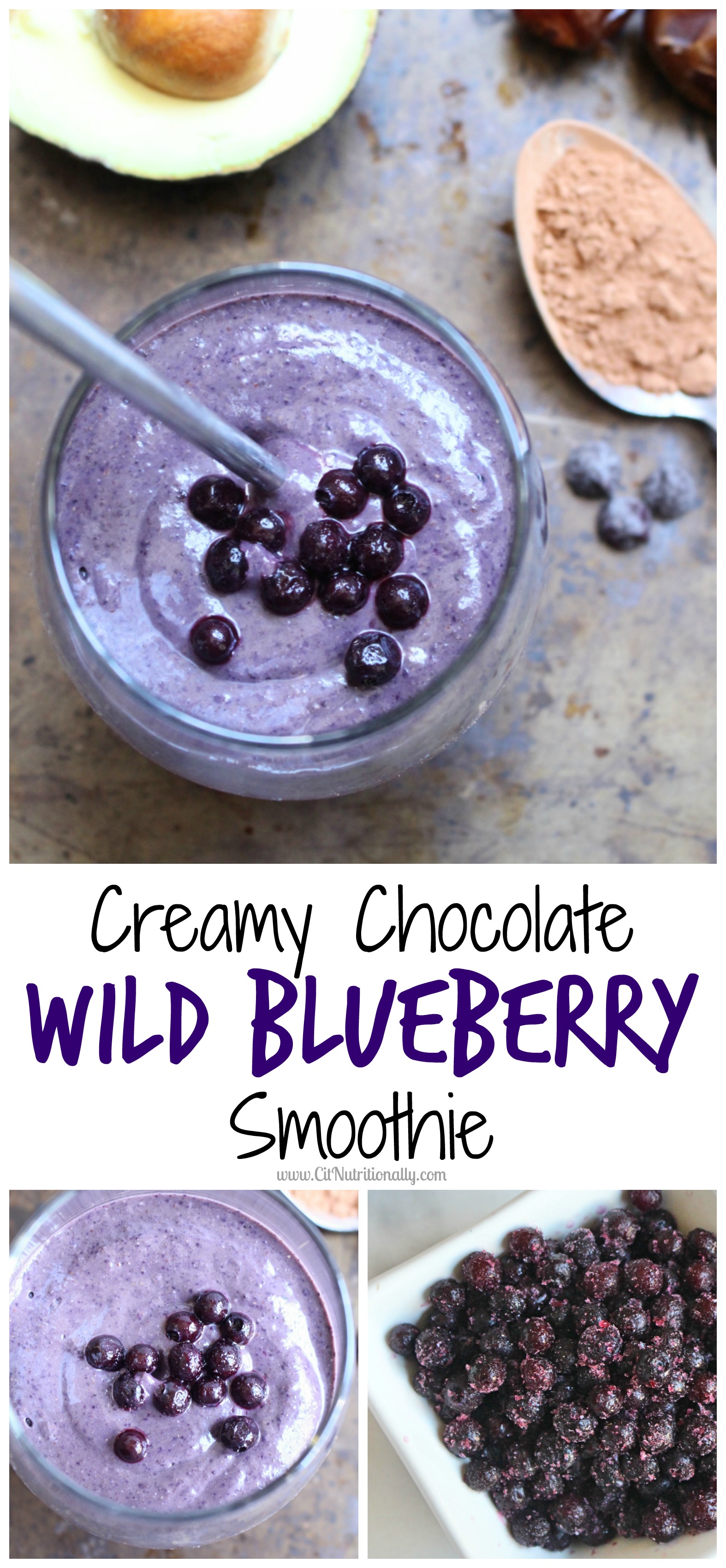 If you haven't tried Wild Blueberries before, I'm not too sure what you're waiting for…
Happy smoothie-ing!


XO

Let's get social!
Facebook: C it Nutritionally
Twitter: @ChelseyAmerRD
Instagram: @CitNutritionally
Pinterest: ChelseyAmer