.If you're looking for a lean, but filling, warming and hearty meal that's SO easy to whip up, look no further than my 5 Ingredient Easy Mushroom Tacos! Vegan, Nut free, Gluten free & Soy free.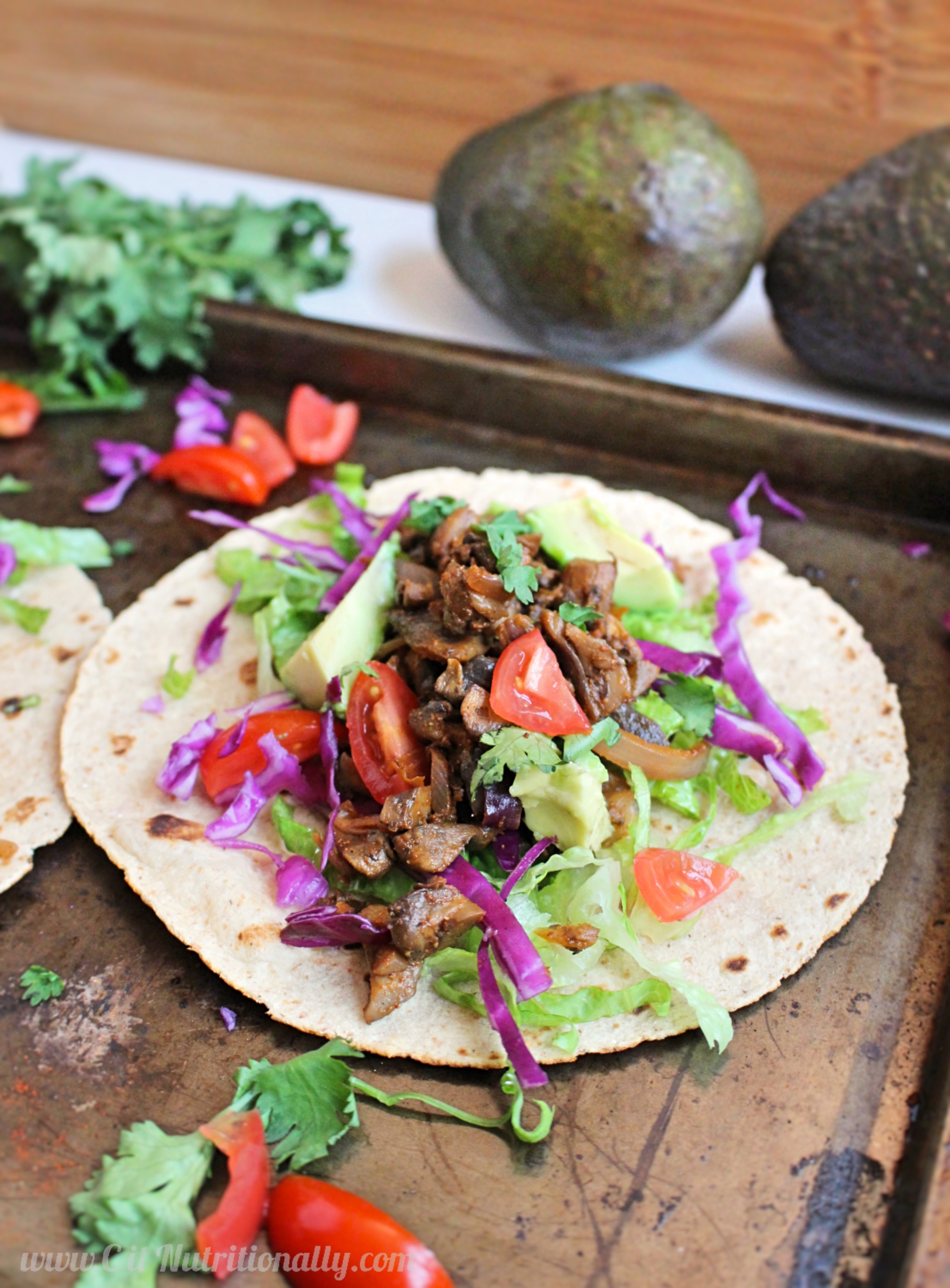 As part of Chelsey's ultimate plan of procrastination last week, I made this dinner at 2pm one day and fell in L-O-V-E with it too! I'm taking my last two classes for my masters and I DEFINITELY have senioritis (is that a thing in grad school???). As much as I love the learning process, the time crunch of grad school and how they jamsodarnmuchintoeverysemesteritsonly10weeks feeling just can't quit!
Soooooo…to say I need EASY, 5 ingredient meals is an understatement! Or I can just procrastinate and food prep alllll day ((not really, but way more than usual))!
I made these 5 Ingredient Easy Mushroom Tacos ((yup, you can count the ingredients on one hand)) in a similar fashion to my tofu tacos or even my shrimp tacos…just onllyyyy veggies…and spices! 
But SO hearty, filling and sink your teeth into it GOOD!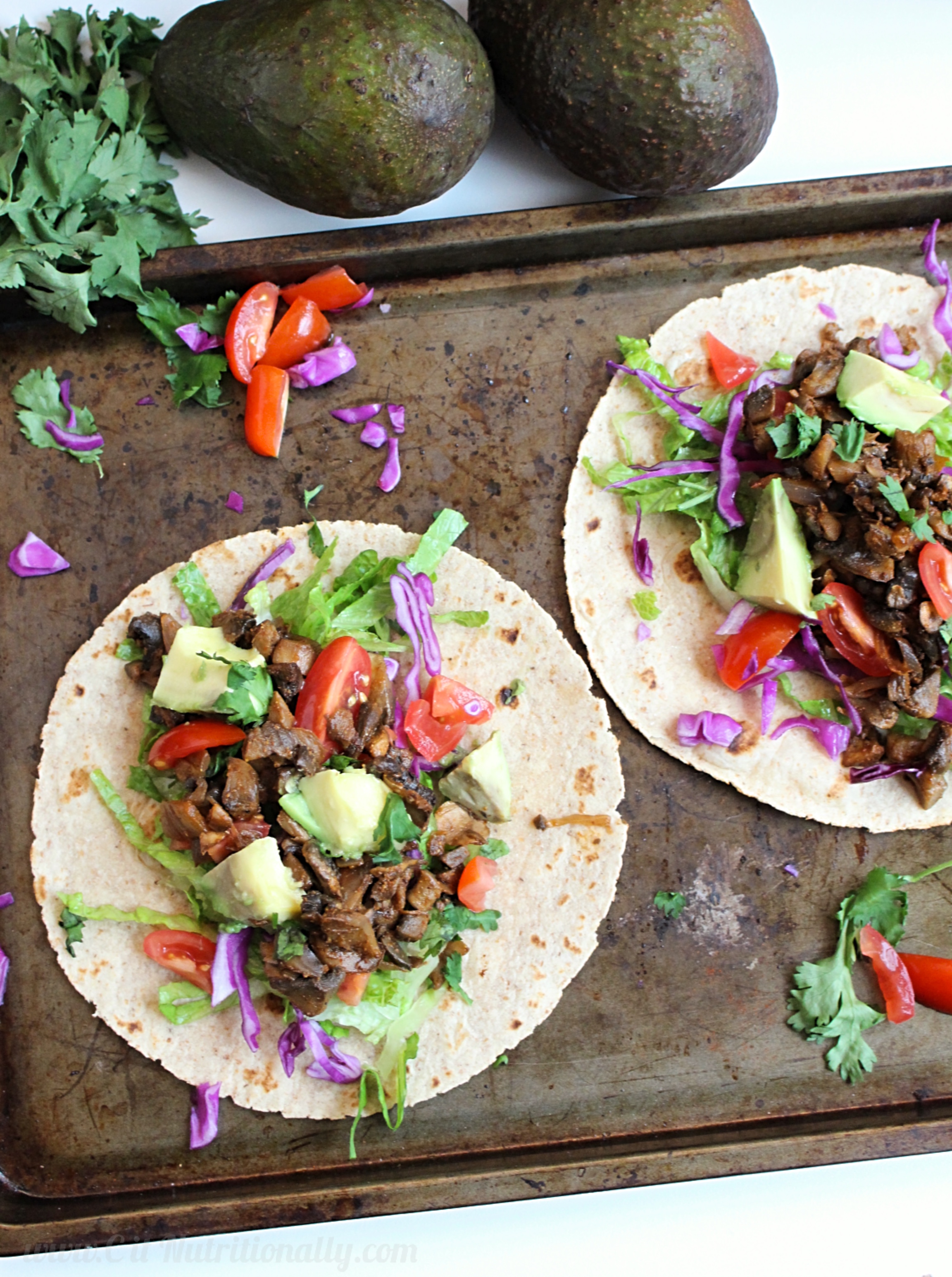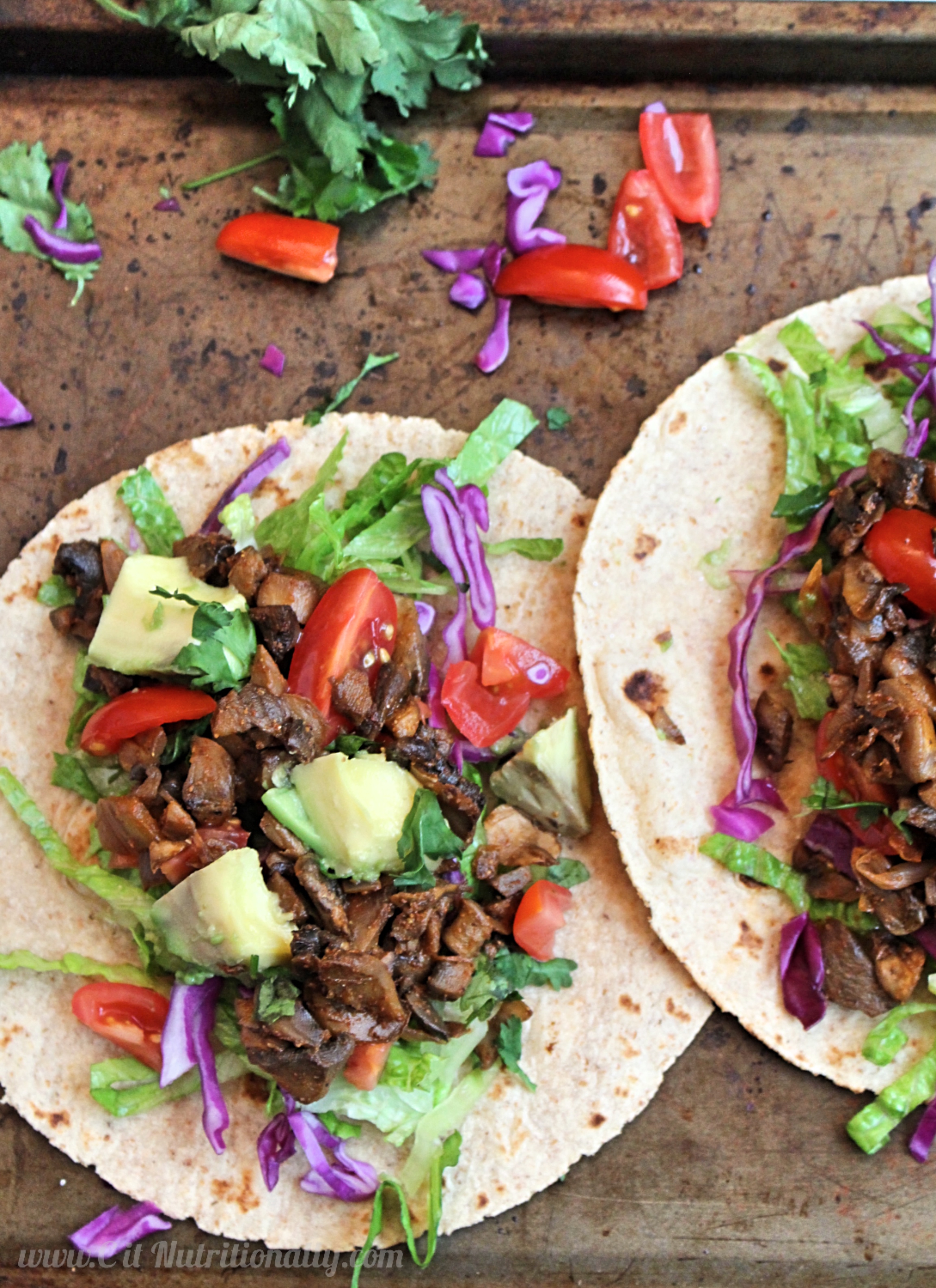 Mushrooms and I are having a love affair these days. If you're a shroom lover too, throwing them into these tacos will take your love affair to a whole new level! Although just a couple of years ago I wanted NOTHING to do with 'em…funny how tastes change!  
So why are mushrooms so good for you?? They…
Provide

immune system support (they're a very good source of zinc!)…which, HELLOOOO, we ALL need this time of year!!
Protect your ticker from heart disease (they're a very good source of potassium).

Are a good source of

folate

and

protein…yup, #PLANTBASED PROTEIN!

Have tons of

water (have you ever seen 'em sweat?!), so they FILL YOU UP!

Have a

hearty

texture and

umami flavor

that will SATISFY any carnivore!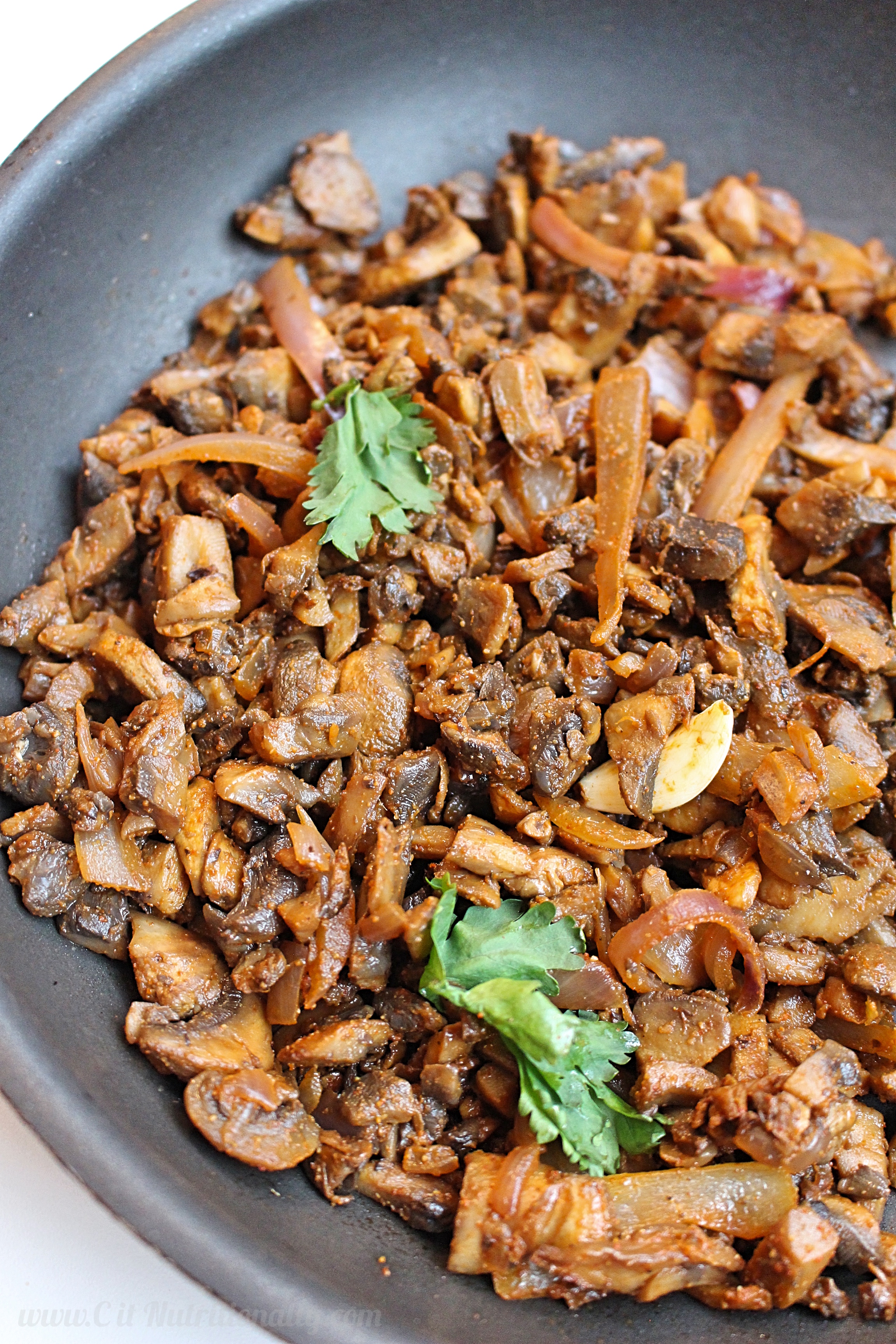 And who doesn't love a good taco?! You know what I'm taco-ing 'bout?!
Plus, with only five ingredients + spices + optional toppings, you can have dinner on the table in NO TIME! 


5 Ingredient Easy Mushroom Tacos
Ingredients
1/2 tablespoon olive oil
1/2 cup yellow and/or red onion, chopped
2 garlic cloves, chopped
2 pints sliced white button mushrooms, finely chopped
Spices:
1 teaspoon smoked paprika
1/2 teaspoon chili powder
1/4 teaspoon each: cumin, garlic powder, black pepper
Salt to taste (recommend ~1/4 teaspoon)
2 tablespoons chopped cilantro (more to taste)
6-8 6-inch whole wheat or corn tortillas*
Optional toppings: avocado, salsa, shredded lettuce and/or cabbage, chopped tomatoes
Instructions
In a large saute pan, saute onions, garlic and mushrooms until mushrooms are browned on the outside. You may need to saute in batches so that your mushrooms have plenty of room to brown and do not steam instead. Drain excess water that accumulates in your pan while sautéing.
Once mushrooms are mostly browned and the water is drained, add your spices. Continue to saute until aromatic for another 1-2 minutes.
Turn off the heat and mix in cilantro. Divide mushroom taco mixture into 6-8 tortillas. Top with your favorite taco garnishes (I prefer shredded lettuce, tomatoes, cilantro and avocado!).
Enjoy!
Notes
*Be sure to use CORN TORTILLAS to make this recipe gluten free!
http://citnutritionally.com/5-ingredient-easy-mushroom-tacos-vegan/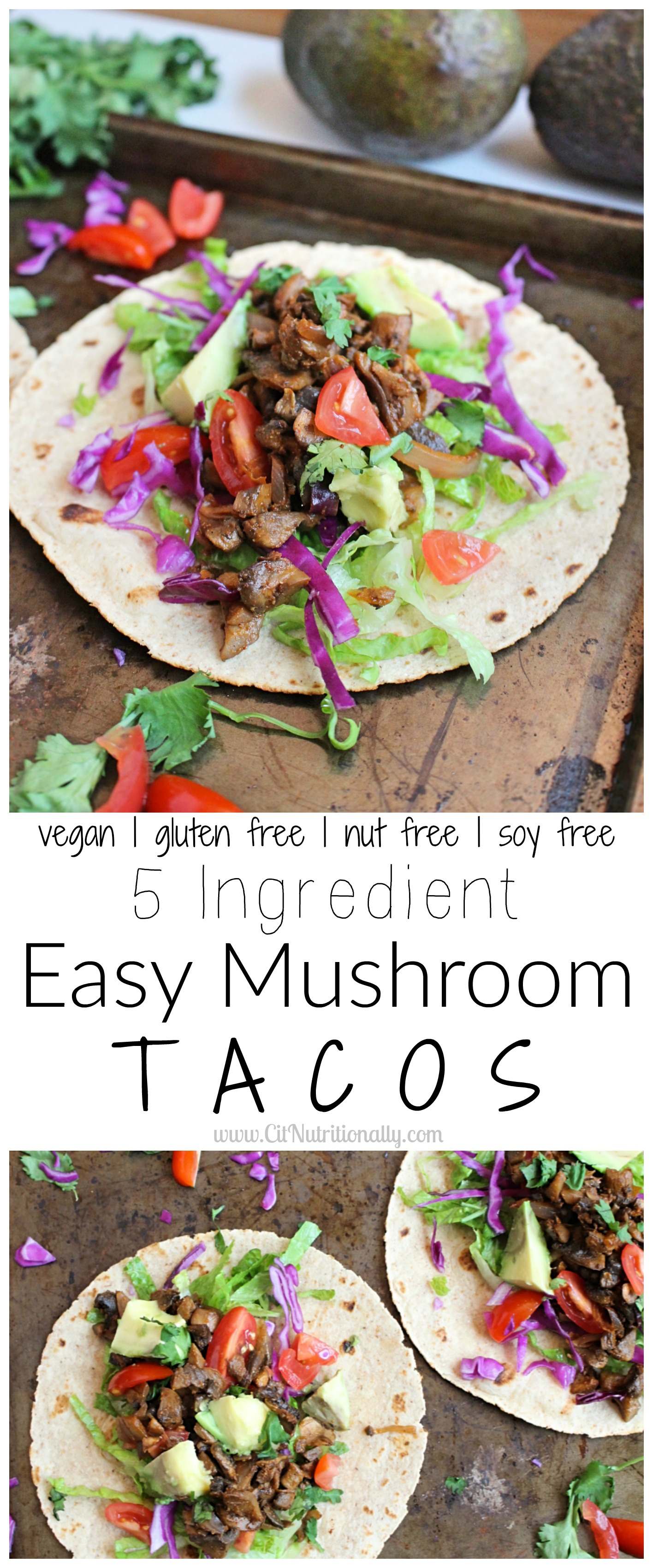 Who says you have to wait until Taco Tuesday?! 
XO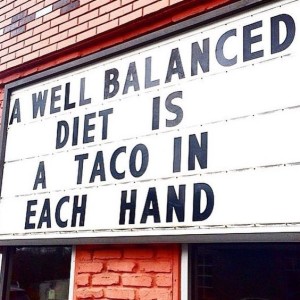 Let's get social!
Facebook
Instagram
Pinterest
Twitter

MORE TACOS YOU'LL LOVE…