Hi my friends!
We're back from Israel and I'm full of inspiration, buzzing excitement, and motivation to share with you over the next few weeks! And today, I'm starting off with basics – FOOD! I know… so broad… but to be more specific, Israeli food and the Mediterranean diet and 6 ways you can follow the Mediterranean diet!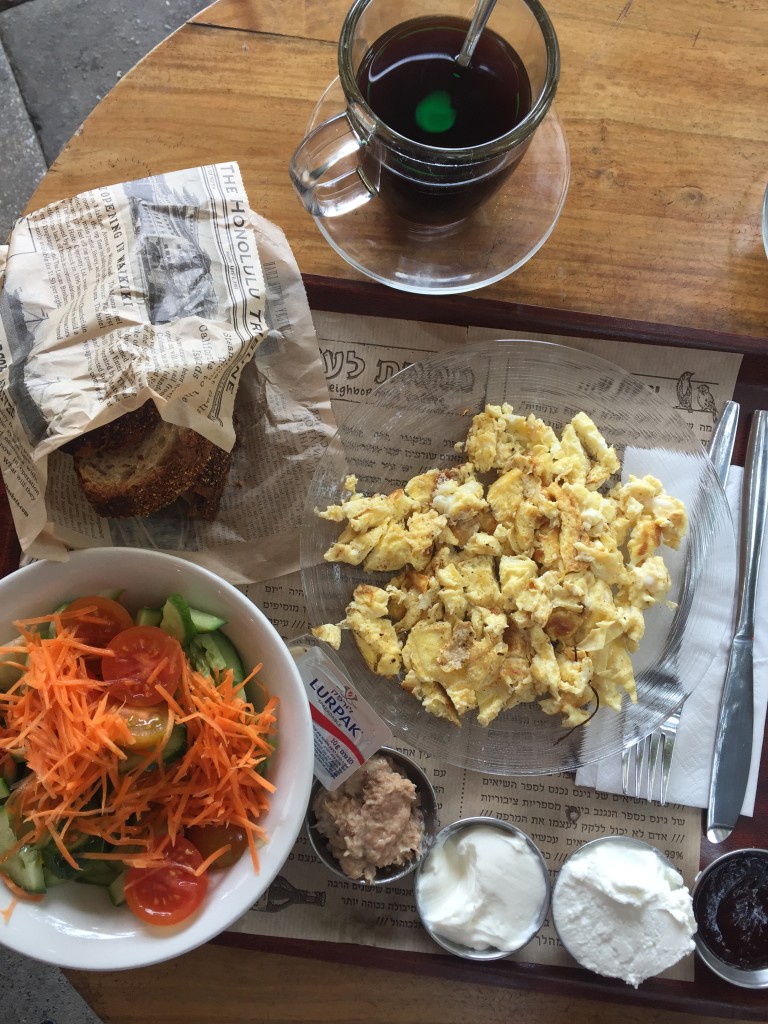 Israelis are tough as nails, they're ALL gorgeous (no joke), have a live in the moment attitude and appreciate what really matters in life. Oh and did I mention that Israeli food is DELICIOUS?! So naturally, when I was living in Israel after college I wanted to pick up a few Israeli habits (and some have stuck even five years after I've moved back home to New York)!
One of these habits happens to be eating like an Israeli (at least part of the time!).
I think following the Israeli way when it comes to food is a darn delicious, varied, social and nutritious way of eating too (if you're not stuffing your face with fried falafel and bamba all day errryyday).
Have you tried my Baked White Bean Falafel yet?
The Israeli diet is pretty much a Mediterranean diet. And although I'm not a fan of diet labels (more on that in another post), labeling my diet as Mediterranean is one I can get behind… and it's one I've been a fan of for quiiiite some time. ((We're talking one of my first posts here on C it Nutritionally was about foodspiration from the Mediterranean.))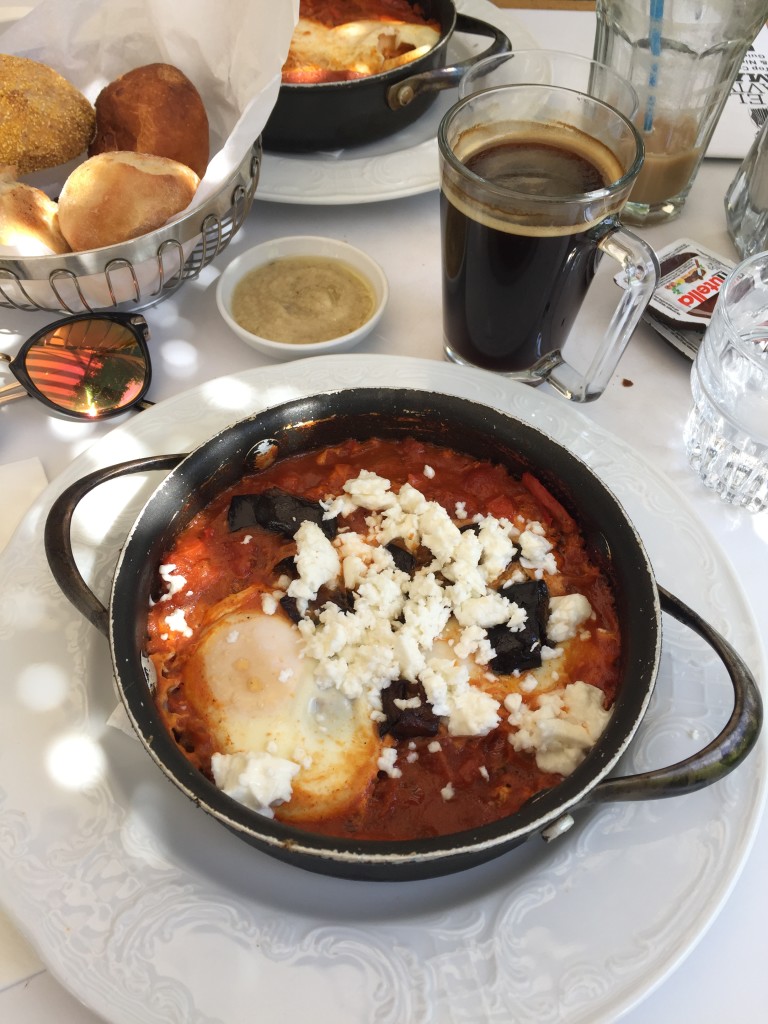 Oh, and did I mention plenty of doctors and dietitians agree based on the health effects alone?! L'chaim! ((cheers!)) — See some great research articles linked at the bottom of this post!
So what is the Mediterranean diet? It's what people who live along the Mediterranean Sea eat. From Greece to Israel to Italy and Spain and more. I don't like to look at it as a diet because there is no one diet… it's a way of eating. There are many shared principles among the countries along the Mediterranean Sea that contribute to this way of life and eating.
Even though each country has its own food preferences and cultural habits, the Mediterranean diet is typically rich in…
Vegetables
Fruit
Legumes and beans
Fish
High quality olive oil and olives
Seeds and nuts
Whole grains
It's fresh. It's nourishing. It's wholesome.
Sure, packaged foods and fast food are creeping up in popularity and in 10 years I may not be able to say the same things about the Mediterranean diet as I am right now, BUT for the most part, it's a well-rounded healthy diet that is based on local food.
So, since one of my favorite parts of traveling is learning about food culture (yup, I plan ahead to visit the local markets and supermarkets!), getting immersed in the local cuisine on this vacation was a much-needed refresher since I moved back home from Tel Aviv five years ago.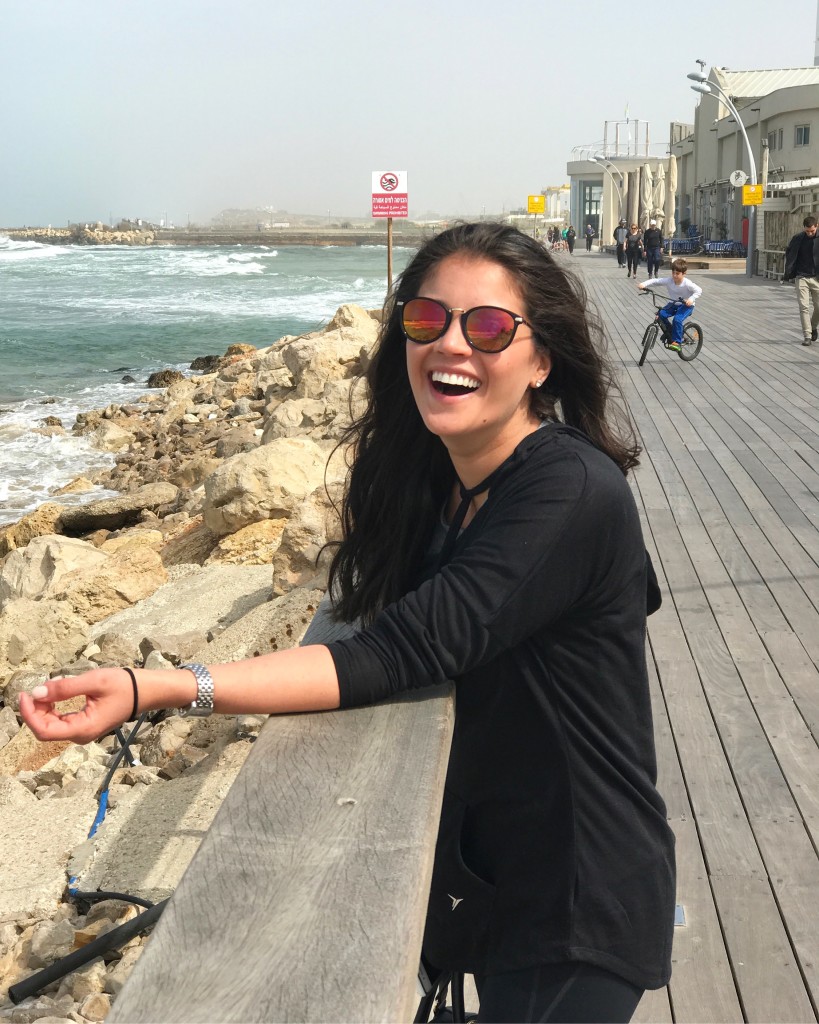 From my experience, Israelis truly practice what I like to teach my clients… moderated moderation!
((And BTW – so does Brazil!!))
Walking through the Israeli markets (called 'shuks'), you will find tons of fresh produce stands, freshly made breads, olives, but also halvah and candy. Although the sweets aren't necessarily something I'll promote, there is definitely room for indulgences in an otherwise well-rounded diet!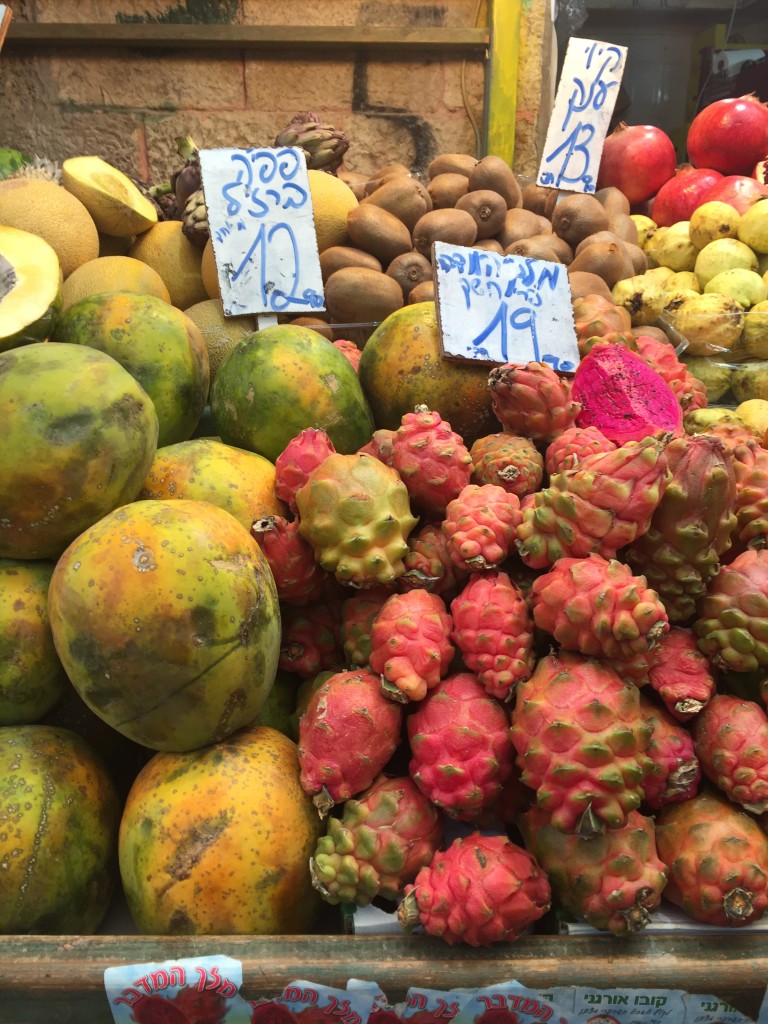 So how can you make your diet more Mediterranean?
Here are 6 Ways You Can Follow the Mediterranean Diet…
1. Eat vegetables at every meal.
I can't tell you how many days this vacation I ate salad for breakfast. And not because I forced myself to but because it was simply there ((like at our hotel buffet for example – did you see my Insta stories?!)) and looked delicious! Israelis know how to do breakfast and it's definitely more savory than sweet (something I'm definitely going to try and bring home with me!). And a part of these savory meals to start the day is always Israeli chopped salad… or just salad if you're in Israel!
2. Eat local.
I know for a fact that my food radius (the distance my food traveled from farm to plate) when I was in Israel was significantly less than it is in the States. Israel just doesn't import all too much and the various climates across the small country make it optimal to grow a wide variety of crops.
Case in point: Strawberries in Israel come around for just a few short months every year and when they're gone, they're gone! Not only do these strawberries taste better, they're likely chock full of a lot more vitamin C than the organic strawberries I could buy at Whole Foods for a gazillion dollars in the off season. Sometimes having everything you want [to eat] at your fingertips isn't the best!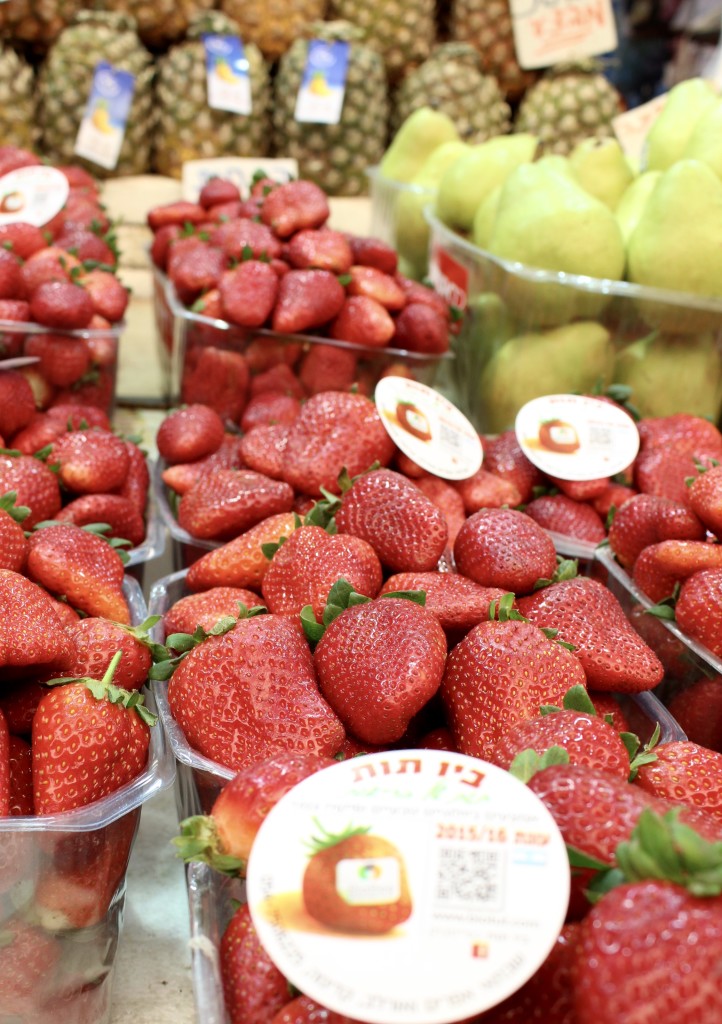 3. Taste everything.
I had dinner with my Israeli relatives and this visit something dawned on me. When it was time to order dessert, they all said "You choose, I just need a taste." And I realized that this very principle contributes to the many reasons as to why there is no national weight problem in Israel and there aren't commercials pushing this or that fad diet every second. Israelis love a good glass of wine, freshly baked (not wholewheatveganglutenfree) bread, and dessert too, but they're ok with just having a taste.
4. Choose more plant based foods.
I did notice that "vegan" and "gluten free" labels creeped up a bit more since the last time I was in Israel [five years ago], but I have to say even before this craze started taking over Israel too it was SO easy to eat a well-rounded vegan diet. Much of the Mediterranean diet is based on fresh foods, including beans and legumes, seeds and nuts and healthy fats, that a vegan can easily eat something everywhere. I mean… hummus anyone?!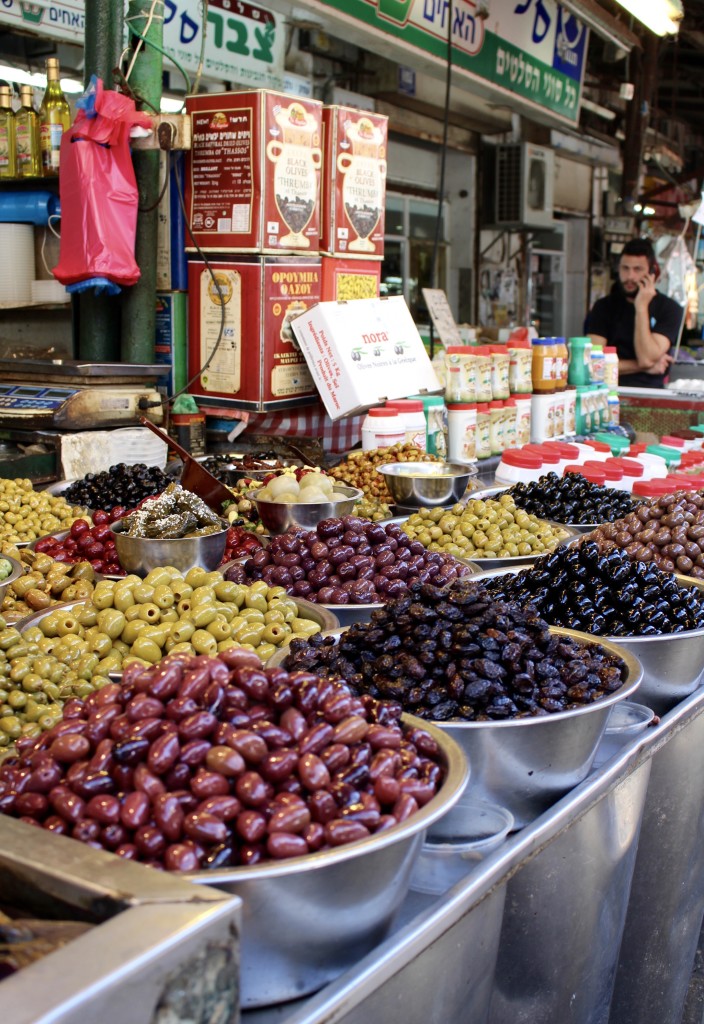 5. Don't fear fat.
America has a "fat-free" mentality that I think is just beginning to shift (THANK GOODNESS!!). Israel does not. They love high quality Mediterranean fats — olive oil, olives, avocado, higher fat dairy products, nuts and seeds. Eating more of these fats boosts the flavor of your meal like woaahhh, but also increases satiety, which means you won't be grazing an hour later from your salad with oil-free dressing!
Of course, fats do contain more calories than carbohydrates and protein so it is important (especially if you're working on weight management) to not over-do it… remember: moderated moderation!!
6. When you eat, just eat.
OK, and socialize… but you're not walking to your next meeting, working at your desk, or watching TV. Just eat…at a table…maybe with some friends or family. Focusing on just eating is a form of mindfulness that most Americans really need to work on. I know you can do it, it just takes practice.
Make a poignant effort to focus on your food at your next meal and see how you feel – did you notice when you began to get full and stopped yourself before you got stuffed?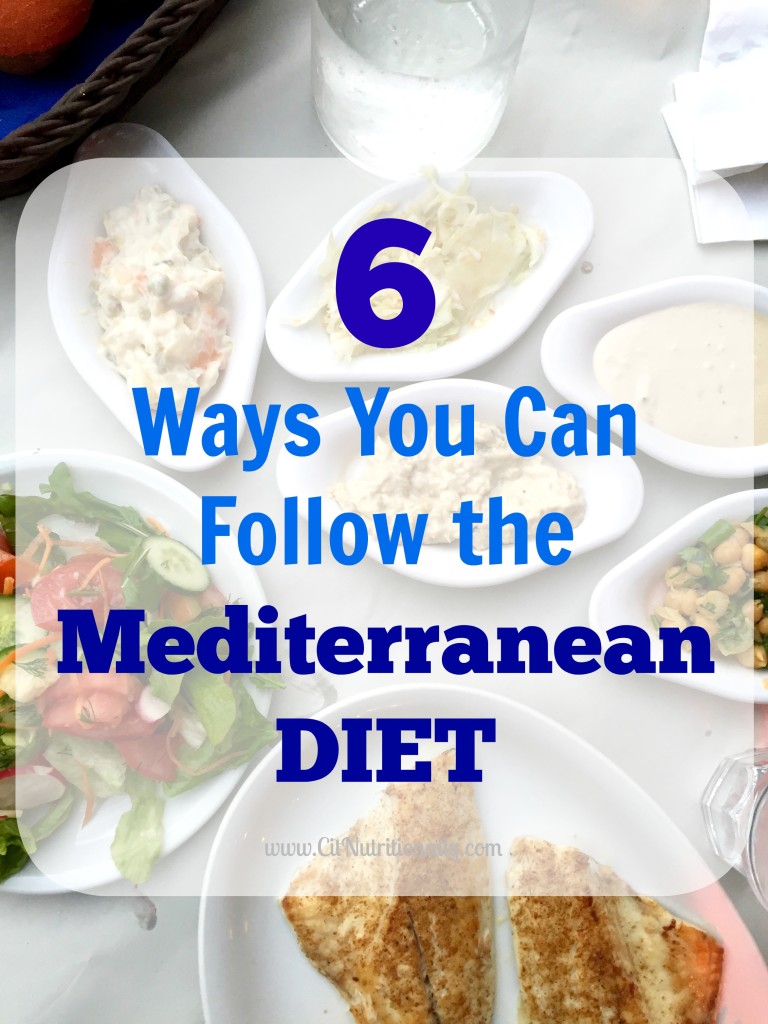 How's that for a delicious trip??? How do other cuisines inspire your diet?
XO
Research of note:
3/10/17: Mediterranean Diet May Ease Chronic Pain of Obesity
2/13/2017: Mediterranean Diet Plus Olive Oil a Boost to Heart Health?
1/4/2017: Mediterranean diet may have lasting effects on brain health

Let's get social!
Facebook: C it Nutritionally
Twitter: @ChelseyAmerRD
Instagram: @CitNutritionally
Pinterest: ChelseyAmer