Living in the age of Seamless, friends always seem shocked when they find out how much I cook (or as I like to call it, "assemble") in my microscopic kitchen.
And I'm talking small…my oven door won't even open all the way! (Although I'm moving next month wooo!!)
Surveying friends, family, and nutrition graduate students I've found that young adults in their twenties have either a packed fridge or it looks abandoned (except for beer and liquor, that is). Very few fall in between. I find myself an anomaly among friends, keeping a produce-packed fridge and freezer. 
Tiny city kitchens are often over-cluttered for newbie chefs and the claustrophobic atmosphere can definitely deter novices from attempting even the easiest of dishes. Although I don't have any friends that use their kitchen as clothing storage (hello…SJP in Sex And The City...classic!), that doesn't necessarily mean they cook.
Then, when I started blogging about Meatless Monday I either had friends who were on board and adopted this healthy habit, or those who'd text me apologizing for eating a turkey sandwich for lunch (feeling guilty friends???).
My response? It's OK if you don't munch meat-free on Mondays, but you should 100% try to decrease your meat consumption to help the planet, your health, and your wallet!
THEN I got to thinking that one of the most significant reasons I think some have trouble adopting #MM is because they just don't know *HOW* (click here for more meatless meal plan ideas)…they don't know what to make, what to bring to work for lunch, or what staples to have on hand that make going meatless a walk in the park!
That, or they assume all you can eat are plain vegetables…NOT TRUE!! 
<3
In order to make your #MeatlessMonday simple AND stress-free, I decided to expose my beloved fridge, freezer, and kitchen cabinets so you can see what I ALWAYS have on hand to whip up meatless meals 7 days a week!
This week, skip calorie-laden and overpriced takeout (have you heard that NYC is one of the most expensive cities to live in?!) by keeping these go-to foods nearby.
Besides fruits & veggies, what do I always keep in my FRIDGE?
Leftovers! My #1 staple! I like to make a big pot of soup over the weekend so I can take it for lunch or heat it up for dinner when I get home late. I also like to saute lots of veggies (either with Mexican spices or soy sauce- both low cal, but provide tons of flavor), to top off salads, add to a wrap, or eat as a snack.
Sunflower seed butter. By now you probably know about my love affair with this stuff. I put it in my AM smoothies, shmear it on toast as a snack, or just eat it by the spoonful. It contains healthy fats, fiber, and protein for well-rounded nutrition.
Salsa. A favorite condiment of mine, with less sugar than ketchup, it provides a kick and tomato-y flavor.
Low sodium soy sauce. Saute frozen veggies with this stuff and you'll have a meat-free stir fry dinner in MINUTES!
Feta or goat cheese. I try not to eat too much cheese, but a little goes a long way! The pungent flavor means you need less than most other cheeses. A greek salad is a satisfying go-to lunch or dinner.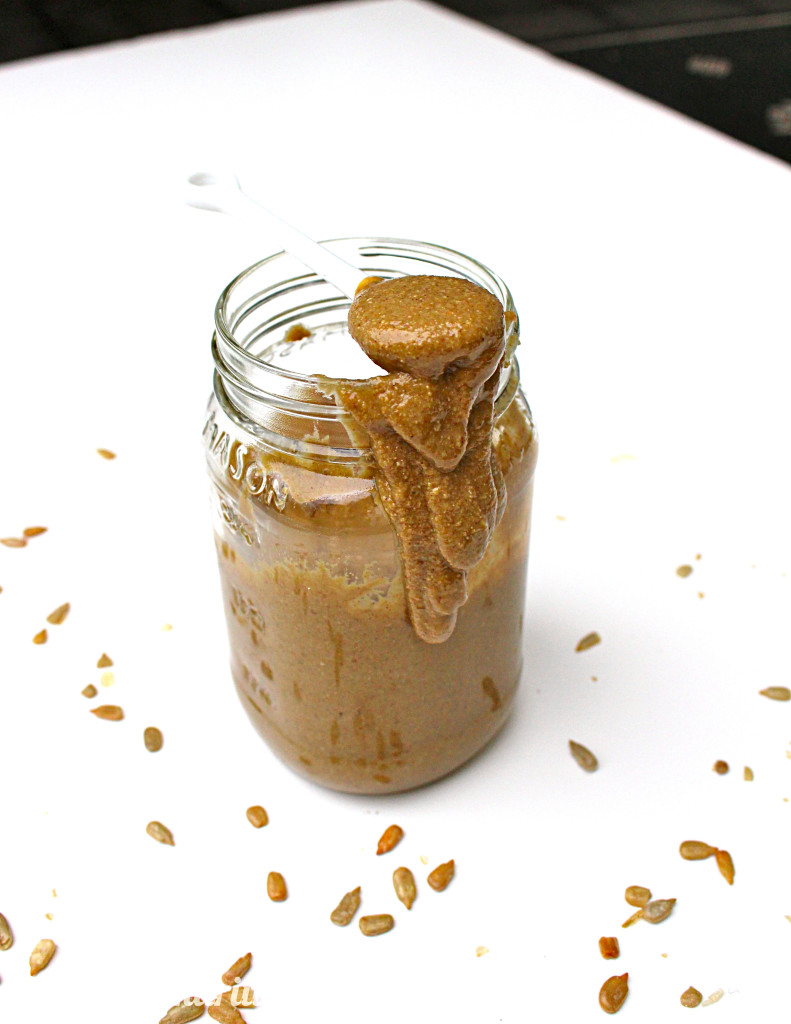 FREEZER Front Runners:

Dr. Praeger's Veggie Burgers. When I don't have time to make my own, Dr. Praeger's are my go-to back-up choice. Great over salad, in a high fiber wrap, or by itself as a snack!
Frozen bananas. Duh! A green smoothie a day keeps the doctor away!
Frozen berries. Just as nutritious as fresh, these are great to make my favorite chia jam (did you spot a jar in my fridge??) or to sweeten smoothies. Frozen fruits and veggies are an awesome affordable option, especially when the produce you're looking for isn't in season!
Ezekiel bread. I don't eat bread everyday so a loaf lasts longer in the freezer!
Edamame. A great protein-packed snack, easy to add to salads, and goes great in a stir fry! Win-win-win!
Mini DARK chocolate chips. I do have a daily chocolate habit that I just don't want to break!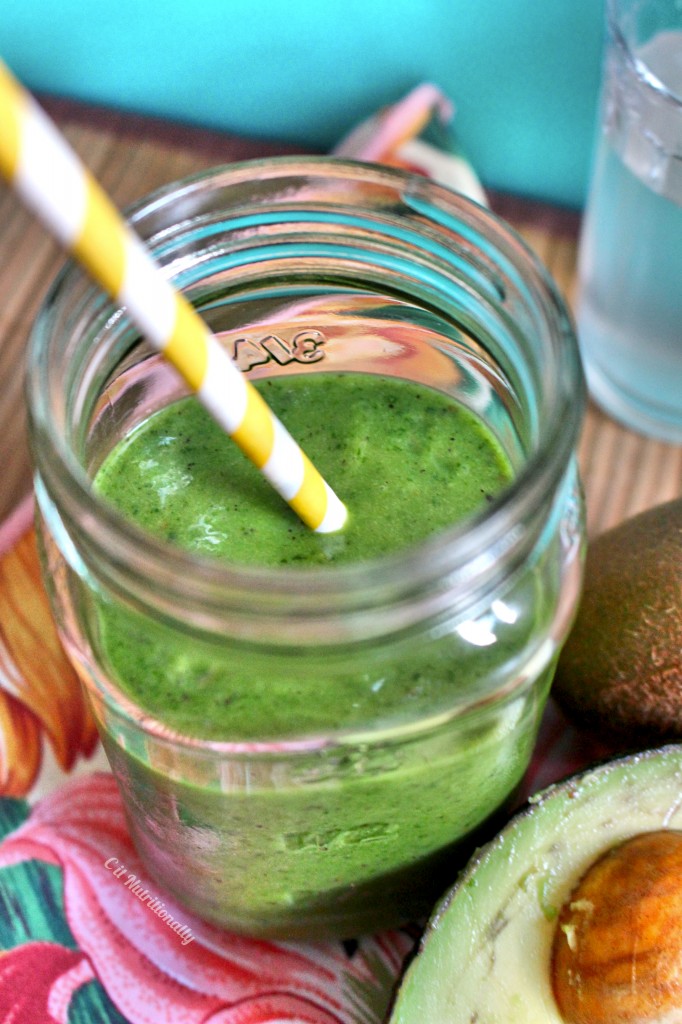 My pantry: Aside from the obvious like canned beans, (great protein source in a pinch…just rinse to reduce sodium content), I always keep a plethora of whole grains on tap. Think, quinoa, bulgar, barley, brown or black rice, and teff. Here are some other pantry staples:
Popcorn kernels. My #1 snack any day of the week is air-popped popcorn. I control the amount of salt and oil I add, plus  it's free of chemicals and preservatives that are usually in microwave popcorn bags.

To make: Place ¼ cup kernels in a brown paper bag, microwave for 1½-2 minutes. Pour into a bowl, spray some olive oil on top and spice with salt (and chili powder if you'd like…I highly recommend it!).

Seeds. Raw pepitas, chia seeds, and hemp seeds are always in my cabinets! They contain healthy omega 3s, omega 6s, protein, and fiber!
Roasted red peppers. You can roast bell peppers yourself, but when short on time, the jarred version takes your regular old salad from drab to FAB!
Apple cider vinegar. I was once told that a shot of this acid will heal all stomach ailments. Since then, I mix a tablespoon into a small glass of water every morning. There's no double-blind scientific study proving this, but it makes me feel good, so I stick with it.
Corn thins. At 20 calories a pop, these rice cake-like snacks are made from corn, have flax seeds in them, and make the perfect vehicle for nut/seed butter or goat cheese if I want a crunch!
Freeze dried fruit. As much as I love fresh fruit as a healthy snack or dessert, sometimes it's just cooler to eat space food! Freeze dried fruit has the water removed, but undergoes a different dehydrating process than dried fruit so it has a crunch. It's great in cereal, DIY trail mix, or yogurt. 
Oat Bran pretzels. Pretzels may not be the healthiest snack (despite popular belief because they're not fried like potato chips!), but Happy Herbert's Oat Bran pretzels are a favorite of mine. They contain whole wheat, oat bran, and even provide 3g protein per serving (18 pretzels!).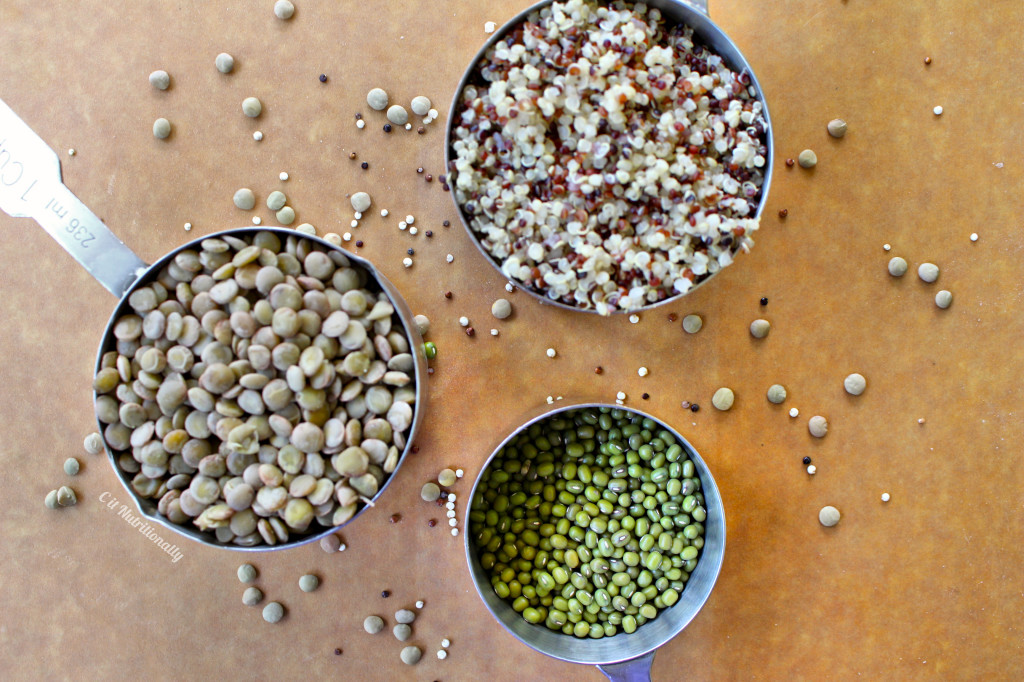 I hope seeing what I always have on hand gave you some great ideas to make your Meatless Monday seamless!
Do you keep a packed kitchen or is it bare to the bones? Let me know what you ALWAYS have on hand in the comments section below!
XO