Today I'm sharing a really special book for everyone –The Fertility Foods Cookbook! If you or someone you know is experiencing struggles with infertility or looking to treat their body best for their future fertility, they need this companion! It's not only a cookbook, but full of warm stories, made with love from two of my favorite dietitians, Elizabeth Shaw and Sara Hass. Plus, I'm sharing their delicious granola recipe!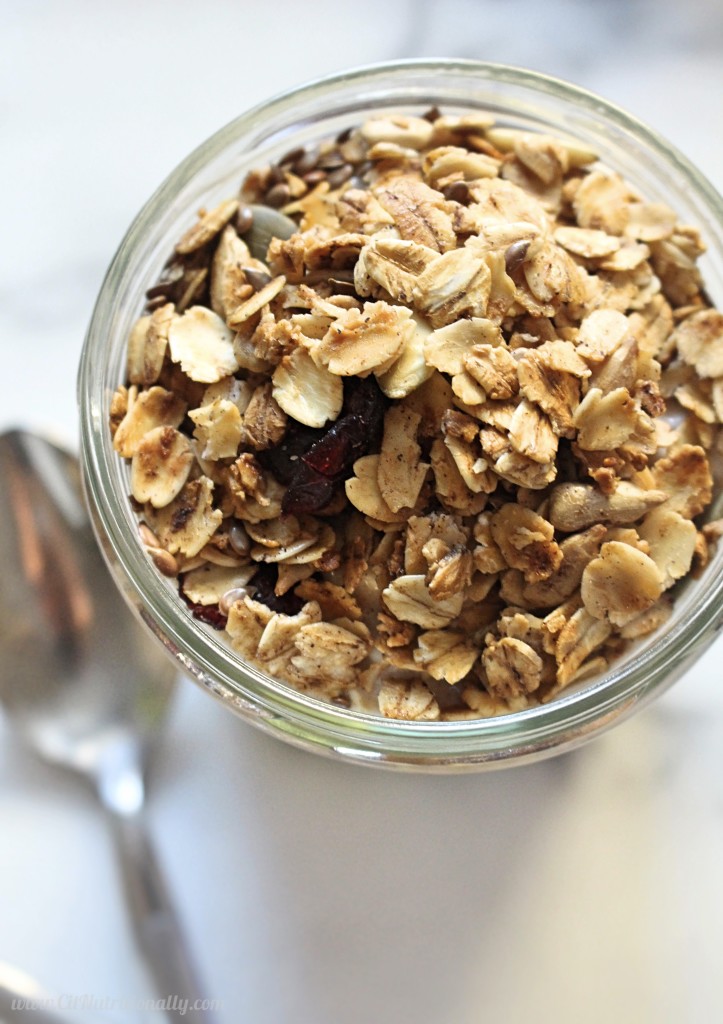 Welcome back to the CitNutritionally Book Club! It's been toooo long since I've shared one of my favorite cookbooks, but the holiday season is upon us, so it's the perfect time to share one of my favorite holiday gifts of the year…
Now, I know what those of you who know me personally are thinking… and no, this is not our way of hinting that we're pregnant. But, I will be using this book to get my body in tip top shape for when that time comes!
My good friends and fellow dietitians, food bloggers, and overall awesome people, Elizabeth (Liz) Shaw and Sara Hass, poured their hearts and souls into this book. I know, because we chatted while they were recipe testing and editing their manuscript… this book is truly a labor of love (no pun intended).
The Fertility Foods Cookbook is raw, honest and heartwarming. But it's also backed by science.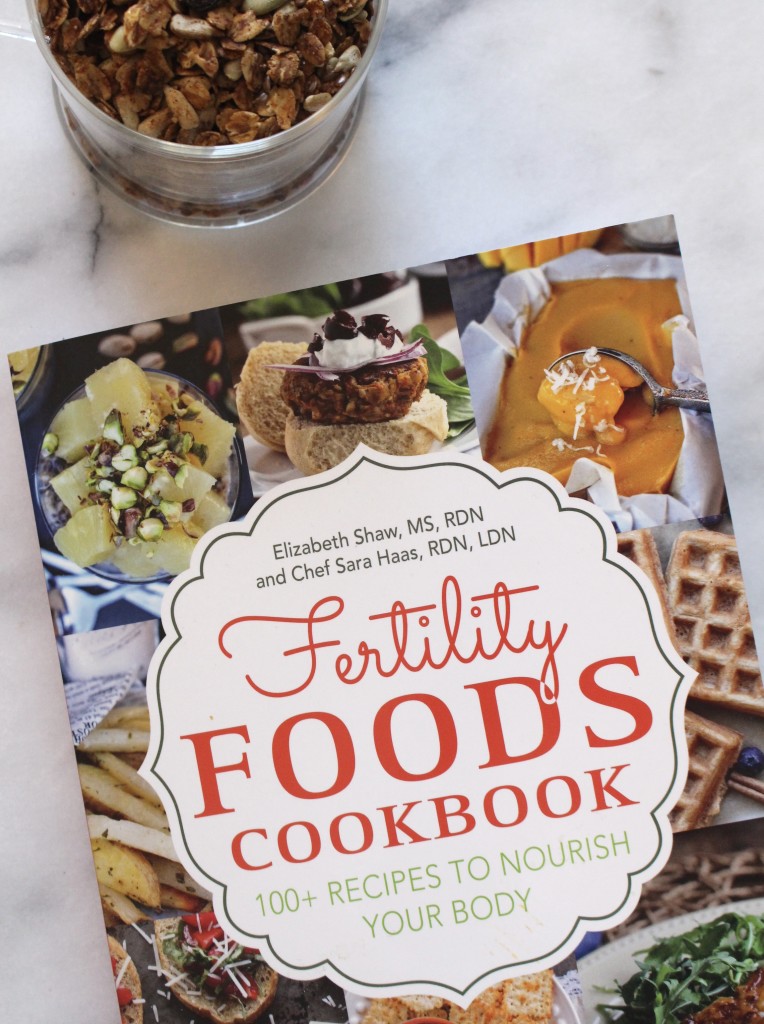 First, you meet Liz and Sara. As you read their stories, revealing their individual experiences and battles with infertility, you can't help but feel the emotions they are so clearly feeling as they experienced their highs and lows. I am sure everyone can relate in some way to some part of their stories. Learn about their struggles and their triumphs. Perhaps their openness and honesty will inspire you to share your story with the world!
And then learn about the power that food has to heal. Liz and Sara walk you through the best fertility foods that can help you along your journey, and how to eat them. Do they guarantee that this book will help you get pregnant if you're trying to conceive? No. But it will definitely become your friend in the process of trying.
Deliciously nutritious recipes
The science behind the best fertility foods
Amazing photos of almost every recipe
Honest stories that will touch your heart
And so much more!
One of my favorite recipes in the Fertility Foods Cookbook is the honey nut granola… minus the nuts!
Granola is one of those seemingly super nutritious foods, but actually can be loaded with sugar and excess fat. My solution for a healthier twist – and Sara and Liz's too – DIY!
Liz and Sara's recipe looked too good not to try! Their original recipe includes mixed nuts, so I swapped in sunflower seeds, pumpkin seeds, and flax seeds instead for a nut-free version.
Adapting recipes to fit your dietary needs isn't as hard as it looks! Here are the substitutions that I made in this recipe…
To make it nut free, I swapped in sunflower seeds instead of nuts.
To make a dairy free version, I used coconut oil instead of butter.
To cut down the quantity, I cut the original recipe in half.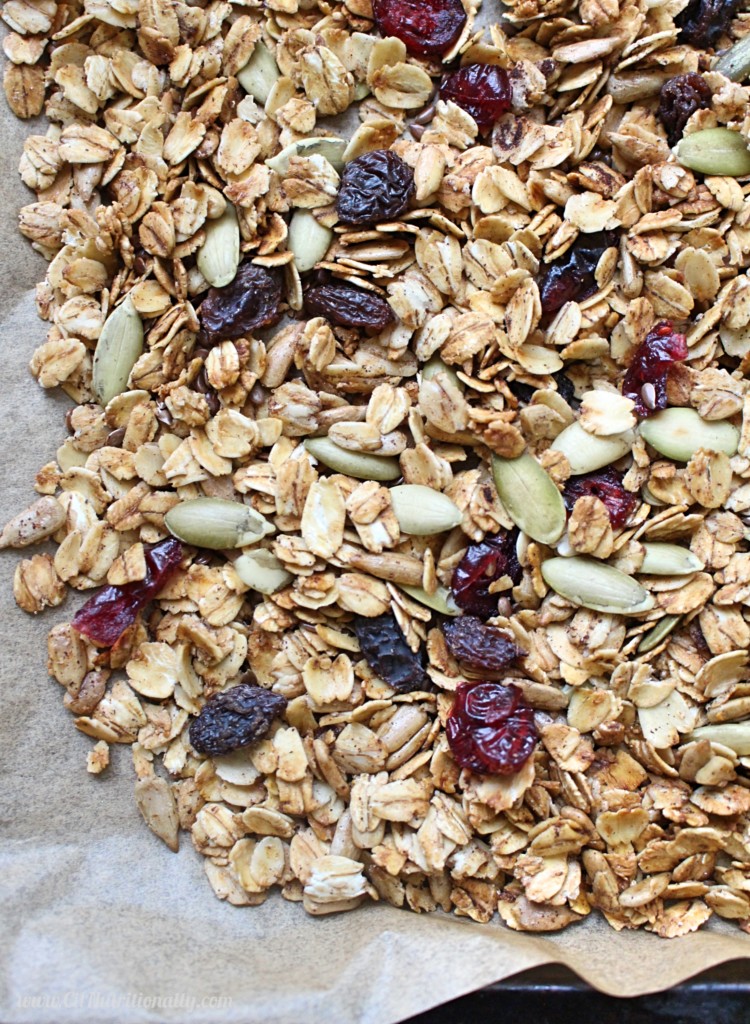 Grab your copy of their amazing book and enjoy all of their delicious recipes!
Honey Granola (Nut Free) from The Fertility Foods Cookbook
Ingredients
Instructions
Preheat oven to 300F. Line a large baking sheet with parchment paper.
In a microwave-safe bowl, add butter (or coconut oil) and microwave for 30 seconds, or until melted. Mix in honey, cinnamon and salt. Set aside.
In a large bowl, combine oats and sunflower seeds. Pour butter mixture over the oats and seeds and stir until oats are well-coated.
Spread the granola in an even layer on the baking sheet and bake for 25-30 minutes, stirring every 5-10 minutes.
Remove from the oven, and allow granola to cool before mixing in dried fruit and mixed seeds. Cool completely before storing in an air-tight container.
Notes
Notes: a) Original recipe is "Honey Nut Granola" on pages 80-81 in The Fertility Foods Cookbook. b) I made several substitutions for this recipe to make it food allergy friendly: 1) This recipe originally called for butter. I made a dairy free and vegan version by using coconut oil. 2) This recipe originally called for 1/4 cup mixed nuts of choice. I substituted sunflower seeds.
http://citnutritionally.com/book-club-fertility-foods-cookbook-honey-granola/
It's not too late to add this delicious cookbook to your holiday gift list!
XO