With savory, sweet, salty and spicy flavors, there's something for everyone with this fun DIY Customizable Breakfast Pita Pizza bar, perfect to feed a crowd breakfast for dinner!
Vegetarian, Vegan options, Dairy free options, Egg free options, Nut free, Peanut free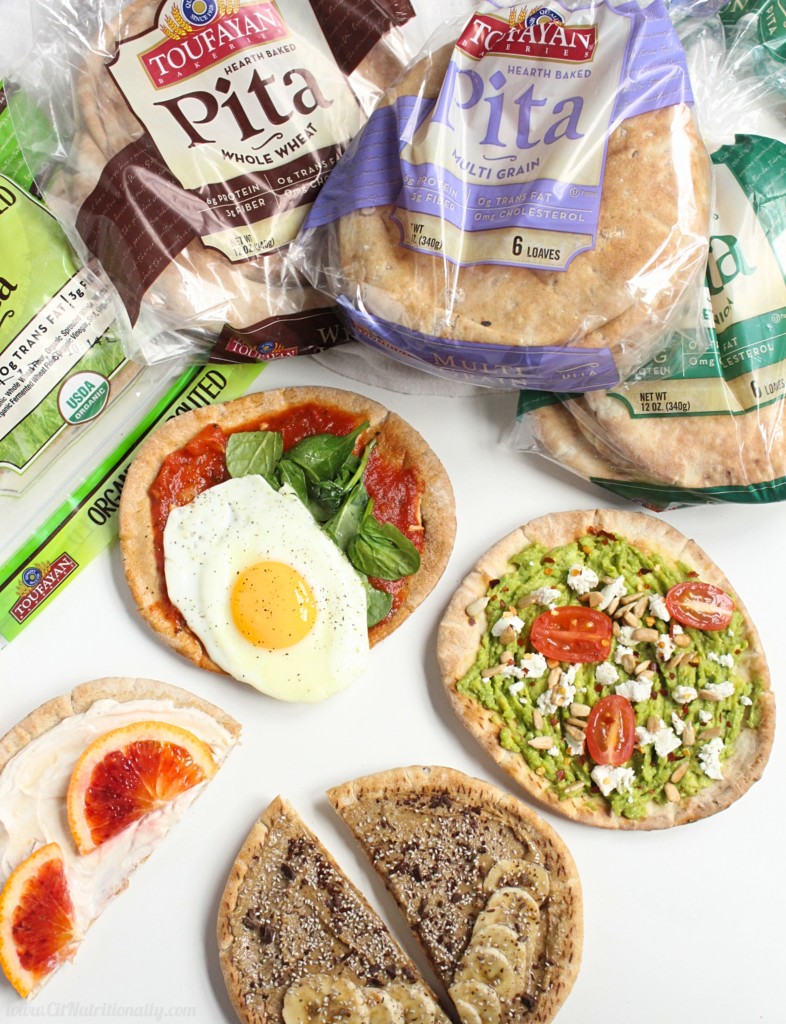 I received free samples of Toufayan Pita mentioned in this post. By posting this recipe I am entering a recipe contest sponsored by Toufayan Bakeries and am eligible to win prizes associated with the contest. I was not compensated for my time.
Helloooo from Israel lovebugs! While I'm eating allllll the pita in Israel I seriously miss you guys so I just had to share the pita fun with you…
So today I'm combining two of my favorite foods — pita bread and pizza — and bringing you 4 different, 100% customizable Breakfast Pita Pizza options! I mean, I would tell you to fly on over so we can eat pita together in Israel, but since that's likely not quite an option, this will have to do…
And do it does because breakfast pita pizza is out. of. this. world!
Seriously, who doesn't LOVE pizza? AND pizza for BREAKFAST?! I'm there! Or breakfast for dinner (even better!)… I'm there too!
Pizza in the morning, pizza in the evening, pizza at supper time… remember that one?! Well, I don't know about you but I'm down for pizza just about ANY time of the day and my go-to pizza form these days is PITA PIZZA!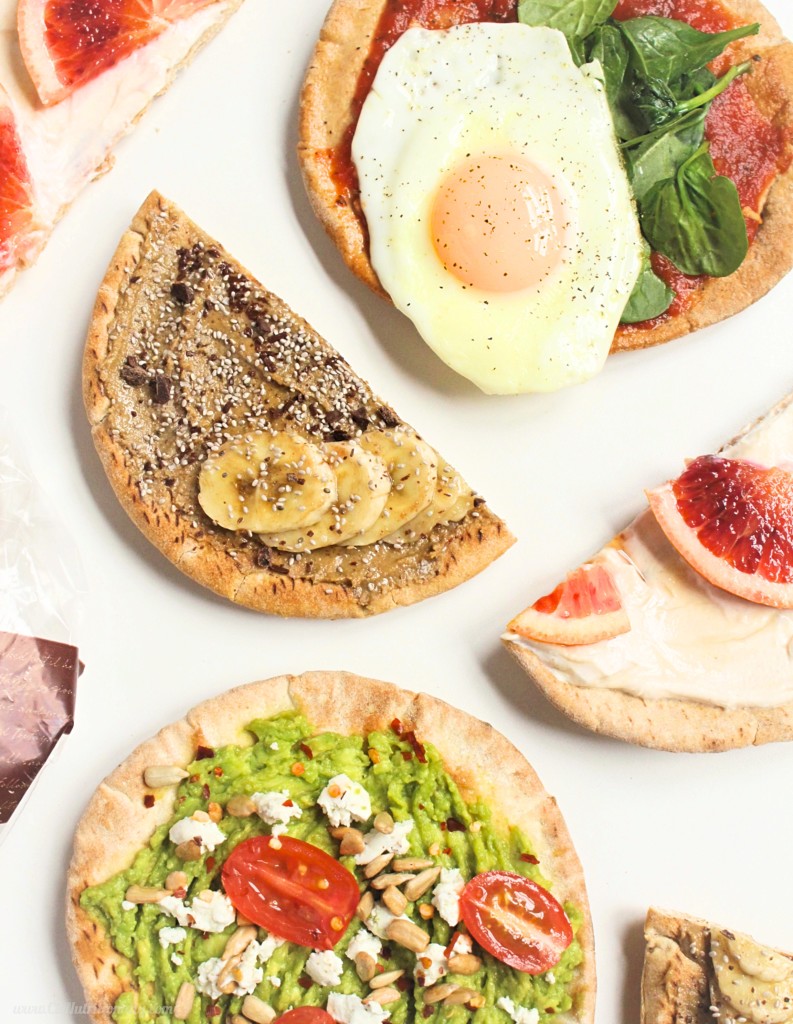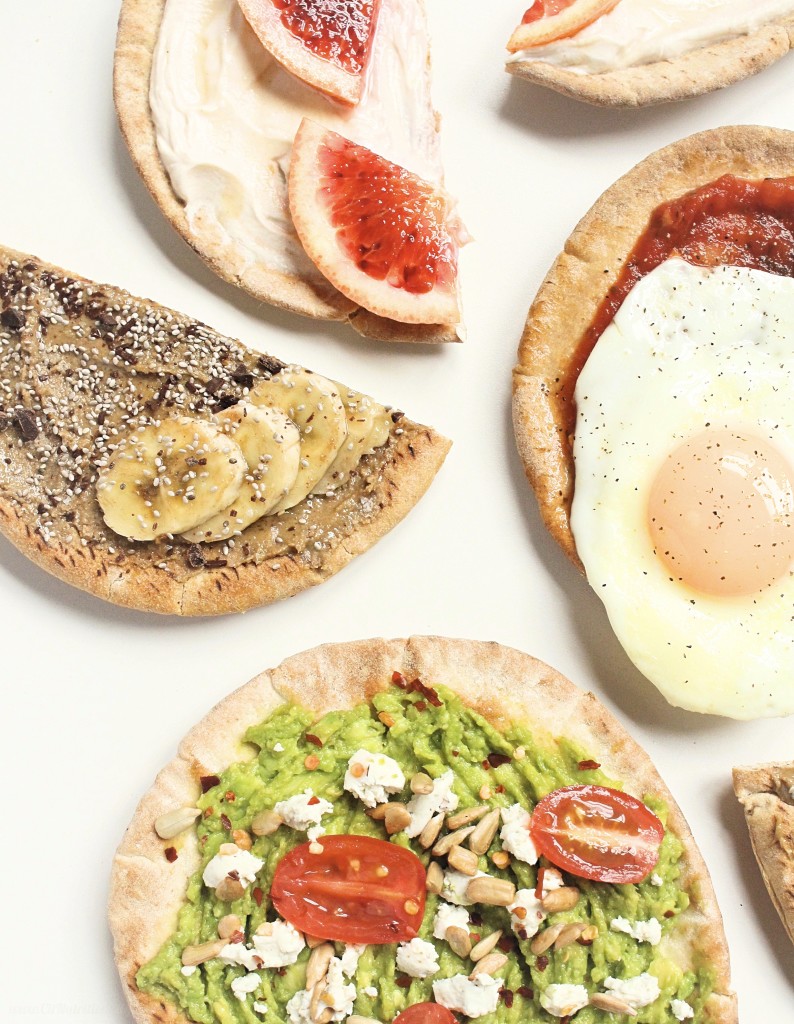 When I lived in my sorority house in college, pita pizza for lunch was always the most popular! I mean, who doesn't love the most delicious pita bread with allllllll the toppings?! Well, today I'm taking a spin on traditional pita pizza — ya know, the Italian, sauce, cheese, toppings kind — and making customizable breakfast pita pizza …4 ways!
I must say, we had breakfast for dinner quite a few days in a row when these pitas rolled into my life!
Brinner anyone??
I'm a huge fan of Toufayan Pita because…
They are made with

ingredients I can recognize

(which is SO important to me!!)

They're

perfectly portioned.

And I find that when people are trying to eat healthier, pre-portioned options make all the difference!

They're chock full of whole grains!

There are so many varieties — sprouted grain, whole wheat, sweet onion, multigrain, are more — so there's a flavor for everyone!

One pita contains

130-150 calories

,

3 grams of fiber

and

6-7 grams of protein

(for the whole wheat and organic sprouted grain varieties — my favorites!!)
Plus, how awesome is it that this is a family owned company still? I love that!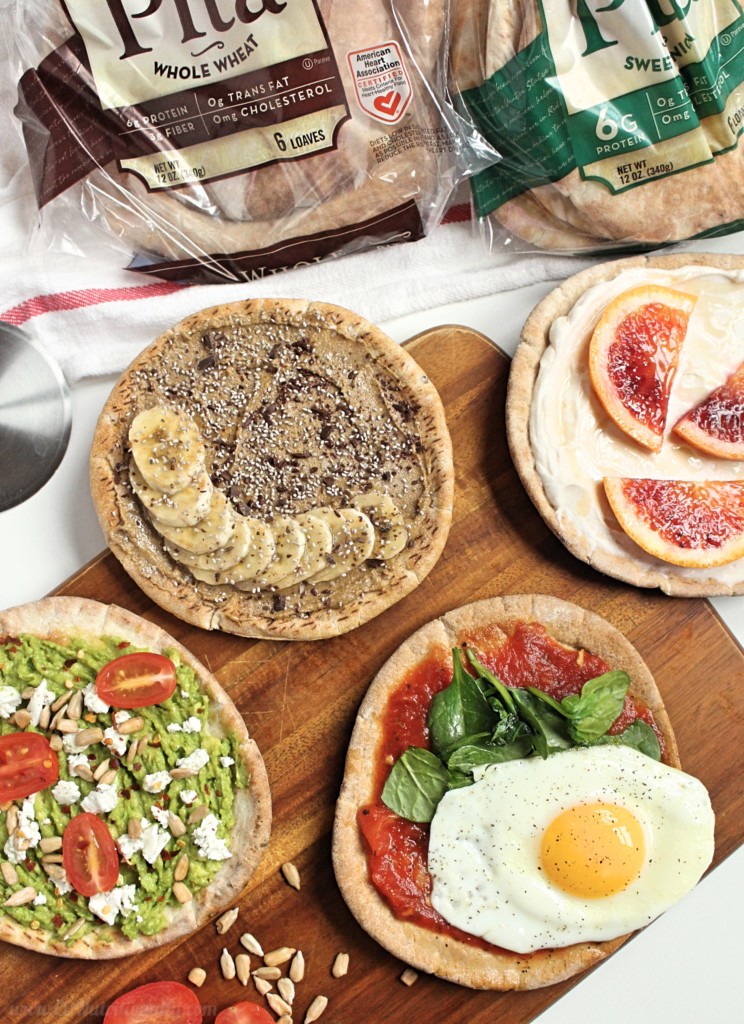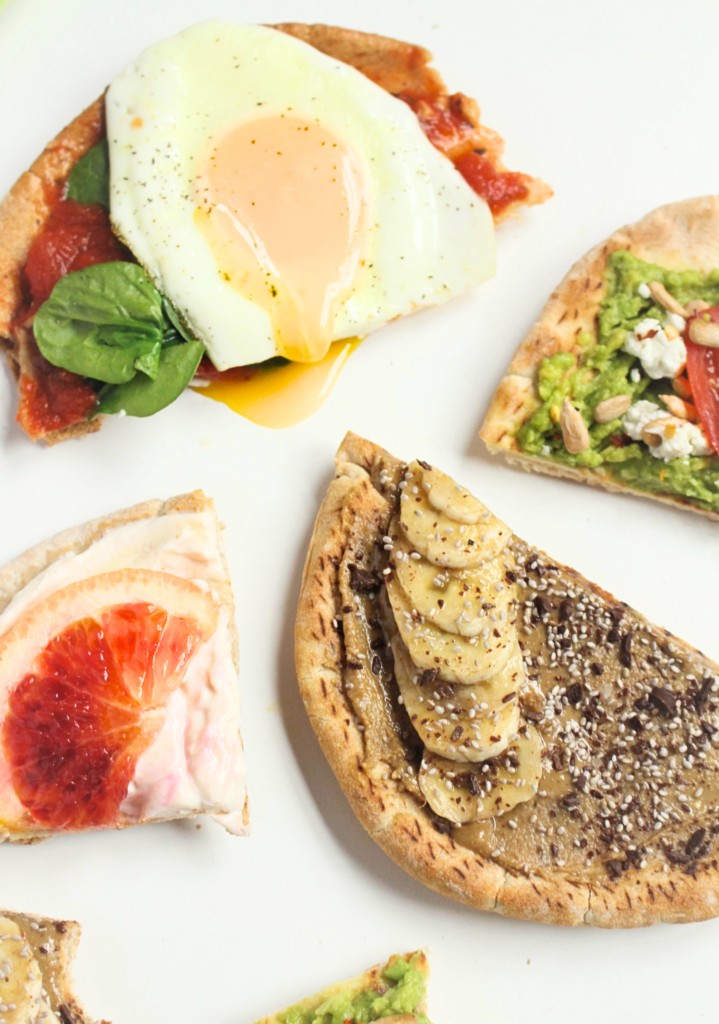 So I couldn't make just one breakfast pizza because I'm a girl of variety — sweet, savory, salty and even a little spicy — the gang's all here! Pick your favorite or mix and match and make a DIY customizable breakfast pita pizza bar ((the kiddos will love that one too!!)).
Let's make some breakfast pita pizza…
Customizable Breakfast Pita Pizza – 4 Ways
Ingredients
Sunflower Seed Butter, Chocolate and Banana Pita Pizza:

1 Multigrain Toufayan Pita
2 tablespoons sunflower seed butter
Pinch of cinnamon
Pinch of sea salt
1/2 banana, thinly sliced
3 dark chocolate chips, thinly sliced/shredded

Greek yogurt, Blood Orange and Honey Pita Pizza:

1 Whole Wheat Toufayan Pita
1/2 cup plain or vanilla Greek yogurt
1/8 teaspoon ground cinnamon
1 blood orange, thinly sliced
1 teaspoon honey

Avocado, Goat Cheese and Grape Tomatoes Pita Pizza:

1 Onion Toufayan Pita
1/2 avocado, mashed
1 tablespoon (herbed) goat cheese, crumbled
1/4 cup halved cherry tomatoes
Pinch of red chili flakes
Pinch of sea salt (optional, but recommended)

Pita Pizza with Spinach and Fried Egg:

1 Whole Wheat Toufayan Pita
1 egg, fried in olive oil
1/2 cup baby spinach, cooked or raw
2 tablespoons tomato sauce (no sugar added preferred)
Instructions
Preheat oven to 375°F.
Place pitas on baking sheet.
Bake pitas for 10 minutes, or until edges become crispy. Remove from oven and set aside.
While the pitas are toasting, prepare the ingredients you desire as listed above.
Then assemble pitas as follows:

Sunflower Seed Butter, Chocolate and Banana Pita Pizza:

Spread sunflower seed butter evenly on top of the pita. Sprinkle cinnamon and sea salt on top. Top with sliced bananas and shaved chocolate.

Greek yogurt, Blood Orange and Honey Pita Pizza:

Spread Greek yogurt evenly a top the pita. Place blood orange slices on top. Drizzle with honey.

Avocado, Goat Cheese and Grape Tomatoes Pita Pizza:

Spread mashed avocado on toasted pita bread. Add crumbled goat cheese and halved tomatoes on top, then sprinkle sunflower seeds, red chili flakes and sea salt.

Pita Pizza with Spinach and Fried Egg:

To make fried egg: Heat skillet over medium heat and spray with olive oil. Cook egg until whites are set and edges are crispy.
You may add the spinach to the pan if you prefer cooked spinach.
Then spread tomato sauce evenly on top of pita. Add spinach and fried egg. Sprinkle salt and black pepper on top, if desired.
http://citnutritionally.com/customizable-breakfast-pita-pizza-4-ways/
Don't forget to PIN IT…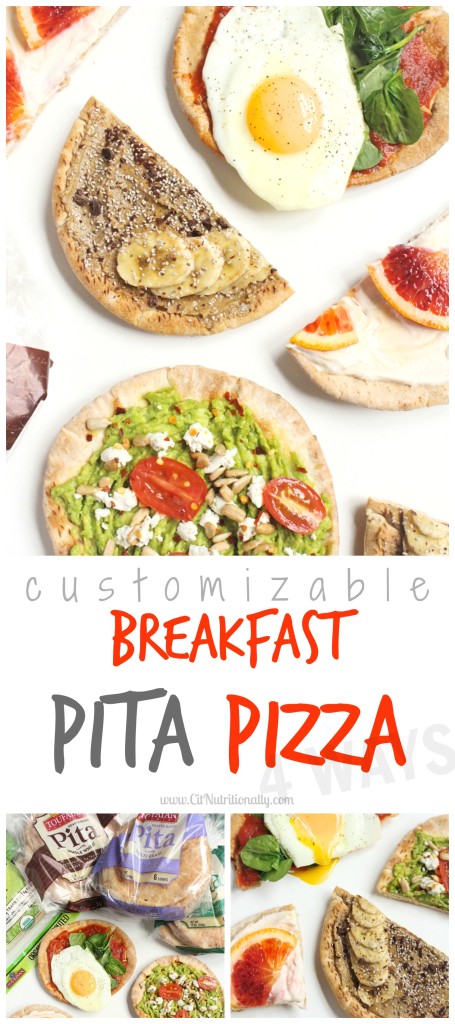 OK, now I gotta get back to eating alllllll the Israeli pitas…what are you putting on your Toufayan Pita???
XO

Let's get social!
Facebook: C it Nutritionally
Twitter: @ChelseyAmerRD
Instagram: @CitNutritionally
Pinterest: ChelseyAmer