A satisfying salad full of fall flavors, this Sweet and Savory Delicata Squash Salad has warm roasted delicata squash with a hint of cinnamon, a burst of tart pomegranate seeds, sweet dried cranberries, and a delicious light and creamy dressing!
Gluten Free, Grain Free, Nut Free, Soy Free, Vegan and Dairy Free options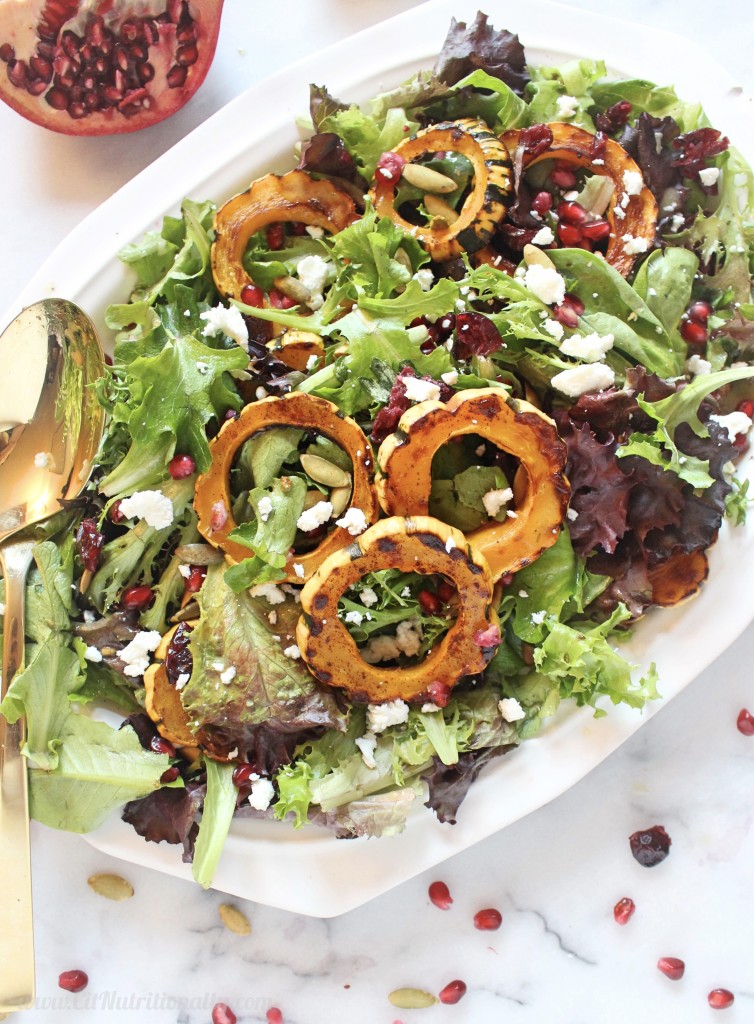 Aren't short weeks the best weeks? I woke up this morning with a little extra pep in my step because tomorrow is THANKSGIVING!! I am SO excited to officially welcome the holiday season!
Expect 100% holiday cheer (OK, and realness) for all to hear from now through the end of the year… see what I did there! 😉
In getting with the holiday spirit, I'm excited to share this simple salad recipe that tastes nothing like simple at all – my Sweet and Savory Delicata Squash Salad for this month's Recipe Redux!
Here's this month's theme…
Naturally Colored Holiday Treats and Trimmings: Holiday feast season is upon us. But there's lots of room on the table for brightly-colored, nutritious foods. Show us your sweet or savory, naturally-colored/naturally-dyed holiday fare.
I'm all about eating as many colors as possible every day of the year, but especially once the weather chills (helloooo flu season!). I'm always at a loss for veggies when I go anywhere aside from my family's home for the holidays… (What's up with that? Oh yeah, the fact that more than 90% of Americans don't eat enough fruits and veggies – womp, womp) 
So I'm on a mission to change that with this salad…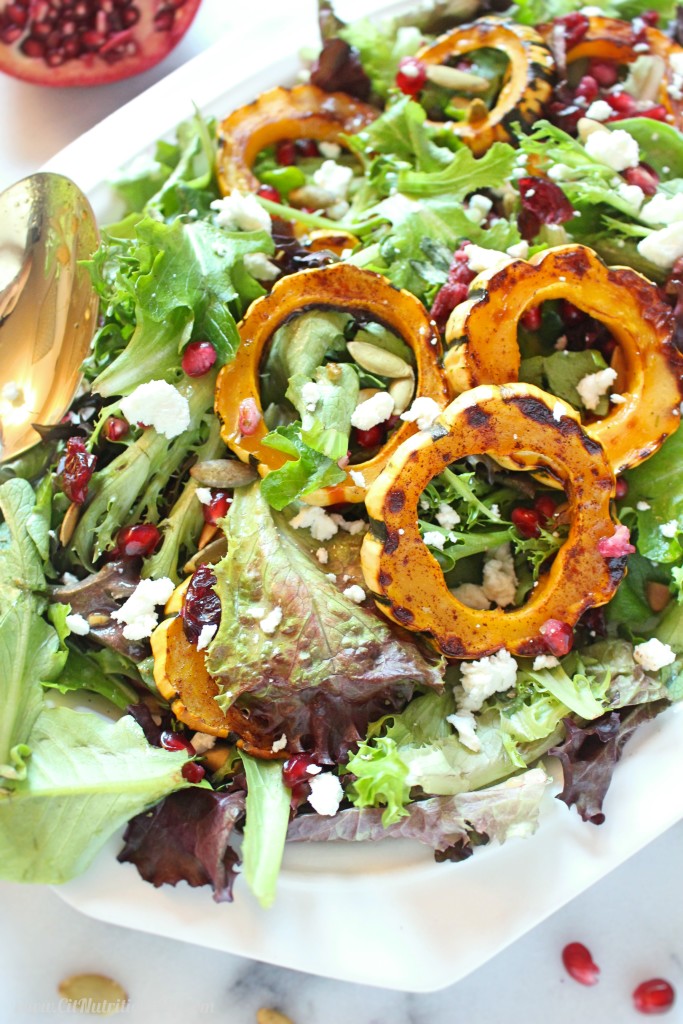 But I'm not preaching!!
It's the holiday season and I want you to ENJOY every single bite you eat. However, I also want you to FEEL like a million bucks so you can enjoy all of the festivities to come. You can have your cake and eat it too when it comes to deliciously nutritious food — year round!
So if you're looking for something simple to round out a very white table this year, I have almost every color right here, in one dish. I told you I'm all about keeping things SIMPLE!
This Sweet and Savory Delicata Squash Salad is…
Easy to make
Full of fall flavor
Like eating the rainbow
A colorful addition to your Thanksgiving (or any) table
Warm and comforting (for a salad!)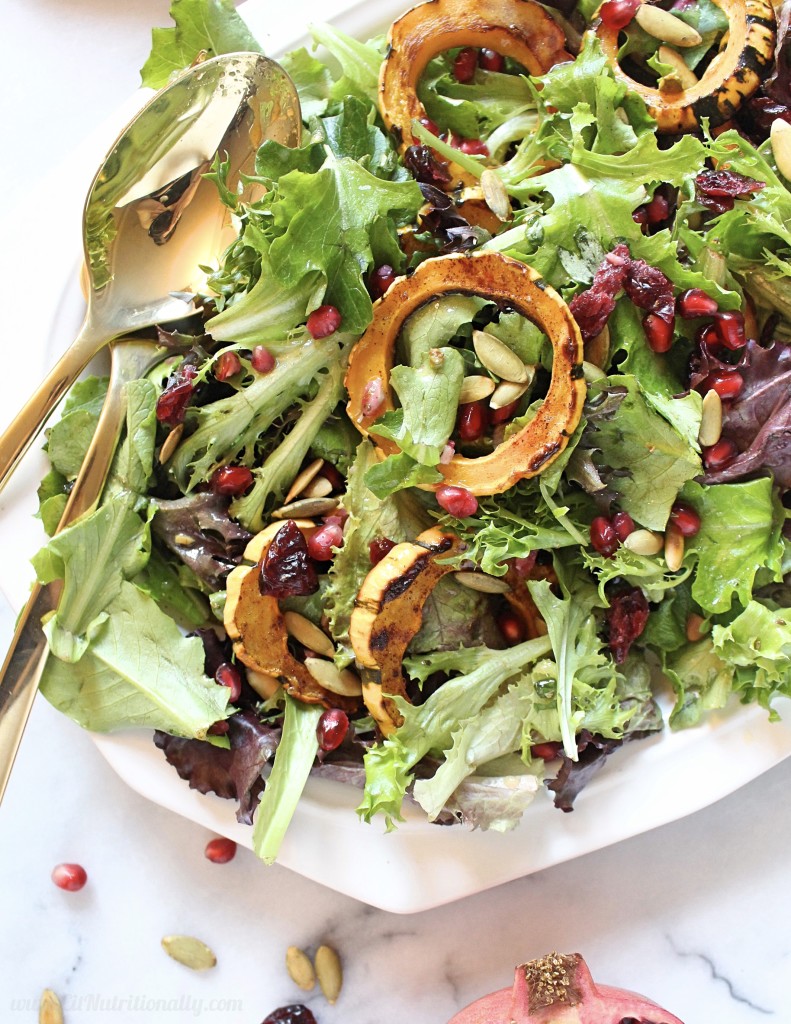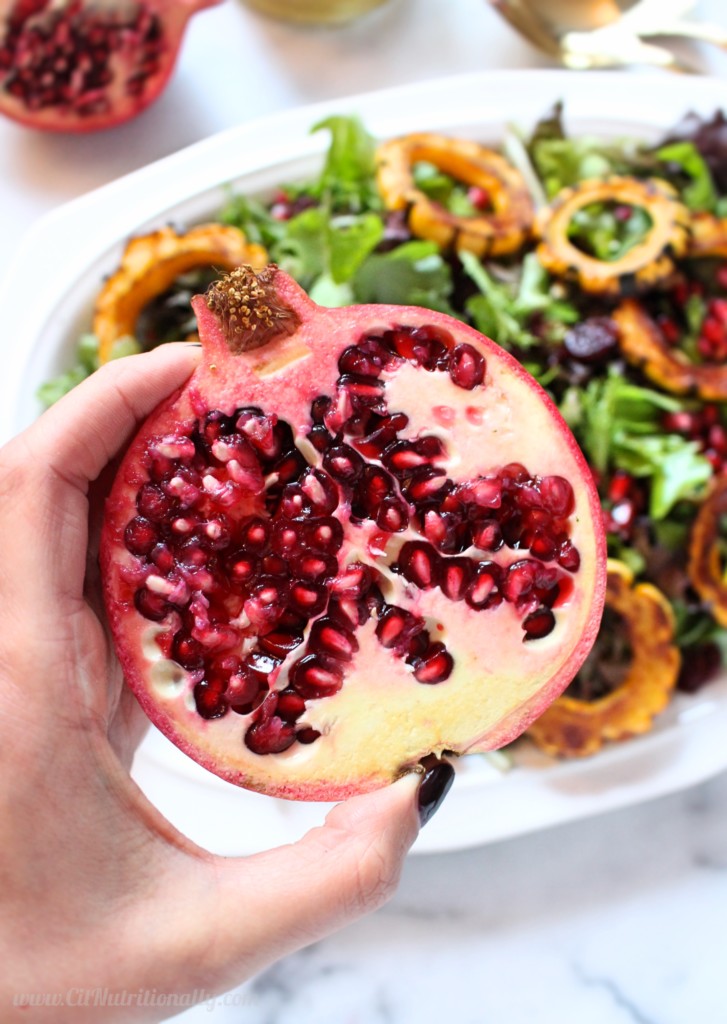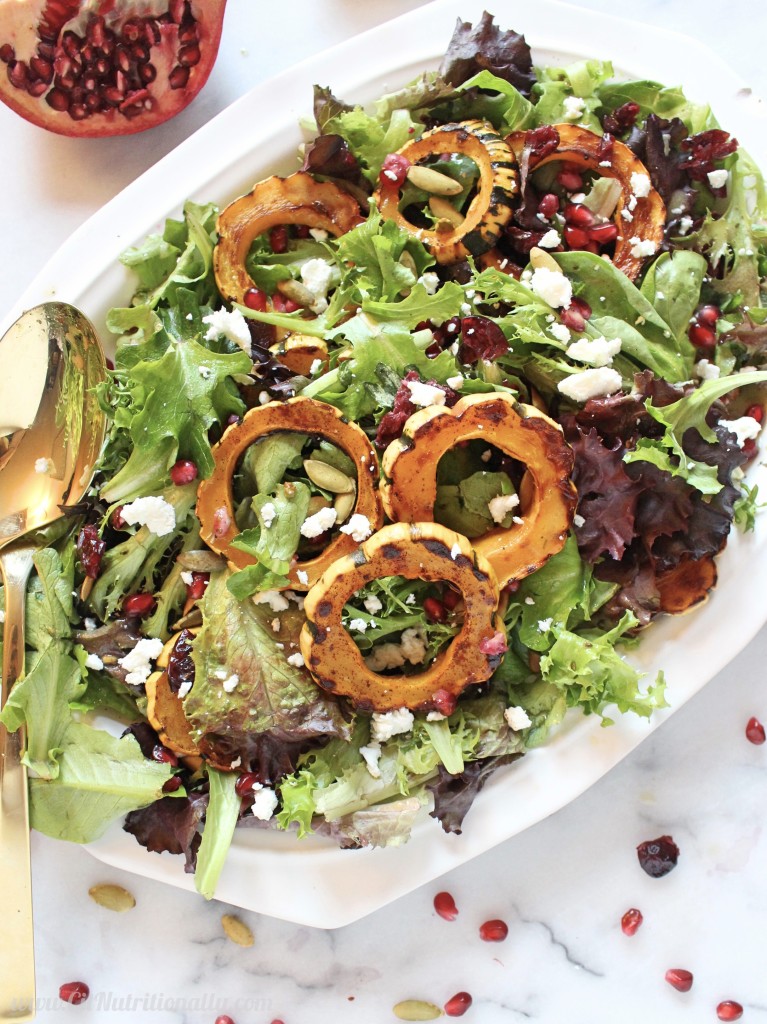 Sweet and Savory Delicata Squash Salad
Ingredients
For the salad:

1 delicata squash, cut into rings with seeds scooped out
Olive oil spray
1/8 teaspoon cinnamon
1/8 teaspoon smoked paprika
Pinch of salt and pepper
8 cups mixed greens
1/2 cup pomegranate seeds
1/4 cup dried cranberries
1/4 cup pepitas
Optional: 2 ounces goat cheese

For the dressing:

1 tablespoon olive oil
2 tablespoons apple cider vinegar
1/2 tablespoon Dijon mustard
1 tablespoon plain yogurt (Greek or regular)
1 teaspoon maple syrup
Pinch of salt and pepper, more to taste
Instructions
Preheat oven to 400°F.
Prepare delicata squash by distributing rings (with seeds scooped out) on a parchment paper-lined baking sheet. Spray squash with olive oil spray, then sprinkle with a mixture of cinnamon, black pepper, smoked paprika and sea salt. Roast for 25 minutes, then carefully flip the squash rings and bake for another 10 minutes, until golden brown on the outside. Set aside.
To prepare the dressing, combine all dressing ingredients in a jar with a tight lid and shake together until completely combined.
To prepare the salad, toss together mixed greens, pomegranate seeds and dried cranberries. Drizzle the dressing on top and toss together.
Plate on a large platter or bowl and adorn with pepitas and goat cheese, if desired. Enjoy!
Notes
Keep dressing separate until just before serving. May pre-roast squash and serve salad room temperature.
http://citnutritionally.com/delicata-squash-salad/
Don't forget to PIN IT…

Looking for more holiday-themed recipes? Check out the round up below…
I hope you have a delicious, fun and gratitude-filled Thanksgiving!
XO
If you want to stay connected or you make something from C it Nutritionally I would LOVE to see your creations! Tag me or use the hashtag #CitNutritionally!

Let's get social! 
Facebook: C it Nutritionally
Twitter: @ChelseyAmerRD
Instagram: @CitNutritionally
Pinterest: ChelseyAmer