At the start of every new year U.S. News and World Report releases a ranked list of the best diets for the year. A panel of diet and nutrition experts base their list on a myriad of factors from disease prevention (ie: heart healthy) to the best track record for weight loss to ease to follow. To find a more in-depth look of how these nutrition and weight loss experts created this years list, click here.
Move over Weight Watchers (although not too far!) because this year, the best OVERALL diet is the DASH diet. DASH stands for Dietary Approaches to Stop Hypertention (ie: high blood pressure), so even if you're not looking to lose weight, but have high blood pressure, you can implement some tips from this diet plan.
What's so DASH-ing about this diet?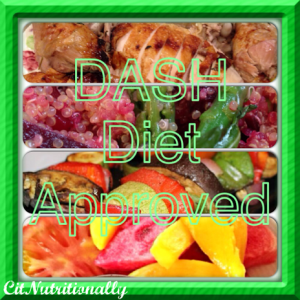 This is a balanced plan focused on foods you KNOW you should be consuming (read: fruits, veggies, lean protein, and whole grains), while avoiding those you know you should steer clear of (red meat, cookies, cakes, chips — read: fat & sugar). To even further drop your blood pressure, this diet is LOW SALT. This diet was created by the National Heart, Lung, and Blood Institute, who also published *free* guides so you can start following this diet TODAY!
So will this diet make me look DASH-ing? 
It could! Aside from the studied cardiovascular benefits from following this plan, if you follow the "calorie deficit" option, you waist should widdle as well.
Should I DASH to start this plan? 
I am not a medical professional so I cannot answer this. If you're interested in getting heart-healthy, I recommend educating yourself, talking with your physician, and avoid making rigid decisions right away!
As always, I support eating a diet rich in foods from nature — fruits, vegetables, whole grains, plant-based sources of protein, low-fat dairy, and lean animal protein. For great recipes, visit my RECIPE tab at the top of this page!
Happy munching!