Use a handful of ingredients you likely have in your fridge, wrap up a deliciously nutritious lunch with these Easy Collard Wraps… leftovers included!
Gluten Free, Grain Free, High Protein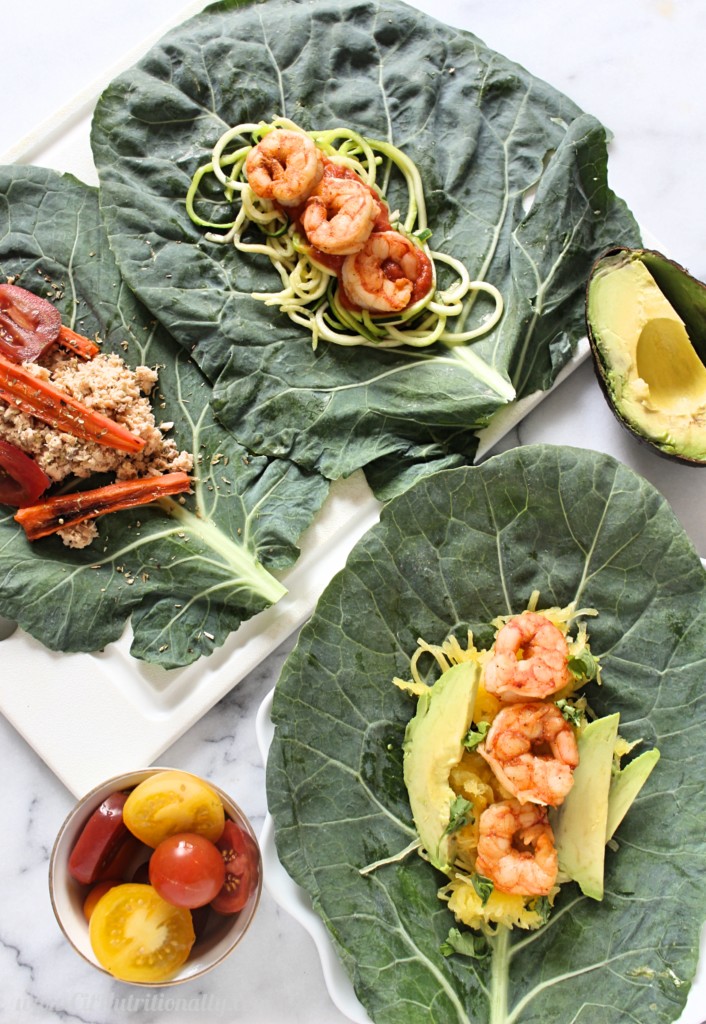 Last week, I spent a lot of time thinking about my health. If you follow me on Instagram, then you know I drove down to Maryland with my parents for my annual health check up at the National Institutes of Health. Although I'm in great health now, it wasn't always the case (more on my health journey coming soon).
I used to take my health for granted, and it wasn't until after experiencing some of my own health struggles that I realized the value of being healthy. Which is part of the reason I became a dietitian in the first place – to help others get and stay healthy through food!
Your health is the biggest gift you have in life. So treating your body with compassion, love, good food and movement is the best way you can respect your health.
But when life gets busy, it can be hard to put yourself – and your health – first. Knowing how to anticipate your busy weeks and plan ahead can help your energy levels soar, make nourishing eating easier, and eliminate stress over deciding what you're eating for lunch and dinner.
But what should you make? 
Preparing a few proteins, a bunch of veggies, some grains, and breakfasts each week can help make healthy eating easier.
Especially because you can mix and match when it comes time for lunch. Like with these Easy Collard Wraps…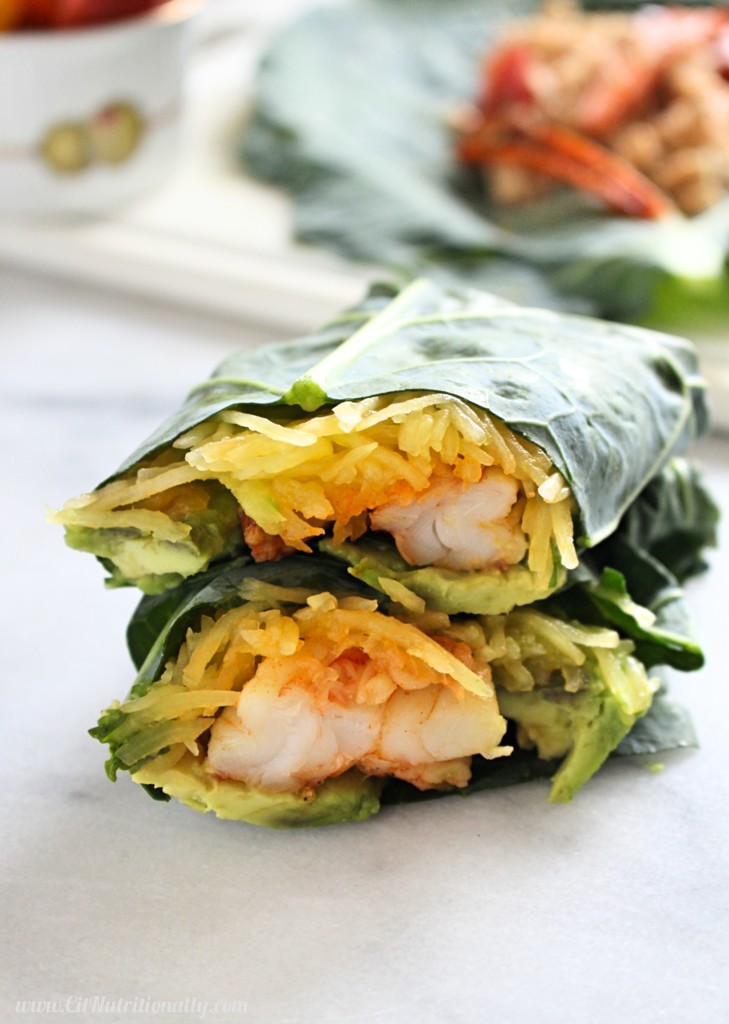 When I asked you what you wanted to see more of here in 2018, simple recipes for lunch and snacks were the most popular responses.
Well guys, you're in luck, because it doesn't get any easier than these Easy Collard Wraps!
Here's all you have to do…
Choose a bunch of large collard greens at the supermarket.
Stuff 'em with leftover protein and veggies (I have a few ideas below…).
And wrap it up!
My favorite part about these easy collard wraps is that you can use ANYTHING you have in the fridge…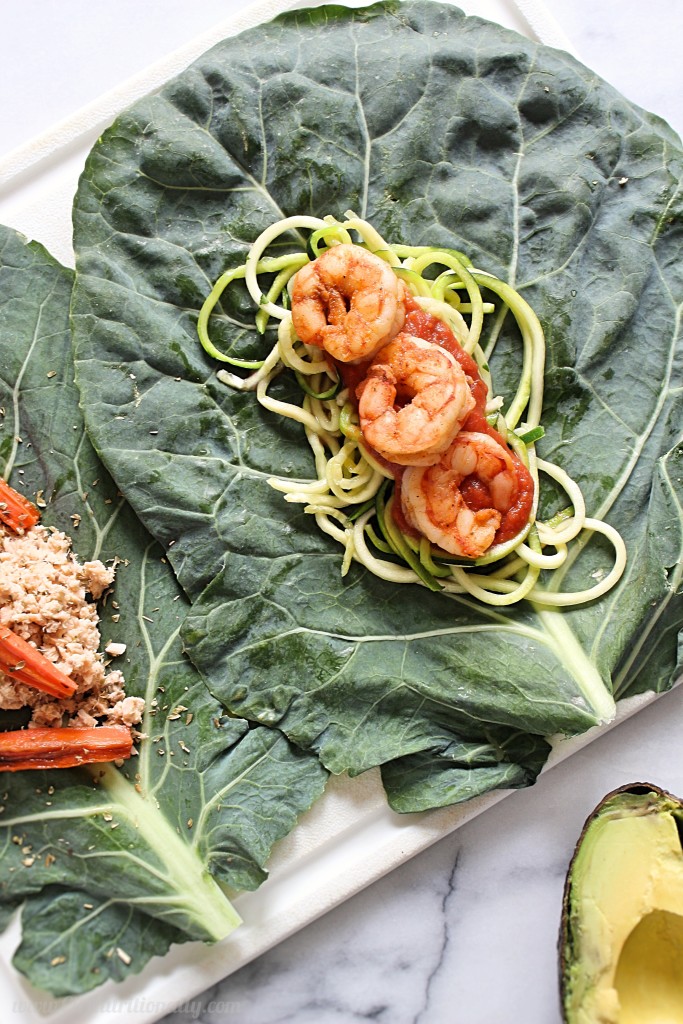 Tuna salad with roasted carrots and sliced tomatoes…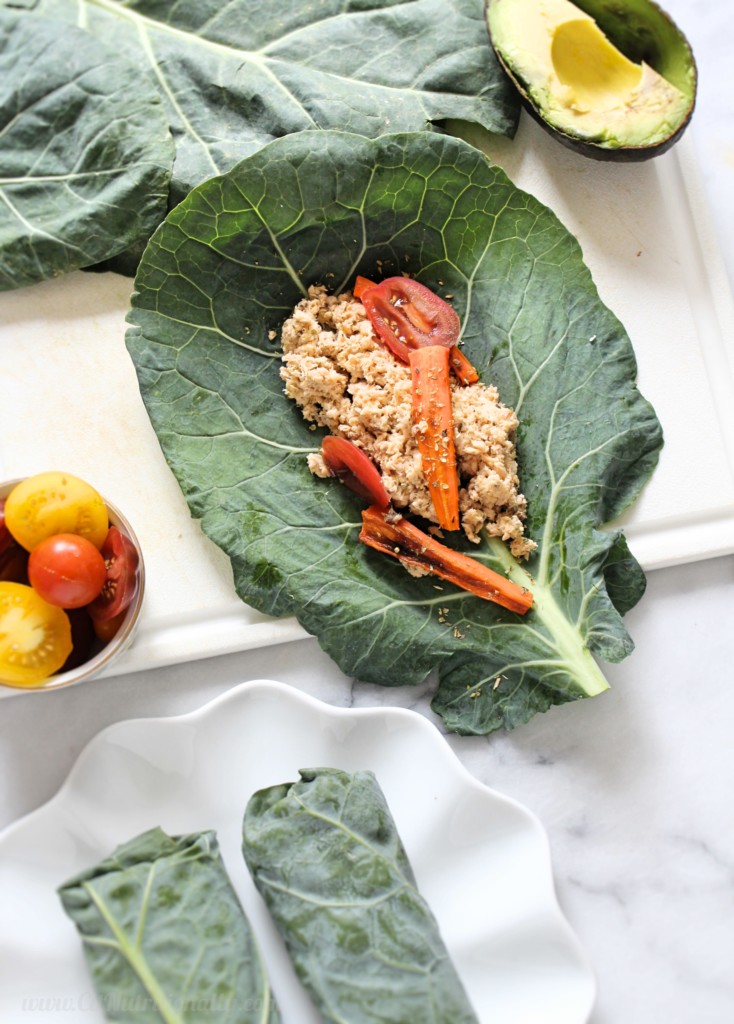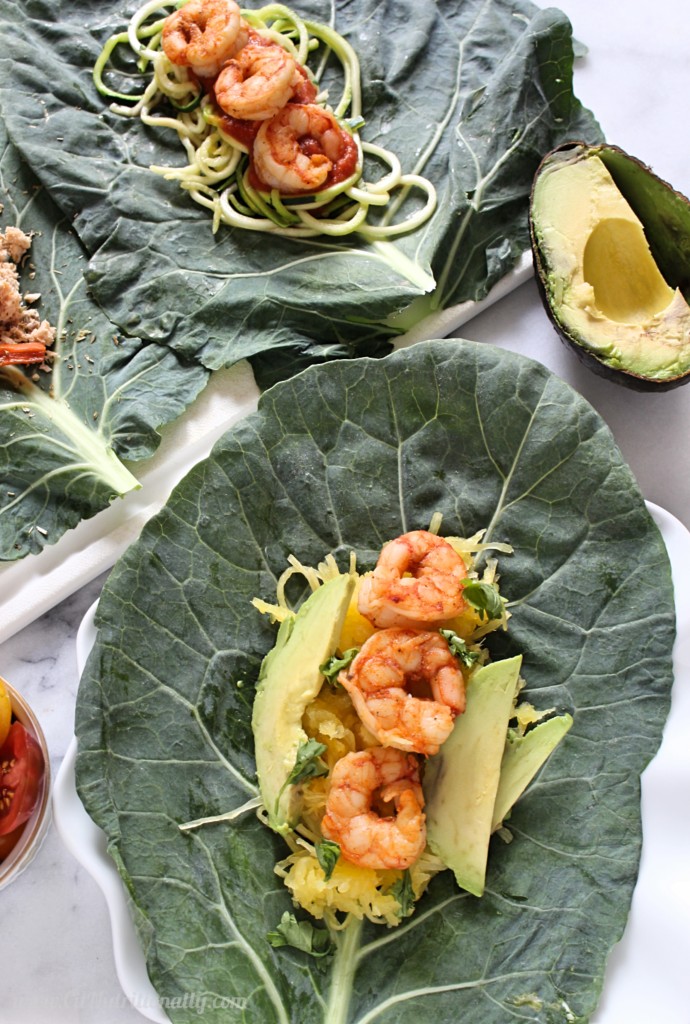 These Easy Collard Wraps are…
Easy to make in minutes
Made with just a few ingredients
An energy-boosting lunch
Nourishing
A real food recipe!
Now this is an energizing lunch you'll want to add to your rotation…
Ingredients
1 bunch of collard greens (about 5-6 large leaves)

Choose 1 Protein:

Leftover sheet pan shrimp
Leftover salmon
Leftover tofu stir fry

Choose 1 Veggie (my favorites):

Zoodles (spiralized zucchini)
Bell pepper strips
Shredded lettuce

Choose 1 Fat or Sauce:

Avocado or guacamole
Salsa
Any salad dressing
Instructions
Separate your greens and carefully shave down the spine on the back of each leaf using a small sharp knife.
Fill each wrap with 1 protein, at least 1 veggie, and 1 fat or sauce. Get creative!
To fold each wrap, fold in the top and bottom of the leaf, then roll it up. Place seam-side down on your plate to stay secure. Enjoy!

Some of my favorite combinations:

Leftover shrimp + spaghetti squash + avocado + salsa
Leftover shrimp + zoodles + tomato sauce
Tuna salad + roasted carrots + sliced tomato
Leftover stir fry veggies with tofu
http://citnutritionally.com/easy-collard-wraps/
Don't forget to PIN IT…

And some words to leave you with today…
"The time is always right to do what is right." -MLK Jr.
XO

If you want to stay connected or you make something from C it Nutritionally I would LOVE to see your creations! Tag me or use the hashtag #CitNutritionally!
Let's get social! 
Facebook: C it Nutritionally
Twitter: @ChelseyAmerRD
Instagram: @CitNutritionally
Pinterest: ChelseyAmer