If you're looking to boost your veggie intake there's no better way than with these naturally sweet, just browned and addictive Easy Roasted Carrots. They're a food prep staple in my kitchen! Free of top 8 food allergens. Vegan, Gluten free.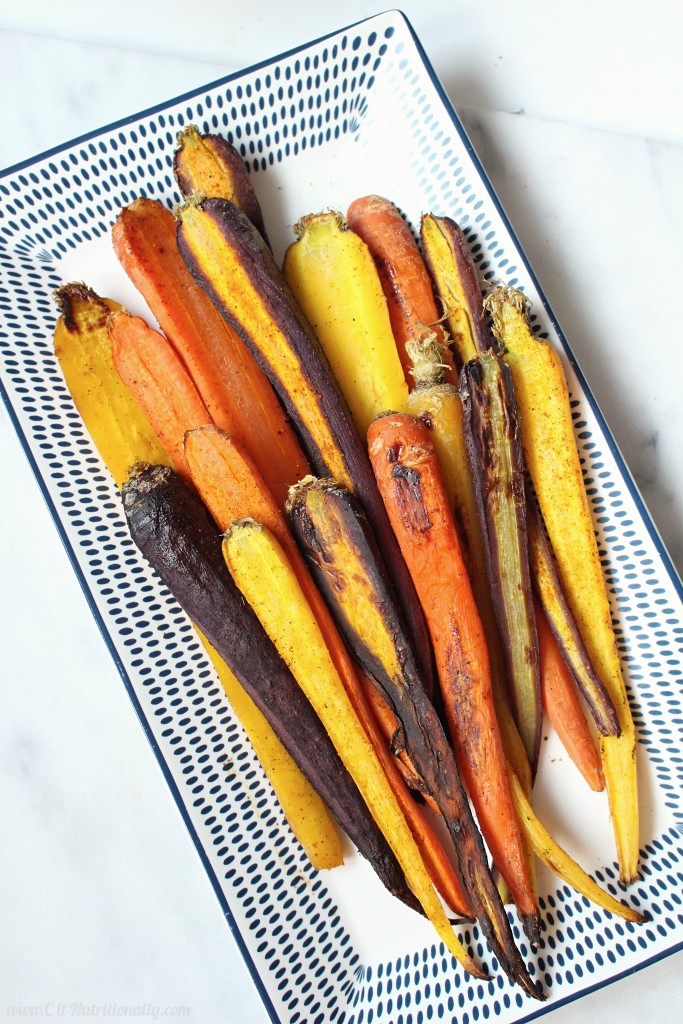 Hello my name is Chelsey and I'm honestly ADDICTED to these easy roasted carrots. Like no joke. I think I started to turn orange from eating too many easy roasted carrots so then I switch to the tricolor variety to solve that issue. YUP, THAT GOOD.
I even hoard them all to myself most weeks ((sorry hun!)) and can polish of an entire tray in one sitting, while standing, fresh out of the oven.
Is that weird?
They are just SO GOOD. They're naturally sweet, less noisy and easier to chew compared to raw carrots, satisfying, filling and seriously tickle all of my taste buds.
I don't even quite know how to put it into words but you NEEEEED these easy roasted carrots in your life. Is it weird I'm so obsessed with a vegetable?
Try 'em and you will be too. Food prep on repeat. And then repeat and repeat because they'll be gone.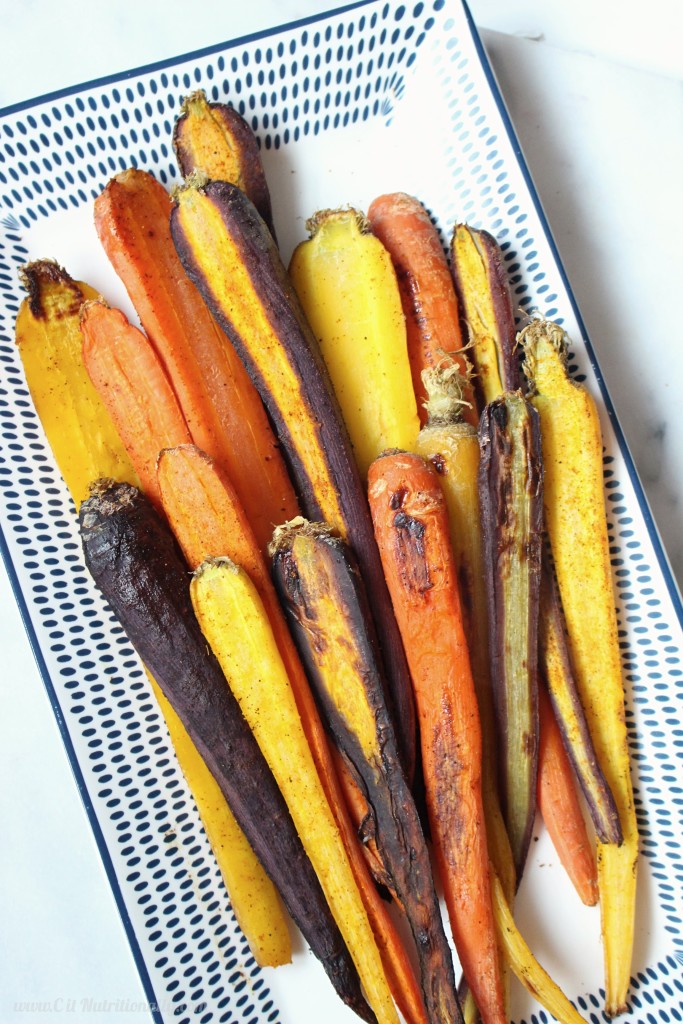 Carrots are such an underrated vegetable and even sometimes get a bad rap that they don't deserve. Carrots are a good source of potassium and vitamin C, they contain almost 3.5 grams fiber, and most notably are chock full of vitamin A, which helps boost your immune system and your eye health! Just to #nutritionnerd out on ya, one cup of carrots contain over 400% of your daily vitamin A needs. WOWZA!
And now, you can enjoy carrots in a new way… roasted! I'm obviously a fan — I mean, have you tried my whole herb roasted carrots with avocado dill dipping sauce?!
These Easy Roasted Carrots are…
Naturally sweet

Made with 5 ingredients

Free of all major food allergens

Low FODMAP friendly

DELICIOUS
OK… watch  me make 'em…
Ingredients
2 pounds [tricolored] carrots, peeled and sliced in half lengthwise
1 tablespoon extra virgin olive oil
1/2 teaspoon turmeric
1/2 teaspoon chili powder
1/4 teaspoon garlic powder
Salt and pepper to taste (I use a generous pinch of each)
Instructions
Preheat oven to 375°F.
Toss halved carrots in olive oil and lay on a parchment paper-lined baking sheets. Be sure not to overcrowd the sheet. Sprinkle carrots with spices. Feel free to add more to taste.
Roast carrots for 30-40 minutes, flipping halfway through. Carrots should be soft to bite and slightly browned when done cooking. Enjoy warm or cold!
http://citnutritionally.com/easy-roasted-carrots/
Don't forget to PIN IT…
Seriously… try 'em and let me know what you think! Have you ever been that obsessed with a vegetable?!
XO

Let's get social!
Facebook: C it Nutritionally
Twitter: @ChelseyAmerRD
Instagram: @CitNutritionally
Pinterest: ChelseyAmer