When you're looking for an easy holiday breakfast or snack to feed a crowd, look no further than to my Wild Blueberry Oatmeal Bars…lightly sweetened, with delicious and nutritious wild blueberries and a crumbly oat-filled crust and topping!
Vegan, Gluten Free, Low FODMAP, Nut Free, Soy Free.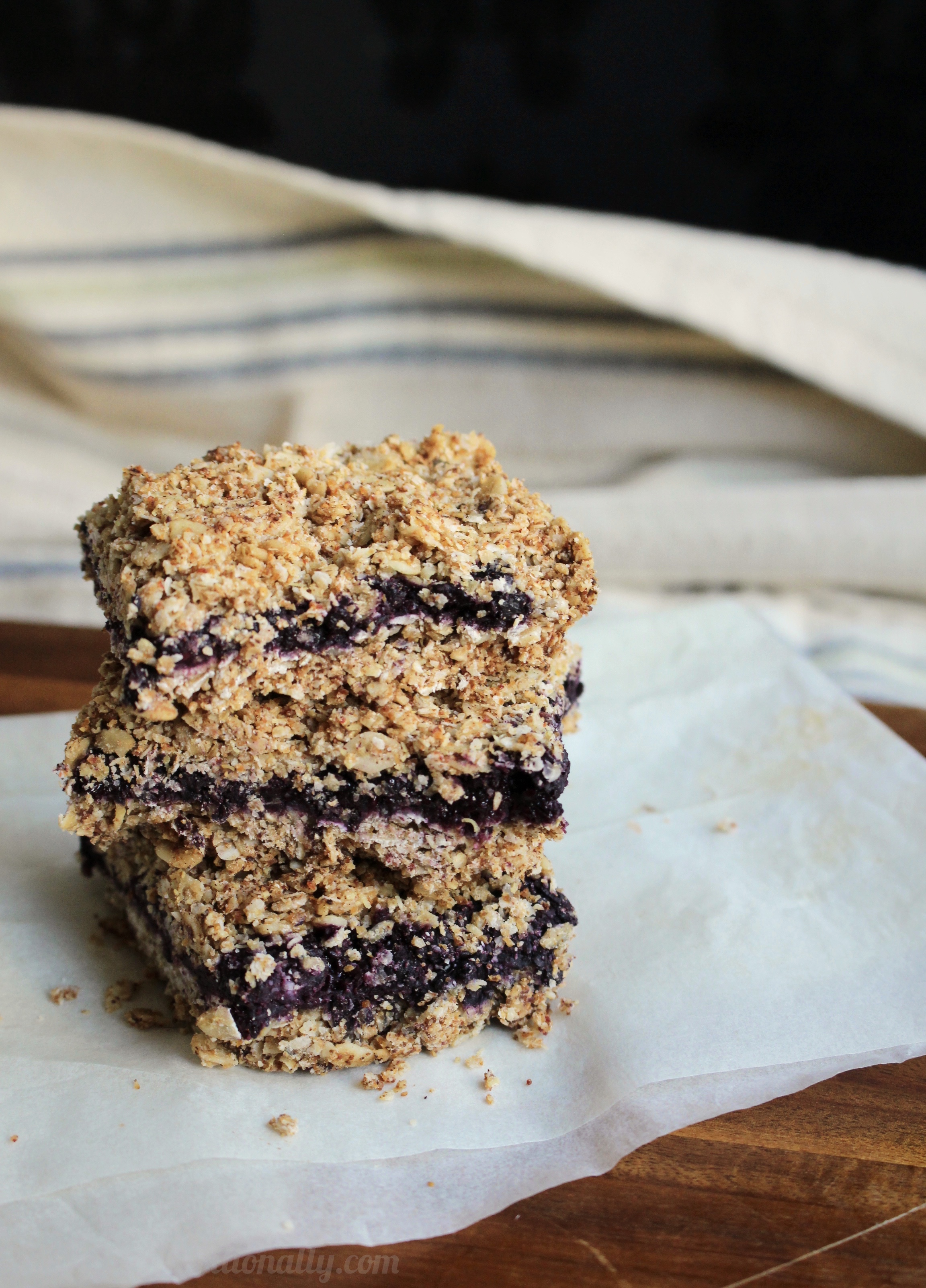 By posting this recipe I am entering a recipe contest sponsored by Wild Blueberries and am eligible to win prizes associated with the contest. I was not compensated for my time.
It's week numero dos of FRUGAL FRIDAY up in here…I got so much great feedback from last week's first Frugal Friday post, which made me even MORE excited for this week's edition!
It's been aaaageees since I've shared a healthified sweet treat, but the holiday season is approaching, which means crowds of people invading your home, entertaining for handfuls, and non-stop FUN! Since there's SO much eating to be had in the holiday season, I'm sharing a sweet treat that just happens to be totallllllly acceptable [read: nutritious enough] for breakfast — that can also be made on a dime!
Get to know my Wild Blueberry Oatmeal Bars, made with FROZEN Wild Blueberries!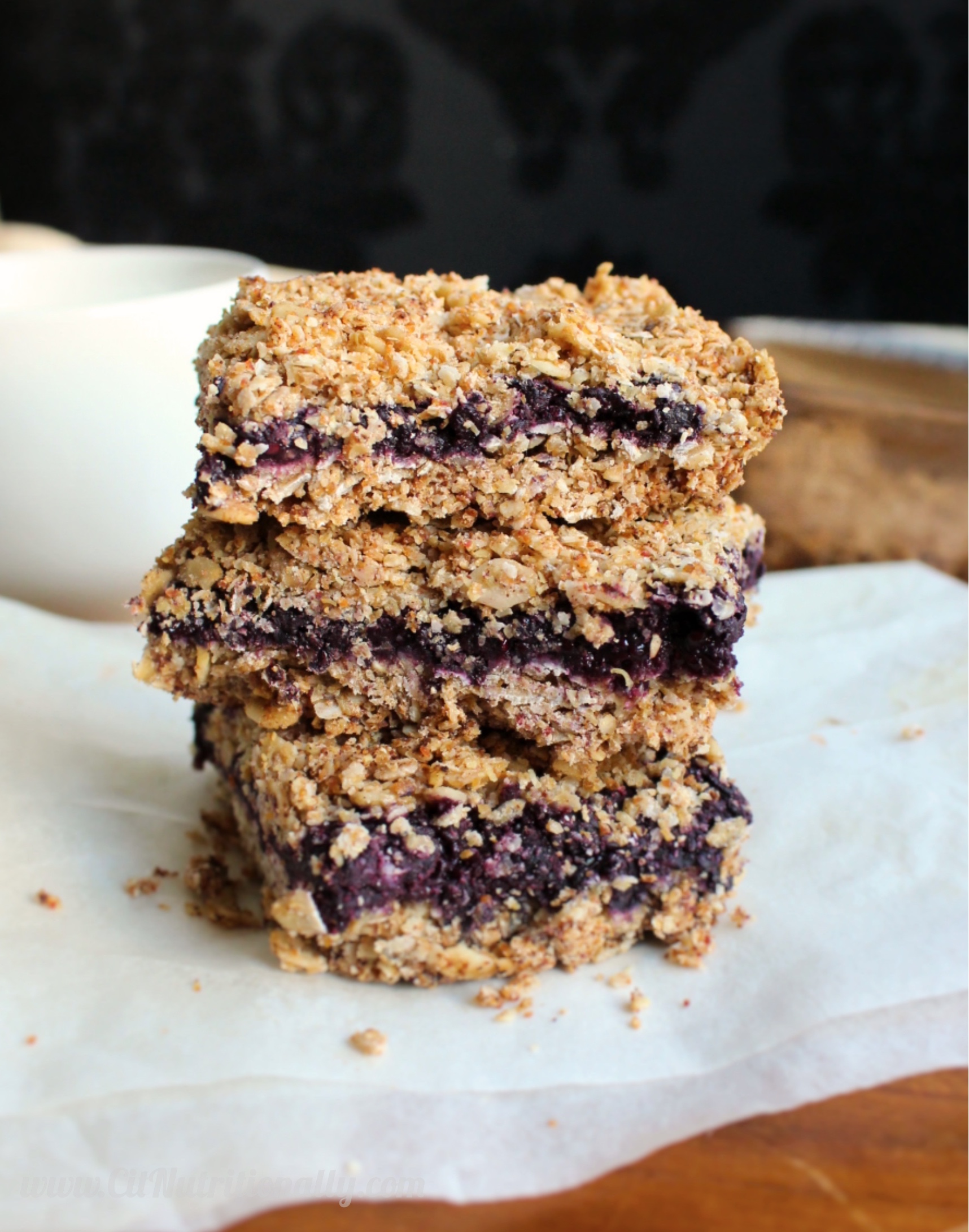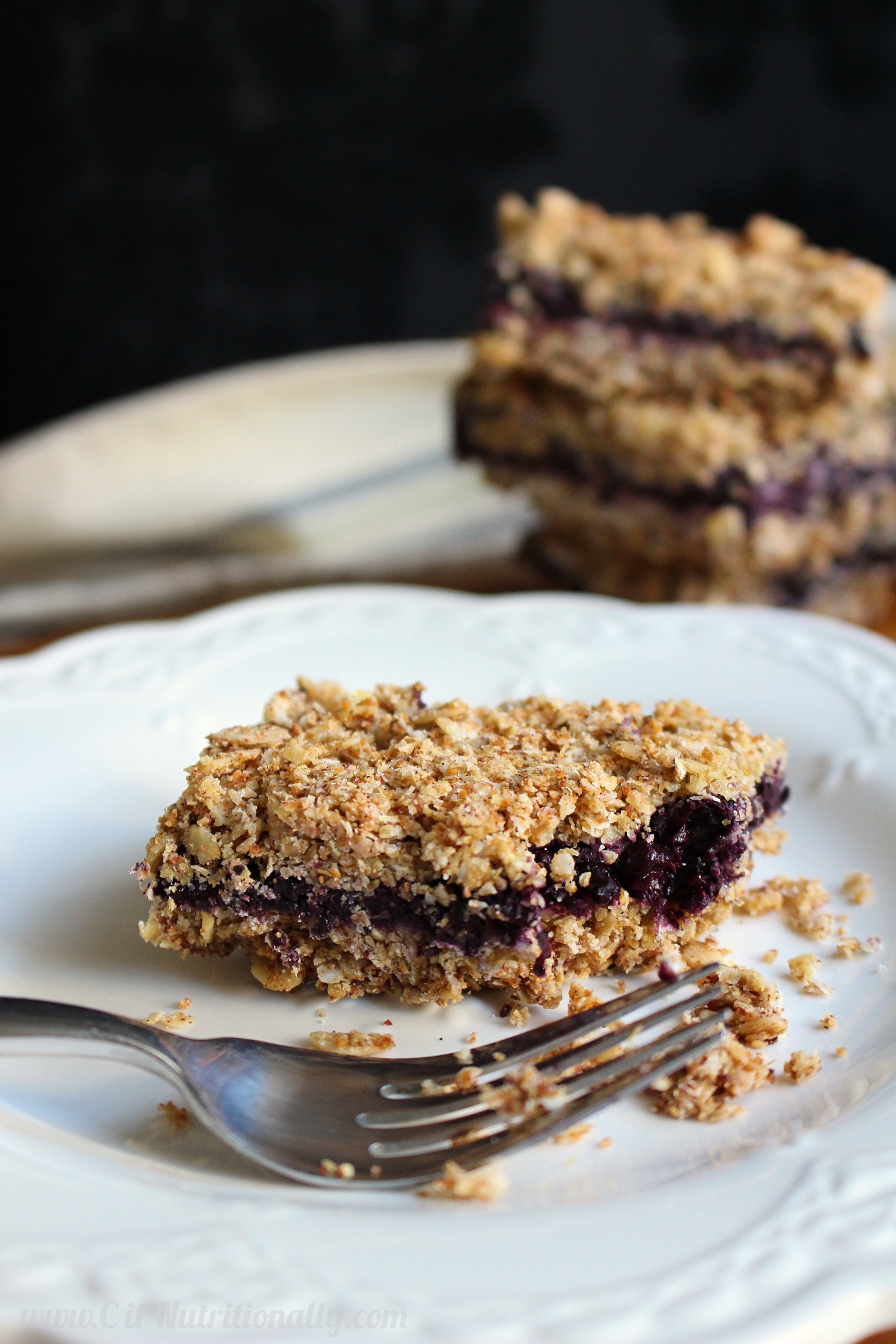 Let's get social!
Facebook
Instagram
Pinterest
Twitter
Ya'll know I'm a huge fan of bloobs, but lately I learned about WILD blueberries and they're my go-to berry choice all winter long because…
You buy them FROZEN, so they're full of even MORE nutritious benefits!

Wild bloobs have 72% more

fiber

(which ya'll know is my favvvorite nutrient!) and 32% less [natural] sugar than cultivated blueberries.

Wild Blueberries have TWICE the antioxidant capacity of regular bloobs = a healthier you! (There's even some evidence that regular consumption of wild blueberries can help prevent cancer and diabetes and promote good brain health and gut health!)

They're a delicious combination of tart and sweet!
So when you're getting your holiday baking on, using WILD frozen blueberries is the best choice!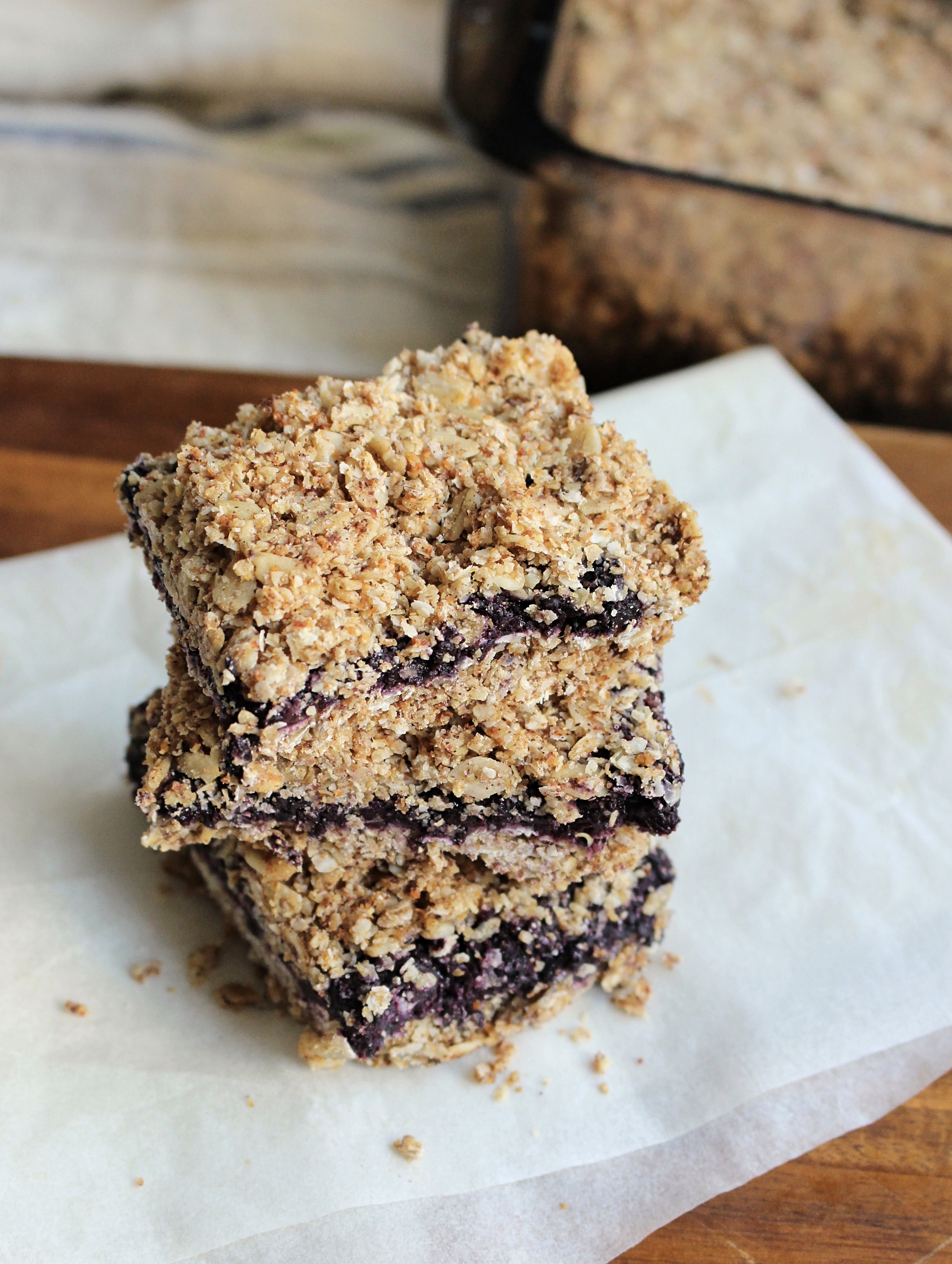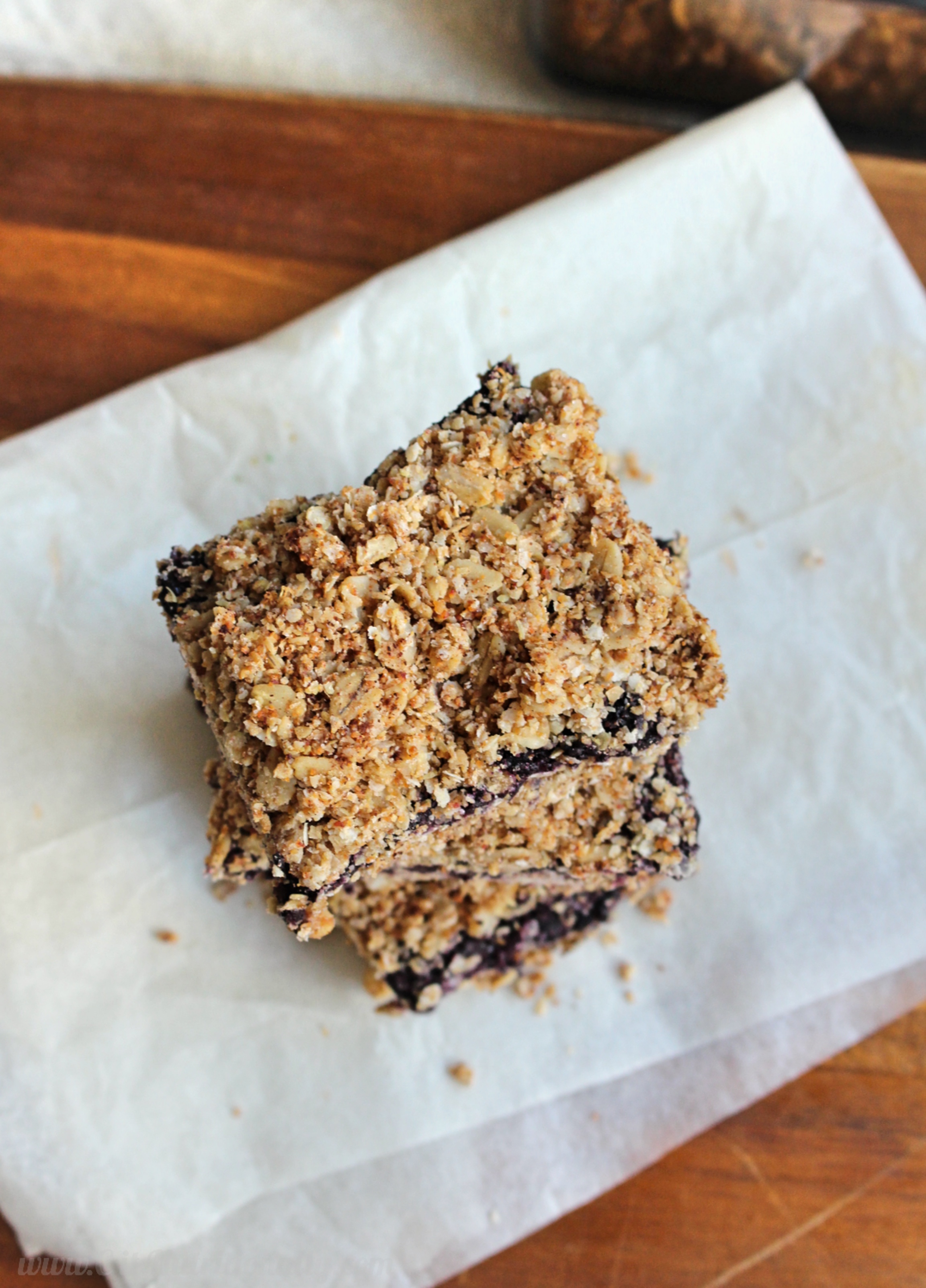 And I know whatcha thinking…how does something so unique sounding (that perhaps you've never heard of) fit into FRUGAL FRIDAY?!
Frozen fruit is often WAY less expensive than fresh…but JUST as NUTRITIOUS!
((And this goes for veggies too!))
A pint of blueberries can cost you $5 right about now. Frozen ORGANIC (no less!) Wild Blueberries costs about $4.00 per pound (which is more than what's in 1 pint!). #winning.
Plus, making food at home, instead of relying on store-bought versions, is not only better for your health, but saves you money as well! You couldddd buy a store-bought blueberry oatmeal bar but they likely 1) wouldn't be as delicious, 2) the ingredient list would be A LOT longer and have some ingredients you may not recognize (yuck!), and 3) per serving, it's probably more AFFORDABLE to DIY!
This recipe makes 12 servings as a snack bar or breakfast. I strongly suggest crumbling it over some Greek yogurt for a nutritious breakfast full of fiber and protein and TONS of vitamins and minerals from the frozen wild bloobs! Or taking one with you when do your holiday shopping for a portion-controlled healthier treat that will save you when you think you can't hit one. more. store. Trust me, I was there yesterday!
I hope you enjoy these babies as much as I do!
Wild Blueberry Oatmeal Bars
Ingredients
For the filling:

1 10 oz bag frozen wild blueberries
1/2 teaspoon lemon juice
3 tablespoons chia seeds
1/2 teaspoon ground ginger
1/8 teaspoon salt

For the oat base + topping:

1 cup quick oats (not instant)
1 cup rolled oats
1 cup quinoa flakes
1/2 cup coconut sugar
1/2 teaspoon baking soda
1/2 teaspoon cinnamon*
1/4 teaspoon ground ginger
1/2 cup coconut oil, melted
1/8 teaspoon salt*
Instructions
To prepare filling:

Add wild blueberries to a small saucepan over medium heat. As blueberries melt, mash with a potato masher. Bring blueberries to a boil and then reduce to a simmer. Add lemon juice. Stir occasionally as mixture thickens, approximately 10 minutes.
Then turn off the heat, add chia seeds and ground ginger. Set aside to cool and allow the mixture to thicken, approximately another 10 minutes.

To make the granola base and topping:

In a food processor, grind quick cooking oats to oat flour (alternatively, you may use 3/4 cup oat flour).
In a large bowl, combine oat flour, quinoa flakes, rolled oats, coconut sugar, baking soda, cinnamon, ground ginger and salt. Mix to combine.
Pour melted coconut oil into dry ingredient mixture and stir with a wooden spoon until thoroughly moistened.
Press about half of the oat mixture into the bottom of prepared 8 x 8 pan, so it is thoroughly covered. Bake for 10 minutes at 350°F, then set aside to cool slightly before assembling the rest of the bars.

To assemble the bars:

Spread blueberry filling evenly on top of the oat base. Then sprinkle the remaining half of the oat mixture on top, pressing down slightly with your (clean) fingers.
Sprinkle additional cinnamon and sea salt on top of the bars.
Bake in preheated oven for 25-30 minutes, or until the oat topping is slightly browned and crisp.
Allow bars to cool completely, then refrigerate for at least 30 minutes prior to cutting into 2-inch squares.
Notes
*Additional cinnamon and salt for sprinkling on top of the bars.
Nutrition Facts (per serving, 1/12 of recipe): 232 calories, 12g fat, 100mg sodium, 29g carbohydrates, 4g fiber, 11g sugar, 4g protein
http://citnutritionally.com/frugal-friday-wild-blueberry-oatmeal-bars/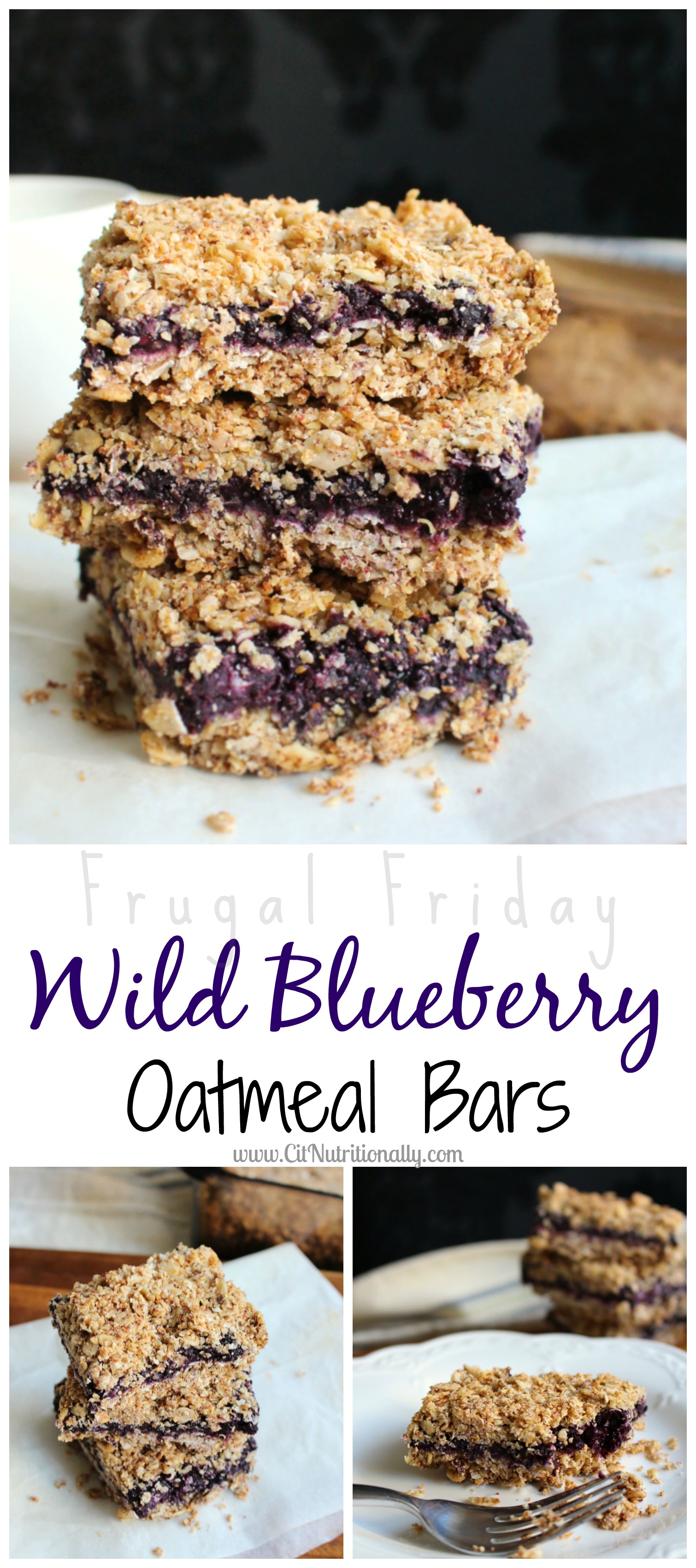 Happy weekend baking

 
XO
Let's get social!
Facebook
Instagram
Pinterest
Twitter