Fluffy gluten free banana pancakes made with wholesome ingredients you probably already have in your kitchen, topped with an apple cinnamon compote to cherish the fall season!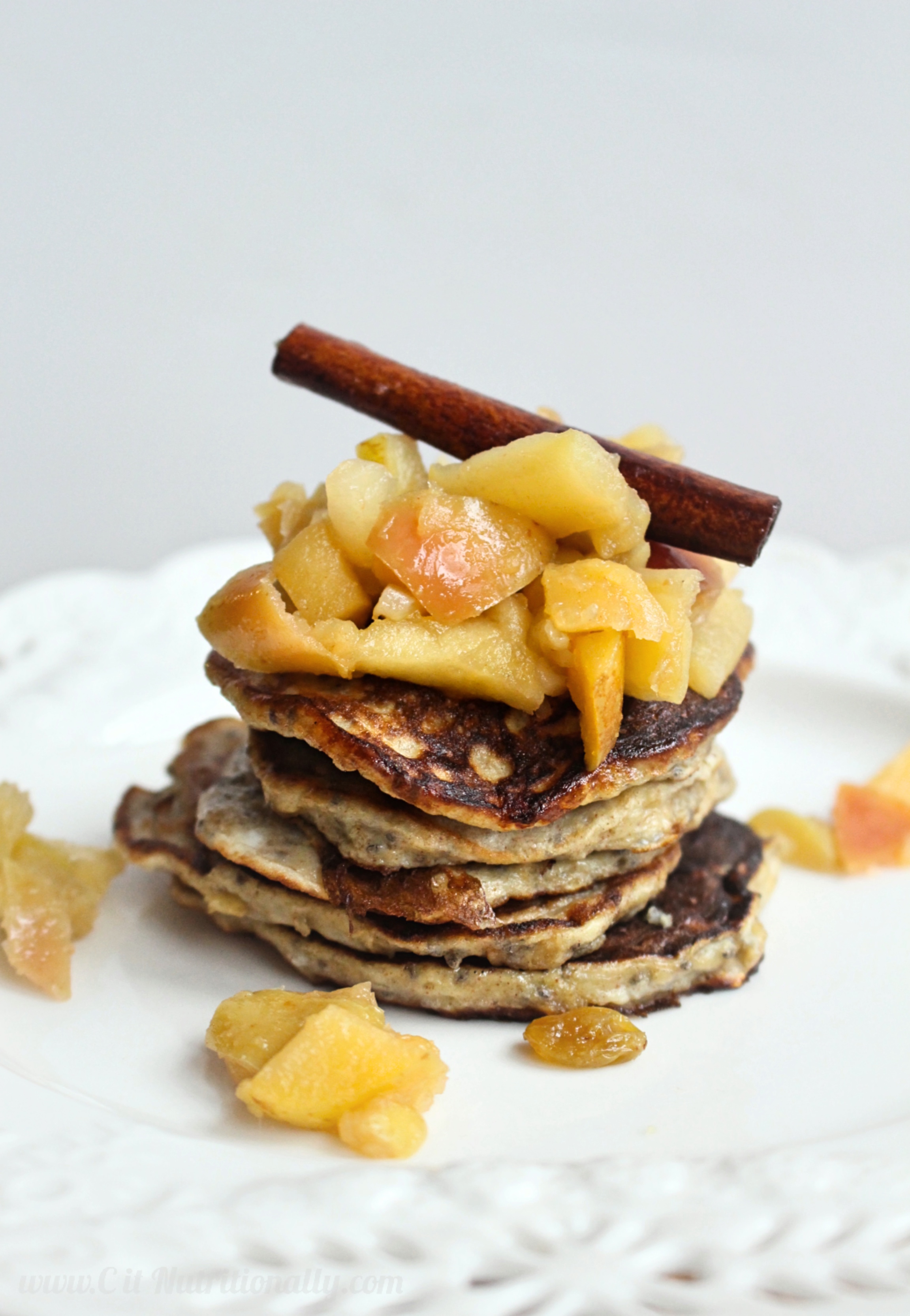 Sooooo….WE DID IT!!!
It's nice to finally meet you as Chelsey Amer, RD/RDN*!!!
Sending you a virtual stack of PANCAKES to celebrate with me…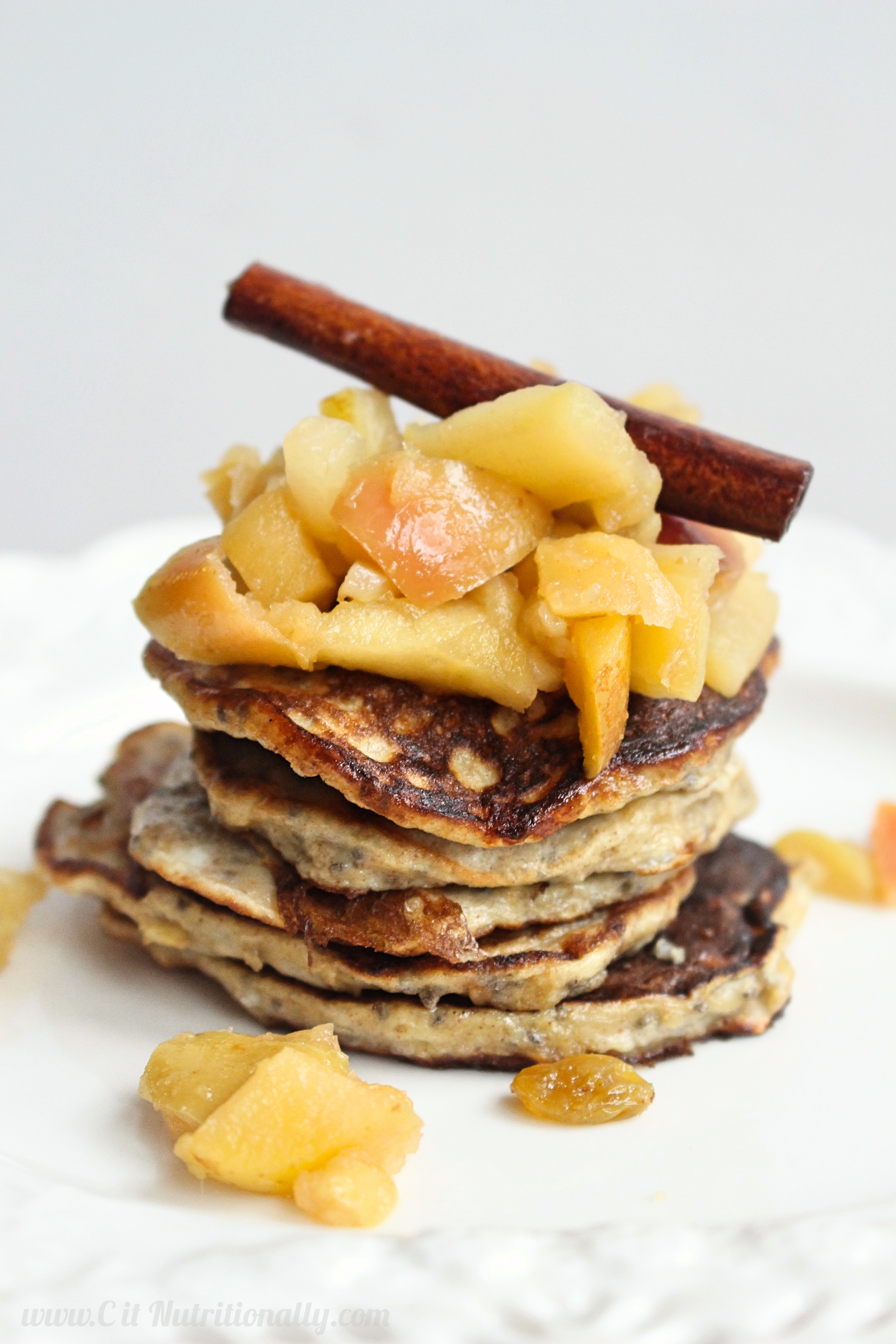 After disappearing off the face of the blogosphere and social media for the past couple of weeks while I was studying, I passed my RD exam yesterday(!!!!), so I'M BACK…with PANCAKES!
But first, I'd like to share a huge THANK YOU to everyone who has supported me throughout my journey from #RD2be → #RD, including all ya'll blog readers…
*Virtual kisses*
And friendly reminder… I take being Registered Dietitian with a lot of responsibility…
I'm (still) not the food police.
I think all foods fit.
I think everyone can improve their diet for their health (myself included!), without deprivation.
So stay tuned on everything that's going on around here…and in the meantime, eat PANCAKES!
And by pancakes I mean gluten free banana pancakes with apple cinnamon compote…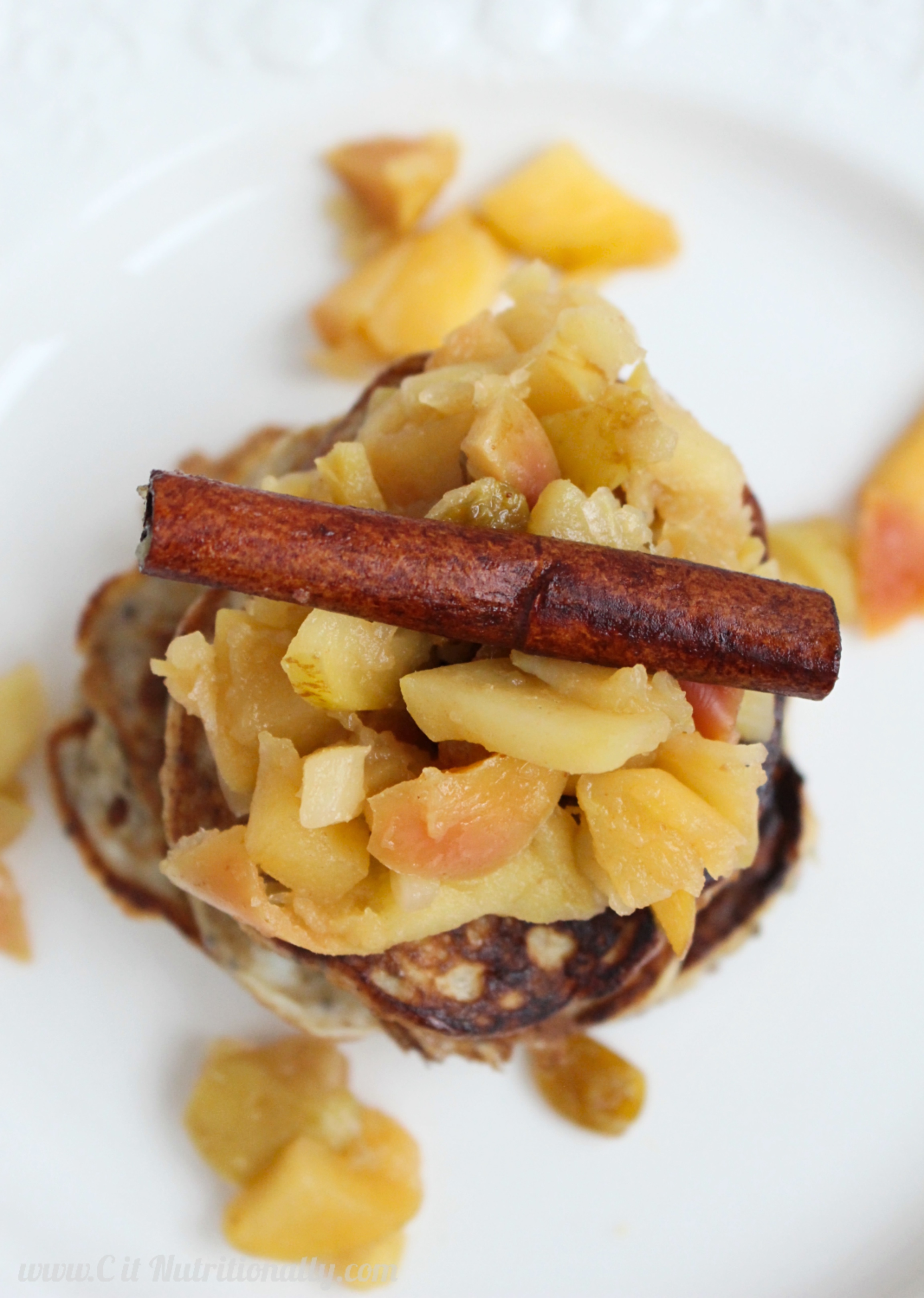 …because it's fall, it's delicious, and WHY NOT?! 
And in case you didn't see on Snapchat [let's be friends –> @chelseyamer] or Insta or Facebook yesterday, it also happened to be S's birthday ((biiiiigg week over here!)), so I made him these beauties for brekkie ((because birthdays deserve an exxxxtra special breakfast…although I'm sure he would've been just as happy with OO's!!)) and they took all of 15 minutes to whip up! #winning!!
These Gluten Free Banana Pancakes with apple cinnamon compote are…
Vegetarian
EASY to make in 15 minutes or less!!
Food allergy friendly: gluten free, wheat free, dairy free, nut free & soy free
Filling because they're full of fiber and protein.
Made with NO added sugar (OK, maybe a little maple syrup in the compote!)
aaaand DELICIOUS!
Brunch is served…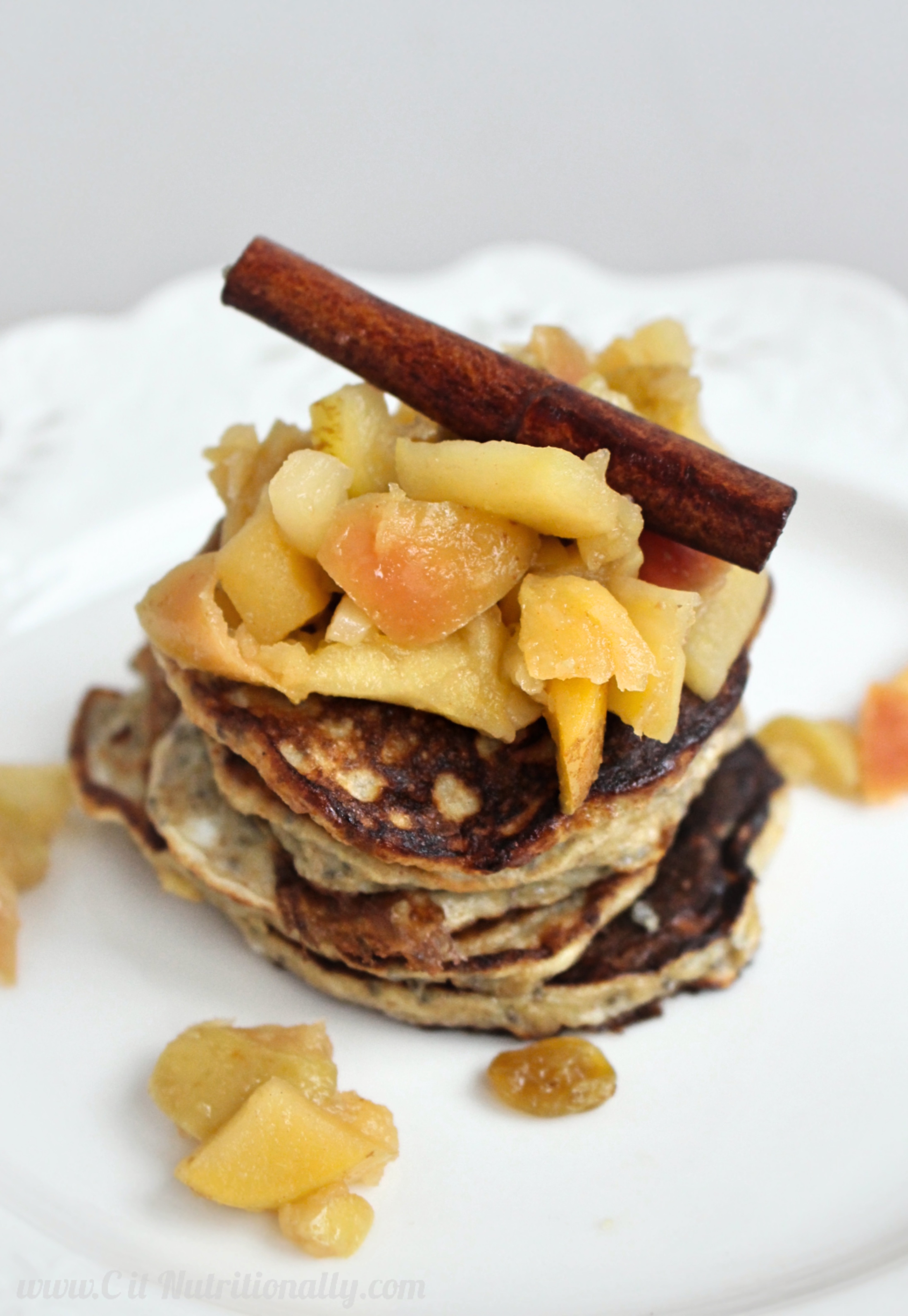 Celebratory Gluten Free Banana Pancakes with Apple Cinnamon Compote
Ingredients
For the pancakes:

2 eggs
1 medium banana, mashed
2 tablespoons rolled oats
1 tablespoon chia seeds
1/4 teaspoon pure vanilla extract
1/4 teaspoon cinnamon
2 teaspoons coconut oil

For the compote:

2 small apples (2.5" diameter), chopped
1/8-1/4 cup water*
1 cinnamon stick
1 teaspoon ground cinnamon
1 tablespoon golden raisins
1 tablespoon maple syrup
Instructions
For the pancakes:

In a medium-sized bowl, whisk eggs until scrambled. Add mashed banana, oats, chia seeds, vanilla and cinnamon and mix to combine. Set aside for about 5-10 minutes. Make the apple compote, if desired, during this time.
Once the mixture has rested for about 5 minutes (to give the chia seeds some time to gel), heat coconut oil in a large skillet over medium-high heat. Once pan is hot, add pancake batter in desired size of pancake (I prefer silver dollars -- small pancakes, approximately 2-3 inches wide). After about 2 minutes, carefully flip pancakes and cook for another 2 minutes until golden brown on the exterior.
Serve warm with apple compote.

For the compote:

In a small saucepan over medium heat, add apples, water and cinnamon stick and bring to a boil.
Reduce to a simmer and mix intermittently until apples begin to break down and the water is gone, approximately 10 minutes.
Add ground cinnamon, raisins and maple syrup and continue to simmer until mixture thickens. If desired, you may mash all or half of the apples to hasten the thickening process and achieve a more broken down compote mixture. Serve warm over pancakes. Enjoy! :)
Notes
*Start with 1/8 cup of water and if water cooks out quickly and mixture looks dry, add another 1/8 cup of water. Mixture should be moist, but not covered in water. Full Nutrition Facts: 336 calories, 12.25g fat, 75.5 mg sodium, 52g carbohydrates, 8.5g fiber, 9.25g protein
http://citnutritionally.com/gluten-free-banana-pancakes-apple-compote/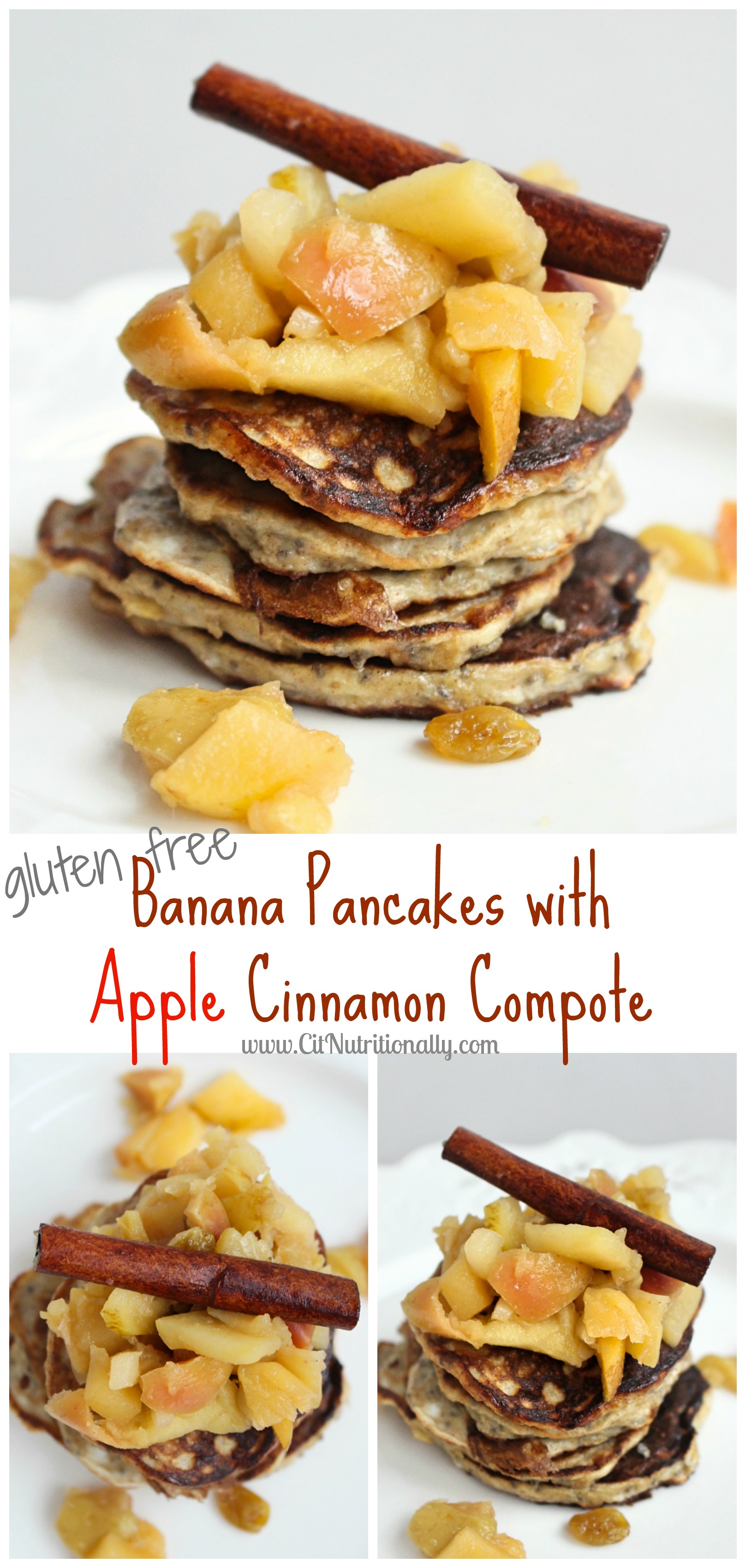 Happpppy weekend! 
XO
*RD/RDN are both acceptable credentials by the Commission on Dietetic Registration, meaning Registered Dietitian (Nutritionist).