Enjoy a fluffy stack of Grain Free Zucchini Bread Pancakes that are easy to whip together at a moment's notice!
Nut Free | Dairy Free | Grain Free | Gluten Free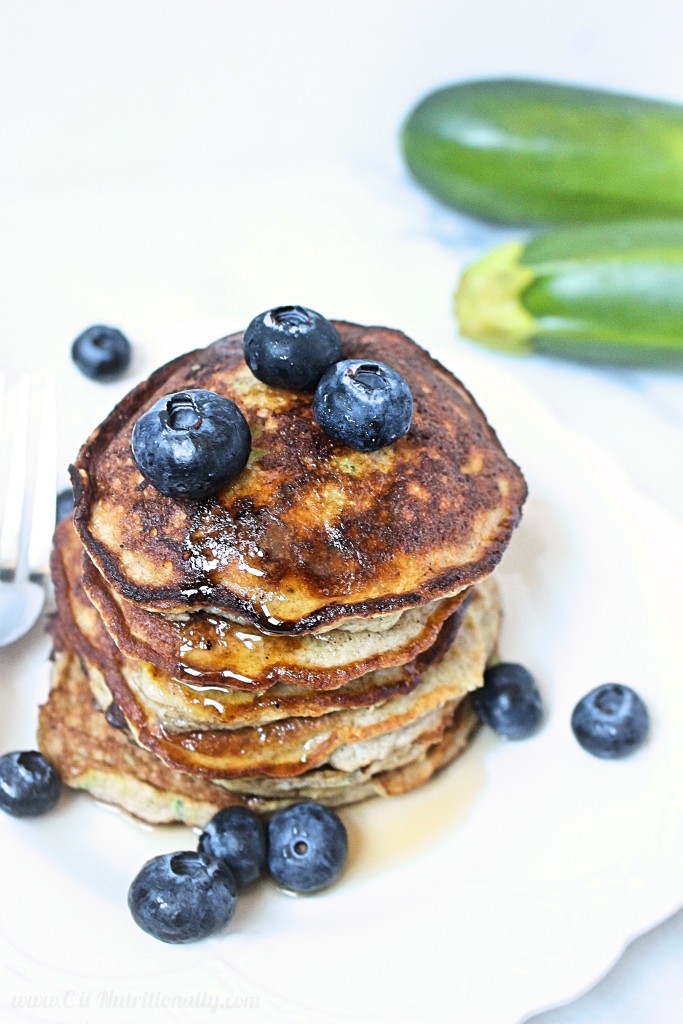 Lately I've been cherishing slower weekends. I've been so go, go, go during the week that leisurely weekends at home have been absolutely blissful!
One of my favorite ways to kick off the weekend? PANCAKES!
As much as I love the classic 2-ingredient pancakes: 1 banana + 1 egg = pancake batter, I find they can be a little limp and not as pancake-satisfactory as I prefer. Yes, I have high hopes for my pancakes on the weekends!
So one recent Saturday morning I decided to start throwing different stuff into my bowl to oomph up my banana + egg = pancakes formula. And these Grain Free Zucchini Bread Pancakes were born!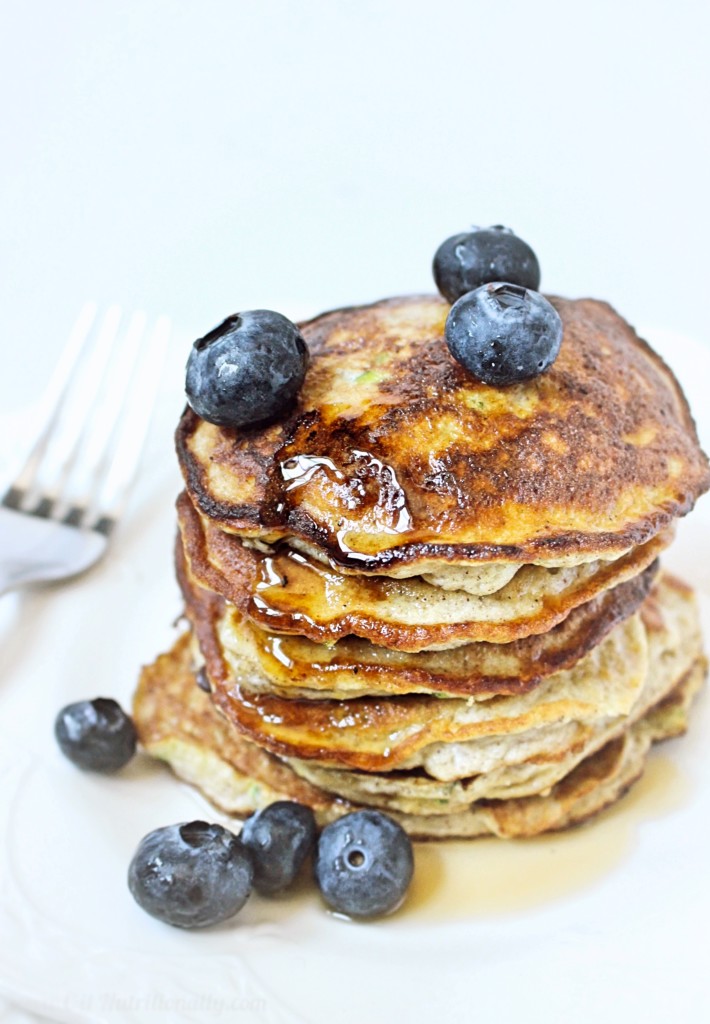 Oh em gee.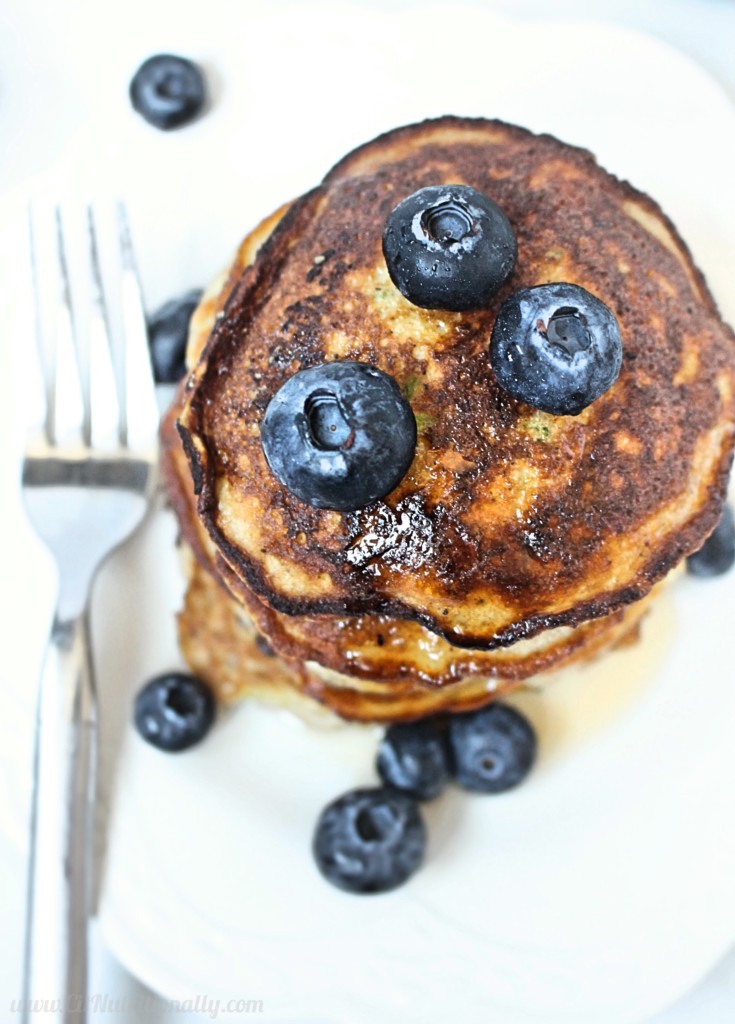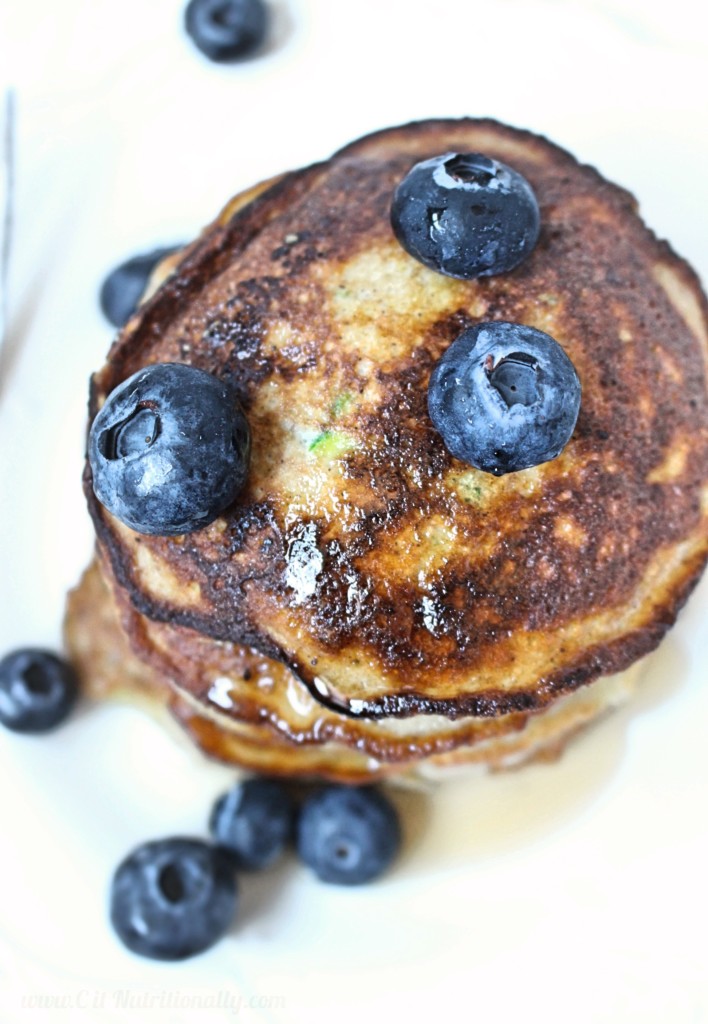 Not to mention, that this is another great way to use up your surplus of summer zucchini (my FAVE!), these Grain Free Zucchini Bread Pancakes are almost TOO easy. Once you add coconut flour (affil link) to your pantry, I guarantee you have all of the ingredients on hand.
Why coconut flour? To be honest, there's nothing wrong with regular flour or whole wheat flour (although neither can just be substituted evenly in this recipe), but I've been having fun experimenting with coconut flour lately because of its high fiber content, delicious and hearty flavor, and easy to use.
These Grain Free Zucchini Bread Pancakes are…
A nourishing and filling breakfast
Easy to make in just 1 bowl
Gluten free & grain free
Full of fiber and protein to start your day with a nutritious & delicious meal
Food allergy friendly
This is the fluffiest stack of pancakes I've ever made, so get on it and make breakfast for dinna tonight!

Lick the plate good…
Grain Free Zucchini Bread Pancakes
Ingredients
2 eggs
3 egg whites
1 very ripe, medium-sized banana, mashed
1/4 teaspoon cinnamon
1/4 teaspoon vanilla
2 tablespoons coconut flour
1/3 cup shredded zucchini, with moisture squeezed out
Pinch of salt
1 tablespoon coconut oil or vegetable oil
Instructions
In a medium-sized bowl, whisk eggs and egg whites. Add the remaining ingredients, except for coconut oil, in a medium-sized bowl and mix well.
Heat a large skillet with coconut oil until warm. Add 1/4 cup batter to hot skillet and cook until edges are set, approximately 2 minutes. Carefully flip pancake and cook for another 2 minutes, or until exterior is golden brown. Repeat with the remaining batter.
Top with good quality pure maple syrup, fresh fruit or nut/seed butter. Enjoy!
Notes
Nutrition Facts (per 1/2 recipe): 240 calories, 13g fat, 314mg sodium, 19g carbohydrates, 4g fiber, 13g protein
http://citnutritionally.com/grain-free-zucchini-bread-pancakes/
Don't forget to PIN IT…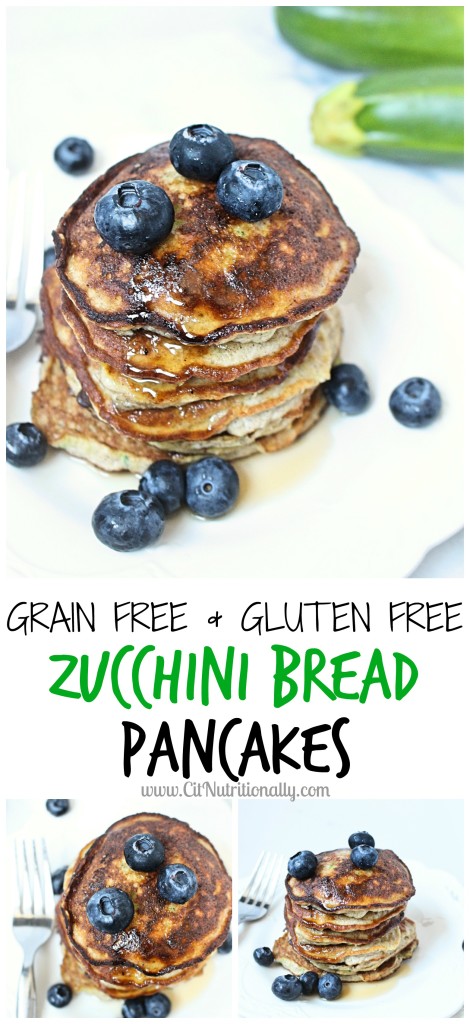 Now who wants a short stack for dinner tonight??
XO
If you want to stay connected or you make something from C it Nutritionally I would LOVE to see your creations! Tag me or use the hashtag #CitNutritionally!

Let's get social! 
Facebook: C it Nutritionally
Twitter: @ChelseyAmerRD
Instagram: @CitNutritionally
Pinterest: ChelseyAmer