Did you know that self-care is an important part of living a nutritious life??? When was the last time you did something for YOU? Today we're talking how to make time for self-care…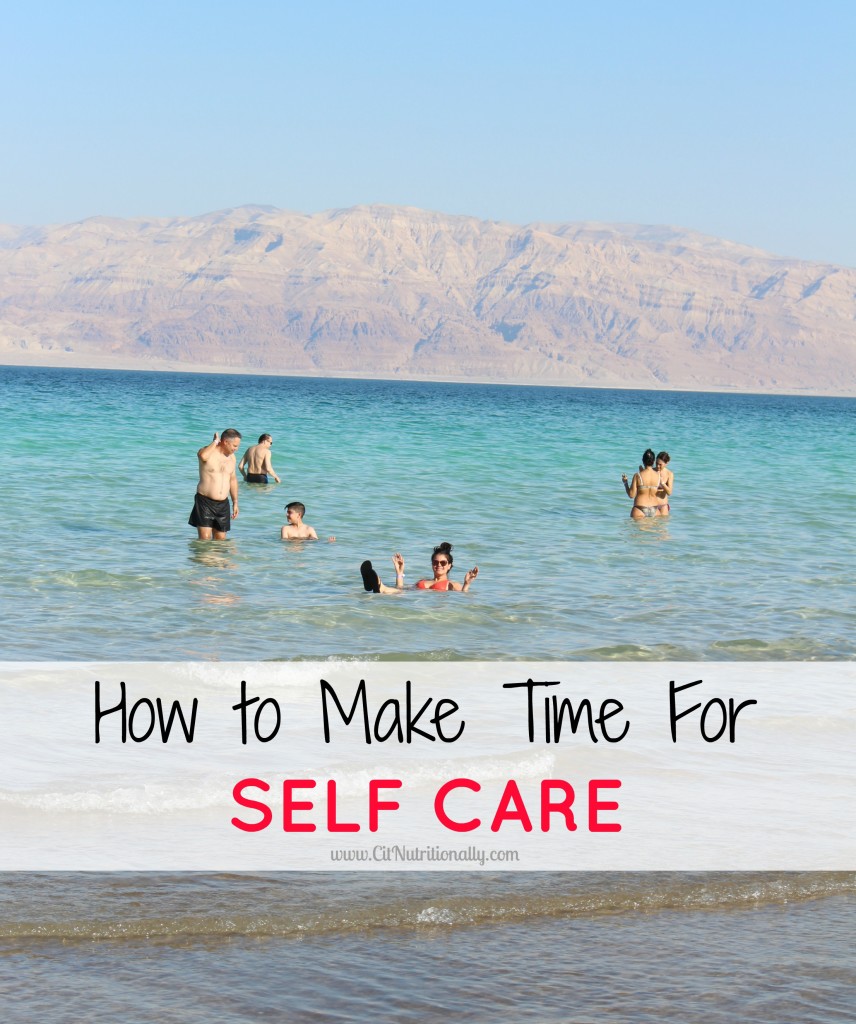 One common theme I see when people first walk into my office (over and over… and over again!), is that somewhere along the way they have neglected some part of themselves. Likely not intentionally, but at some point between climbing the corporate ladder, getting married, having children, or taking care of their parents, the sense of self becomes a little blurred.
So on this 14th week of my "See Your Life Nutritionally" series, we're talking How to Make Time For Self-Care to Make a Better You…
A couple of weekends ago I wrote an instagram post (slash rant) about self-care…
I wrote about how life gets messy — which is often how we forget ourselves. I wrote about how life is unpredictable — which often leads to things piling up on our plates and that's how we forget about ourselves. And I wrote about how life is often planned — and that's how we forget to live in the moment.
But when we just GO WITH IT when life hands you a barrel of knocked over lemons, that's when the magic happens.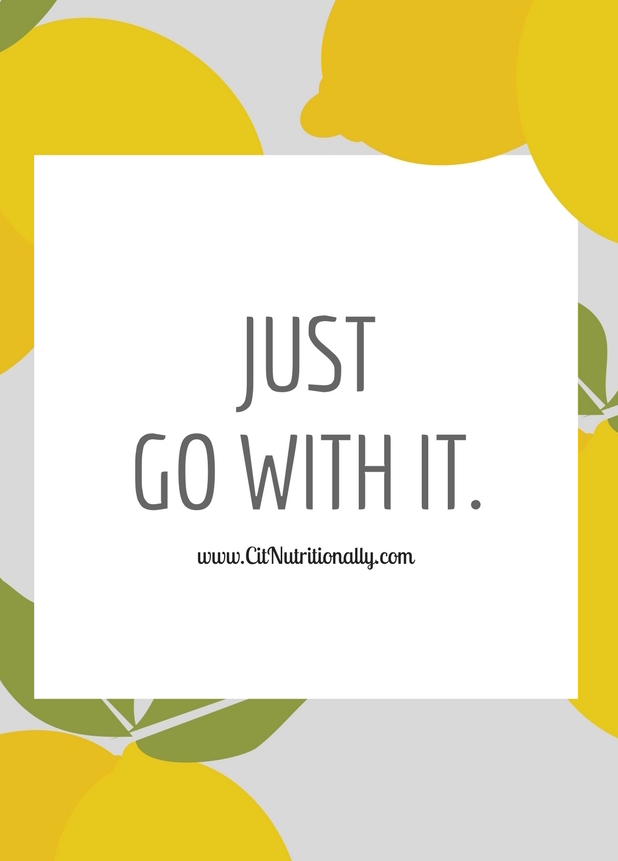 Life isn't perfectly scripted. It doesn't have a rule book (even though if you're Type A like moi you would like one!). I learned the hard way that life doesn't always happen the way you think it will. But if we learn to namaste or koombaya or ha'kol beseder (it's all going to be alllllright)... we can focus on the present a little bit more. And that makes more time to care for ourselves.
Self-care is an essential component of a healthy lifestyle because when you take the time to care for yourself, rejuvenate your body and mind, do something that gets YOUR happy hormones flowing, you'll be better for everyone (and everything) else in your life.
Now this may seem silly, but two weekends ago I was dying to get my nails done. A little $15 and 25 minute activity that just makes me feel better about myself, makes me feel more professional when I'm with clients, and just overall is some me time to relax and not think about anything, not scrolling around Instagram or whatever. But I had a birthday brunch to get to that I felt compelled to (and wanted to!) bake for and then I was running late (not so shocking) so I didn't have time and then later in the day I had a client and then I was exhausted and didn't want to leave my apartment to walk the two blocks to the nail place when it was kinda chilly out. So I pushed it off to Sunday. NBD. Sunday came, I was rushing after my workout class to get to plans with friends we had scheduled months ago and again didn't have time. Other things came up. And even though I did SO many other things that I enjoyed that weekend I didn't take the half hour to myself to get my nails done… like I wanted to.
It seems silly. It seems petty. And quite honestly, I seem spoiled that I have the luxury to get my nails done. BUT it's something that is important to me, makes me feel like ME — girly and professional and happy — and I neglected to let myself find the time to do it.
And the mindset that I just wrote is exactly what I find so many people on their wellness journey have as well… "it's selfish to do it." My time can be better spent doing something else. My boyfriend/fiance/husband/children need/want me to do X, Y, and Z.
Well, I'm officially declaring it time to make time for self-care to better yourself!
Why??? When you take time to yourself to unwind, you can be more present for your family and friends and clients when you're with them. It's time to value yourself for all that you do. It makes a better you.
So if you've been avoiding self-care, for WHATEVER reason, here is…
how to make time for self-care to make a better you…
Wake up 10 minutes earlier. You can use this 10 minutes as part of your self-care — journaling, yoga, quiet coffee time in the morning — or you can use it to get sh*t done so you have time later for you. Just don't neglect your sleep… because it's SO important!!! (read WHY here!)
Stop working through lunch. Something as simple as sitting and eating your lunch, without distractions, is a great way to boost mindfulness and have a little bit of time for yourself everyday.
Be patient with yourself. It's OK if your house isn't in perfect order before you go to bed… it can wait until the morning. Be patient with yourself and give yourself a little slack… you work so hard and do so much for others — give yourself the benefit of the doubt! Everything that needs to will get done!
Put self-care on your to-do list!

I know that if I don't write it down or schedule it, it often won't get done.

Ya know, whatever "it" is!

So schedule your favorite workout class and time to take a bath after. Or a solo coffee date at your favorite shop. Whatever it is that is important to YOU!
Take the advice you would give others.

This is something I still struggle with in a BIG way. When it comes to nutrition, I practice what I

preach

teach. But stepping away from my business and responsibilities and taking time for myself — just like I encourage my clients to do — is still a work in progress… and that's OK… because aren't we all?! I'm working to take the advice I give others and put it into practice. I've stopped working on Sundays. I schedule my workout classes… and they come first! And even though it still seems selfish to me, I'm learning to putting my needs before others at times so that I don't push myself into overdrive and overextend myself. How are you going to take the advice you give to others?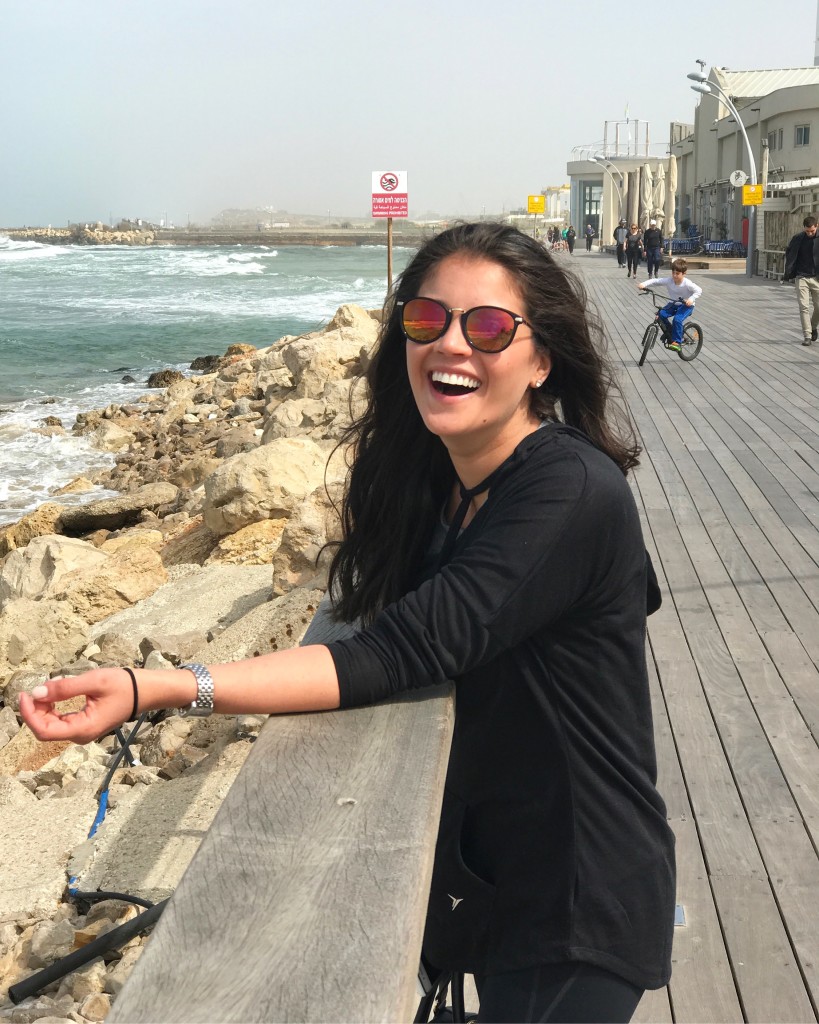 So now that you know HOW to make time for self-care, what are you going to do to take care of yourself?
Here are some of my favorite ways…
Wake up early to sip my cup of coffee in complete silence and watch the hustle and bustle of the city pick up.

Journal — write whatever comes to mind without much thought if it's making sense.

Take my favorite dance class. Maybe you have a favorite way to move your body?

Get my nails done.

AND get a 10 minute massage.

Get to bed without worrying about the million things that need to get done the next day.

Read a book

for pleasure

.

Watch a movie at home without doing work at the same time (YUP, I'm BIG time guilty of this one!)
Mindlessly browse on Pinterest… and not for work!

Workout because I

want

to… not because I feel I

need

to.
How do you practice self-care and make time for it?
XO
Let's get social!


Facebook: C it Nutritionally
Twitter: @ChelseyAmerRD
Instagram: @CitNutritionally
Pinterest: ChelseyAmer