There are certain kitchen tools you need to make food prep EASY… and I'm letting you in on ALL of my secret weapons today, so read on to find out which tools top my list!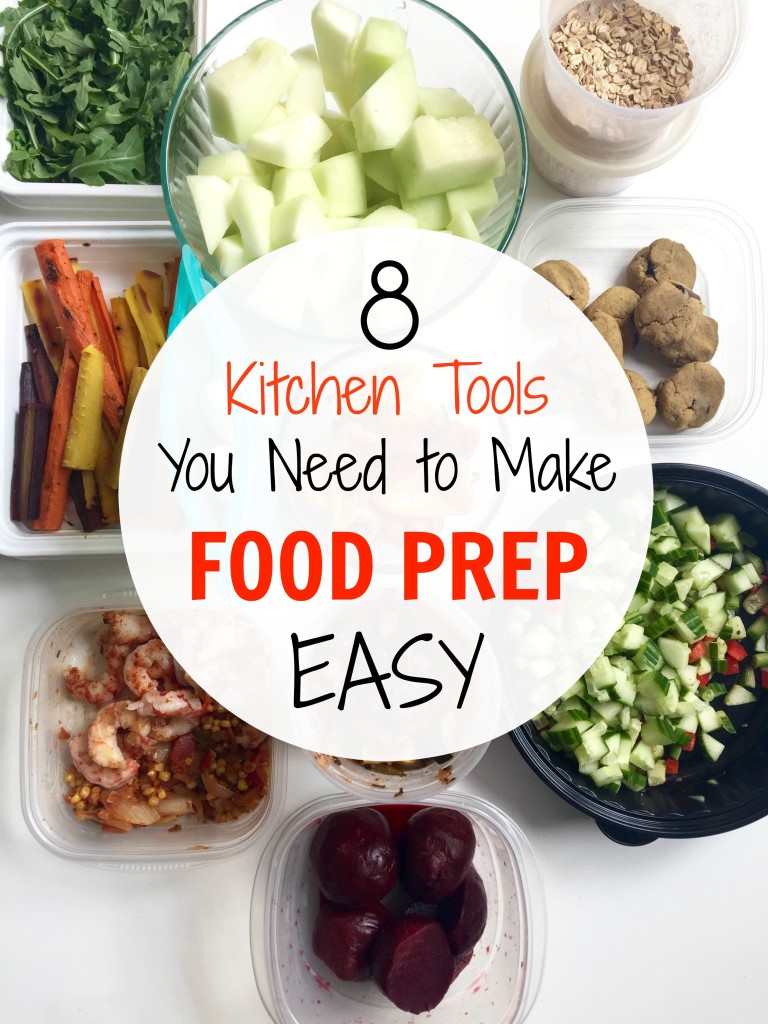 It's no secret that I enjoy my food prep time in the kitchen. I don't know what it is, but I find few things more soothing than all of that slicing and dicing and roasting and baking. OK, so maybe that's a sliiiiighttt exaggeration, and a massage is always nice, BUT knowing I have deliciously nutritious options in my fridge for me to grab and go throughout the week is soothing on its own. Because there's really little worse than getting home after a long day of work and my hour-long dance cardio classes ravenous and HANGRY. Trust me, I've been there! And my fiance would probably agree! 
Lately I've been sharing a lot more of my food prep on Instagram and I wanted to help you guys out a little bit more over here, so later this week I will be sharing my top tips to food prep WITHOUT spending your entire day in the kitchen. BUT before you can properly execute the tips I'll be sharing, you need to have a well-stocked kitchen!
So make food prep EASY with these 8 kitchen tools…
((Note: Some links below are affiliate links, which means I make a small commission if you buy a product through one of these links, at no additional cost to you!))
If you are going to buy ONE thing from this list, let it be a good chef's knife. ((And then watch this youtube video to learn how to use it!)) A sharp knife, along with some basic knife skills, will save you SO much time in the kitchen and let you chop, dice and julienne your food in no time!
Chopping veggies is one of the most time-consuming parts of food prep, but you'll be SO happy you have a great chef's knife to speed up your work!
2. VitaMix or high-powered blender
People always ask if a VitaMix, or other equally expensive high-powered blender is reallllly worth it. My two cents is that if you love smoothies as much as I do, but even more, love to cook or want to cook more, then get a vitamix! You can quickly make soups, stews, dressings, hummus and much more, which will save you moolah in the long run! Plus, clean up is a BREEZE with this baby!
Homemade hummus is a great weekly food prep staple because it's so versatile… from breakfast toast to snack time with veggies to lunch and dinner too, it's a great source of plant based protein and fiber!
When it comes to make energy bites, seed butters, bean burgers and more, I reach for my mini food processor. It's so tiny so it fits in my NYC apartment without a problem and it works SO well. After four years of using it weekly mine died and I was LOST without a replacement for a couple of weeks!
A big batch of bean burgers (I often double or triple the recipe!) is a favorite food prep staple in our home because dinner leftovers are great for lunch the next day (and they freeze well too)!
This may seem obvious or silly, but having a variety of baking sheets (not just 1!!!) is SO important for effective food prep. Even if your oven only fits one sheet at a time, you can get everything ready to go on the baking sheets ahead of time and then just pop 'em into the oven to cook while you do the gazillion other things that need to get done! In total disclosure, I don't personally have the set I linked to, but I've heard awesome things and I love that there are 3 different sizes!
Have you tried my Sheet Pan Shrimp Dinner that takes only 20 minutes to make??
What about my 10-Minute Salmon you can make on a baking sheet in legit 10 minutes from start to finish??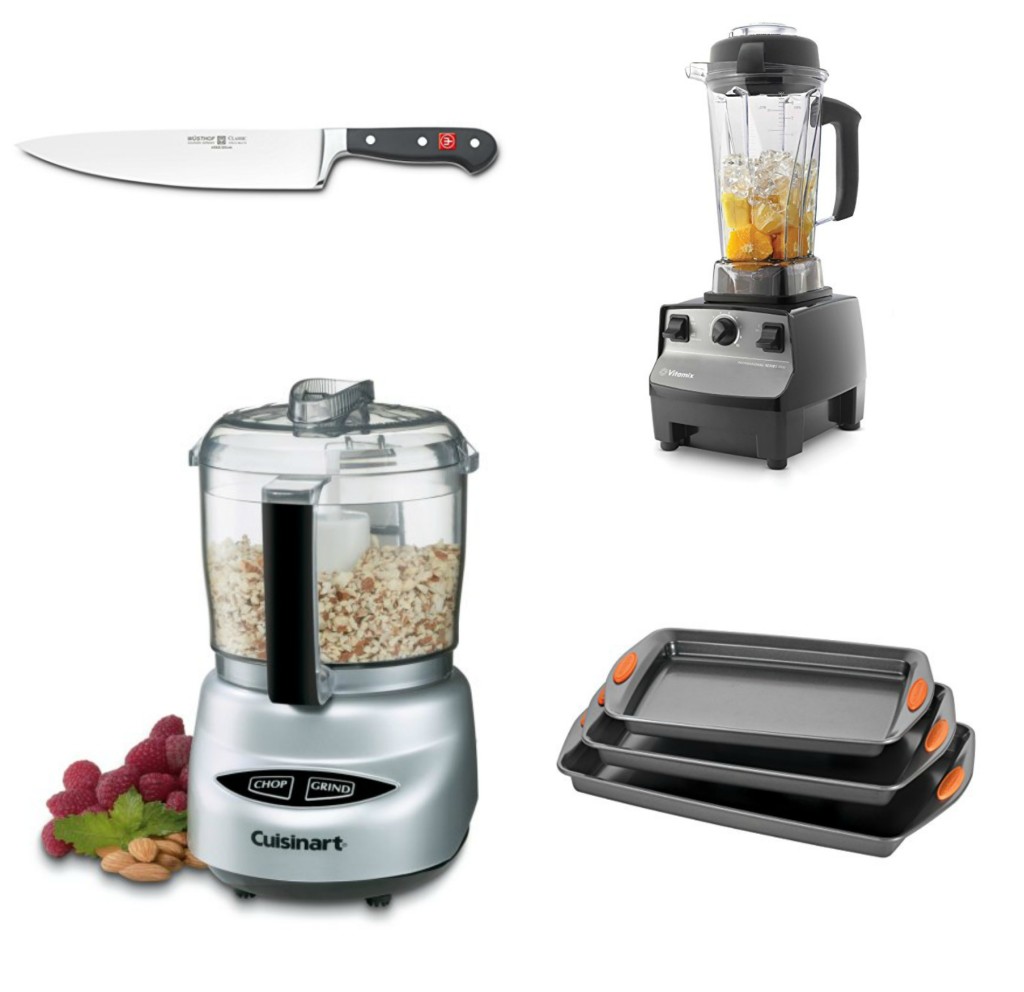 5. Parchment paper or Silpat
Parchment paper may not be the most environmentally friendly option (although I recycle it!), but it sure makes clean up easier and I prefer it over tin foil because I can use less oil (and there is some controversy around aluminum foil). If you want to reduce waste, opt for a Silpat, which is a silicone, non-stick baking mat that I also use.
These non-stick options don't transfer heat as well as foil or a metal pan does, so it may take a higher temperature for your veggies to brown in the same amount of time (I often raise the temperature to ~400 degrees), but nothing will stick to them, so you can use less oil when roasting veggies!
Have you tried my easy roasted carrots or butternut squash?? Two of my food prep staples! 
6. Spiralizer
I whip out my spiralizer every. single. week. to make zoodles and swoodles [zucchini and sweet potato noodles]! SO GOOD! I like making a bunch of veggie noodles at once because I do find my spiralizer to be a bit of a drama queen when it comes to clean up… but it's SOOOO worth it when it comes to dinner time and whipping up a healthy meal in no time!
I make my Shrimp Primavera with both zoodles and swoodles at least every other week! 
7. Muffin tin
Muffins can be a great food prep item ((helloooo high fiber banana muffins)), but a muffin tin can also be a great way to prep eggs (like these egg muffins), make mini meatloaves, use leftover herbs, and more!
Now that you've made a bunch of food, where are you going to store it? I prefer glass containers over plastic because there's less of an unknown (BPA free??), plus, you can reheat your food right in these heat-safe glass bowls, saving you time later in the week too! Glass containers are also great because you can see what you have in the fridge (as opposed to opaque plastic containers)! I still use some plastic containers (as you can see in my pictures), but I'm slowly trying to transition over!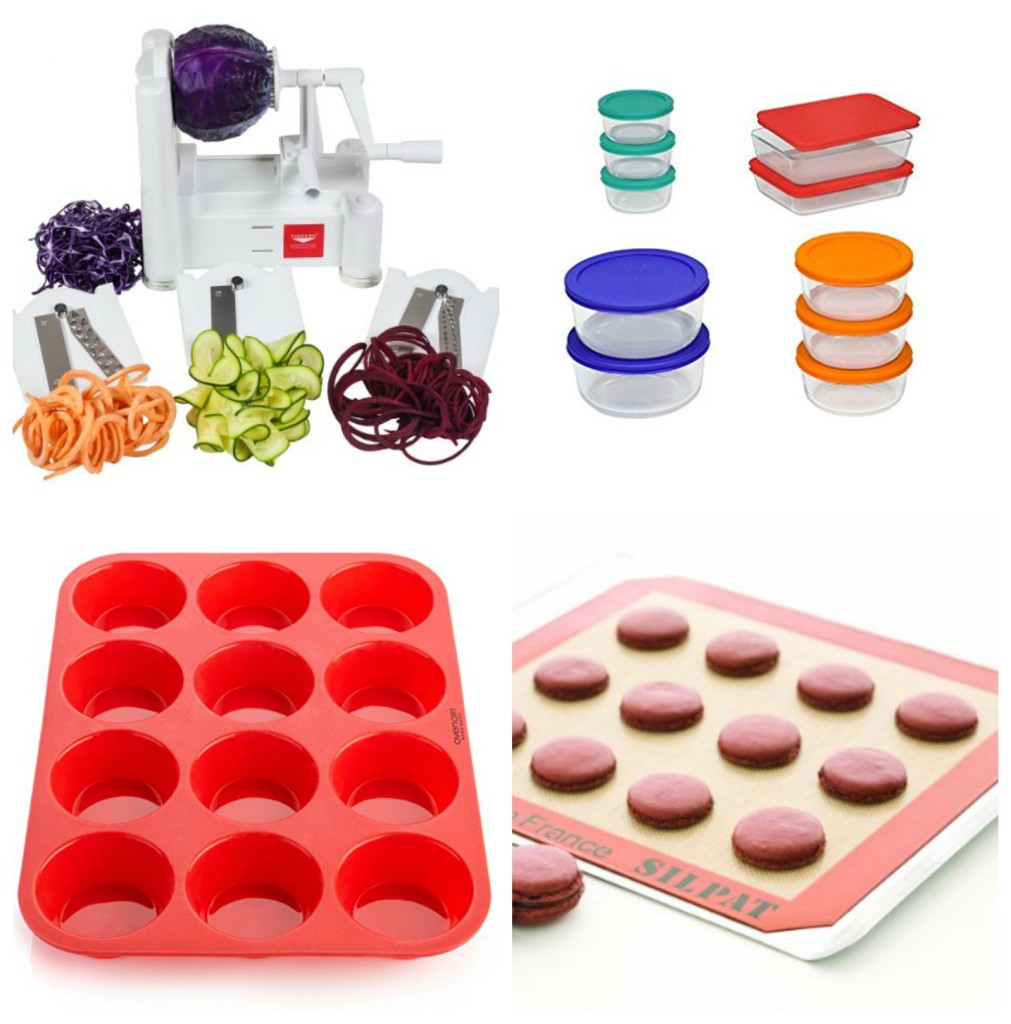 So there you have it… 8 kitchen tools you need to make food prep easy!
Do you have any tools you would add to the list?? Share with me below!
XO

Let's get social! 
Facebook: C it Nutritionally
Twitter: @ChelseyAmerRD
Instagram: @CitNutritionally
Pinterest: ChelseyAmer