Summer is unofficially over this weekend, so let's go out with a bang! Here are 15 of my favorite Labor Day BBQ recipes!
As a vegetarian, one of my favorite ways to eat a meal (especially at large BBQs or parties) is to eat a bunch of (what other people would consider) sides. If you think about it, sides are often veggie-based, simple to prepare, and can have tons of different flavors! Plus, eating a bunch of sides is a great way to boost your veggie intake during a crazy fun party weekend!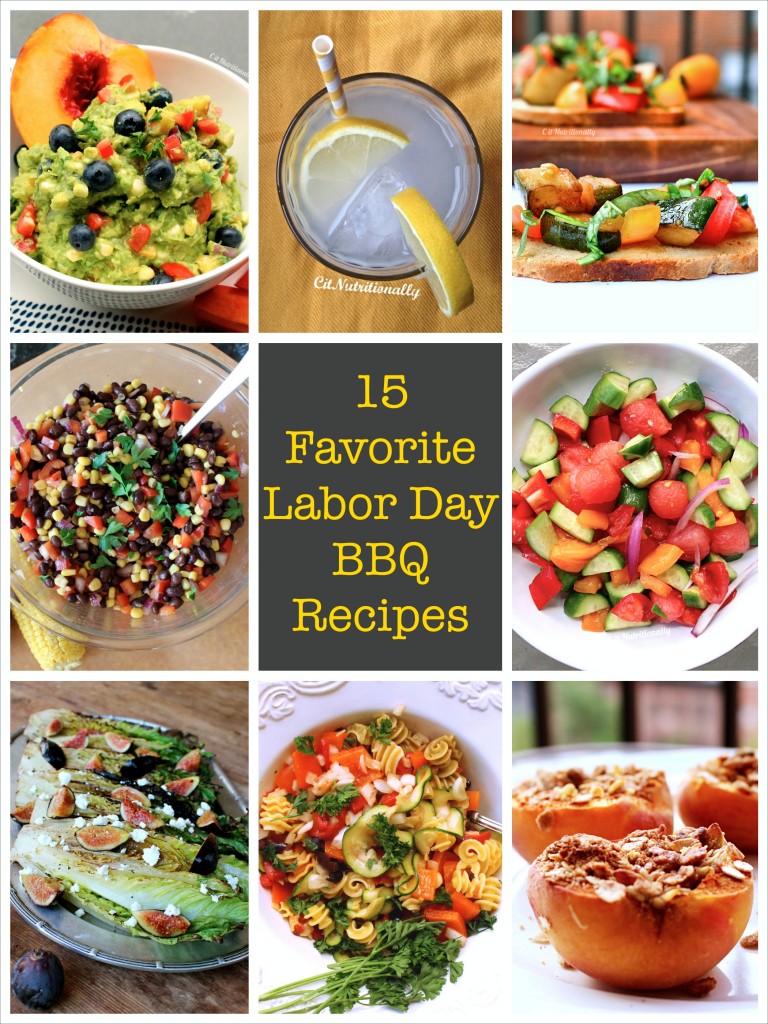 In no specific order…because I just can't choose favorites…
Here are *15* of my favorite
Labor Day

BBQ recipes:
There's no better way to kick off a party than with great starters! These are nutritious, delicious, and packed with a variety of flavors:
1. Summer Guacamole — Heart-healthy avocado is the base of this take on a traditional crowd-pleaser. Bump up the antioxidants by adding blueberries and the fiber content with peaches!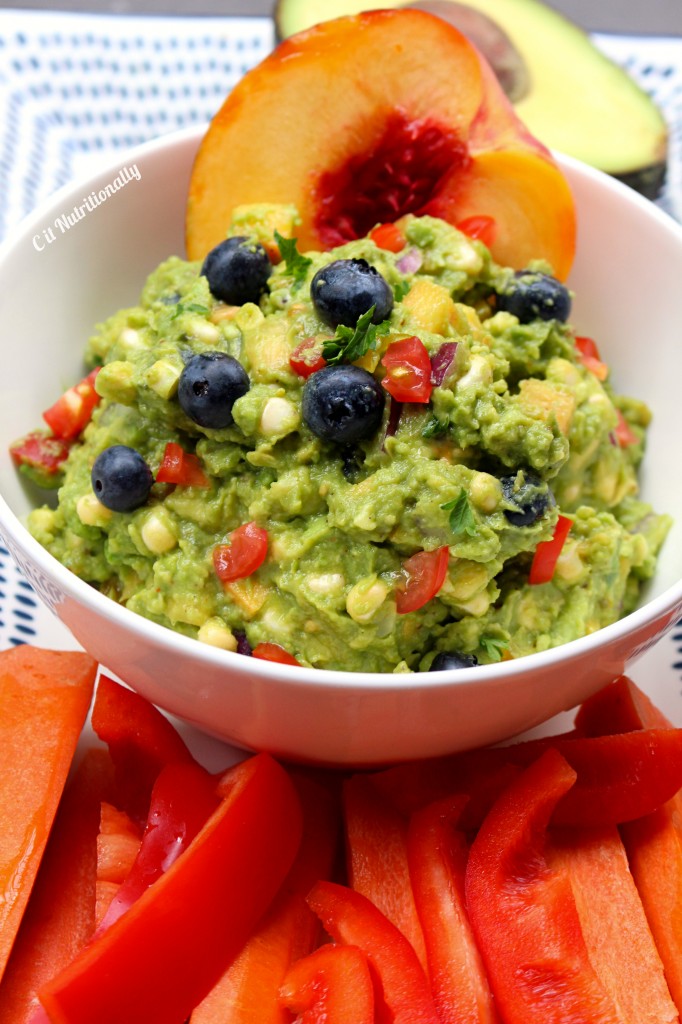 2. Skinny Bruschetta with Zucchini and Tomatoes — Who doesn't love finger food?! This balsamic-glazed zucchini and perfectly in-season heirloom tomato bruschetta on skinny whole grain crackers (instead of carb-heavy bread) will be a crowd pleaser!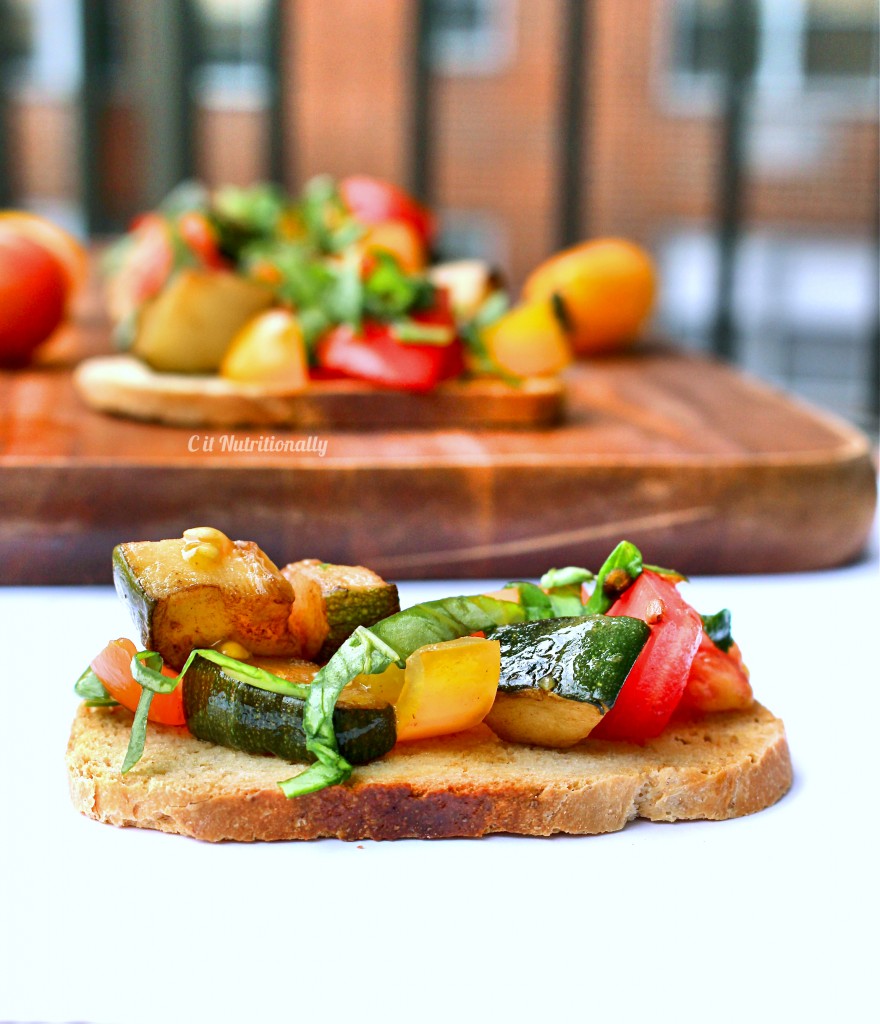 3. Kale Balls — Forget the kale-skeptics, you'll be handing out this recipe to all of your fans for this crowd pleaser (I kid you not!)…so be sure to print out several copies!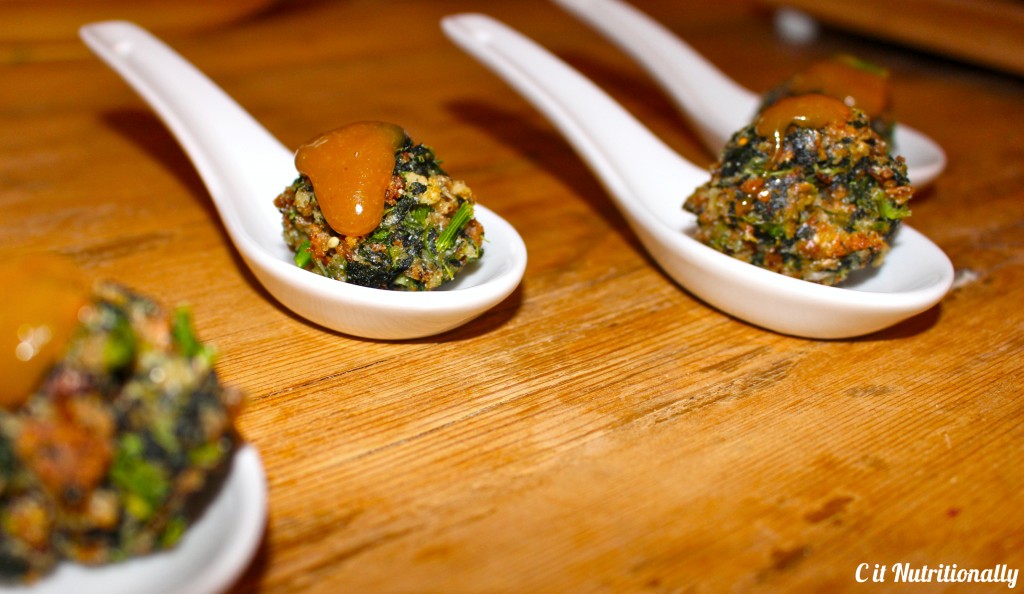 These salads will please meat eaters and abstainers alike…
4. Grilled Romaine Hearts & Figs with (optional) Goat Cheese — This salad is 100% pure HEAVEN…I have no other way to describe the slightly charred, warm lettuce leaves that simply melt in your mouth. With the grilled figs…mmm mmm mmm. If you eat dairy, throw on a few crumbles of goat cheese for a creaminess that just pushes this dish over into nirvana. Meat eaters will love this salad too, so be sure to make enough for everyone!!!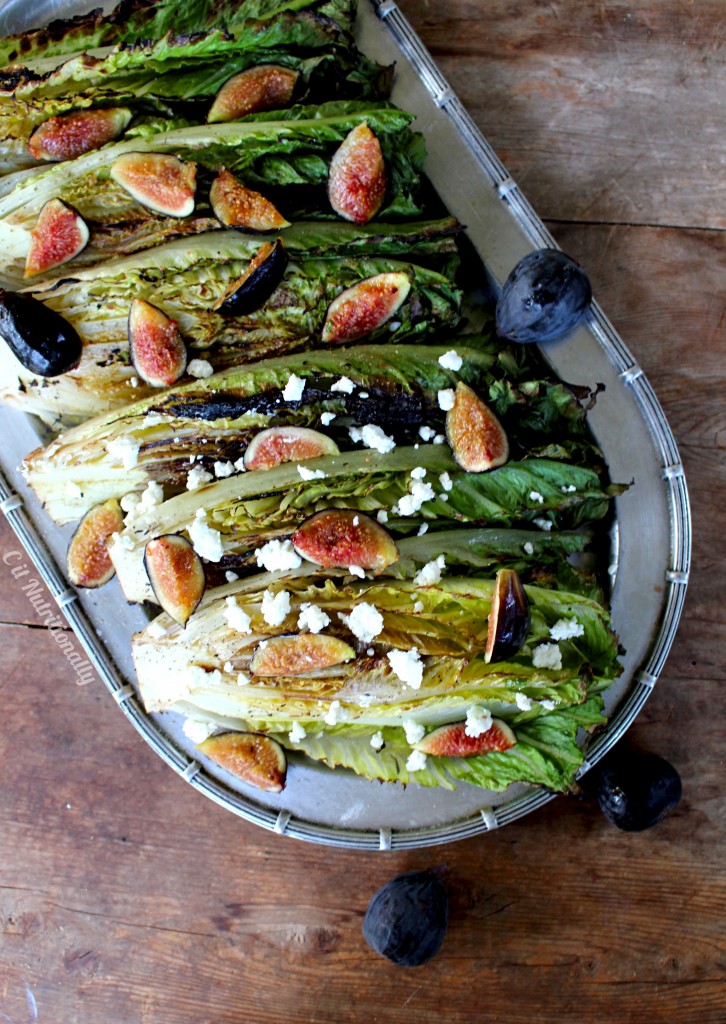 5. Watermelon Tomato Salad — Enjoy the last few unofficial days of summer with this colorful salad, even kids will enjoy. It's almost too simple to call a recipe!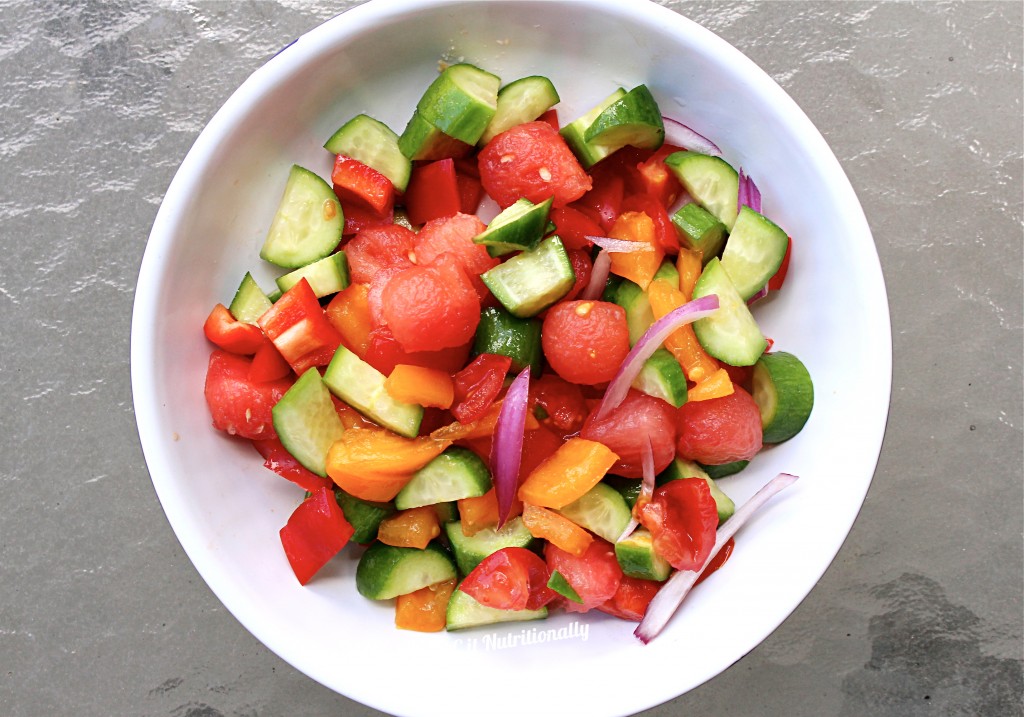 6. Mung Bean and Lentil Salad-Stuffed Avocado — To eliminate some prep time from this incredible protein-packed power salad, simply dice avocado on top of the beans, lentils, and quinoa. This salad got this picky eater to try new foods, so I know you will love it too!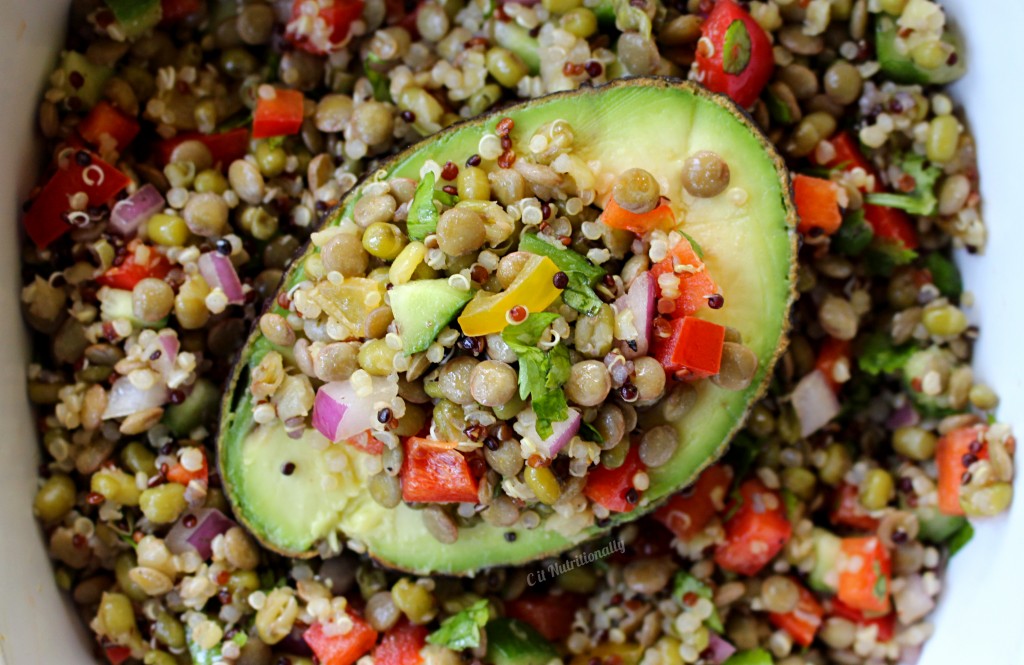 7. Lightened Italian Pasta Salad — Because what's a BBQ without a pasta salad on the side? To save your guests tons of calories and fat, while adding in a bunch of veggies, choose this recipe over your traditional fatty options.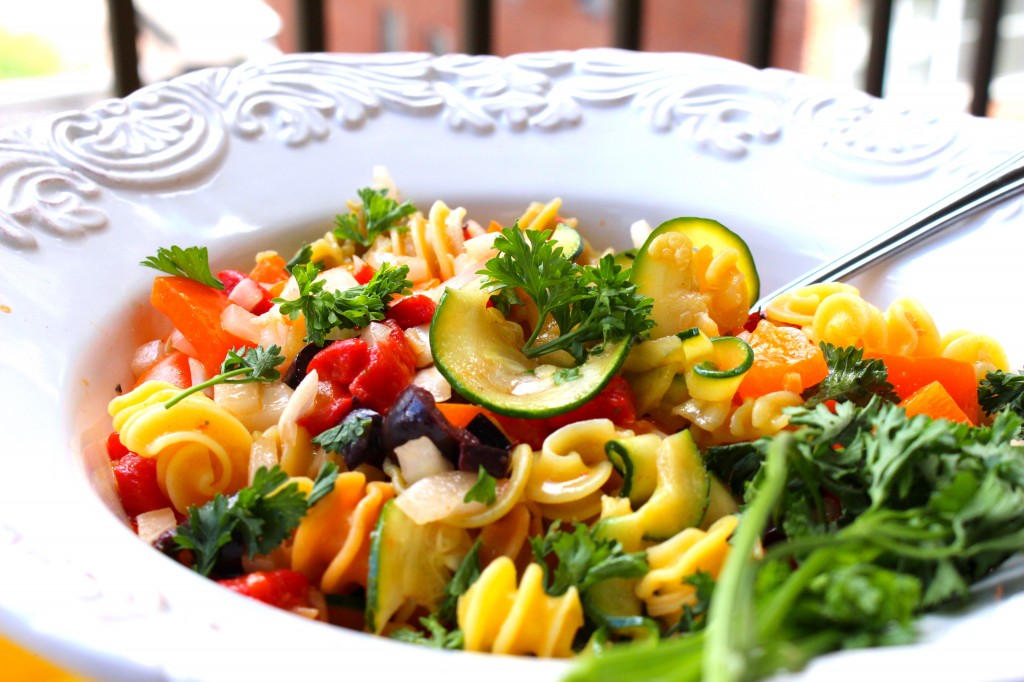 8. Greek Quinoa Salad — I eat this salad several times a week for lunch. It's quick to prep, leftovers stay great, it contains a ton of veggies, and fiber- and protein-filled quinoa to keep me full. Even quinoa-skeptics will love this one (and why wouldn't they…it has feta!).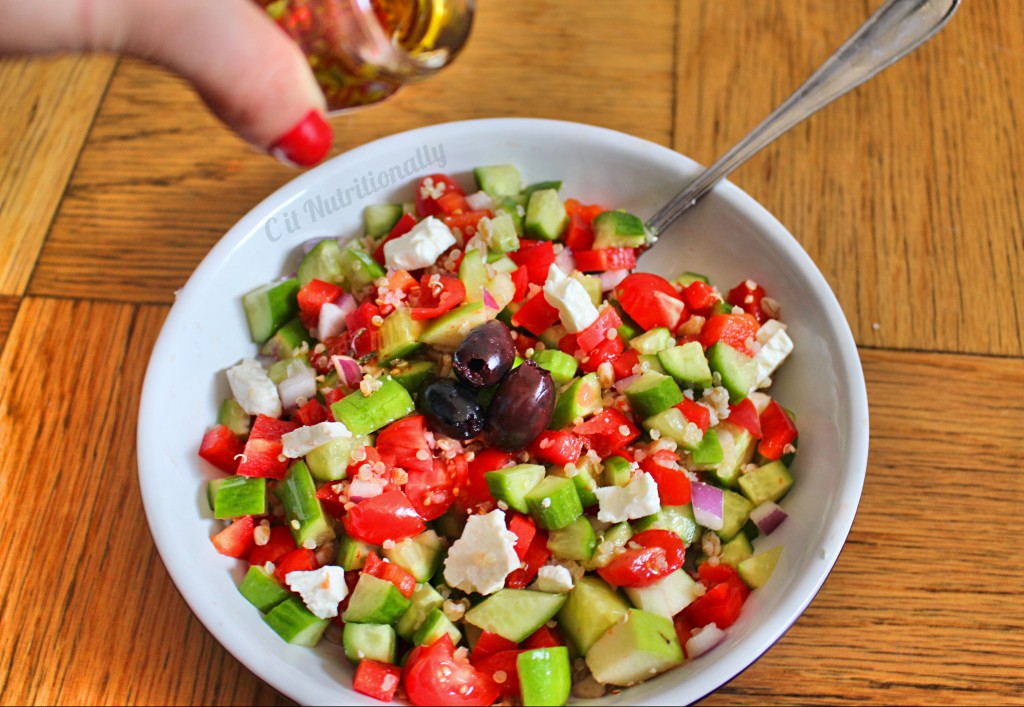 9. Southwest Summer Corn & Bean Salad — Use summer fresh corn (try grilling it before removing from the cob) for this recipe to change up the way you traditionally serve grilled corn! Add a squeeze of lime juice to add depth to this 5 ingredient dish!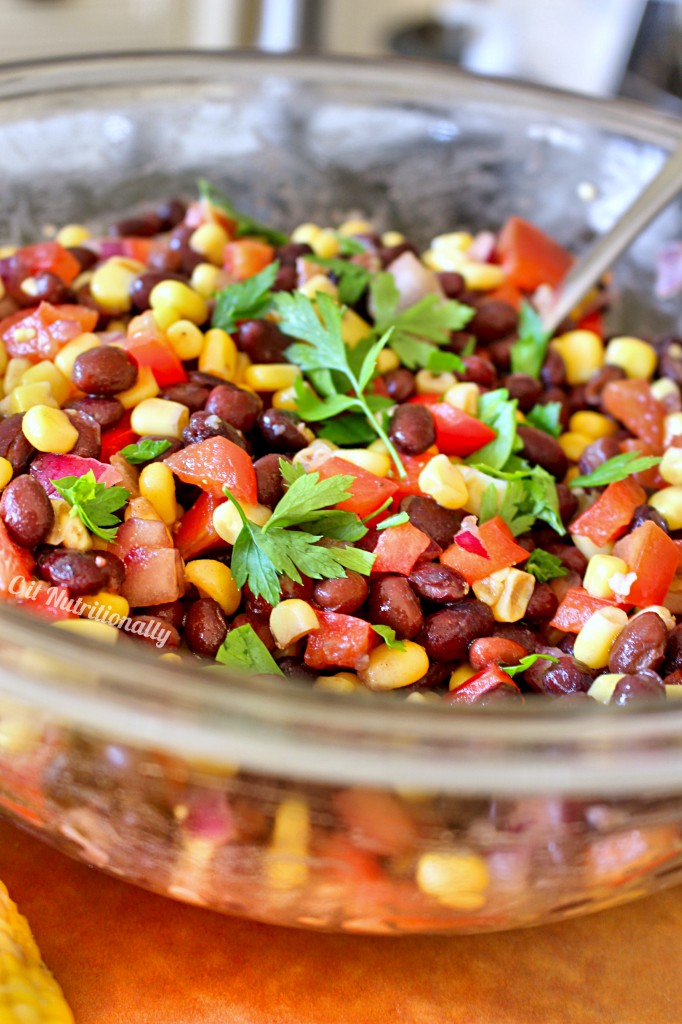 While everyone loves a good BBQ, vegetarians are often left out when it comes to food choices. Show your meat-shy friends that you're thinking of them by whipping up these main attractions…
10. Black bean burgers — This is one of the first recipes I ever shared on C it Nutritionally, and I had to re-post it (with better photographs) recently because it's that good. These may be a little tricky to make on an outdoor grill, so either grill on a piece of tin foil or make inside on a grill pan. Making these ahead of time will decrease your stress levels the day you have company over!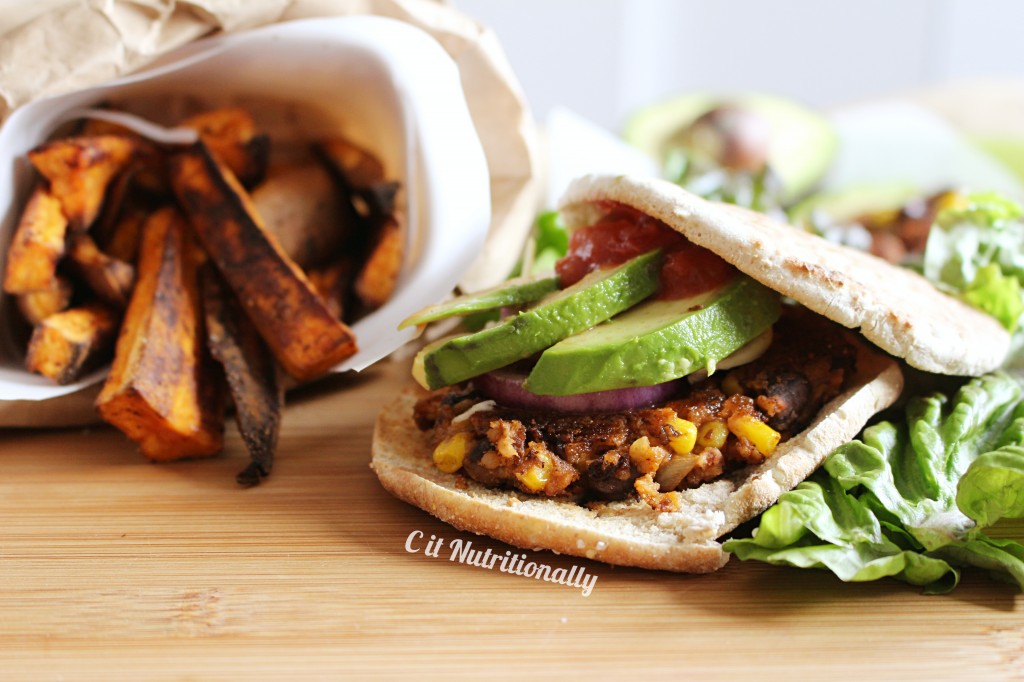 11. Grilled Veggie Stacks — It literally doesn't get easier than this! Marinate veggies overnight in your favorite dressing, grill 'em up and stack them together with a toothpick…voila!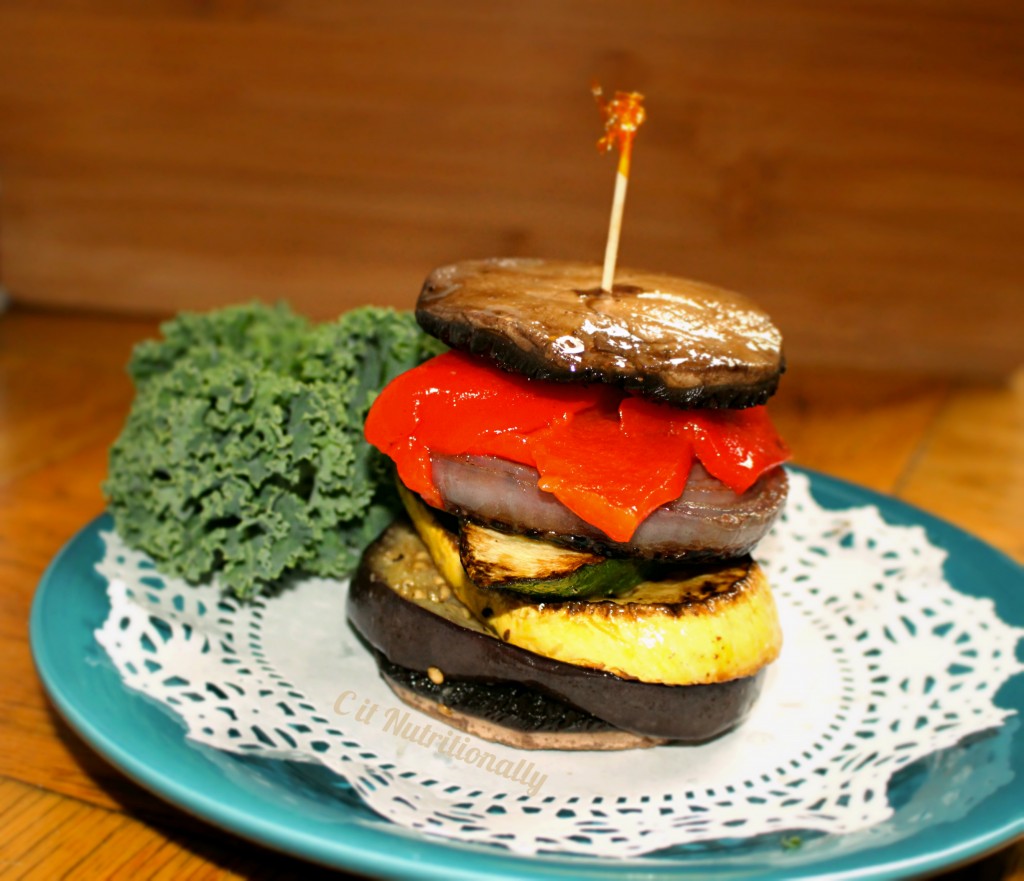 Who can forget dessert at a BBQ like this?! Bump up your produce intake by including sweet seasonal fruit…with a twist! 
12. Single Serve Peach Crumble — End the summer with a seasonal treat! Your guests will love this vegan treat…and so will their waistlines!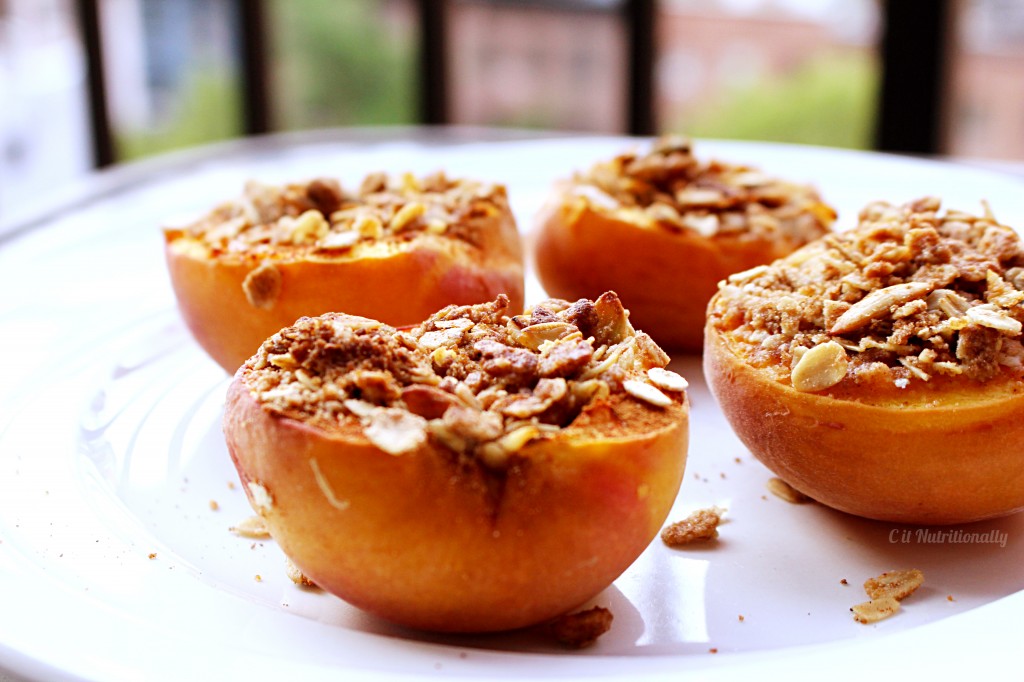 13. Watermelon Cake — Impress your guests with this easy peasy fruity cake! No bake, but assembly required!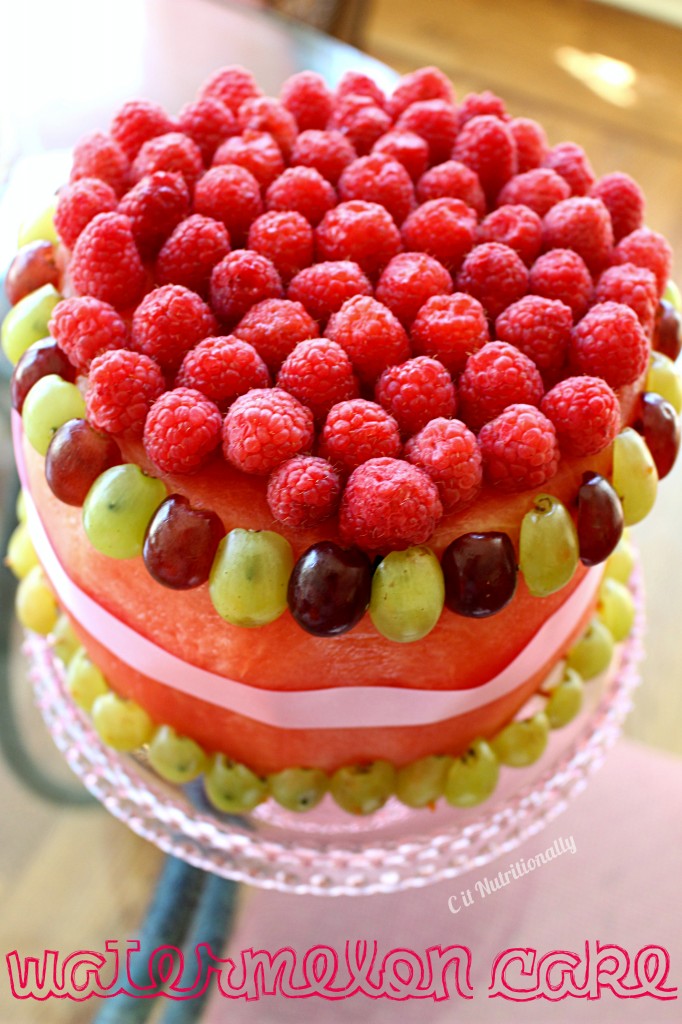 14. Coconut Date Bars — Make these ahead of time and save leftovers for a simple back-to-school snack! Guests will LOVE these!!!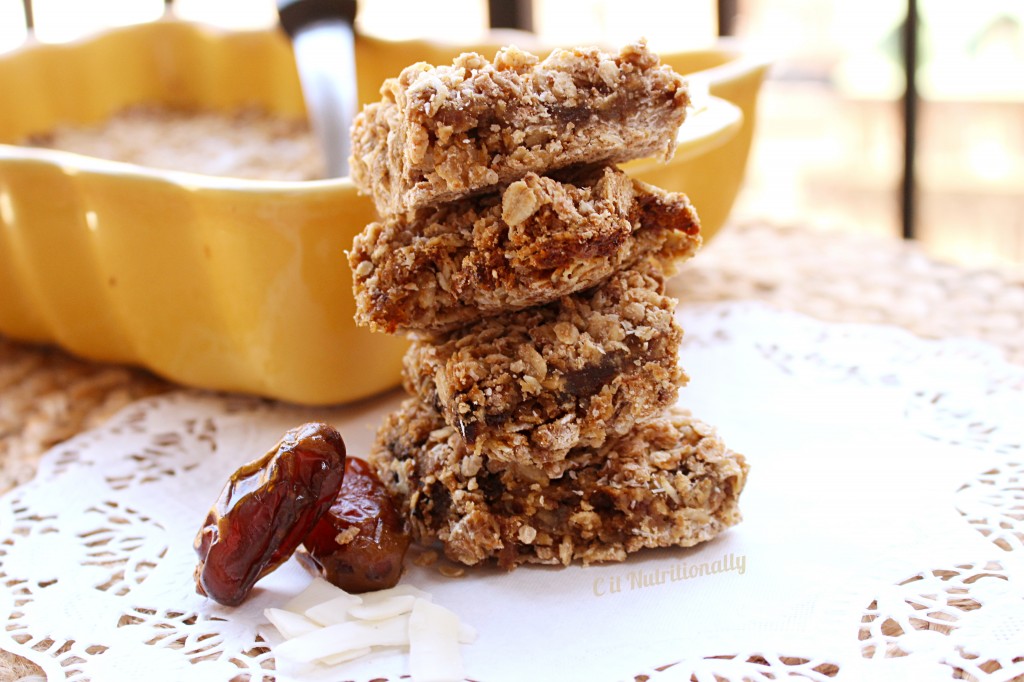 15. Sunflower Seed Butter Cups — For those of us who need some chocolate…make these food allergy-friendly dessert that can also double as an after school treat!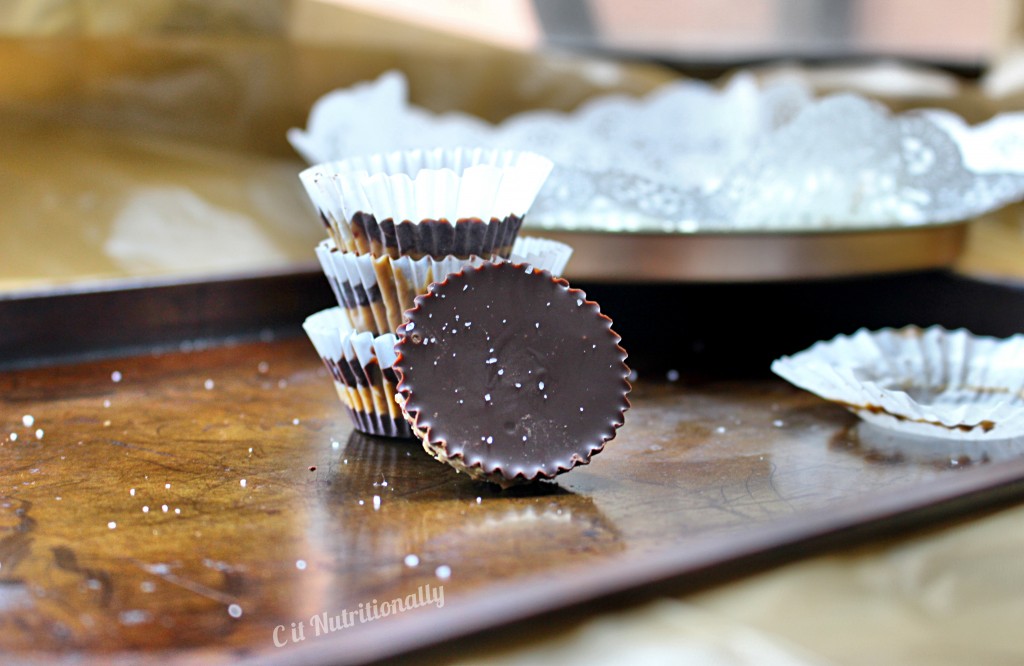 For more nutritious tips to help you healthfully navigate your Labor Day BBQ, click here and here!
Happy — or not — (unofficial) end of summer!
XO