Looking for the perfect side dish for your next BBQ or picnic?! I have the PERFECT dish just for you…try this Lightened Italian Pasta Salad pronto!

Why is it so perfect???
1 – It's dairy free so there's no worry about spoilage in the hot summer heat.
2 – It's veggie-filled to provide tons of vitamins and minerals, but an equal amount of pasta!
3 – It's gluten free (if you use quinoa pasta like I did)…and who wants to worry about food allergy contamination? Quinoa pasta also provides complete protein that traditional varieties do not!
Note: Even if you're a quinoa-skeptic, quinoa pasta tastes nothing like it's original grain! 
4 – It's vegan…better for the environment AND our health!
5 – It's oh so YUM!
So what's in it?
I replaced HALF the amount of traditional pasta withzucchini noodles! You can use a spiralizer (so fun!), a vegetable peeler (still kinda fun), or just chop it up and throw it in! Delicious any way!!
I also made my own Italian dressing to avoid excess added sugar. Making your own salad dressing takes minimal time and effort with ingredients you probably have on hand — oil, vinegar, maybe some lemon juice or mustard? — get creative and have fun!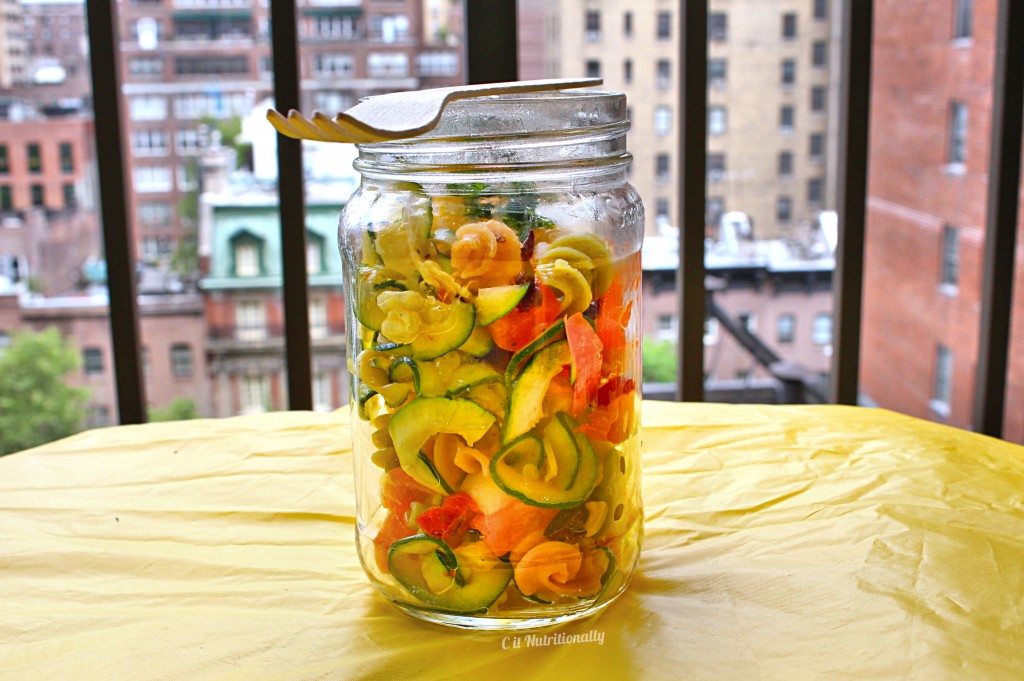 For this pasta salad, I whisked together olive oil, red wine vinegar, lemon juice, Dijon mustard, a pinch of sugar, and spices….mmm mmm good!
Lightened Italian Pasta Salad
Cuisine:
Italian, BBQ, picnic
Author:
Prep time:
Cook time:
Total time:
Diet-friendly pasta salad packed with veggies, light dressing, but still packed with flavor!
Ingredients
1 cup uncooked pasta (I used quinoa pasta)
1/2 cup bell pepper, chopped
1 roasted bell pepper, chopped
1 zucchini, spiralized or cut into strips, then cut into bite-size pieces
5 olives, chopped
2 sprigs parsley
Dressing:
2 tbsp olive oil
1 tbsp red wine vinegar
1 tbsp lemon juice
2 tsp Dijon mustard
Large pinch oregano
1/8-1/4 tsp black pepper
Pinch salt
Instructions
Cook pasta according to package instructions. Drain and set aside to cool.
Prepare dressing: In a small bowl whisk together dressing ingredients until uniform emulsification occurs. Set aside.
Spiralize, peel, or cut zucchini into strips. Over medium heat, lightly toss in olive oil until just cooked to al dente. Remove from heat.
In a medium bowl, add all other pasta salad ingredients (peppers, olives, parsley) to zucchini. Add cooked pasta. Slowly top with prepared dressing. Mix thoroughly. Adjust spices according to taste. Add more dressing as desired. Let sit in the refrigerator for a minimum of 2 hours so flavors can meld.
Before serving, add additional dressing to taste. Enjoy!
Seriously…how simple is that?!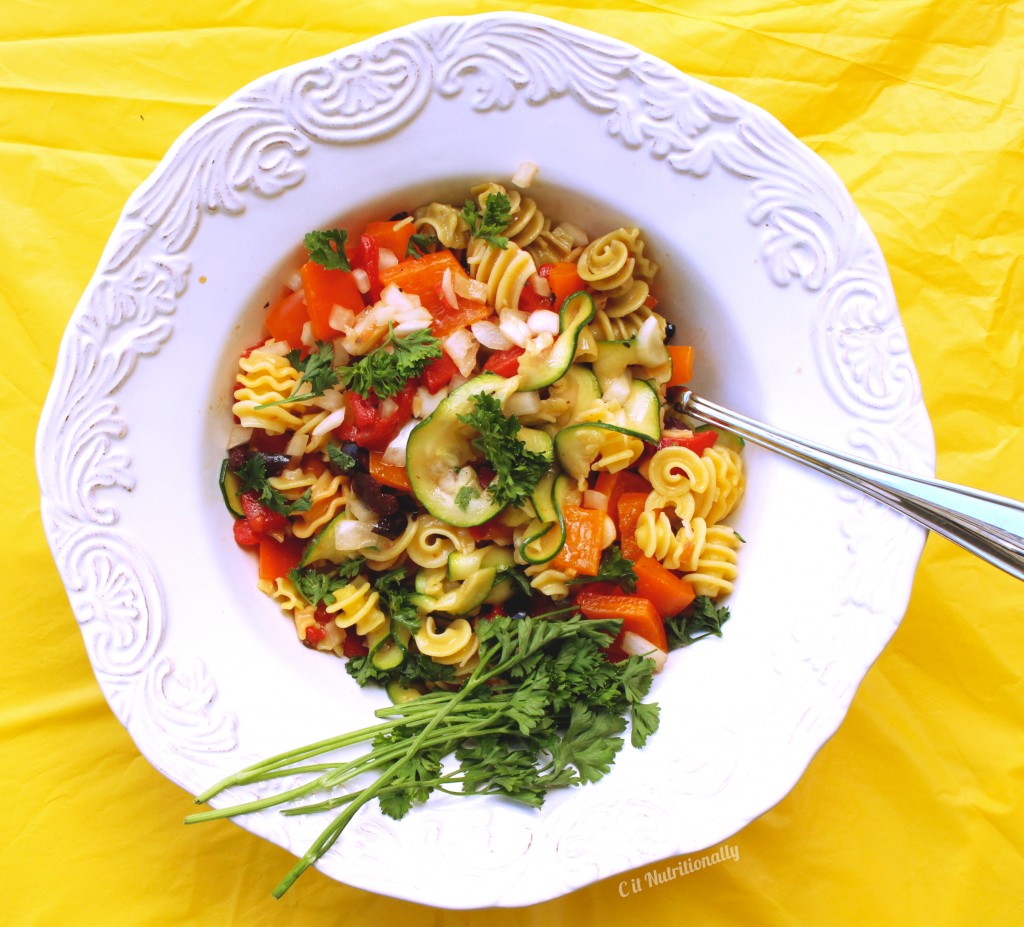 It may seem like it takes a lot of time, but it's almost effortless to throw a bunch of veggies and pasta together, and then you just have to be patient while you let the flavor develop!
All your guests will LOVE it!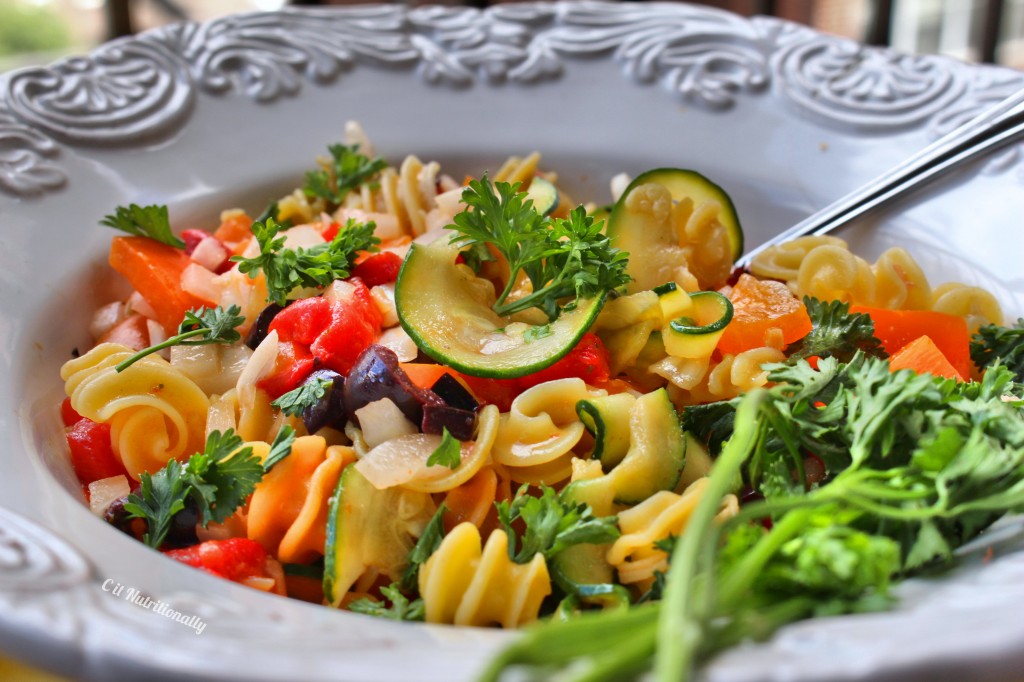 Let me know what you think!
XO