If you're a regular 'round my neck of the internet (or here), you may have met "S" without realizing it. He's the one who taste tests every recipe, eats cold (or reheated) food most nights, sends me #nutfree cupcakes for my HALF birthday, endures my yelling speaking loudly in a tizzy "don't touch that yet, I need to take a picture" antics and my insane OCD "eat that over a plate" nagging kind reminder. (I swear I'm the best roomie ever!).
To protect some of his anonymity (ya know, for future job interviews or something), I decided to pull a Gossip Girl and call him S.
So a few months ago at a family holiday, my aunt suggested that I share a What S Ate Wednesday so it got me thinking and I loved the idea! You see, S is many things that I am not…he's a carnivore, has eyes bigger than his stomach, is obsessed with food, lives a corporate life, and experiences the whole living with a food blogger thing from the other side of the dishes (the cleaning side!).
Well, I begged and begged and begged (really, no begging at all) and got my lawyer boyf, S, to snap a pic of everything he ate all day long…and endure annoying texts from me all day reminding him!
Without further adoooo, here's S and what he ate Wednesday…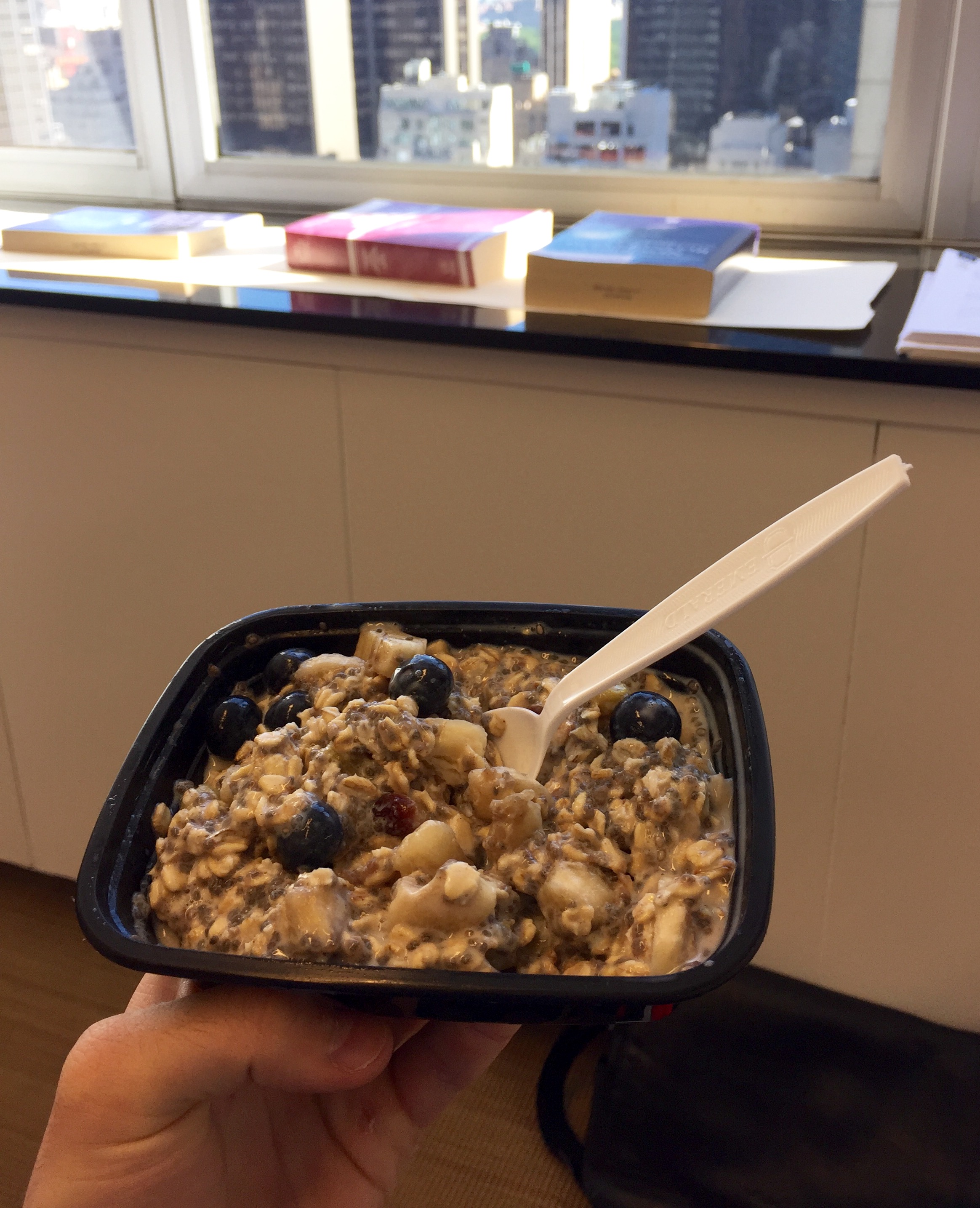 Well, I'm honored to (finally) make my appearance on the blog. My days are a BIT different than Chelsey's…I try to fit in a morning work out when I can get out of bed early enough — either at cross fit, spin or out for a run, then hurriedly shlep to work in midtown. So, this Wednesday was no different. After a quick WOD I threw on my uniform (suit, tie, pocket-square) and ran off to the office. So by the time I got there I was starved! But not to worry, my food blogging, future RD, meal-prepping GF made me some "O-Os" as I like to call them…(overnight oats)…with chia seeds, raisins, bananas and some "bloobs," as Chelsey calls them.
After throwing back the O-Os, I went off to work — typing away on a brief and answering phone calls from clients. By the time the lunch bell rolled around (or my co-worker asked me to grab lunch at our regular salad spot) I was ready to dive into my next meal. After remembering what I read on my favorite nutrition blog (::cough:: CitNutritionally ::cough) I decided on a salad made with mixed greens with all the fixings — grilled chicken, bell peppers, tomatoes, cucumbers, carrots, celery and raisins.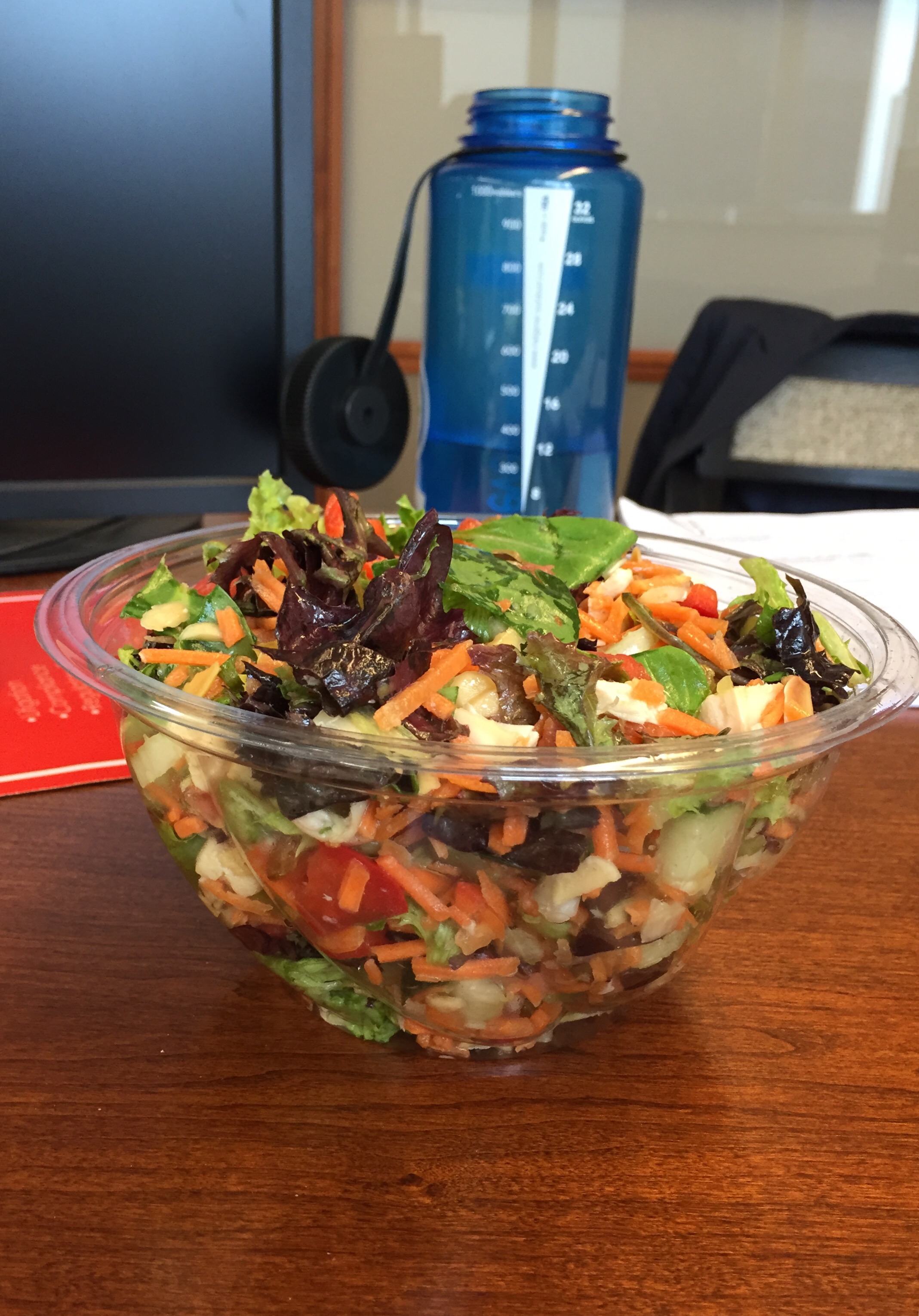 I worked through the afternoon and stopped for a snack around 4:30-5pm. A half wrap I remembered I had left over from yesterday–grilled chicken, salsa and avocado on a spinach wrap.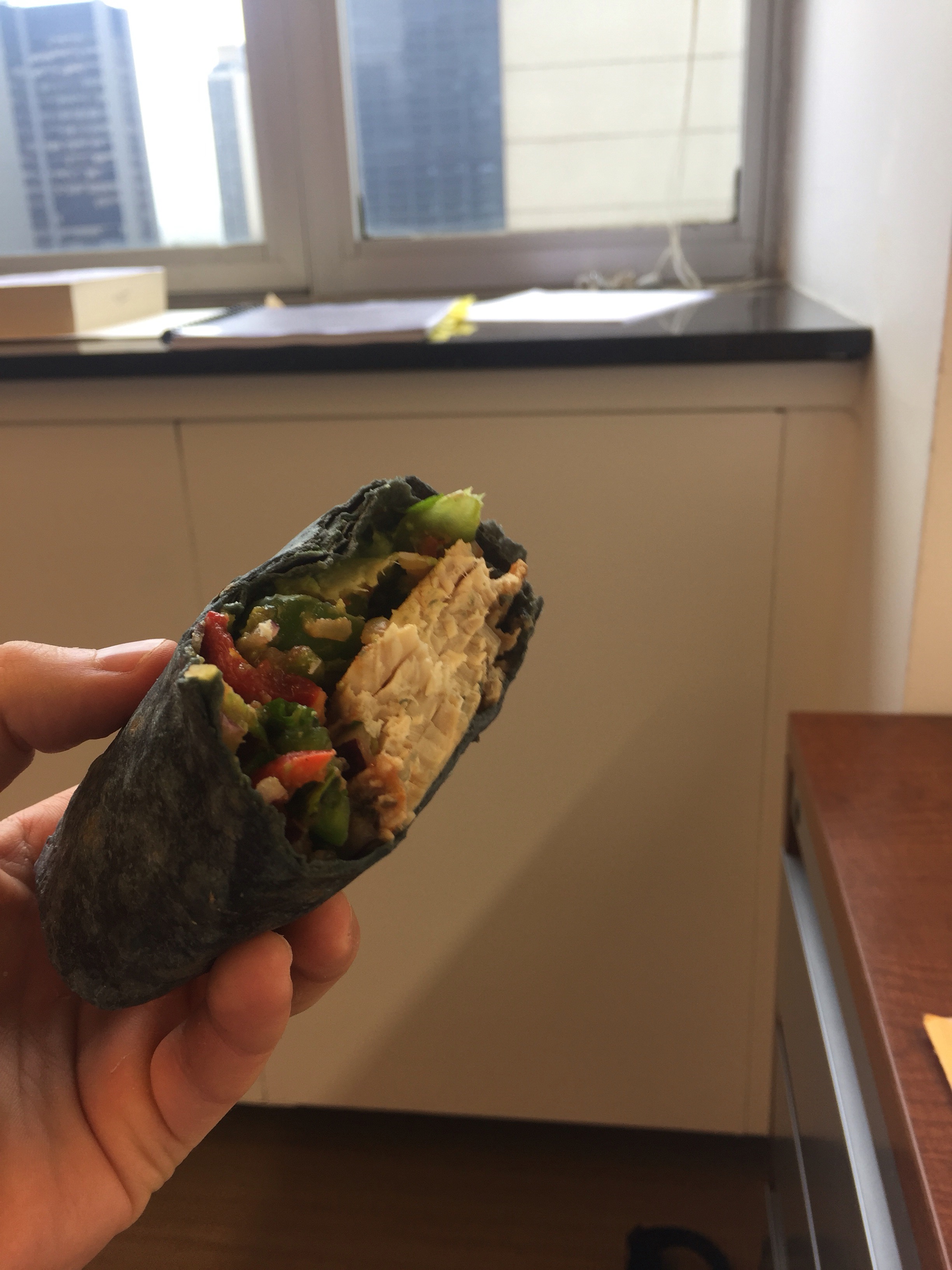 Around 7:30, I made my way  to home, where Chelsey was obviously whipping up tonight's dinner — one of our favorites —  stir fry with veggies (we "cleared out the fridge," as Chelsey says).  I lathered mine with sriracha, and caught up with Chelsey on the day's events.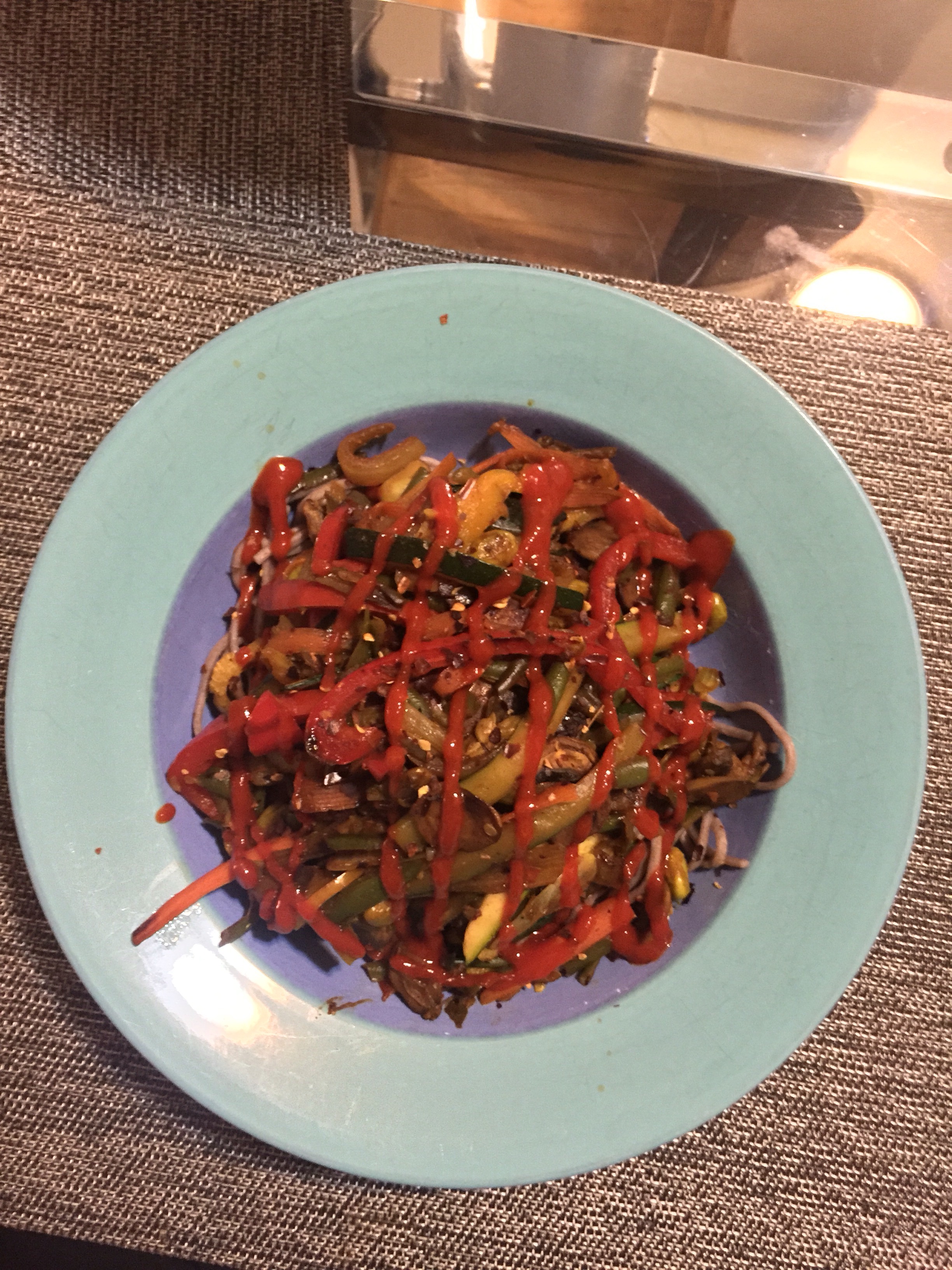 We all know the last meal, with Chelsey, was my favorite.
But I always have room for dessert…a couple of these ginger cookies and dark chocolate chips have become a nightly staple.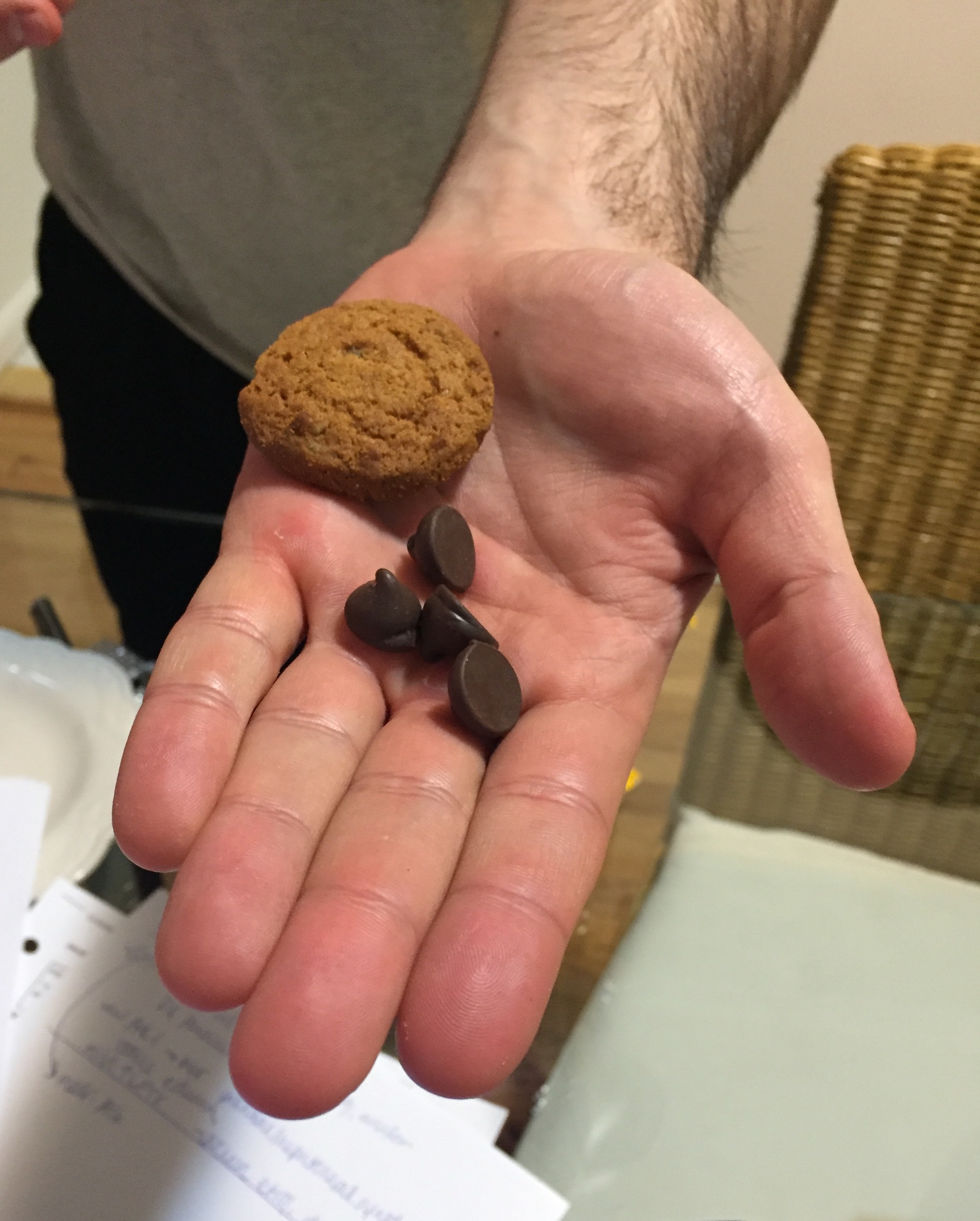 And, while relaying and photographing my days meals seemed intimidating, I'm glad I could contribute!
Until next time!
-S