My nutrition philosophy evolves as I experience more in the field of nutrition and continue to learn as the young science of nutrition expands; but for now, I wanted to share more of my nutrition philosophy and where it comes from…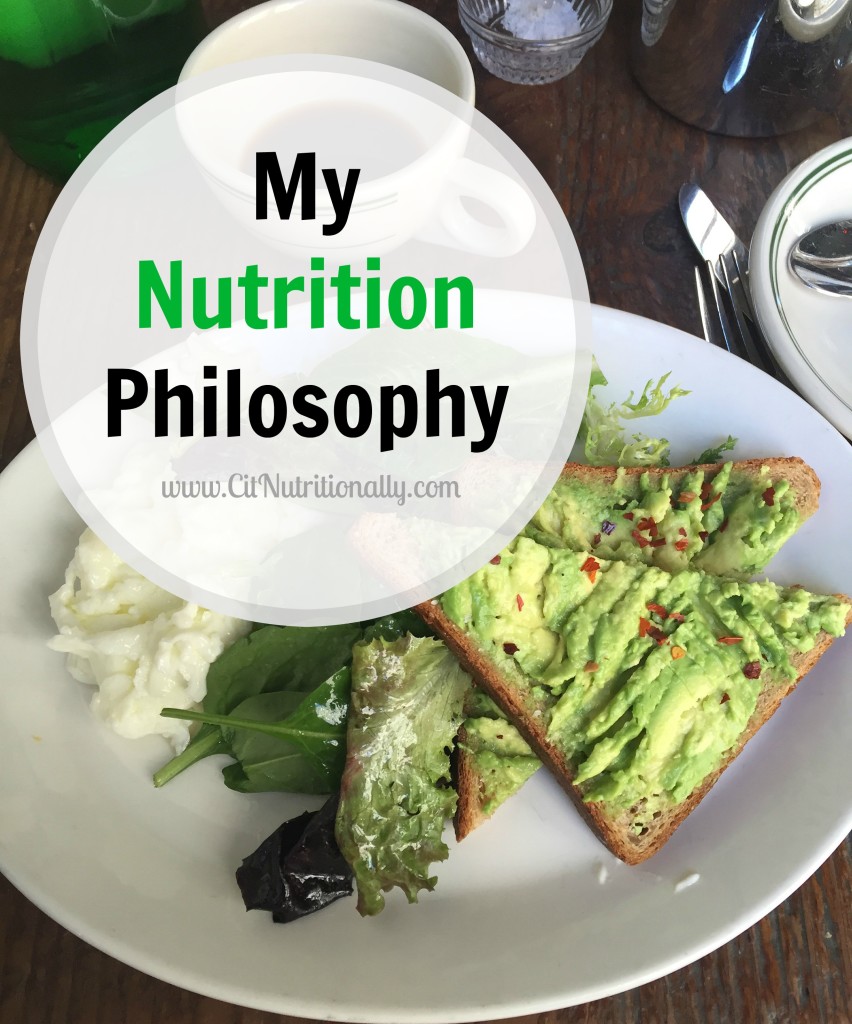 I became a dietitian to heal through food. If you're on my mailing list (click here to sign up!) then you've heard my story and know that becoming a dietitian wasn't always my plan.
But life has a funny way of leading you to exactly where you're supposed to be and now being a dietitian is a dream career come true. I love seeing clients have that lightbulb moment of good food, good intuition and good health coming together.
Developing my nutrition philosophy started before I ever set out on this path to becoming a dietitian. When I first heard the phrase "let food be thy medicine" it clicked for me. We are what we eat. We can reverse disease, prevent life-threatening situations and FEEL BETTER without popping a pill.
I want to help people feel their absolute best, look their best and be their best by eating the foods they love. And while yes, certain foods are better for you than others, no individual food can be "bad" or even "good." There are just better choices that will probably make you feel better most of the time.
With that said, I believe everyone should find their nutrition intuition; If you listen to your body, you'll know what to eat. We should eat when we're hungry and stop when we're full. We should eat the foods we crave. But I'm also pretty sure that identifying your nutrition intuition will lead you to you choosing healthful foods most of the time. Because you are what you eat most of the time… not the slice of cake on your birthday…or a random Tuesday afternoon because that's what you wanted to eat. Because I want you to be able to have your cake, but feel great too.
I may have entered the field of nutrition and dietetics to help people feel better through food, but I have discovered so much more. I better understand the balance that is food and nutrition.
We don't eat nutrients in isolation. We eat food. And food is meant to be enjoyed. Food is associated with tradition and emotions and satisfaction and major life events.
So while I help clients lose weight and feel better in their own skin and isolate food intolerances and acid reflux triggers, I also help all of these clients find a nutritious balance in their lives. The balance between enjoying food and feeling the freedom that comes with knowing they can indulge with awareness. That food doesn't have to be synonymous with restriction. That foods aren't good or bad.
Is there a perfect diet??
My nutrition philosophy aims to help you moderate moderation through your nutrition intuition.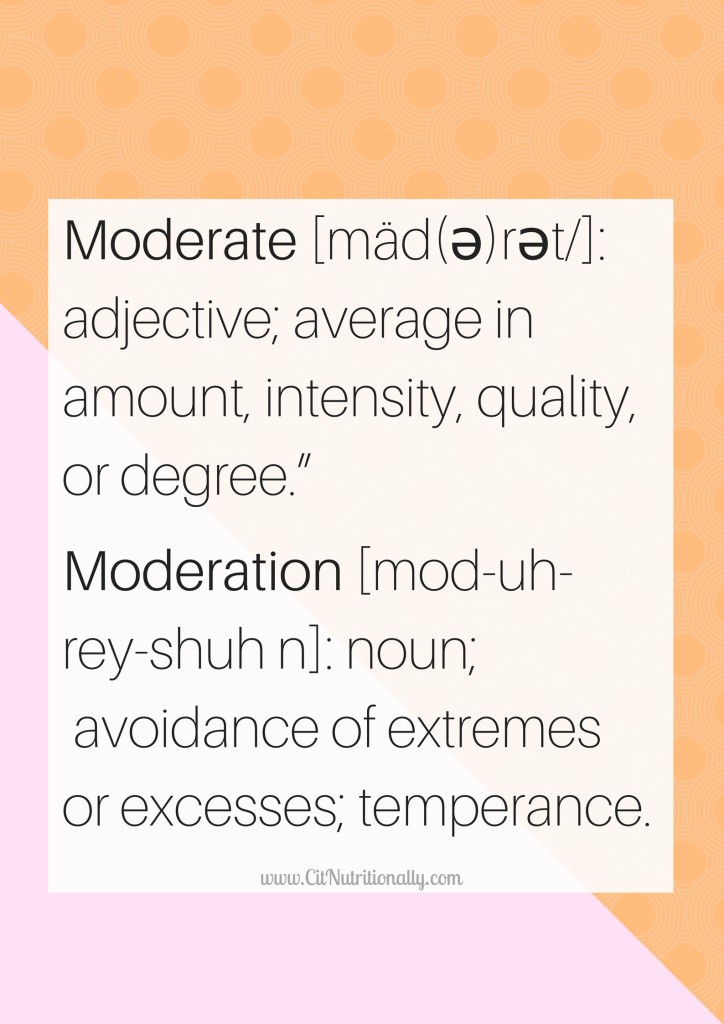 I believe your health is the average your behaviors. There's room for indulging when you want to and there's room for more vegetables when you want them as well. I don't want you to obsess over being healthy. Or do something because you saw it on Instagram.
I want you to listen to your body — your nutrition intuition — to learn and become reacquainted with your hunger and satiety cues.
I want you to eat deliciously nutritious foods. Because nutritious food can be delicious! When you feed your body what it wants, I'm pretty sure you'll crave healthy foods too.
When you listen to your body, your nutrition, health and well-being will fall into place.
And that's when the rest of my nutrition philosophy comes into place…
I take a well-rounded view to nutrition. You're not just what you eat, but how you move, how you sleep, and how you take care of yourself (more on that on Sunday).
Your overall wellness is a balancing act so you feel your best rooted in knowing what your body needs the most.
And that's what I aim to help you achieve.
If you want to find out more about my nutrition philosophy, please feel free to reach out at any time! I love hearing from you guys!
XO

Let's get social! 
Facebook: C it Nutritionally
Twitter: @ChelseyAmerRD
Instagram: @CitNutritionally
Pinterest: ChelseyAmer