Chocolatey, crunchy, and the easiest dessert ever, these No Bake Crispy Chocolate Bars are a delicious treat for yourself or to gift this holiday season!
Nut Free, Gluten Free, Dairy Free, Soy Free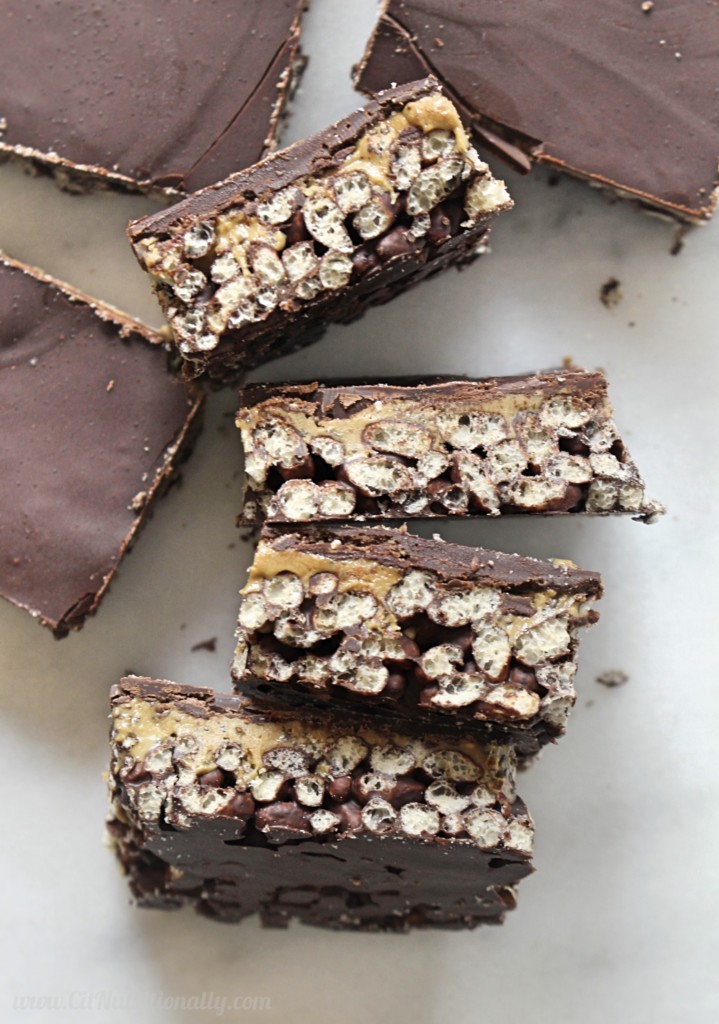 I don't know about you, but it seems like everyone around me can't stop saying, "I can't believe it's December already!" And I completely agree… but this year more than ever, I truly feel like December just snuck up on me! Busy days at work, running a business and wedding planning have definitely kept me occupied over the past eight months, but seriously, where did the year go?! I haven't even started any holiday baking!
December is a great time to reflect on the year, but I particularly choose this month because it's my birth month! This week I turn 29 (and I'm feeling fine)!!
I'll be sharing more thoughts on entering my last year in my twenties later this week, but I have to say, 28 has been pretty great (totally into all of this rhyming…. maybe it's my lack of oxygen on a plane right now?)...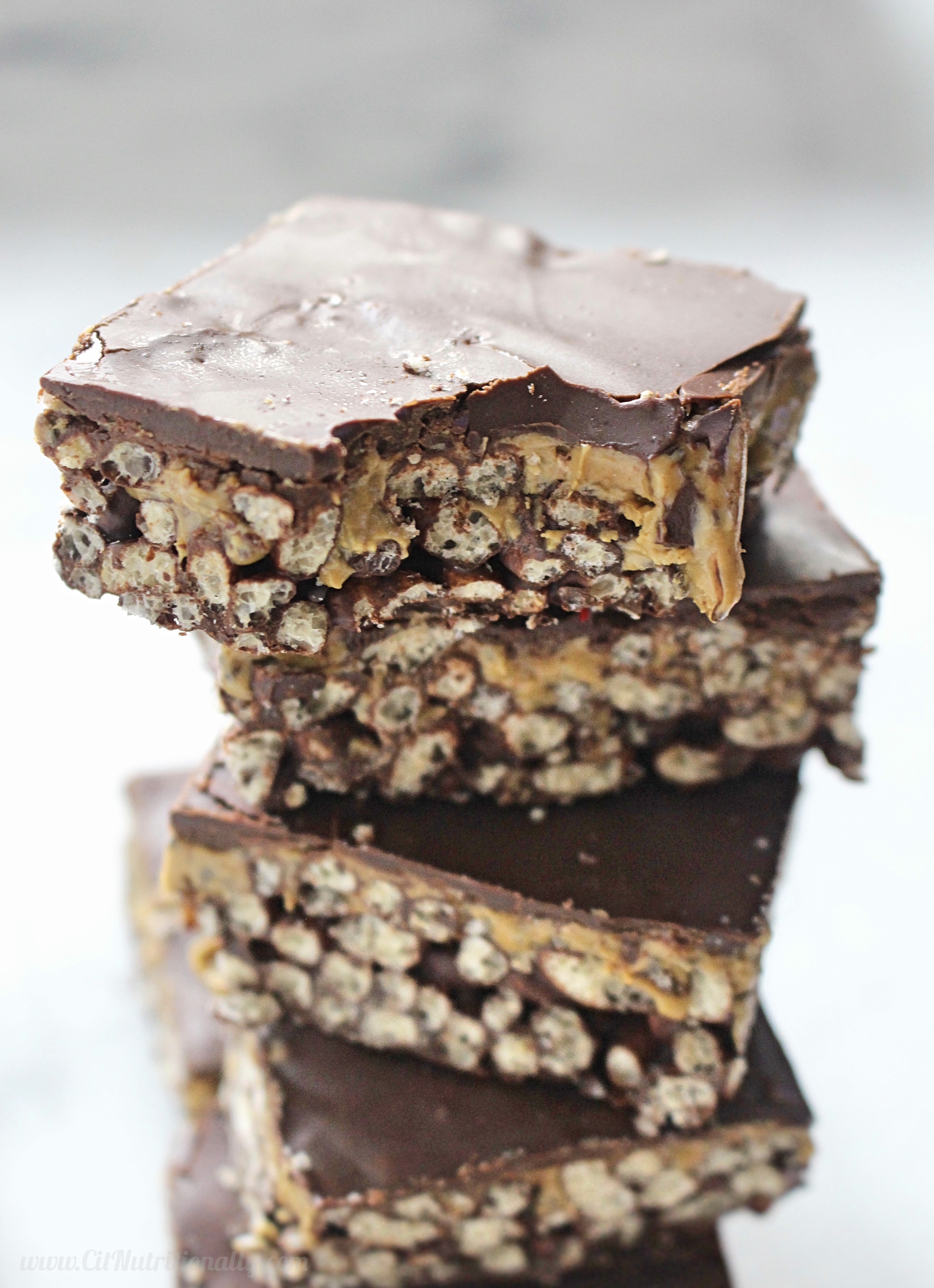 If you just want the recipe to these insaaaaneeelyyy delish crispy chocolate bars, scroll down the page…
I wanted to use this week to reflect. And I encourage you to use this month to reflect too – even if it's not your birthday – to see how your year went.
How did you grow?
How did you set out to conquer the challenges that came your way?
Navigating life isn't always easy, but it's getting through the rain that lets you bask in the sun!
This year, I've definitely experienced some growing pains of adulting (as I like to call it!). I finally finished grad school at the start of my 28th year, I established my business and accepted a job I never looked for, and best of all, promised to marry my best friend!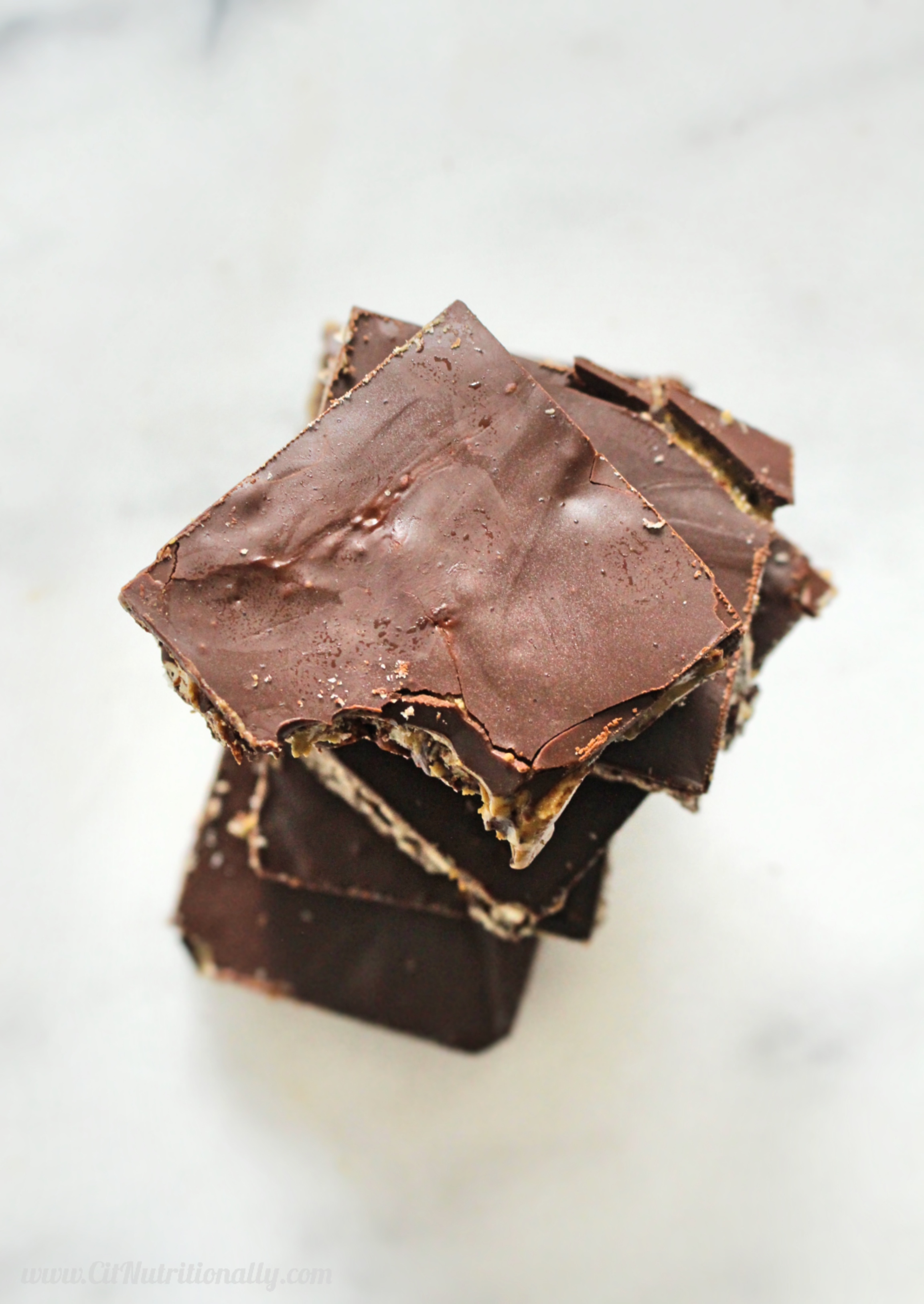 I figured out (at least for the foreseeable future) where I want my career to go. I identified who I want to help, how I'm going to do it and my plan to get there.
So it's been a big year for me – and one that I've been waiting to experience for a while (more on that at year end!). So I think it's only deserving to celebrate LIFE with a bunch of my favorite foods wrapped into one… Meet my No Bake Crispy Chocolate Bars…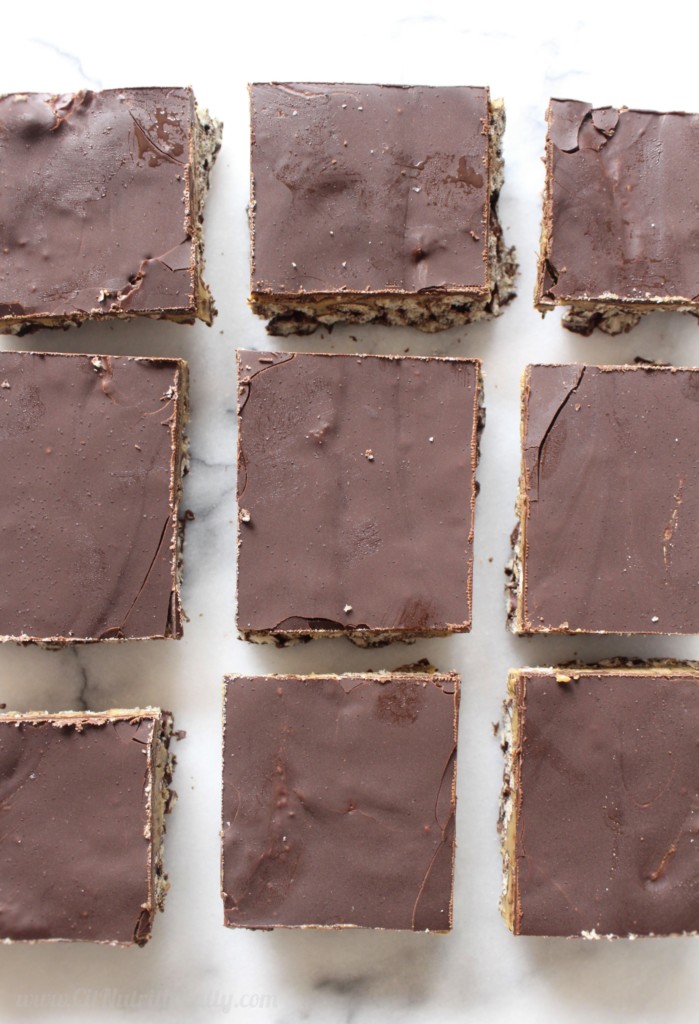 This entire tray didn't last too long in our house… whoooops! 
My No Bake Crispy Chocolate Bars are…
Crunchy and creamy at the same time!
Totally chocolatey
Made with 5 ingredients
No bake
Food allergy friendly
Vegan
Actually full of some great nutrients (!!)
Completely addicting (consider yourself warned!)
These are definitely an indulgence you want to make! Cheers to my 28 years and all December birthdays, year-end reflections, and some good ol' chocolate crunch!
No Bake Crispy Chocolate Bars
Ingredients
Instructions
Line an 8 x 8 baking dish with parchment paper. Set aside.
Add 3/4 cup chocolate chips to a medium-sized microwave safe bowl with 1 tablespoon coconut oil. Microwave for 1 minute, stir, and microwave for another 30 seconds. Repeat until chocolate is melted and silky smooth. Then add the crisped rice cereal and mix until all cereal is coated with chocolate.
Pour the chocolate and cereal mixture into the lined baking dish and spread into one even layer. Sprinkle a pinch of salt evenly over the top. Place in the freezer for about 10 to 15 minutes, until chocolate is hardened.
In a small bowl, mix seed butter with chia seeds together with an additional pinch of salt. Spread in an even layer over the chocolate and cereal mixture. Set aside.
Then, melt 1 cup chocolate chips with 1 tablespoon coconut oil using the same technique as stated in step 1; Microwave for 1 minute, stir, and microwave for another 30 seconds. Repeat until chocolate is melted and silky smooth.
Pour melted chocolate on top of the nut/seed butter and smooth on top with a spatula or back of a spoon. Place the bars back in the freezer for at least 20 minutes, until chocolate is hardened and set.
Once hardened, carefully cut the crispy bars into squares. Store in an airtight container in the freezer. Enjoy every bite!
Notes
*May use almond butter or peanut butter if no nut allergy. Nutrition Facts: 237 calories, 18.5g fat, 111mg sodium, 23g carbohydrates, 4g fiber, 5g protein
http://citnutritionally.com/no-bake-crispy-chocolate-bars/
Don't forget to PIN IT…

Happy birthday to all of my fellow December babies! I hope you enjoy these treats!
XO
If you want to stay connected or you make something from C it Nutritionally I would LOVE to see your creations! Tag me or use the hashtag #CitNutritionally!
Let's get social! 

Facebook: C it Nutritionally
Twitter: @ChelseyAmerRD
Instagram: @CitNutritionally
Pinterest: ChelseyAmer