Raw. Vegan. Vegetarian. Gluten free. Grain free. Nut free. Dairy free. Egg free. Soy free. Refined sugar free. Delicious. These nut-free chocolate chip lara bar lookalikes will satisfy your sweet tooth with NO refined sugar, but will also fill you with fiber and plenty of protein.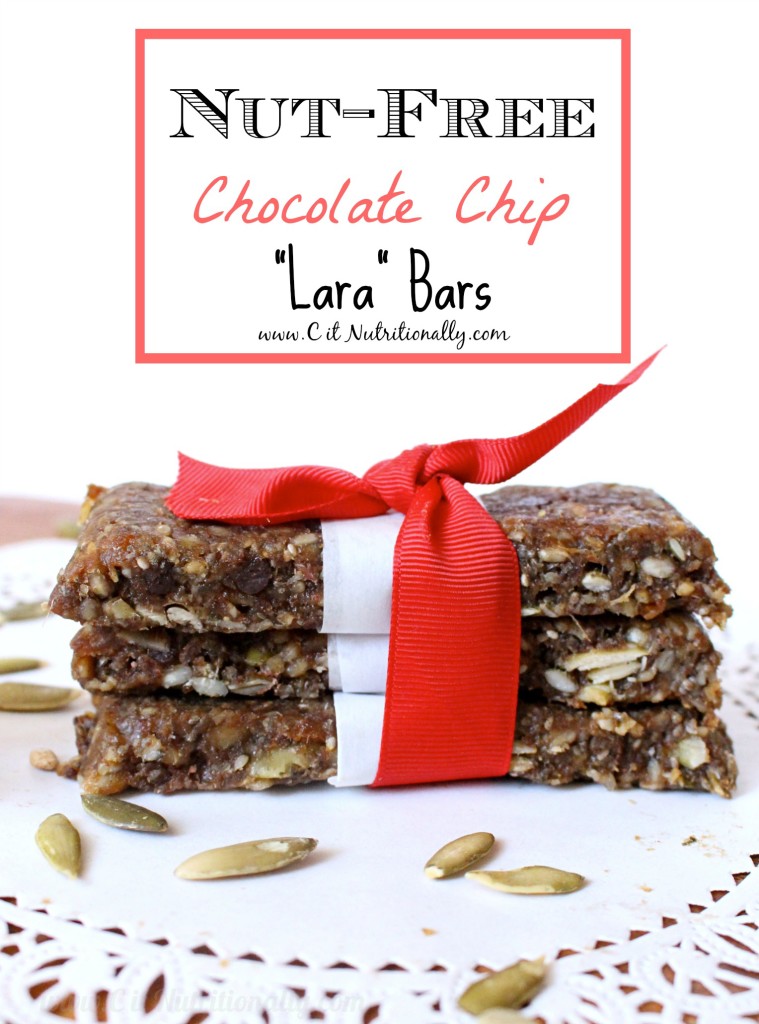 Happy Recipe Redux Day!!! As only my second month participating in this AWESOME community I'm super excited (and I doubt that will really everrrr go away!)…
This month's theme is something I'm quite fond of: SPRING CLEANING! 
Have you gotten your spring clean on yet??? I've slowly been working through my entire apartment (emphasis on the slowwwwly!) and I'm loving the purge that's been happening in my closet and desk. Somehow I seem to accumulate SO much paper over a semester — sorry trees (FYI! Tomorrow is EARTH DAY…so don't forget to hug your favorite tree!).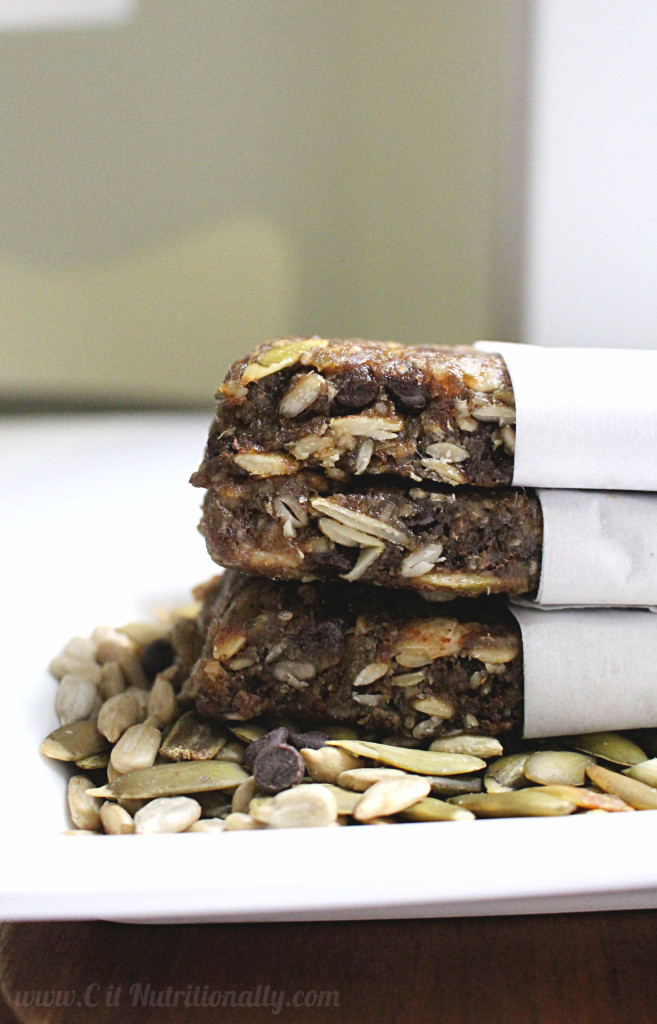 When the April theme was revealed I was so excited to CLEAN (yeah, I know…it's weird). Although my closets seem to accumulate SO. MUCH. STUFF, my pantry…notsomuch. My tiny NYC kitchen just doesn't have the space to hoard Costco-size quantities of anything, let alone things I infrequently use. I have the staples and bare minimum and make frequent trips to the store…so I guess it works that I love to go food shopping! 
So what's a girl to do when she doesn't really have to spring clean her pantry?!
Although I do have a few bags of pasta I haven't touched in a while and baking ingredients that I just don't use as much as I used to, I wanted to repurpose one ingredient that I use all the time…SEEDS!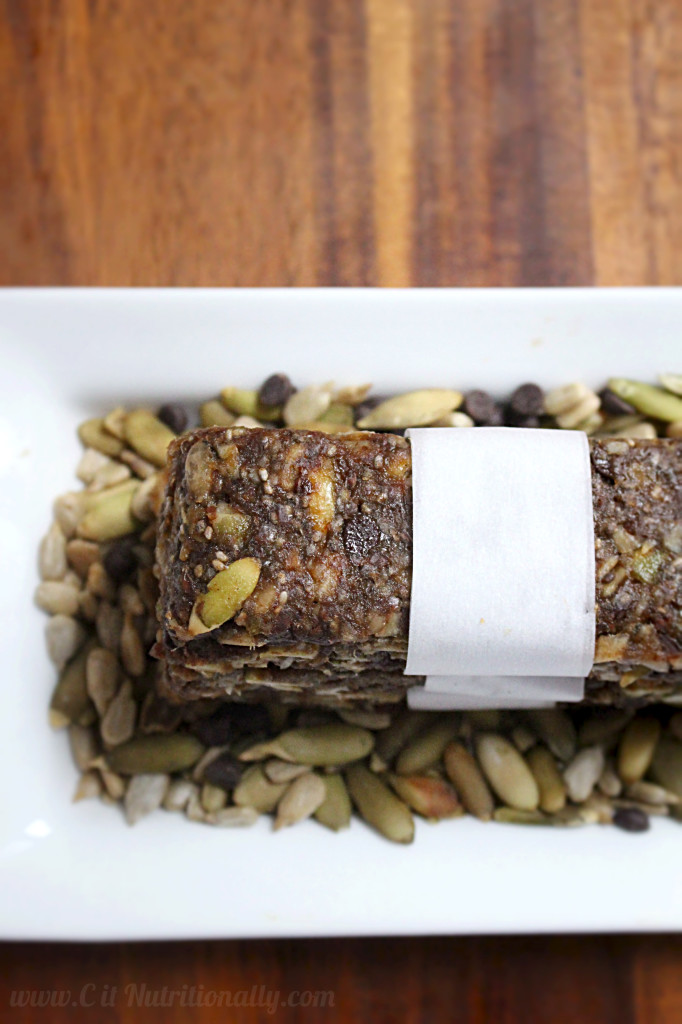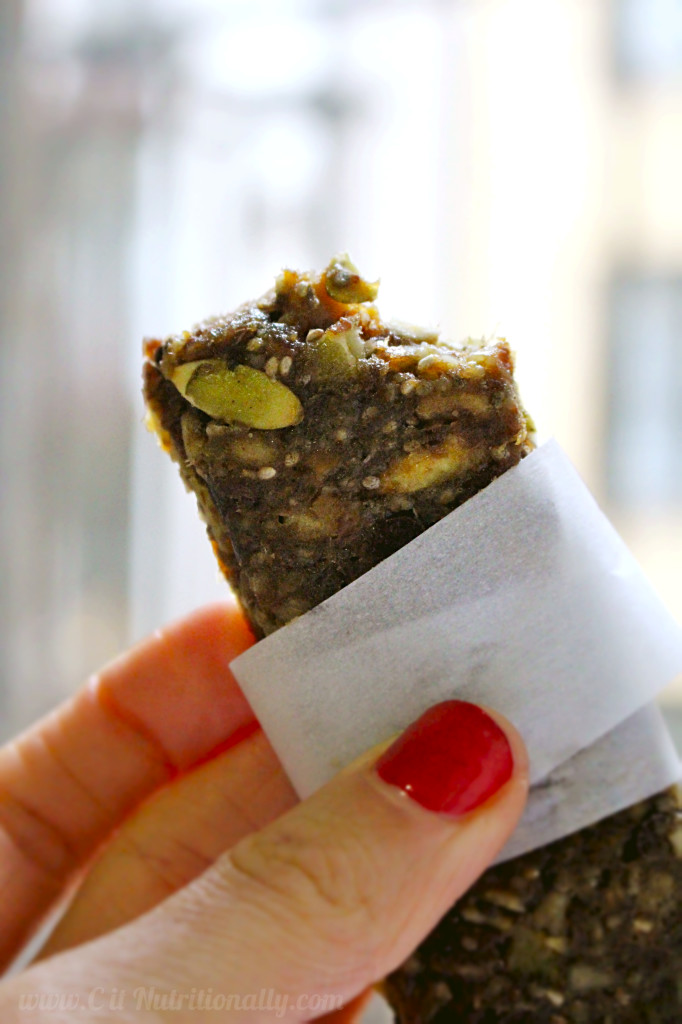 I've been meaning to do something more with all of the seeds I have than sprinkle them on errrrrything and make crackers, but I never got around to it. I've also been meaning to post a nut-free energy/snack bar recipe because us nut-avoiders need snacks too!!! So, thank you #RecipeRedux! 
These bars come together super quick, albeit sticky quick…
Simply process the dates (#nom), add the seeds, seed butter, and chocolate chips and THAT'S IT! Process the seeds as little or as much as you'd like, but I like having some whole seeds in there for the crunch (plus, it boosts satiety!).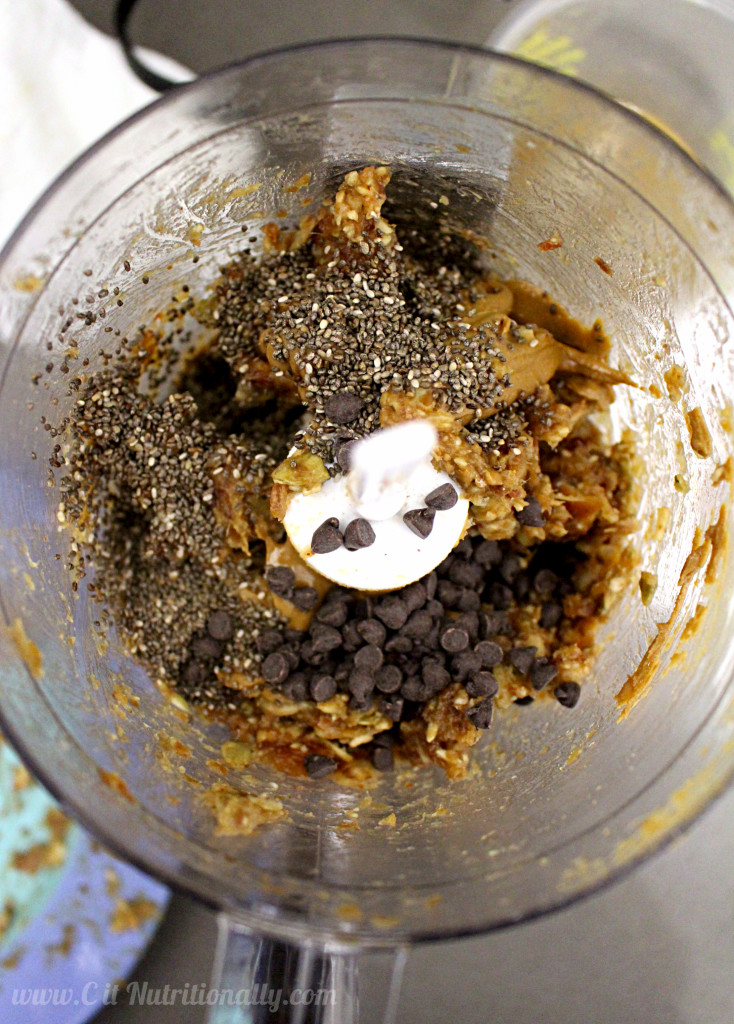 Press into a pan (I used a loaf pan) and smooth the top using wax paper. Refrigerate for at least ~20 minutes, but into bars, and enjoy! 
Raw. Vegan. Vegetarian. Gluten free. Grain free. Nut free. Dairy free. Egg free. Soy free. Delicious.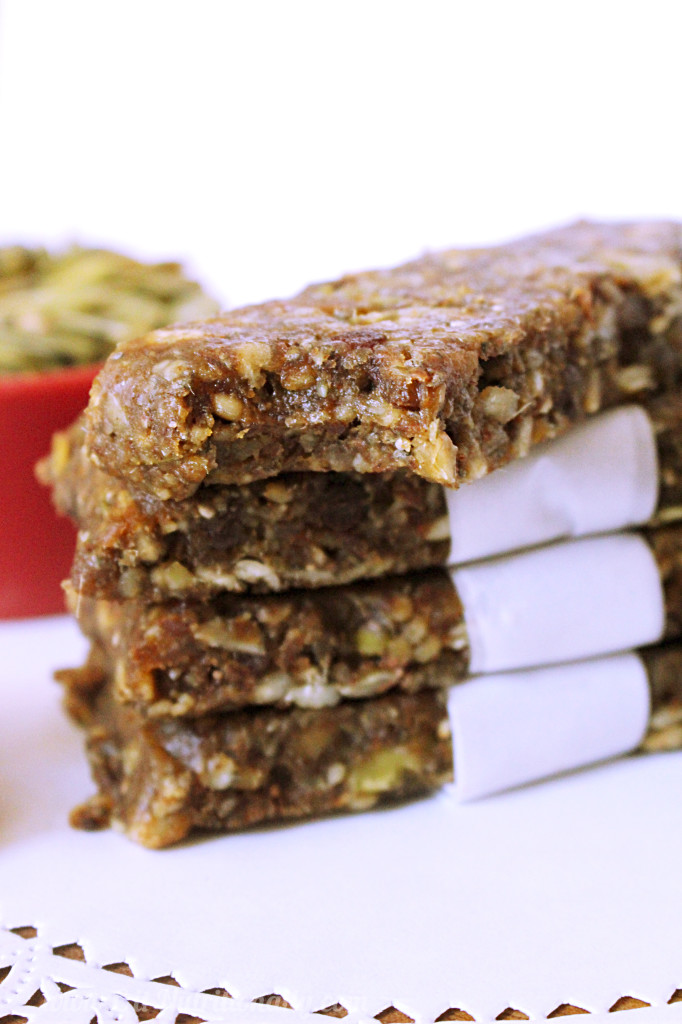 Chew this…
Nut-Free Chocolate Chip Lara Bars
Ingredients
1 1/4 cups medjool dates, roughly chopped
1/4 cup raw pepitas (pumpkin seeds)
1/4 cup + 2 tablespoons raw sunflower seeds, divided
2 tablespoons chia seeds
1 tablespoon ground flax seeds
1 tablespoon sunflower seed butter (or nut butter alternative)
2 tablespoons mini dark chocolate chips, divided
1/2 teaspoon sea salt
1/4 teaspoon cinnamon
Instructions
Soak dates in water for about 15 minutes.
In a food processor, process dates until smooth. Add seeds and continue to process.
Add 1 tablespoon of chocolate chips and spices. Process until combined.
Remove the date/seed mixture from the food processor and add the rest of the chocolate chips.
Press mixture into a wax paper-lined loaf pan and flatten with wax paper on top. Refrigerate for at least 20-30 minutes.
Cut into bars, squares, or roll into balls and enjoy. Store in the refrigerator.
http://citnutritionally.com/nut-free-chocolate-chip-lara-bars/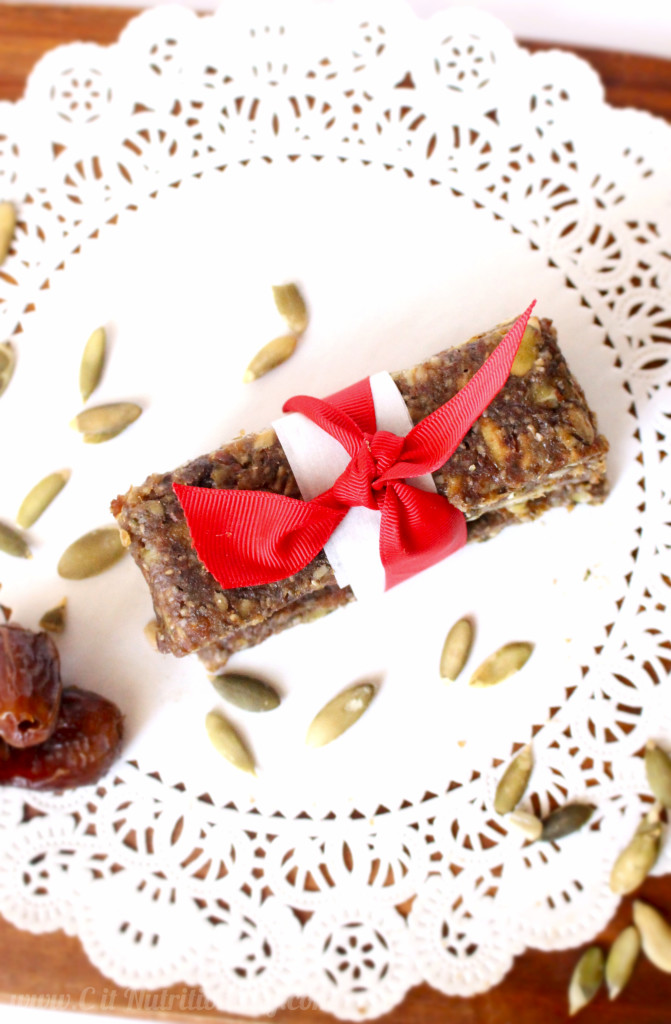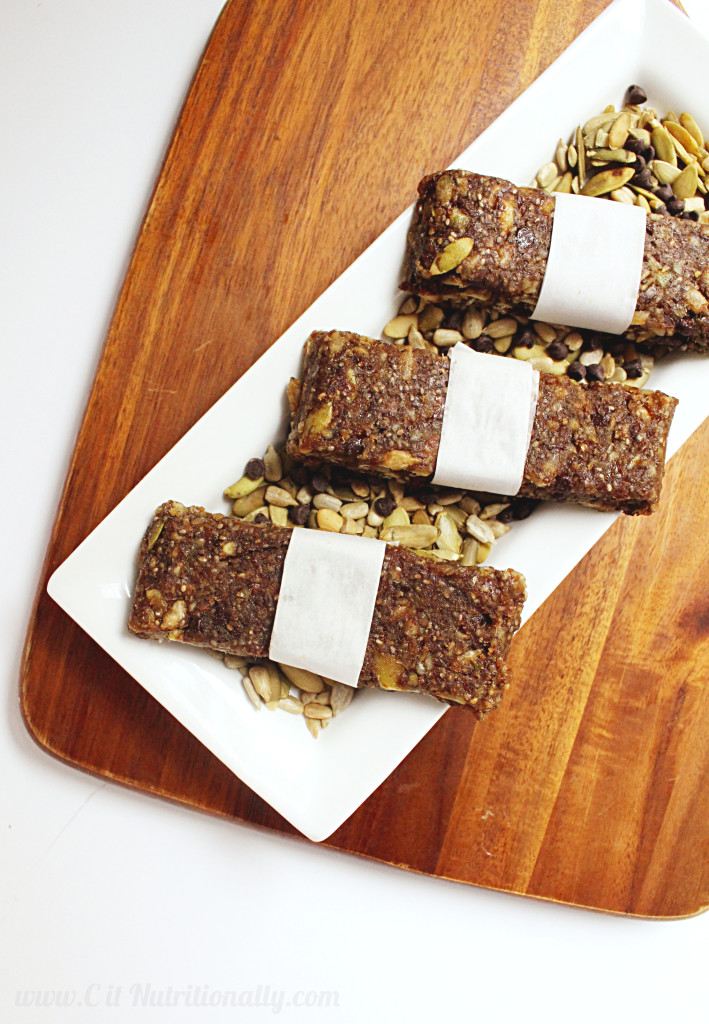 What's on your spring cleaning to-do list? 
Happy Tuesday!
XO