Slightly chewy with a crunch and tons of chocolatey goodness, these Protein-Packed Nut Free Chocolate Granola Bars are perfect for a school snack or busy breakfast as you grab and go out the door…chocolate included!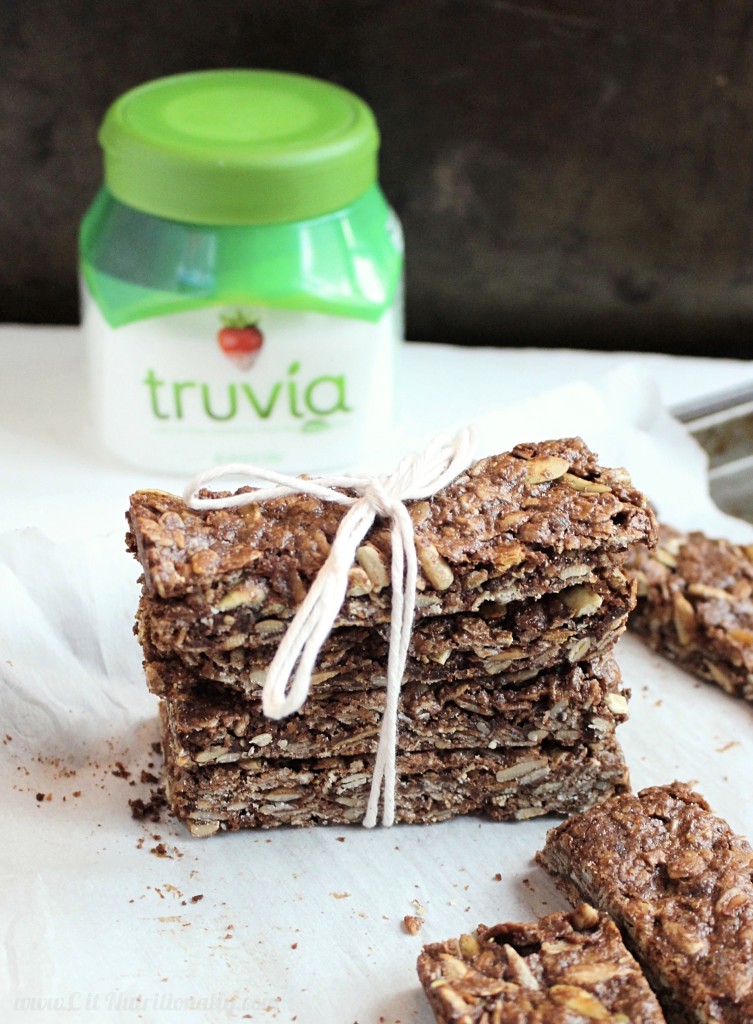 Disclosure: This post is sponsored by Truvia and the Healthy Aperture Blogger Network in part of the #TasteTruvia campaign. As always, thank you for supporting the brands that make C it Nutritionally possible!
I don't know about you, but store-bought snack bars always make me a taaaaad skeptical. Sure there are plenty of good ones out there, but for the most part you have to be a supermarket sleuth to understand the nutrition label. And some of those ingredients? The fillers? 
Sure they seem OK from the outside…portable, compact, perhaps with some protein even. But not the best option. Especially if you have food allergies, like moi! Having tree nut and peanut allergies can make purchasing packaged foods tough. Although from a dietitian's perspective, nuts can really kick a product's protein content up a notch, so I don't blame 'em! Even if you are able to find a bar that doesn't contain nuts itself, that always-present "Made in a factory that uses tree nuts and peanuts," label is allllmost guaranteed to be there. Ya feel me?! 
My solution? I DIY! I use ingredients I know are safe from a food allergy perspective, and use my secret sugar-slashing weapon: Truvia® Natural Sweetener!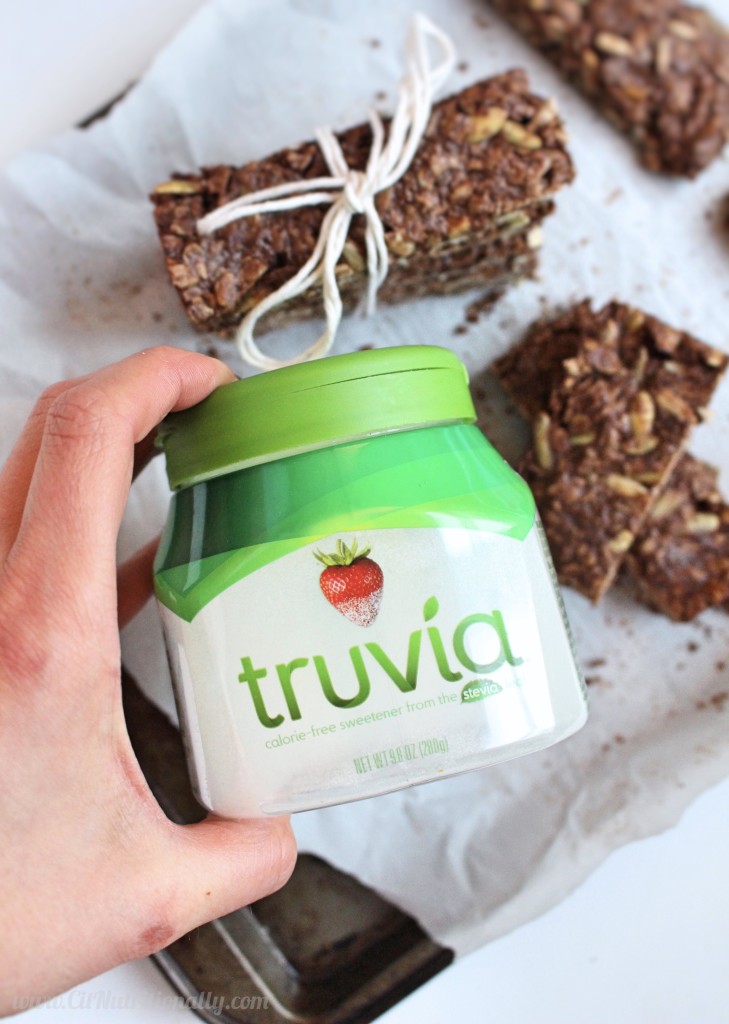 So say hello to my Protein-Packed Nut Free Chocolate Granola Bars…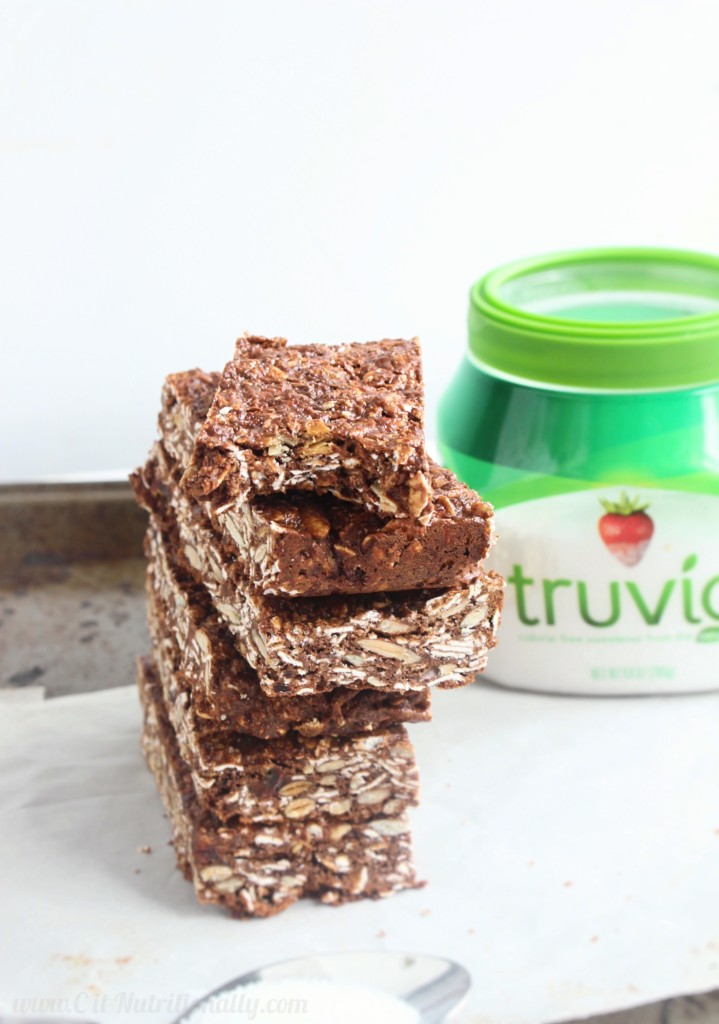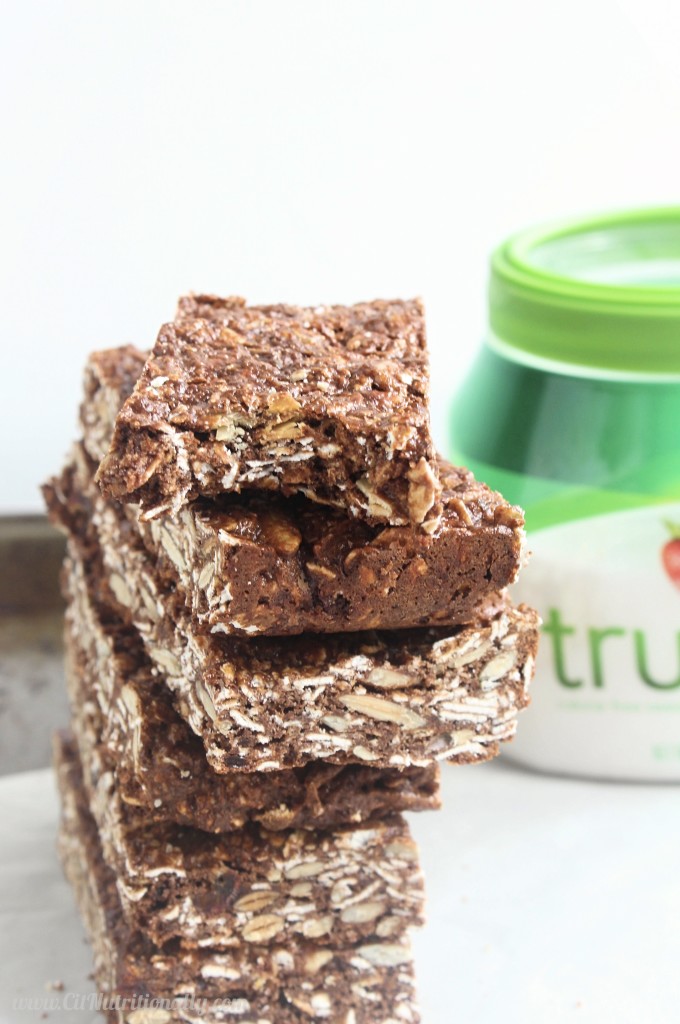 Whether you're grabbing one of these Protein-Packed Nut Free Chocolate Granola Bars before or after your workout, sending it to school with your kiddo (totally school snack approved!), munching on one on your way out the door in the morning, or even quenching your chocolate craving for dessert, you can have your chocolate fix and feel good about eating it too because these bars are a great part of an overall balanced diet.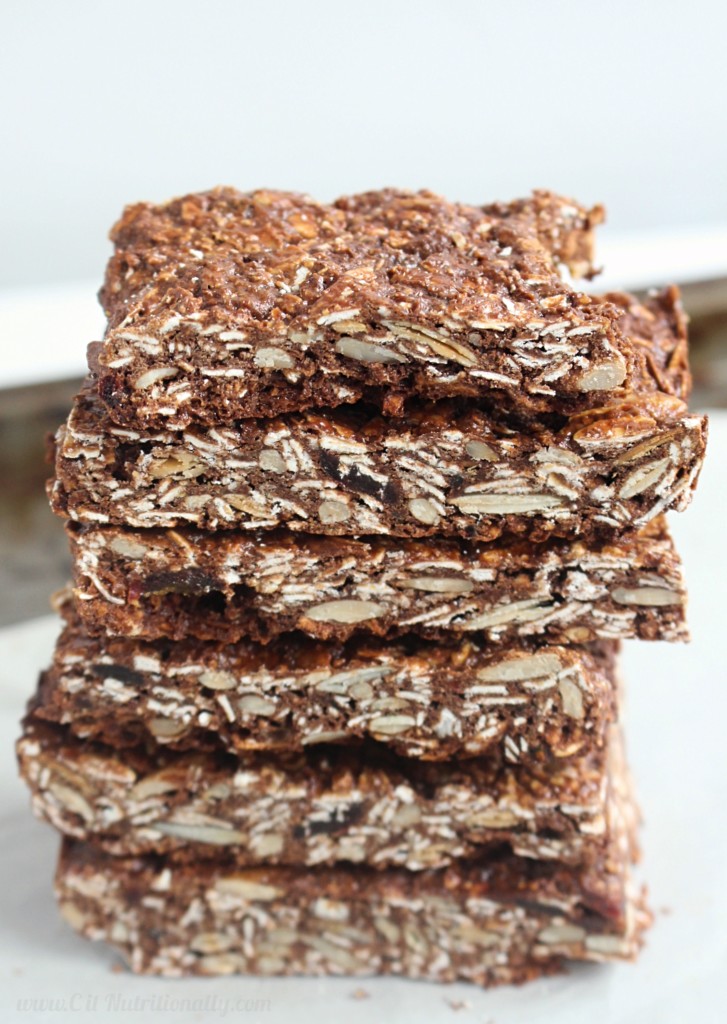 I feel good about sweetening my Protein-Packed Nut Free Chocolate Granola Bars with Truvia® Natural Sweetener, a zero-calorie sweetener made with stevia leaf extract, the sweetest part of the stevia leaf. Truvia® Natural Sweetener sprinkles just like sugar ((one packet provides the same sweetness as two teaspoons of sugar — that's saving you 32 calories, which totally adds up over time!)), providing that perfect hint of sweetness, but as a better-for-you option if you're looking to reduce your sugar intake. And remember, your diet is all about balance. 
Plus, these Protein-Packed Nut Free Chocolate Granola Bars are SO easy to make… with ingredients you probably already have at home… oats, seeds, maple syrup, dates, seed butter, coconut oil and Truvia® Natural Sweetener.
Let's get cookin'…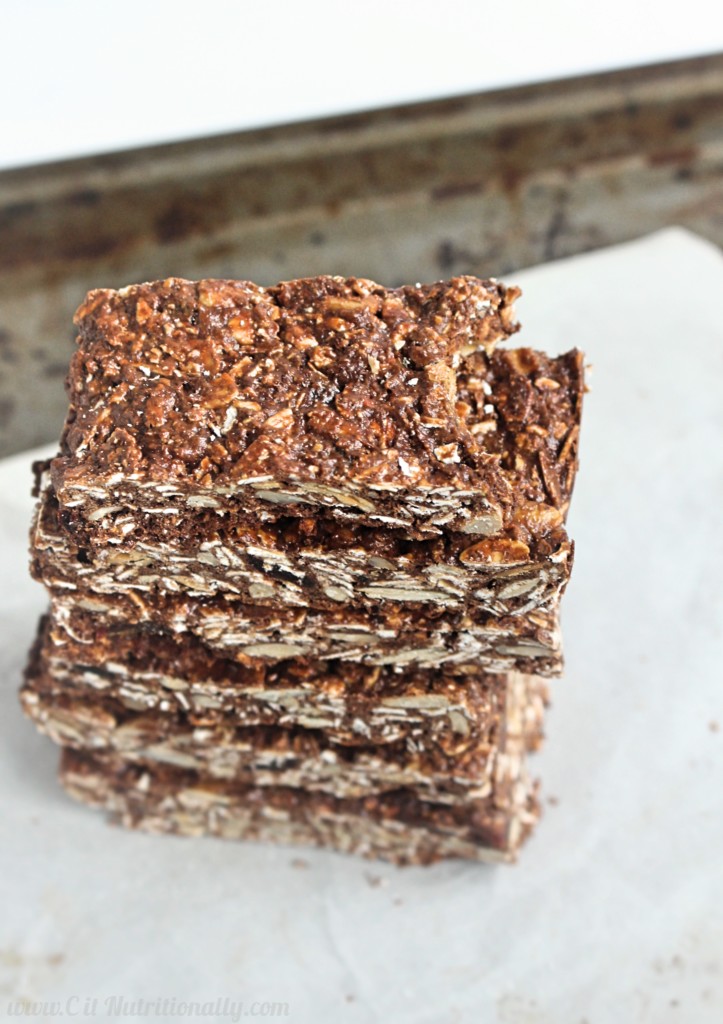 Protein-Packed Nut Free Chocolate Granola Bars
Ingredients
6 medjool dates (soaked in water for a few minutes if not soft)
1/4 cup sunflower seed butter or your preferred nut/seed butter
1 tablespoon melted coconut oil or other mild oil, such as canola oil
1 teaspoon Truvia® Natural Sweetener
1/4 cup maple syrup
1 1/2 tablespoons unsweetened cocoa powder
1 cup rolled oats
1/2 cup seeds (I used half sunflower seeds and half pumpkin seeds)
2 tablespoons ground flaxseed
Optional: Sea salt for dusting on top
Instructions
In a food processor, pulse dates, sunflower seed butter and coconut oil until the dates are in very small pieces.
Transfer this mixture into a large bowl and mix in Truvia® Natural Sweetener, maple syrup, and unsweetened cocoa powder. Mix until the cocoa powder is uniformly distributed.
Add in the oats and seeds and mix until combined.
Press the mixture into a parchment paper-lined 8x8 baking dish. I only used about 3/4 of the dish for a thicker bar. Alternatively, you can use a loaf pan. The mixture will be sticky so you may want to use another piece of parchment paper or plastic wrap to achieve desired shape for your bars. Sprinkle sea salt on top, if desired.
Bake granola bars for 20 minutes at 300F. Remove from the oven, let cool for at least 10 minutes and then place in the freezer for another 10 minutes. Cut into 8 to 10 bars.
Bars can be stored in an air-tight container in the refrigerator for up to 2 weeks.
Notes
Nutrition Facts per bar (for 10 bars): 200 calories, 10g fat, 26.1mg sodium, 24g carbohydrates, 4g fiber, 7g protein Nutrition Facts per bar (for 8 bars): 250 calories, 12g fat, 32.6mg sodium, 31g carbohydrates, 5g fiber, 8.5g protein
http://citnutritionally.com/protein-packed-nut-free-chocolate-granola-bars/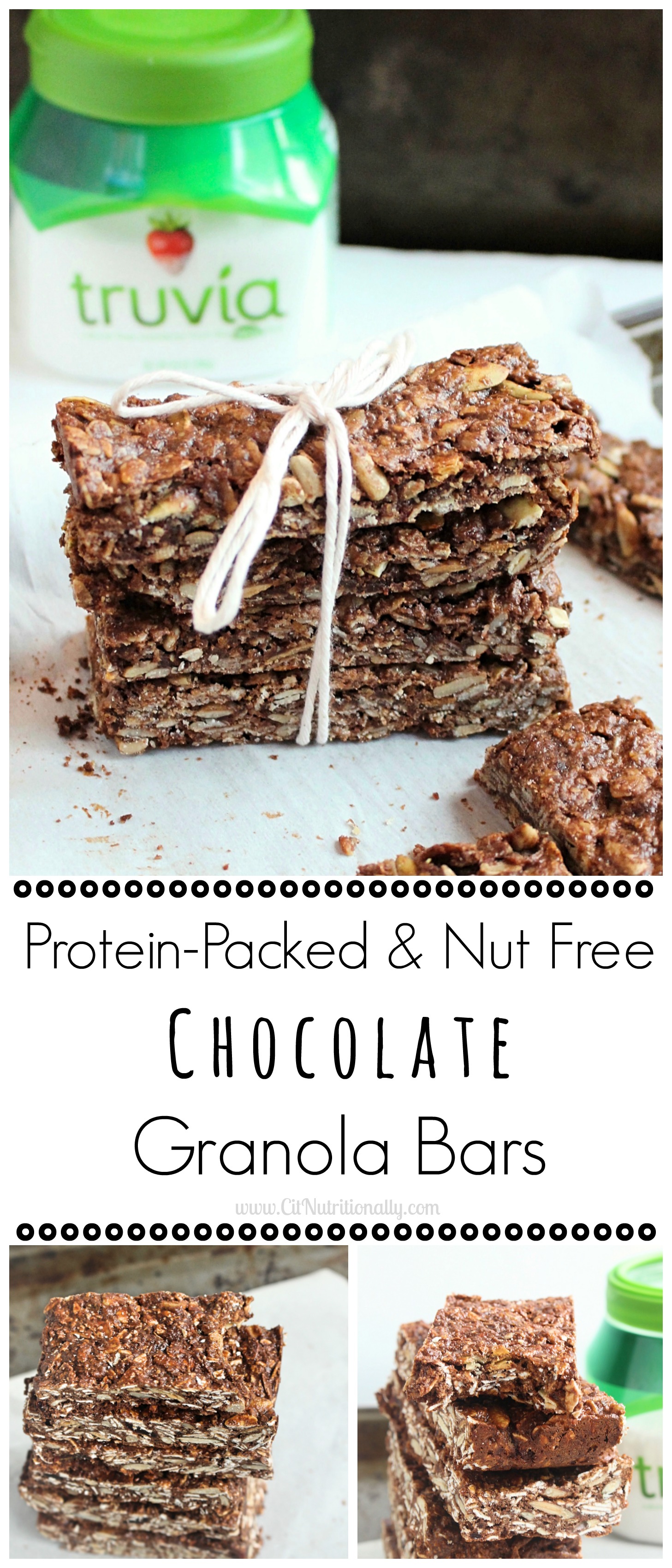 Chocolate? Check! Sweetness without the refined sugar? Check! A great portable breakfast or snack?! Check!!
These are a winner in my book… What is your favorite granola bar flavor combo? 
XO
Let's get social!
Facebook: C it Nutritionally
Twitter: @ChelseyAmerRD
Instagram: @CitNutritionally
Pinterest: ChelseyAmer