Start your party with anti-inflammatory Sesame-Free Turmeric Hummus that's food allergy friendly, vibrantly colored and festive for any appetizer table! Vegan, Gluten free, Grain free, Nut free, Dairy free, Egg free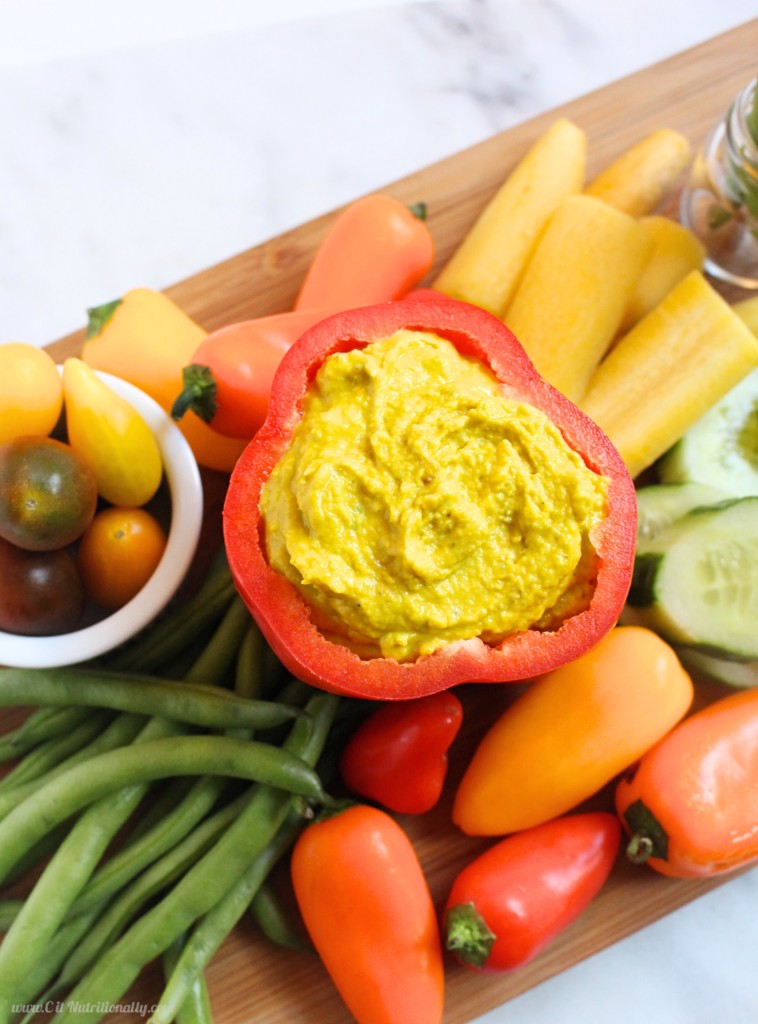 Happppyyyy almost Fourth of July!!!
We've been out east this weekend celebrating not only the independence of this fabbbb country, but also my soon-to-be mother-in-law's birthday, so I'm just dropping in for a quick note today to share a party-perfect last minute appetizer: Sesame-Free Turmeric Hummus!
This recipe is my new go-to impress a crowd app because it's colorfully vibrant in taste and looks 😉 and makes any crudite platter look like a million bucks!
This Sesame-Free Turmeric Hummus is…
Loaded with anti-inflammatory benefits too (thaaank you turmeric!)
Full of fiber and plant-based protein
Made with just a few simple ingredients
100% food allergy friendly (free of the top 8 food allergens)
Easy to make in less than 10 minutes!
DELICIOUS!
So how do I take this Sesame-Free Turmeric Hummus up a notch when I'm serving to guests?? I put it in a cored bell pepper!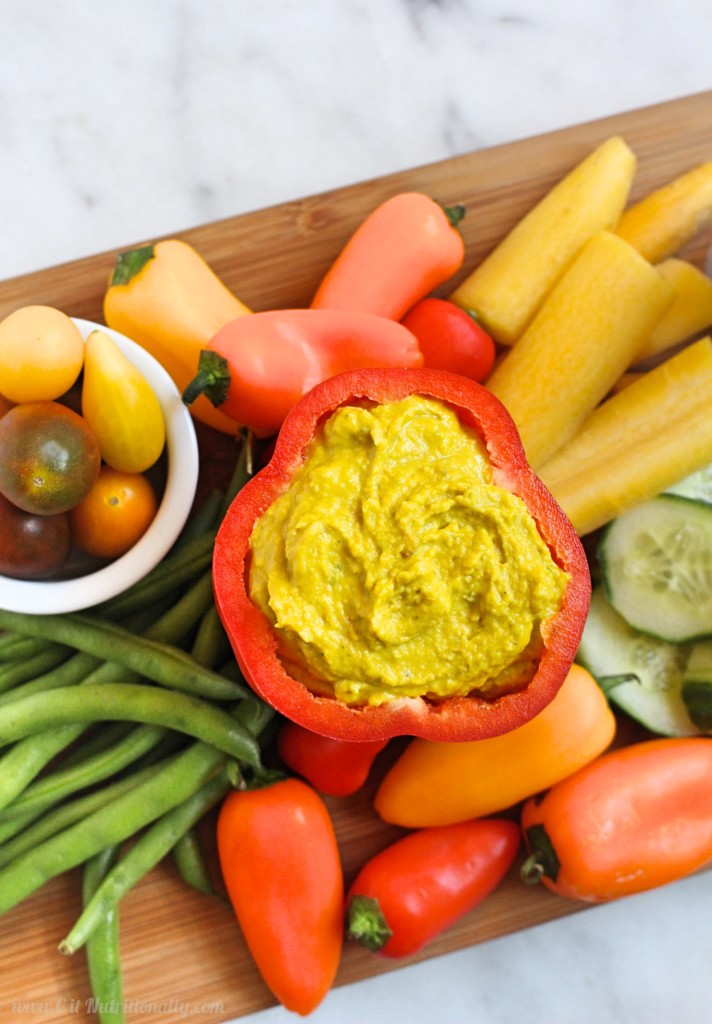 My mom's been using this trick for years and it always makes her veggie platters look gorgeous, so I obviously had to rip off this beauty to showcase my newest favorite dip on the block!
So let's talk about crudite platters… 
I'm a BIG fan — aren't you surprised?! 😉 Every party has 'em because veggies really are a great vehicle to scoop up some delicious dip… a la Sesame-Free Turmeric Hummus… and they're so easy to throw together.
You'll never have to buy one of those lame-o grocery store veggie and dip platters again after I show you how easy it is to throw together a simple and fun crudite platter without totally going overboard…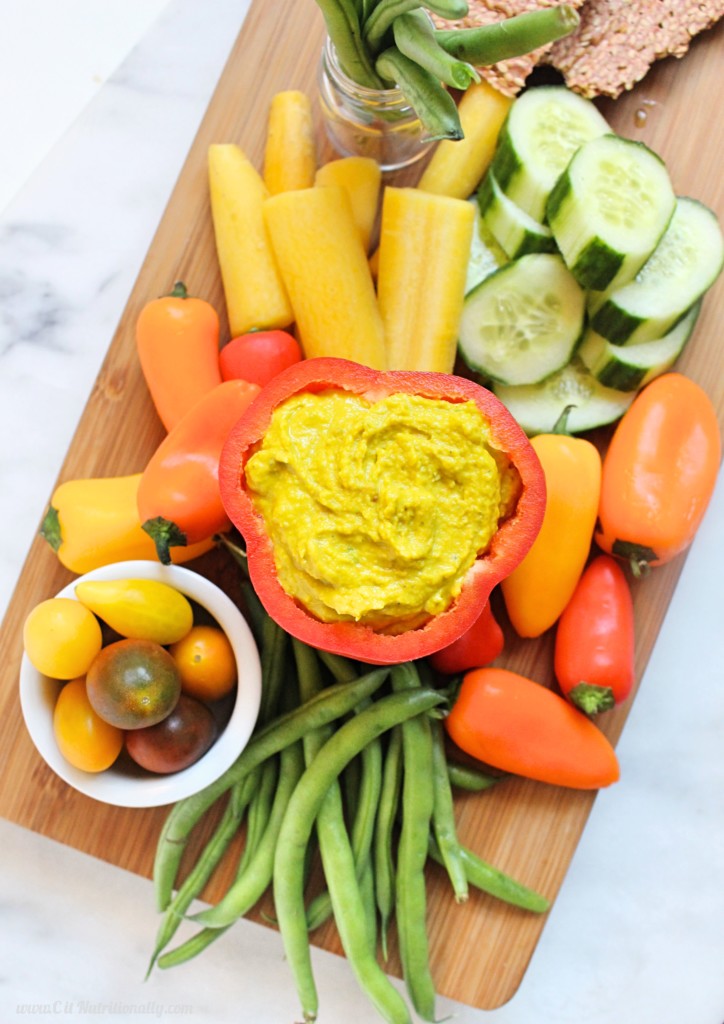 Here are some of my best tips…
Choose a variety of colored produce – Literally, eat the rainbow!
Vary the size and style of your veggies – On this simple platter my veggies are sliced horizontally [cucumber slices] and vertically [carrots] and whole!
Throw in something unique – I love using these mini bell peppers that you can just dip instead of spending time slicing bell peppers. Also, the hummus in the bell pepper is slightly off the beaten path!
Add some dimension – I placed the string beans in a small jar vertically to add height here.
Balance the colors around your main event – Note green string beans and cucumbers on either side of the bell pepper in this basic example.
Here's how you make this vibrant-colored hummus…
Sesame-Free Turmeric Hummus
Ingredients
1 15 oz can small white cannellini beans, drained, rinsed and mostly dried
1 tablespoon sunflower seed butter*
2 garlic cloves, crushed
2 teaspoons ground turmeric
1 teaspoon cumin
½ teaspoon Himalayan sea salt (any salt will work!)
Pinch of red chili flakes
2 1/2 tablespoons good quality olive oil
1 tablespoon water (plus additional, if needed)
Instructions
Add all ingredients to a food processor or high-powered blender, and pulse/blend until smooth. You may need to scrape down the sides every couple of minutes. To achieve desired consistency, you may add additional olive oil and/or water.
Serve immediately or transfer to an airtight container and store in the refrigerator for up to 4-5 days.
Enjoy! :)
Notes
*May substitute almond butter or tahini (if not food allergies exist).
http://citnutritionally.com/sesame-free-turmeric-hummus/
Don't forget to PIN IT…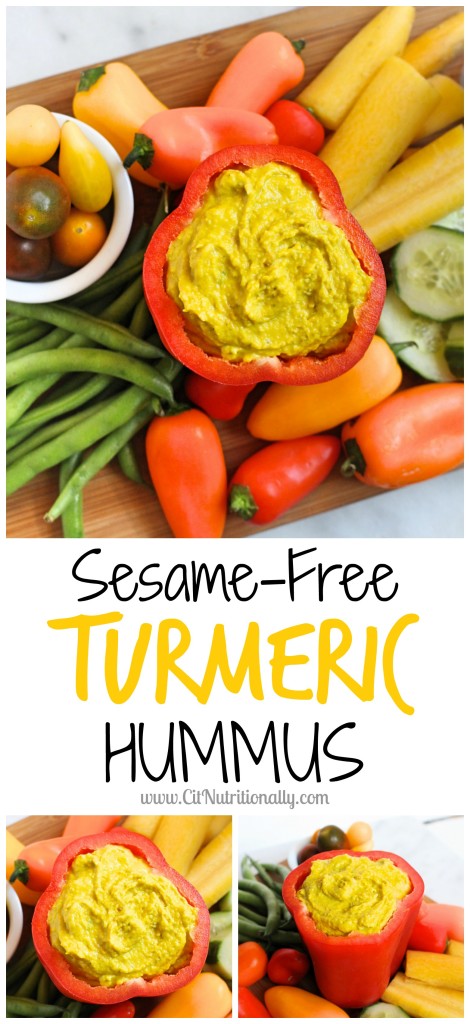 I hope you have a delicious, fun and independent July 4th — we work hard for our independence and ALL deserve to keep it!!
XO
PS – If you're looking for some delicious red, white and blue recipes, don't forget to check out this delicious round up I shared last week!
If you want to stay connected or you make something from C it Nutritionally I would LOVE to see your creations! Tag me or use the hashtag #CitNutritionally!
Let's get social!

Facebook: C it Nutritionally
Twitter: @ChelseyAmerRD
Instagram: @CitNutritionally
Pinterest: ChelseyAmer