Moist and pancake-like, this Skillet Protein Pancake is baked right in your cast iron skillet, loaded with protein and fiber, so you can start your day off on a deliciously nutritious note!
Gluten Free, Nut Free, Soy Free, Dairy Free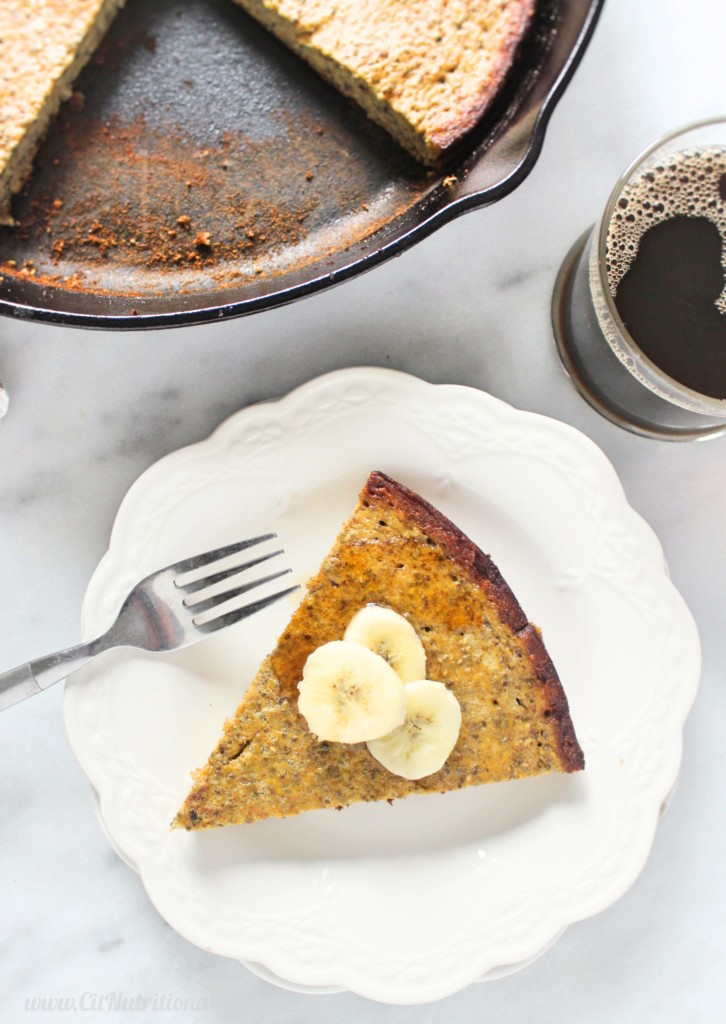 Breakfast can be one of the hardest meals of the day for some to balance nutritious, delicious, not too heavy in the morning, easy enough on the go… you get the picture! Breakfast also happens to be my favorite meal of the day, which is why I love sharing tons of new recipes with y'all that make breakfast a teensy bit easier in your life!
Well, recently I've been going through a protein pancake phase. But sitting by the stove making pancakes can be too time consuming for a daily meal (at least for moi, because as much as I like breakfast, I also like those extra 10 minutes of sleep!).
To solve my breakfast conundrum (first world problems right here), I used my handy dandy new cast iron skillet (affil link) and decided to make a humongous BAKED protein pancake right in my skillet — a Skillet Protein Pancake!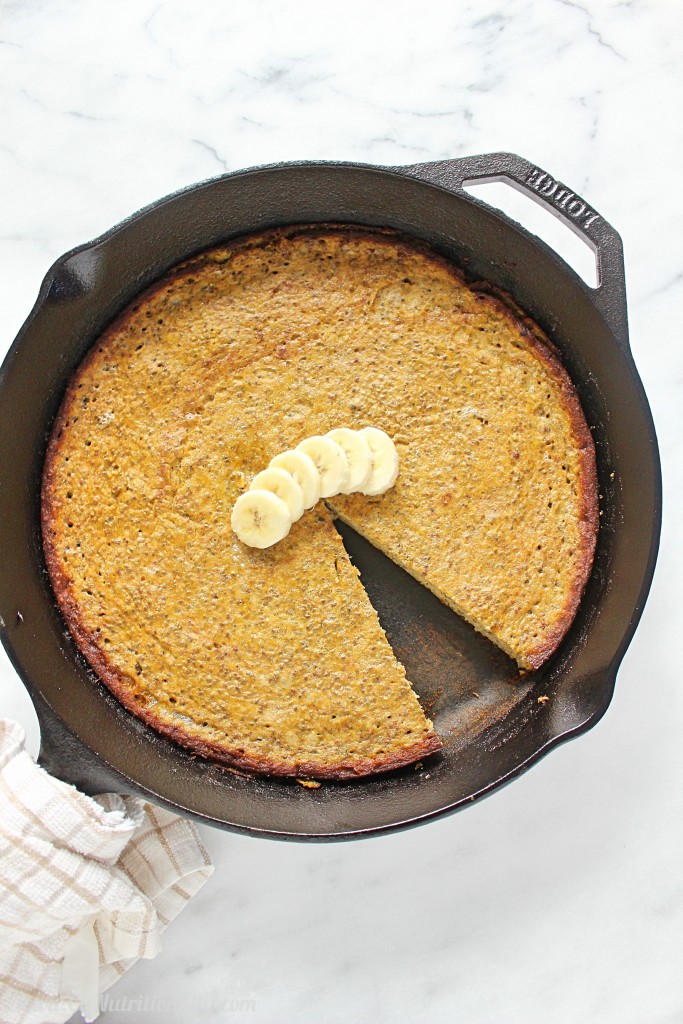 You don't necessarily need a cast iron skillet (affil link) to make this baby, but you do need a skillet that is oven-safe. Alternatively, I'm sure it would work in a casserole dish (like this one; affil like), but to get that more golden crust, it's all about the cast iron skillet. Plus, did you know cooking in a cast iron skillet actually adds some iron to the food you're eating? #truth!
Anywhooo… this recipe is super simple to make. You can throw everything into a blender (affil link) and then pour it into your skillet and bake. Be patient while it cooks… and then you have breakfast to GO for the entire week!
Alternatively, you can mash the bananas by hand, whisk your eggs together, add the rest of the ingredients and then pour into your skillet and GO. Either way, pretttyyyy darn simple and you have a high protein, filling breakfast for the week!
This Skillet Protein Pancake is…
Easy to make

High PROTEIN

Made with ingredients you probably have in your pantry

Gluten free
Dairy free
Nut free
Absolutely delicious!
Loaded with FIBER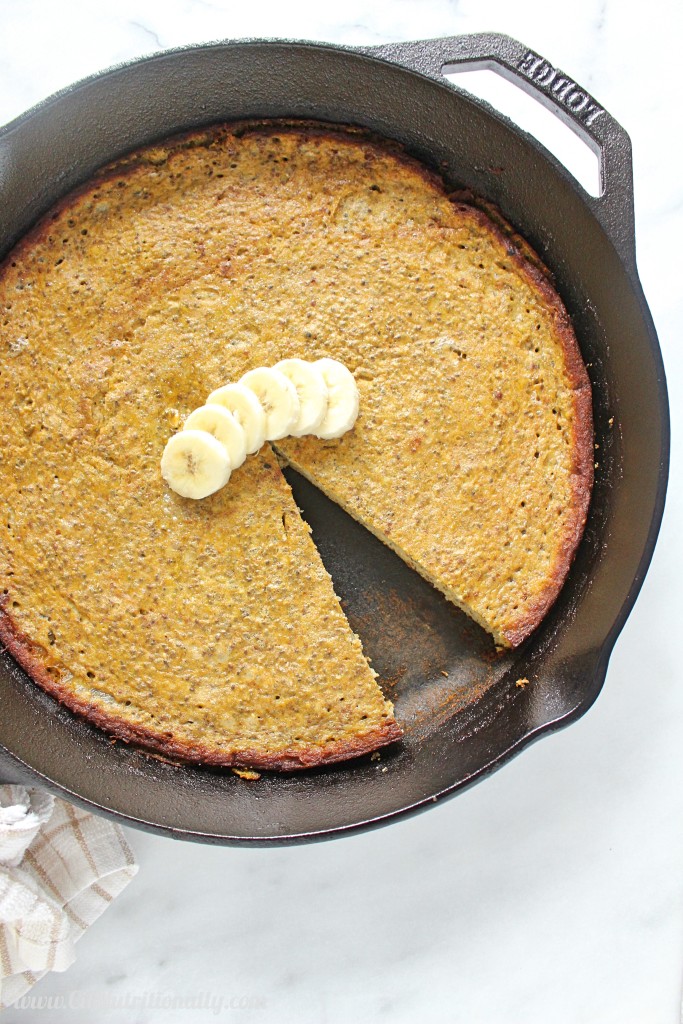 Let's make it…
Ingredients
2 very ripe bananas
4 eggs
8 egg whites
1/2 cup pumpkin puree (not pumpkin pie filling)
1 1/2 teaspoon cinnamon
1 1/2 teaspoon vanilla
1/4 cup chia seeds
1/2 cup rolled oats, divided
Generous pinch of salt
2 tablespoons melted coconut oil
Optional: 1-2 tablespoons maple syrup, if sweeter pancake desired
Instructions
Preheat oven to 375°F.
Combine all ingredients, except for 1/4 cup rolled oats, in a high-powered blender. Blend until all ingredients are combined, about 30 seconds. Then add additional 1/4 cup rolled oats and mix into batter with a spoon. Alternatively, you can mash bananas well, then add remaining ingredients and whisk until all eggs are combined.
Add coconut oil to a large cast iron skillet. Be sure the oil is evenly distributed and coats the sides of the pan as well.
Pour pancake batter into the skillet and place in preheated oven. Bake for about 25 minutes, until edges are browned.
Remove from oven and let cool for about 5-10 minutes, then cut to serve. Enjoy!
http://citnutritionally.com/skillet-protein-pancake/
Don't forget to PIN IT…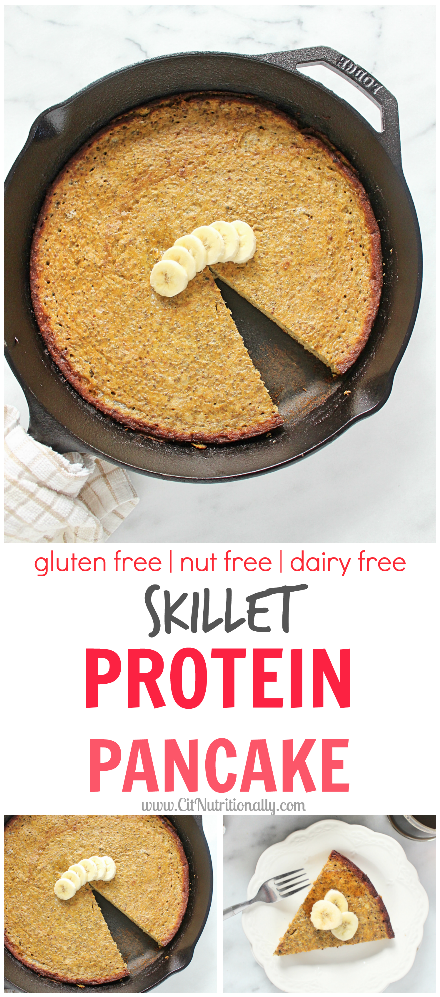 I hope you have fun breaking the fast this week…
XO
If you want to stay connected or you make something from C it Nutritionally I would LOVE to see your creations! Tag me or use the hashtag #CitNutritionally!

Let's get social! 
Facebook: C it Nutritionally
Twitter: @ChelseyAmerRD
Instagram: @CitNutritionally
Pinterest: ChelseyAmer