Kick your traditional stir fry up a notch with this nut free sunflower seed butter sauce veggie stir fry that's every bit delicious as it is nutritious!
Vegan, Gluten free, Grain free, Nut free, Dairy free, Egg free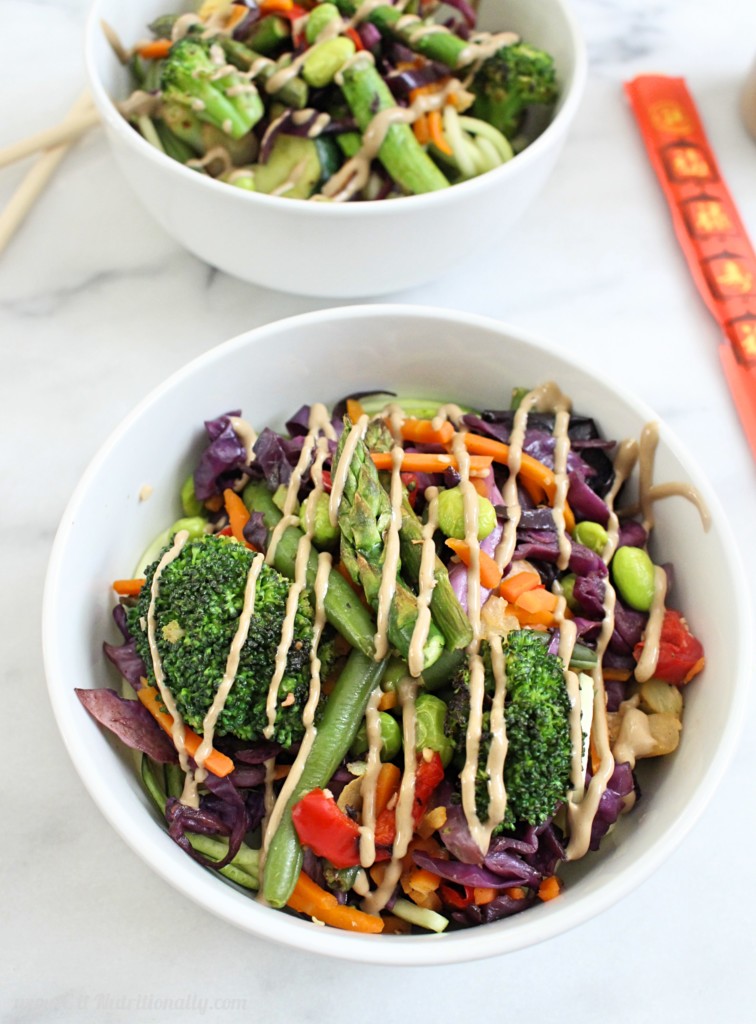 Happy Monday, my friends!!! I'm popping in for a quickie today — a recipe I make all of the time and comes together in minutes!
Throwing a delicious and nutritious dinner together in minutes does not have to be hard! I get home from work around 7-730ish and the LAST thing I often want to do is spend more than 30 minutes — or even 15 sometimes — putting dinner together. ((yup, and that's ME who loves to cook!!))
My make-ahead secret? ((you'll be getting LOTS of these in the coming weeks!)) Prepping LOADS of veggies at the beginning of the week! I kid you not, it saves SO much time!
My fridge is FULL of veggies — and maybe yours is too — but the secret to actually eating them is preparing them ahead of time. Yes, even something that cooks quickly like veggies, it's advantageous to chop, slice and dice, and par-cook (or cook halfway through) ahead of time.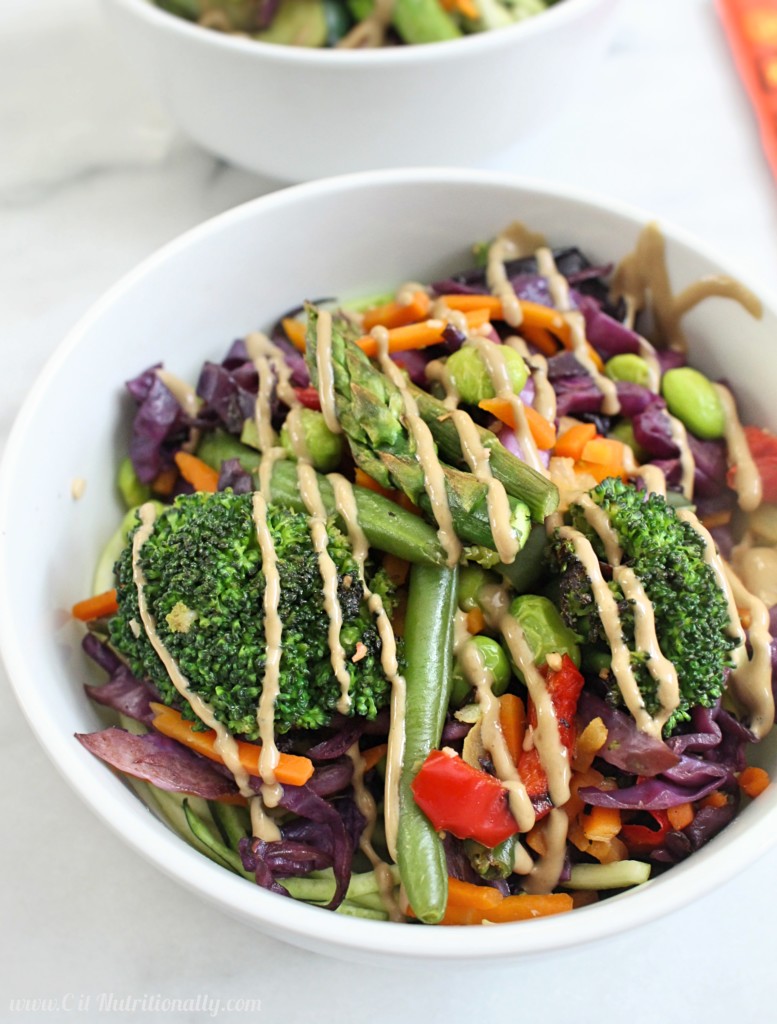 I mean, do you want to start chopping and roasting and prepping when you're HANGRY after work?
Didn't think so.
My other go-to tip? Using frozen veggies! If you don't have time to go food shopping, always keeping frozen veggies in your freezer is a serious game changer. I thaw the frozen veggies in the fridge during the day so they're ready to simply reheat by the time I get home from work.
So how do I jazz up frozen veggies with jazz hands?! Sunflower Seed Butter Sauce! My nut-free "cold noodles," VEGG-I-FIED…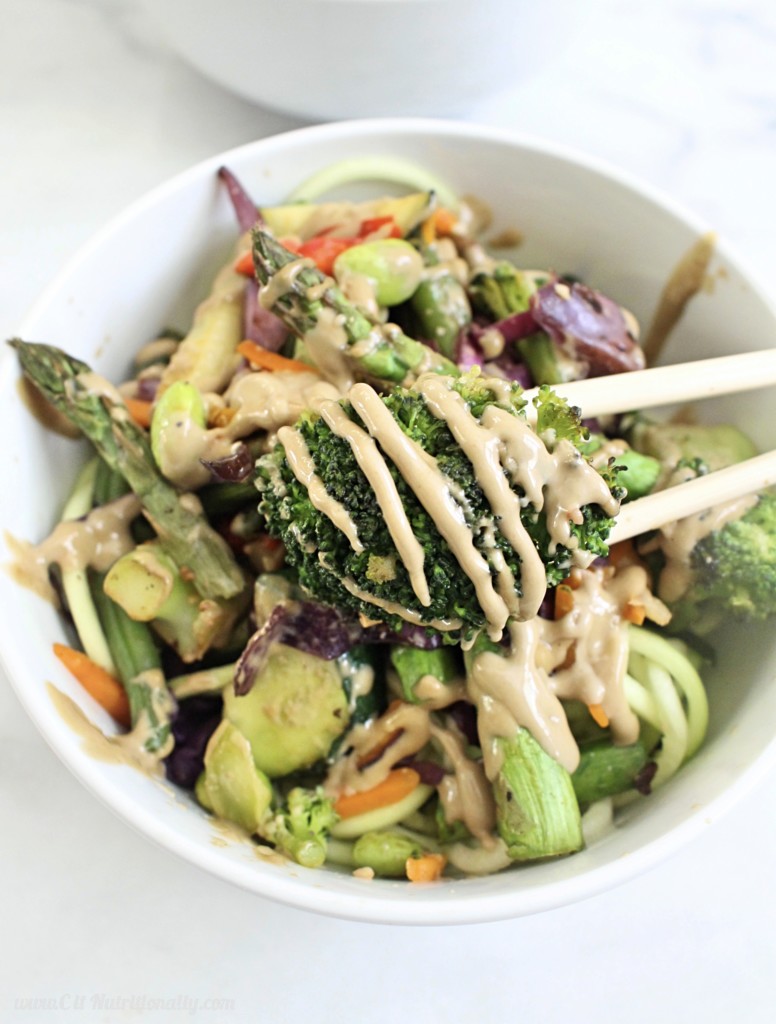 This Sunflower Seed Butter Sauce Veggie Stir Fry is….
A fun way to eat veggies
Creamy
Savory
Free from 7 or the top 8 food allergens (with a top 8 free version!)
100% NUT FREE!
A 30 minute meal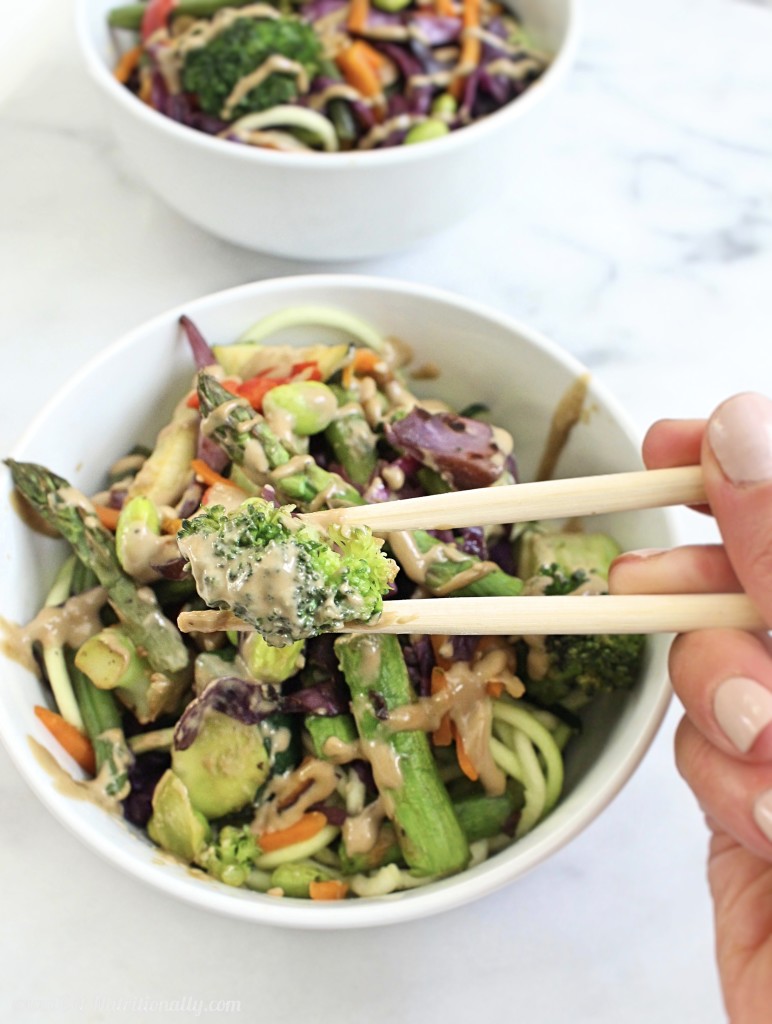 Sunflower Seed Butter Sauce Veggie Stir Fry
Ingredients
1 bag frozen veggies (I used the "Chinese-style stir fry" blend from Cascadian Farm)
1/4 cup + 2 tablespoons sunflower seed butter
1 tablespoon low sodium soy sauce or coconut aminos
Heaping 1/4 teaspoon ground ginger
Heaping 1/4 teaspoon garlic powder
Pinch of red chili flakes
1 teaspoon olive oil (or sesame oil)
1/4 cup + 1 tablespoon warm water to thin (or more, as needed)
Instructions
Defrost bag of frozen veggies; You can either let the bag thaw in the refrigerator or follow the instructions on the bag and microwave to defrost quickly. Alternatively, you can use fresh or leftover lightly cooked veggies sauteed lightly in oil.
To make the sauce, combine the remaining ingredients in a small bowl. Mix to combine, slowly adding additional warm water to thin the sauce to your desired consistency.
Drizzle sauce over the veggies and toss to combine. Enjoy!
http://citnutritionally.com/sunflower-seed-butter-sauce-veggie-stir-fry/
Don't forget to PIN IT…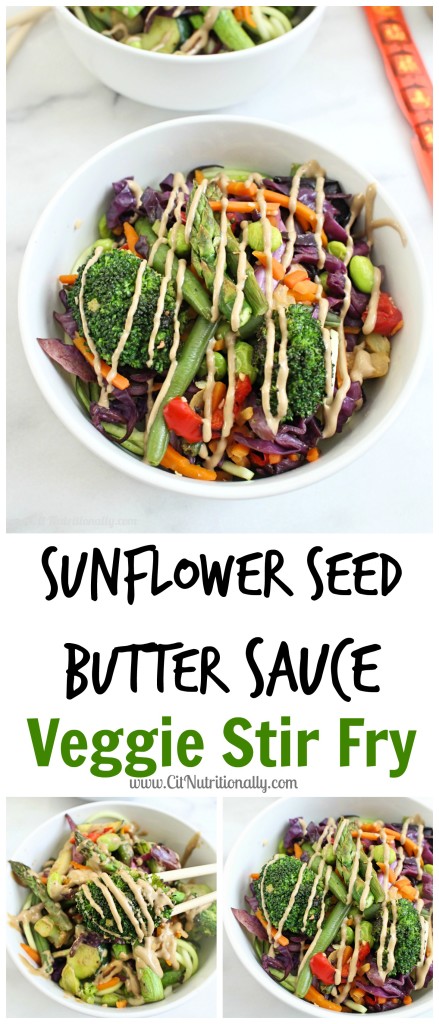 I hope you enjoyed this quickie as much as I did! 😉
Happy Monday!!
XO
If you want to stay connected or you make something from C it Nutritionally I would LOVE to see your creations! Tag me or use the hashtag #CitNutritionally!

Let's get social! 
Facebook: C it Nutritionally
Twitter: @ChelseyAmerRD
Instagram: @CitNutritionally
Pinterest: ChelseyAmer