Fuel a long hike or after-school munchies with this nut-free trail mix, full of sweet and savory flavors and soft and crunchy textures…100% food allergy friendly! But be sure to pre-package individual servings, because I'm warning you, it can be addictive! 
I admit it…I am 100% the type of person who eats all day long. My co-workers think I'm a weirdo and my grad school friends know I'm never in class without a snack. But here's the thing…I don't eat too much at once. I follow a largely vegetarian diet with many plant-based meals, so I tend to fill up on volume (read: veggies), which means I get hungry about every 2-3 hours. Plus, I try to stay pretty active and I'm always walking around the great big city that I live in, so I need to replenish my fuel stores! 
My go-to? Nut-free trail mix! 
Trail mix isn't only great for hitting the trails! It can be a great snack when you're busy running errands or post-insanely great workout, an after-school treat, or even to sprinkle on yogurt for breakfast on the run! Unfortunately, many store-bought trail mixes…
a) Have nuts
b) Are loaded with excess salt and sugar
c) Make my grocery bill skyrocket
Fortunately, I've created a nutritionally-balanced mix of seeds, dried fruit, and chocolate (oooh yes, chocolate!) with spicy and sweet flavors to appeal to the masses. You need to whip up a batch of this nut-free trail mix pronto!
When looking for a trail mix to sustain energy levels, make sure it contains protein, fiber, and some healthy fats. The seeds here provide both protein and healthy fats, the dark chocolate is a good source of healthy fats, and the dried fruit is your healthy dose of fiber. Plus, using chili-rubbed pepitas boosts your metabolism from the capsaicin!
Whether you're in the mood for something savory or sweet, you can find it here! 
Originally I thought this "recipe" was just too easy to post, but when I saw an article, "The Breakfasts Food Bloggers Eat But Are Too Simple For Their Blogs," I figured sometimes simplicity is underrated. Like now. 
It's summer, you're working hard for that beach bod, and need a snack to get you through the day. 
Plus, it's free of all major allergens and since May was food allergy awareness month (I know, I know it's June now!), it's the perfect time to share it! 
This nut-free trail mix may seem like it involves more work because you have to first make the chili-rubbed pepitas, but it takes minimal time and the recipe is extremely similar to my seed crackers, which means it's oil-free (#winning)!
You're going to combine raw pepitas (I use Trader Joe's), chia seeds (helps everything stick together), and spices with some water. Yes, water! You will be forming a paste-like mixture…weird, I know. The final recipe only calls for 2 tablespoons of water because I would rather you have to add more water than add too much at first. We do NOT want this mixture to be soggy!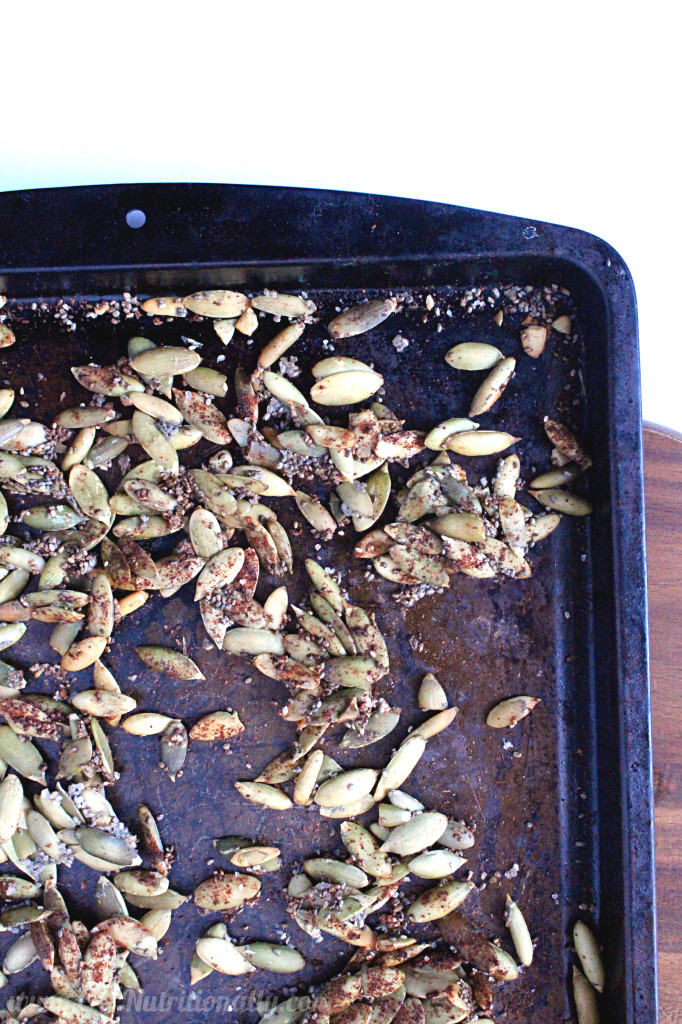 Then you will spread the seed mixture out on a baking sheet, and feel free to add more chili powder or even dried cayenne pepper. And simply bake! Keep an eye on them to be sure your seeds do not burn!
Once cooled, you'll combine the chili-rubbed pepitas with sunflower seeds, dried fruit (pick your favorites!), and chocolate chips. If you want, improvise with unsweetened shredded coconut, maybe a few white chocolate chips, hemp seeds, or even granola if you have some lying around. Anything that you enjoy can be thrown in here!
Now get noshin'…
The Best 5-Ingredient Nut-Free Trail Mix
Recipe Type
:
Snack, Nut-free, gluten free, vegan, dairy free
Author:
Prep time:
Cook time:
Total time:
Fuel a long hike or after-school munchies with this nut-free trail mix, full of sweet and savory flavors and soft and crunchy textures…100% food allergy friendly! But be sure to pre-package individual servings, because I'm warning you, it can be addictive!  Vegan. Gluten free. Dairy free. Nut free. Vegetarian. Paleo.
Ingredients
Trail mix:
1 cup raw and unsalted sunflower seeds
1 cup chili-rubbed roasted pepitas (see below)
¼ cup golden raisins
¼ cup unsweeteened, dried cherries
¼ cup dark chocolate chips (I used Enjoy Life)
Chili-Rubbed Roasted Pepitas:
1 cup raw pepitas (pumpkin seeds)
¼ cup chia seeds
2 tablespoons water
1 teaspoon chili powder
Dash sea salt or himalayan pink salt
Dash of black or white pepper
Pinch of garlic powder
Instructions
For the chili-rubbed roasted pepitas:
Preheat oven to 325ºF.
In a small bowl, combine raw pepitas, chia seeds, chili powder, salt, pepper, and garlic powder. Add water so mixture is damp, but not soaked.
Evenly distribute seed mixture on a baking sheet in a thin layer.
Bake for 10 minutes, just until the color begins to darken. Remove from oven and flip seeds, then bake for another 5-7 minutes. Be sure not to overcook the seeds! Remove from the oven and allow to cool on the baking sheet.
For the trail mix:
In an air-tight container or glass jar, combine all ingredients, shake, and store in a cool and dry place.

Are you a snacker? What's your favorite on-the-go snack? 
Happy #MeatlessMonday!
XO
Here's my meat-free menu for today: 
Breakfast: Allergy-friendly Green Monster Smoothie (need to reboot post-wedding last night!)
Lunch: Italian Quinoa Salad (so quick and easy!)
Snack: Duh, see above!
Dinner: These Beet Burgers from Green with Renvy
Dessert: Dark Chocolate Raspberry Hemp Truffles via The Foodie Dietitian