Protein-packed Tofu and Spinach Enchiladas are the perfect Meatless Monday meal to satisfy rowdy football fans, a comforting weekend meal for a large family dinner, and a great make-ahead meal to heat up on a busy weeknight. Fire up your oven for this figure-friendly, flavor bomb…Mexican style!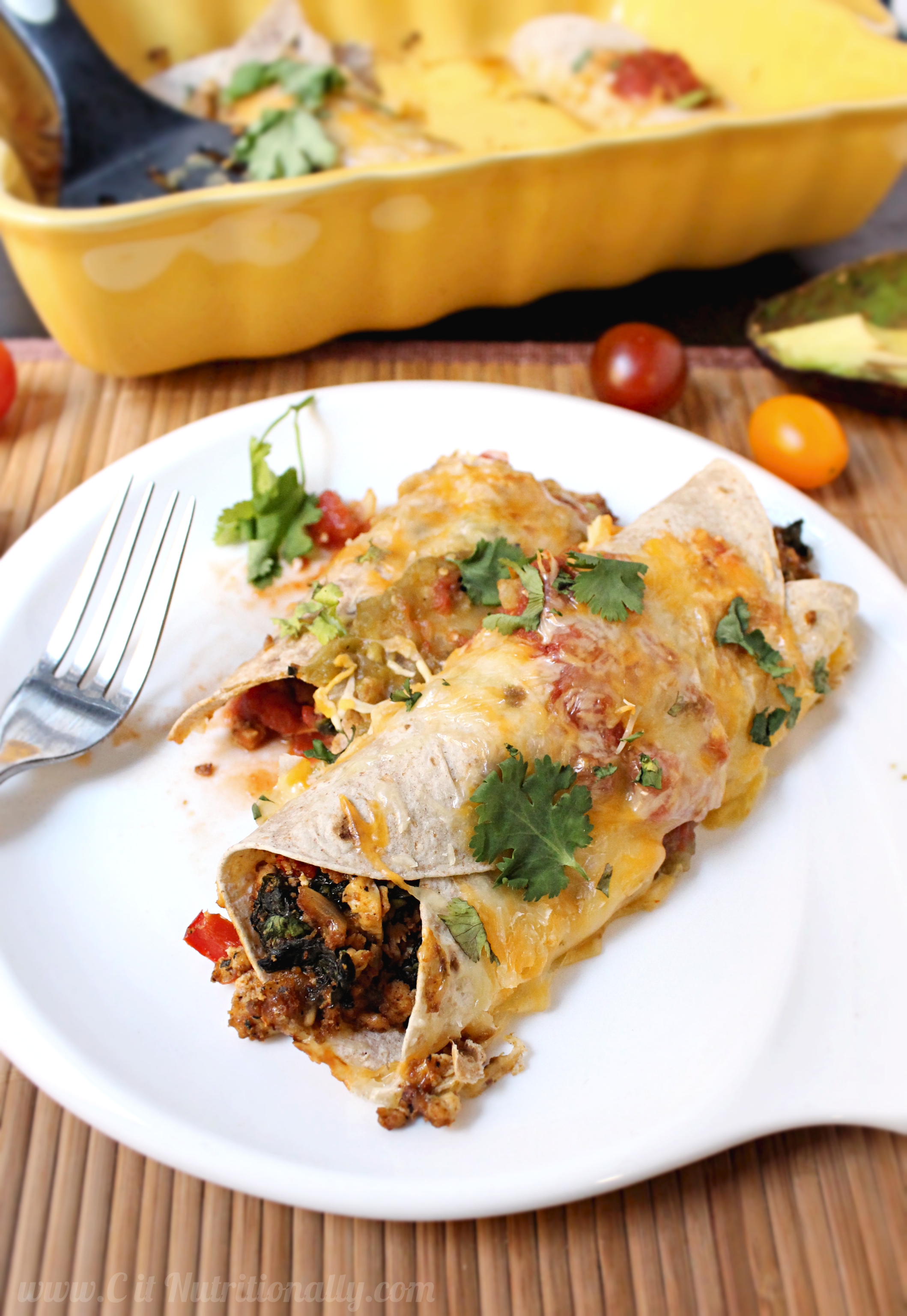 It's the most wonderful timeeeee of the…month! It's #TheRecipeRedux time! Here's how it works: Every month there's a theme and group of health-minded bloggers share recipes reflecting that theme. This month's theme is…Grab a Book & Cook!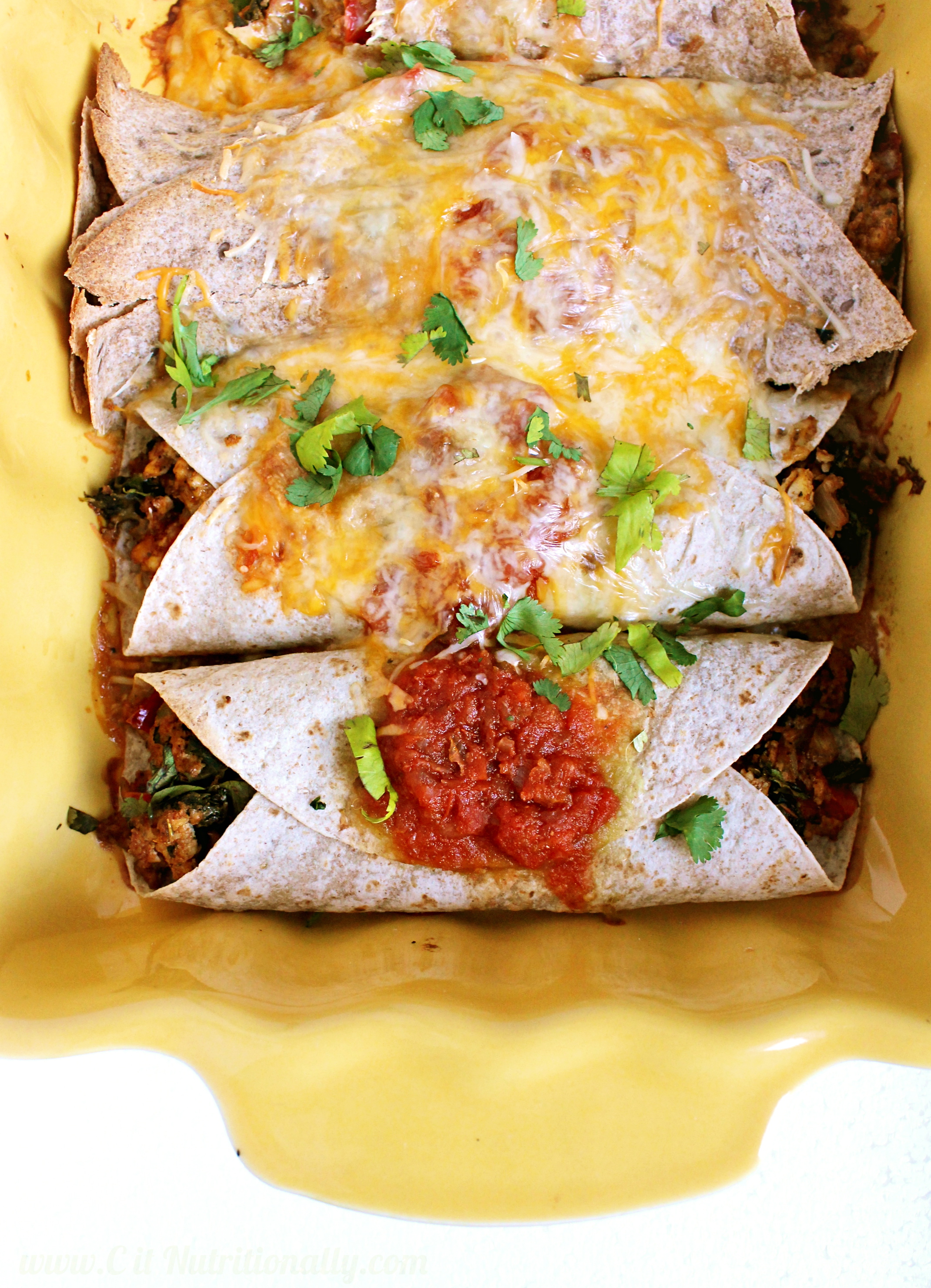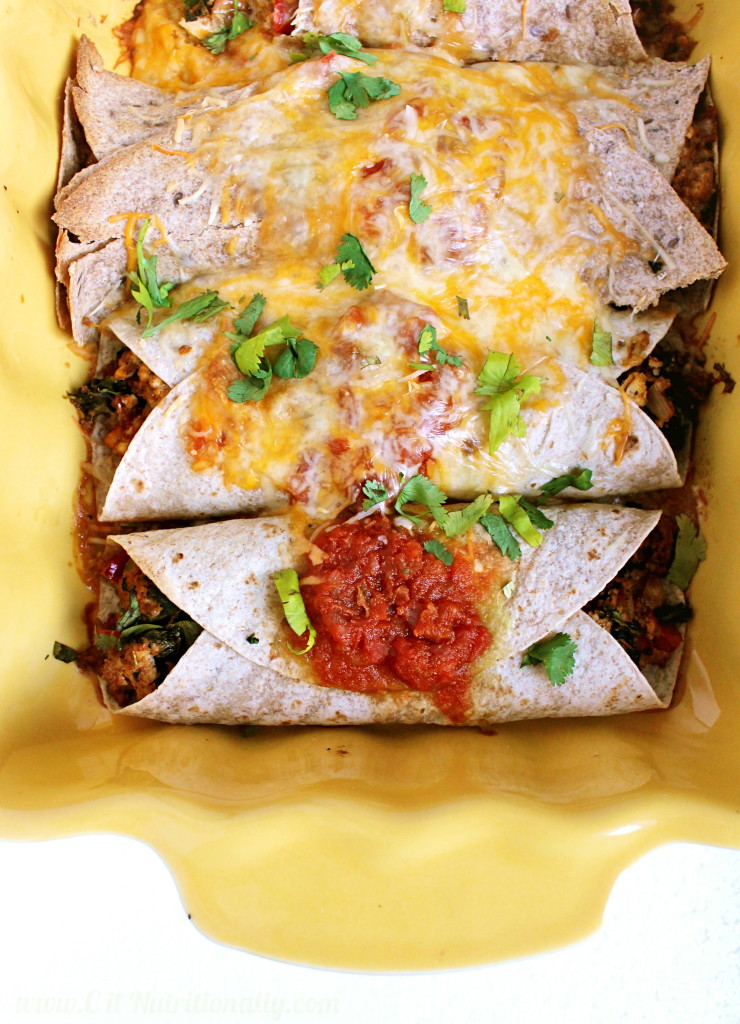 "It's the end of the year and we're taking a moment to reflect – The Recipe ReDux has been around for 54 months! To celebrate, we're playing a little party game this month:
Grab your nearest cookbook and ReDux the recipe on page 54 or 154."
It's my first December participating in The Redux, but apparently this was the theme last December and I think it sounds like so much fun…I can't wait to see what everyone comes up with!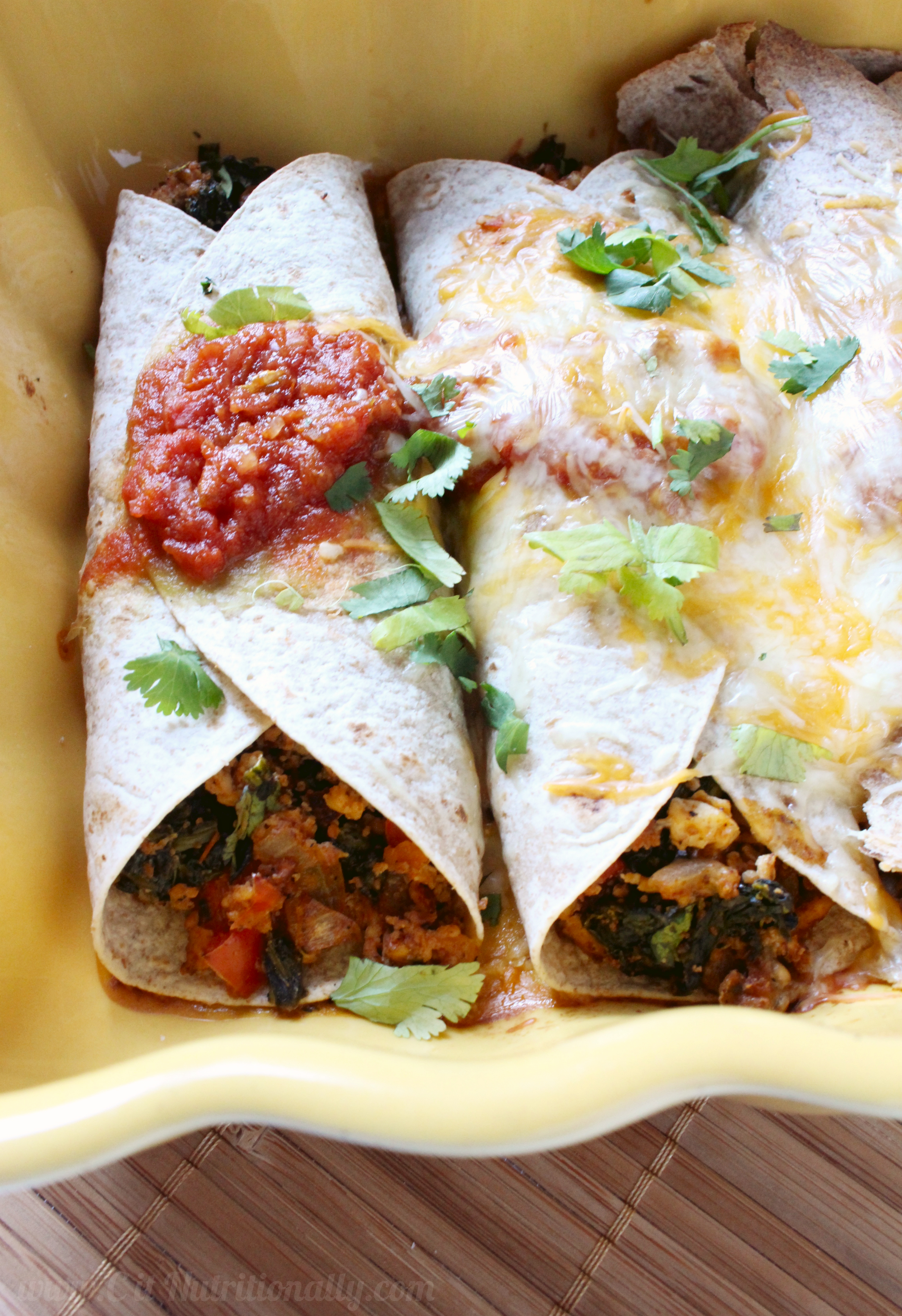 But I have to be honest…I don't cook from cookbooks too much (womp womp). Between creating original recipes, trying out fellow bloggers' recipes, and just trying to feed myself between my crazy dietetic intern schedule, my cookbooks may have a layer of dust on them.
Nevertheless, I reached for one of my favorite cookbooks, appropriately titled, VEGETABLES. It's the Williams-Sonoma veggie-rific cookbook that constantly inspires me. If you like my adaptation, you'll looove this book…and can buy your copy here!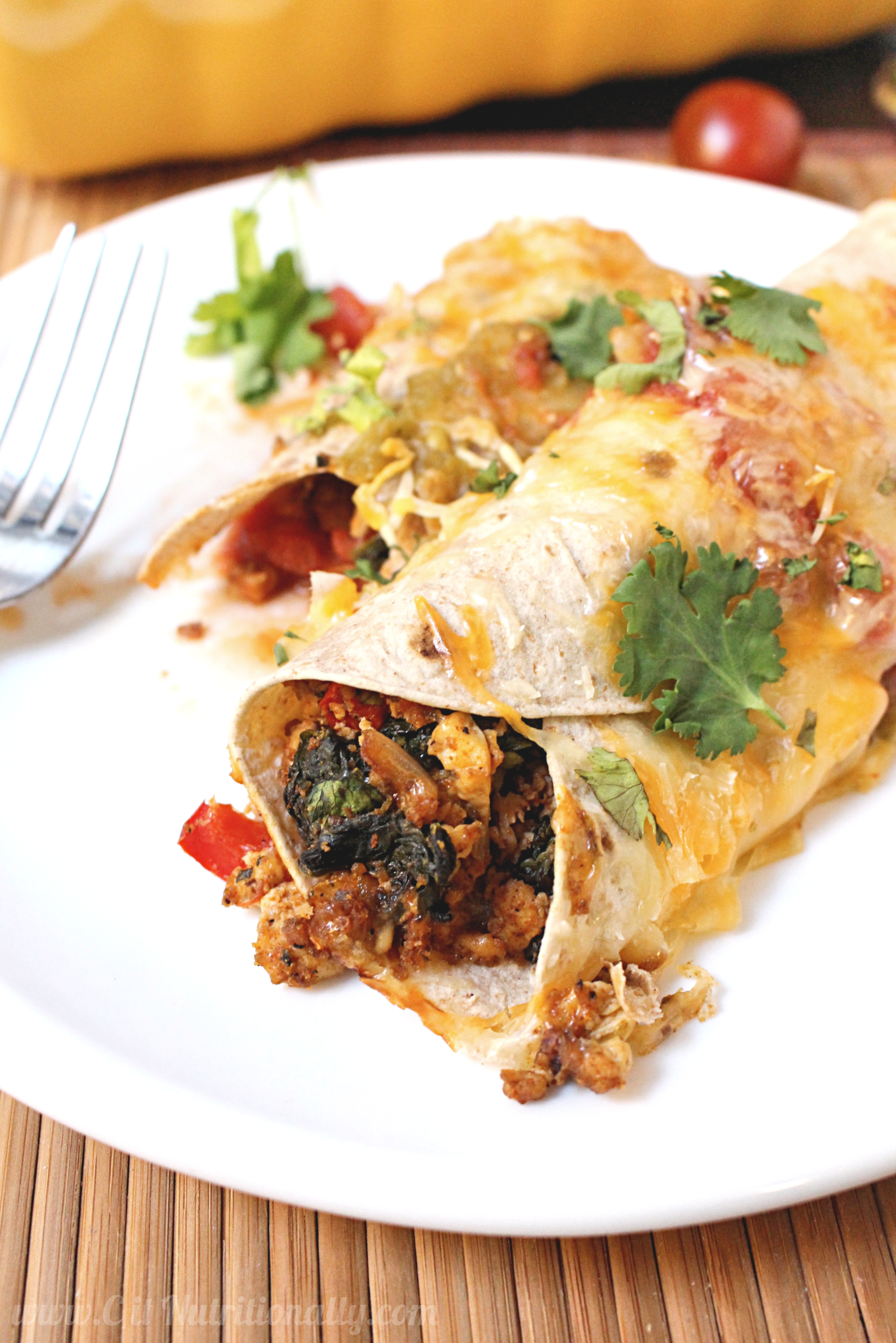 The cookbook focuses on seasonal veggies, with a new recipe for every single day of the year! Page 54 took me to February 25, which I thought was appropriate, as it is winter (although this year's temperatures may be trying to tell us somethin'!). And the recipe…Spinach and Black Bean Enchiladas!
Can you say YUM-O?!
Even though I didn't have to check page 154, because, well, ENCHILADAS, in case your curiosity is now peaked, I found myself in July and it was a tomato, zucchini and goat cheese tart (that I've actually made before and it was deeeelish!). Perhaps I'll share my take on that one this summer, or a winterized version when winter actually decides to arrive. But for now…ENCHILADAS!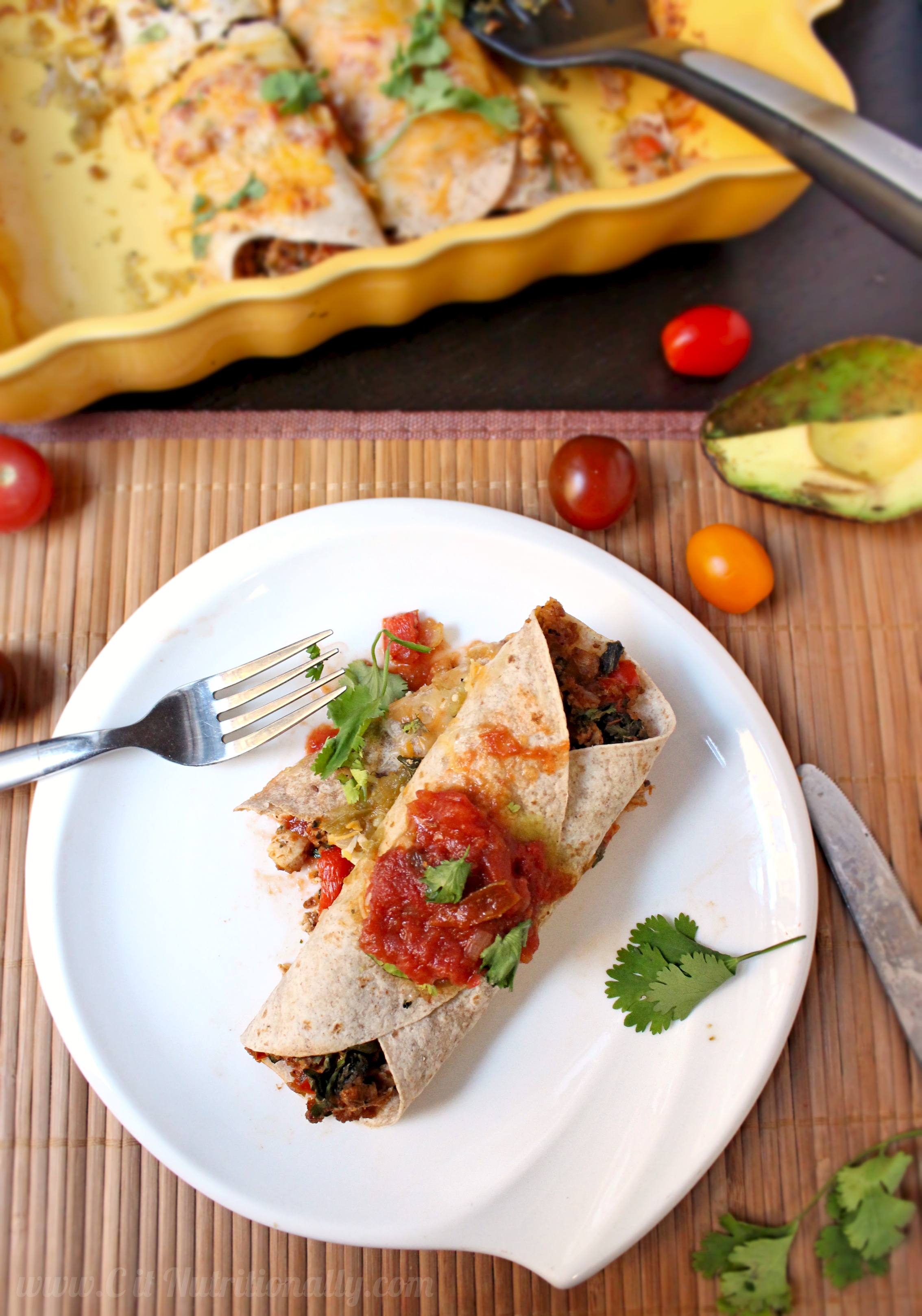 I've never made enchiladas before, even though Mexican food is one of my absolute FAVORITES! Fajitas, tacos, bean burgers, guacamole – I can nom it all day, everrrryday, 24/7!
So I googled, "enchiladas…"
"An enchilada is a corn tortilla rolled around a filling and covered with a chili pepper sauce. Enchiladas can be filled with a variety of ingredients, including meat, cheese, beans, potatoes, vegetables, seafood or combinations."
-Wikipedia
And I decided to "make it my own!"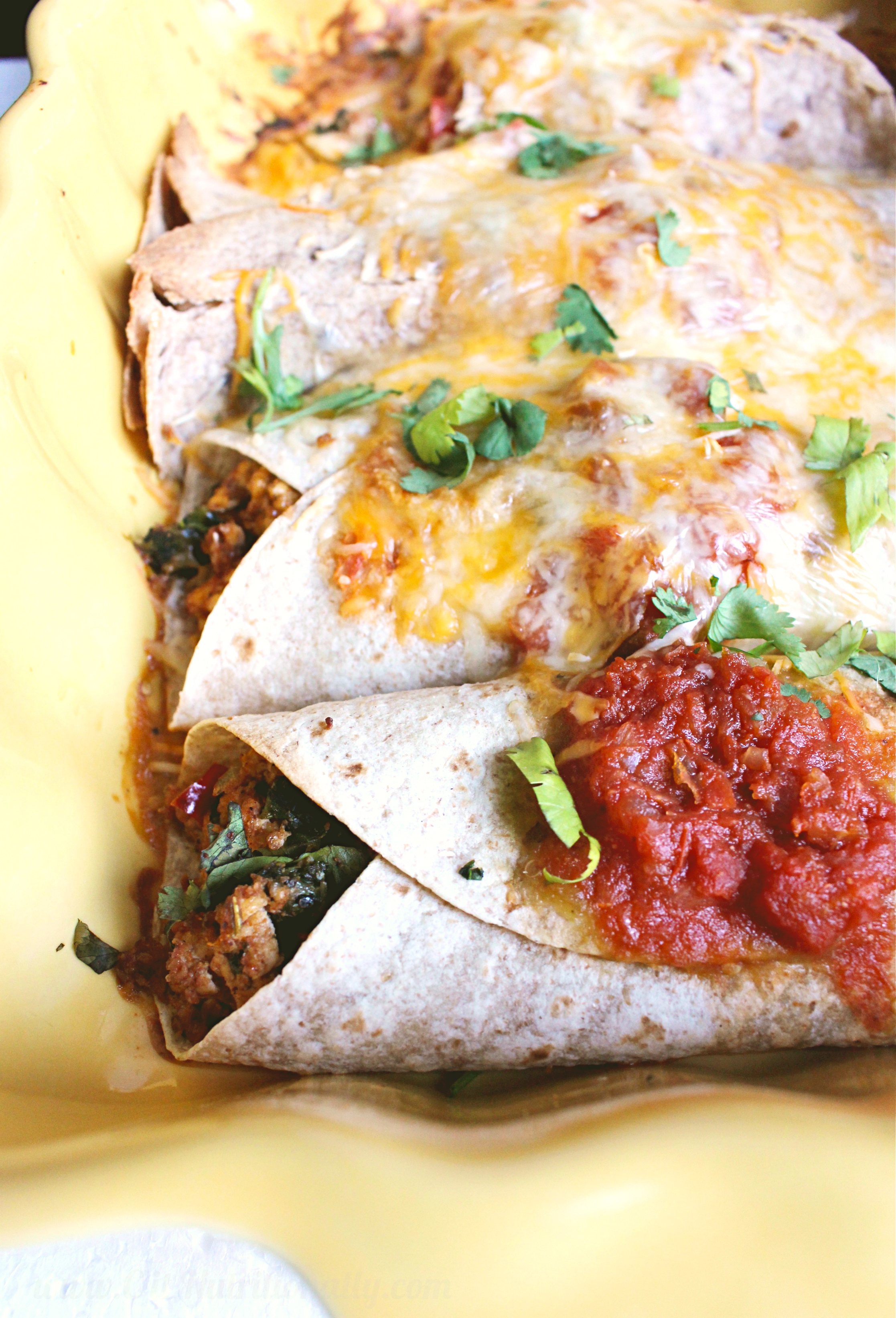 I stepped things up a notch with my vegetarian tofu and spinach enchilada recipe. Here's how I changed it from the original:
I made a TOFU taco "meat" that I used as the filling instead of black beans. Taste testers LOVED it!
I used high fiber 100% whole wheat flour tortillas instead of the traditional corn tortillas (or refined white flour tortillas that the recipe called for). These are my favorite and now TJ's makes a very similar version. Tortillas can often be a calorie bomb, but read the stats and look for less than 150 calories, at least 4 grams fiber and about 4 grams of protein in there too…and 100% whole wheat flour as one of 1st ingredients!!
I skipped the make-your-own tomatillo sauce the recipe called for and used a store-bought salsa verde instead. Sometimes shortcuts are necessary!
I cut the amount of cheese in half to slash fat…and made half of this batch with no cheese at all for the cheese-hater in my life (and this made 'em vegan!).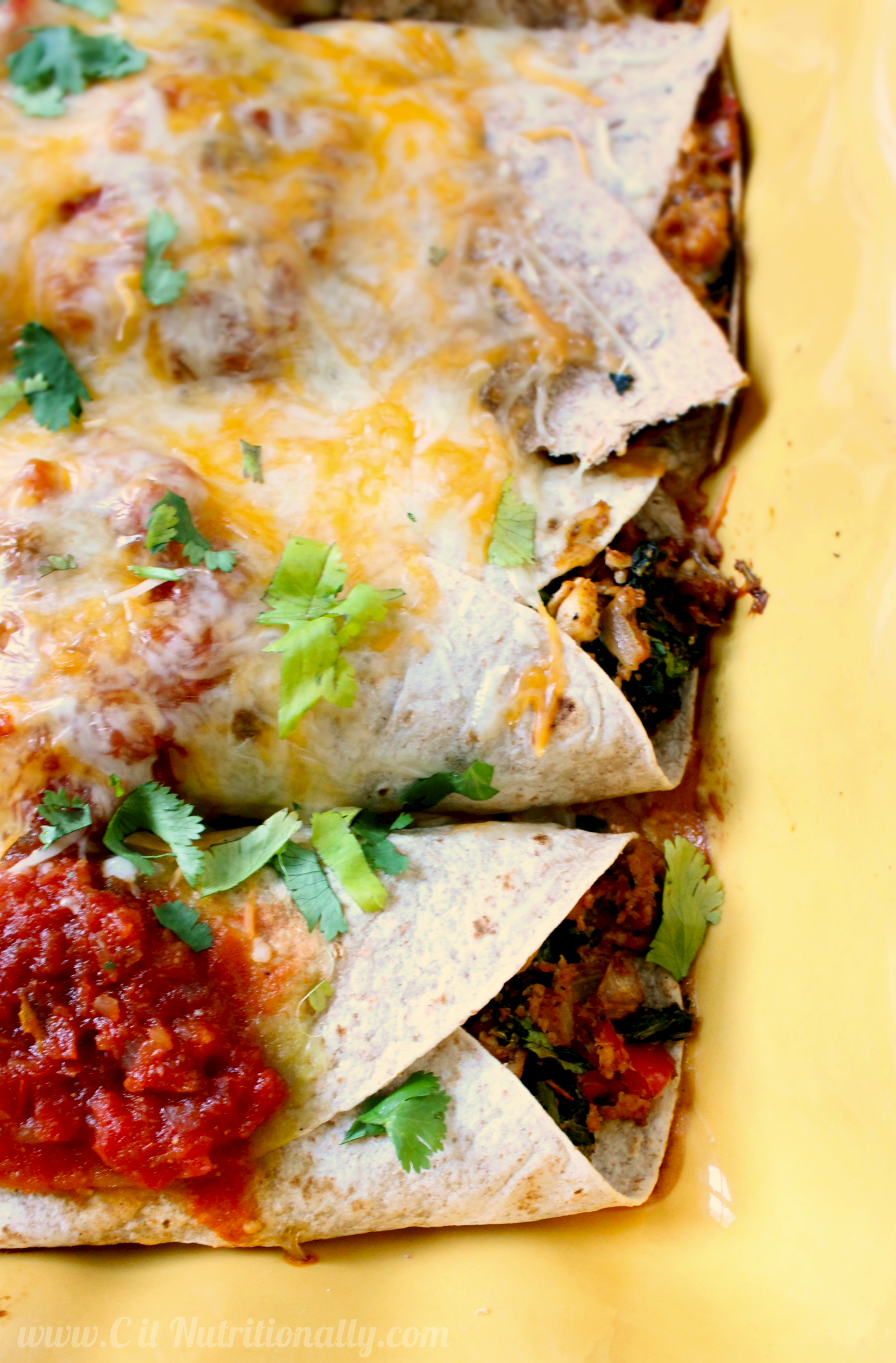 Here's how I made my new favorite Mexi-licious tofu and spinach enchiladas…
First, you make the tofu taco "meat." Sauté garlic, onions, and peppers with classic Mexican spices. Then add crumbled tofu and some salsa, plus cilantro and spinach. Continue cooking over high heat to allow the mixture to gently brown.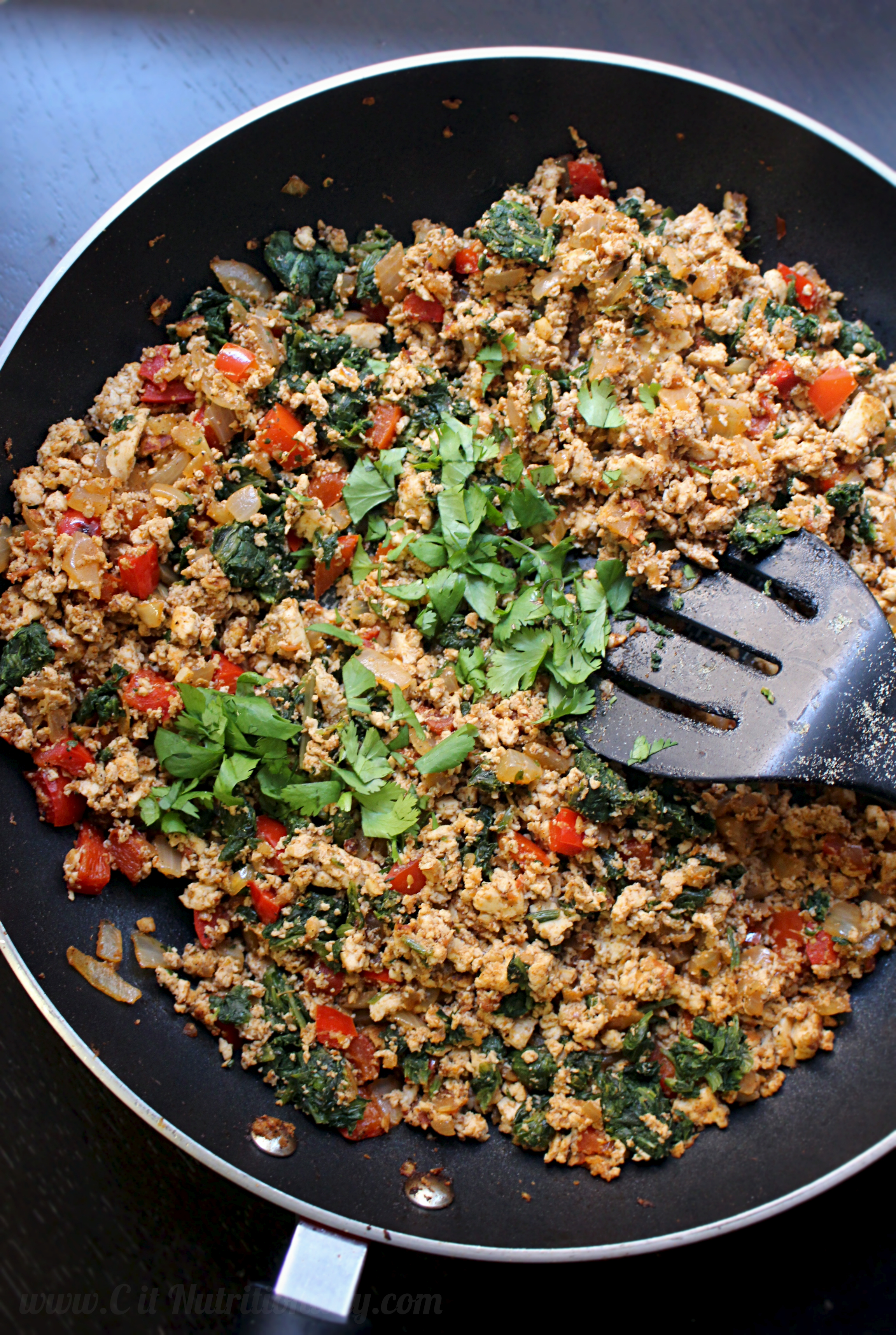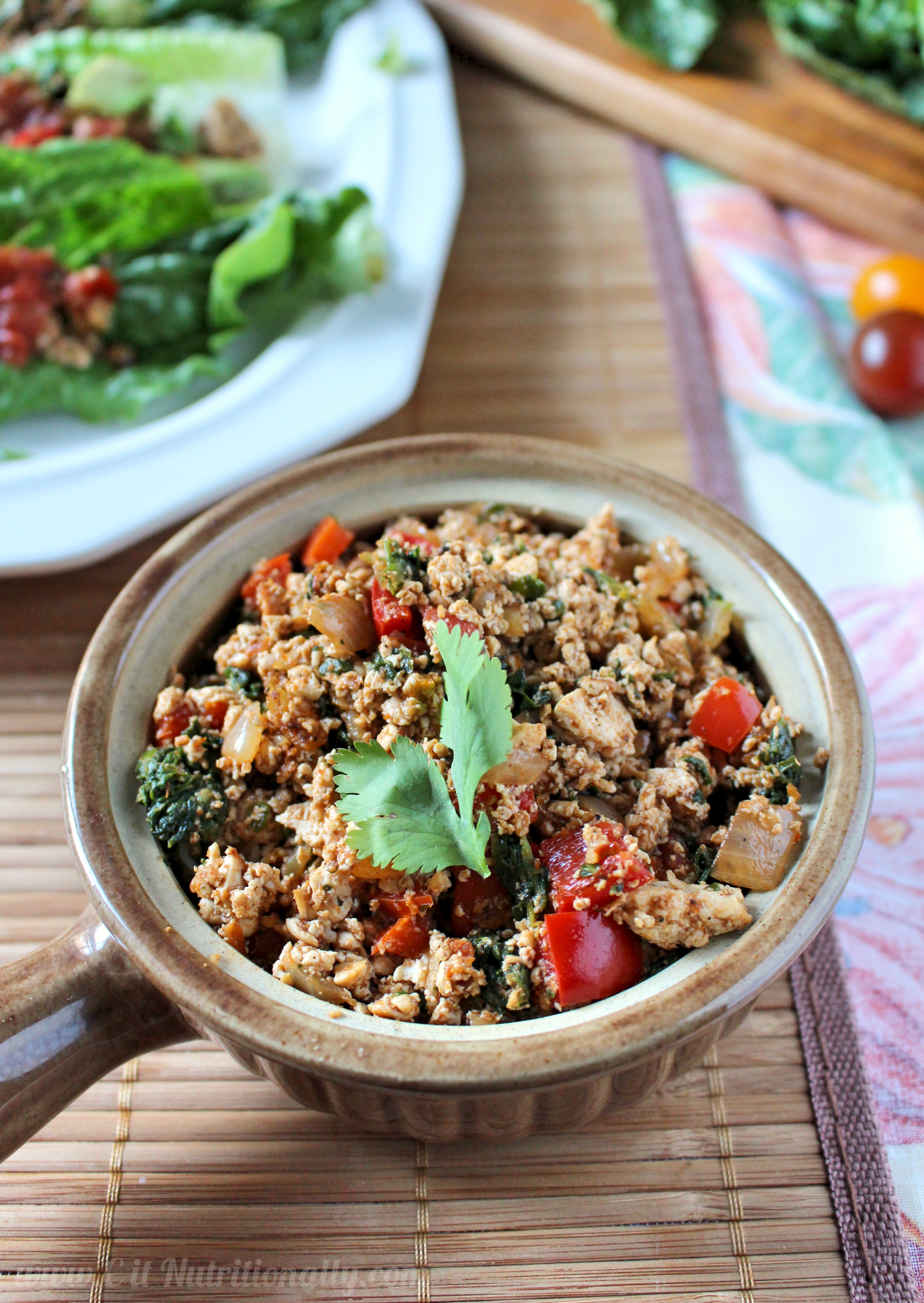 Remove the taco "meat" from the heat, and add cheese, if desired. Then you assemble the enchiladas. Put some filling in the middle of the tortilla and roll it up like a burrito.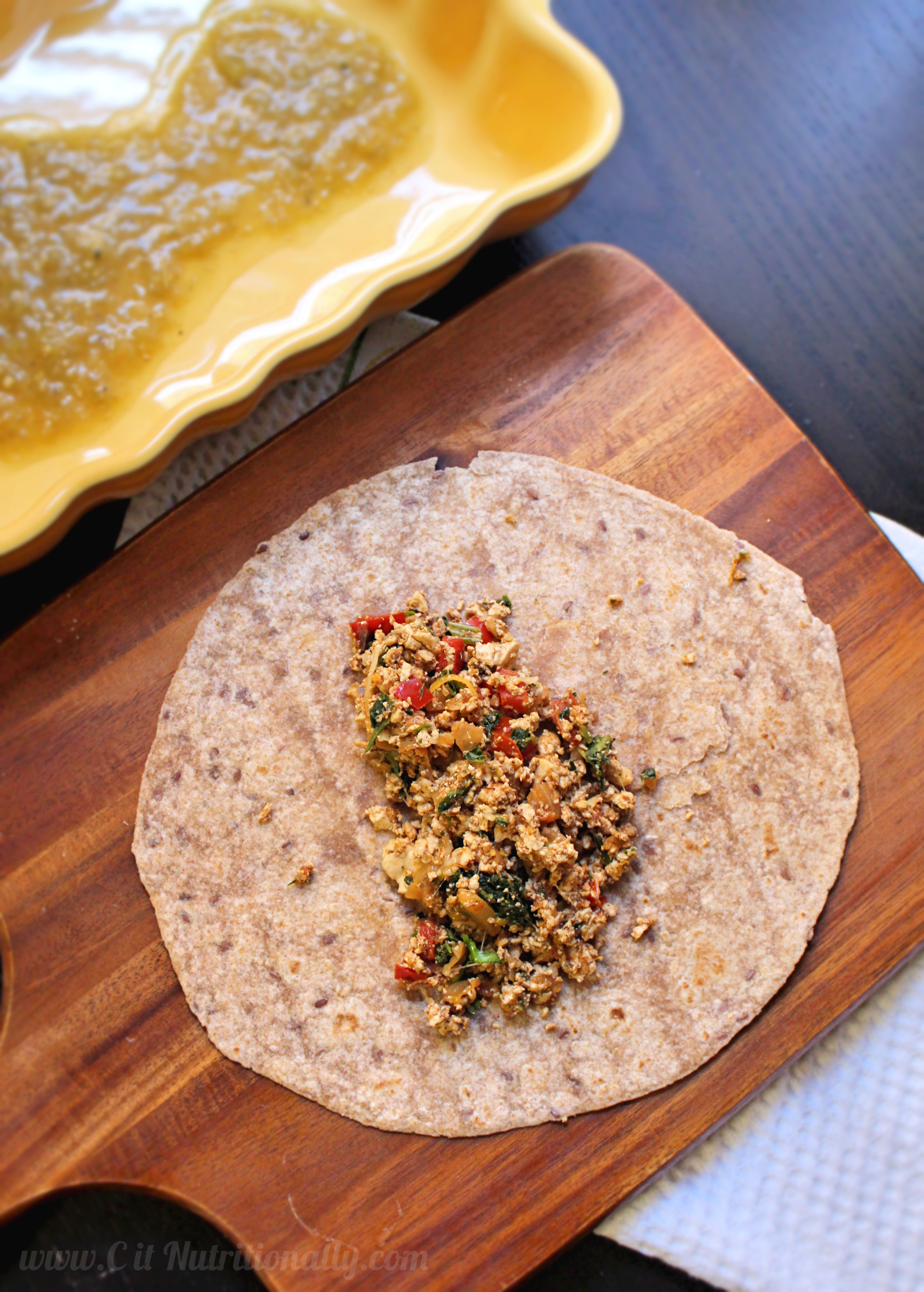 I used a toothpick to hold them in place. Repeat as many times as will fit into your casserole dish, typically 6 tortillas worth. Then I poured some additional salsa verde and red salsa on top, added more cheese and baked for just 20 minutes.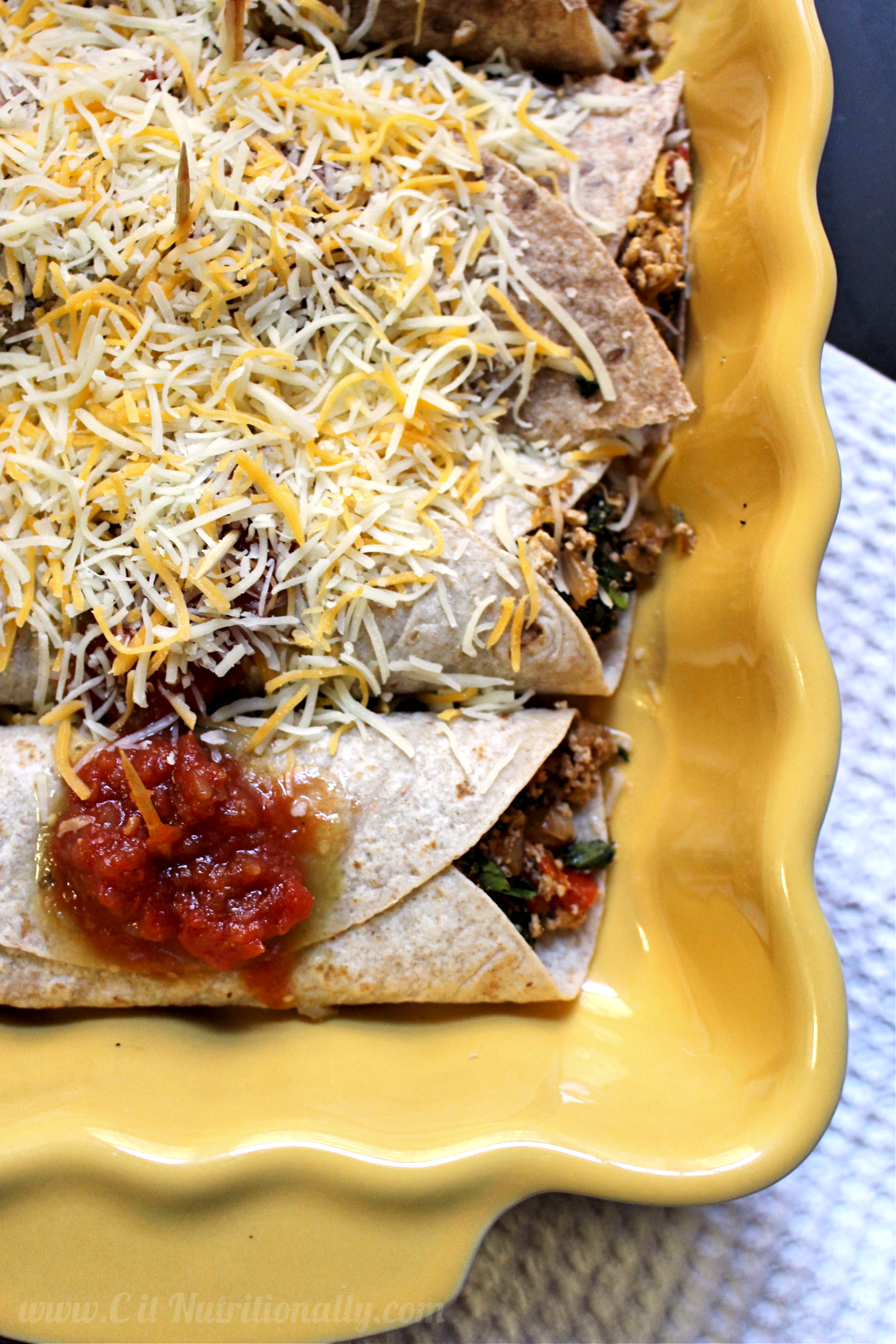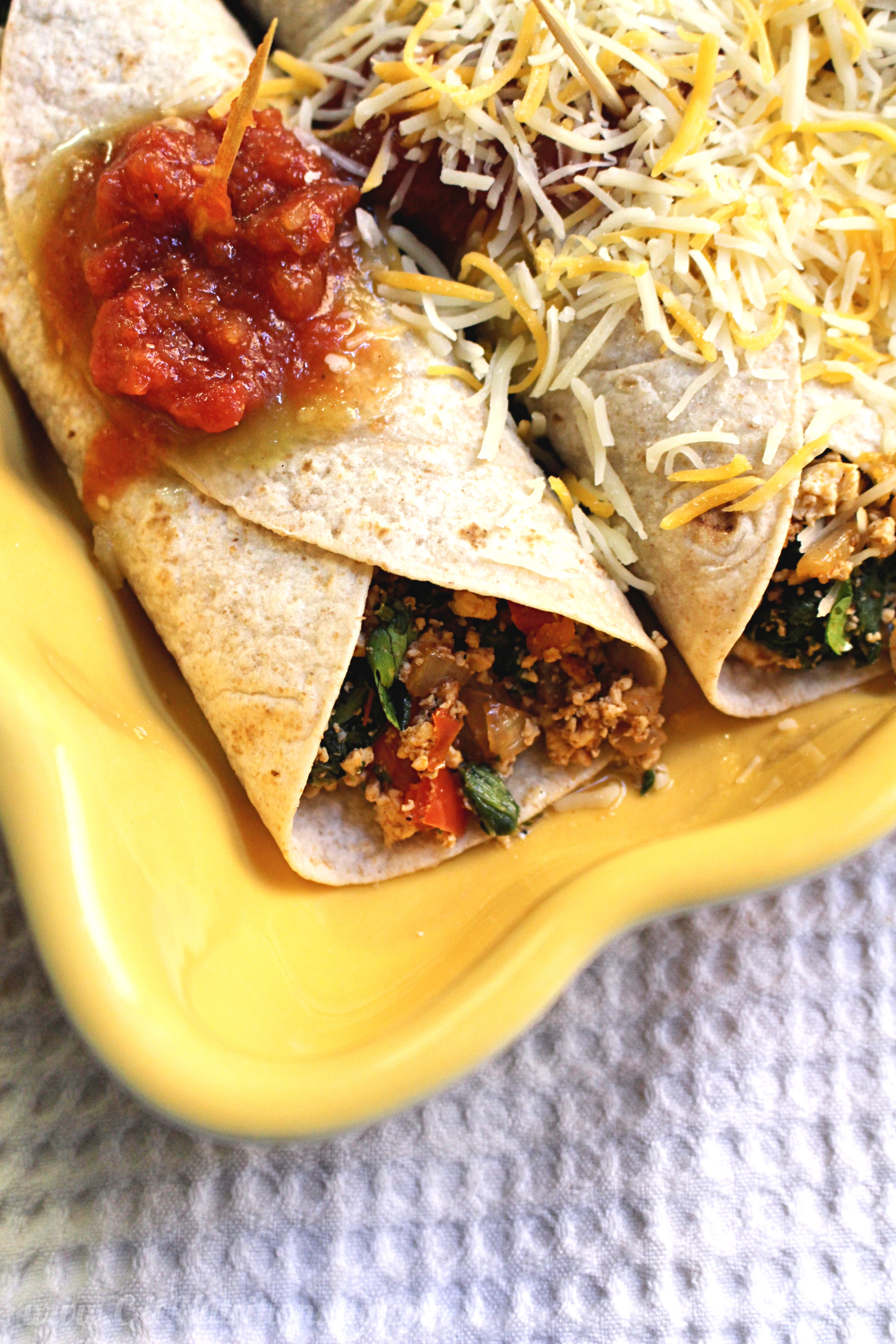 I mean helllllzzz yeaaaass!
If you've never made enchiladas, you neeeeed to start! The recipe list may seem longer than usual, but my Tofu and Spinach Enchiladas only take a few more steps than a stir fry and are soooo worth it!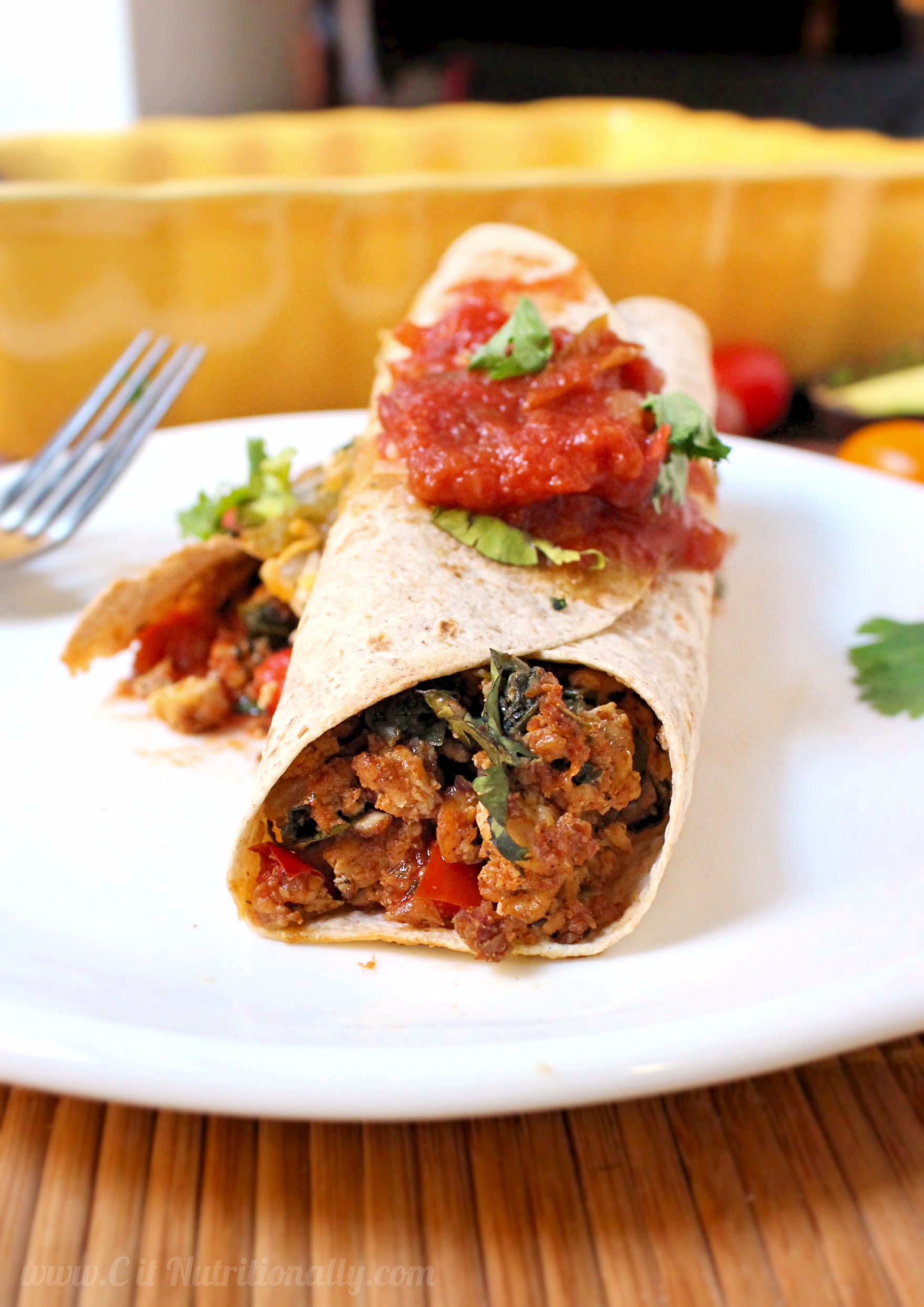 Tofu and Spinach Enchiladas
Recipe Type
:
vegetarian, dinner, meat-free
Cuisine:
Mexican, Mexican-American
Author:
Prep time:
Cook time:
Total time:
Protein-packed, Tofu and Spinach Enchiladas are the perfect Meatless Monday meal to satisfy rowdy football fans, a satisfying weekend meal for a large family dinner, and a great make-ahead meal to heat up on a busy weeknight. Fire up your oven for this figure-friendly, flavorful meal!
Ingredients
For the taco meat:
1 tablespoon olive oil
1 garlic clove, finely minced
1 cup yellow onion, chopped
¾ cup bell pepper, chopped
1 tablespoon cumin
1 tablespoon chili powder
½ teaspoon black pepper
½ teaspoon garlic powder
½ teaspoon onion powder
1 20 oz package firm or extra-firm tofu, water squeezed out (really well!)
¼ cup salsa (jarred with no added sugar or homemade)
4 cups raw spinach (or 2 cups frozen spinach, thawed, with excess water squeezed out)
3 tablespoons cilantro, more for garnish
For the enchiladas:
½ cup salsa verde or regular salsa (jarred or homemade)
½ cup reduced fat Mexican blend cheese (or Monterey jack), divided
4-6 high fiber, whole wheat tortillas
Tofu taco "meat" (above)
Instructions
For the tofu taco meat:
Over medium-high heat, sauté oil, garlic, and onions in a large skillet. Once fragrant, add bell pepper and spices, and continue to sauté until vegetables are soft.
Crumble tofu into the skillet, add salsa, and cook until gently browned, stirring occasionally for about 10 minutes. Add the spinach and allow to wilt. You may want to cook the tofu taco meat over high heat to get the edges to brown. Taste, and adjust spices as desired (I liked to add red chili flakes for more heat!).
Remove from heat and add cilantro.
For the enchiladas:
Preheat oven to 350°F.
To assemble enchiladas, evenly spread ¼ cup salsa verde onto the bottom of a 9 x 13 inch pan. Set aside.
In a medium bowl, combine your tofu taco "meat" with half of the cheese (if desired). A vegan, cheese-free version is just as delicious, so feel free to omit the cheese!
To assemble enchiladas, place about ½ cup of taco meat in the center of each tortilla. Roll up like a burrito and place seam-side down in the pan. You may hold your tortillas together with toothpicks, if needed.
Top the tortillas with another ¼-½ cup salsa verde or regular salsa and top with the remaining cheese, if desired.
Cover the dish with tin foil and bake for 20 minutes. Uncover the dish and broil for 3-5 minutes, until cheese is fully melted. Garnish with additional cilantro and serve immediately!
Recipe was heavily adapted from Williams-Sonoma's "Vegetable of the Day" cookbook, by Kate McMillan.
The recipe is definitely not as hard as it looks! Plus, you'll have enough tofu taco "meat" to hold you over for another winner, winner, non-chicken dinner!

Now check out the other deeeelish cookbook recipe adaptations below…and tell me, are you an avid cookbook user? 
XO