Smoky, salty, and SATISFYING! Get all the flavor of a BLT with an extra serving of vegetables in these Vegan BLT Quinoa Bowls, complete with a tangy yogurt dressing, for a plant protein power bowl for the books…or this month's Recipe Redux!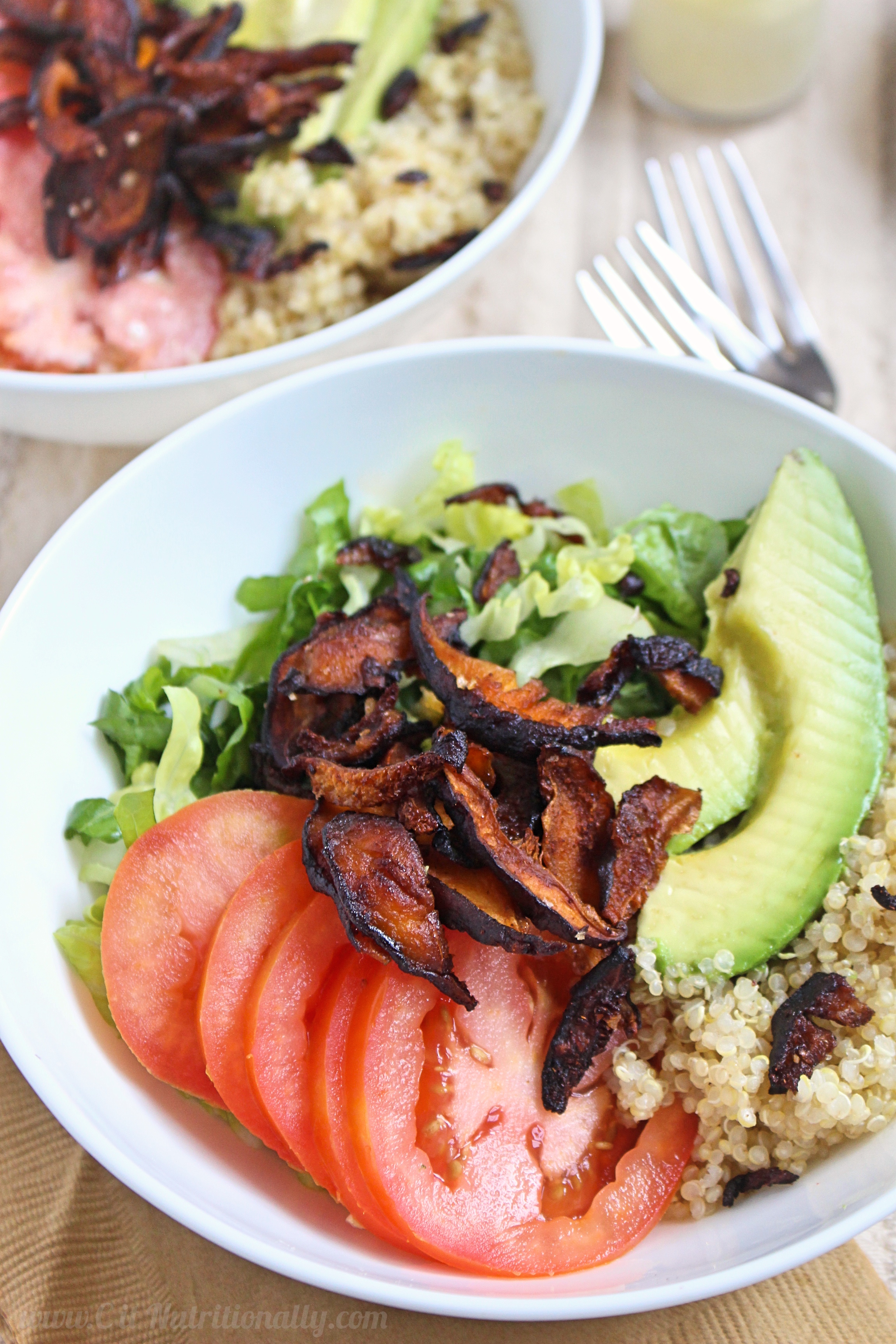 Lately I've been feeling more inspired than ever by the incredible Recipe Redux community! There can be such a competitive nature to social media, blogging, and even amongst RDs in the field, but the Redux community is so collaborative, uplifting, and genuine, and it's really an honor to be a part of such a great group of health-minded people! But enough of the sappy chitter chatter because I am SO excited about this month's theme…
Plant protein power bowls…Packed with protein and fiber and color, plant power bowls are trendy and delicious. Show us what's in your bowl!
When I saw this month's Recipe Redux theme, I felt like this! There's not much more I'm loving lately than 1) the plant protein craze (YES, PLANTS have PROTEIN!!) and 2) BOWLS. Whoever decided that it's trendy to eat delicious food out of a bowl ((because plates are so blase)), bravo to you! For some reason, stuffing the same ingredients into a bowl is way more fun than eating 'em off of a plate! AmIright?!
Remember this Quinoa, Lentil & Butternut Squash Bowl? Like booooring on a plate!
Or this Deconstructed Sushi Bowl? Because it's obvs way more fun than traditional sushi! 
Or this Roasted Greek Salad Bowl? Because I think salads only belong in bowls!
And how could I forget the classic smoothie bowl?! Because #smoothiebowl!
Well I have a new bowl for ya…Vegan BLT Quinoa Bowls…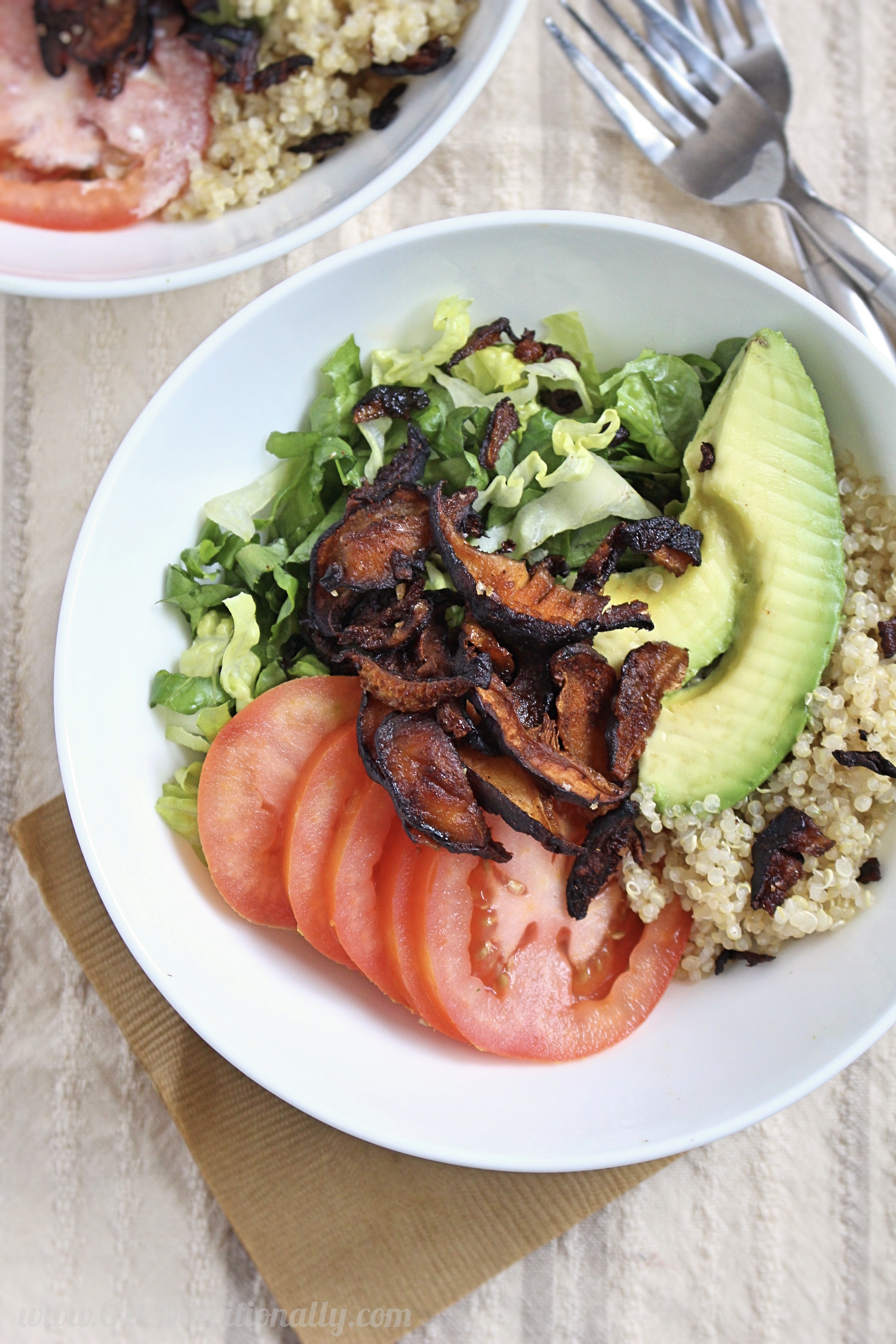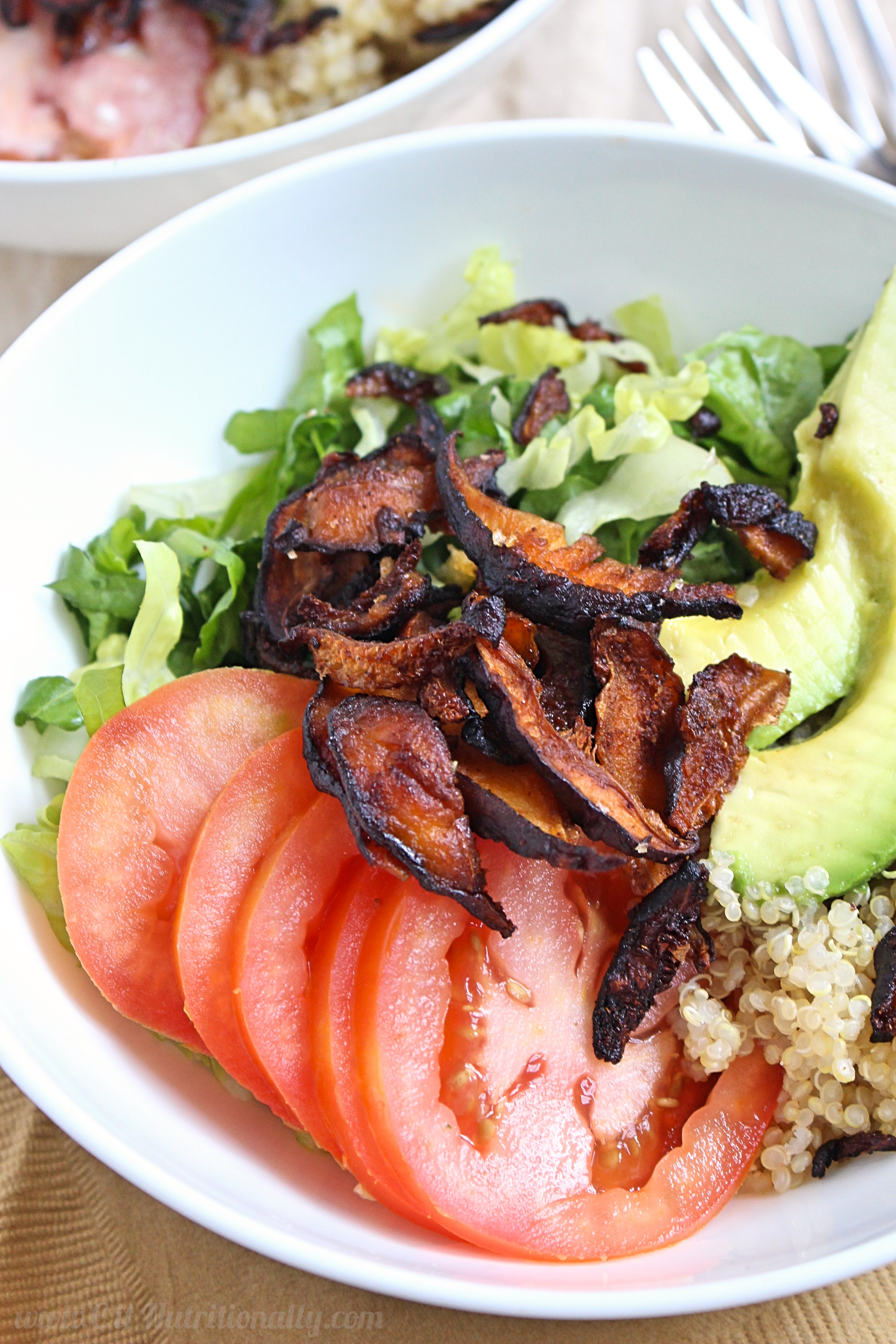 YUP! That's VEGAN BACON. And YES, it tastes like REAL bacon…but it's WAY better for your heart (and even just as good for your souuulllll!!)
I learned how to make this shiitake bacon during my internship at the Natural Gourmet Institute and it will NOT disappoint! S, who is definitely a meat eater, LOVES it and swears it tastes JUST like bacon! In case you're wondering, per serving, this shiitake bacon contains 75 calories, 7g fat, 144mg sodium, 1g protein. Compared to 3 itty bitty strips of regular bacon that clock in at over 100 calories, 11g fat, nearly 600mg sodium, and 9g protein.
Now, I'm not hating on bacon — there's a time and a place for EVERYTHING — but if you're concerned about heart health, maybe this shiitake bacon swapped out for your regular bacon ((more often than not)) would do your ticker some good?! I'mjustsayin'!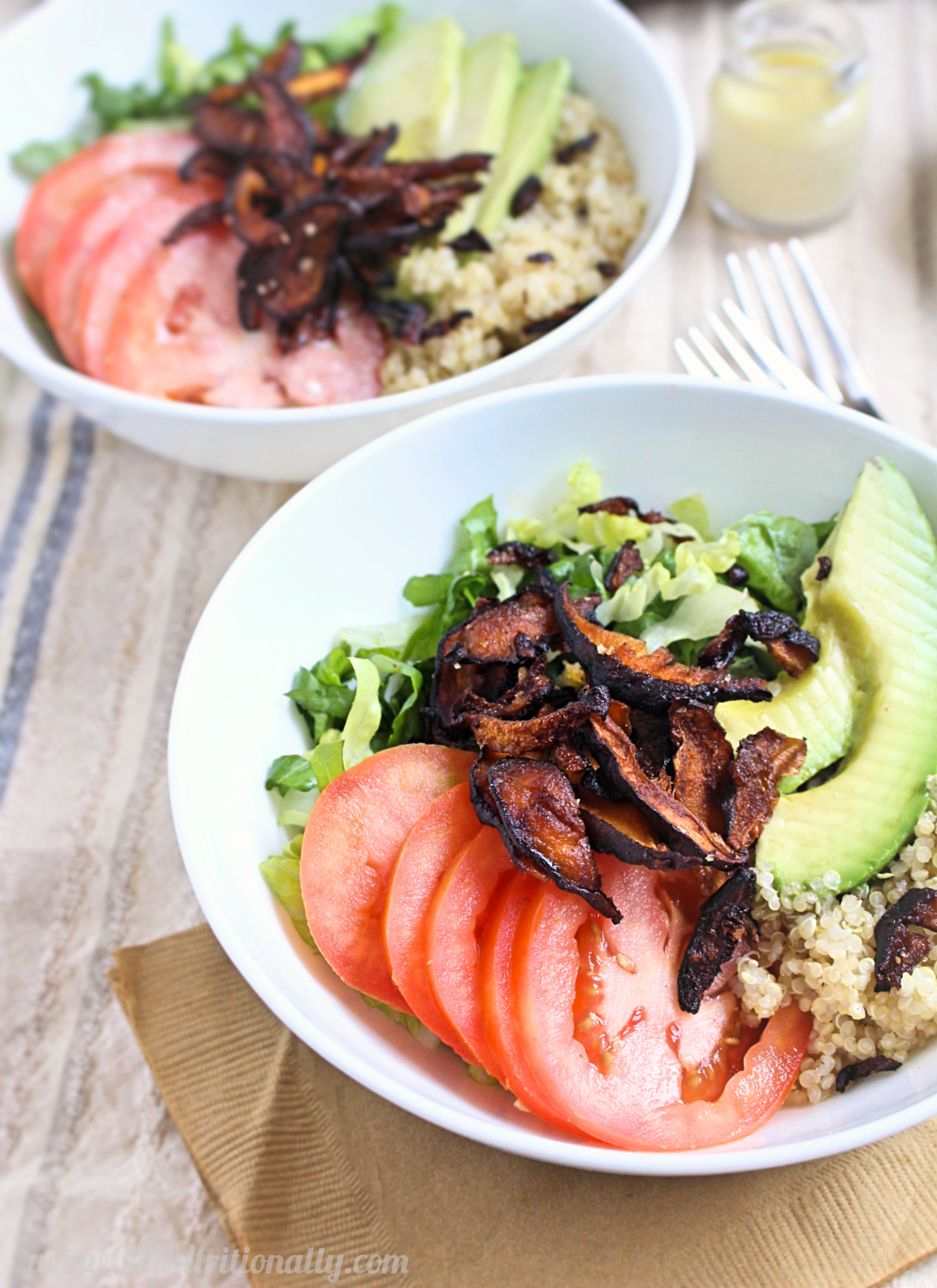 These Vegan BLT Quinoa Bowls are…
Smoky and salty and ooohhhh so good!
A lighter way to enjoy the flavors of a BLT.
100% vegan, gluten free, and food allergy friendly!
Dig in…
Vegan BLT Quinoa Bowls with Tangy Yogurt Dressing
Smoky, salty, and SATISFYING! Get all the flavor of a BLT with an extra serving of vegetables in these Vegan BLT Quinoa Bowls, complete with a tangy yogurt dressing, for a plant protein power bowl for the books
Ingredients
For the shiitake bacon:

1/4 teaspoon smoked paprika
1/4 teaspoon salt
2 tablespoons olive oil
2 cups thinly sliced shiitake mushrooms

For the bowls:

1 head romaine lettuce, shredded
1 Roma tomato, sliced
1/2 medium avocado, sliced

For the creamy dressing:

2 tablespoons plain Greek yogurt
1 tablespoon high quality olive oil
1 tablespoon white wine vinegar
Pinch of garlic powder
Pinch of freshly ground black pepper (or more to taste)
Salt to taste
Instructions
For the shiitake bacon:

Preheat oven to 350F.
In a small bowl, mix paprika, salt and oil together. Drizzle over thinly sliced shiitake mushrooms in a medium-sized bowl and toss gently together so all mushrooms are coated well, but not drenched.
Evenly distribute mushrooms on a parchment paper lined baking sheet. Be sure not to overcrowd the pan.
Bake for 10 minutes, toss, and continue to bake for an additional 10 minutes until mushrooms become crispy and bacon-like. Be sure to carefully watch the bacon to prevent it from burning the last few minutes!

For the dressing:

Combine all ingredients in a small bowl and mix until uniform consistency forms.

To assemble the bowls:

Distribute lettuce, tomato, quinoa and avocado evenly among two bowls.
Top each bowl with 1/4 of the shiitake bacon and drizzle dressing on top.
Enjoy immediately!
Notes
Nutrition Facts (for ¼ of shiitake bacon, ½ of bowl ingredients ½ dressing (which I think is even more than you need!)): 390 calories 24g fat (most of which is heart-healthy unsaturated fat!) 184mg sodium 39g carbohydrates 15g fiber 11g protein
http://citnutritionally.com/vegan-blt-quinoa-bowls/
Let's talk about those Nutrition Facts above…Even though I don't think it's all about calories in, calories out, I do know there are many of you who love to know the Nutrition Facts, macros, etc, so I'm here to give 'em to ya! But learning lesson first — just glancing at the numbers doesn't tell the whole NUTRITION story! For example, 24 grams of fat per serving is a higher fat meal, and I wouldn't advise anyone to eat that much fat at every single meal, BUT if you look at the ingredients, it's mostly UNSATURATED, heart-healthy fat, coming from avocado and olive oil, not saturated fat that's been shown to clog ya up!
The lesson: the numbers only tell PART of the story!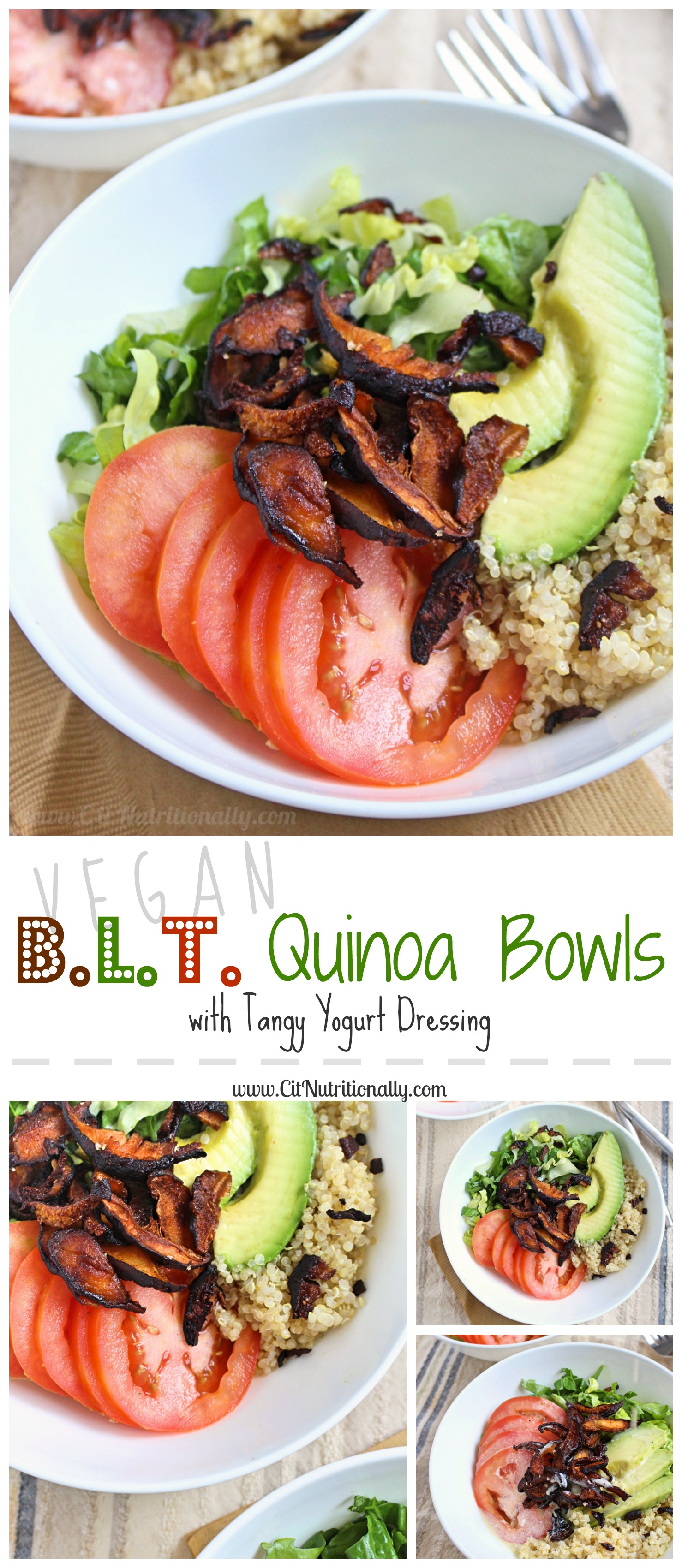 Do you have a favorite plant-based bowl in your arsenal?! 
Have the best (and most delicious) Friday ever and check out these other delicious plant based bowls below…
XO