Take a bite into this Vegan Brownie Pizza for a delicious chocolatey treat that's every bit delicious as it is nutritious!
Vegan, Gluten Free, Grain Free, Nut Free, Egg Free, Dairy Free, Low Sugar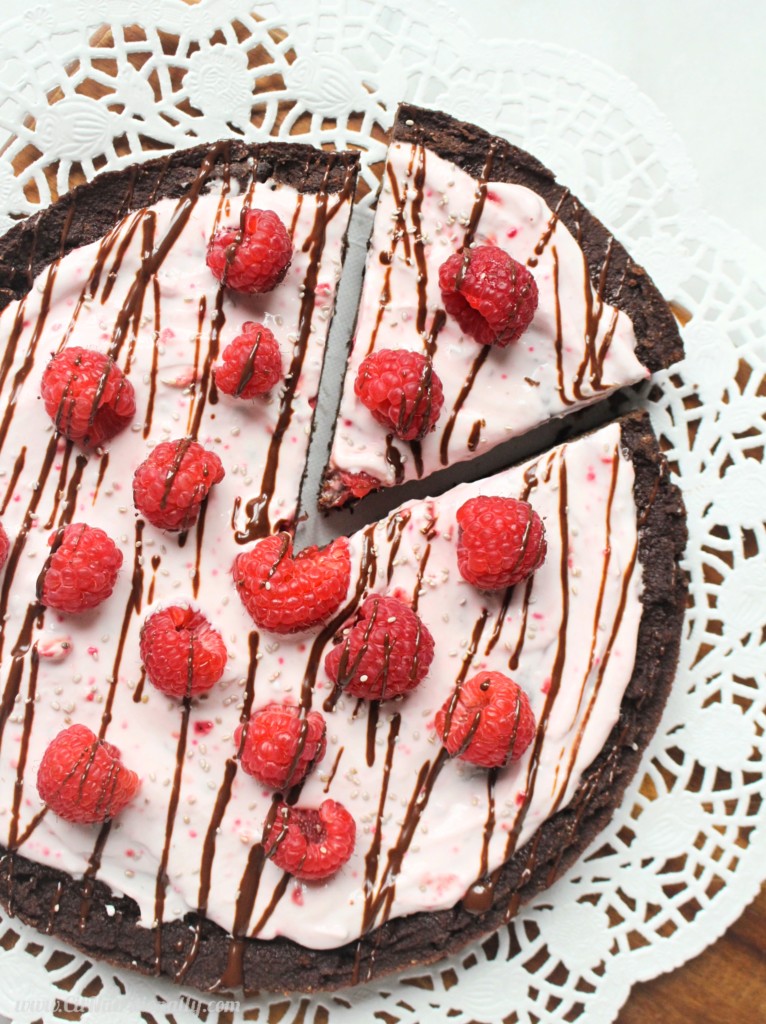 Valentine's Day just snuck up on me this year!
Since we're getting married (ahhh!) in a couple of weeks (more ahhhs!), I can't believe Valentine's Day took the back seat. OK, I can believe it, but what kind of food blogger does that make me? Or fiance for that matter?!
But no worries… this weekend my almost hubby and I went out for a date night and enjoyed plenty of chocolatey treats (like this Vegan Brownie Pizza!) ahead of Valentine's Day!
Since pizza has been a popular topic of conversation 'round here, my mom was excited to tell me to make a dessert pizza for Valentine's Day. Perfect idea mom, because this is SO easy to whip up (which totally comes in handy when Valentine's Day isn't at the forefront of your mind!). You can make this recipe almost entirely in a BLENDER, so it doesn't get much easier than that!
I adapted this recipe from my Grain Free Avocado Brownies, and to be honest, didn't change allll that much. Why change what's not broken?!
However, I made some substitutions based on what I had in the house. I didn't have any applesauce that the original recipe calls for, so I added substituted sunflower seed butter. Applesauce can often be used to lighten up recipes, but I'm all about those healthy fats, and let's just say the substitution worked perfectly!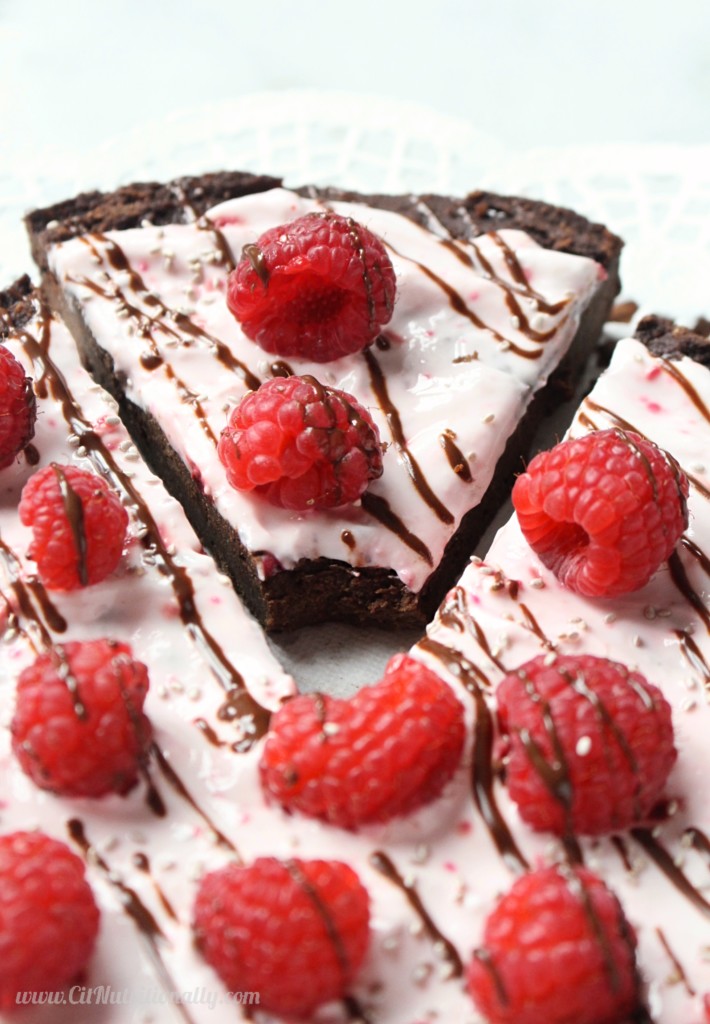 The other change I made was a big one, from a baking chemistry perspective. I eliminated the baking soda purposefully so the brownies wouldn't puff up much. This helps make this brownie batter more pizza-like!
Either way, this vegan brownie pizza is just as fudgy!
After blending all of the ingredients together, pour into an 8-inch cake pan. This is the perfect size for your "pizza." I used this one.
Now, as for topping your pizza (the most important part, I think!)… Go WILD! First you want to use something as the "sauce." I think yogurt, nut or seed butter, or even cream cheese frosting work best. If you wanted, you could also use melted white chocolate! Mmmmm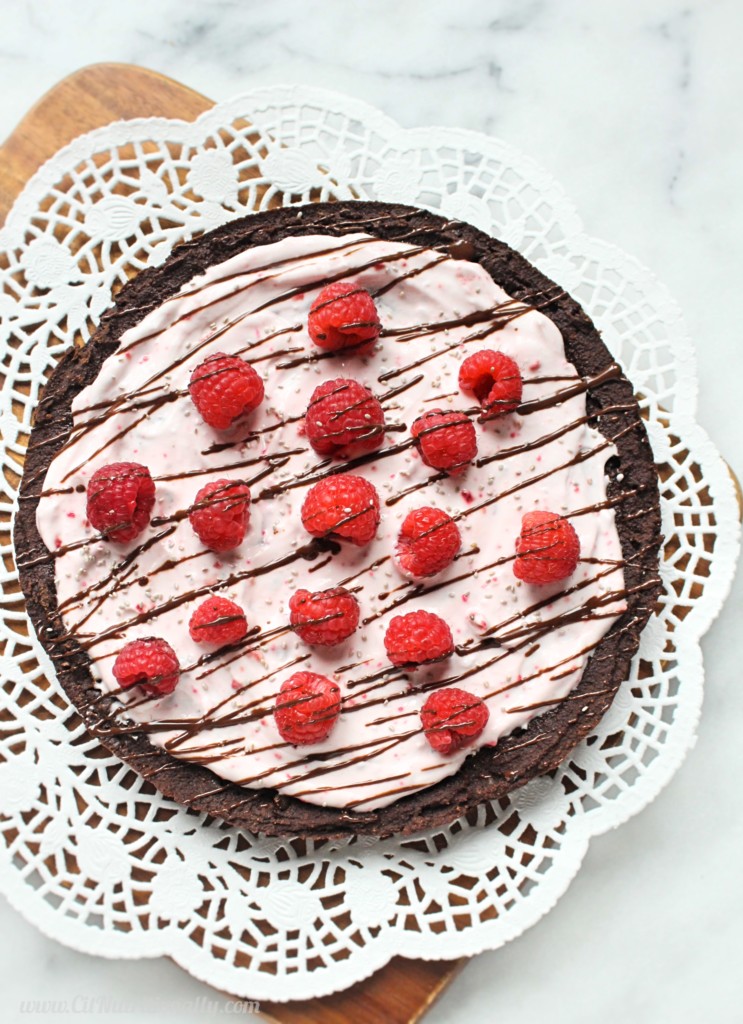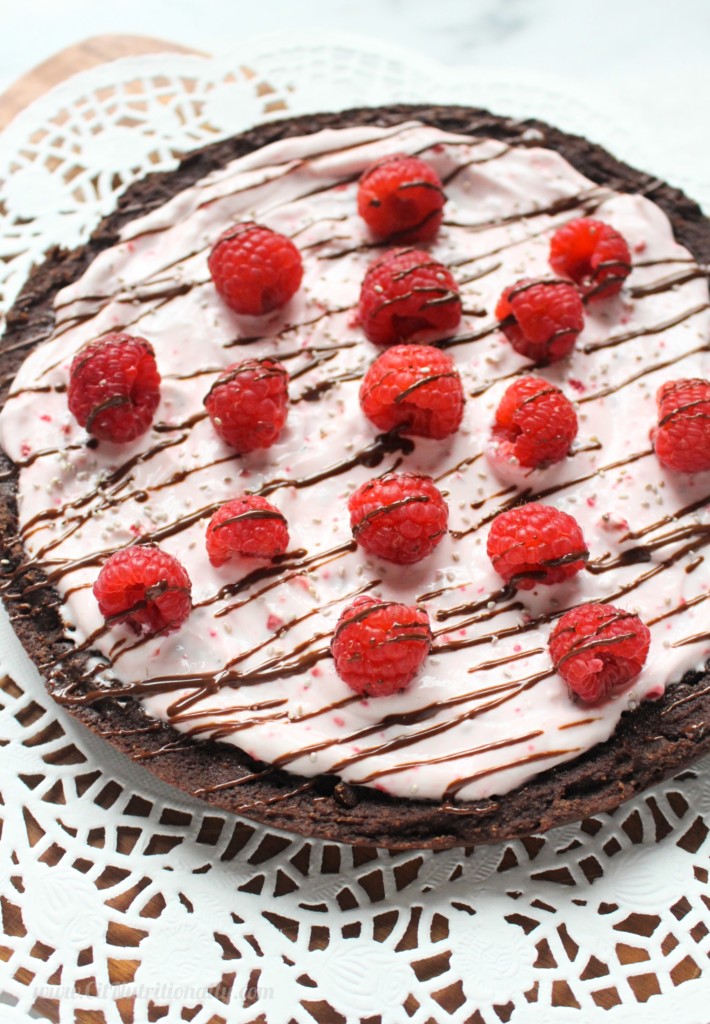 Then you need the toppings! Sprinkles, fresh or freeze-dried fruit, and the like are all great options.
This Vegan Brownie Pizza is…
Delicious!

Easy to make

Vegan

Low in added sugar

Full of chocolatey goodness!

Food allergy friendly

And more!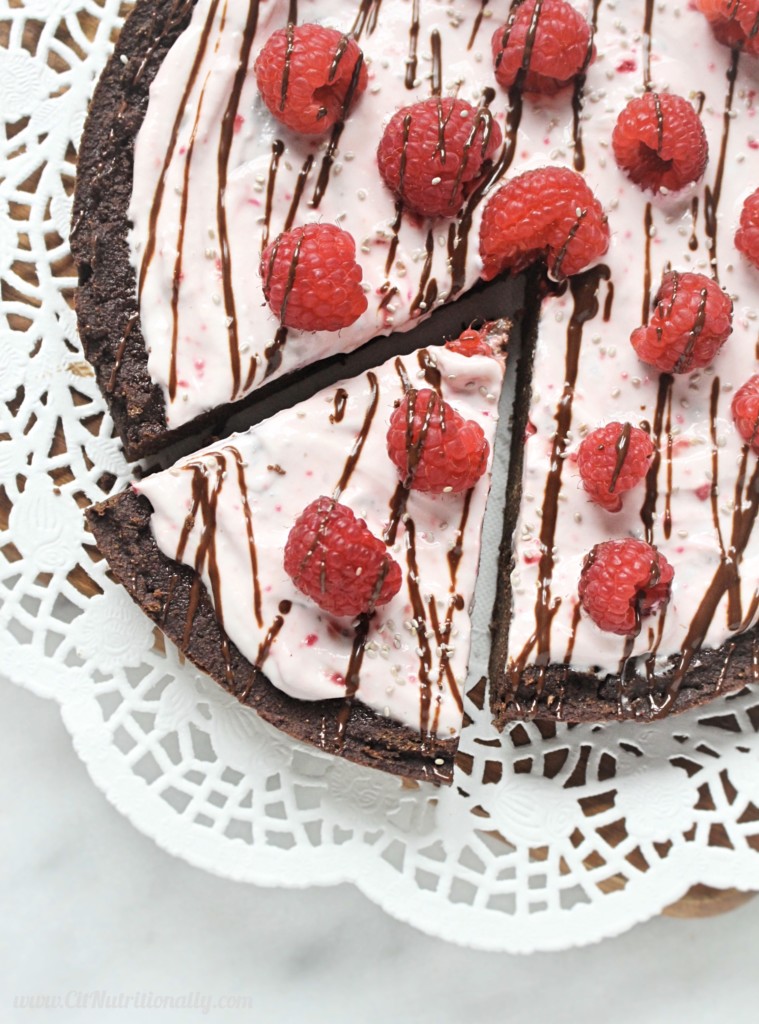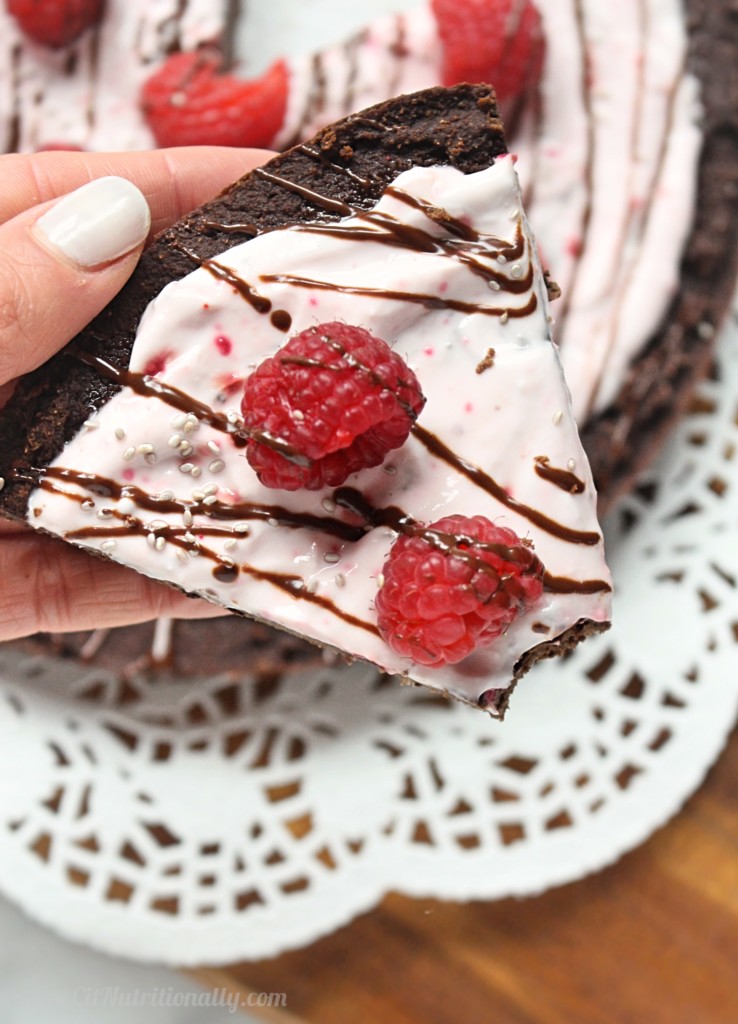 Let's get baking…
Ingredients
Instructions
Preheat oven to 350°F. Coat an 8-inch circular baking dish with coconut oil. Set aside.
In a high-powered blender or food processor blend avocado, milk, coffee, sunflower seed butter, vanilla extract, and coconut oil until smooth.
Add the remaining ingredients, except for the chocolate chips, to the blender and blend until smooth. You may need to pause to scrape down the sides of your blender or food processor bowl and continue until all ingredients are of uniform consistency.
Then add mini chocolate chips and mix into batter with a spoon.
Pour batter into the baking dish and bake at 350°F for 25 minutes. Remove from the oven when an inserted toothpick comes out clean, or as the edges begin to separate from the side of the pan.
Allow pizza "crust" to cool completely before adding toppings.
To create the pizza photographed, spread yogurt on top of the cooled pizza "crust." Then top with raspberries, chia seeds, and melted dark chocolate. Enjoy!
http://citnutritionally.com/vegan-brownie-pizza/
Don't forget to PIN IT…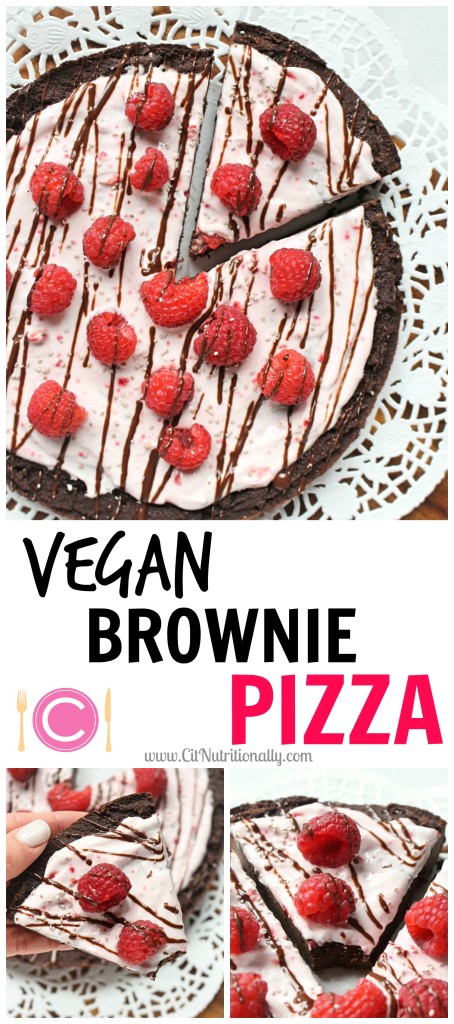 I hope you have a fun, loving, and delicious Valentine's Day!
XO
If you want to stay connected or you make something from C it Nutritionally I would LOVE to see your creations! Tag me or use the hashtag #CitNutritionally!
Let's get social! 

Facebook: C it Nutritionally
Twitter: @ChelseyAmerRD
Instagram: @CitNutritionally
Pinterest: ChelseyAmer