Enjoy this creamy and hearty Vegan Lasagna made with Tofu Ricotta that's easy to assemble at the beginning of the week and reheat all week long, for a protein-packed, plant-based meal delicious for your entire family!
Vegan, Nut Free, Dairy Free, Egg Free, Low FODMAP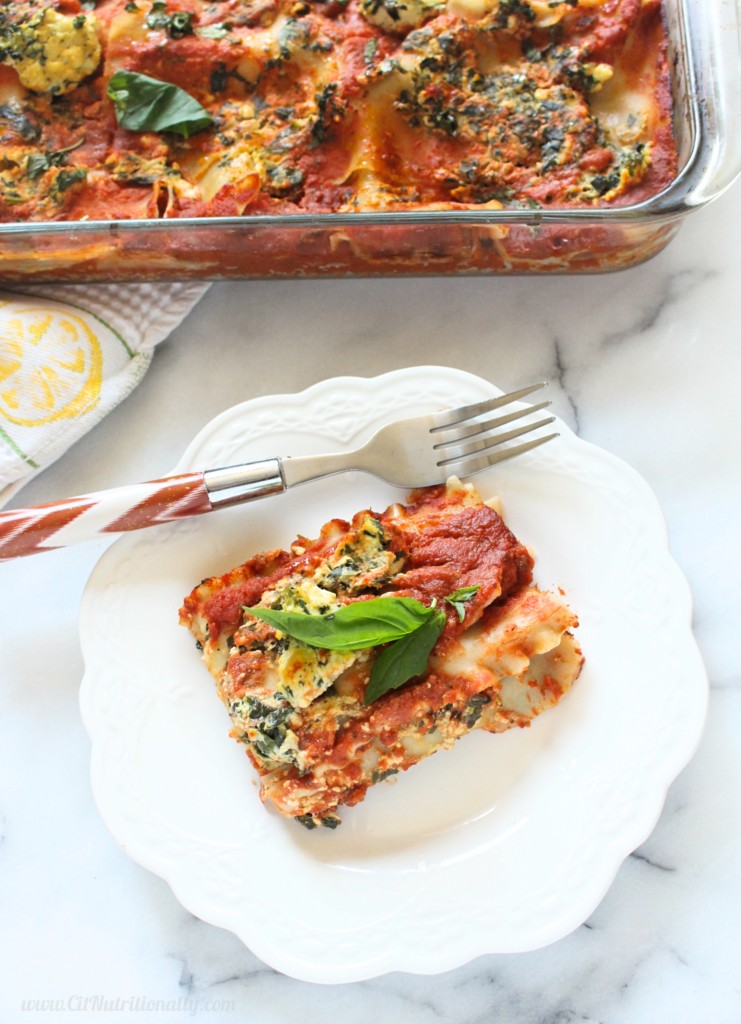 Have I told you the story about how I wrote an entire paper in middle school (yes, MIDDLE school!) about my Italian heritage? My entire family is Jewish from Poland… on both sides. Insert hitting self in face emoji here.
Well, I have always LOVED Italian food, so maybe it was wishful thinking! Lasagna was always a staple family supper growing up… Is there anything better than a hearty, stick-to-your-ribs dinner on a chilly night?
But as I got older, dairy started messing with my stomach, so I avoided lasagna like the plague. Recently, lasagna has been on my mind, but many of the ricotta cheese alternatives on the market are full of nuts – that's a no-go for moi!
Ever since I made Alex's tofu feta months ago, I've been inspired to try making other delicious creations with tofu. Instead of tangy flavors that Alex's feta requires, I used more Italian spices and blended the tofu to create a creamier consistency. And that's how this tofu ricotta was born!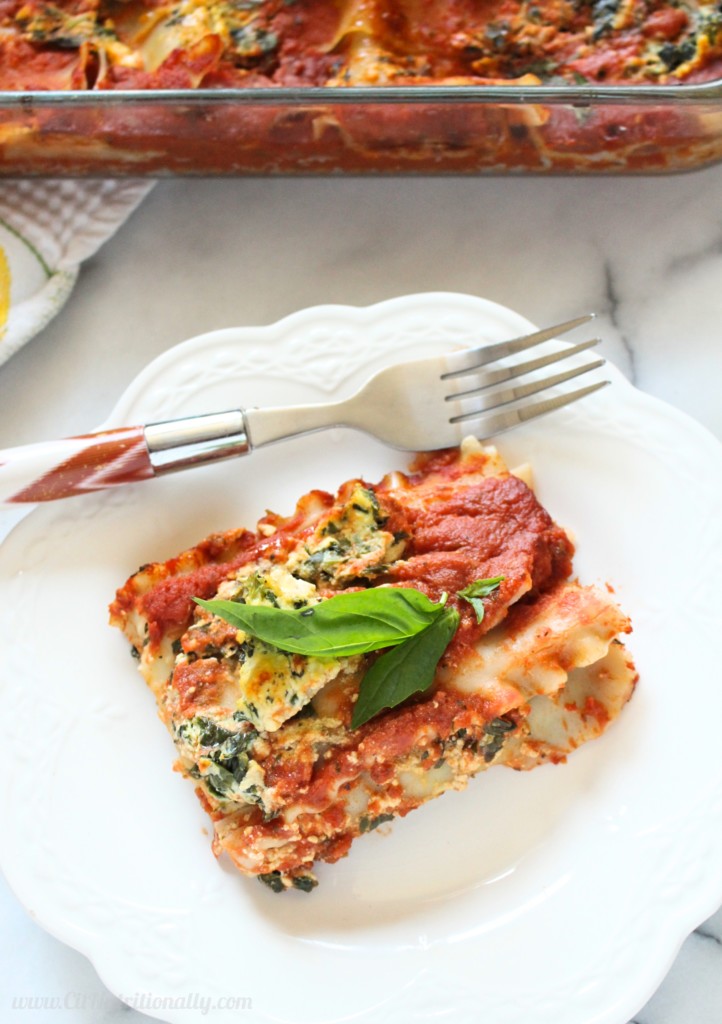 Some of the ingredients to make this tofu ricotta may be new to you, as they once were to me. I encourage you resolve to get out of your comfort zone and try some of these yummy ingredients – you may surprise your taste buds!
Here's a little more about these ingredients (affiliate links contained below):
Tofu: Tofu is made from soybeans. It's one of the least processed forms of soy that you can eat. Tofu is a great plant-based protein source, with almost no fat and plenty of calcium. If you think you don't like tofu, I strongly encourage you to try it again, especially when it's transformed, like in this recipe!
Miso (affil link): Miso is fermented soy, made into a paste. It's widely used in many Asian cultures and excellent for gut health. Including more fermented foods in your diet helps boost your probiotic (affil) intake naturally, which is especially important during cold and flu season!
Nutritional yeast (affil link): Nutritional yeast is a staple among plant-based eaters. Without fat or stomach upset for those of us sensitive, nutritional yeast provides a hearty, cheesy flavor to sauces, stews, pasta dishes, stir fry's and more! It's also one of the only sources of vitamin B12 for vegans!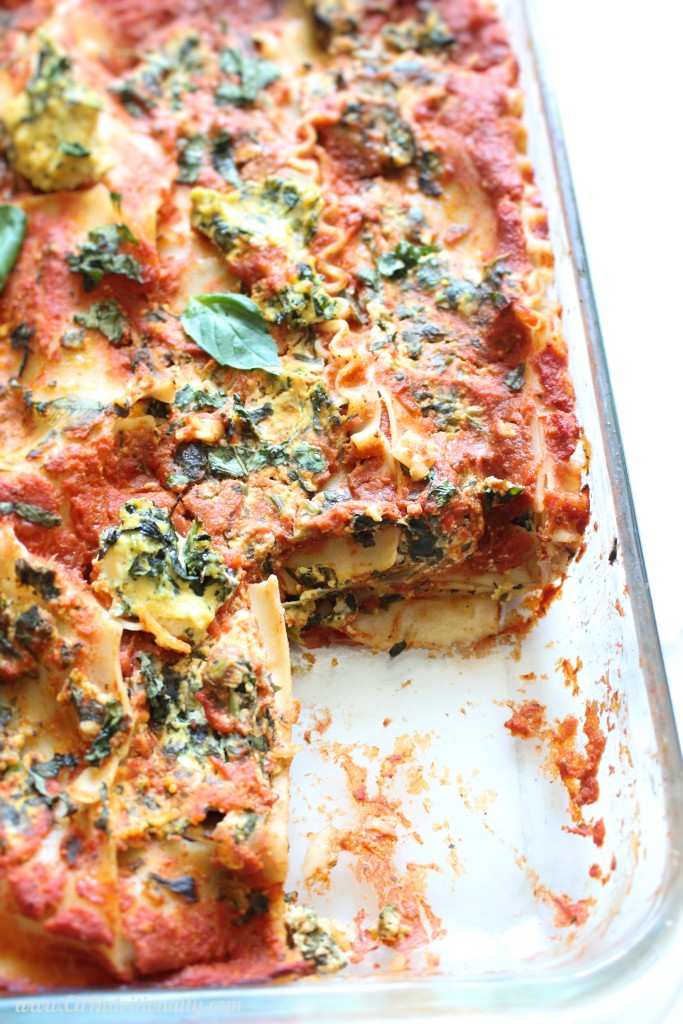 So, I re-created this recipe a few times to make sure it's perfection, and guys, I think we did it! My taste testers were OBSESSED. Like OK to eat this 4 nights in a row obsessed!
With holiday entertaining season here, this vegan lasagna is the perfect meal to feed your family and house guests in between well-planned holiday dinners.
Plus, you can make components of this meal ahead of time and then assemble, cook and have a comforting, hearty dinner on the table in minutes!
Watch me make it…

This Vegan Lasagna with Tofu Ricotta is…
A hearty winter meal
Packed with plant-based protein
Great to feed a crowd
Easy to make (and get your kids involved in the kitchen too!)
Food allergy friendly (contains soy)
Gut-sensitive – low fodmap and gluten free options included in the recipe!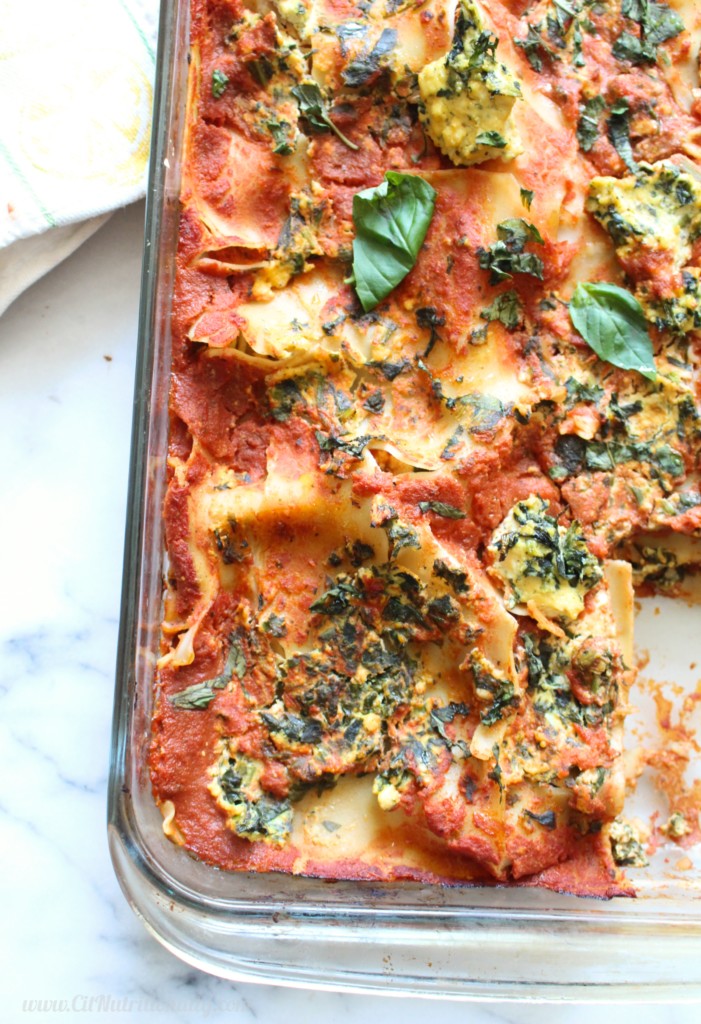 Your guests will think you're Italian after you make this Vegan Lasagna…
Vegan Lasagna with Tofu Ricotta
Ingredients
For the tofu ricotta:

1 package firm tofu
1 tablespoon white miso
2 tablespoons nutritional yeast
1 tablespoon lemon juice
1/2 teaspoon dried oregano
1/2 teaspoon dried basil
1/4 teaspoon black pepper
1/4 teaspoon salt
1 tablespoon olive oil
2 tablespoons water
1 15 oz package frozen chopped spinach, thawed with excess moisture squeezed out

For the lasagna:

1 package lasagna noodles (I used brown rice noodles)
1 tablespoon table salt
1 jar tomato sauce (or my low FODMAP Tomato Basil Sauce)
Optional: 3 tablespoons chopped basil
Instructions
To make the spinach tofu ricotta:

Drain and press tofu, wrapped in paper towels, for at least one hour to remove excess moisture.
Cube tofu and add to high-powered blender, like a Vitamix. Also add miso, nutritional yeast, lemon juice, spices*, and olive oil. Blend on high until well-combined. You may need to add 1-2 tablespoons of water to help combine.
Transfer tofu mixture to a medium-sized bowl and mix in spinach. Set aside.

To assemble the lasagna:

Bring a large pot of water to a boil, and then add table salt. Add the lasagna noodles once water is boiling. Cook according to package instructions. Drain and set aside in a colander.
Preheat oven to 375ºF.
Lightly layer tomato sauce on the bottom of a 9x13 glass baking dish or disposable aluminum pan. Then create a single layer of lasagna noodles. Carefully distribute the spinach tofu ricotta on top of the noodles. The noodles will be slightly sticky and delicate, so be careful!
Repeat until all lasagna noodles and tofu ricotta is used. You will be able to create 3-4 layers. On the top layer, sprinkle basil (reserving some for just before serving).
Bake at 375ºF for 25 minutes, or until the edges are brown. Serve immediately. Enjoy!
Notes
*If not following a low fodmap dietary restrictions, you can also add 1/2 teaspoon each garlic powder and onion powder.
http://citnutritionally.com/vegan-lasagna-tofu-ricotta/
Don't forget to PIN IT…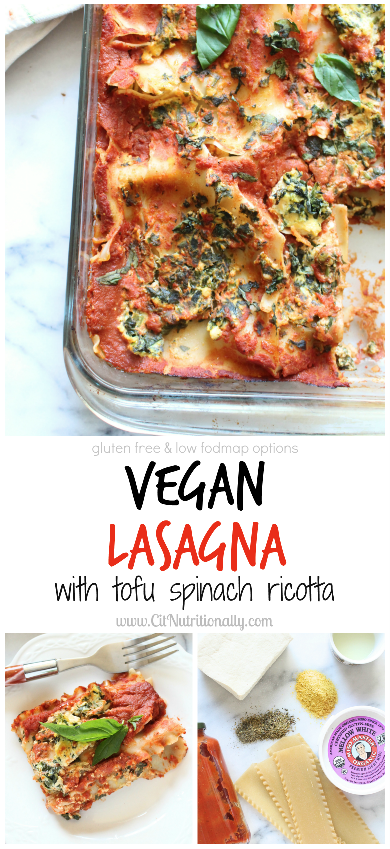 Comment below and share your go-to feed a crowd dinner to make during the busy holiday season… I hope you try this one!
XO
If you want to stay connected or you make something from C it Nutritionally I would LOVE to see your creations! Tag me or use the hashtag #CitNutritionally!

Let's get social!
Facebook: C it Nutritionally
Twitter: @ChelseyAmerRD
Instagram: @CitNutritionally
Pinterest: ChelseyAmer