Holllaaa guys! I can say that I can't believe this is my last What I Ate Wednesday of 2016, but since I ate my way through two holiday parties over the weekend and I've been prepping away for my New Years party, I'd be kidding you (have you seen my Insta story lately?!)! I am SO ready for the New Year — brush off the old, get excited for the new!
It's been a couple of weeks since my last What I Ate Wednesday so I wanted to pop back in and give ya'll whatchu love! Because you gotta keep the people happy! So here are some delicious and nutritious eats that nourish the body AND soul from yesterday… and it was definitely a hungry and active day…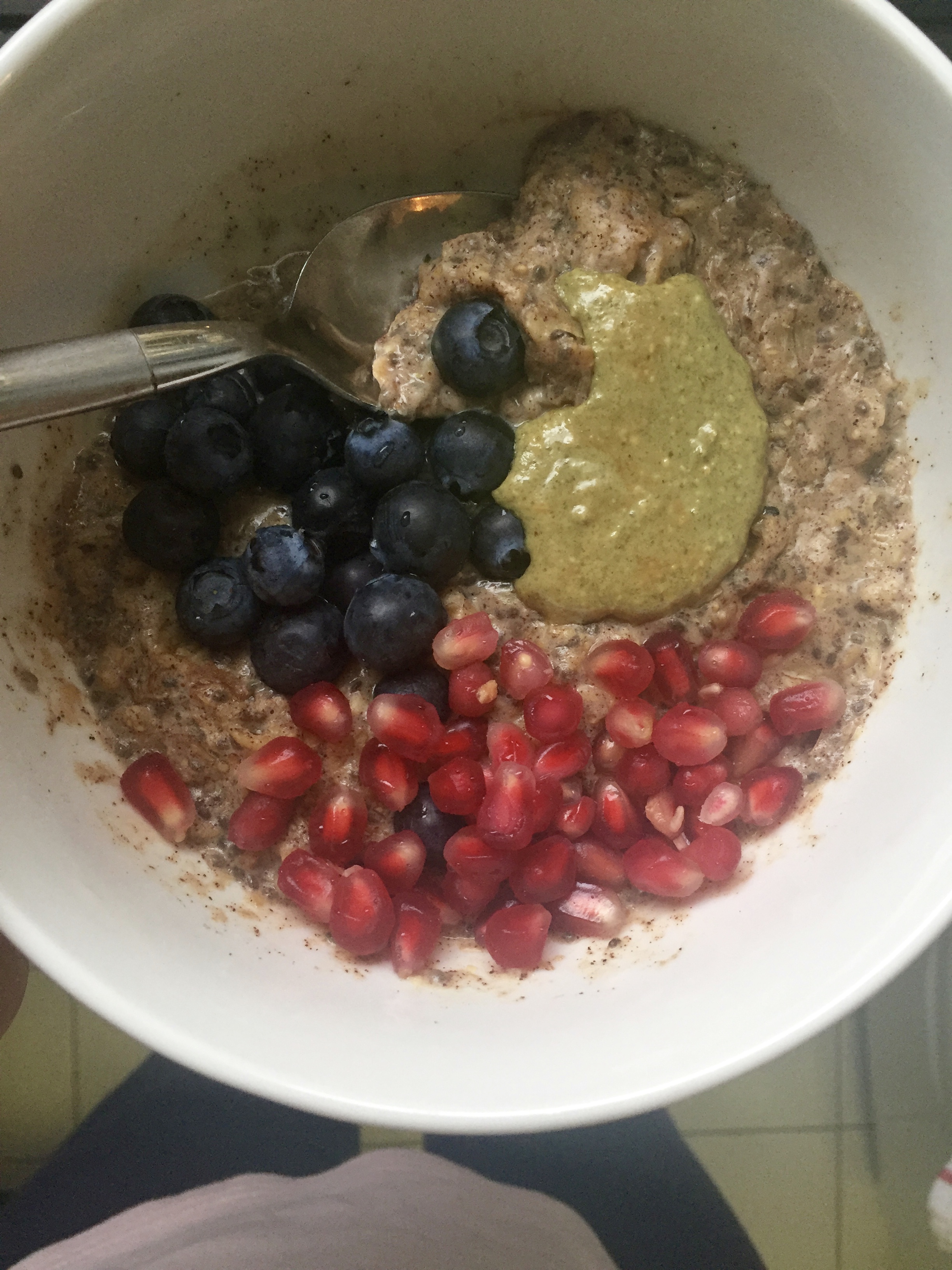 I woke up around 7:30am and got going! I checked emails over coffee and then heated up my bowl o' oats before my 305 Fitness class.
To make this yummy bowl I combined 1/4 cup oats with 1 tablespoon each chia seeds, ground flaxseed meal and raisins, plus a pinch of cinnamon and sea salt and 1/2 cup unsweetened soy milk in a small container and let it sit overnight. Then I heated it up in the morning (in the microwave) and topped it off with pumpkin seed butter from 88 acres, some bloobs and pom seeds. Mmmmm mmm mmmm!


I did some more work before heading out to dance mah booty off in my 305 class. Seriously, if you live in NYC, Boston or DC you NEED to try this incredible dance cardio class. I just love it so much! Then I treated mahself to a pedicure ((with a side of roasted edamame and planning)) before rushing to meet an old RD friend for coffee at Jack's. I take mine black. SO GOOD.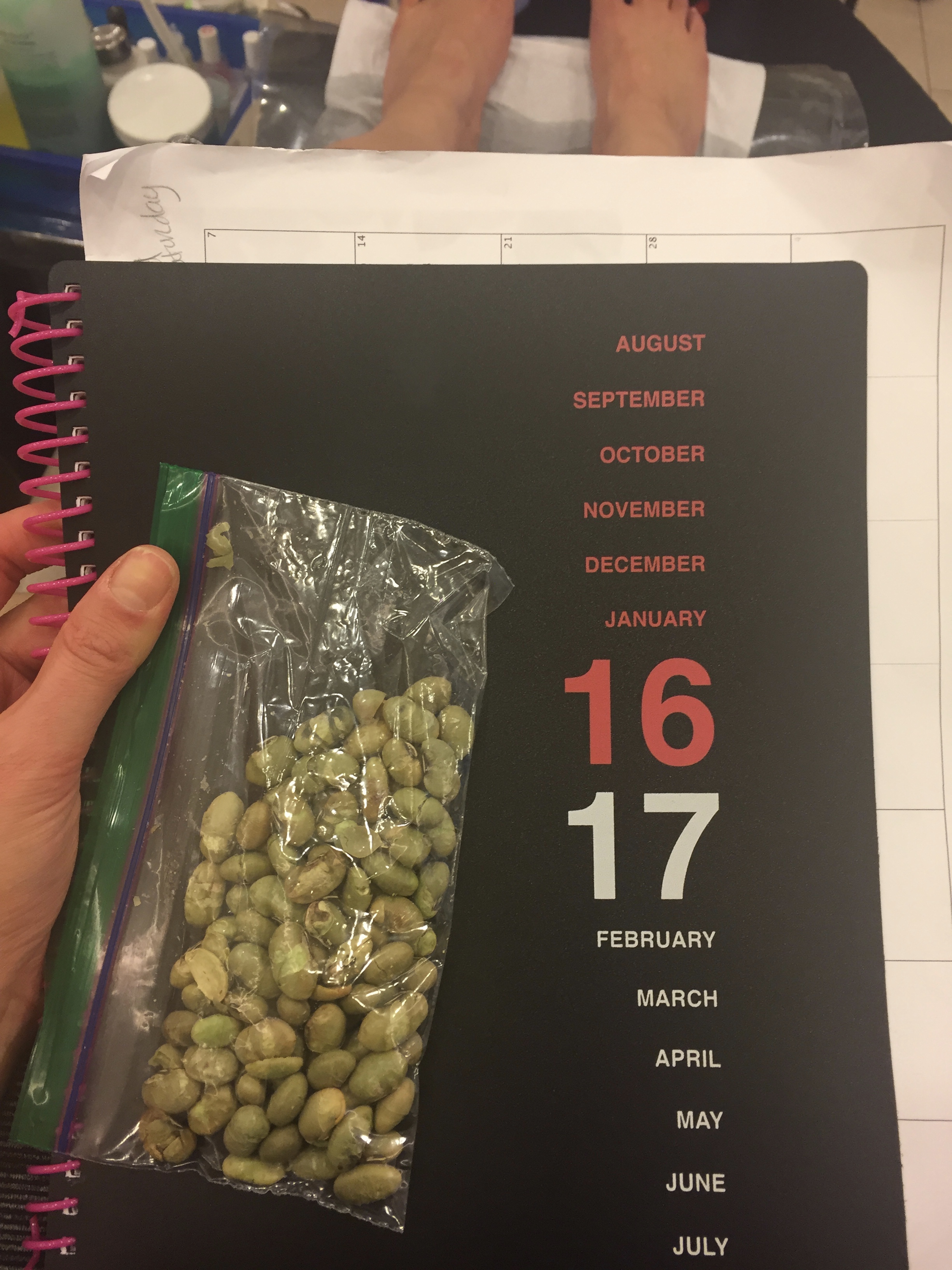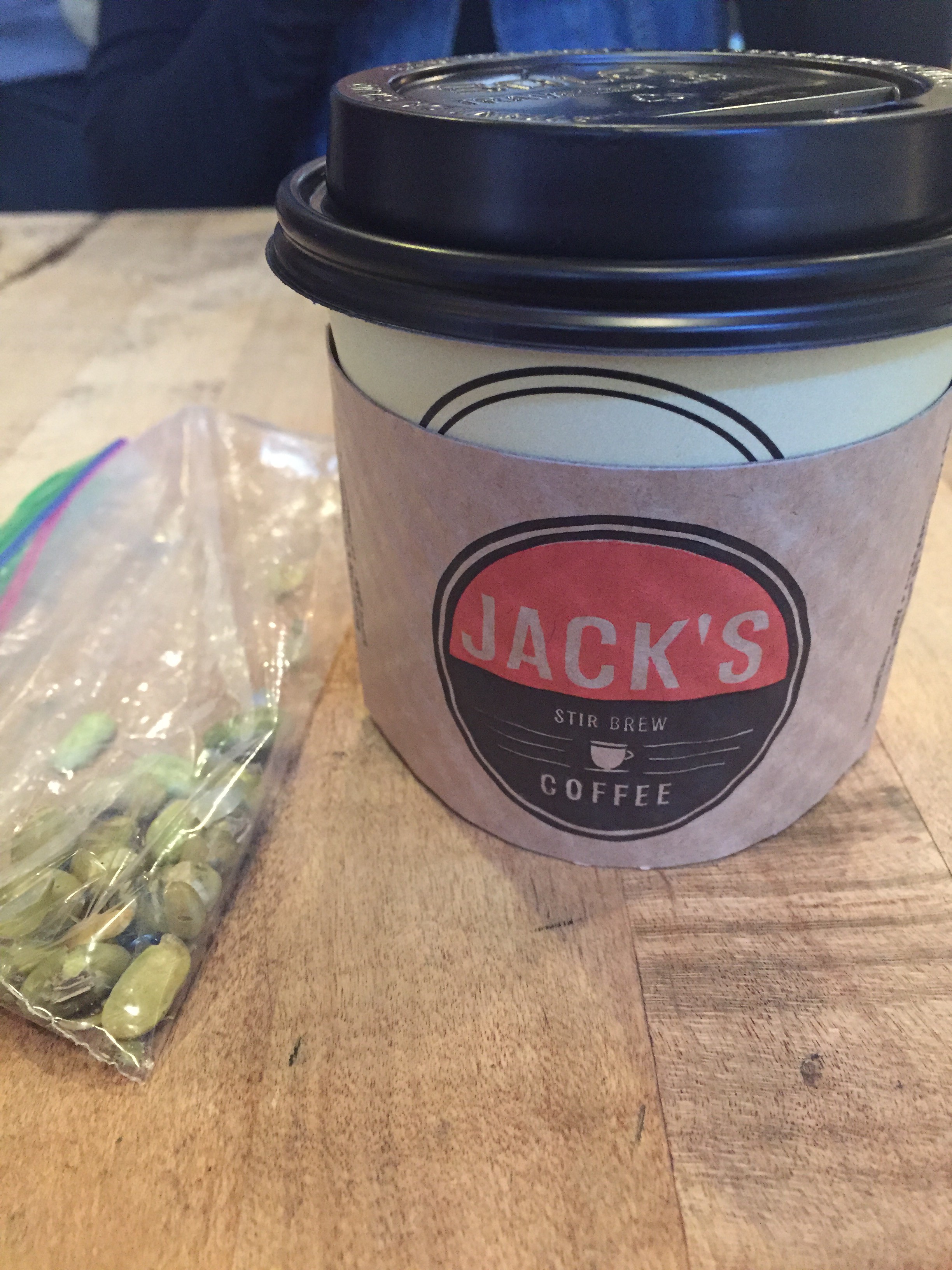 I was SO hungry by the time I got home so I made a veggie/salmon scramble with sliced roasted taters on the side. And some leftover cukes, red onion and tomato salad I had from the night before. And booch. 'Cause #guthealth.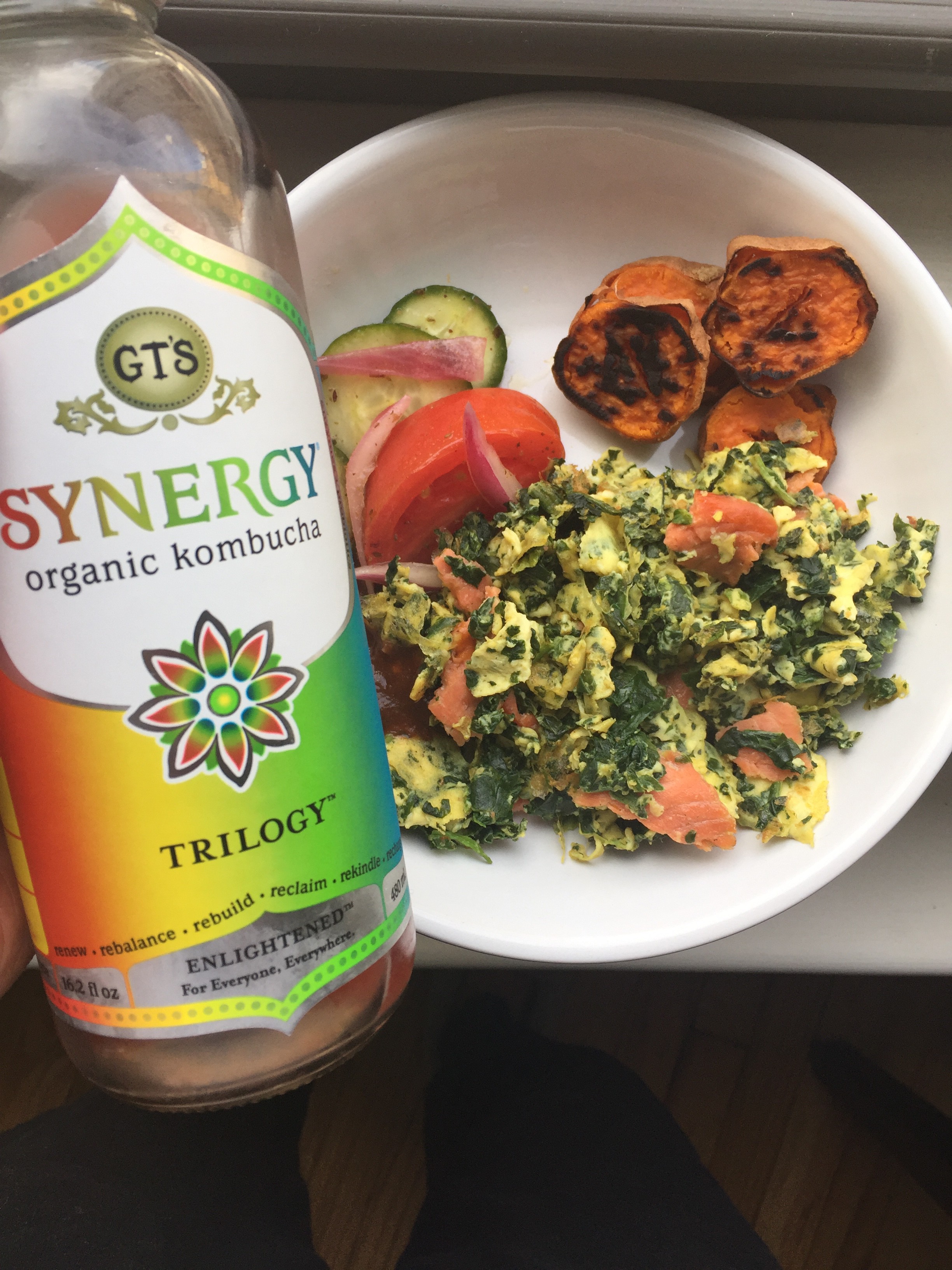 I did a little more work at home, ran a few errands before my haircut (it was SIX months since my  last haircut and I was WAY overdue!!) and snacked on a new flourless banana chip muffin I made with coconut 'flour.' SO GOOD. Recipe coming ASAP!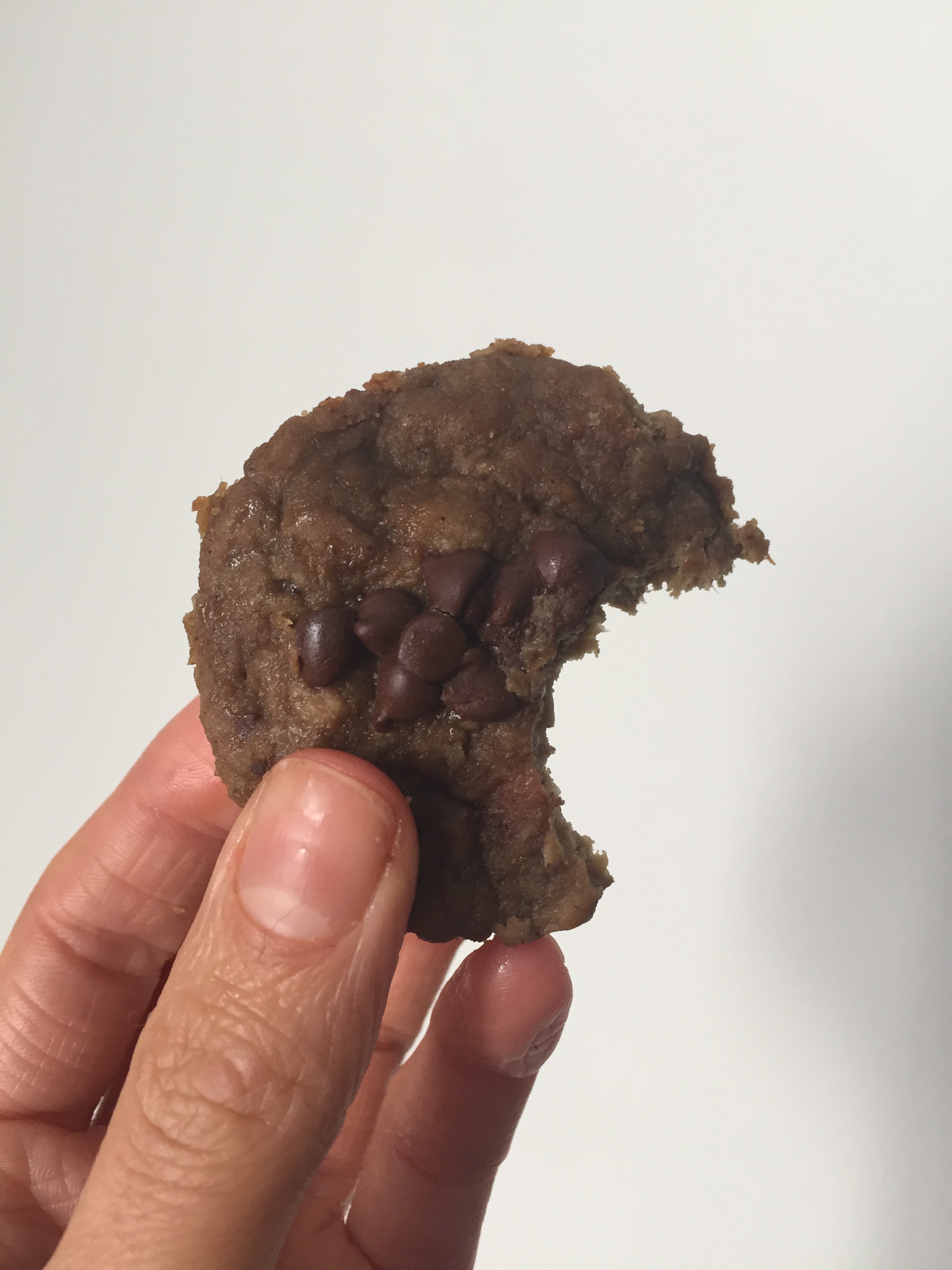 When I got home, I put together a bunch of the small gifts I got S for Chanukah. With a side of green tea and a superfood chocolate bite. Have you tried this recipe yet? I'm obsessed.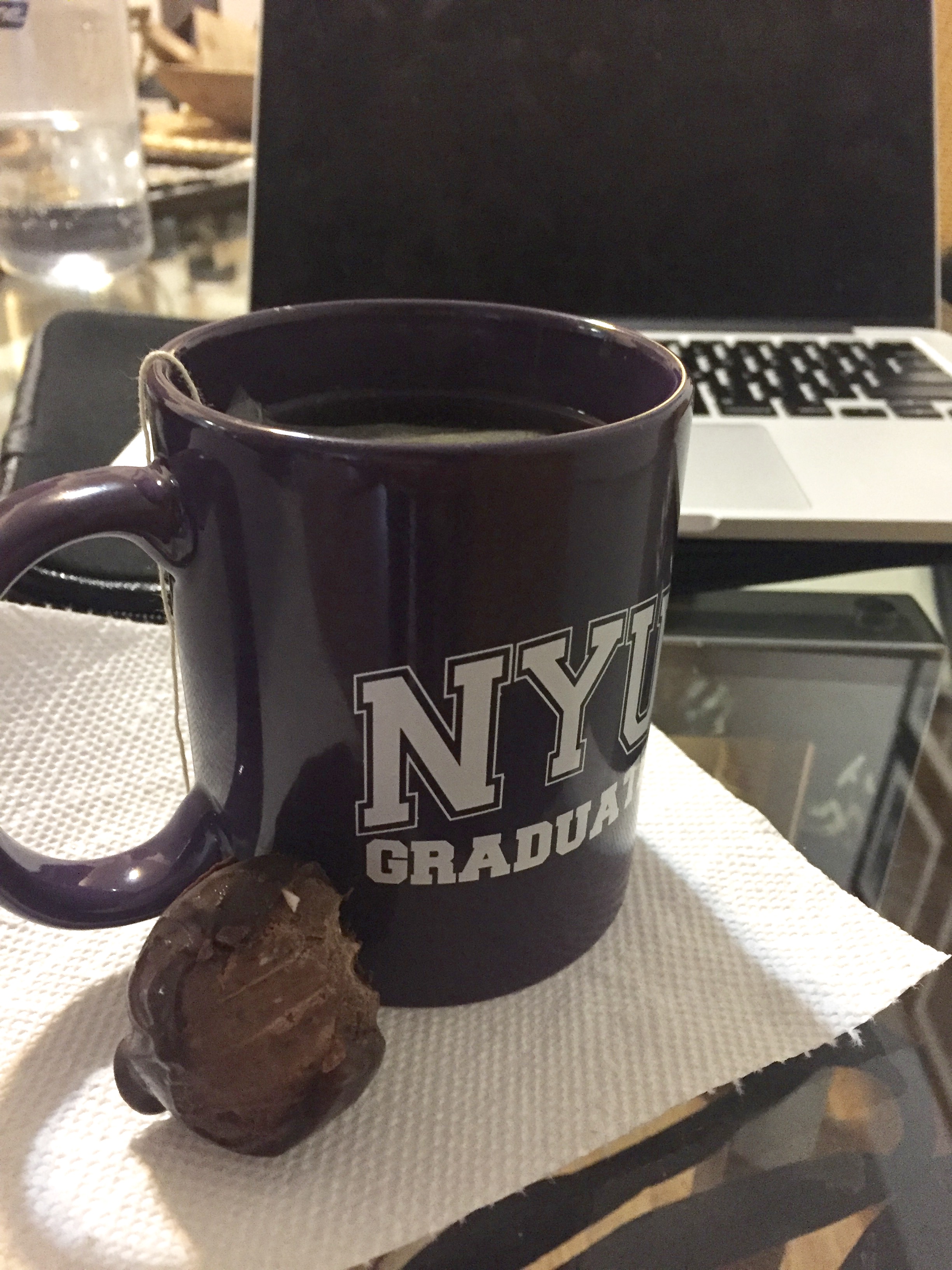 S and I had date night and our ballroom dancing lessons ((did you know about that?!)), so I walked downtown to the studio, danced a bunch of rumba and salsa ((we're getting better!!)) and then went out for dinner at a favorite neighborhood spot Vic's. 
We split roasted carrots and parsnips, which were both SO good, and then we both got the arctic char.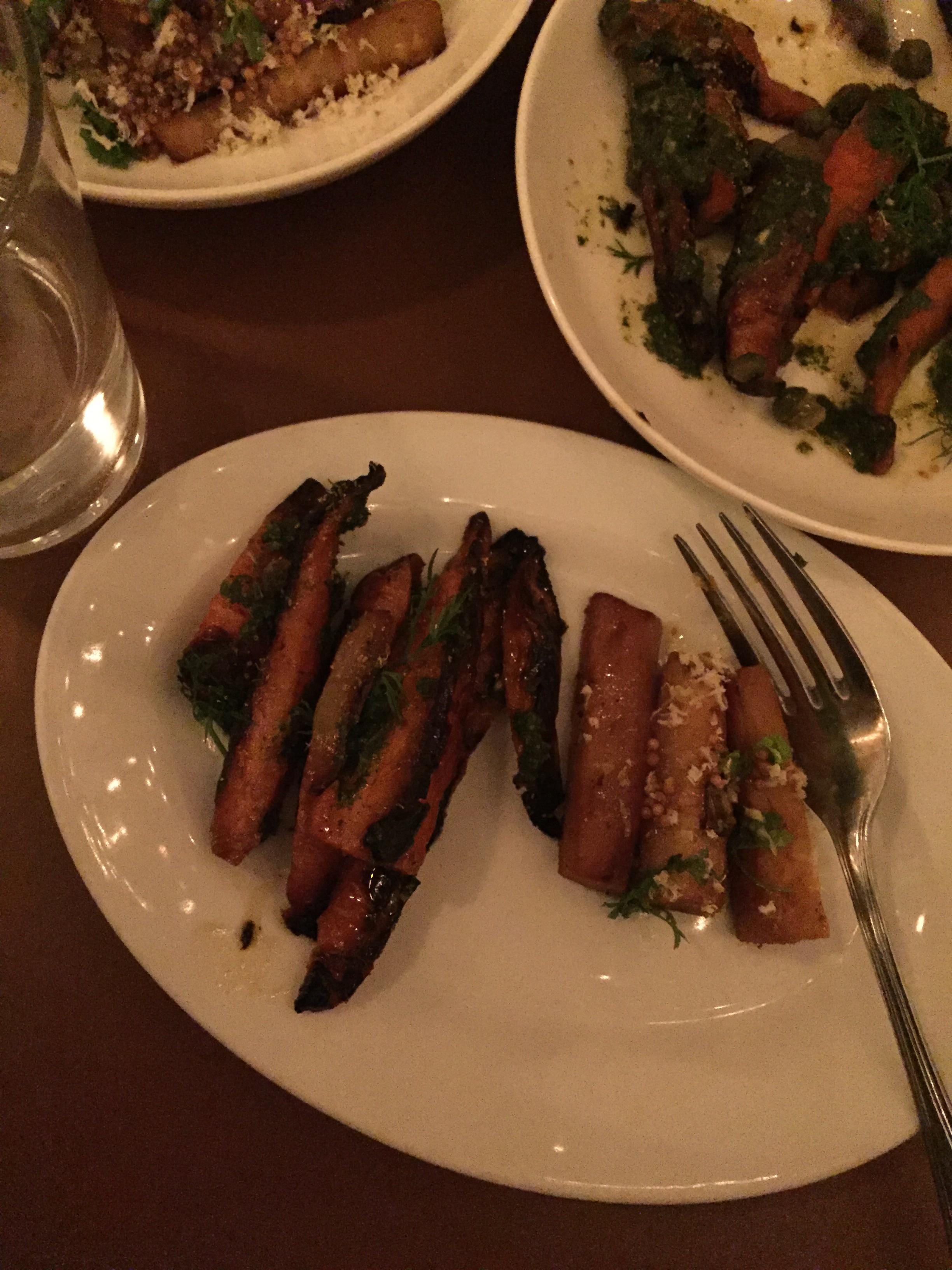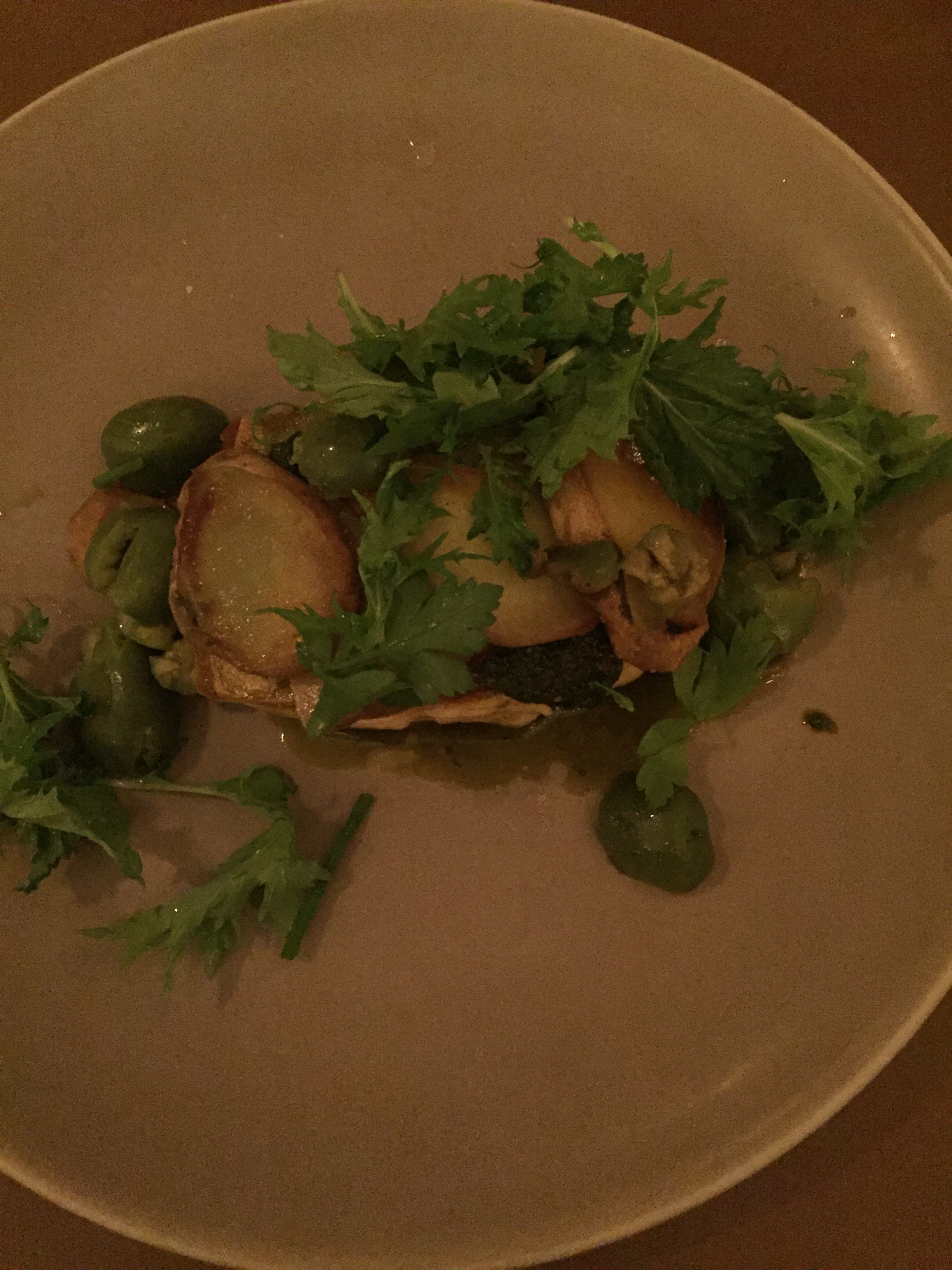 I skipped the sweet potatoes and olives pictured here and didn't finish my fish (too full!), but enjoyed every single bite!
After dinner, we walked back uptown towards our apartment and decided to go shopping at TJ's for our New Years party. We got lots of great apps and such, shlepped it all home, and then opened presents!! In addition to the comfiest robe I've been living in since S gave it to me on Sunday, he got me this awesome t-shirt ((he looked at my gift guide!!!!!)) from Eat Healthy Designs.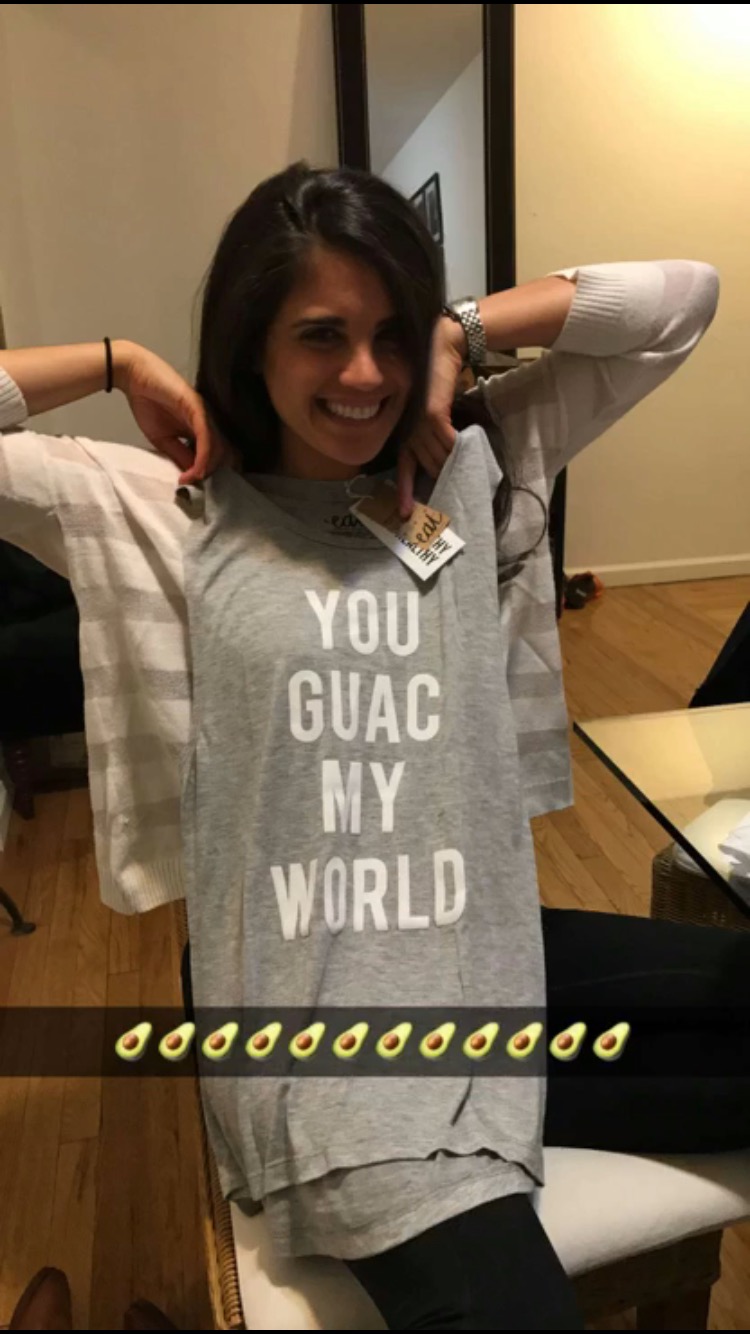 …and he was SO excited over the cold brew coffee and mug I got at Jack's and the black and white cookie I got him from Moshe's bakery in the East Village. He ate the cookie for dessert while I had some bloobs, sunflower seed butter, raisins and chocolate chips…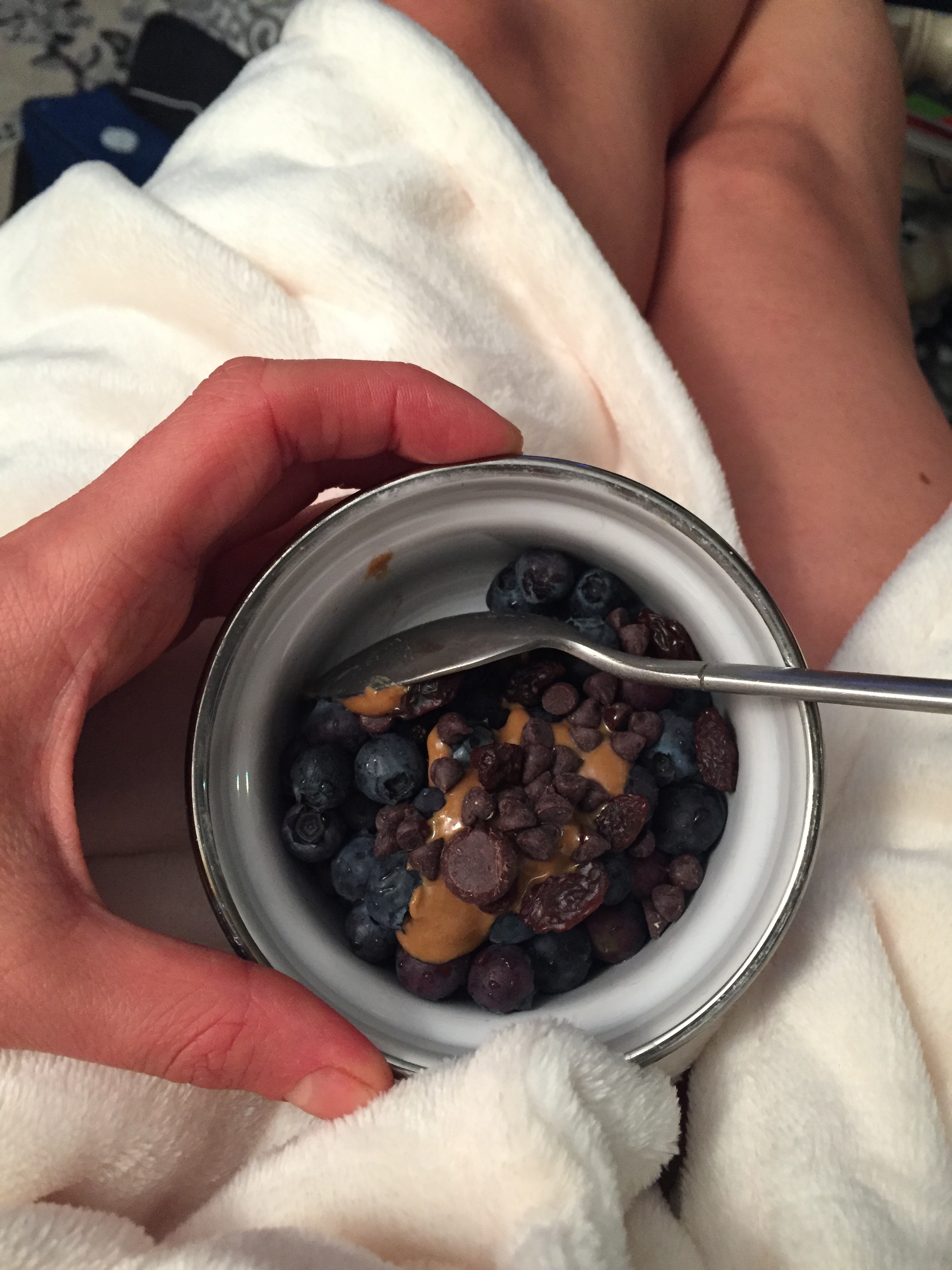 …in my robe

We watched some TV and then called it a night!
But wowza I didn't realize just how busy and hungry of a day I had…So much movin' and groovin' and tons of nourishing eats for my last WIAW til the new year!!
XO
Let's get social!
Facebook: C it Nutritionally
Twitter: @ChelseyAmerRD
Instagram: @CitNutritionally
Pinterest: ChelseyAmer