Happy hump day friends!
I cannot believe it's the 50th edition of What I Ate Wednesday!! You've probably seen WAY too many smoothies and sweet potato toasts and salad bowls that have everything but the kitchen sink in them. And today's eats are not very different…but they're coming atcha with an announcement…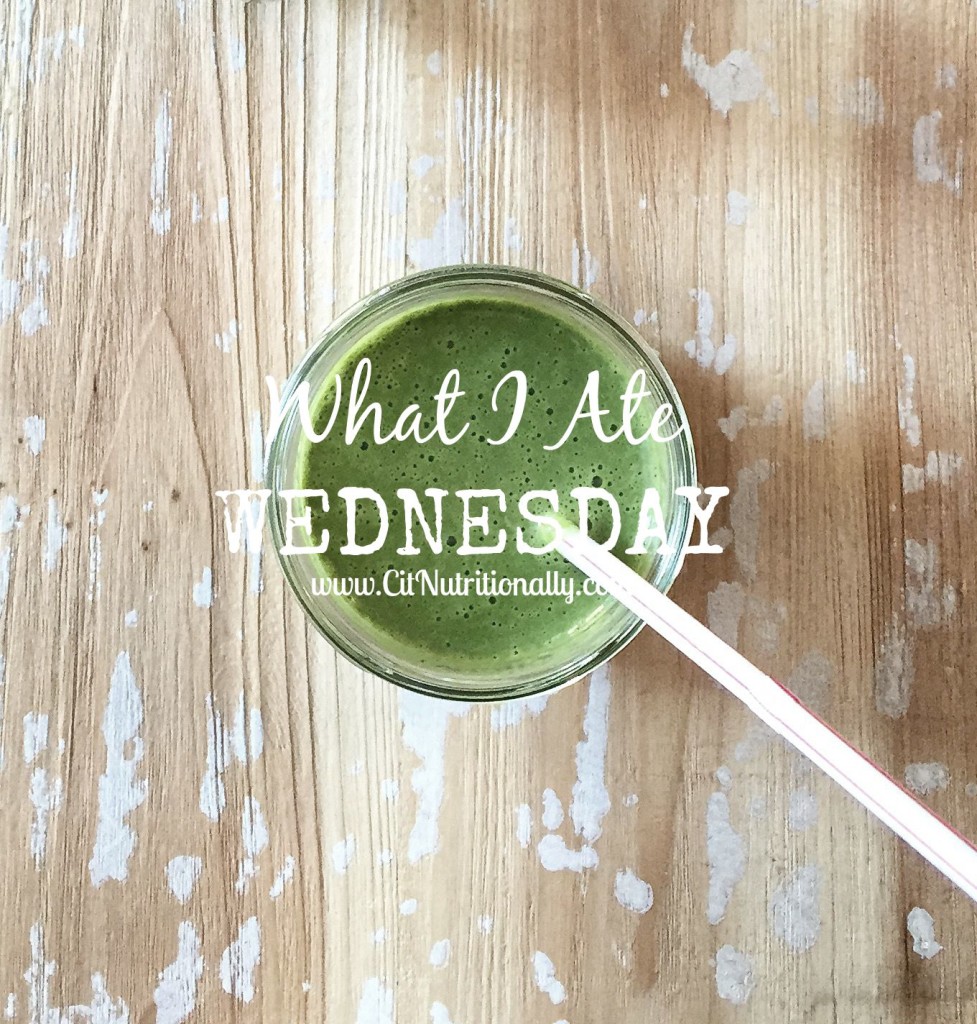 This is the last edition of What I Ate Wednesday!
As much as I've loved showing you an example of healthy, balanced eating, it does take time away from what I love to do — being in the kitchen creating even MORE delicious, approachable and nutritious recipes for you guys and working one-on-one with clients to help them see their lives nutritionally.
>>Find out more about my nutrition counseling services HERE!<<
Sooooo before I jump into the eats, I politely beg of you to take my quick survey at the end of this post so I know what you want to see more of over here!
((from yesterday))
Like most days, I started my day around 7am with a cup of coffee, my probiotics and checking emails. Surprisingly I wasn't hungry right away ((which NEVER happens!!)), so I made my smoothie ahead of time and stored it in my Corkcicle so it stayed cold.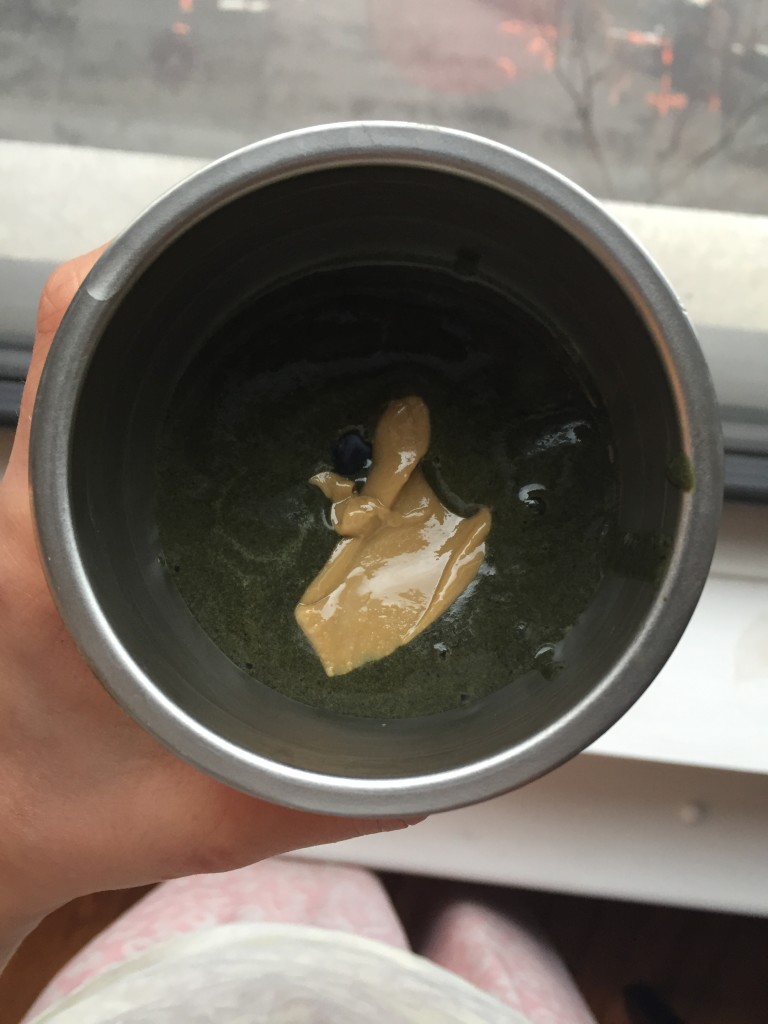 This morning's smoothie was a greener version of my Wild Blueberry smoothie I posted on Monday with more spinach, without the date to cut down on the suga, sans avocado (because I ran out) and a dollop of sunflower seed butter in there for an extra boost.
I went to my usual Tuesday morning 305 class and then went to Starbucks to get out of my usual office ((my apartment)) and get some work done. I re-fueled post workout with some cukes and roasted carrots in my Stasher bag ((Use code CHELSEY15 to get 15% off your order of Stasher bags…and save the planet with me guys!)) and roasted edamame (protein + fiber = YUM!).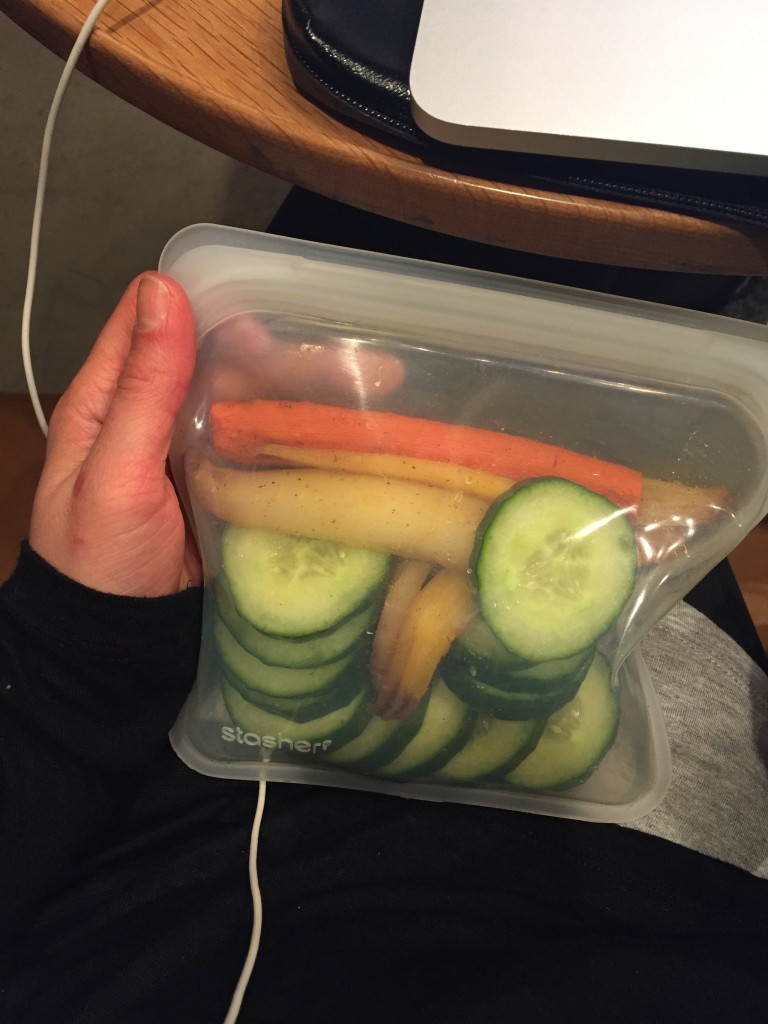 CLICK HERE to take my reader survey!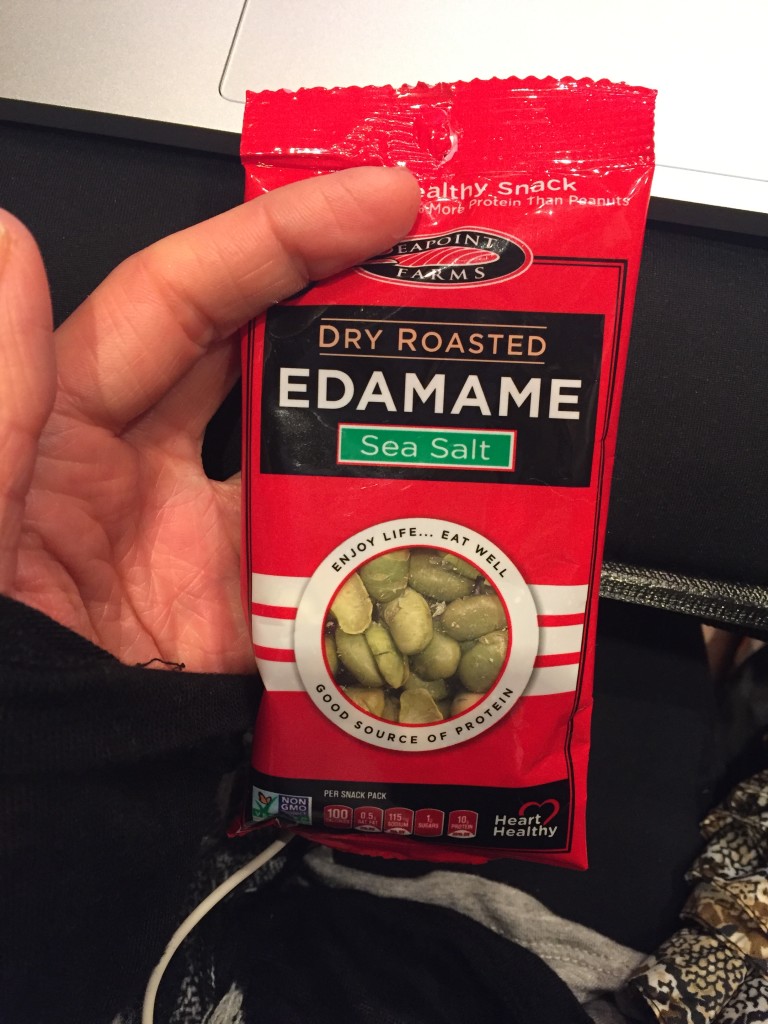 I went to run some errands before returning to my office. I didn't sit down to eat a real lunch until about 2pm, but my snacks held me over pretty well.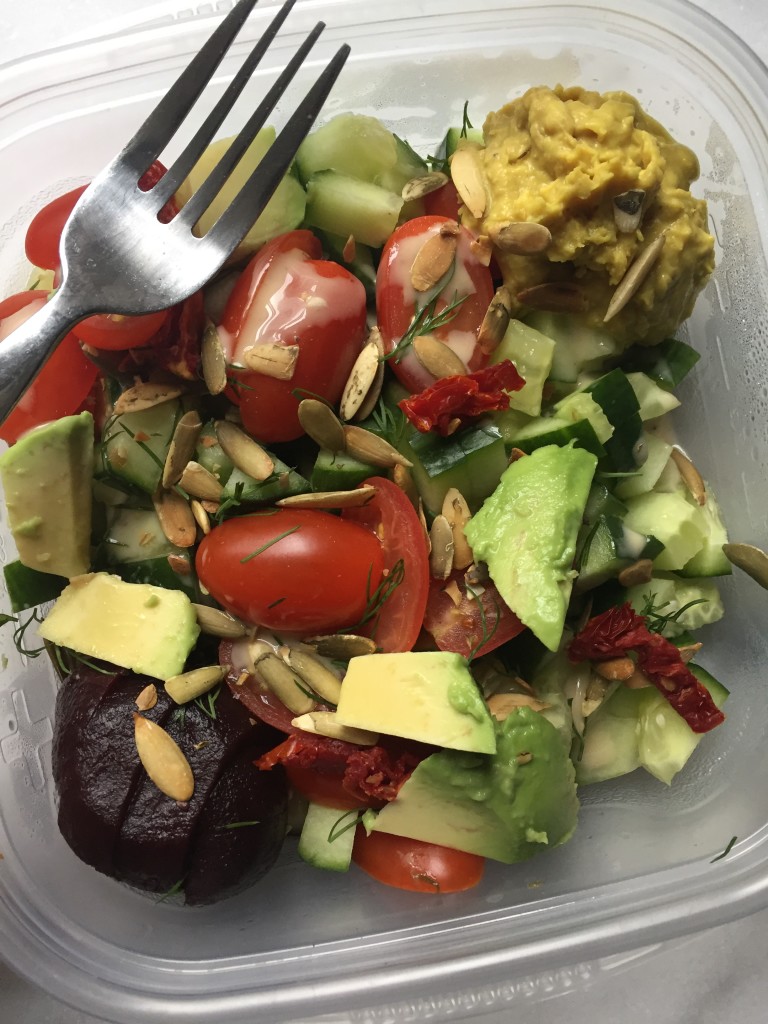 I had prepared some chopped veggies the night before, and threw in some avo and turmeric hummus I made as well with some raw pepitas. Hit the spot! I also had a mug of steaming hot chai tea!
Let's get social! 

Facebook: C it Nutritionally
Twitter: @ChelseyAmerRD
Instagram: @CitNutritionally
Pinterest: ChelseyAmer
After working through the rest of the afternoon and checking up with some clients I made dinner…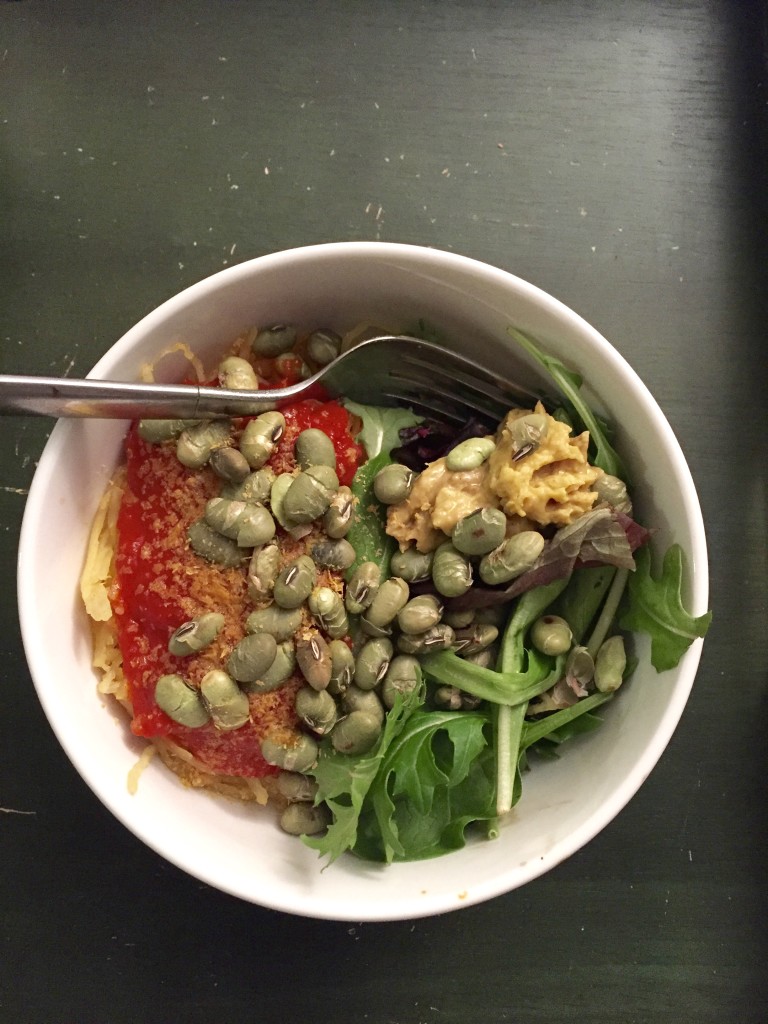 Roasted spaghetti squash with Rao's marinara sauce (has no added sugar!), more roasted edamame, a sprinkle of nutritional yeast and a side of greens with the last spoonful of my hummus. A totally satisfying, but delicious vegan dinner!
S and I caught up for the day, did some more work ((we're both totally swamped right now before our trip to Israel in March!)), I ate some delicious crunchy green grapes (not pictured) and got into bed by 10:30…keeping up my healthy sleep habits…are you?! 
XO
And puuuuhhleaseeee take this 3 question reader survey… I'll be forever grateful and you'll be entered to win a giveaway of some of my favorite things (details to follow!)…