Liven your spirits with this bright winter kale salad, with a citrus balsamic vinaigrette, on a dreary winter day. Enter winter's smartest fruit: citrus!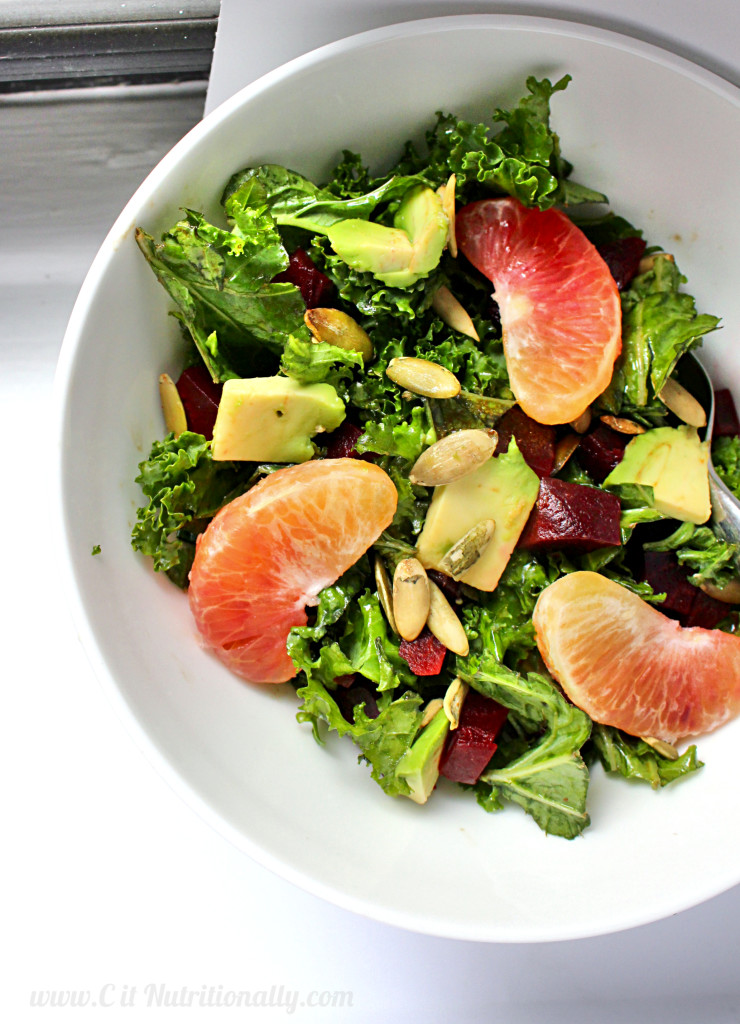 I recently connected with an old high school friend through our Instagram accounts…turns out, she lives in my building, which is a one-in-a-million in New York City! She's currently working from home so I figured it would be nice to invite her over for lunch for a change of pace. I wasn't sure what she typically eats so I didn't want to come off too health-nutty on her [[whatchagonnado]], but I still wanted to make a meal that fits with the vision of my blog. 
This simple salad was perfect (it's still January salad season, after all)…impressive enough with the mature ingredients, but easy to throw together last minute! 
Enter: Winter Kale Salad.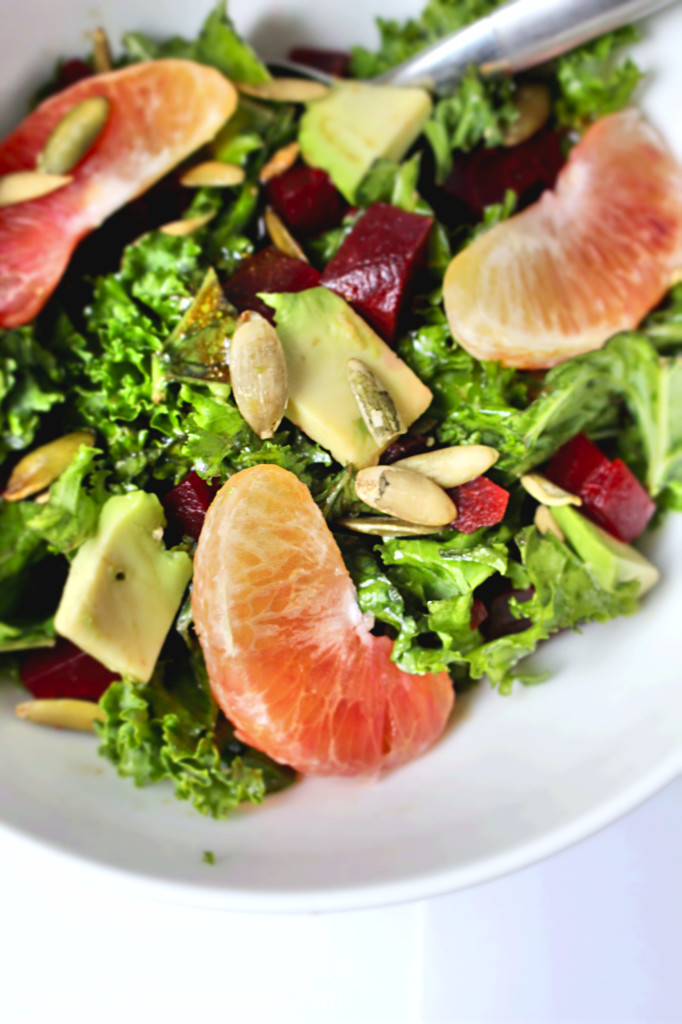 I first made this salad on a particularly wintery day after my barre class and it provided the perfect pick-me-up. Customize the salad to your liking…throw any veggies you want in there. The beets and sweet potatoes are my favorite…they really add substance to any salad and fill you up [not to mention, provide tons of nutrients]!
Making a good kale salad takes a bit of extra effort. While you can just toss a bunch of mixed greens together, you must MASSAGE kale to soften the greens and lose some of that toughness that turns people away from this nutritious leaf. 
Although some say the kale craze is on the decline, I still love this super green for its nutritious benefits…
It contains vitamins A, C, and K, plus some vitamin E and B. 
Kale is packed with minerals like manganese, copper, calcium, and iron. 
One cup of cooked kale contains 5% of your daily protein needs! #PlantStrong
It's loaded with FIBER — 10% of your daily needs in 1 cup! 
Compounds in kale called isothiocynates help protect against 5 types of cancer! 
It helps your body naturally detox, while chewing! 
There are over 40 different flavonoids (read: ANTIOXIDANTS!) in kale, which help protect against inflammation and many chronic diseases (like heart disease!).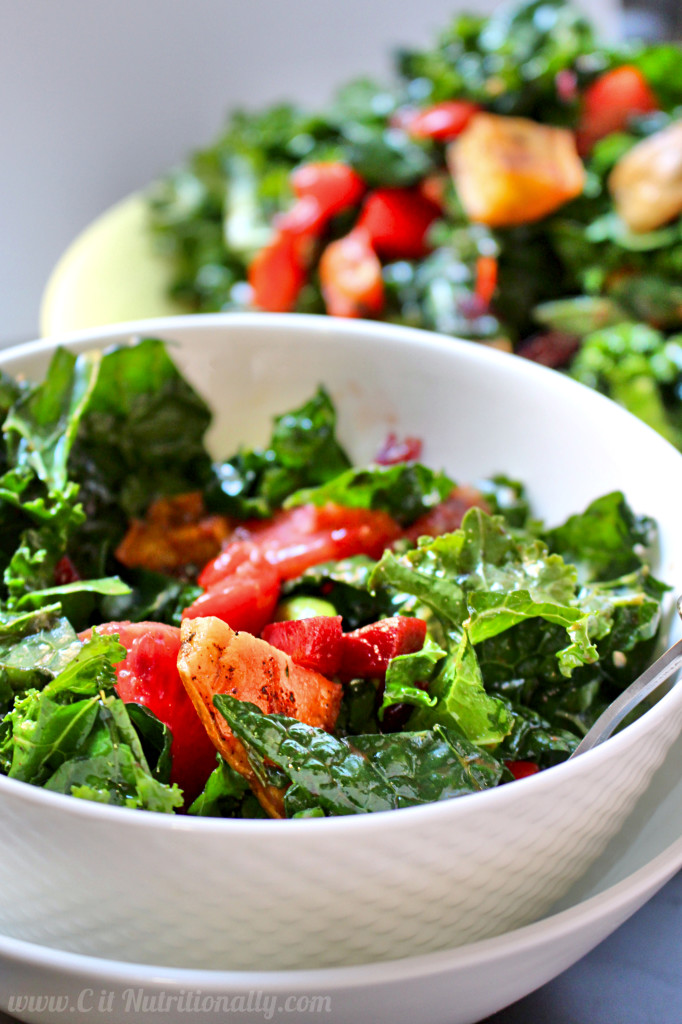 If you're a kale skeptic, be sure to remove the veins from your kale leaves, massage them, and dress your salad more than you typically would (especially with my DELICIOUS homemade dressing below). 
Adding citrus — flesh, candied, dried, or zest — makes any dish POP! The acidity is a welcome flavor, balancing the sweeter veggies. I used blood oranges because that's what I had on hand, but any citrus will do…grapefruit anyone? The added citrus zest in this dressing enhances the citrus in the salad…but if you're in a rush, a plain balsamic vinaigrette will do just fine.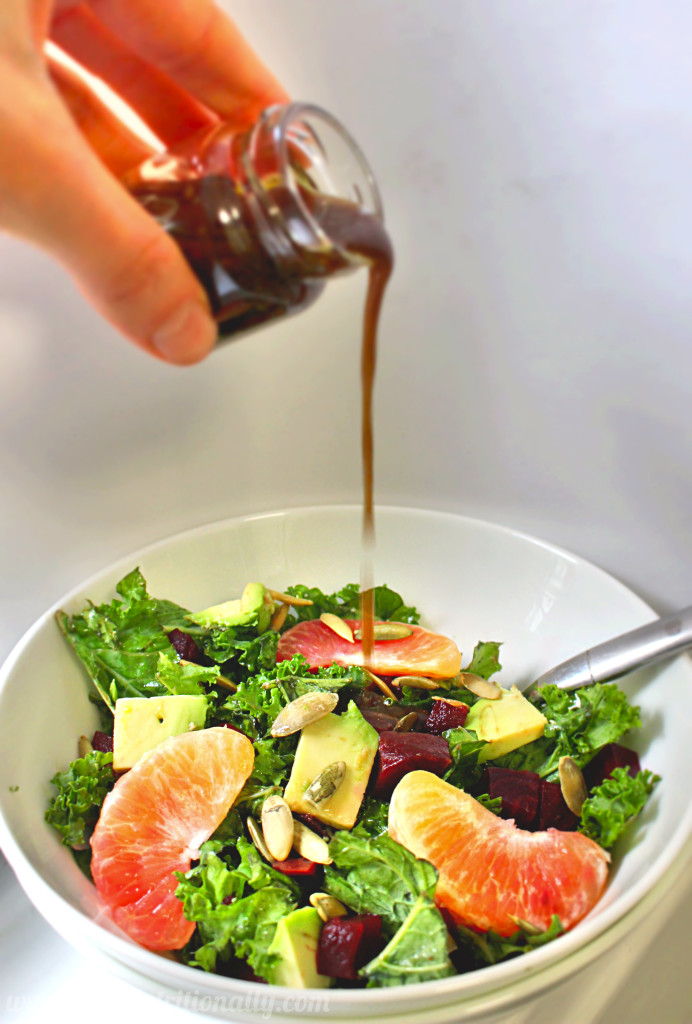 Winter Kale Salad
Author:
Prep time:
Total time:
Ingredients
For the salad:
½ pound kale, roughly chopped
½ bell pepper, chopped
½ medium avocado, diced
2 small beets, steamed and chopped
½ medium sweet potato, sliced and roasted
½ cup edamame, shelled
1 medium blood orange, divided into slices
¼ cup pepitas or crushed seed crackers (see recipe)
For the dressing:
1 tablespoon balsamic vinegar
2 tablespoons extra virgin olive oil
½ teaspoon dijon mustard
¼-½ teaspoon honey (amount depends on preference)
½ clove of garlic, finely grated
Pinch of black pepper
Orange zest from half of an orange
Instructions
In a small bowl, combine all dressing ingredients. Mix until uniform consistency forms. Set aside.
In a medium-sized bowl, massage your kale leaves (just squeeze and drop a couple of times). Dress kale leaves and let marinate for at least 10 minutes.
Add the rest of the ingredients and toss. Enjoy!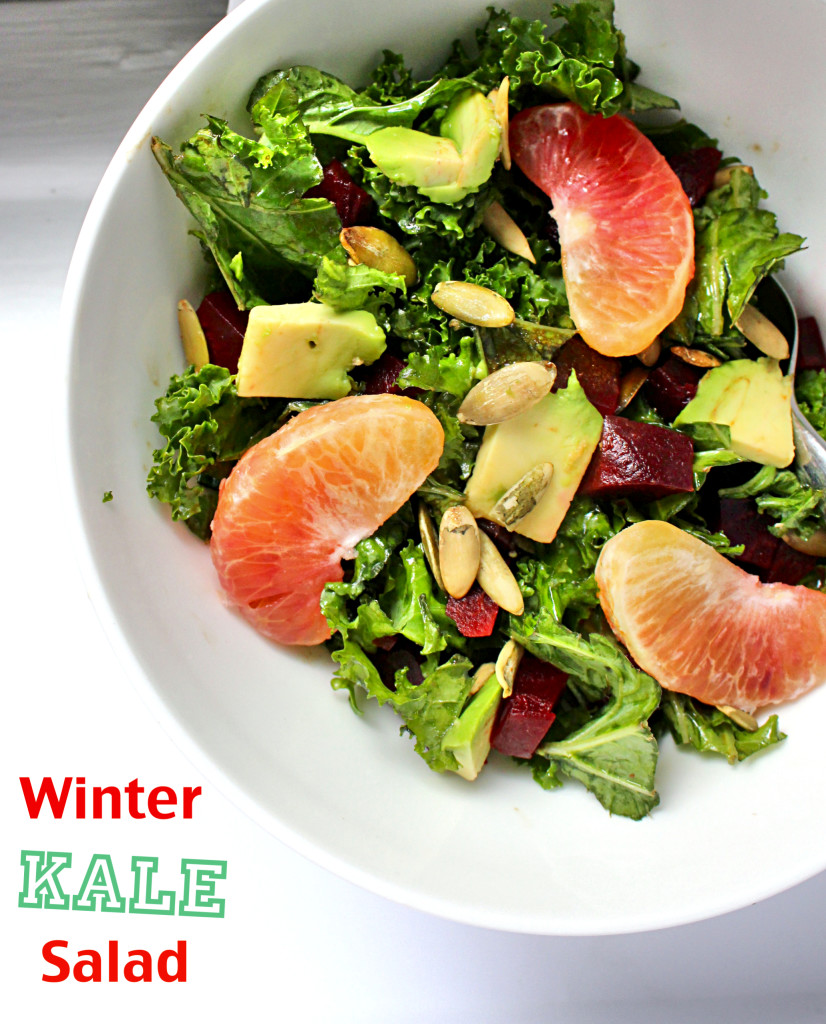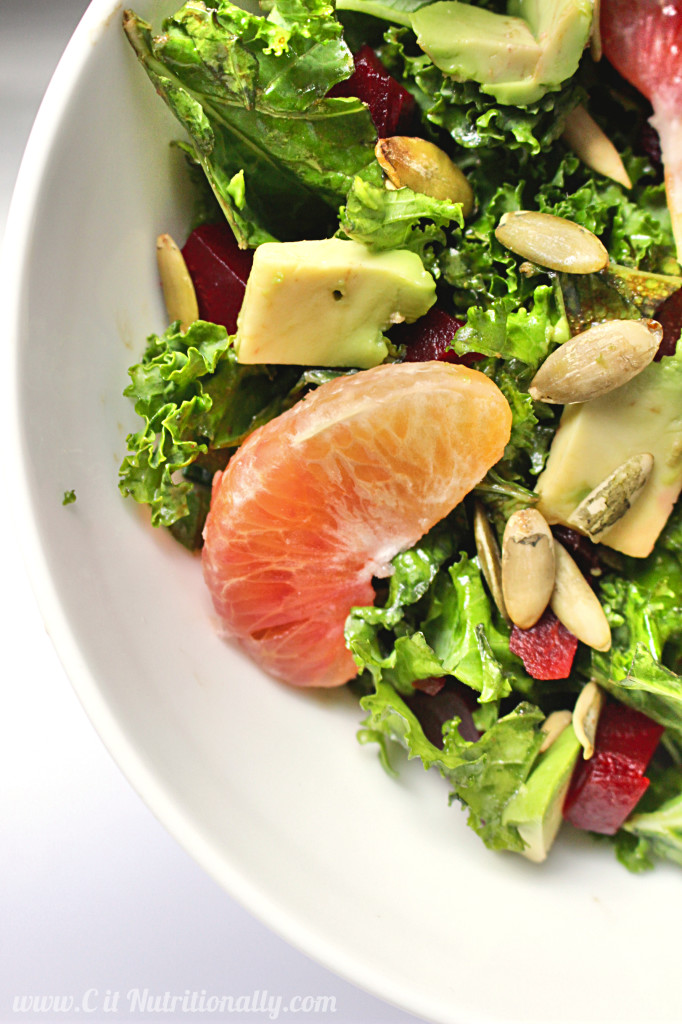 Now that's a good looking #MeatlessMonday meal! 
Here are some other great meat-free options: 
Breakfast: Banana Bread Overnight Oats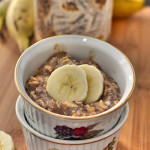 Lunch: Mediterranean Kale Salad (I guess I'm in a kale kinda mood!)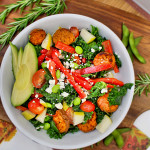 Snack: Coconut Date Bars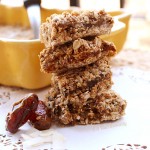 Dinner: Black Bean Burgers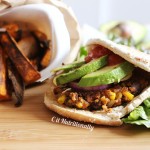 Enjoying a day off for Martin Luther King Day? Get cookin'! 
XO