Zucchini Breakfast Nachos are a delicious and nutritious way to start your day, filling you up with fiber, protein and more than one servings of veggies!
Vegetarian, Gluten free, Grain free, Dairy free, Nut free, Peanut free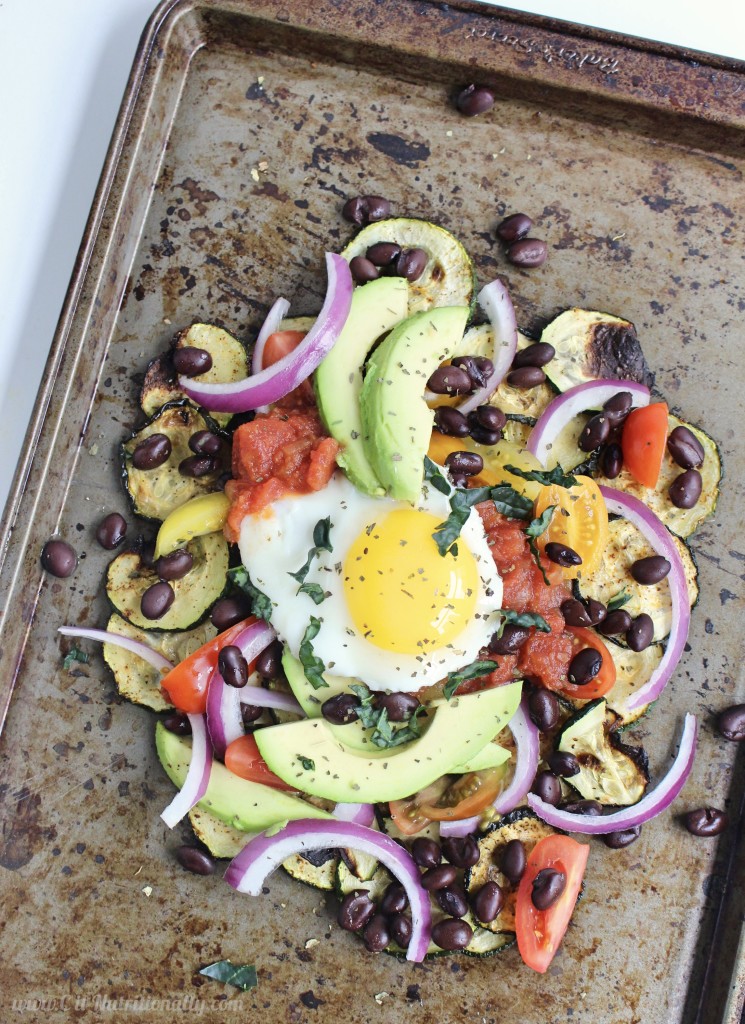 Apparently breakfast is on my mind these days! In case breakfast pizza isn't quite your thing, I have another great breakfast for you today…. ZUCCHINI BREAKFAST NACHOS!
Ohhh yeahhh I went there!
If I could, I'd eat breakfast for 3 meals of the day. And sometimes I do. No joke. Preferably Israeli breakfast because, well, they do it RIGHT! Anyone else a brekkie lovahhh?? 
But when I was cutting all added sugar out of my diet, one of the hardest meals for me was breakfast and snacks. And this meal solved that realllll quick! Along with my new love affair with chia pudding and my sugar free homemade sunflower seed butta.
When you roast zucchini it caramelizes so it tastes extra sweet and this girl ((moi!)) who wakes up craving sweets was totally satisfied with it. So if you're a sweet breakfast kinda gal (or guy) or savory, there's something in this meal for you!
When I was typing up this post though I realized that this is my FIRST nacho recipe. I usually shy away from the nachos recipes because, well, cheese and dairy don't really agree with me and S doesn't like cheese ((I know…weiiiirddddooooo)), but these super flavorful nachos don't even need it!! Vegans rejoice ((and skip the fried egg and bulk up the beans!)).
But you can also totes add some cheesiliciousness up on here if you'd like…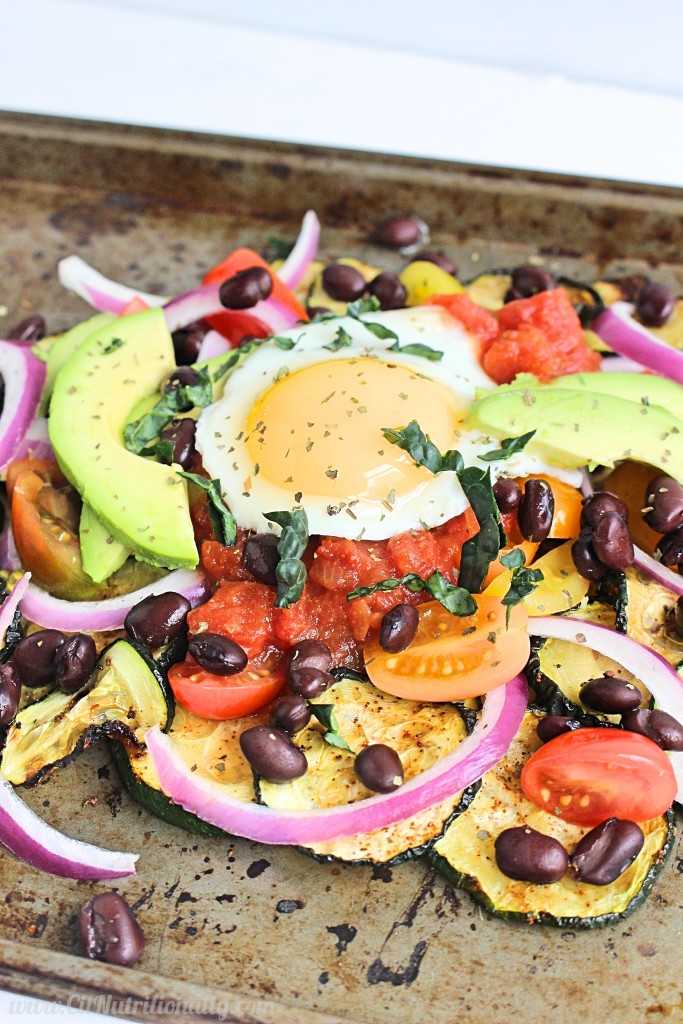 These Zucchini Breakfast Nachos are…
Made in less than 20 minutes

Vegetarian

Naturally gluten free and grain free

Loaded with protein, fiber and healthy fats to keep you full all morning long ((remember how to balance your plate??))
Contain more than one serving of veggies!
Now I don't know about you, but this recipe is #winning in my book!
Oh, and pro tip….. You can roast sliced zucchini ahead of time so then in the morning you just have to heat it up quickly and add the toppings. Or make this a brunch recipe for the books!
Breakfast is nacho problem any longer…
Zucchini Breakfast Nachos for One
Ingredients
1 medium zucchini, thinly sliced to 1/8-inch slices
1 teaspoon olive oil
Salt and pepper to taste
1-2 organic egg(s)
2 tablespoons salsa
1/3 avocado, sliced
1/4 cup canned black beans (rinsed and drained)
Optional toppings: Sliced red onion, cilantro, fresh halved grape tomatoes
Instructions
Gently coat zucchini with olive oil and sprinkle with salt and pepper, to taste. Bake at 375°F for 15-20 minutes, just until edges are crispy. Please note that cooking time will slightly differ based on the thickness of your zucchini slices.
In the last few minutes when the zucchini is cooking, fry an egg (or two) in a nonstick skillet gently coated with nonstick oil spray.
When the zucchini is done cooking load up the zucchini nachos with toppings: salsa, avocado, black beans and the egg(s). Enjoy warm!
Notes
Note: If you'd like to add cheese, once the zucchini are crispy on the edges, sprinkle 1/4 cup shredded Mexican blend cheese over the zucchini slices and return to oven for ~5 minutes or until gooey and melted.
Nutrition Facts (for 1 egg): 296 calories, 18g fat, 300mg sodium, 24g carbohydrates, 8.5g fiber, 13.5g protein Nutrition Facts (for 2 eggs): 374 calories, 23g fat, 360mg sodium, 24g carbohydrates, 8.5g fiber, 20g protein
http://citnutritionally.com/zucchini-breakfast-nachos-one/
Don't forget to PIN IT…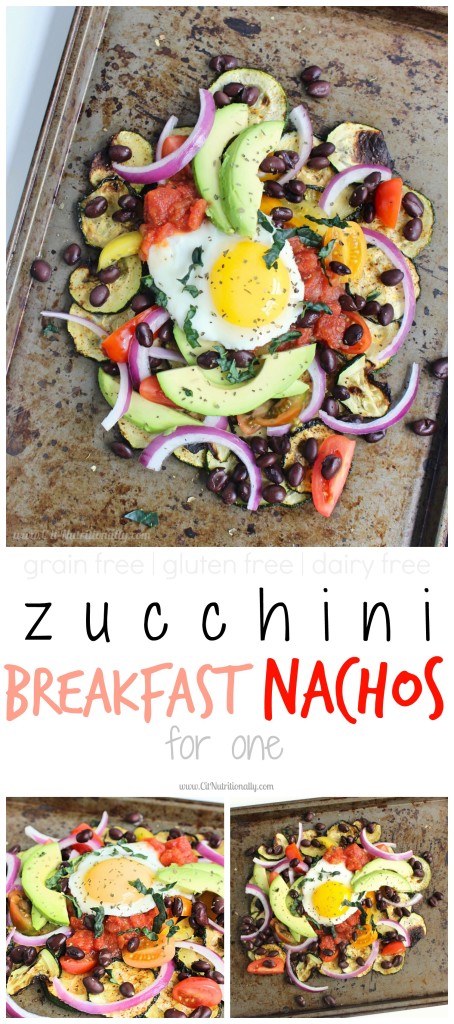 Nacho average brekkie… 
Happy Monday my friends!


XO

Let's get social!
Facebook: C it Nutritionally
Twitter: @ChelseyAmerRD
Instagram: @CitNutritionally
Pinterest: ChelseyAmer