Who doesn't want to wake up to a warm, gooey, chocolatey bowl of brownie batter that's actually good for them and will nourish their body?! This 10 Minute Chocolate Brownie Oatmeal Bowl is exactly what you need to tackle chocolate cravings first thing AND provide tons of good for you nutrients (with a secret hidden ingredient!).
Vegan, Gluten free, Egg free, Nut free, Wheat free, Dairy free and Egg free options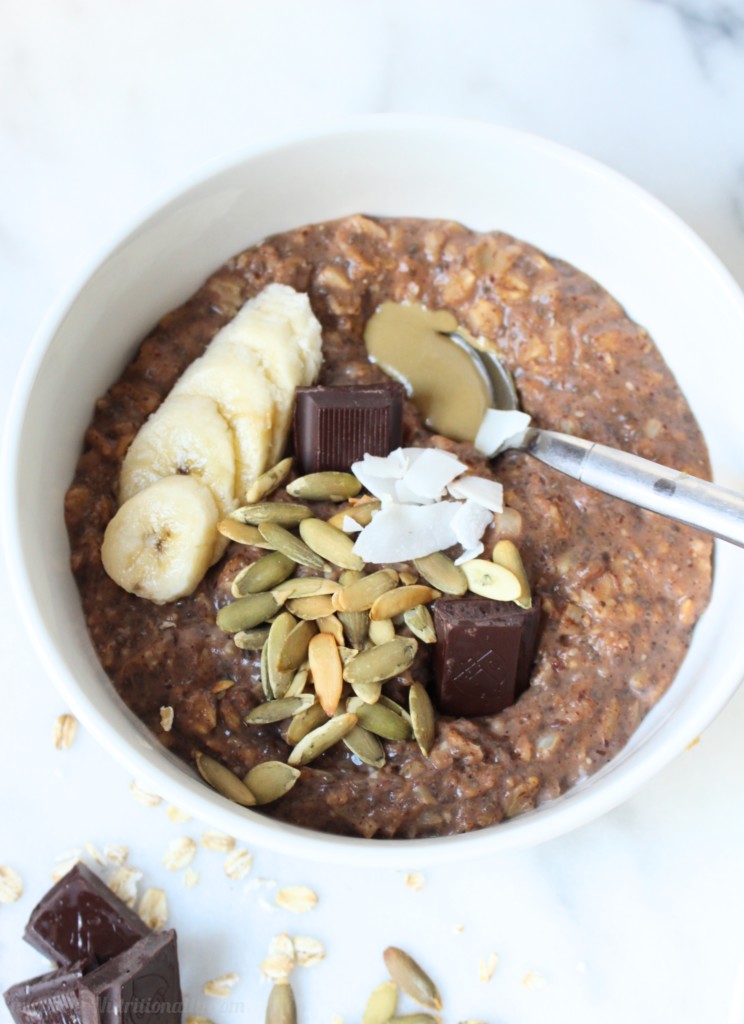 Hey guys! Did you know that March is National Nutrition Month?! Ohhhh yeaaahhhh! We're talking 31 days of nutrition fun, facts and FOOD!
Because we don't eat in nutrients… we eat FOOD!
I am so excited for this month because I have tons of great stuff to share with you guys to put your best fork forward (this years theme!) AND I know so many of my dietitian friends also have fabulous resources, blogs, recipes and more up their sleeves as well!
So I'm kicking off National Nutrition Month with a CHOCOLATEY BANG! Because nutrition is all about balance… so eat your chocolate and cauliflower too!
I've seen the adding more vegetables to your breakfast trend soaring to new heights this year (#trendalert!) beyond the basic veggies in your omelet sort of thang to ZOATS (zucchini oats) and COATS (cauli oats) and that's exactly what I'm sharing with you today!
Most Americans simply do not eat enough veggies. I mean, are YOU eating 3-5 servings of veggies a day?? I didn't think so! And if you are, BRAVO! I'm all about sharing more ways you can eat more veggies (READ MORE HERE) and one of my latest and greatest ways to do that is to add riced cauliflower to my morning bowl of oats.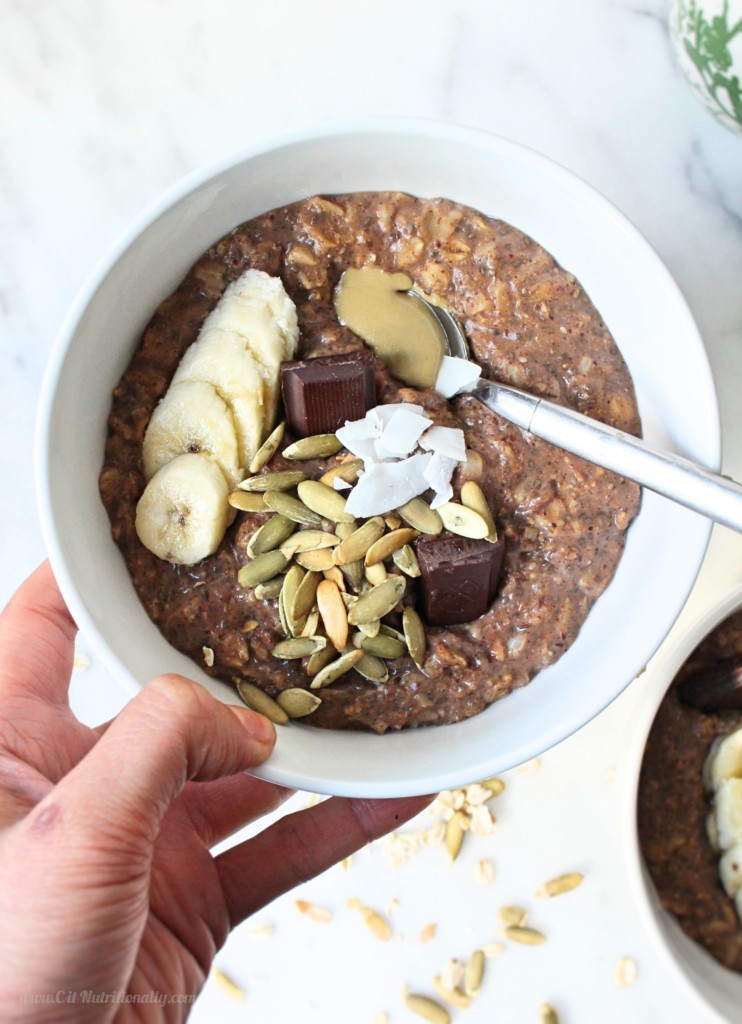 Personally, I'm an oatmeal lover. There's something so comforting about it. But a bowl of oats leaves me feeling empty about an hour later which is why I favor my overnight oats with a dose of filling chia seeds to boost 'em up. Well, now I got the genius idea from one of my Instagram friends to add riced cauliflower!
Riced cauliflower is a great way to bulk up your breakfast bowl because…
It's full of FIBER and nutrients with few calories
It's inexpensive
It takes on the flavor of your bowl … I mean, helloooo chocolatey greatness!
I'm a big fan of riced cauliflower and always have some stored in my freezer to add to smoothies, meatloaf muffins for S, as a side dish, and now my bowl of oatmeal too!
With just 6 ingredients (plus spices) this 10 Minute Chocolate Brownie Oatmeal Bowl is…
Full of (12 grams!!) FIBER (to keep you full, keep things movin' along, and keep your heart healthy!)
Packed with chocolatey flavor without added sugar so you can conquer your cravings in a healthy way first thing in the morning
A great way to boost your veggie intake deliciously
A great canvas for delicious toppings
Packed with 12 grams protein per serving!
Easy and quick to make
Totally satisfying and satiating!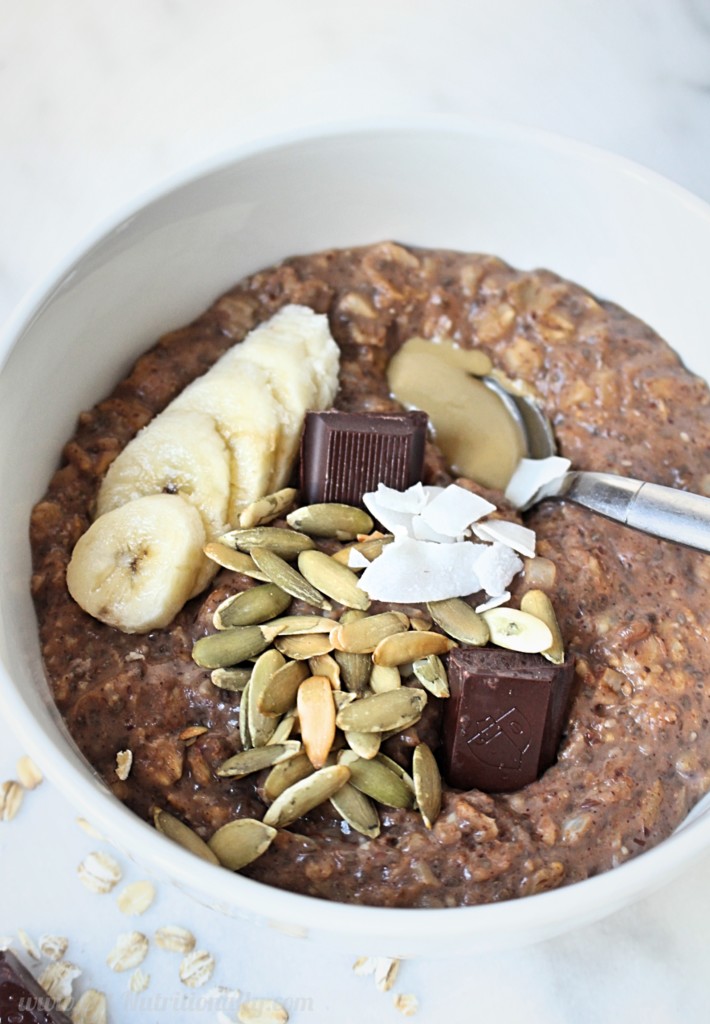 Watch me make this 10 Minute Chocolate Brownie Oatmeal Bowl…
10 Minute Chocolate Brownie Cauliflower Oatmeal Bowl
Ingredients
1/4 cup rolled oats
1/4 cup riced cauliflower
1 tablespoon chia seeds
1 tablespoon ground flax seeds
1/4 teaspoon ground cinnamon
1/8 teaspoon ground ginger
Pinch of salt
2 teaspoons unsweetened cocoa powder or cacao powder
1/2 cup + 2 tablespoons milk of choice, divided (I used unsweetened soymilk)
Instructions
In a small stock pot combine oats, riced cauliflower, chia seeds, ground flax seeds, spices, cocoa powder, 1/2 cup milk and 1/2 cup water. Heat over low to medium heat, stirring occasionally until all liquid is absorbed, about 5 minutes.
Once the oats absorb most of the liquid add an additional 2 tablespoons each of milk and water.
Continue to stir over low heat until all the liquid is absorbed.
Pour mixture into a bowl and top with sliced banana, chocolate chips, or whatever toppings you desire! Enjoy while warm!
Notes
Nutrition Facts (for the entire recipe): 238 calories, 10g fat, 57 mg sodium, 27g carbohydrates, 12g fiber, 12g protein
http://citnutritionally.com/10-minute-chocolate-brownie-oatmeal-bowl/
Don't forget to PIN IT…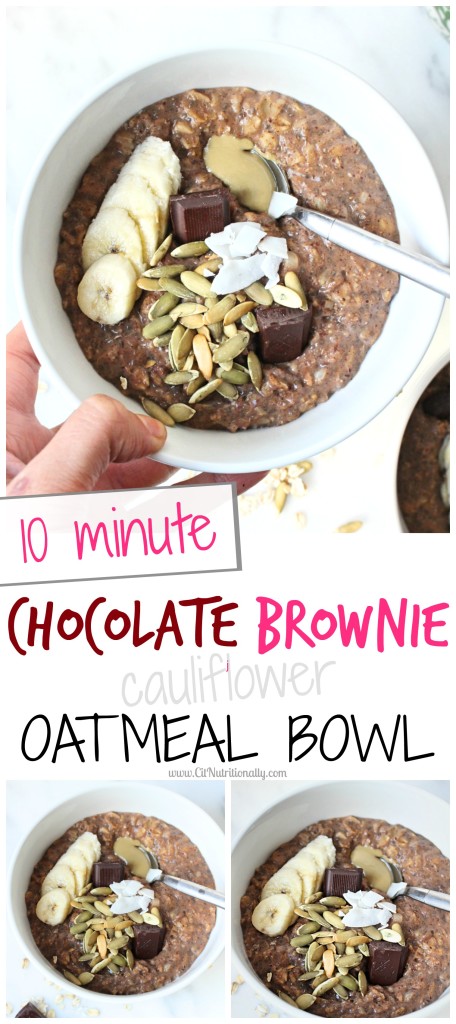 Seriously swoooon over all of the chocolatey goodness!
Happy National Nutrition Month my friends! 


XO

Let's get social!
Facebook: C it Nutritionally
Twitter: @ChelseyAmerRD
Instagram: @CitNutritionally
Pinterest: ChelseyAmer