We're kicking off Week 1 of 52 Weeks to See Your Life More Nutritionally with a topic near and dear to my heart —Ways to Eat MORE Veggies! Let's get creative and prove that veggies are just as delicious as they are nutritious!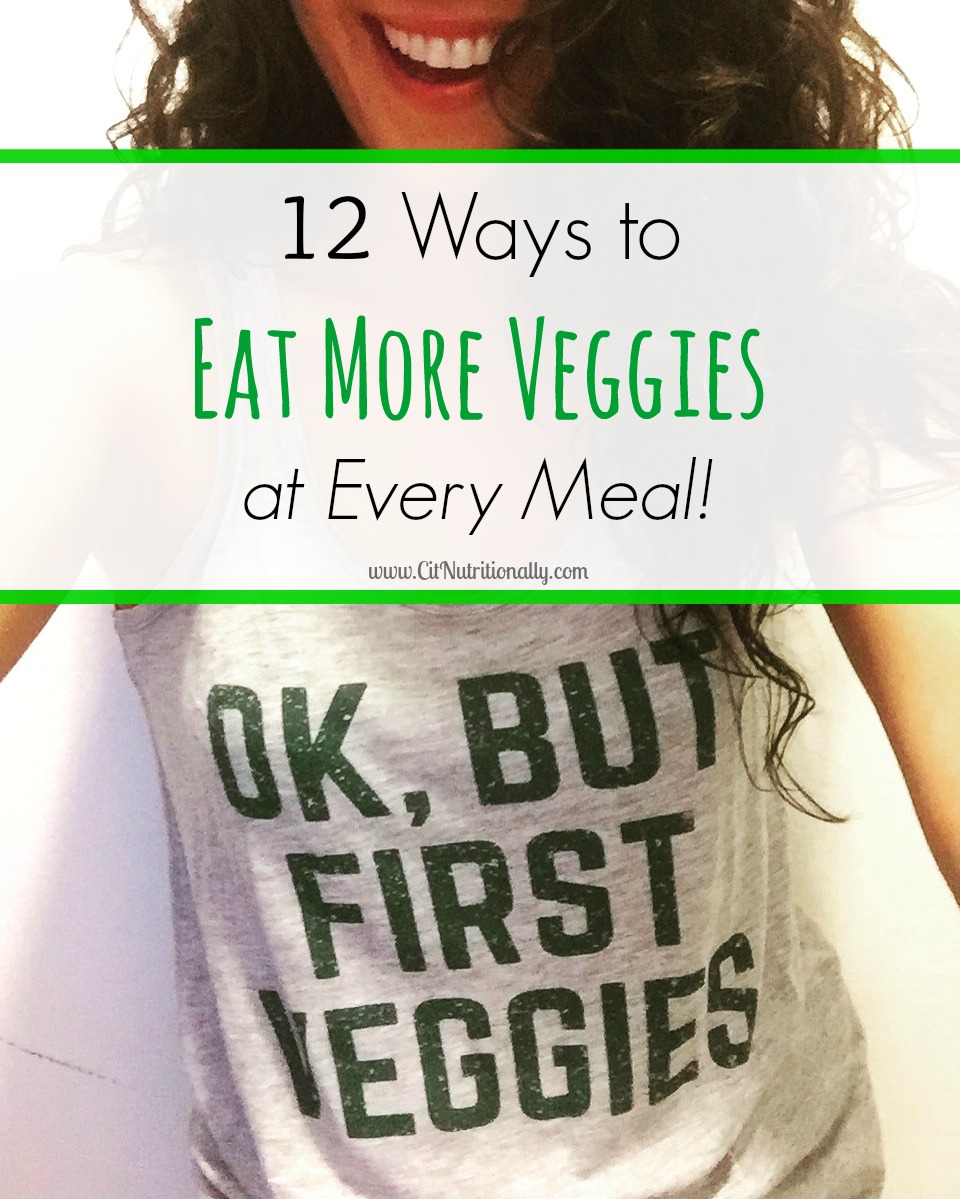 Happy New Year guys!!! I hope you had a fun, sparkly and healthy hello to 2017! Like I mentioned on Friday, I'm kicking off a brand spankin' new series this year — 52 Weeks to See Your Life More Nutritionally!
I'm SO freakin' excited about this because often times people think implementing healthier habits is a HUGE overhaul to their existing lifestyle, when in reality, small changes really add up and lead to a healthier you! Soooo each week [on Sunday] I'll be sharing some small tips that add up to make BIG healthy changes. Win win win win win! 
I'm kicking off Week 1 by encouraging you to EAT MORE VEGGIES! We're not removing anything from your diet, but instead, focusing on what we can ADD to your diet to help you get even a teeeeensy bit healthier. I'm right there with ya, taking some of these tips to the next level in 2017!

((follow along with me on Instagram!!))
WHY you ask?! Vegetables are…
Full of vitamins and minerals, antioxidants, water and FIBER.
Hydrating!! Did you know your food can help you reach your hydration quota for the day? YUP. VEGGIES! Cukes, tomatoes (OK, ok, I know they're a fruit!), bell peppers, 'shrooms…the options are endless!
SO filling! If you're looking to eat more for your caloric buck, start loading up your plate with veggies.

Did you know that HALF of your plate should be full of 'em?!

Nutritious raw AND cooked. I encourage everyone to eat a combination of raw and cooked veggies because some nutrients are enhanced when they're cooked, whereas others when veggies are raw.
Great to bulk up any meal. I mean, have you tried my single-serve turkey meatloaves with riced cauli?!
Just as nutritious fresh OR frozen!
SO versatile. Riced cauliflower and broccoli?! Sweet potato toast? Eggplant 'meatballs'?!
Did you know that we're supposed to eat at least 5 servings of veggies and fruit daily?! A serving is considered 1 cup of chopped fruits or vegetables (cooked or raw), 2 cups of leafy greens, or 1 medium piece of fruit.
FYI — a cup is about the side of a baseball or the size of your fist (but given we all have different size hands, I like the baseball analogy!)
If you're not a veggie eater, 5 a day may seem a tad overwhelming, so today I'm sharing 12 ways to eat more veggies at every meal ((many of which you won't even notice!))…
Breakfast
1. Start your day with a green smoothie. This is a you need to try it to believe it sort of thang. BUT if you love the combo of banana + PB, then you'll love this smoothie and you won't even taste the baby spinach.
2. Whip up a bowl of zoats or coats?! Shredded zucchini provides almost no flavor, buy great texture, so adding it to a bowl of oats or chia pudding is a fab way to sneak in some more veggies. Also great? Riced cauliflower! Throw a handful into a smoothie and you'll barely notice it's there!
3. Choose a veggie-filled omelet for brunch or breakfast for a great balance of protein and fiber to fuel your day.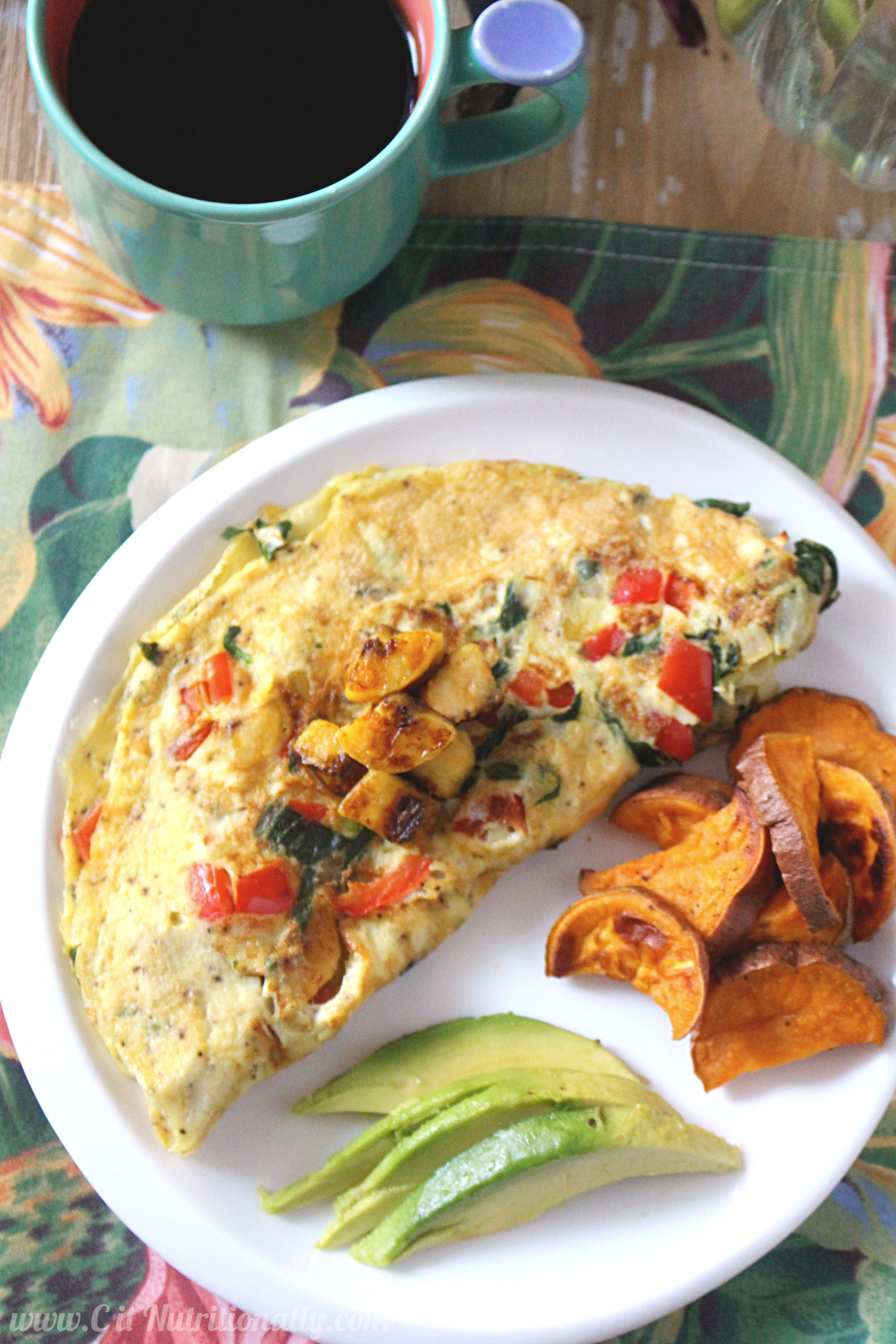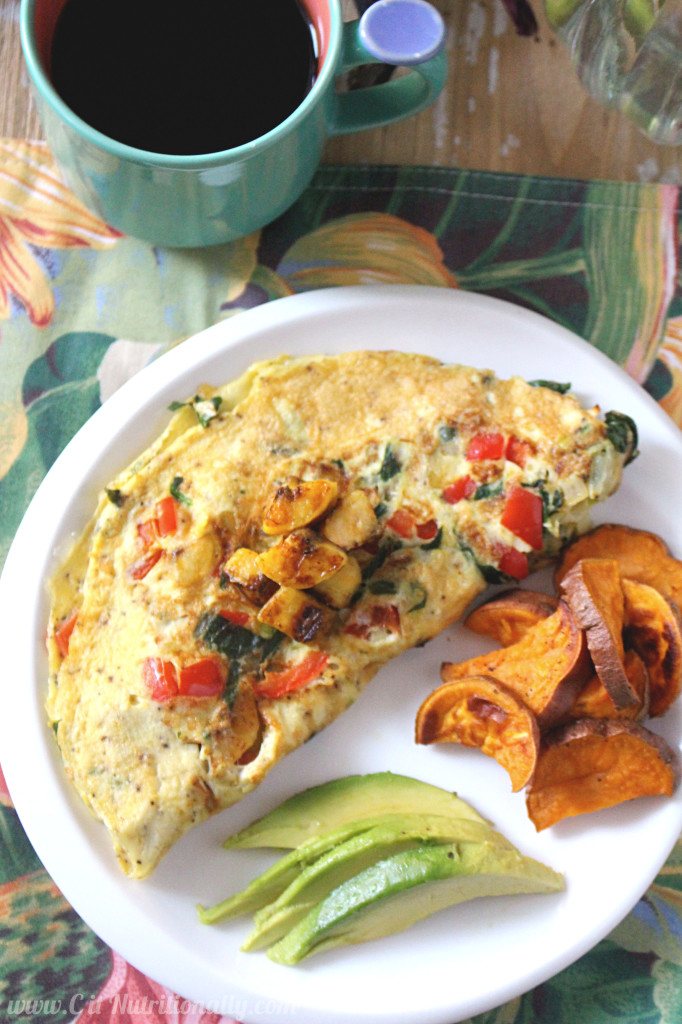 Lunch
4. Eat a salad instead of a sandwich at lunchtime OR stuff way more veggies into your sammie. I love sandwiches, but studies show that on days when people eat a sandwich they consume almost 100 more calories and a serving less of veggies. Sooooo switch it up and eat a salad sometimes….orrrr make a sandwich of mostly veggies!
5. Use veggies as the bread to your sammie. Sometimes, only bread will cut it. Other times, two bell pepper halves or cucumber slices or sweet tater toast or a lettuce wrap make great substitutions.
6. Buy in-season produce for superior taste, price and nutrient value! In-season produce is often WAY sweeter than produce that's been shipped in, so participate in your local CSA or head to your farmer's market to get a better look at what you should be eating now. Hint: kale, cabbage and winter squash are all in season right now!!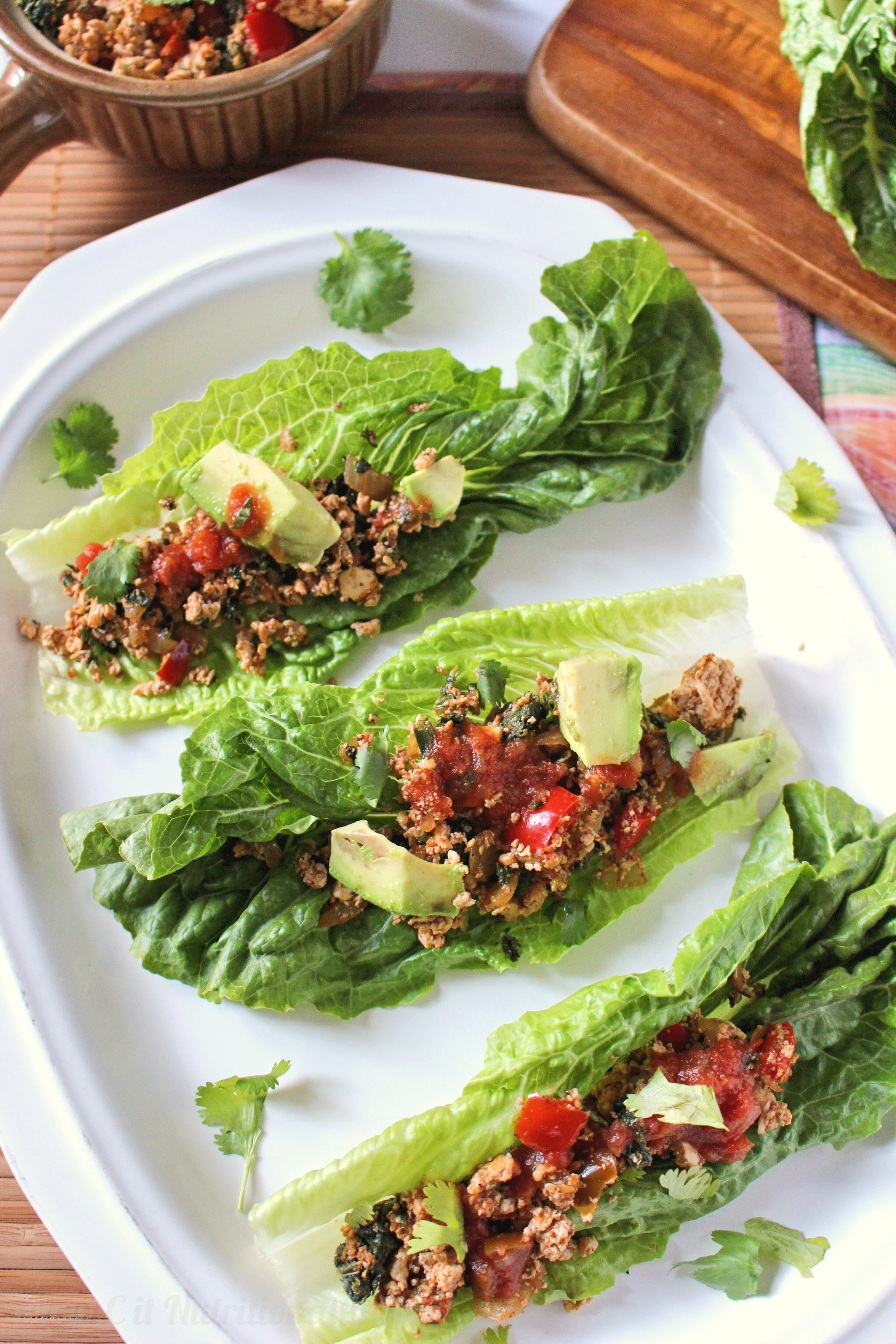 Dinner 
Are you making HALF of your plate veggies???
7. Throw finely chopped veggies into ANY meal. Tacos, meatloaf muffins, meatballs, lasagna, baked ziti, bean burgers…the possibilities are endless!
8. Ask for a side veggie instead of fries when you're dining out. This one takes some practice ((and perhaps a word I despise — willpower)) in order to get in the habit of asking "hey, can I have a side of veggies instead of the fries," but it's 100% worth it in the long run…unless the place is known for their fries, and then, indulge with awareness!
9. Start your meal with a salad or bowl of veggie soup. This way, you're eating your veggies first, filling up with fiber and a boost of hydration, and you're less likely to reach for that stale bread basket.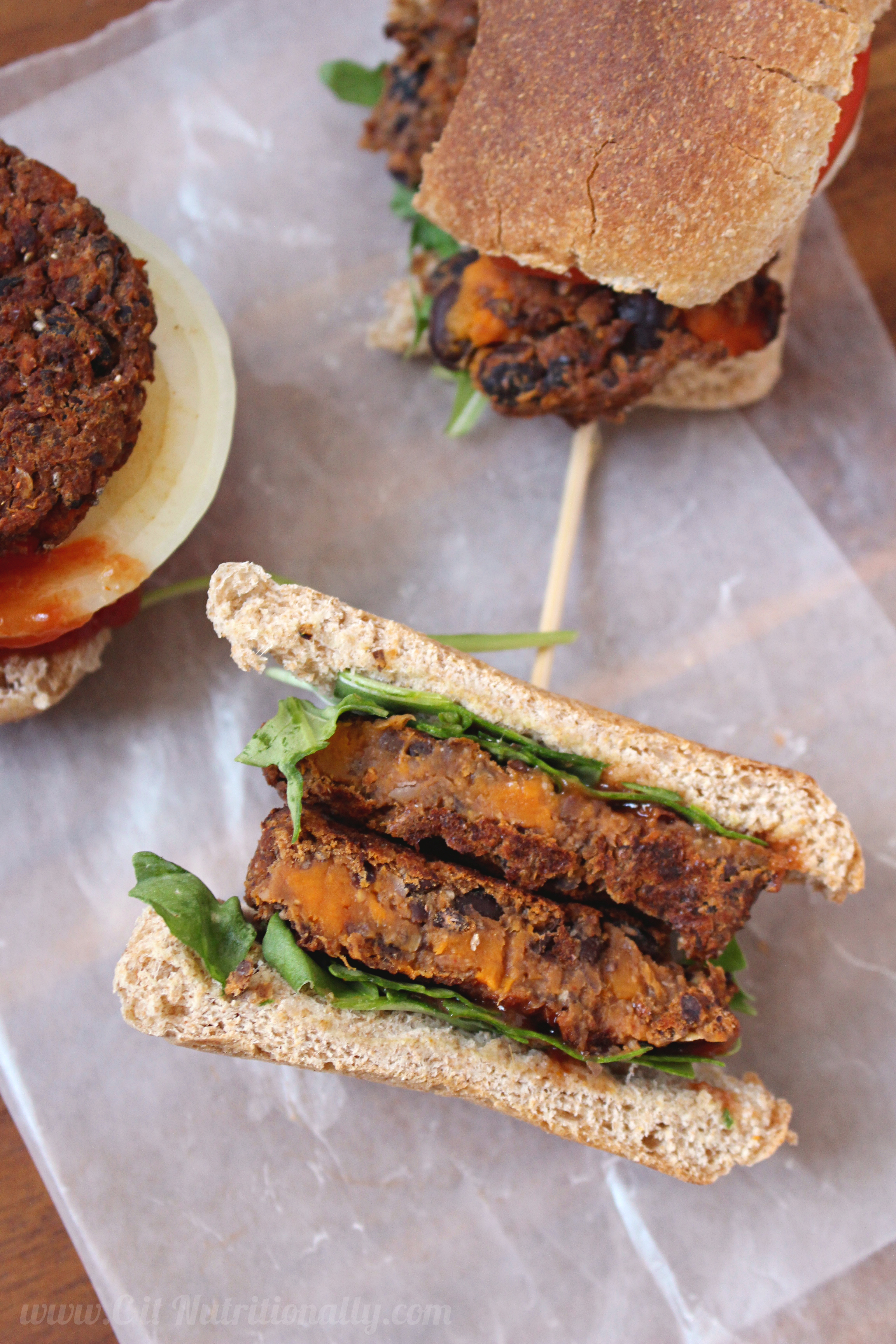 Snacks
10. Think of veggies as your new favorite dipper. If you're easing into the whole eat more veggies thang, then try adding some veggies in addition to tortilla chips or whole wheat pita chips when dippin'. Slowly add more and more veggies and less other bagged chips and your body will thank you for it. Oh, and don't forget about roasted veggies too! Personally, I think rainbow carrots take the cake as the best dipper for hummus and guac!
11. Even better, add extra veggies into your dip like I did in my Roasted Red Pepper Mung Bean Dip.
12. Prep your veggies at the beginning of the week and keep them in a clear container at eye-level in your fridge. Science says you're WAY more likely to reach for the veggies this way!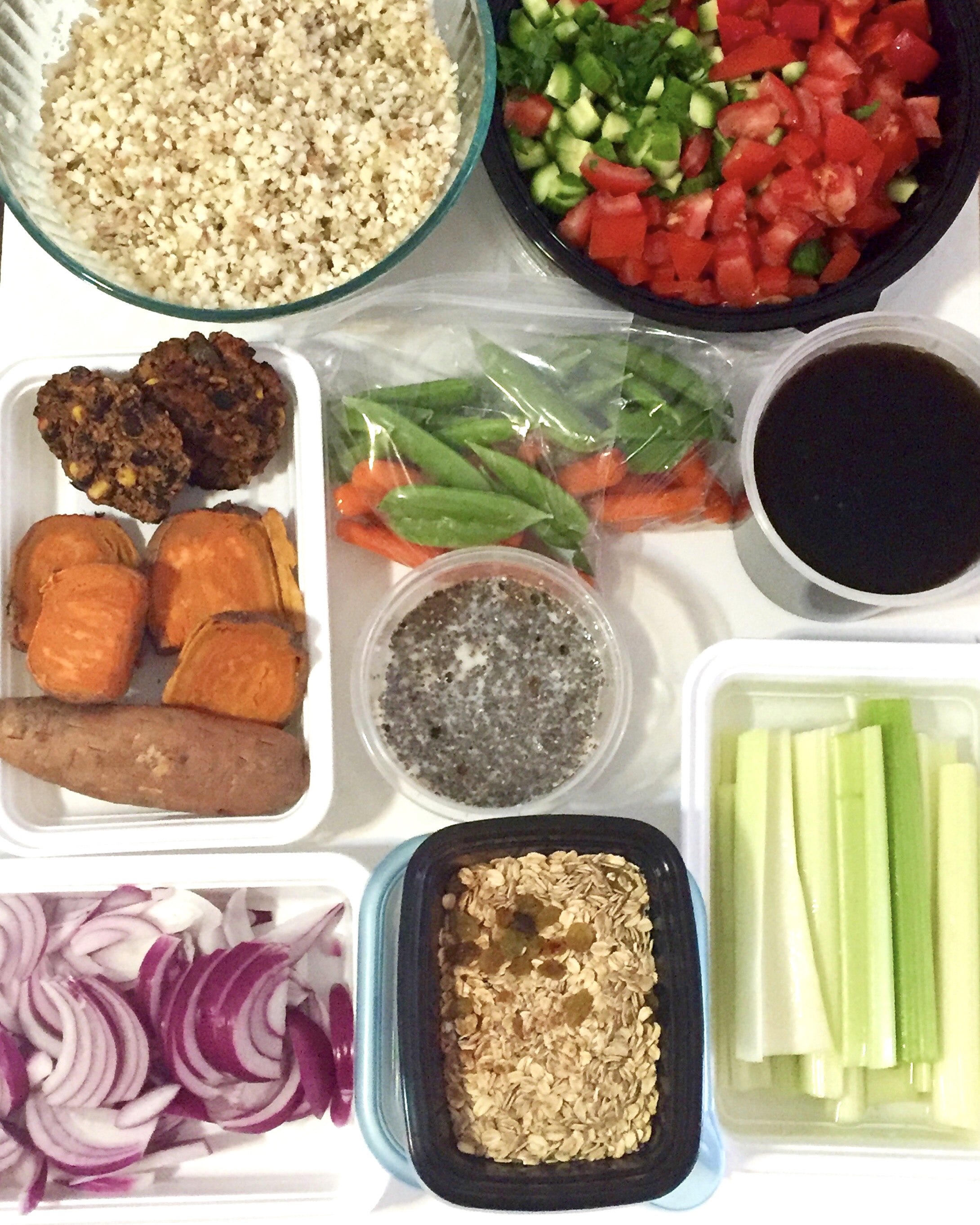 And be sure to stop by tomorrow because I'm sharing 25 of my FAVORITE veggie-filled SOUP recipes from some of my awesome blogging buds!
Want to keep this tips on hand at all times?!
Pin it for later or PRINT it…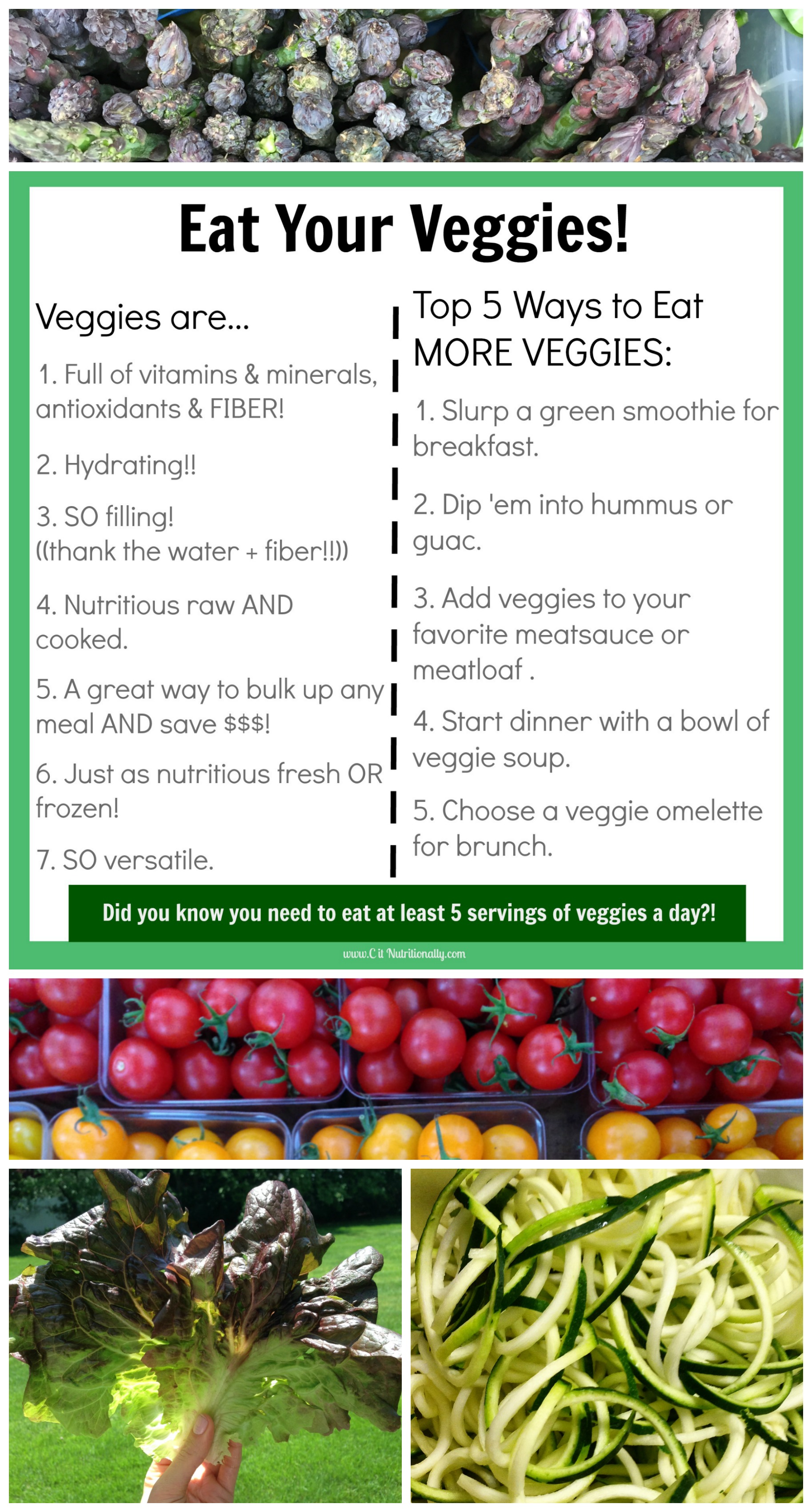 Wishing you nothing but a happy, healthy, and veggie-filled New Year!! 
XO
PS – If you or someone you know is looking to get healthier in 2017, please reach out…I'd love to help you accomplish your goals! 
Let's get social!
Facebook: C it Nutritionally
Twitter: @ChelseyAmerRD
Instagram: @CitNutritionally
Pinterest: ChelseyAmer