Grab these 2 Ingredient Breakfast Tacos on your way out the door for a protein-packed and fiber-full breakfast to help you stay full all morning!
Nut Free | Gluten Free Option | Soy Free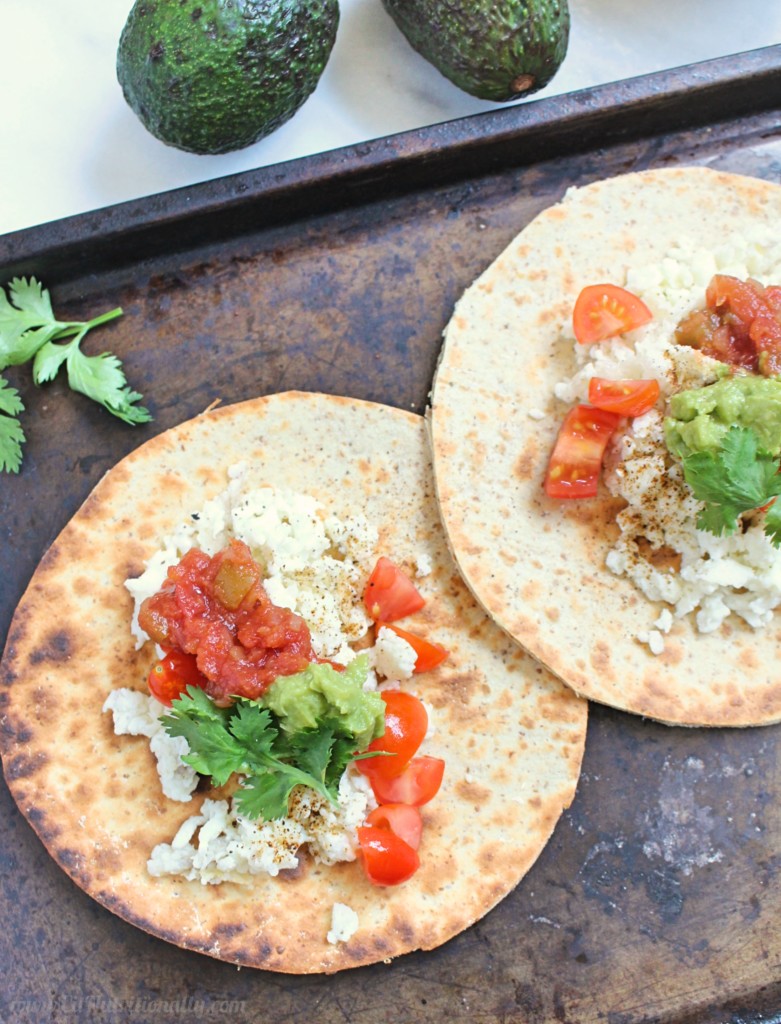 To be completely honest, my usual favorite meal of the day — breakfast — has been a bit lackluster of late. Sure, I've been munchin' on my 3-Ingredient Baked Frittata, my go-to chia pudding, or a staple superfood smoothie bowl, but I've been getting so incredibly bored of these staples lately. Womp womp.
So much to my delight, this month's Recipe Redux theme just happened to be…
Rise and Shine with a Savory Breakfast – The trend of protein-packed breakfasts is catching on…and back-to-school time is looming. This month, show us new healthy takes on eating savory or dinner-inspired dishes for breakfast.
YES! Dedicated time in my month to think about new BREAKFAST recipes… and to get inspo from some of my favorite bloggers! Could timing be any better?!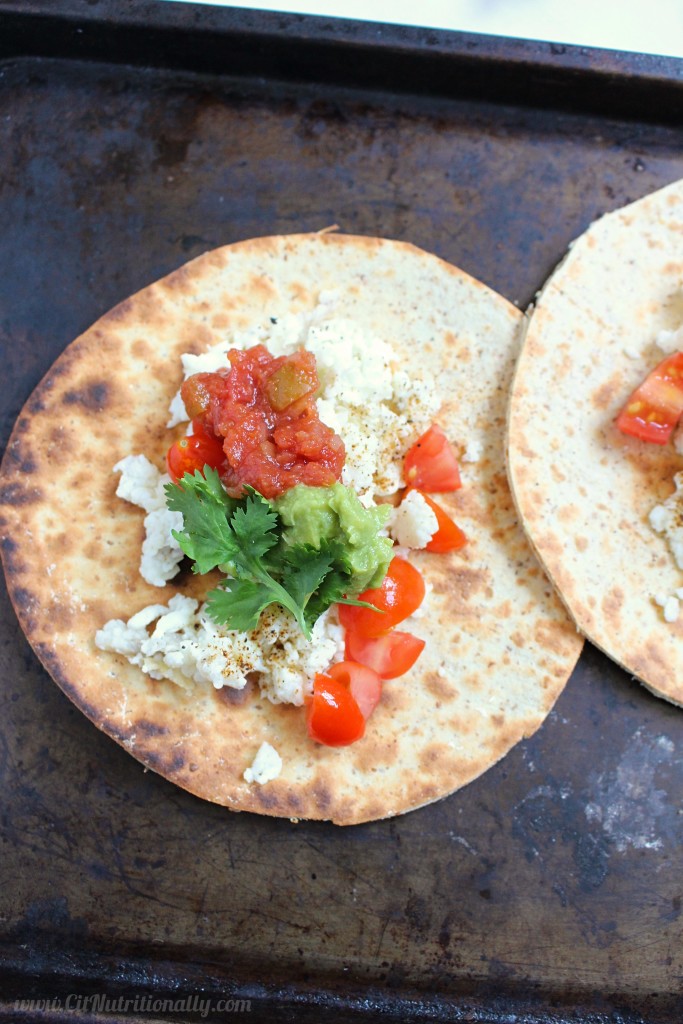 Lucky for me, I was chit chatting with my college roomie who one night while cooking dinner when I was lamenting about running out of inspiration for easy dinners to make (I know… ME!!!). I mentioned my love of breakfast for dinner and her response was "We do that too… at least once a week… we make breakfast tacos!"
My breakfast boredom has been solved ever since!
And to be honest, this recipe is almost TOO easy…
Scramble up some eggs, divide 'em into some heated tortillas, and if you want to get fancy, add some toppings you just so happen to have laying around in your fridge (salsa, guac, maybe sour cream or plain Greek yogurt)…
These 2 Ingredient Breakfast Tacos…
Contain just 2 main ingredients (+ spices!)
Are customizable to your taste…. Salsa? Guac? Shredded cheese? You choose!
Can be made in less than 20 minutes… and probably less than 10 the next time!
Contain protein + fiber… (my favorite combo to stay FULL + satisfied!)
Are freakin' DELICIOUS!!!


Breakfast is served…
2-Ingredient Breakfast Tacos
Ingredients
2 eggs + 4 egg whites
4 6-inch tortillas, whole wheat or corn preferred*
1/8 teaspoon chili powder
1/8 teaspoon cumin
Salt and pepper to taste
Optional toppings: 1/4 cup grated Mexican blend cheese, avocado or guacamole, salsa, cilantro
Instructions
Scramble eggs and egg whites together in a small bowl until combined. Add spices and set aside.
Coat a medium-sized skillet, with organic butter or nonstick oil spray (I used avocado oil in my misto sprayer), and heat over low-medium heat.
Once the pan is warm, add eggs and scramble slowly until cooked, about 5-7 minutes. If adding cheese, add once eggs are almost cooked through.
When eggs are no longer runny and cooked through, turn off heat.
Divide eggs amongst tortillas, then top with salsa, chopped tomatoes, sliced avocado or guacamole and cilantro. Enjoy! :)
Notes
*You can warm tortillas in a dry skillet, if desired.
Nutrition Facts (per 1/2 recipe): 250 calories, 12g fat, 950mg sodium, 25g carbohydrates, 12.5g fiber, 23g protein This is NOT a low-sodium dish due to store-bought tortillas, prepared salsa and guacamole. Please adjust accordingly if following a low-sodium diet.
http://citnutritionally.com/2-ingredient-breakfast-tacos/
Don't forget to PIN IT…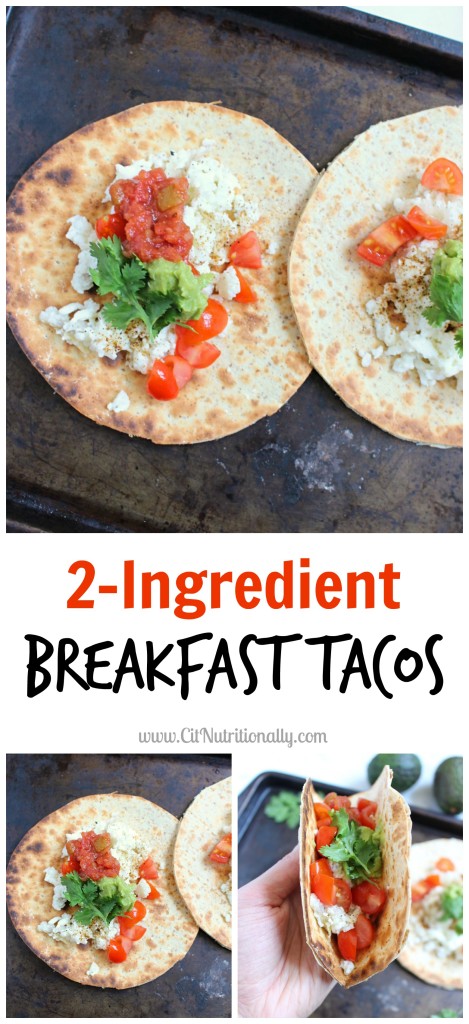 Enjoy these 2 Ingredient Breakfast Tacos and all of the delicious savory breakfasts below…
Happy solar eclipse day


XO
If you want to stay connected or you make something from C it Nutritionally I would LOVE to see your creations! Tag me or use the hashtag #CitNutritionally!

Let's get social! 
Facebook: C it Nutritionally
Twitter: @ChelseyAmerRD
Instagram: @CitNutritionally
Pinterest: ChelseyAmer