Unsure of what you can make for dinner in less than 20 minutes that's nutritious, delicious and full of fresh food?! Then this 20 minute sheet pan shrimp dinner is exactly what you need!
Whole30 approved, Paleo, Gluten free, Grain free, Dairy free, Egg free, Nut free
What a week it has been! Happy Friday my friends!! I know I am in definite need of the weekend to organize, sleep, workout, hang out and chill out! This week was busy with the biiizzzznass side of the business — meetings, important decisions, workshop planning, new client outreach and more — not my faaaavorite part, so I missed my time in the kitchen getting creative!
With all of the this and that, this week was alllll about SIMPLE dinners.
((did you miss my 6-Ingredient Lentil Tacos??))
Even if it's a Friday and it's the WEEKEND… simple is where it's at! But who says simple has to be boring, plain, unappetizing and a bowl of cereal?! ((yeah I see you…))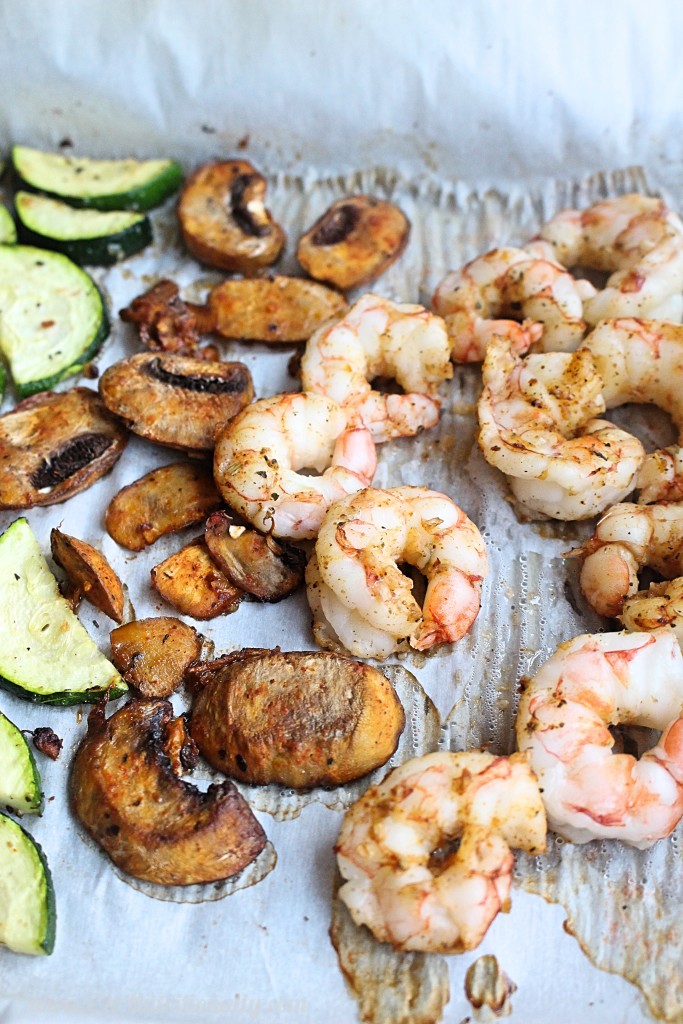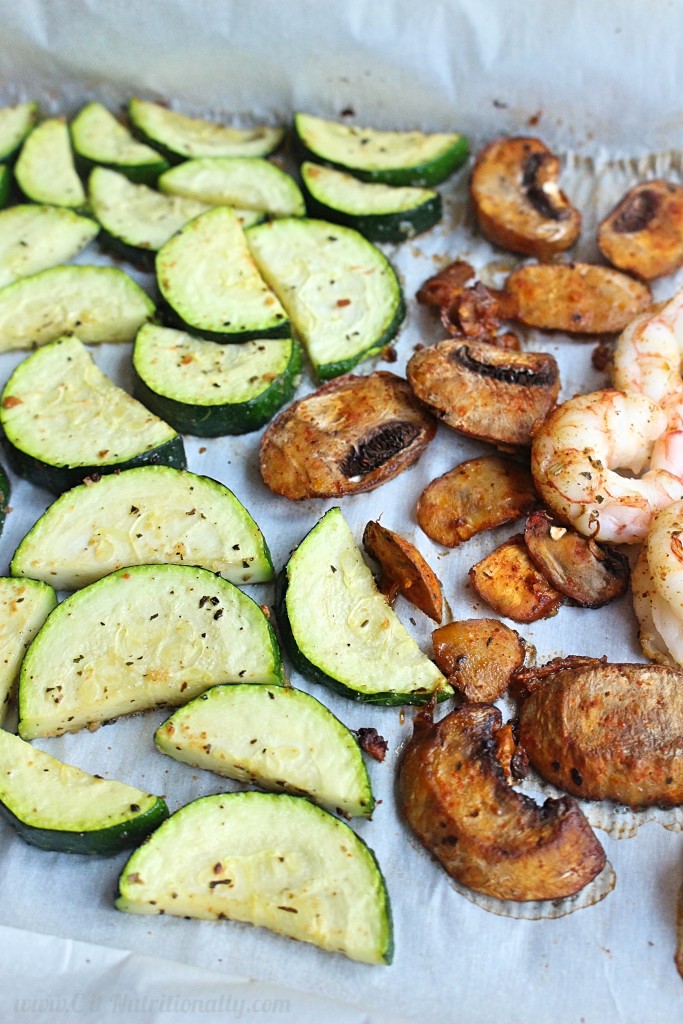 Sheet pan dinners are taking over Pinterest and for a good reason… they are easy, healthy, reduce clean up, and DELICIOUS!! Because I may be a dietitian but I am 100% a foodie and need mah food to taste good in order to be satisfied! Ya feel me?!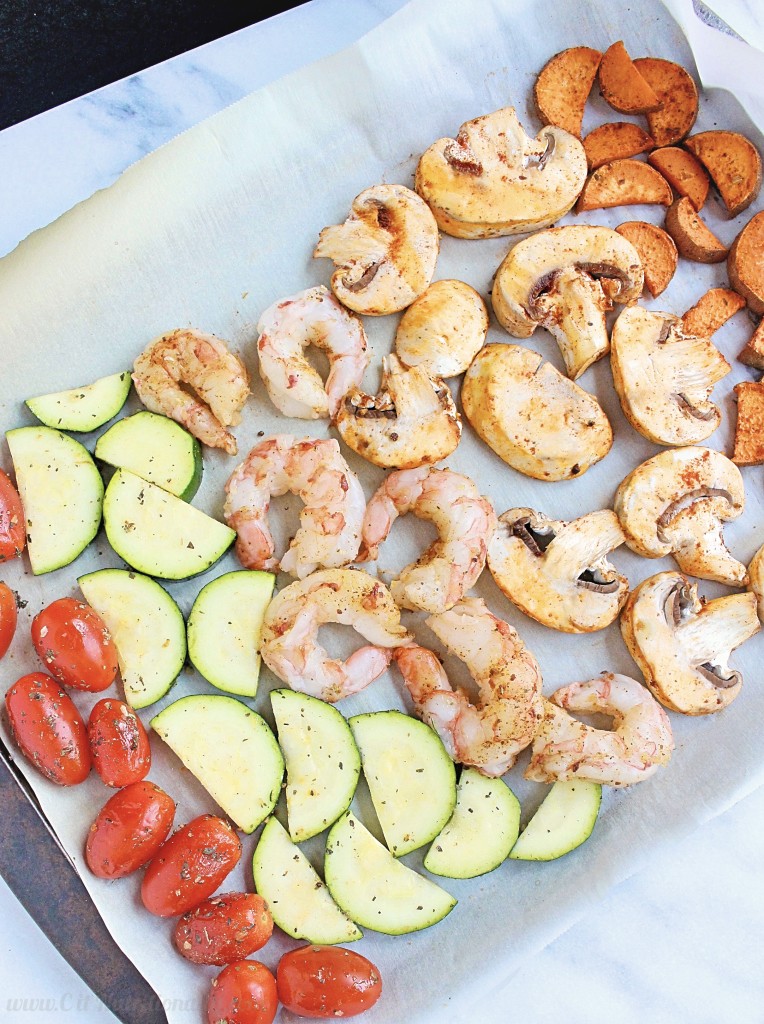 So I'm jumping on the sheet pan dinner trend and sharing this 20 Minute Sheet Pan Shrimp Dinner that is…
Nutritious!

Delicious!

Full of protein and fiber! ((Essentials in my book!))

Low carb

Made for pescatarians

Made in 20 minutes!! ← possibly the best part??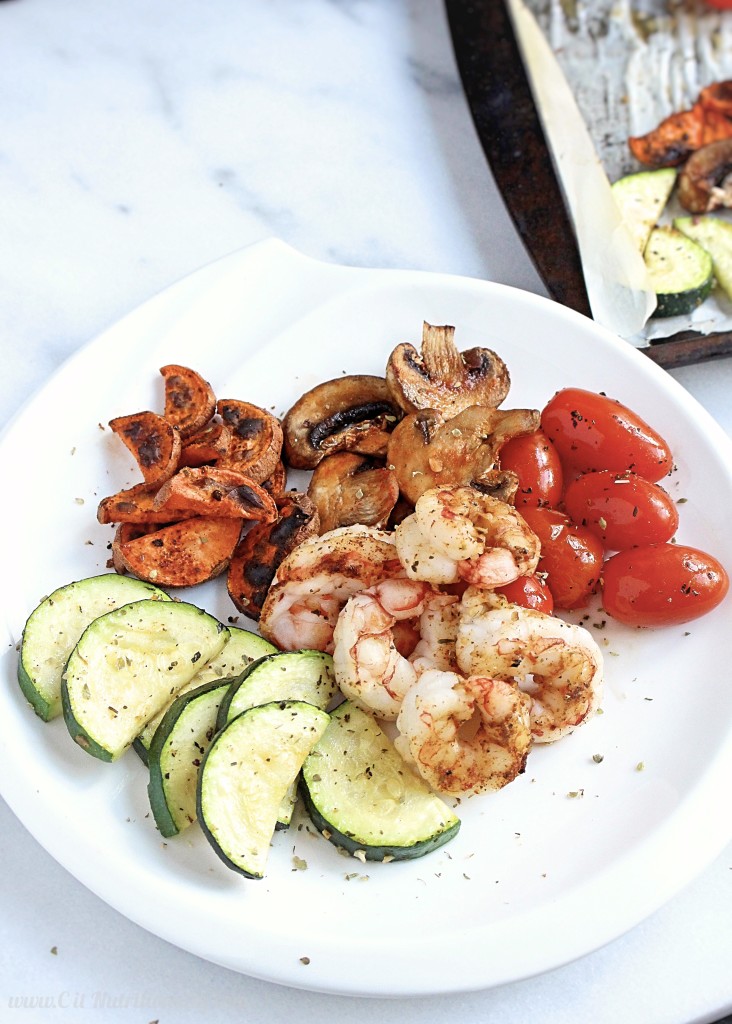 Let's make this 20 Minute Sheet Pan Shrimp Dinner…
20 Minute Sheet Pan Shrimp Dinner
Ingredients
1 sweet potato, cut lengthwise and then into thin half moons
1 tablespoon olive oil, divided
2 teaspoons no salt added Italian seasoning, divided
Salt and black pepper (optional, to taste)
1 medium zucchini, cut lengthwise and then into half moons
1 cup sliced mushrooms
1 cup grape tomatoes
1 pound shrimp, deveined (fresh or frozen and thawed)
1/8 teaspoon smoked paprika
Optional: Oregano, to taste and fresh lemon juice for garnish
Instructions
Preheat oven to 400°F. Line a large baking sheet with parchment paper.
Place sweet potatoes on the left side of baking sheet. Drizzle with 1/2 teaspoon olive oil and sprinkle with a pinch of no salt Italian seasoning, a pinch of chili powder and salt and pepper to taste. Bake for 10 minutes.
Remove the sweet potatoes from the oven and add the grape tomatoes, zucchini, mushrooms and shrimp to the baking sheet. Coat the remaining veggies and shrimp with the remaining olive oil and spices like above. Add a pinch of smoked paprika to the mushrooms.
Return sheet pan to the oven for 8 minutes, then turn oven to broil for the last 2 minutes, or until shrimp are cooked through.
Sprinkle oregano on top before serving with a squeeze of fresh lemon juice, if desired. Enjoy!
Notes
Nutrition Facts (per 1/4 of recipe): 195 calories, 6g fat, 191mg sodium, 11g carbohydrates, 3g fiber, 25g protein
http://citnutritionally.com/20-minute-sheet-pan-shrimp-dinner/
Don't forget to PIN IT…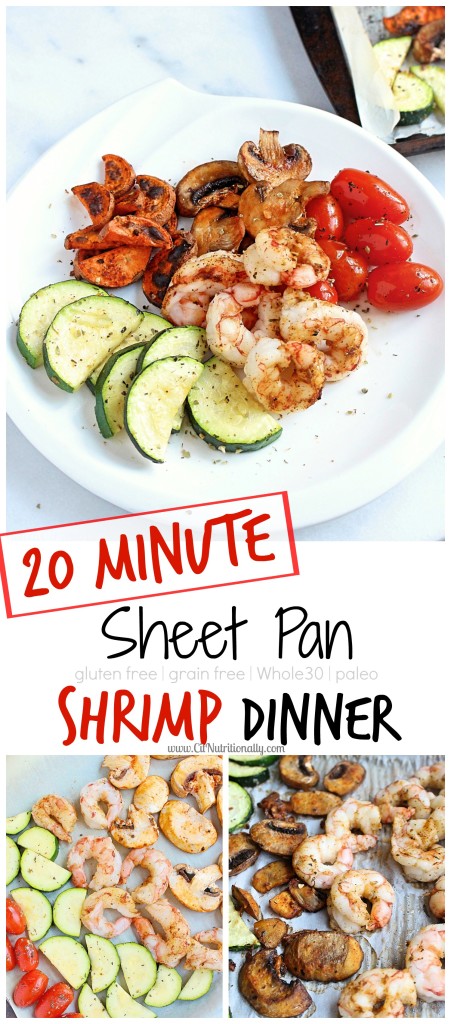 Have you ever made a sheet pan dinner?? 
Have a fabulous weekend!
XO

Let's get social!
Facebook: C it Nutritionally
Twitter: @ChelseyAmerRD
Instagram: @CitNutritionally
Pinterest: ChelseyAmer