In a breakfast rut?! Snap out of it with these 20 Overnight Oats recipes for a nourishing and easy way to start your day!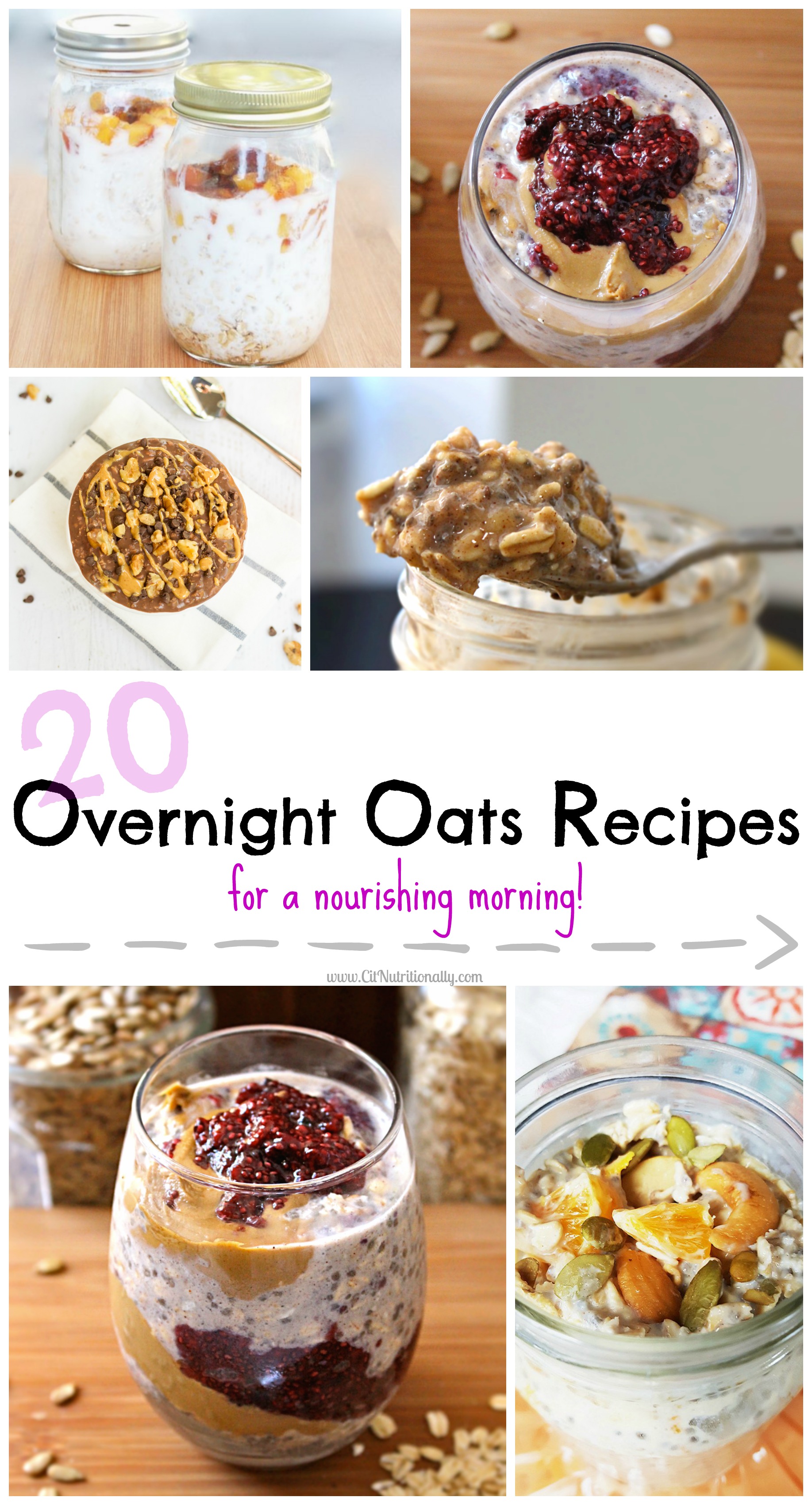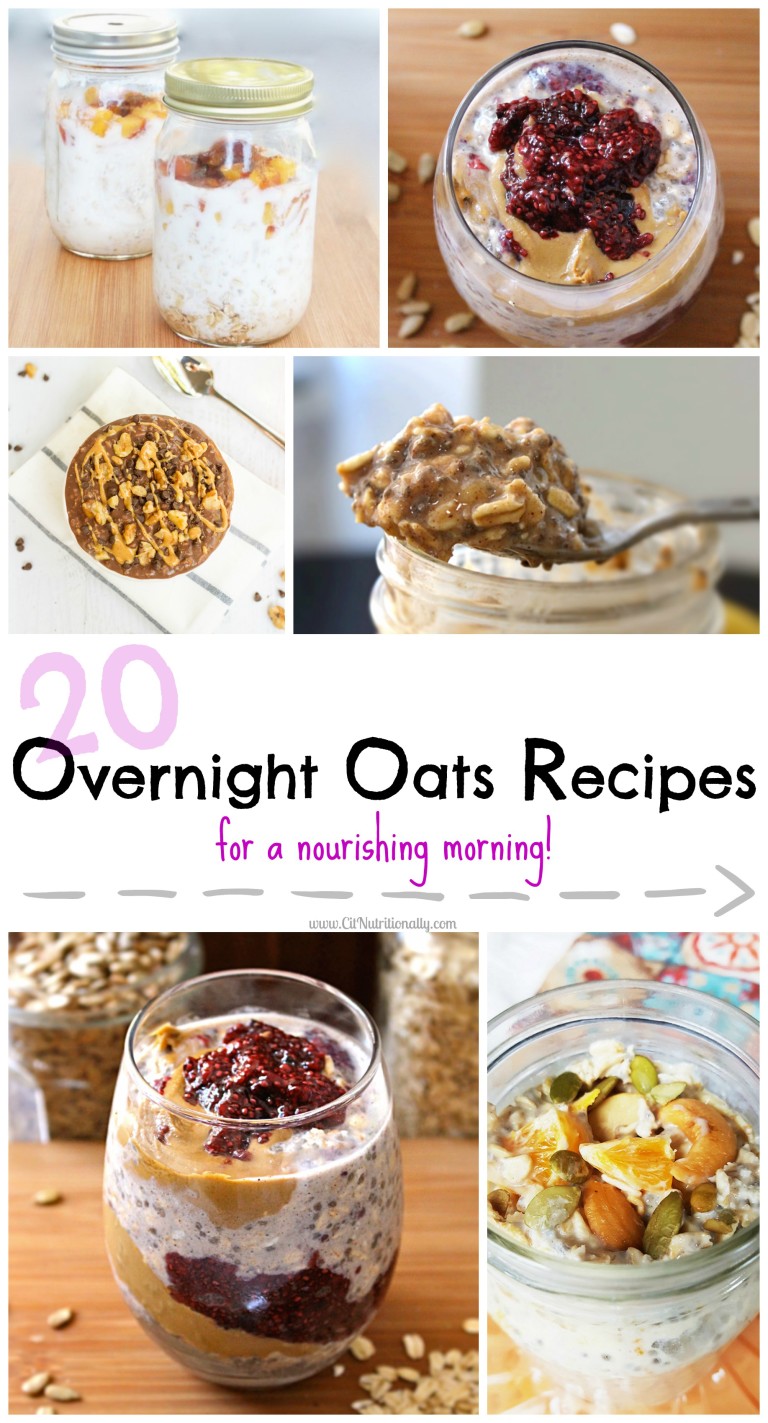 Living with an (almost) dietitian slash food blogger comes with its perks (or at least I like to think so!). Our fridge is (almost) always stocked, I thoroughly enjoy preparing dinner (almost) every night, and our food budget (almost) always stays on budget because I think meal planning is fun. Say whaaaaat?!
While S may not think about some of these, one perk I know he ((consciously)) appreciates evvvveerrrry damn day is a nourishing breakfast!
In case you missed What S Ate Wednesday, he's my biggest fan of overnight oats — or OOs as he likes to call them. Typically I use the same basic 4 ingredients to create his OOs…
Oats
Chia seeds
Milk
Raisins
And then I add some cinnamon, ground ginger, a pinch of salt, a dollop of sunflower seed butter, and whatever fruit we happen to have in the house at the time.
Why do we love overnight oats? They're…
A

near

perfect combination of nutrients — complex carbohydrates + protein + healthy fats!

Full of micronutrients we need —

magnesium, iron, B vitamins, calcium, and more!

DELICIOUS!

Easy to make and eat on the go.

SO versatile…they never get boring!
My food blogging friends all over the world wide web have come up with some creative overnight oat recipes that I think ya'll will love! I've been working my way through these recipes to test on S (YUP, another perk of living with yours truly — being a guinea pig for new recipes!) and so far I've only gotten YUMMMMS in return!
Everyone has their own proportions and slight variations of ingredients — some use yogurt, others some water, and every type of milk under the sun, so have fun playing around in your kitchen with these 20 overnight oats recipes that will brighten and nourish your morning…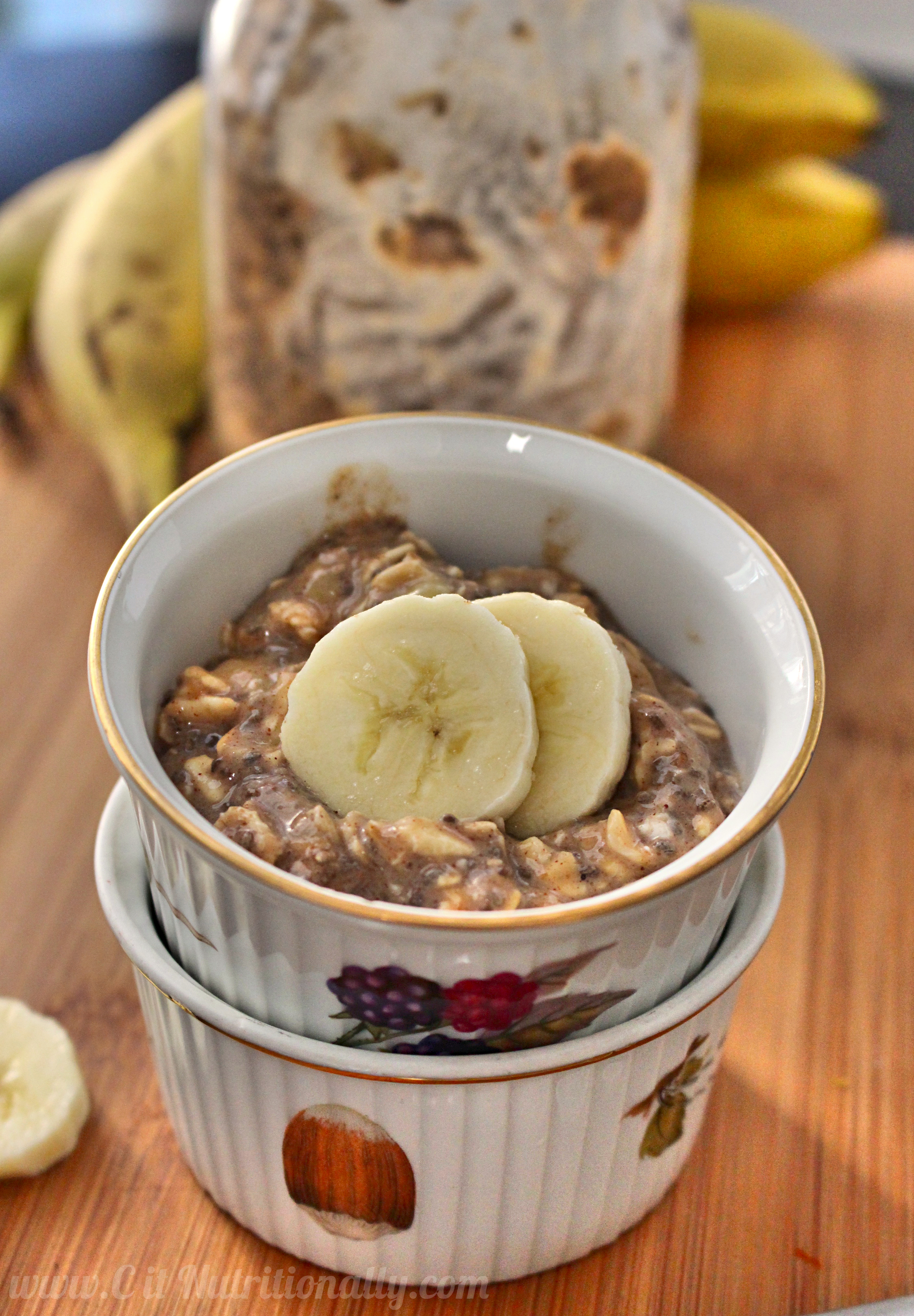 Banana Bread Overnight Oats — my original — via C it Nutritionally
Pumpkin Pie Overnight Oats via Kroll's Korner
Peaches & Cream Overnight Oats via Nutritioulicious
Strawberry Vanilla Overnight Oats via Love Bakes Good Cakes
Brownie Batter Overnight Oats via Eating Bird Food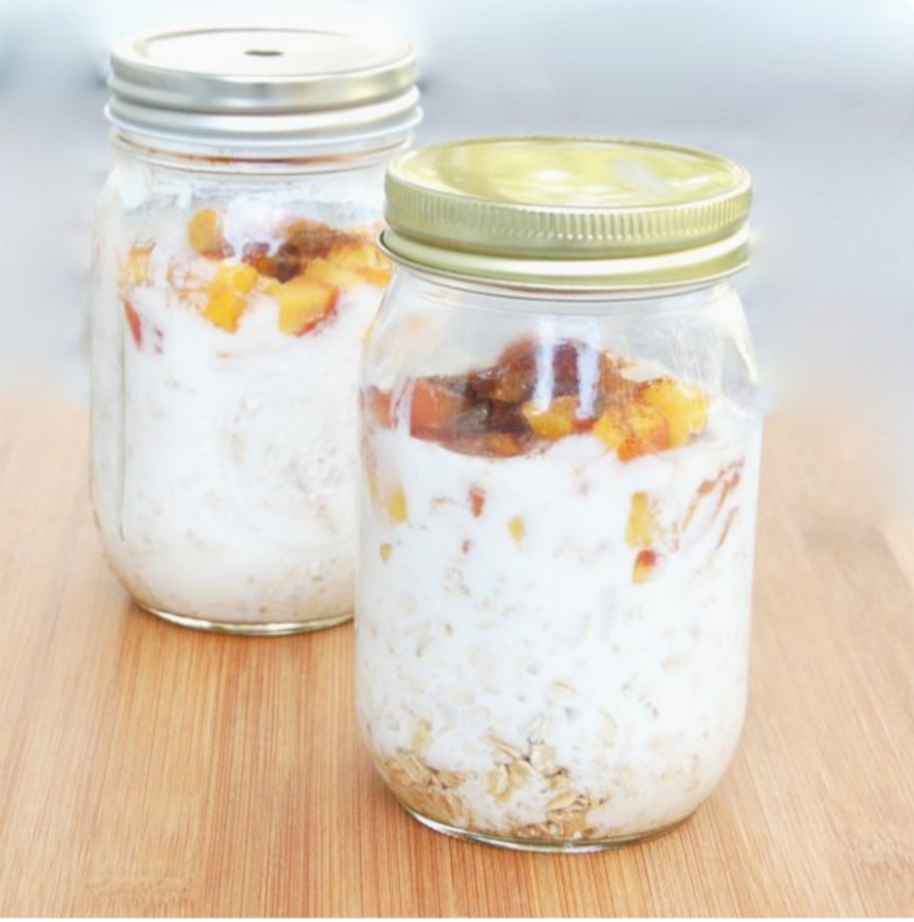 Lemon Overnight Oats via V Nutrition
Carrot Cake Protein Parfait via Sprint 2 The Table
Orange Cream Overnight Oats via Courtney's Cookbook
Sunflower Seed Butter & Jelly Overnight Oats via C it Nutritionally
Peanut Butter Overnight Oats via Sincerely Nourished
Hawaiian Muesli via Healthy Aperture
Steel Cut Overnight Oats via Food Pleasure and Health
Gingerbread Chocolate Overnight Oats via Lauren Kelly Nutrition
Cherry Chia Overnight Oats via Nutritionist in the Kitch
Neapolitan Overnight Oats via Fit Foodie Finds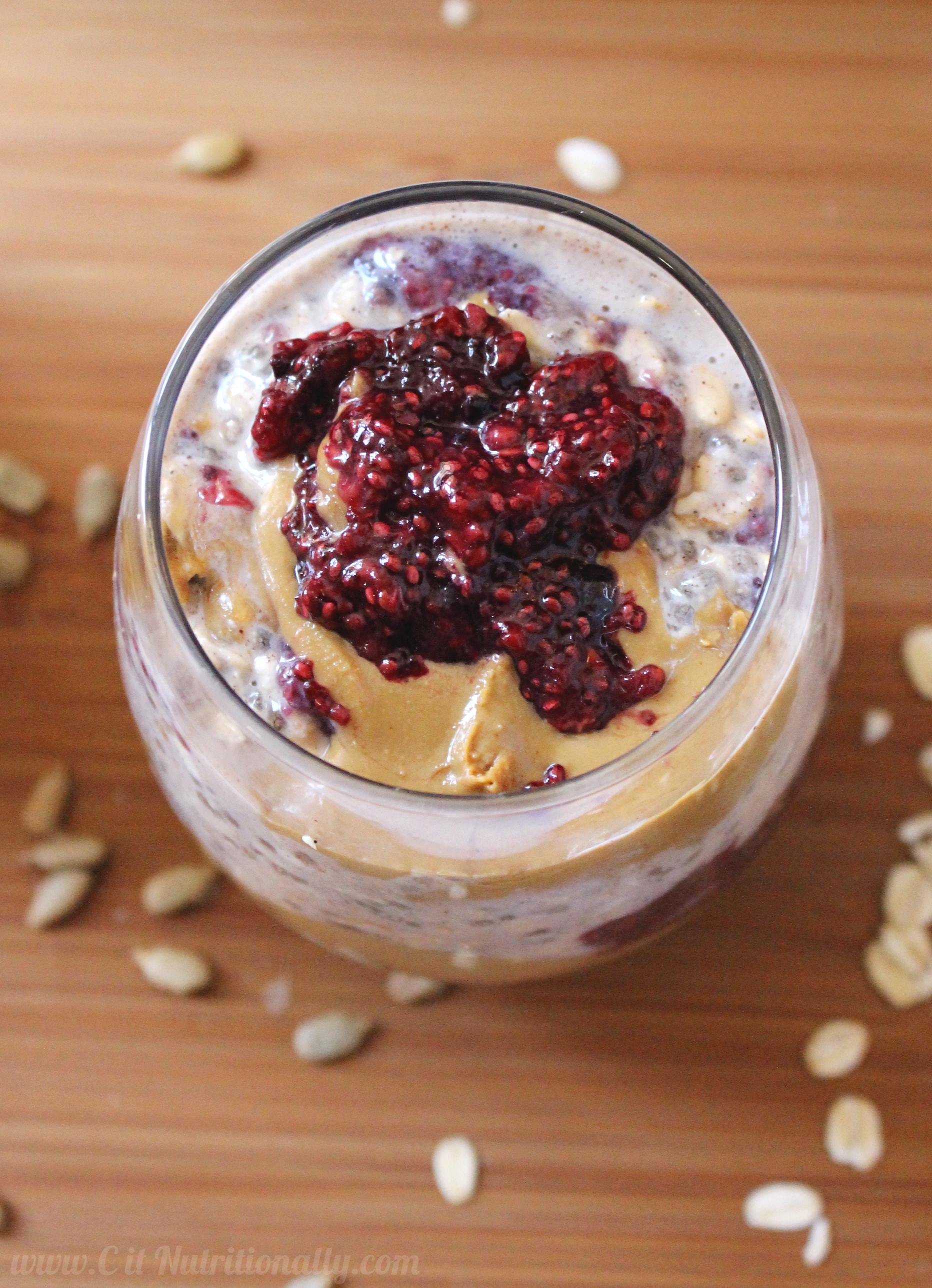 Matcha Overnight Oats via Oh My Veggies
Sweet Potato Pie Overnight Oat Parfait via Fo Reals Life
Overnight Steel Cut Oats with Oranges Carrots and Walnuts via Making Healthy Choices
The Best Overnight Oats via RDelicious Kitchen
And this tutorial on How To Make Overnight Oats via Fitful Focus…now why didn't I think of that!
If there's a flavor that exists out there, there's a recipe for overnight oats with that flavor, but these were a some of the most scrumptious-sounding recipes I could find, many from (soon to be) fellow RDs!
Happy Monday


XO