Enjoy matzo this Passover in this eggy, comforting and delicious 4-Ingredient Easy Matzo Brei that you can customize to tickle your taste buds! Dairy free, Nut free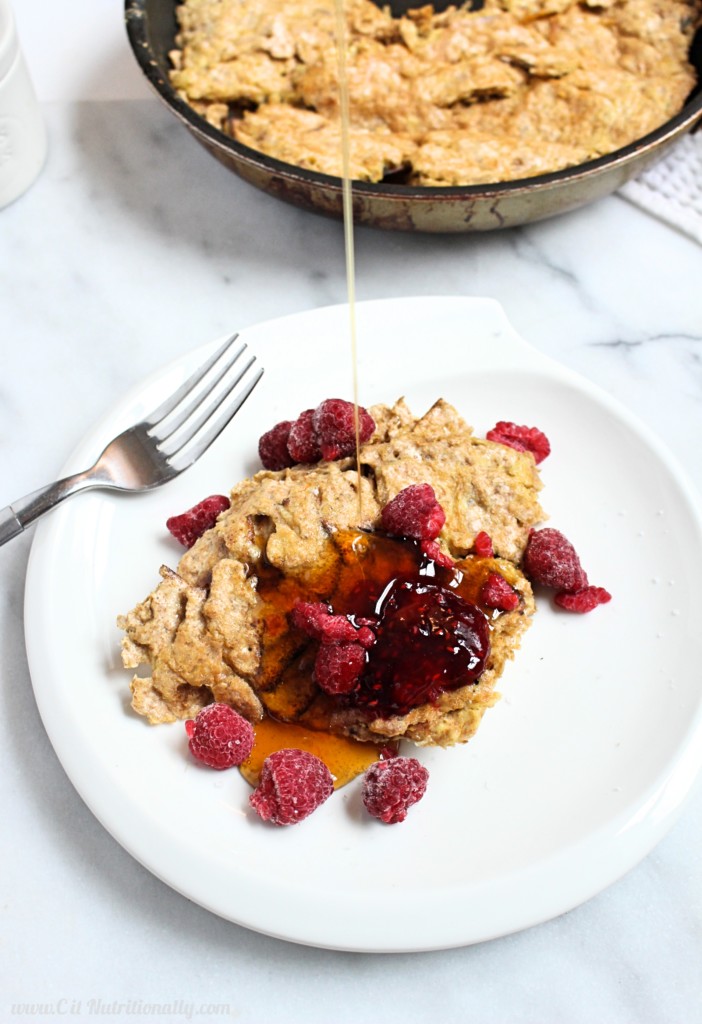 Ohhhh haiiiii Passover!
Passover breakfast — just like breakfast any other day of the year — is one of my favorite meals. I mean, definitely NOT the KFP [Kosher for Passover] cereals, but just about everything else! 
And especially matzo brei!
There are SO many variations of matzo brei out there, but today I'm sharing what I grew up with! To be completely honest, I never knew that matzo brei could be a savory dish until I met my fiance who never ate matzo brei in this sweeter variation!
My mom's matzo brei is such a family favorite that it's crossed international borders… 
One year over Passover my grandparents took us (and by us I mean my dad's side of the family, which was 22 people at the time!) to Costa Rica. Like WHAT?? How on earth were we going to keep KFP in Costa Rica???? Don't worry… my grandpa figured it out! We were at this beautiful resort near the rainforest and my grandpa woke up my mom and arranged for her to make matzo brei in the kitchen (because hers is the BEST, duh!). None of the kitchen staff spoke English, but my grandpa had a way of doing things his way or the highway, so somehow it all worked out. ((Ohhh if you could only have met my grandpa!)) Until this happened my mom didn't even know that my grandpa liked her matzo brei so much, but ever since then it's been family famous!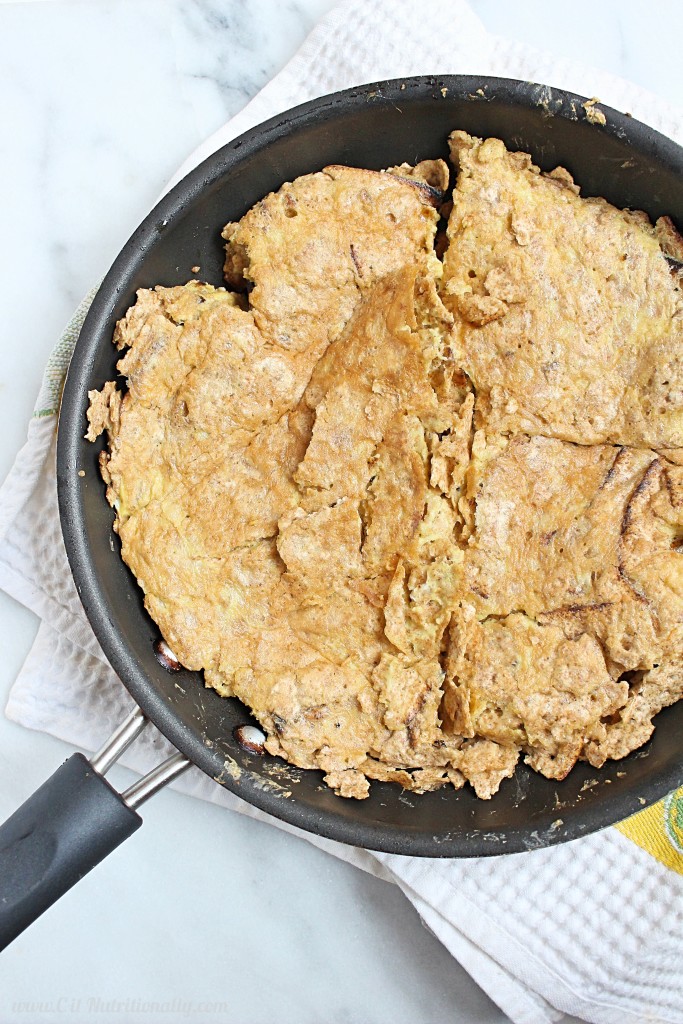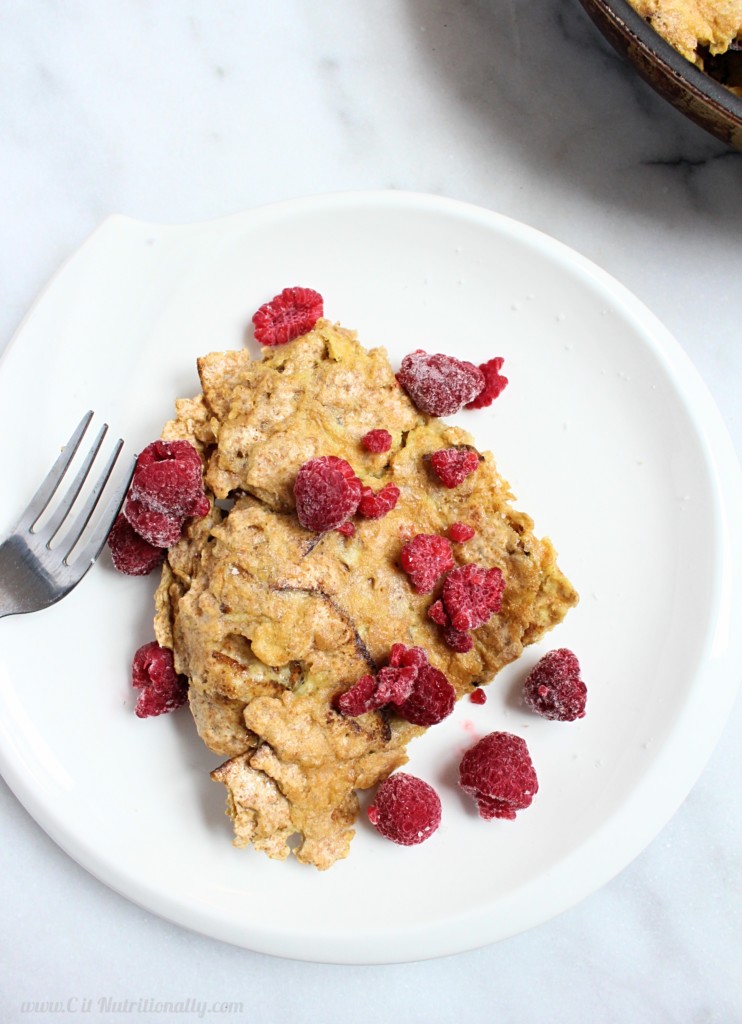 And it's SO SIMPLE to make! Just 4 ingredients!!!
I made this 4-Ingredient Easy Matzo Brei a liiiiitttle bit healthier by using whole wheat matzo and way less oil than usual. It's still just as delicious and the perfect canvas for whatever topping you want to throw up on top… fresh fruit, jam (my choice!), some sugar, maple syrup… or even keep it savory with a fried egg on top over a bed of greens ((ohhh that sounds good and I WILL be trying that one…)).
Whatever you pick, this 4-Ingredient Easy Matzo Brei is a WINNER!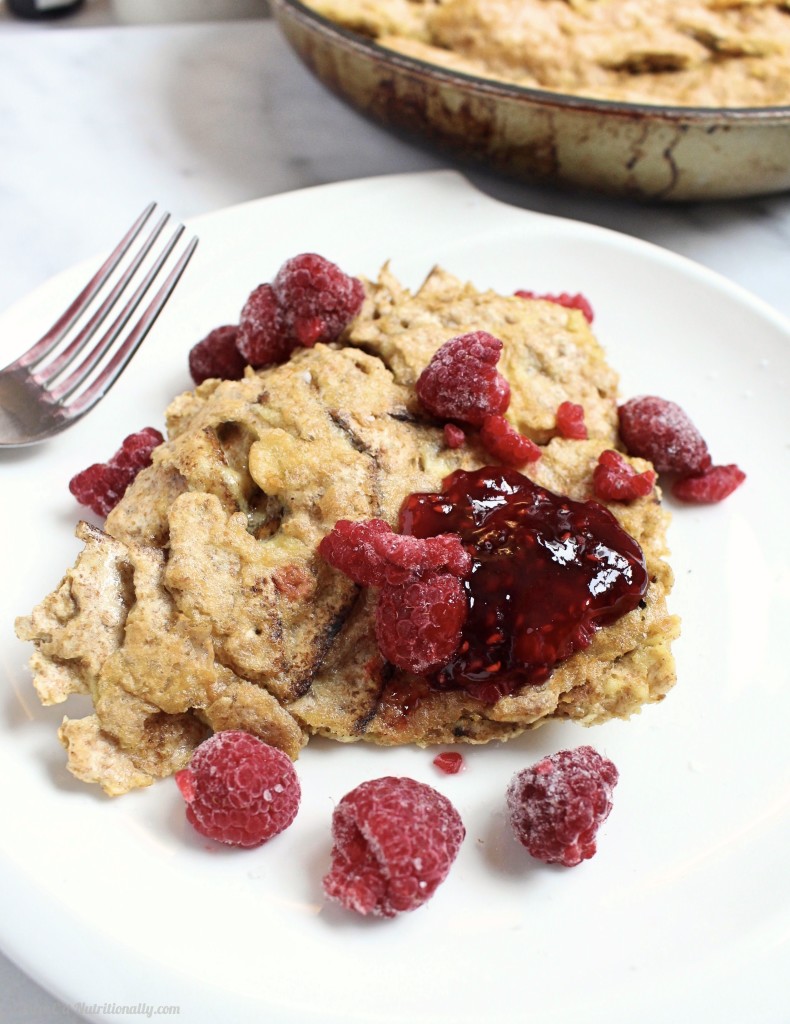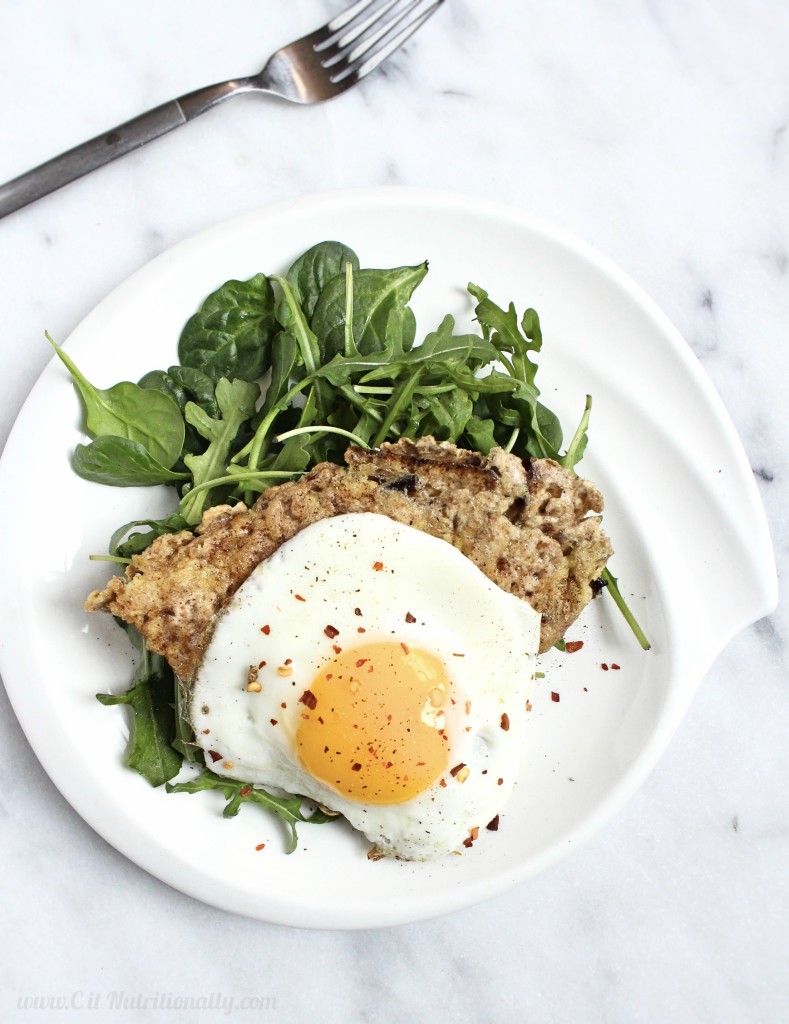 This
4-Ingredient Easy Matzo Brei
is…
Easy to make in less than 15 minutes!

Made with just 4 ingredients

Dairy free

Nut free and peanut free

Kosher for Passover

An Amer family fave!
4-Ingredient Easy Matzo Brei
Ingredients
5 sheets whole wheat matzoh
3 whole eggs + 1 egg white
1/8 cup unsweetened coconut milk (or preferred alternative)
1 teaspoon pure vanilla extract
2 teaspoons coconut oil (or preferred alternative)
Pinch of salt
Instructions
Place matzo in a colander and run under warm water for several minutes, until matzo is softened.
In a medium sized bowl whisk eggs, milk and vanilla together.
Once the matzo is softened, drain excess water and add matzo to the bowl with the egg mixture. Break up the matzo with a fork as you add it to the bowl. The matzo should be in bite-sized pieces at this time. Mix the matzo into the egg mixture until evenly distributed.
Heat coconut oil in a medium-sized skillet over medium heat. Oil should evenly cover the entire pan.
Once the oil is hot, add the matzo mixture to the pan and let it cook for about 3 minutes, or until it easily moves away from the pan and is lightly browned. Flip the matzo brei and cook for another 3-5 minutes. Matzo brei is cooked once evenly browned and eggs do not appear runny.
Serve warm with jam, fruit, maple syrup, sugar or salt. Enjoy! :)
Notes
To further enhance the flavor of the matzo brei by itself add a generous pinch of cinnamon and ground ginger to the egg mixture.
http://citnutritionally.com/4-ingredient-easy-matzo-brei/
Don't forget to PIN IT…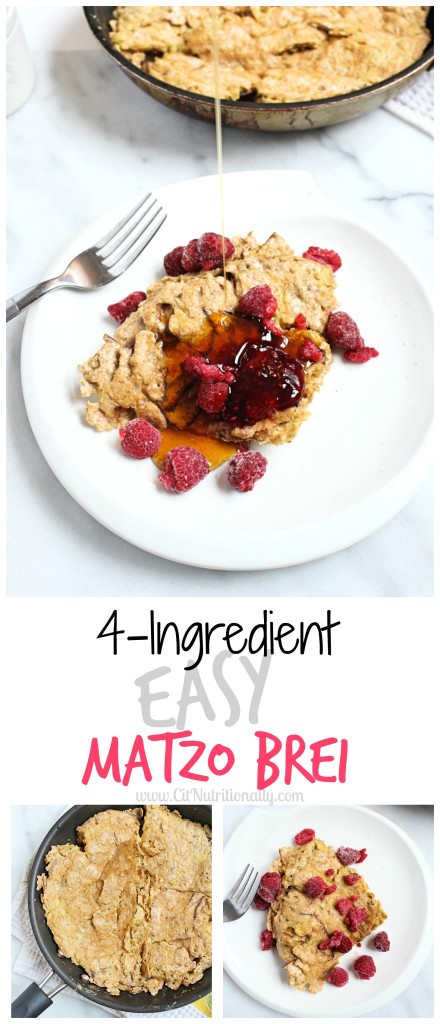 What's your favorite way to eat matzo brei?! Happy Passover my friends!


XO
Let's get social! 

If you want to stay connected or you make something from C it Nutritionally I would LOVE to see your creations! Tag me or use the hashtag #CitNutritionally!
Facebook: C it Nutritionally
Twitter: @ChelseyAmerRD
Instagram: @CitNutritionally
Pinterest: ChelseyAmer