Do you have a favorite recipe? Today I'm sharing 40 Favorite Recipes from Dietitian Bloggers, including my own personal, all-time favorite CitNutritionally recipe! Can you guess what it'll be?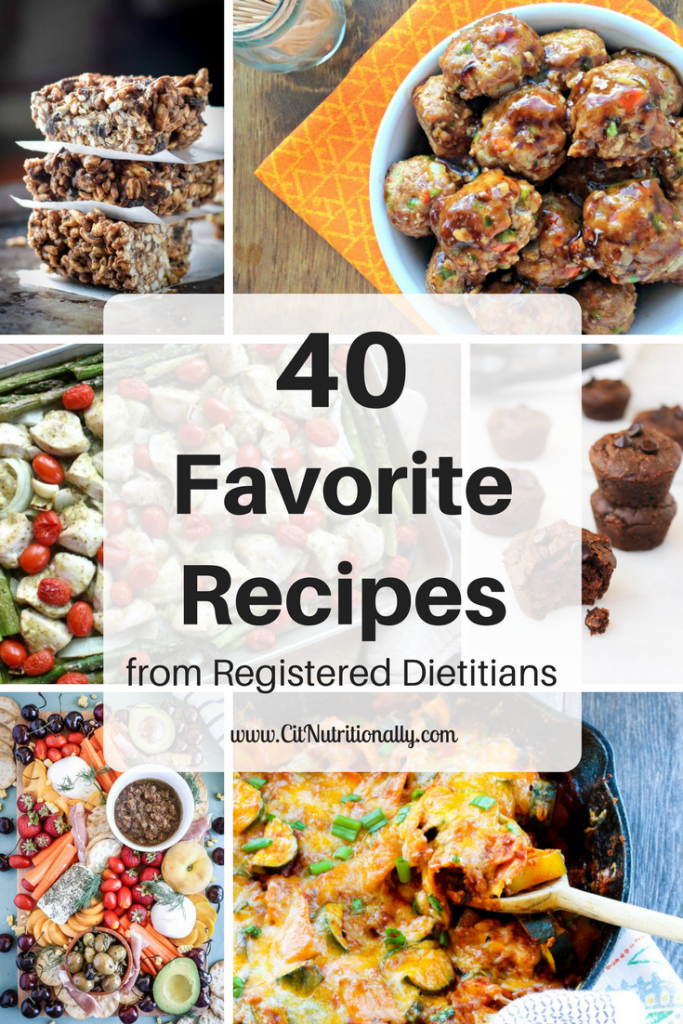 I've been blogging for four years (wowza!), which means I've shared hundreds of recipes with you guys! Each recipe I share is carefully curated and like a child of mine. I take the time to be sure I'm sharing a delicious blend of flavors, with just a handful of steps, plus approachable and nourishing ingredients. So how on earth can I choose a favorite?
Well, I'm not the only dietitian blogger out there sharing tried and true recipes, so I asked some of my fellow dietitian bloggers to share their absolute favorite recipe! Some are savory, some are sweet, some are healthy-ish, some are totally indulgent and decadent.
There are TWO chicken salads, a few meatball recipes (and a vegetarian take too!) and there are only a handful of salads! There are many summer-inspired recipes (since that's when I first asked the question), a variety of breakfasts, and truly something for everyone!
Plus, I asked my friends why they chose these recipes, so I hope you have as much fun checking out these recipes as I did!
Be sure to read through to the bottom of the list because I'm revealing my all-time favorite recipe I've ever shared with y'all (gahhh it's like choosing a favorite child… I assume!) and which recipe I make the most … they may not be what you think!
Here are 40 Favorite Recipes from Dietitian Bloggers… and why!
Black Bean Avocado Brownies via Tawnie Kroll, RDN of Kroll's Korner
"I love these brownies because they are simply made in the food processor and are high in protein!"
Farro Buddha Bowl with Crispy Tofu via Jessica Fishman Levinson, MS, RDN, CDN of Small Bites by Jessica
"One of my favorites is my Asian-Style Farro Buddha Bowl with Crispy Baked Tofu – it's packed with flavor, perfect recipe for weekend meal prep, you can totally tweak it based on ingredients you have on hand or prefer, and it's an all in one balanced meal!"
Easy Sweet Potato Turkey Burgers via Sarah Schlichter, MPH, RD of Bucket List Tummy blog
"I love these sweet potato turkey burgers because I sorta created them by accident and they turned out amazing! They are still my most popular recipe!"
Zucchini Noodle Summer Corn Chowder via Lindsey Janeiro RDN, LDN, dietitian and owner of Nutrition to Fit
"My Zucchini Noodle Summer Corn Chowder is easy to make, light, refreshing, and packed with fresh summer flavors. Plus my baby daughter is obsessed with it and can't get enough, which of course brings me so much joy!"
Lemon Pesto Sheet Pan Chicken via Marie Dittmer, MA, RDN of Healthy Ideas Place
"My current favorite is this Lemon Pesto Sheet Pan Chicken. My whole family loves it and it's easy to make. And anything with pesto is always good!"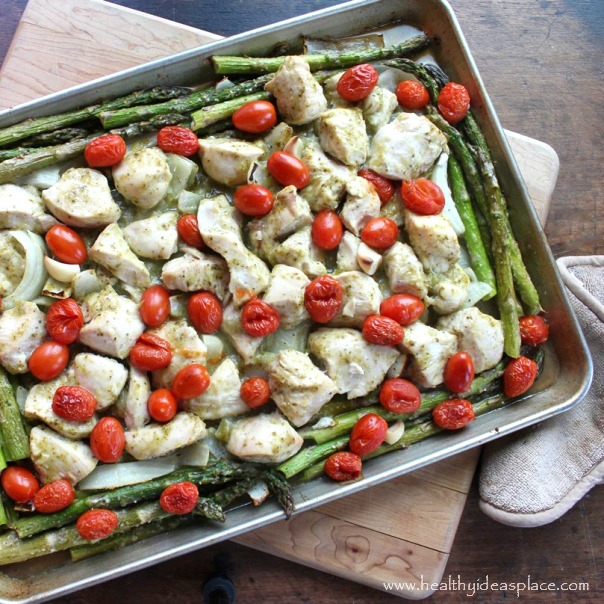 Vegan Plum Cake via Chef Catherine Brown, CDM/CFPP, dietetics student, organic farmer
"I love this recipe because it is quick to throw together, makes an elegant presentation, is perfect for any summer fruit but looks spectacular with stone fruit, is vegan and gluten-free AND absolutely delicious!"

Summer Crudités Platter via Kristina Todini, RDN, of Fork in the Road
"It's hard to choose a favorite but I'm loving platters and spreads of any kind because they let you try a little of everything. This Summer Crudités Platter features seasonal veggies and spreads for a simple, easy and shareable meal."
Vegetarian Eggplant Meatballs via Kara Golis, RDN of Byte Sized Nutrition
"I'm not sure if I will ever grow tired of these Vegetarian Eggplant Meatballs.. and I don't think my meat-loving fiancé will either! They're light, yet filling, and packed with traditional Italian flavors (as well as plenty of vegetables). I always keep a batch on hand in my freezer for quick weeknight dinners!"
Buckwheat Oat Pancakes via Kelly Jones, MS, RD, CSSD, LDN of Eat Real Live Well
"My favorite is definitely my buckwheat oat pancakes. My husband and I make them most weekends and we always have leftover batter for the next couple of mornings. There's so many different options for toppings, too, so in the summer I'm all about blueberries and almond butter but the winter it's bananas, chocolate chips and PB!"
No Added Sugar Fruit and Nut Quick Bread via Elizabeth Ward, MS, RD of Better Is The New Perfect
"I have to say that I love this bread. It's pretty to look at, good for you and really delicious. Whenever I make it, I double the recipe and freeze a loaf for later. The recipe is flexible; you can use any dried fruit and nuts you have in the house, so there are a lot of different flavor combinations. Plus, it's gluten-free and contains no-added sugar, so it appeals to a lot of people."
Easy Vegan Lasagna via Alexis Joseph, MS, RD, Co-Founder of Alchemy and Founder of Hummusapien
"This is my fave because it makes healthy food simple, approachable, and SO DAMN GOOD according to anyone that eats it :)" 
Quinoa Edamame Salad with Citrus Vinaigrette via Jennifer Hunt, RDN of Healthy Inspiration
"Sweet, savory, tangy, and salty all in one perfect bite! This fresh and vibrant Quinoa Edamame Salad with Citrus Vinaigrette is easy to toss together and perfect for your picnic or weekday lunchbox!"
Mini Eggplant Pizzas via Alexandra Vermillion, MS, RD, CSO of From A to Zucchini
"Eggplants are currently in season and since Friday is pizza night at our house this is a delicious way to add in more veggies and enjoy the fresh flavors of the season!"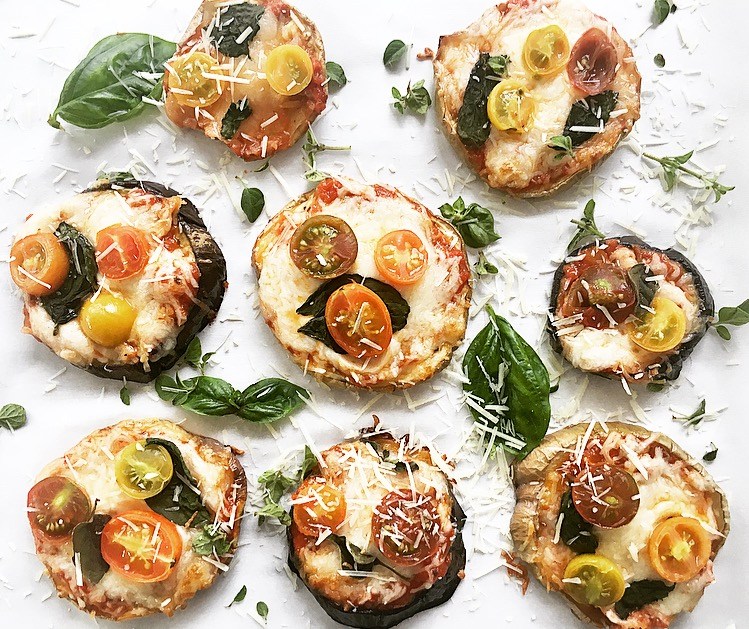 Strawberry Rhubarb Crumble Bars via Jessica Kelley MS, RD of Nourished by Nutrition
"My favorite at the moment is my strawberry rhubarb crumble bars. A simple lightly sweetened crumble bar that makes for a perfect snack or sweet treat, with the best part being you can change up the fruit based on what you have on hand (fresh or frozen) or what is in season!"
Simple Pizza Dough via Jenna Gorham, RD of Jenna Gorham Nutrition Consulting
"One of my favorites is this simple pizza dough because it's a huge time saver and easy to make with ingredients I almost always have on hand."
Blueberry Ginger Breakfast Bake via Alanna Waldron, RD, CDN of Eat Real Food
"Blueberry Ginger Breakfast Bake is one of my all-time favorites because it's a time-saver for weekdays and you can take it on the go with you." 
Shrimp Cocktail with Smoky Romesco Sauce via Lindsey Pine MS, RDN, CSSD, CLT TastyBalance Nutrition
"Appetizers and bite sized party foods are my favorite, but often not very healthy. This shrimp cocktail with smoky romesco sauce is a super satisfying, delicious and contains good for you nutrients like protein and healthy fats!" 
Roasted Beet Pesto and Greens Pasta Toss via Kathryn Pfeffer-Scanlan MS, RD, LDN of One Hungry Bunny
"I absolutely love the pink color thanks to beets, an excellent sources of antioxidants. This versatile beet pesto can also be added to veggies, meats or fish, and even crackers!"
20-Minute Summer Enchilada Skillet via Kelli Shallal, MPH, RD of Hungry Hobby
"It's hard to pick a favorite but I make this one the most often so I would say it's my favorite!"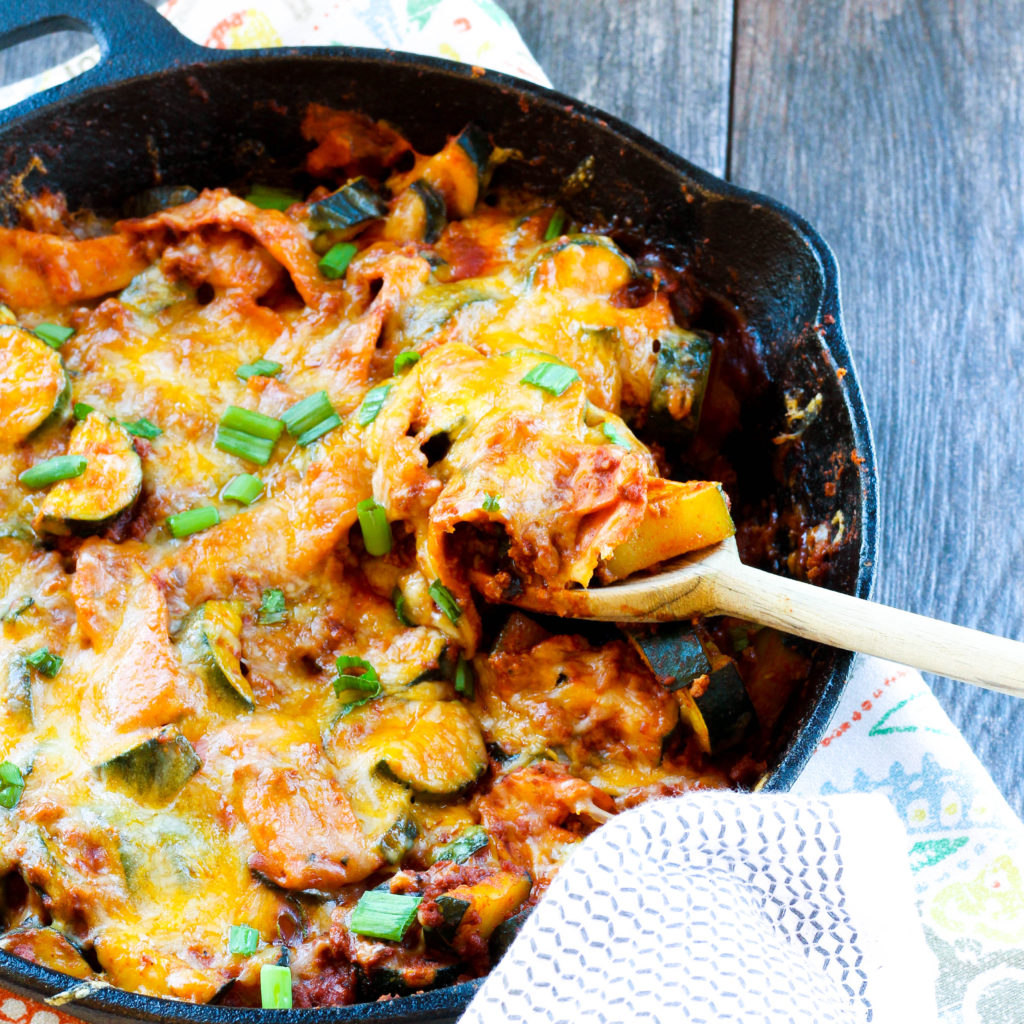 Wild Rice and Kale Salad via Liz Weiss, MS, RDN of Liz's Healthy Table blog and podcast
"This recipe has it all! Vegetables, whole grains, fresh herbs, nuts, dried fruit, and a lovely vinaigrette. It's versatile–you can serve it as a side dish or top with grilled chicken or fish–tastes great, and is packed with vitamins, minerals, and antioxidants."
Roasted Cauliflower Fettuccine via Judy Barbe, RDN of Live Best
"This is the most popular recipe on my blog: Roasted Cauliflower Fettuccine. Lower in calories and saturated fat, but not in flavor!"
Creamy Burrata with Pesto & Tomatoes via Jenny Shea Rawn MS, MPH, RD, Cape-Cod, MA, based Registered Dietitian, nutrition communications consultant and healthy food blogger at My Cape Cod Kitchen
"I love this recipe, especially this time of year [summer], because it celebrates summer simplicity with only 3 ingredients: garden tomatoes, fresh creamy burrata and pesto (homemade or store bought). This is the perfect appetizer for any summertime get together and has gotten rave reviews from all who have made it."
Super Duper Raw Power Salad via E.A. Stewart, RD of Spicy RD Nutrition
"This salad is nourishing AND delicious~it has convinced several of my friends and family members (even my mom) that kale can actually be good."
Smashed Baked Potato Nourish Bowl via Elizabeth Shaw, RD of Simple Swaps
"My new fav when I want ALL THE VEG is this Nourish Bowl. Really easy and comes together with about everything you will have on hand, now that's a #simpleswap lol!"
Protein-Packed Chocolate Cereal Bowl via Lauren Harris-Pincus, MS, RDN, author of The Protein Packed Breakfast Club
"I LOVE cereal but not the hunger pangs I experience an hour later. By mixing protein powder into a milk of choice and pouring it over high fiber cereal and fruit, you get a protein and fiber rich breakfast to satisfy your inner child."
The Best Chicken Salad Ever via Stacey Mattinson, MS, RDN, LD
"This recipe is literally never-fail and everybody RAVES about it! From meal-prepped lunches to beautiful bridal showers, this chicken salad recipe is the best ever!"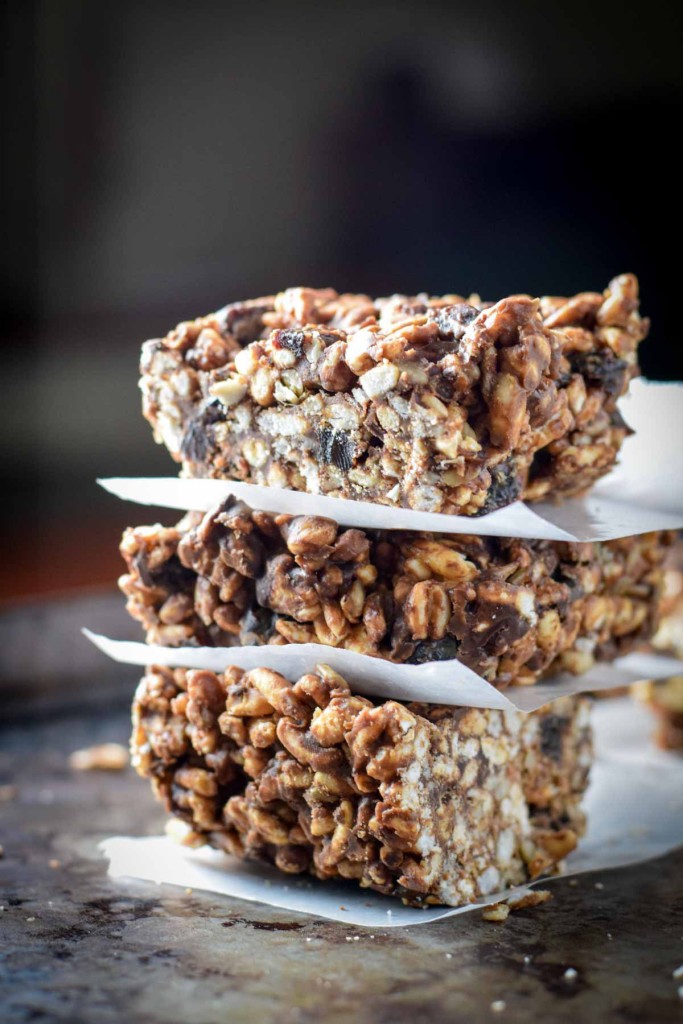 No Bake Cereal Bars via Josten Fish, RD of Muscle & Manna
"These no bake cereal bars feature a delicious mix of peanut butter, sunflower seeds, prunes, and make a perfect treat to eat at home or take on the go!"
Banana Split Popsicles via Brynn McDowell, RD of The Domestic Dietitian
"These popsicles only have 3 ingredients and taste just like banana splits…which is my favorite dessert. My kids love them and they also love to help make them, which makes cooking fun and a family event."
Salad Skewers with Peanut Dressing via Ginger Hultin, RD of Champagne Nutrition
"My favorite right now has to do with summertime recipes! Salad skewers are so fun to eat and this peanut dressing is simple to make. I want cooking AND eating to enhance everyone's lives, making it more enjoyable to my favorite recipes will always accomplish that."
Spinach Lentil Quinoa Khichari via Gauri Junnarkar, MS, RD,LD,CDE, BAMS, LMT, of Ayurnutrition
"It's a wholesome, full of flavor meal by itself."
No-Bake Peanut Butter Energy Bites via Edwina Clark, RD
"I love these no-bake peanut butter energy bites because they taste like dessert AND are packed with healthy fats and fiber!"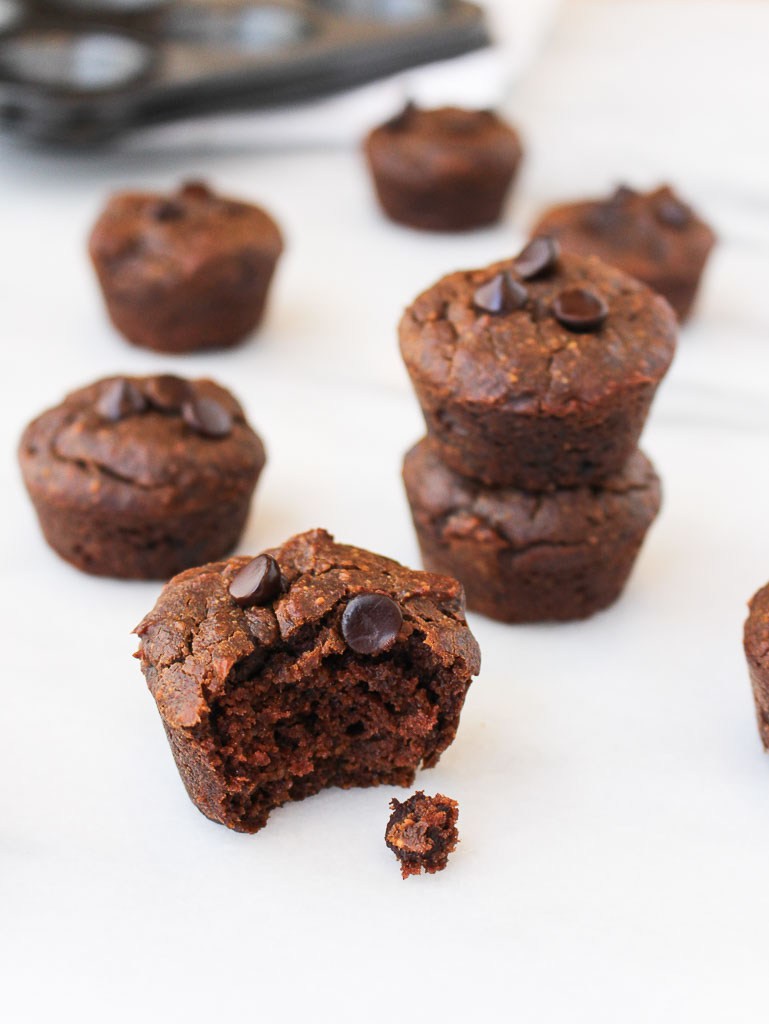 Flourless Chocolate Peanut Butter Muffins via Julie Harrington, RD, Culinary Nutrition Consultant of RDelicious Kitchen
"These have become my favorite chocolatey treat that is great for breakfast or a snack. They are truly flourless, not using any type of flour at all. Disclaimer: I am warning you, if you make these, they may not last a week in your house. They didn't in mine!"
Skillet Tilapia Tacos Jennifer Bowers, PhD, RD, Dr Jenn Bowers Nutrition
"Spicy, high-protein & high-fiber, and ready in less than 30 minutes! This is a go-to busy weeknight dinner in our house."
Teriyaki Turkey Meatballs via Brittany Poulson, MDA, RDN, CD, CDE of Your Choice Nutrition
"I love these because they are full of flavor, can be an appetizer or part of a meal, freeze well and are husband and kid approved!"
Homemade Blueberry and Cherry Chocolate Granola via Laura Lomax, MS, RD, LD Greens & Grains Nutrition
"Love the versatility of this homemade granola! Perfect for road trips, topping your favorite yogurt, or adding burst of flavor to your oatmeal."
Easiest Chicken Salad via Rebecca Clyde MS, RDN, CD www.nourishnutritionblog.com
"It's so easy and versatile. And I'm a sucker for good chicken salad 
"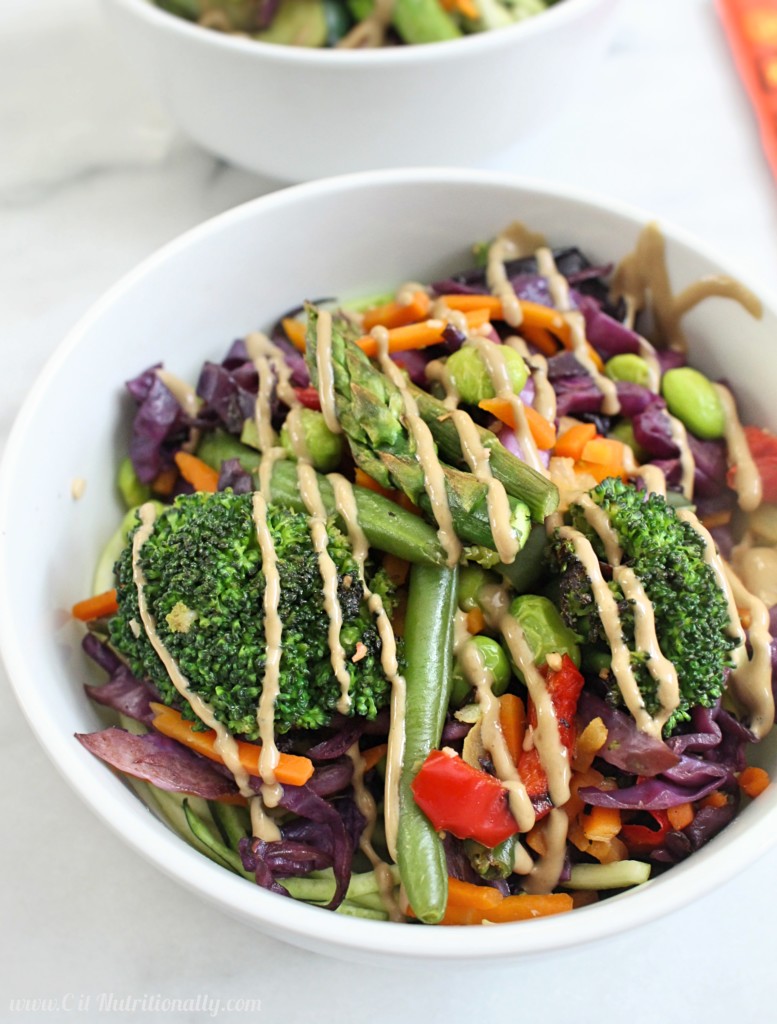 Sunflower Seed Butter Sauce Veggie Stir Fry via ME – Chelsey Amer, MS, RDN, CDN of C it Nutritionally
YES — THIS IS IT! Out of all of the recipes on C it Nutritionally, this is my go-to recipe that I absolutely LOVE, make ALL of the time, and recommend to those looking to cook more! It's approachable, easy (less than 30 minutes!!), satisfying, and a great way to deliciously add more meat-free meals into your repertoire!
But it was SO hard to choose just one favorite! I limited my choices to complete meals, instead of a side or dessert, but I could have picked every single recipe because I love them all! This week (because it obviously changes with cravings!), here are some more favorites for every meal of the day…
Breakfast – Grain Free Zucchini Bread Pancakes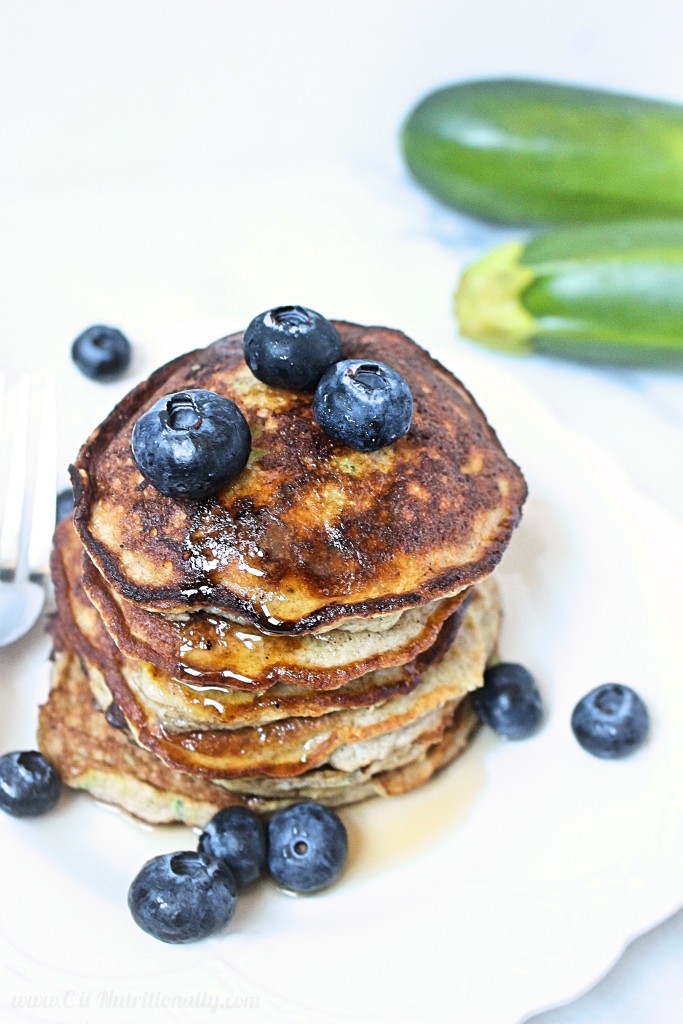 Lunch – 8-Ingredient Green Quinoa Salad (sometimes with some 10-Minute Salmon on top!)
Snack – The BEST Nut-Free Snack Mix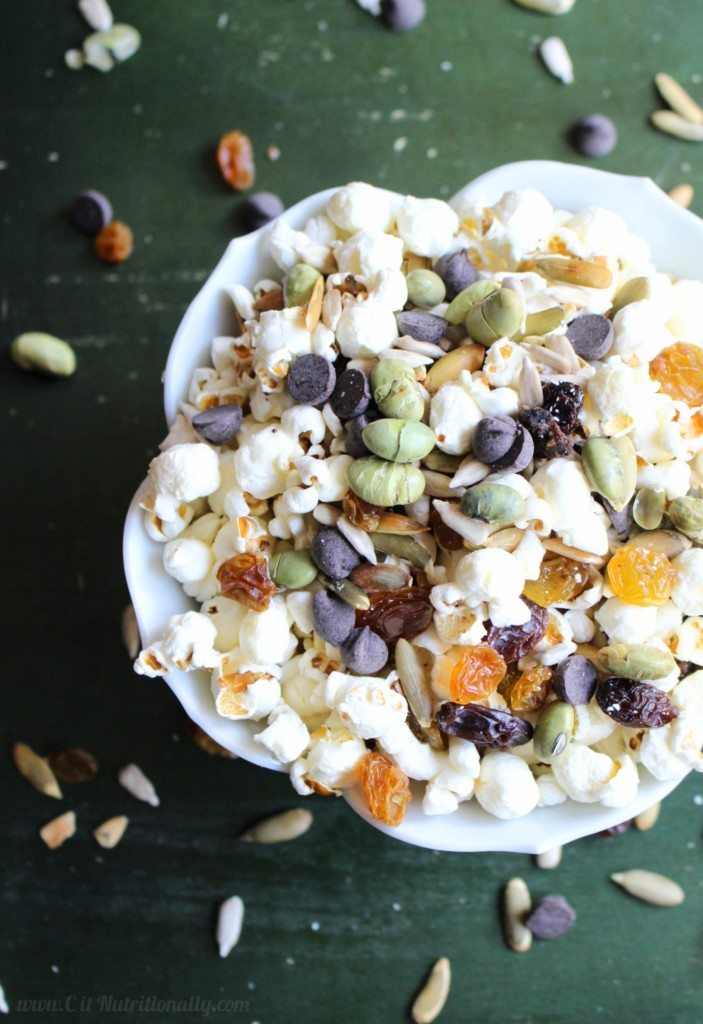 Dinner – Shrimp Primavera with Veggie Noodles
Dessert – Nut Free Edible Cookie Dough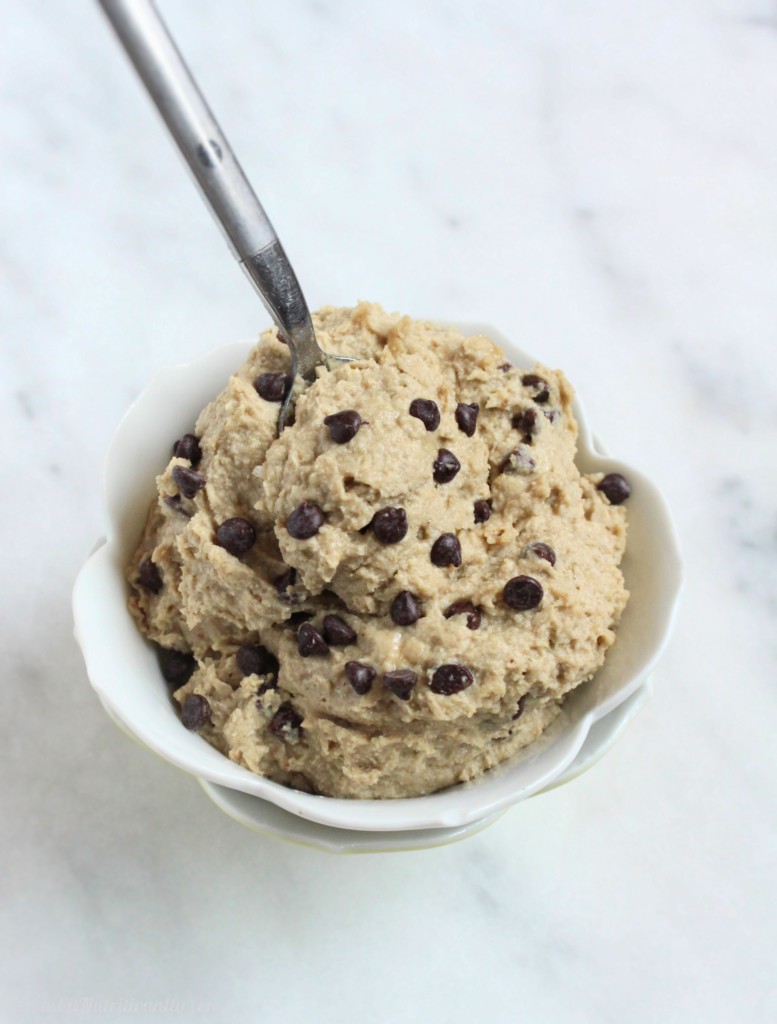 Do you have an all-time favorite recipe?! Share with me in the comments below! 
XO