Simple, decadent and delightful, this 5-Ingredient Nut Free Pesto Chicken Salad made with just 5 ingredients, will take center stage at your next lunch gathering… or to jazz up your brown bag!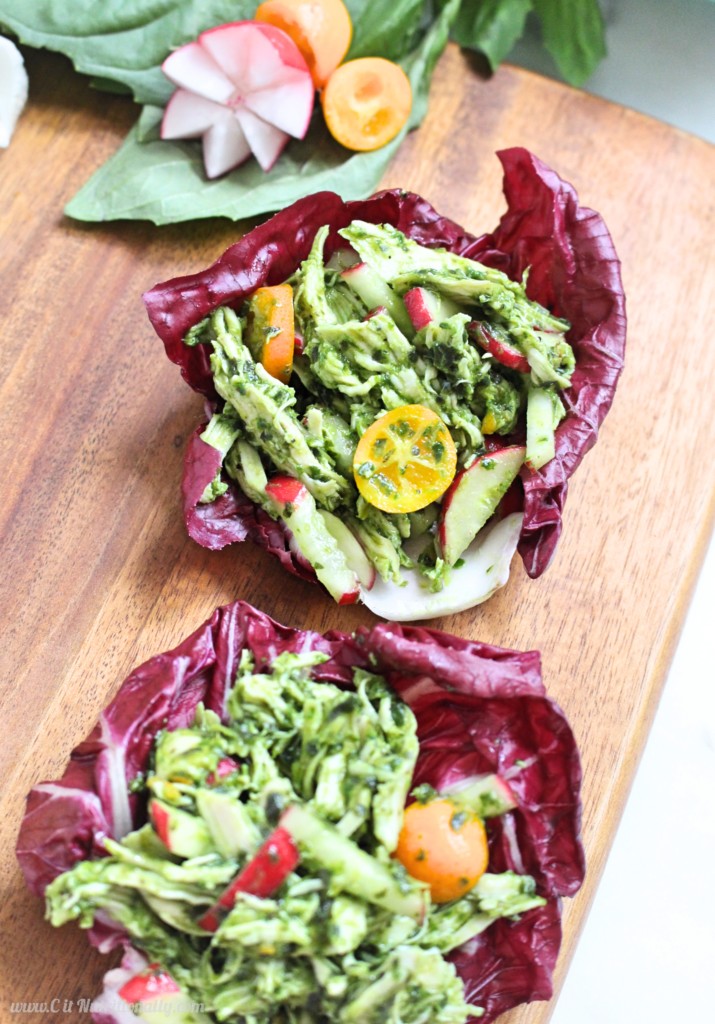 This post is sponsored by Bertolli, but all opinions (as always!!!) are my own!
Let's talk about all of the nutrition clutter out in the media these days. It can be overwhelming… I get it! Even as a registered dietitian with all the years of science-based education and research I've done, I too can sometimes enter the grocery store completely confused. And if that's happening to me, I totallyyyy understand how that happens to you guys and my clients too.
So let's talk about what we do know – unequivocally proven by quality research…
We should eat REAL food.
We should eat as close to nature as possible.
We shouldn't over-eat or under-eat.
With these simple principles, how do I make sure my little family of two eats well? I focus on simple recipes made with quality and real ingredients, which is why I've teamed up with Bertolli to share this 5-Ingredient Nut Free Pesto Chicken Salad!
This recipe has just 5 ingredients that can easily be found in your local supermarket: Basil, organic chicken, kumquats, radishes, and Bertolli's Organic Extra Virgin Olive Oil.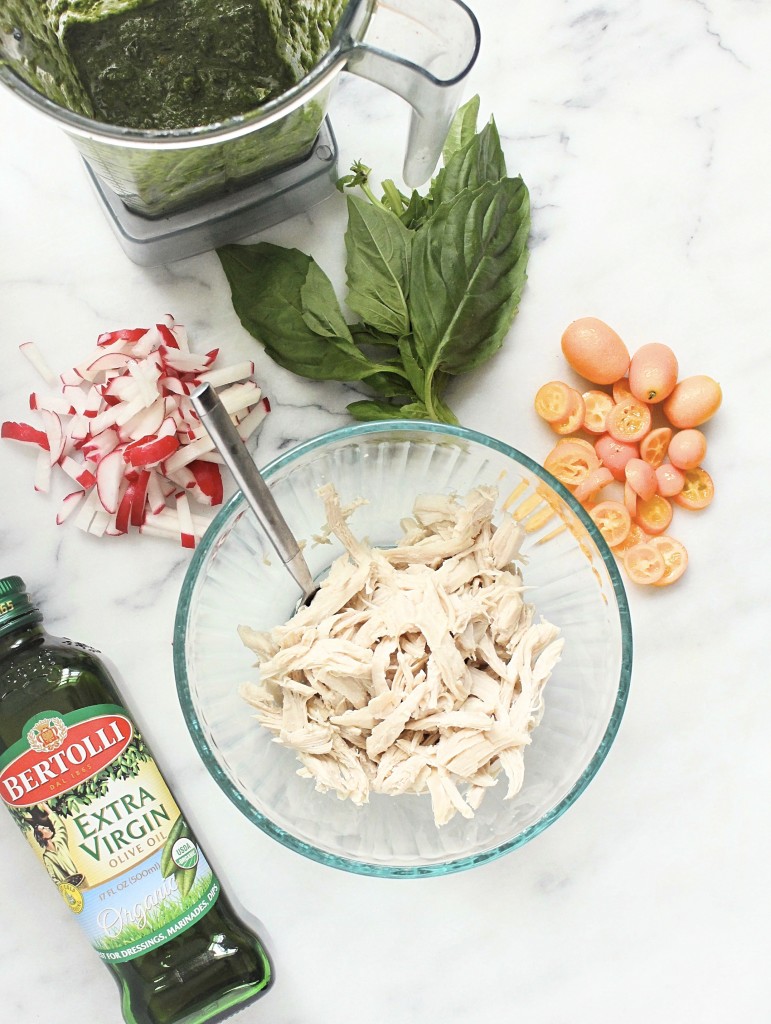 And just because this dish is beyond simple, doesn't mean you can't take your taste buds for an unexpected adventure…
This DIY pesto couldn't be easier… especially with the help of my favorite olive oil – Bertolli's Organic Extra Virgin Olive Oil. In literally two minutes you can whip up the simplest "pesto" that's full of flavor!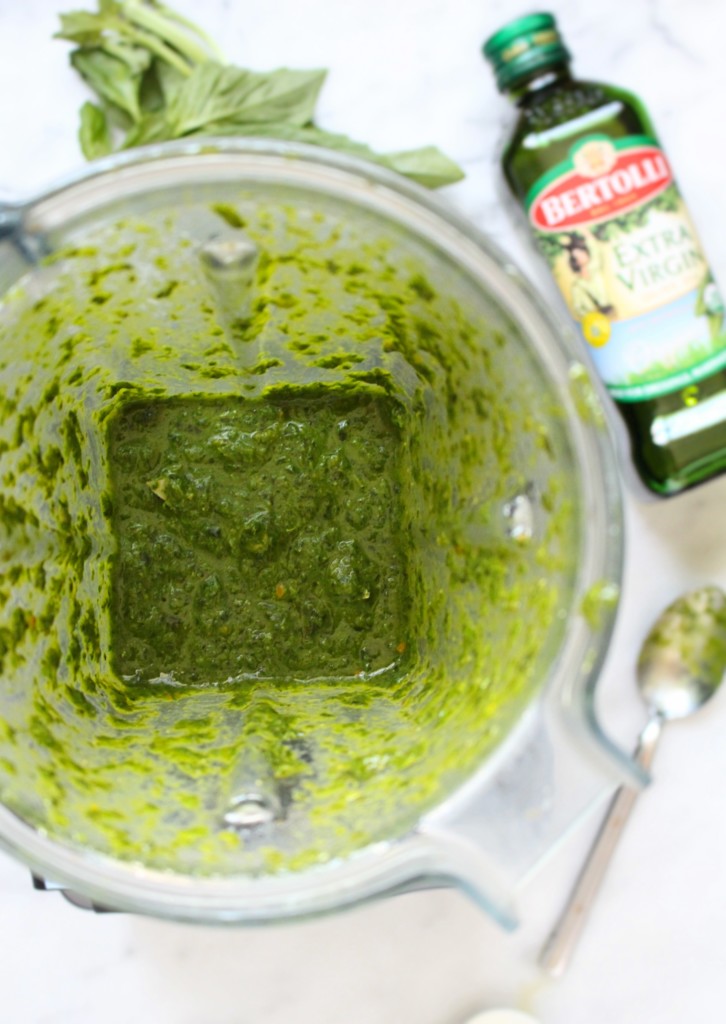 I often write in my recipes to use "good quality" olive oil – especially for marinades and sauces — because you really can taste the difference! Bertolli is my go-to brand because it brings heritage into the kitchen (it's been around for over 150 years!). Not to mention, Bertolli's is GMO-free, verified USDA Organic, and full of intense, full-bodied flavor, which makes it easy to use as the star of your recipe (like in this pesto!). Bertolli's Organic Extra Virgin Olive Oil isn't just another ingredient here … it makes the dish!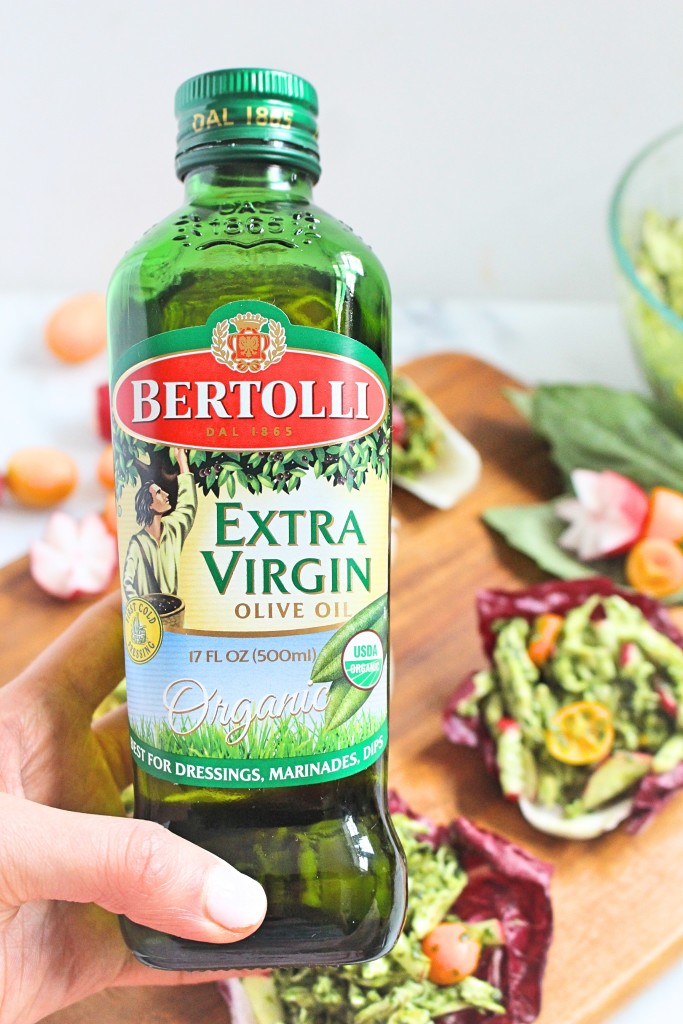 This 5-Ingredient Nut Free Pesto Chicken Salad is….
Simple, yet unexpected
Full of tart and earthy flavors
Easy to make in under 20 minutes
Made with just 5 ingredients (!!)
Easy enough for weekdays, but with layers of flavor to impress a brunch or lunch party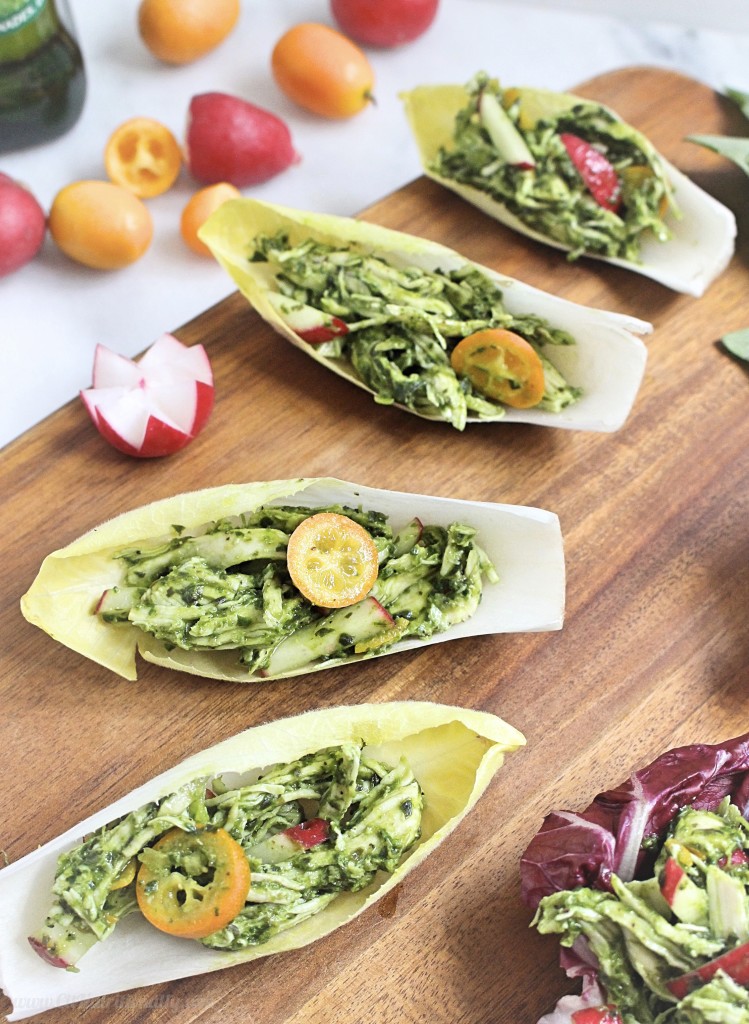 So grab a bottle of Bertolli Organic Extra Virgin Olive Oil, make this 5-Ingredient Nut Free Pesto Chicken Salad and check out Villabertolli.com.
5-Ingredient Nut Free Pesto Chicken Salad
Ingredients
1 pound boneless, skinless chicken breasts
3 cups fresh basil
1/4 cup + 2 tablespoons Bertolli Organic Extra Virgin Olive Oil
1/4 cup kumquats, sliced and divided
1/2 cup radishes, cut into matchsticks
Salt and pepper, to taste
For serving: 1-2 heads of endive or radicchio
Instructions
Poach chicken: Place chicken in a large stock pot and cover with water. Bring water to a boil over medium-high heat. Then reduce the heat to a simmer, cover the pot and cook for about 8 minutes, or until the chicken is cooked through (the internal temperature should read 165°F and the meat should be opaque). Drain the poaching liquid and let chicken cool while you prepare the rest of the recipe.
Prepare easy pesto: Combine basil, Bertolli Organic Extra Virgin Olive Oil, and about half of the sliced kumquats in a high-powered blender or food processor and process until nearly smooth. Add salt and black pepper to taste (I suggest at least a generous pinch of both). Set aside.
Shred the chicken in a medium-sized bowl. Add the pesto, remaining sliced kumquats and radishes. Mix well to combine. Taste and add additional salt and pepper to your preference. I added an additional pinch of each.
To serve, separate the leaves from the endive or radicchio and scoop some pesto chicken salad into each leaf. Enjoy! :)
Notes: Leftovers are great on a sandwich the next day!
http://citnutritionally.com/5-ingredient-nut-free-pesto-chicken-salad/
Don't forget to PIN IT…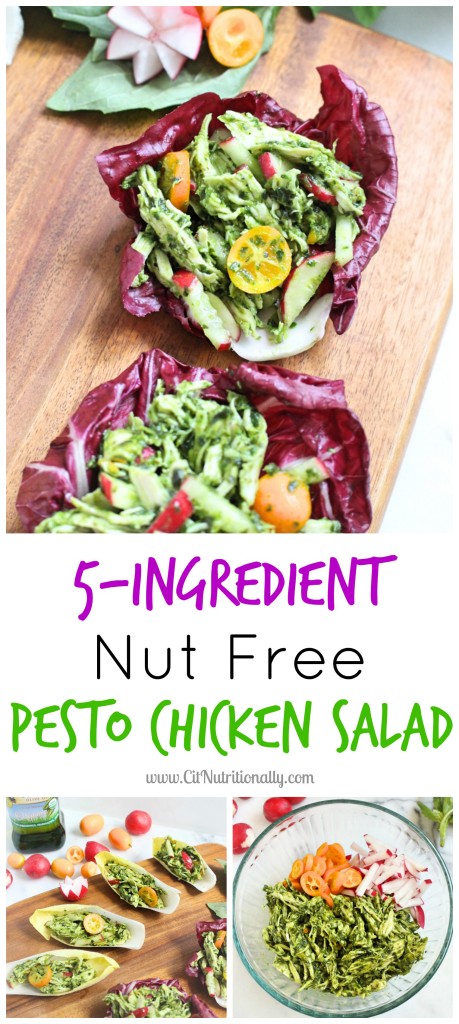 Who's ready for some pesto?!
XO
This is a sponsored conversation written by me on behalf of Bertolli. The opinions and text are all mine.