Take a bite into these delicious 5-Ingredient Raw Brownie Bites to satisfy your sweet cravings with a nutrient-rich punch! Vegan, Gluten Free, Grain Free, Nut Free, Dairy Free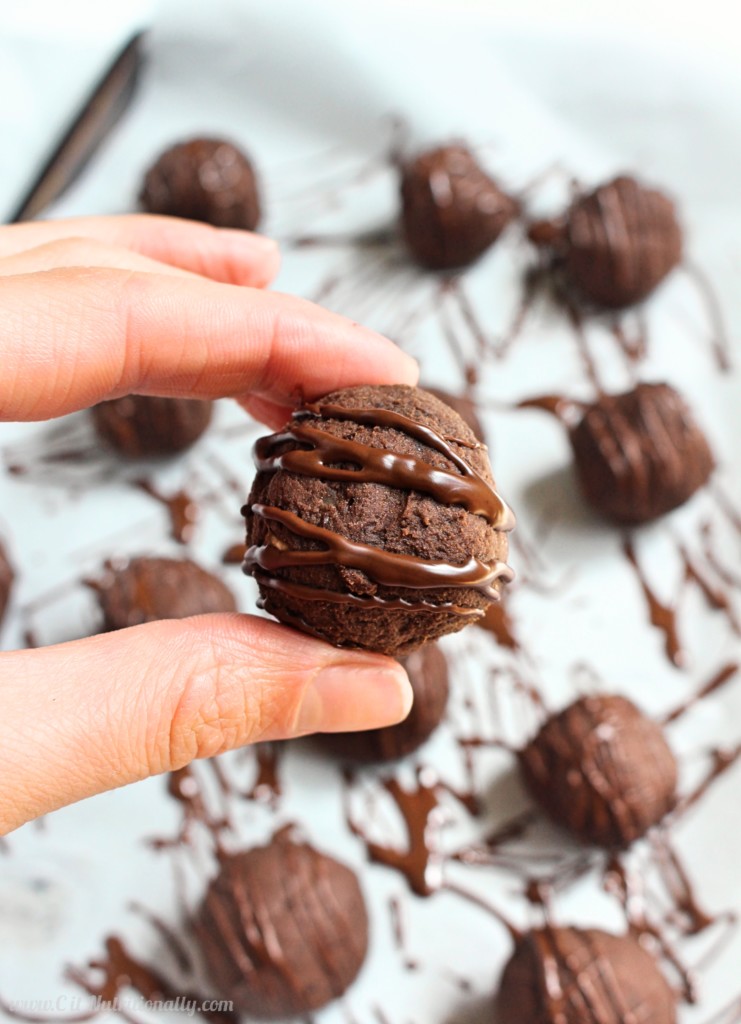 Happppy Hump Day my babes!!! I am SO excited to be BACK and sharing an absolutely delectable recipe with you… all in honor of The Recipe Redux's 6th birthday!! Cue the confetti and balloons!!
To celebrate this occasion, this month's Redux theme is…
In honor of our 6th birthday, we're celebrating with cake…or another small bite dessert that fits your fancy. Show us your healthy small bite dessert creation!
To be honest, I'm not totally a cake lover, and since I have zero patience to wait for cake to bake, I decided to go with another crowd favorite… BROWNIES!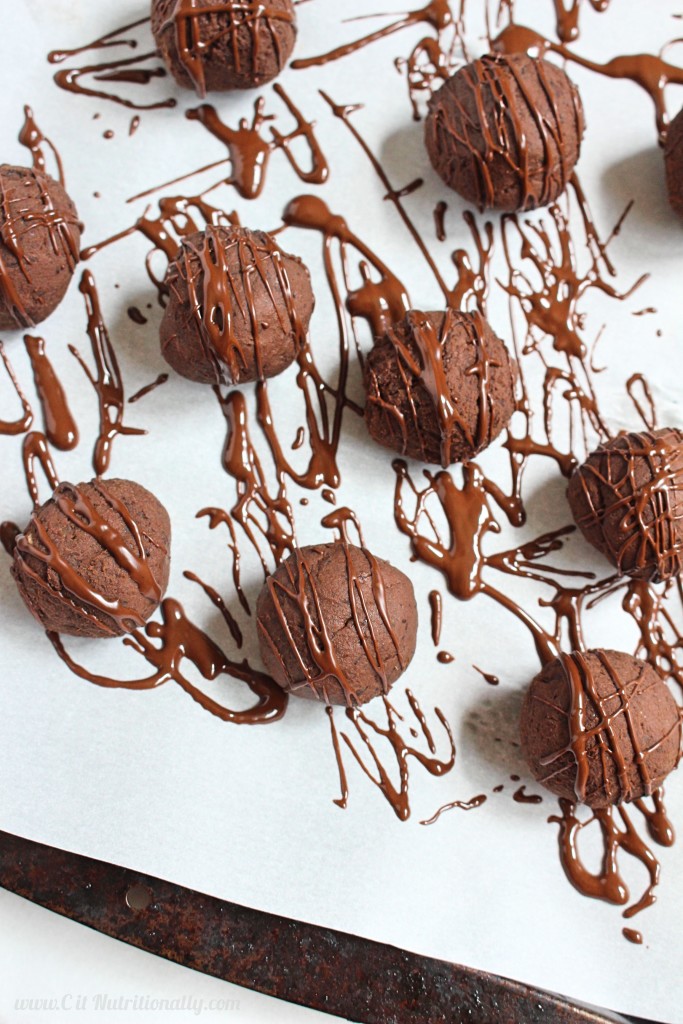 Spherical brownies?? 
These little bites are like a cross between munchkins and energy bites and, of course, BROWNIES, and full of chocolatey goodness… but with a healthy twist…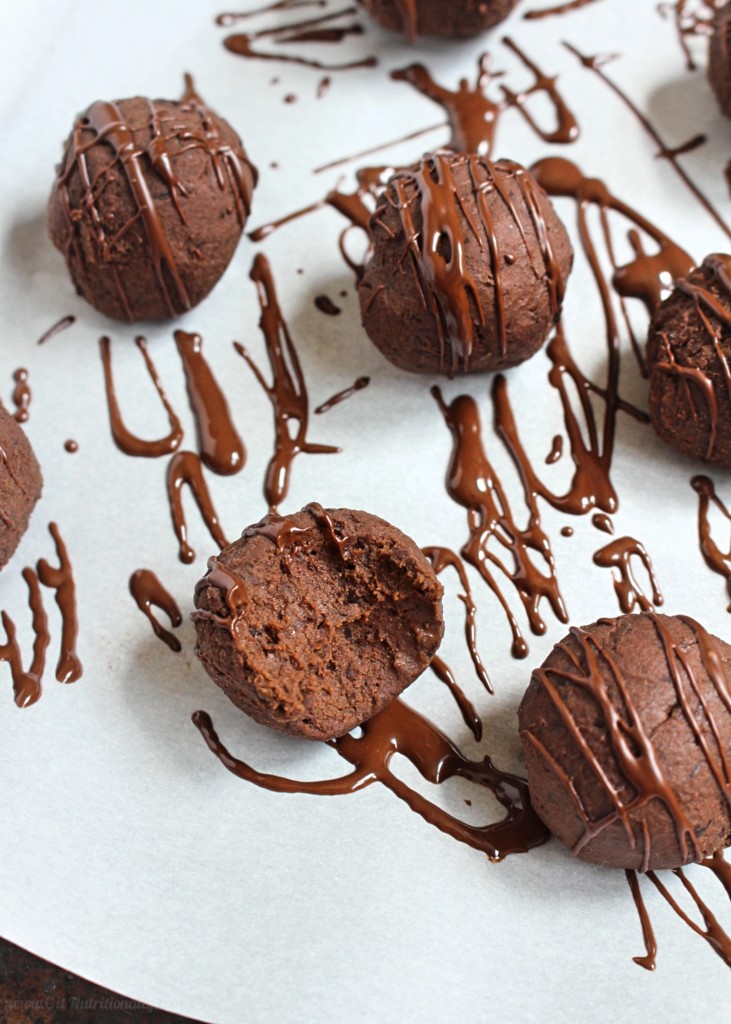 Like some of my other favorite healthy desserts, this one has a secret ingredient that you definitely cannot taste a wink of… BLACK BEANS!
Ya know how black bean brownies are a thing?? ((If you don't, that's OK and just google 'em — zillllllions of recipes out there!)) Well, now raw black bean brownie bites are a thing. Says moi! 
And if you haven't tried these superfood truffles or my healthy cookie dough yet — both made with beans!! — then you're in for a real treat tasting the delectable goodness that is these 5-Ingredient Raw Brownie Bites.
I don't really think treats need to be "healthy." They can just be treats! But when a treat has a healthy twist… but tastes JUST as good… well, then that's WINNING!!!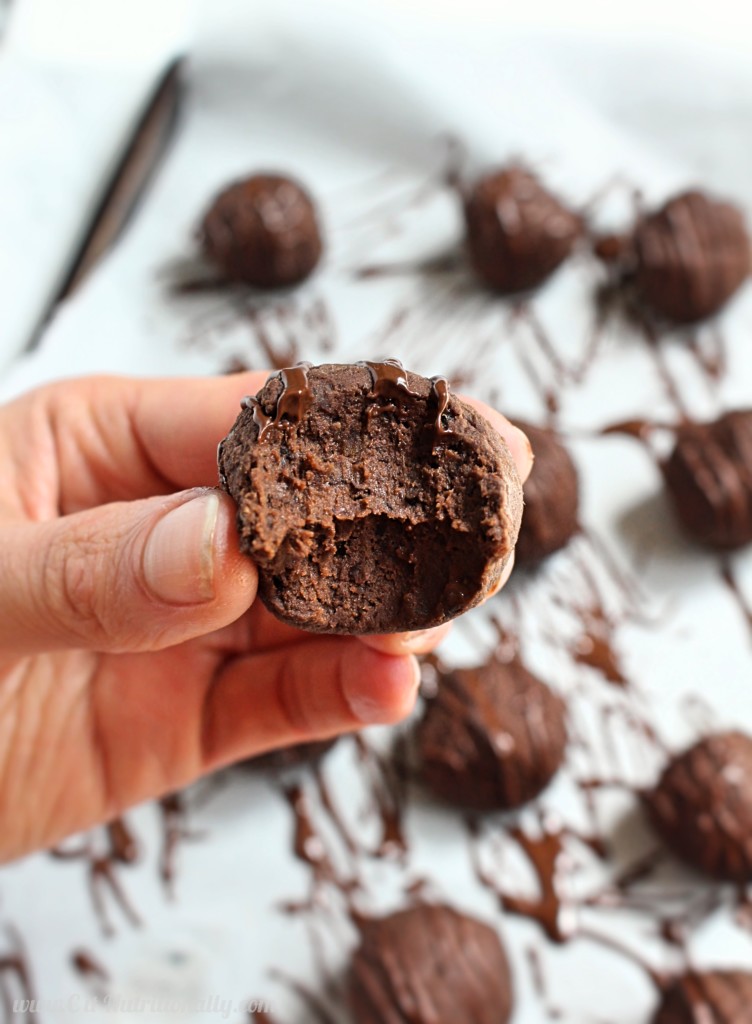 These Raw Brownie Bites are…
Made with just 5 ingredients
Loaded with high fiber and protein ingredients
Free of the top 8 food allergens
Vegan, Gluten free and Grain free
Easy to make
Absolutely delicious!!
Whatcha waiting for? Let's get raw cookin'…
5-Ingredient Raw Brownie Bites
Ingredients
1 15 oz can of black beans, drained and rinsed well
1/3 cup unsweetened cocoa or cacao powder
5 medjool dates, pitted (soaked in water if not soft)
1 tablespoon ground flaxseed
1 tablespoon milk of choice (or water), if needed to loosen mixture
Generous pinch of salt, to taste
For optional chocolate drizzle: 1/3 cup chocolate chips, 1 teaspoon coconut oil
Instructions
In a high-powered blender or food processor, combine beans, cocoa powder, dates and flaxseed. Pulse to combine. If needed to loosen up the mixture, add 1 tablespoon milk (of choice) or water, 1/2 tablespoon at a time.
Mixture will be sticky and loose, but you should be able to immediately roll it into balls.
Roll the brownie mixture into 1 to 1 1/2-inch balls and place on a parchment paper-lined cookie sheet. Refrigerate for at least 30 minutes.
For optional chocolate drizzle: Melt 1/3 cup dark chocolate chips with 1 teaspoon coconut oil in the microwave on 30 second intervals, stirring the chocolate in between. When chocolate is of silky smooth consistency, drizzle on top of the brownie bites. Return to the refrigerator for another ~10 minutes until they harden.
Store in the refrigerator for ~1 week.
Notes
Nutrition Facts (per 1 bite): 57 calories, <1g fat, 5mg sodium, 12g carbohydrates, 3g fiber, 2.3g protein
http://citnutritionally.com/5-ingredient-raw-brownie-bites/
Don't forget to PIN IT…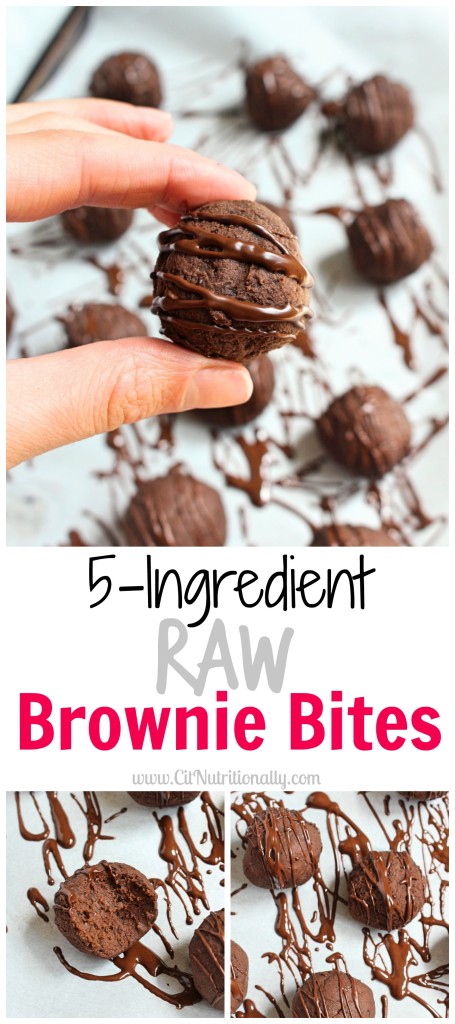 Now how's that for a celebratory birthday treat?!
Happy hump day, my friends!!
XO
If you want to stay connected or you make something from C it Nutritionally I would LOVE to see your creations! Tag me or use the hashtag #CitNutritionally!
Let's get social! 

Facebook: C it Nutritionally
Twitter: @ChelseyAmerRD
Instagram: @CitNutritionally
Pinterest: ChelseyAmer