I don't think there's anything better than smoky, spicy, and SIMPLE 6-Ingredient Easy Lentil Tacos on Taco Tuesday!
Vegan, Gluten free option, Dairy free, Nut free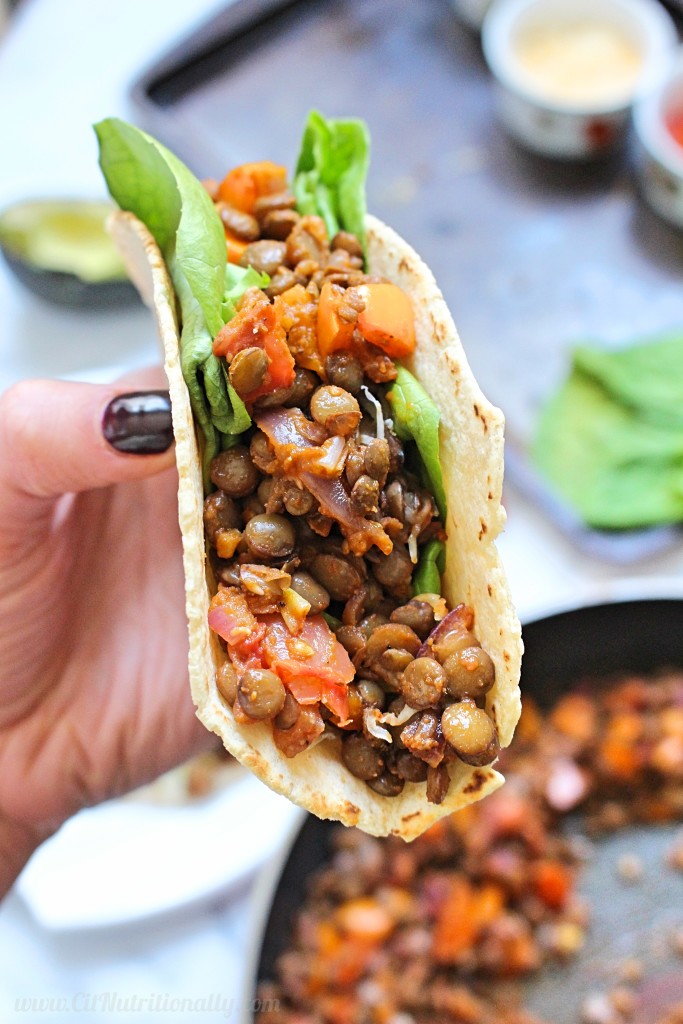 Oh boy oh boy oh boy am I EXCITED!! It's not only Recipe Redux time but it's TACO TUESDAY and we're mushing 'em together to celebrate in a BIG way!
Here's this month's Recipe Redux theme…
Taco Tuesday! Show us your healthy, creative take on the taco.
Short and sweet and just how I like it! And also… isn't this the best monthly theme ever?! ((do I say that every month?!))
Tacos are a favorite around here because…
They're SO EASY to make QUICKLY,

They're SO FUN… I mean who doesn't love to assemble their own meal? Calling all kiddos!! And,

They're a SATISFYING meal that can be full of good-for-you nutrition!
Oh and bonus #4, tacos are a great vehicle to add veggies to your meal. Whether your filling is made from veggies ((hellooooo shroomtown tacos)) or you add a bunch of chopped tomatoes and guac on top, they're veggie-licious and SATISFYING! None of that plant-based meal that leaves you feeling empty. Womp womp.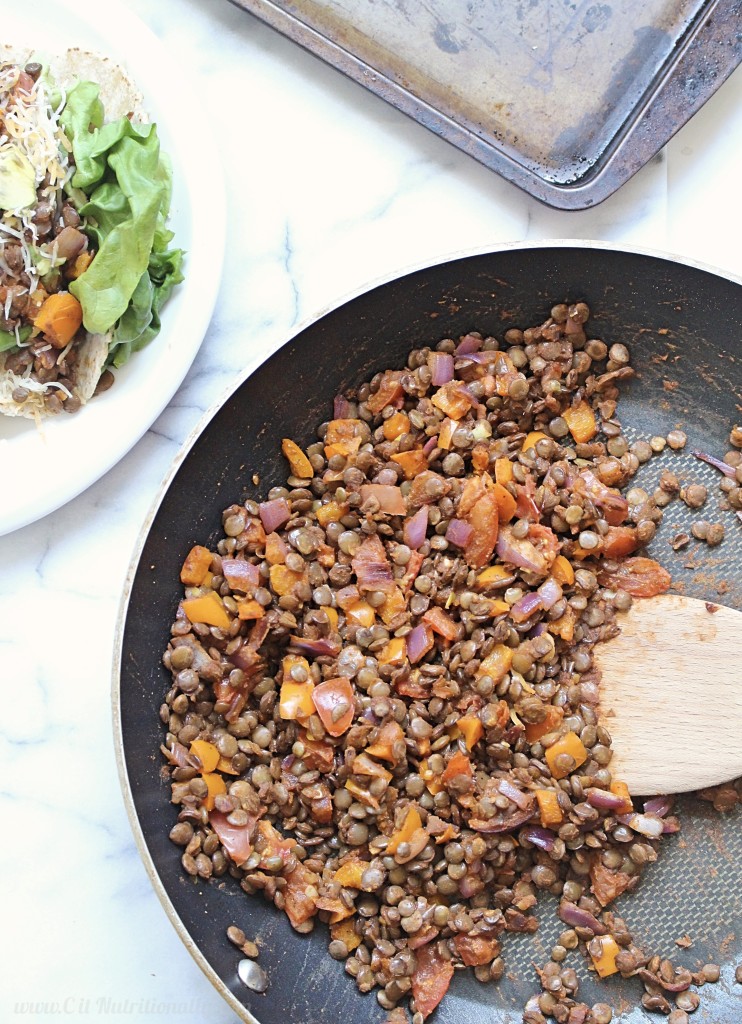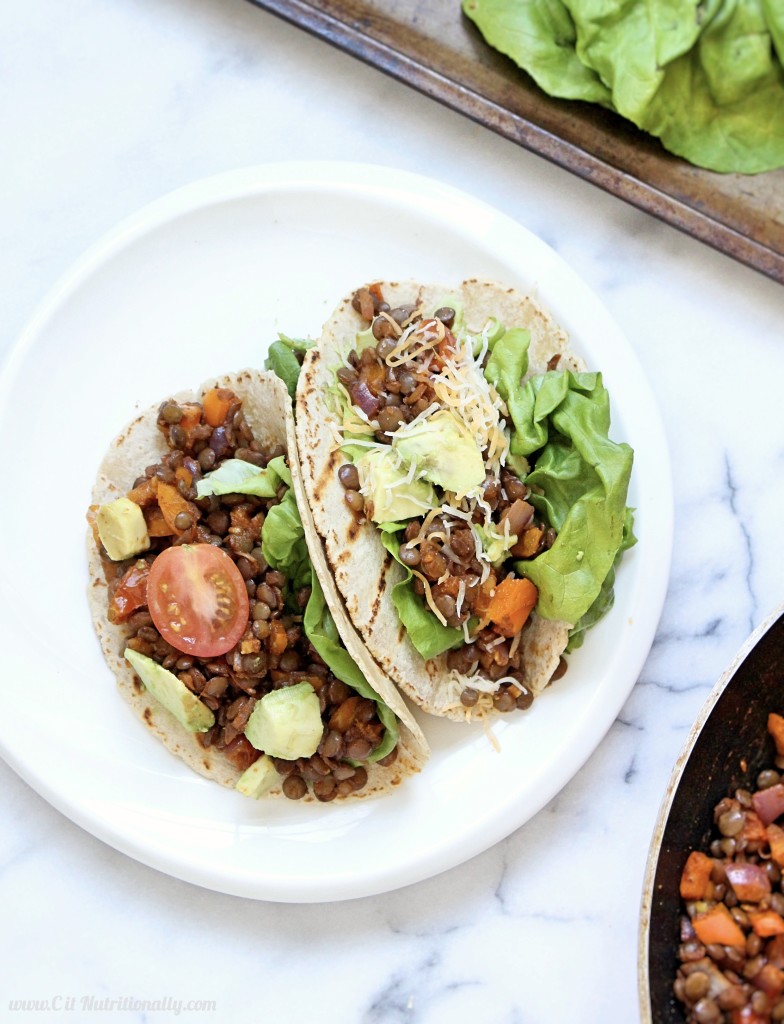 I make these Easy Lentil Tacos all the time… I mean, 6-ingredient lentil tacos… UMM YES PUH-LEASE! And it's about time I share it with you guys!
These 6-ingredient easy lentil tacos are…
Vegan

Gluten free

High in fiber

Full of plant based protein
Watch me make 'em…
6-Ingredient Easy Lentil Tacos
Ingredients
1 cup dry lentils or 2 cups cooked lentils
Nonstick olive oil spray
1/2 cup chopped onion
2 garlic cloves, minced
1/2 cup chopped peppers (a mixture of bell peppers and jalapeño if more heat is desired)
1/2 cup halved grape tomatoes
1 teaspoon chili powder
1/2 teaspoon cumin
1/2 teaspoon garlic powder
1/2 teaspoon smoked paprika
8 six-inch high fiber tortillas or lettuce leaves
Optional: Avocado, Cilantro, Salsa
Instructions
Prepare lentils according to package directions or use pre-packaged steamed lentils (like those from Trader Joe's).
Add onions, garlic and peppers to a large sauté pan lightly coated with olive oil over medium heat. Saute for about 3-5 minutes or until onions begin to soften.
When the onions have softened, add tomatoes, 2 cups cooked lentils and spices. Continue to saute over medium heat for another 3-5 minutes, until spices are evenly distributed throughout the lentil mixture.
To assemble tacos: Heat tortillas on a dry pan for about a minute on each side. Fill each tortilla with 1/4 cup lentil taco meat and dress with desired toppings -- avocado, salsa, cilantro, etc. Alternatively you can use lettuce wraps instead of tortillas. Enjoy immediately!
Notes
Nutrition Facts (for 2 tacos): 234 calories, 4.5g fat, 400mg sodium, 47g carbs, 25g fiber, 20g protein Nutrition Facts information calculated using high fiber tortillas each with 50 calories, 2g fat, 200mg sodium, 11g carbohydrates, 8g fiber, 5g protein.
http://citnutritionally.com/6-ingredient-easy-lentil-tacos/
Don't forget to PIN IT…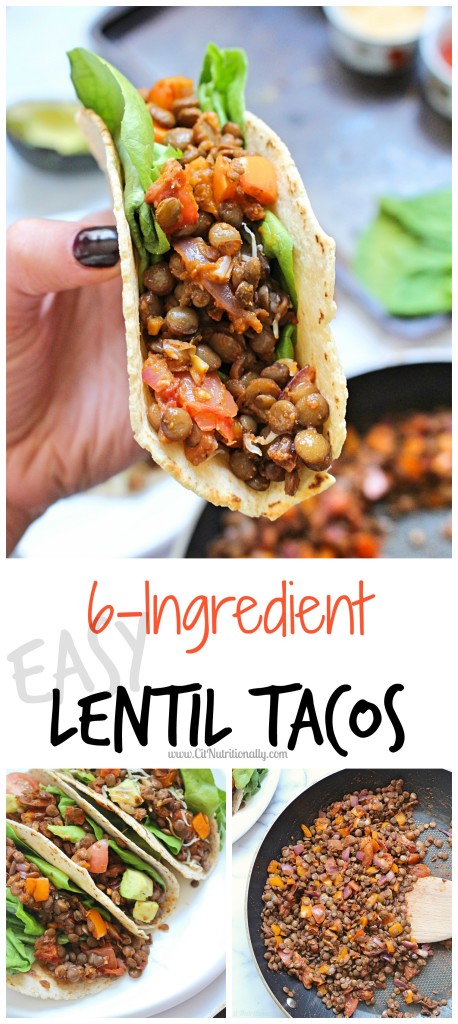 Let's get social!
Facebook: C it Nutritionally
Twitter: @ChelseyAmerRD
Instagram: @CitNutritionally
Pinterest: ChelseyAmer